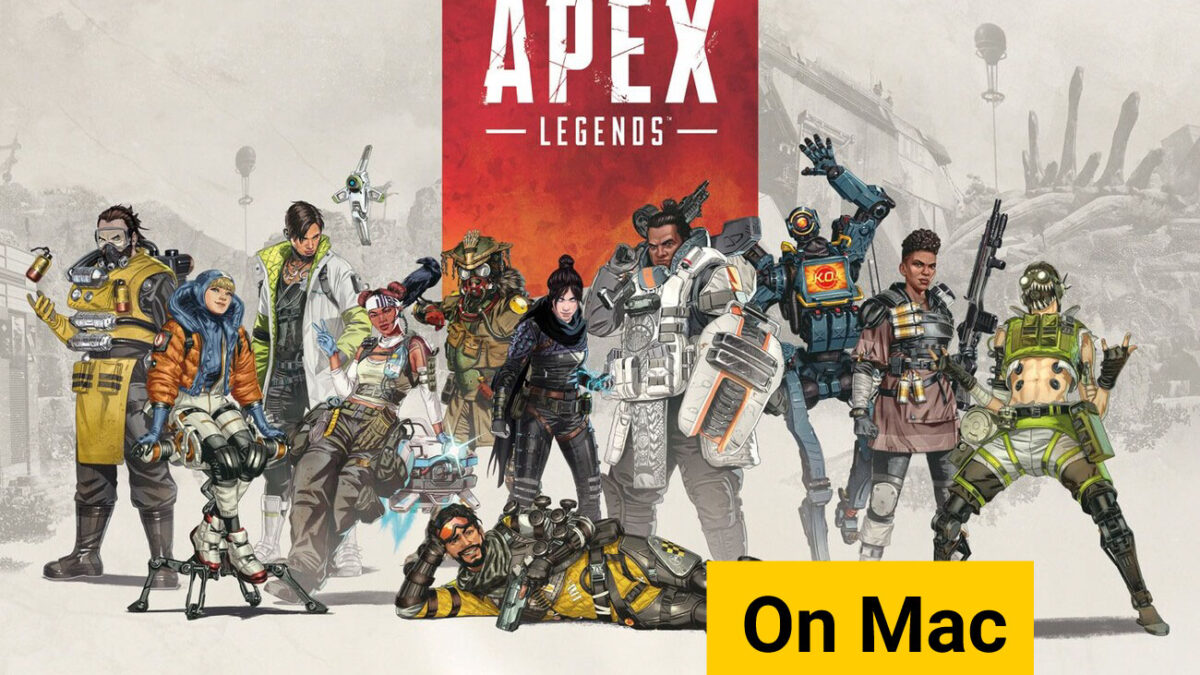 Play Apex Legends on Mac
Martina Nikolova, 2 years ago
3
15 min

read
Can you Play Apex Legends on Mac?
Yes you can play Apex Legends on Mac, but you'll need to use workaround methods because the game doesn't have a macOS version. There are two main methods to play Apex Legends on Mac – through GeForce Now or by installing Windows on your Mac.
Apex Legends is a free multiplayer hero FPS battle royale game developed by Respawn Entertainment and published by EA games. Apex Legends shares a lot of similarities with other popular hero-shooters such as Overwatch and Valorant, and its battle royale element makes it somewhat similar to Fortnite and PUBG. The game has received generally favorable reviews from critics and mixed reviews from users according to Metacritic. Some of the elements that it is praised for are the depth and polish of its gameplay mechanics and tactical play, its advanced communication system, its focus on team play.
Editors' Choice: Play Genshin Impact on Mac
On the flip side, things that people didn't like about Apex Legends are its unbalanced player characters, its bad optimization, and its lack of fresh and original content. Some players also complain that the game partially resembles old-school area shooters such as Unreal Tournament or Quake due to its highly-dynamic movement and fast-paced gameplay. Whether this is a negative or a positive trait is up for debate, and it largely depends on personal preference (I, for one, love those old-school shooters and their breakneck pacing).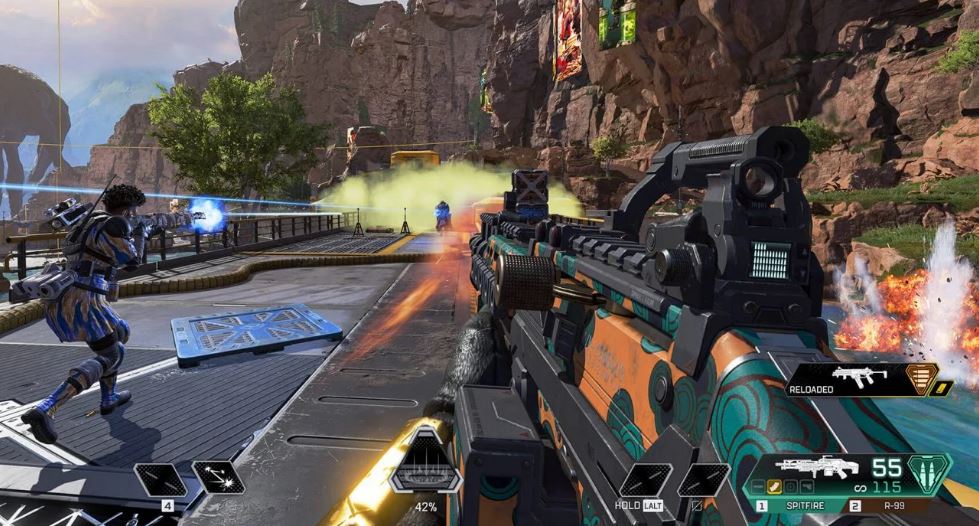 Play Apex Legends on Mac Workaround
You can play Apex Legends on Mac only through workaround methods since the game doesn't have a macOS version. To play Apex Legends on Mac, you can use Cloud Gaming Services or install Windows 10 or 11 on your Mac and download Apex Legends for Windows.
Apex Legends is free, so anyone can easily try it without paying anything and see for themselves whether they enjoy it or not. Anyone… except Mac users? The game is available for Windows, Xbox One, PlayStation 4, Android, Nintendo Switch, and iOS, but not macOS. This is not something unexpected, but if you are a Mac user and are into this type of game, it may be quite frustrating that you cannot run Apex Legends on your Mac. Well, as we already said earlier, though there isn't a macOS version for Apex Legends, it is still possible to play it on your Mac (regardless of whether it's an Intel-based Mac or an M1 model).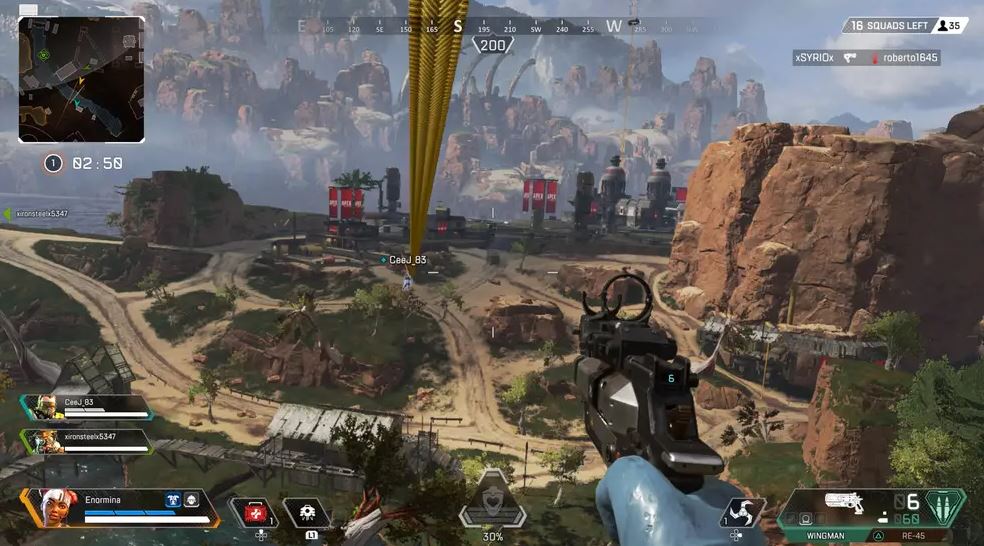 Apex Legends with Cloud Gaming
Apex Legends is now available to play on cloud gaming servers. This assures NO
compatibility issues while playing on your Mac as well as top-notch performance.
Step 1. GetApex Legends
Before playingApex Legends make sure you get the game through the official websites. For the moment only Steam and Origin are compatible with cloud gaming services such as Boosteriod and Geforce.
Step 2. Register and AddApex Legends To Boosteroid Cloud Gaming Library
All you need to do now is register for Boosteroid. This allows you to addApex Legends to their Cloud Gaming Library. Once uploaded you can seamlessly play the game from your Mac, TV or Mobile Device.

When Registered you will have additional access to more than 70 top-rated games for free. Pricing varies depending on the subscription plan.
Apex Legends on Mac M1
Apex Legends on Mac M1 can be played through Boosteroid and GeForce Now. An alternative way to play Apex Legends on Mac M1 is by creating a Windows 11 virtual machine on your Mac using a virtualization software such as Parallels and installing the game in it.
Using Parallels or another virtualization program is an alternative to the Boot Camp Assistant method that can only be used in Intel-based Macs. With the help of Parallels, you can install Windows 11 on your Mac and then download and run the game in the Windows 11 VM. Note that this method isn't exclusive to M1 Macs. You can also use Parallels on an Intel-based Mac if for some reason you cannot or don't want to use the Boot Camp Assistant method.
Think of the Parallels virtual machine as an application that simulates Windows on your Mac. You can install a Windows game on that virtual machine and play the game from within it. However, it must be noted that this method doesn't work perfectly for every game, so you'd have to try and see for yourself if it would let you play Apex Legends.
Another, much easier, method to play Apex Legend on an M1 Mac (or an Intel Mac for that matter), is by using the GeForce Now gaming service – we will tell you more about it in the following paragraph.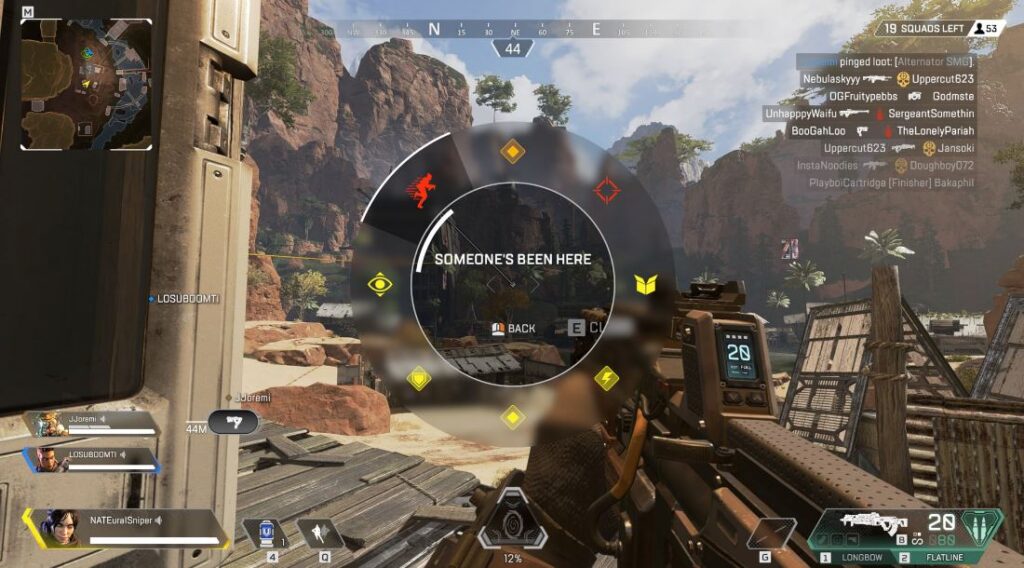 How to play Apex Legends on Mac?
To play Apex Legends on Mac, we recommend using GeForce Now, as this is the easiest and quickest option. Two other possible ways to play Apex Legends on Mac are by using a virtualization program such as Parallels or through the Boot Camp Assistant tool.
Each of those three methods will be explained to you below, so you can choose which one to use to get the game running on your Mac. Note that the GeForce Now method requires significantly less time to set up and can be used on older/weaker Macs, whereas, with the other two methods, you'd need to spend some time getting everything ready, and also you'd need to have a significantly powerful Mac, preferably a model with more than 8 GB of RAM and no less than 200 GB of free storage space (because the installation of Windows will require a lot of space on your Mac). Here is the full list of system requirements for the game:
MINIMUM:

64-bit processor and operating system
OS: 64-bit Windows 7, 10, or 11
Processor: AMD FX 4350 or Equivalent, Intel Core i3 6300 or equivalent
Memory: 6 GB RAM
Graphics: AMD Radeon™ HD 7730, NVIDIA GeForce® GT 640, or equivalent
DirectX: Version 11
Network: Broadband Internet connection
Storage: 56 GB available space

RECOMMENDED:

64-bit processor and operating system
OS: 64-bit Windows 7, 10, or 11
Processor: Ryzen 5 CPU or equivalent
Memory: 8 GB RAM
Graphics: AMD Radeon™ R9 290, NVIDIA GeForce® GTX 970, or equivalent
DirectX: Version 11
Network: Broadband Internet connection
Storage: 56 GB available space
Using GeForce Now to play Apex Legends on Mac
GeForce Now is a gaming service that allows you to remotely play any game available in its library on a powerful Windows PC gaming rig. You control the gameplay from your Mac while the game is actually being played on the gaming Windows PC, while the gameplay is being streamed live to your Mac. This is a very popular method of playing Windows games on Macs because the game is technically not running on your Mac, so the fact that it doesn't have a macOS version is not a problem. It's also perfect for when your Mac doesn't quite meet the system requirements of a given game, so long as it meets the requirements for using the GeForce Now app (which are rather low).
Obviously, you'd need a very good Internet connection to properly play a fast-paced multiplayer FPS such as Apex Legends over GeForce Now, so you should bear this in mind. The service itself will check your connection before starting the game and if it determines that it's not good enough, it will let you know (you can still ignore the warning and play anyway).
GeForce Now has a free subscription plan, but you'd have to wait in a queue before starting to play and there's a one-hour limit per gaming session, after which you'd need to reconnect (and wait in line again). Still, it's perfectly usable as a free service if you don't mind those two slight downsides. On the other hand, if you get a paid subscription, there'd be virtually no waiting in a queue and the limit per gaming session would be 6 hours. Since Apex Legends is a free to play game and GeForce Now has a free subscription plan, you can try playing the game right now on your Mac without paying anything and with minimal time required to set everything up, so here's how to do it:
First, you will need a Steam account, so go to Steam's website and create an account if you don't already have one.
Next, you need to go to the GeForce Now site and create a registration there – open the provided link, click on Play Now and choose a subscription plan.


We recommend the free subscription as a start in order to test the service and see if you are satisfied by it – you can always upgrade to a paid plan afterwards.


You will need to verify the email you used to create the registration, so go to your email, open the letter from GeForce Now, and verify your email address.
Go back to the starting page of GeForce Now and enter your newly-created account.
Go to the "GeForce Now" section of your account, and select the Download Apps link under Quick Links.

Download GeForce Now for macOS and then open the downloaded file.

Install GeForce Now by dragging the apps' icon to the Applications folder icon. If, at any point, your Mac tells you it cannot confirm that the program is safe because it's from the Internet, confirm that you want to proceed anyway.
Once the installation finishes, go to Finder > Applications, start GeForce Now, and enter your account.

Search for Apex Legends in the search bar and click the game's tile once you see it.
Select Steam, then click on Play, and wait for your turn in the queue to come up.


If you get a warning that your Internet connection may not be stable or fast enough to play this game, you are allowed to ignore it and still play the game, but know that you may not get the best performance.

Once your turn in the queue comes up, the game will be launched automatically, and you can begin playing. You can evoke the GeForce Now menu at any time by pressing Command + G, and you can quit the app from that menu as well as change the apps' settings.
Before the game starts, you will be asked to enter your Steam account, so do that.
Once the game loads, you will need to create an EA account or enter your EA account if you already have one. Once you are done with this, you can begin playing.

Using Parallels to play Apex Legends on M1 Macs
This method involves creating a virtual machine for Windows 11 on your Mac and then installing and playing the game through that virtual machine. In the next instructions, we will explain how to do this using a virtualization software called Parallels. The program is paid but has a free 14-day trial, so we suggest you take advantage of the trial period to test how well Apex Legends runs on the virtual machine.
First, you need to go to this webpage and click on Register in the Meet the Windows Insider Program section.

Next, enter your Microsoft account (or create an account now if you don't have one).
Click Flight Now/Start Flighting on the next page and then follow this link.
On the page that opens, if you are not logged in to your Microsoft account, log in to it now.
Click Windows Client ARM Insider Preview and download the ARM file on your Mac – since it is a large file, the downloading process would take some time.

In the meanwhile, download Parallels from this page – as we already said, we suggest opting for the free trial version, and only getting the paid variant one you are sure you want to continue using Parallels.
Once you download the Install Parallels Desktop.dmg file, open it and double-click on Install Parallels Desktop. Confirm that you want to install the program if you get warned by your Mac that Parallels has been downloaded from the Internet and the system cannot confirm that it's sage.
After Parallels gets prepared for the installation, enter your password and then provide Parallels with the needed Admin permissions.
Click Skip if you see "Download and Install Windows 10" in Parallels.
Now wait for the ARM VHDX Windows 11 file to download and if it has already been downloaded, click on Install Windows or another OS from a DVD or image file and then click on Continue.

Now select Find Automatically and wait for Parallels to find the downloaded file. If it doesn't find the file, navigate to it manually, and drag-and-drop it in Parallels.

After that, click on Continue and then select the Games Only option if you are only going to be using the VM for gaming purposes.
On the next page, check the Customize option and select Continue.
You will now see a customization window with different settings for the VM. The minimum RAM required to run Apex Legends is 6 GB, so that's the minimum amount of RAM that you should allocate to the VM. If your Mac has more than 8 GB of RAM, you should allocate more than 6 to the VM. If your Mac has fewer than 8 GB of RAM, you won't be able to run Apex Legends through Parallels. As for the CPU cores, we recommend allocating the majority of them to Parallels, leaving at least two for your macOS.
After you are done customizing the VM settings, close the settings window and the installation will begin. During the installation process, give your Admin permission whenever it is required.
Once the installation finishes, open the Windows 11 VM, click the Start Menu, go to Update & Security > Windows Update, let Windows install whatever updates are available, and then restart the VM. After you do this, you should be ready to download, install, and play Apex Legends through your Windows 11 VM.
Using Boot Camp Assistant to play Apex Legends on Mac
This method can only be used on Intel-based Macs. M1 Macs don't have the Boot Camp Assistant app, so for them, the only options you can use to play Apex Legends are through GeForce Now or through Parallels.
Open this link, select the regular Windows 10 edition, click Confirm, select a language, and click Confirm again.

Download the 64-bit Windows 10 ISO file – it's a large file, so downloading it would take some time.


After the file downloads, open Finder > Utilities, and find and open the Boot Camp Assistant app.

Click Continue, then select Choose a Windows 10 ISO file, find the file you downloaded, and open it.

Next, allocate at least 160 GB of storage space (preferably more) to the Windows 10 partition but leave at least 50 GB to your macOS partition. If your Mac currently doesn't have enough free space, you must first delete some data to free up more space and only then proceed with the Windows 10 installation.

Click on Continue to begin the installation – after an initial loading process, you will be required to enter your Admin password, so do that and your Mac will restart.
After the restart, the computer will boot to a Windows logo screen – there, choose a language and location, and click on Next.
On the following screen, you will be asked to enter your product key. Enter the key, or if you don't have one, select I don't have a product key/Skip.
If the next screen requires you to select a preferred edition of Windows 10, select the Home one. Opt for the Pro edition only if you need the advanced features that come with it – otherwise, there's no reason to select it.
Next, click on Agree, then click Next, and let the installation begin – after it is finished (may take a while), your Mac will restart once more.
After Windows 10 installs and your Mac restarts, you will be asked to customize the Windows 10 settings or to use the default ones. We recommend taking your time to go through the customization process.
Next, you must choose a username and a password for your Windows 10 account.
On the next screen, choose whether you want to activate and customize Cortana, the Windows 10 virtual assistant, or do this at a later time.
After that, your Mac will finally boot into Windows, where you should be greeted by an open Bot camp Assistant window. Click Next > I Agree > Next in it, and it will begin installing important Apple drivers that your Mac will need to properly run Windows 10. If any Admin permissions are required to install any of the drivers, give your permission. After that, restart your Mac.
(Optional) Enter Windows 10 again, open the Start Menu, and go to Apple Software Update, and install whatever updates are available there, after which restart the computer again.
(Optional) After the restart, boot into Windows, click the Start Menu, and go to Updates & Security > Windows Update. Wait for the updates there to be installed, and restart once more.
After your Mac boots back up, Windows 10 should be ready for use, and you can download and start playing Apex Legends.
Installing Apex Legends in Windows 10/11
Follow the next steps if you used Boot Camp Assistant or Parallels to install Windows 10/11 on your Mac.
Open the Parallels virtual machine or boot your Mac into its Windows 10 partition.
Click this link and create a Steam account (if you don't already have an account).
Next, go to this webpage from the Steam site, click Install Steam, and download the installation file for the Steam client.
Open the installation file you just downloaded and install Steam.
Open the Steam client app and enter your Steam account.
Click on Store, search for Apex Legends in the search bar, and click the game's title when it appears.

Click on Play Game on the game's page and then download the game's installation file and open it to install Apex Legends. Once the game is installed, you can start it from the shortcut icon created on your Desktop, or you can go to the directory where it is installed and start it from there. You can also start Apex Legends from the Steam client app.

Martina Nikolova
Martina likes to get into nitty-gritty of tomorrow's tech, from product design across to security based solutions. A long time mac user and developer, she has the expertise and strives to give new insight