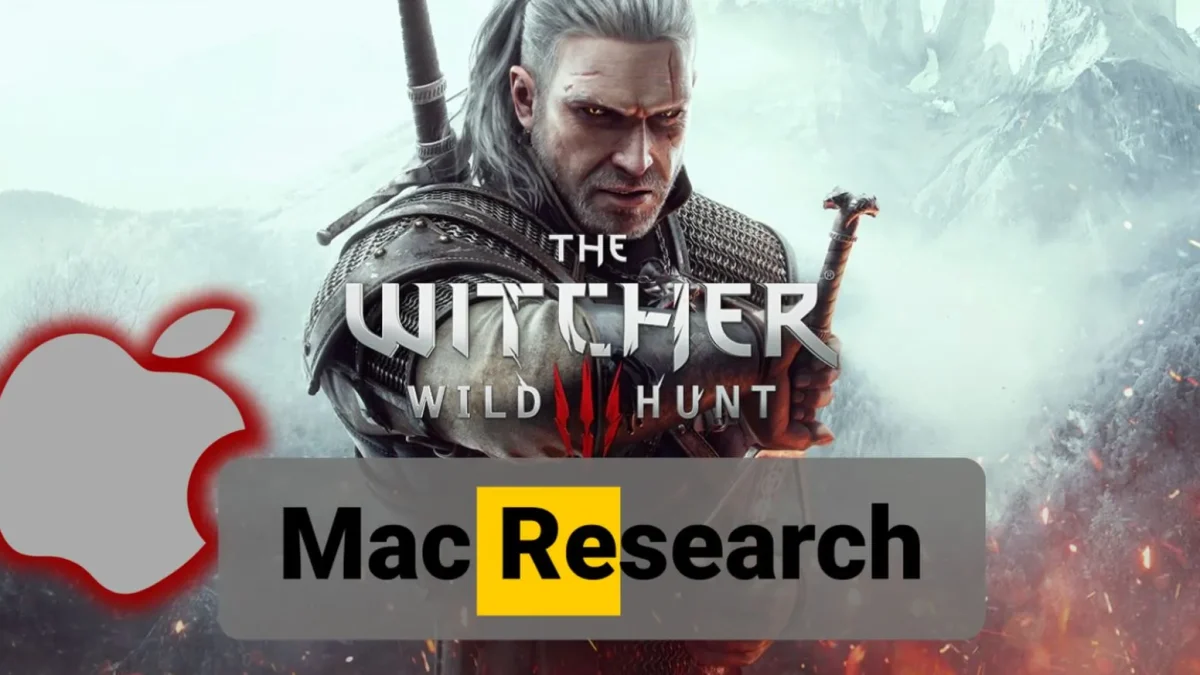 The Witcher 3 may not have a macOS version, but there are quite a few ways to play it on a Mac and all of them work very well. Some workarounds even around the game to be played on older and weaker Macs that don't meet the game's system requirements.
We really wanted to try the Witcher 3: Wild Hunt on our Macs, so we researched the available workarounds and tested them. Now that we've tried each method, we are ready to tell you about our experience with the ones we deem the best and to also show you how to use them.
How to play The Witcher 3 on Mac: 5 working methods
Here are the best workaround solutions for playing the Witcher 3: Wild Hunt on Mac systems. Check out their descriptions to choose the one you think will be the best for you. If you need additional information to decide which method to use, you can scroll down to the next section, where you can read about our experience and thoughts on each workaround.
Playing The Witcher 3: Wild Hunt on Mac with Boosteroid and GeForce Now

Cloud gaming is quickly becoming a very good option for Mac users who wish to play unsupported games like The Witcher 3. This technology streams the games just like Netflix streams movies, thus eliminating any compatibility issues, or the need for powerful hardware.
We used to be skeptical about this type of technology, but as we tested more and more games with different cloud platforms, it became apparent that this is indeed a viable solution. In the case of The Witcher 3, the services that let you play it on Mac are Boosteroid and GeForce Now.
Streaming the Witcher 3 with Boosteroid on our MacBook
Our journey with The Witcher 3 on a Mac began with Boosteroid. The service's appeal lies in its low internet speed requirement – as low as 15 Mbps – making it accessible even to those with modest internet connections. However, for an immersive experience in the graphically rich world of The Witcher 3, we found that a stable connection of at least 25 Mbps was preferable.
Boosteroid streamed the game at a decent 1080p resolution and 60 FPS, which provided a satisfaying and engaging gaming experience since the image quality and FPS rate remained consistent for the majority of our testing. Occasional lag spikes did occur, temporarily affecting visual and performance quality, but these were fleeting and didn't significantly mar our overall journey through the game's vast and detailed landscapes.
Streaming the Witcher 3 through GeForce Now on Mac
Switching to GeForce Now, we had a very similar experience. GeForce Now requires a slightly higher internet speed – a minimum of 25 Mbps – but since that was exact the speed of our Internet during the test, the streaming quality was good, albeit not ideal.
During the occasiassional lag spike, GFN would aggressively diminish the picture quality in favor of retaining smooth performance, but this would sometimes make the image very distorted. Fortunately, there are a lot of settings in the GeForce Now client and after some tinkerign around, we found a configuration that better balanced image quality and performance.
Overall, it seems to use that GFN has a slightly higher bandwidth/Internet speed demands, but the availability of so many customization options lets you find the right configuration for you even if your Internet isn't that great.
Is cloud gaming good for playing The Witcher 3 on Mac?
In conclusion, both Boosteroid and GeForce Now offer compelling cloud gaming experiences for playing The Witcher 3 on a Mac. While comparable in many ways, they each have their nuances. Boosteroid is more accessible for those with lower internet speeds, while GeForce Now offers more options for fine-tuning your experience with the platform.
Both services effectively bridge the gap for Mac users, bringing the rich, expansive world of The Witcher 3 to a system where it's not natively available. Ultimately, the choice between the two services might come down to individual internet capabilities and personal user preferences.
Testing The Witcher 3: Wild Hint on Mac with CrossOver, Parallels, and Boot Camp
The Witcher 3: Wild Hunt is also playable on Mac machines with methods that let you download and run the game locally. There are quite a few such options and they all tend to work with this game, but the ones we think are the best and that we recommend to our readers are CrossOver, Parallels, and Boot Camp.
Here, we need to remind you that the game's performance with these methods will be determined by your Mac's hardware, which is why it greatly matters what type of Mac you are using. In our tests we used two different Macs. For CrossOver and Parallels, we tested the game on an M1 Pro MacBook with 16 gigs of unified memory and for Boot Camp, we used a 2018 MacBook Pro with 16 GB of RAM.
Playing the Witcher 3 on Mac M1 with CrossOver: Performance review
CrossOver works by translating the game's code so that your macOS can execute it, which is the most straighforward game to play The Witcher 3 locally on a Mac machine.
We set up the app, created a new bottle (a type of virtual container) and installed the game in it. CrossOver actually lets you use several different translation layers so we experimented with the different configuration variants and we got the best performance when we enabled ESync and D3DMetal. With this configuration, we got an average of 40 FPS with medium settings and 2K (2560×1440) resolution. We then also tried using the Low settings and 1080p resolution, whihc bumped our average FPS rate up to around 55.
Overall, we were staisfied with both how easy it was to start the game with CrossOver and with the relatively good performance. In other words, we do recommend this method for playing the Witcher 3 on Mac.
Running the Witcher 3 in Parallels on our M1 MacBook: Is it worth it?
Instead of a translation layer, Paralles lets you play The Witcher 3 on Mac by creating an entire Windows virtual machine on your Mac, wherein you can run the game. This tends to be a more stable option comapred to CrossOver, but with the downside of forcing your Mac to run two operating systems at the same time and thus reducing the amount of resources that can be used for the game.
In practice, we didn't have any problems launching The Witcher 3 on our M1 MacBook Pro, but there was a noticeable decrease in the performance. To get an average of 40 FPS, we had to use the Low settings and 1080p resolution. Also, at times the game did feel a bit choppy even when there weren't any sudden FPS drops and there seemed to be a slight input delay. That is not to say that it isn't playable, but in this case, we think that the CrossOver alternative works better.
Is Boot Camp good for playing the Witcher 3 on Mac?
The Boot Camp method is only usable on Macs with Intel chips and directly lets you install the entire Windows OS on a separate partition of your hard drive. The plus here is that there's no emulation involved with this method and it's the closest you can get to playing the game natively. Technically, this method should make the best use of your Mac's resources. The downsides are that it took us several hours and around 150 GB of space to get everything ready.
Once we finally started The Witcher 3 on our MacBook Pro from 2018, the game did start without any issues as if we were on a Windows PC. However, the mediocre GPU of our Mac forced us to use the Low settings to keep the FPS rate an an acceptable average of 40. The plus is that there was no choppiness or any sort of delay, so this would have been a pretty good option if it weren't for the significant amount of heat radiating from our Mac. The fan was going full blast all the time we were playing, which is neither pleasant nor good for the longevity of the machine.
Ultimately, Boot Camp is an okay method, but it has quite a few downsides, so if we really wanted to play The Witcher 3 on an Intel-based Mac, we'd instead use a cloud gaming service like Boosteroid or GFN.
Conclusion about the methods to play The Witcher 3 on Mac
In conclusion, while both cloud gaming and local methods enable playing The Witcher 3 on Mac, each comes with its trade-offs.
Cloud gaming platforms like Boosteroid and GeForce Now are excellent for those with limited hardware capabilities or who prefer convenience, offering good performance regardless of the Mac model, as long as your Internet is stable.
Local methods provide a more native gaming experience but depend heavily on the Mac's hardware and involve more complex setups. Ultimately, the choice depends on individual preferences, internet capabilities, and the specific Mac model used.
Martina Nikolova
Martina likes to get into nitty-gritty of tomorrow's tech, from product design across to security based solutions. A long time mac user and developer, she has the expertise and strives to give new insight