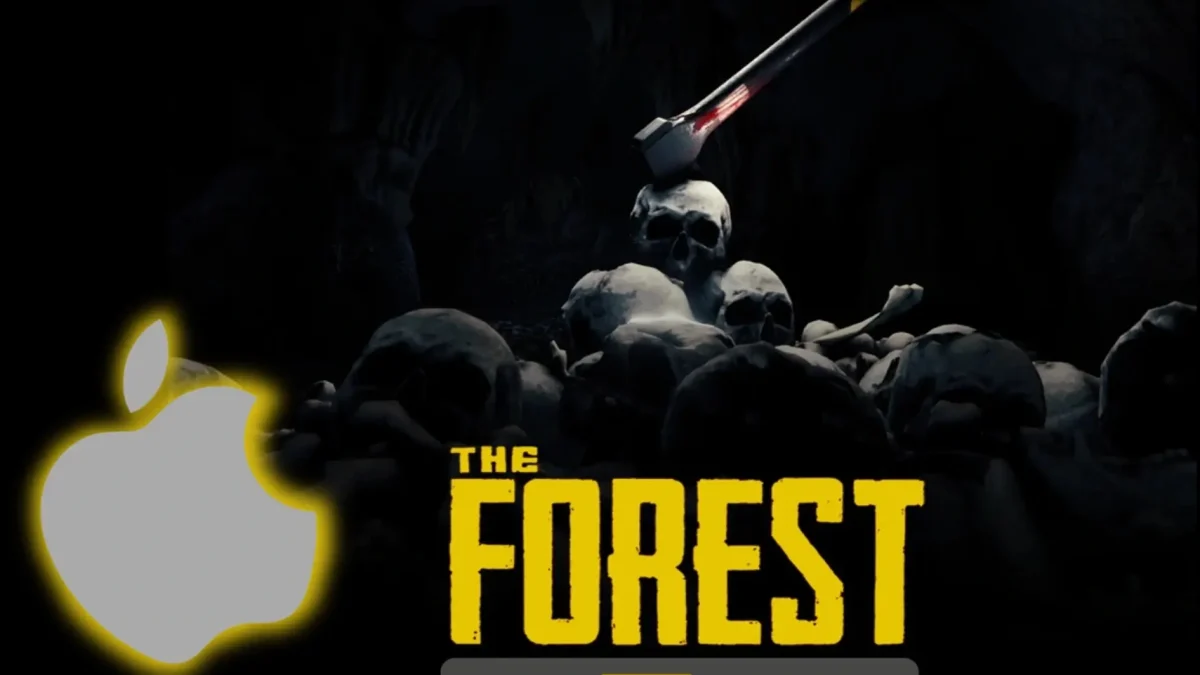 How to Play The Forest on Mac
If you want to play The Forest on Mac, you should know that this comes with its own set of challenges, mainly because there's no native macOS version. But fear not, as we've tinkered with some cool workarounds to find the best way to enjoy this survival horror game on your Apple machine. In fact, our team did the heavy research, ran tests, and evaluated each method with benchmarks and personal experience to guide you on your Mac gaming journey.
The Forest Mac Methods and Instructions
In the following section, we've explained the instructions for the methods we've found that work for playing The Forest on Mac.
Boosteroid Cloud Gaming (Recommended method)

Features: Constant 1080p/60 FPS; Stable connection; Low bandwidth requirements (15 MBPS); Huge gaming library with all the latest AAA titles.

Pros

Cheapest cloud-gaming option
Compatible with all macs
Hardware specs don't matter
You can play in your browser in about 15 minutes

Cons

Requires a good internet connection
You need to look if the game is supported with your chosen vendor

Extras: Here's our review of Boosteroid with a comparison to GeForce Now; also check out our Boosteroid Games List.

Boosteroid is our recommended option for playing on a Mac unless you are a competitive gamer. The method is ideal if you simply want to enjoy the game on your Apple machine without jumping through any elaborate hoops, and gives a great combination of visuals and performance.

Use the "Play with Boosteroid" button and go to the Boosteroid website. There, you need to create a new account or log in using your Google Account credentials.
Go at the top-right corner of the screen and click on "My account". To begin using Boosteroid, you need to activate a plan of your choice under the "My subscription" tab.
Look for the game in the search tab on top to see which vendors Boosteroid supports. You need to own the game before you proceed with this method. Here are links to the game for different vendors: Steam; check for a discount on Cdkeys.com
GeForce Now

Pros

Access to a vast library of games.
High-quality graphics and performance.
No need for powerful local hardware.
Cross-platform support.

Cons

Requires a stable and fast internet connection.
Limited to supported games.
Potential latency issues in online games.
Requires a subscription for some features.

GeForce Now is a cloud gaming service that offers an accessible way to enjoy this game on your Mac.

Note: You need to own the game before you proceed with this method. Here are links to the game for different vendors: Steam; check for a discount on Cdkeys.com

GeForce Now can open up a whole library of games for Mac gamers that might not be available otherwise. The advantage is that you don't need a super powerful Mac because all the gaming is done on NVIDIA's servers. This allows you to enjoy high-quality graphics and smooth performance, even on older Macs. Plus, it's cross-platform, so you can switch between your Mac, PC, or even mobile device seamlessly while keeping your progress.

Now, as a disadvantage, GeForce Now is pretty reliant on a solid internet connection. If your connection is not stable enough or slow, you might run into lag or visual hiccups. Another thing to keep in mind is that not all games are supported, so your favorite title might not be available. And while the basic service is free, some features, like priority access and extended play sessions, require a subscription fee.
Parallels Desktop

Features: Provides you with Windows OS functionality without the need for a separate Windows installation. Easy to set up and doesn't take much space.

Pros

Don't need to buy the game
M1/M2/Intel-compatible
Hardware specs don't matter

Cons

Requires good Internet
Console-based controls
Available in few countries.

Note: You need to own the game before you proceed with this method. Here are links to the game for different vendors: Steam; check for a discount on Cdkeys.com

Parallels is like a virtual computer that you can use on your Mac. It's great because it's quite simple to set up, and it's pretty reliable, so your software usually works well without errors. But the drawback is that it divides your Mac's power between two systems at once, which can make games in the virtual Windows computer a bit slower because they only get half of your Mac's power.
CrossOver + the Game Porting Toolkit

Pros

It's free
Unlimited compatibility
Stable and reliable

Cons

Takes time to set up
Takes tons of storage

Running Windows games natively on your Mac is made possible through Apple's Game Porting Toolkit (GPTK). While GPTK offers powerful capabilities, its initial setup can be complex, involving Terminal commands. To simplify this process and enhance user-friendliness, it is recommended to integrate GPTK with CrossOver, which is a more accessible and user-friendly application. This integration streamlines installation and compatibility layer setup, making it easier for users to configure their systems.

1. Note: You need to own the game before you proceed with this method. Here are links to the game for different vendors: Steam; check for a discount on Cdkeys.com

Update your macOS to macOS Sonoma, visit the CrossOver site by clicking the button below, and download and install CrossOver.

2. Search for and download the Game Porting Toolkit from this Apple page and then open the downloaded file to mount it.

3. Download the CXPatcher from this page and install it in your Applications folder. Then run the following Terminal command: "xattr -cr /Applications CXPatcher.app".

4. Open the CXPatcher, turn on the Enable External Resources and the Allow repatch / upgrade options.

5. Click Locate External Resources and open the Game Porting Toolkit folder. Then drag-and-drop the CrossOver app into the CXPatcher.

6. Create a new CrossOver bottle and install in it Steam (or another game launcher if you own the game elsewhere).

7. Turn off DXVK, launch and log in to Steam, go to your gaming library, install the game, and launch it.
Boot Camp

Features: Provides a native Windows 11 experience. Allows running all Windows-compatible programs and games as long as the Mac's hardware can support them.

Note: Not available for Apple Silicon models.

Pros

It's free
Unlimited compatibility
Stable and reliable

Cons

Takes time to set up
Takes tons of storage
Unavailable for M1/M2

Note: You need to own the game before you proceed with this method. Here are links to the game for different vendors: Steam; check for a discount on Cdkeys.com

Boot Camp installs Windows in a separate partition on your Mac and allows you to run any Windows program without any compatibility issues.

The strengths of this method is that it is the most stable one, so you won't be getting any errors, crashes, or other weird stuff while playing this game on your Mac. Also, it's a method that you can use for free, so the only thing you'll have to pay for is the game itself.

The downsides are that you'll need a ton of hard drive space. Even with games that aren't very big, you still need additional storage to accommodate the Windows installation. Also, this method only works on Intel Macs, so if you are using Apple Silicon, you'll have to opt for one of the other alternatives. Finally, it's the most time-consuming method, so you'll need a couple of hours to set it up.
The results from our tests with The Forest on Mac
The Forest on Mac with Boosteroid
Our experience with Boosteroid was notably positive. On a stable internet connection of 50 Mbps, we achieved consistent frame rates of around 60 FPS on high settings, with occasional dips during highly detailed scenes. What stood out with this method was the lack of need for downloads or installations, which allowed us to play directly through our browser.
The Forest Mac Experience with GeForce Now
GeForce Now delivered The Forest on Mac with crisp graphics and we experienced frame rates similar to those that we got on Boosteroid, hovering around 60 FPS on high settings with our Mac connected to a 50 Mbps line. However, the initial download and installation of the GeForce Now client were additional steps we had to consider. The main hiccup was the waiting time on the free tier, hence, we recommend considering the premium subscription for immediate access, especially for a game like The Forest where immersion is key.
Can you play The Forest on Mac with Parallels?
Our experience with Parallels Desktop on an M1 MacBook Air was surprisingly smooth. We didn't expect the game to run well in a virtualized environment, but Parallels has come a long way. On medium settings, we averaged around 45-55 FPS. The setup of the program was straightforward, and the ability to switch between macOS and a virtualized Windows with ease added to the appeal. The main limitation was the dependency on the Mac's hardware, but for our M1 MacBook Air, Parallels proved to be a viable option for playing The Forest.
Our The Forest MacBook experience with Boot Camp
Using Boot Camp to run The Forest on an Intel-based MacBook Pro gave us the highest performance among the local methods. We achieved frame rates of up to 70 FPS on high settings, as Boot Camp allowed Windows to run natively on Mac hardware, thus fully utilized the machine's capabilities. However, the downside was the partitioning of the drive and the need to reboot to switch between operating systems, which was less convenient than the virtualization which Parallels offered us.
Here's a table summarizing the benchmarks and the settings we tested with each method:
| Platform | Device | Internet | Settings | Frame Rate |
| --- | --- | --- | --- | --- |
| Boosteroid | MacBook Pro M1 | 50 Mbps | High | ~60 FPS |
| GeForce Now | MacBook Pro M1 | 50 Mbps | High | ~60 FPS |
| Parallels | MacBook Air M1 | N/A | Medium | 45-55 FPS |
| Boot Camp | MacBook Pro (Intel) | N/A | High | Up to 70 FPS |
What about playing The Forest on MacBook via Crossover?
We didn't personally test the Crossover method with The Forest, but during our research, we found a reddit user who shared his experience with the game on a M1 MacBook Pro with 16GB of RAM. According to what he shared, he encountered a minor issue initially, with a black screen when starting a new world. Despite this, he could hear the audio and see the skip intro scene button and hunger icon at the bottom left, but the rest of the visuals were missing. To resolve this, he was advised to ensure he had DirectX for Modern Games and VXDH (Builtin) installed in the Steam bottle, and the bottle was set to Windows 10. After experimenting with different settings, including running the game in DX11 and configuring it, he shared that he eventually managed to get it up and running smoothly.
Conclusion
Ultimately, your choice among the methods that we shared will depend on your priorities, be it emphasizing performance, convenience, or a combination of both. In our experience with M1 Macs, Boosteroid and Parallels struck a balance between accessibility and gaming quality, while GeForce Now excelled in delivering quality gameplay, but with dependencies on internet speed and potential waiting times. On the other hand, for those with Intel-based Macs, Boot Camp remains a robust choice for top-notch local gaming performance, but it does require sacrificing some convenience.
Martina Nikolova
Martina likes to get into nitty-gritty of tomorrow's tech, from product design across to security based solutions. A long time mac user and developer, she has the expertise and strives to give new insight