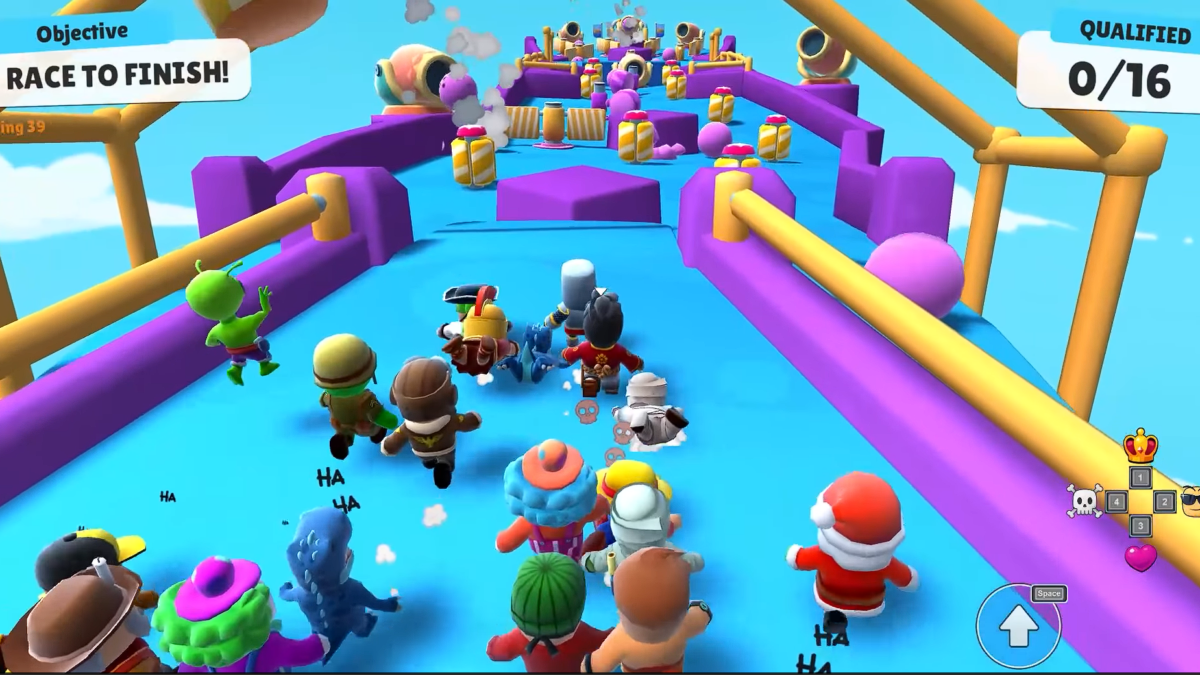 Stumble Guys (Mac)
Martina Nikolova, 9 months ago
0
9 min

read
Methods
Specifics
Who is it for?
Cloud Gaming
(click a link to go to the respective guide)
1. Play immediately. 2. Good performance, but only with good internet. 3. Multiple plans and platforms to choose from. 4. Can be run on browsers and all android devices.
For those who want smooth performance with the ability to casually play all games with the highest visual quality in a matter of minutes. Has the option to play on multiple devices (not simultaneously).
Parallels Virtual Machine
1. Easy setup. 2. Moderately good performance with high compatibility. 3. Runs on Windows 11. 4. Requires a yearly fee, but has 14-day free trial to test it out.
For those willing to let their mac run hot in order to get adequate performance in a native experience. Overall better performance, compatibility and results than Bootcamp, but for a fee (if you don't use the free trial or it has run its course).
Stumble Guys on Mac
Stumble Guys is a light-hearted take on the classic multiplayer battle royale genre. The game has gained popularity as an alternative version of the popular game Fall Guys. However, despite the fact that these two games are quite similar in terms of their gameplay, Stumble Guys has several new and exciting additions that are worth mentioning.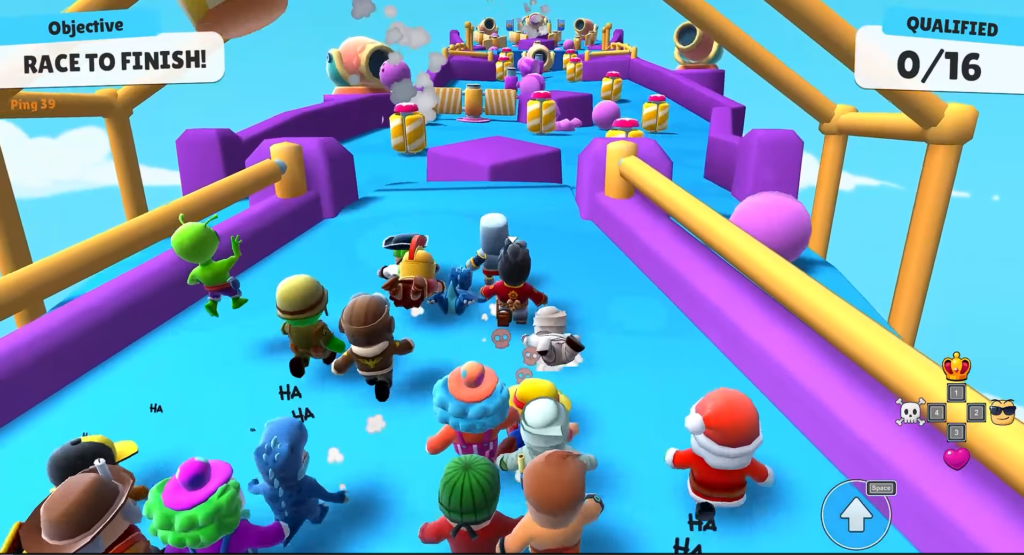 You will notice that many of the levels are based on those seen in Fall Guys, but they are shorter and designed for 32 players instead of 60 as in the original. In the next round, only 16 people advance, and after that, the remaining players are narrowed down to a final number of 8, who then compete in the grand finale to choose a single winner.
Another difference is that when you play Stumble Guys, you don't need to spend a great deal of time shifting between loading screens and reward screens while waiting for the rounds. Things happen much more quickly here, and everything is more compact.
The platforms where both games are available also differ. While Fall Guys is available on all consoles and PC, a mobile version has yet to be released. Stumble Guys, on the other hand, can be played on a PC or a mobile device, with the latter being what most players choose, according to metrics. So, if you are looking for a battle royale game you can play any time, anywhere, Stumble Guys is a great choice.
Tournaments and rankings
In terms of content and features, Fall Guys definitely shines, but that doesn't mean that there is nothing in Stumble Guys that can impress you.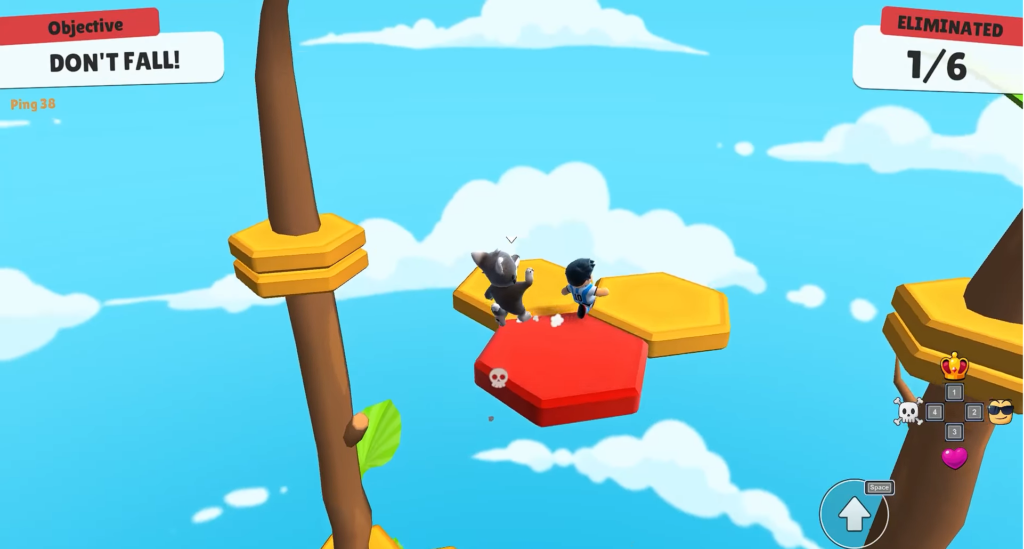 Stumble Guys has in-game tournaments, which Fall Guys doesn't. In tournaments, you can test your skills against those of other players in a competitive setting, and there are some very big prizes for the winner. This game mode has fun and addicting knockout matches played on different levels and obstacles.
Besides these tournaments, you can also see rankings inside Stumble Guys. These rankings are similar to the Crown Rankings in Fall Guys and are a tool to gauge your progression in the game. If you and your friends are planning to play together, this ranking system might serve as a useful benchmark for comparing your skills or levels. Your standing in the rankings will change after each game or tournament, as the statistics are updated in real-time.
Stumble Guys also has a multiplayer mode where players can team up with their pals to go through the levels. To win, you only need to control the last remaining character until the very end. You won't have time to be bored since you'll be too preoccupied with everything that is happening around you.
Character customization
Just as in Fall Guys, players of Stumble Guys may create a wide variety of unique characters with their own skin tone, facial features, and expressions.
Starting the game gives you access to a shop where you can customize your avatar's look and acquire useful skills. You have a lot of options for costumes you can wear, as well as selections for the way your character can move. For a lot of players, this is where most of the fun comes from because the looks in this game are what make it so exciting.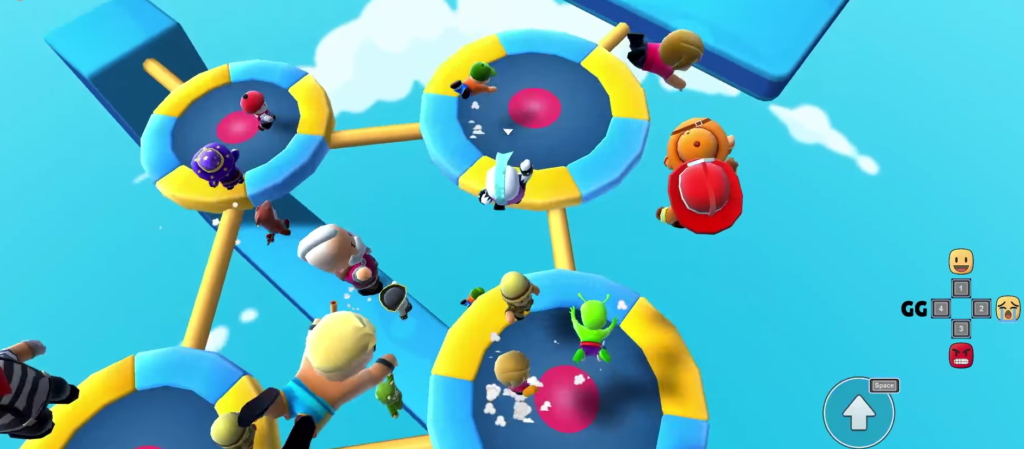 There are both free and premium skins available on Stumble Guys. So, unlike in Fall Guys, there are ways to personalize your avatar right from the start without paying. Of course, there are some goofy and interesting looks that you may be tempted to try, but they are behind a paywall. If you plan on spending a lot of time with this game, you can always start with the free alternatives and upgrade to paid extras as you progress.
With all this being said, it's obvious that this is a game with a lot of room to grow. But even though Stumble Guys is based on and might be seen as a copy of Fall Guys, it is still a good game that is slowly developing its own style.
Can you play Stumble Guys on Mac?
Stumble Guys does not have a native macOS version, but it is playable on Mac with the use of cloud-gaming solutions like Boosteroid, as well as Windows virtualization tools like Parallels or the Boot Camp program.
There are currently no signs that a Mac version of Stumble Guys will be released, however, many Mac users are trying to find ways to play Stumble Guys with the help of workarounds. What we're going to offer you below are a few methods for getting a nearly identical PC gaming experience on your Mac.
How to play Stumble Guys on Mac
Streaming services like Boosteroid make playing Stumble Guys on a Mac a breeze. Alternate ways to play Stumble Guys on a Mac include installing tools like Parallels or Boot Camp Assistant.
How to get Stumble Guys on Mac
To get Stumble Guys on Mac, you need to get the game on Steam. CDKeys have a nice limited-time offer for the Ultimate Knockout version of the game. After that, you can play it without downloading it by using Boosteroid, or you can get Stumble Guys downloaded on Mac with the help of Parallels, or Boot Camp.
Once you have the Steam version of Stumble Guys, you can register in the Boosteroid cloud gaming service and use it to stream the game to your Mac, iPhone, iPad, and Apple TV.
Play Stumble Guys on Mac with Boosteroid
To play Stumble Guys on a Mac, all you need is a Boosteroid account and a subscription. Boosteroid's accessibility and simplicity are two of the service's greatest strengths. The days of having to wait for a game to complete downloading before playing it on a Mac are over. The model of the Mac you are having and its specs have no bearing on the matter. To a large extent, the success of a cloud gaming session is determined by the speed and stability of the player's Internet connection. When using Boosteroid, it is recommended that you have a high internet connection speed of at least 25 Mbps in order to get the most out of your Stumble Guys experience.
You may get started with Boosteroid by following these instructions:
The first step is to register for a Boosteroid.com account.
Next, sign in, go to your profile(by clicking your name at the top right), and then select the "Subscribe" option.
Select a plan, decide on a payment method, and fill out the required fields to begin your Boosteroid subscription.
Type "Stumble Guys" into the top search bar on the Boosteroid website, and then choose the game's tile from the list.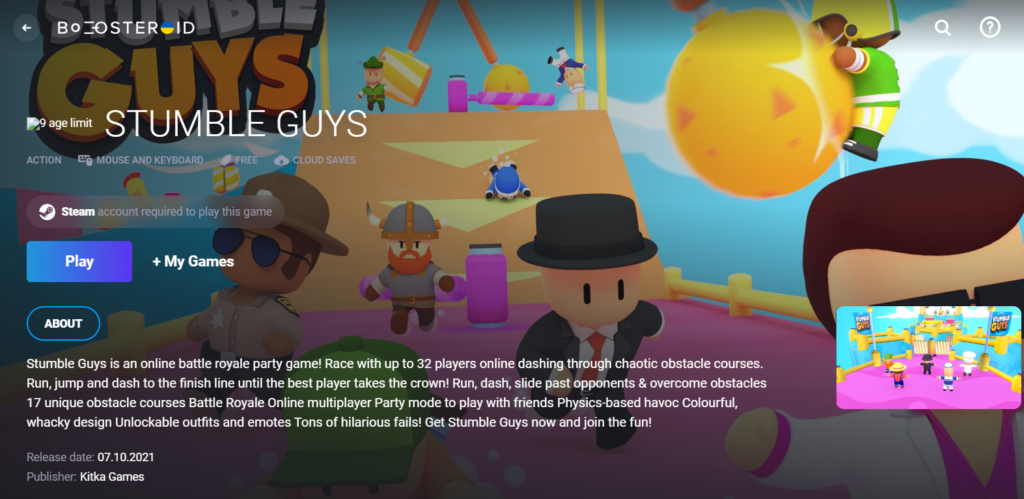 To begin playing Stumble Guys, click the "Play" button on the game's page and confirm that you are OK with connecting your Boosteroid to Steam.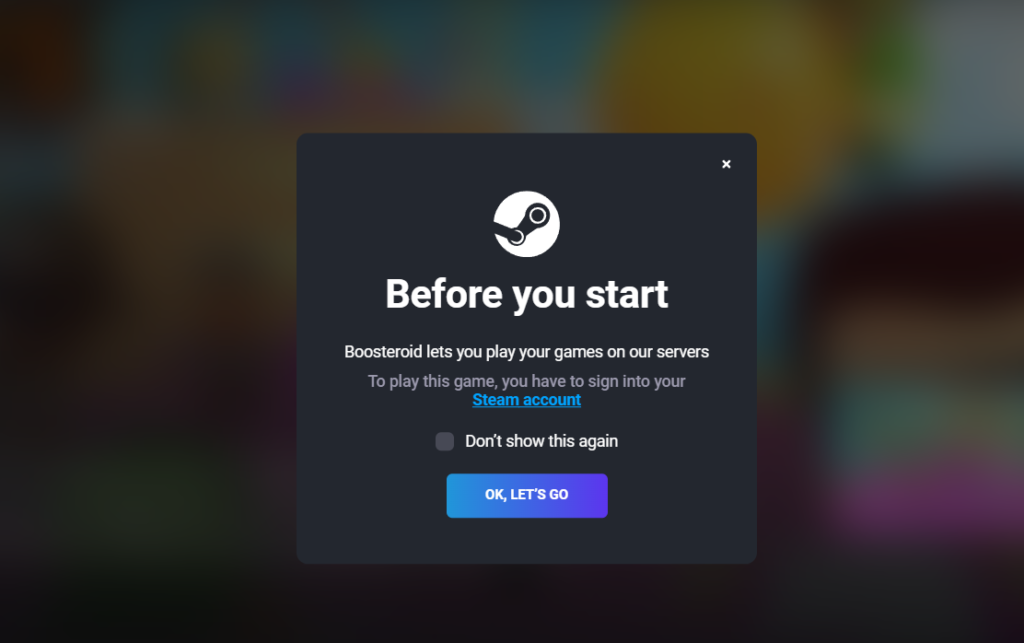 Then, enter your Steam account details as prompted.
Stumble Guys should launch shortly after. If the game doesn't start up right away, you can always find it in your Steam Library.
The Boosteroid service is compatible with a wide variety of browsers, however, we recommend using Google Chrome for the best gaming experience.
How to download Stumble Guys on Mac
The Mac version of Stumble Guys requires either the creation of a virtual Windows machine with Parallels or the creation of a bootable Windows partition with BootCamp. Those pieces of software make it possible for a game like Stumble Guys to run on a Mac as if it is running on a Windows machine.
Stumble Guys does not currently support Mac OS, hence you cannot download it or play it natively. However, you may still download and play the game using one of these two methods.
If you want to play different Windows games on your Mac, you may install Windows and have it run in a virtual machine alongside macOS using Parallels.
If you have an Intel-based Mac, you can use Boot Camp, which helps you install Windows 10 on a separate disk and effectively turn your Mac into a Windows PC when booted from the Windows partition.
Stumble Guys on Mac M1
Playing Stumble Guys on a Mac M1 is simple and easy using a cloud gaming service like Boosteroid. If you prefer downloading Stumble Guys on your Mac M1 and installing it on a virtual machine, then it is best to use Parallels.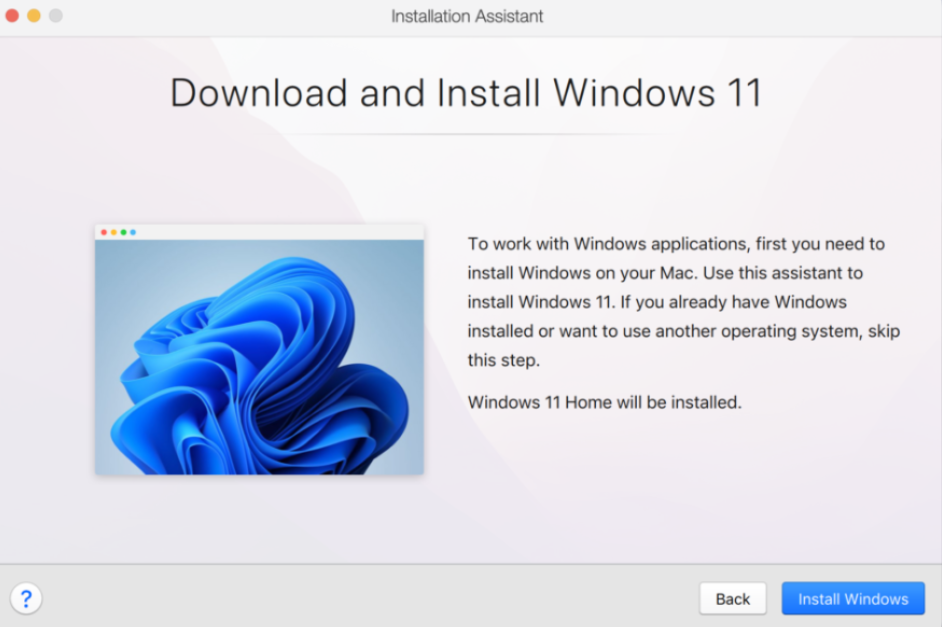 M1 Macs are quick and powerful enough to perform the task, despite the fact that playing games in Parallels may be stressful on Mac's hardware. Stumble Guys isn't very resource-intensive, so it should launch and play smoothly with Parallels.
If you want to learn more about installing and using Parallels, you should check out our full guide on the topic. However, if you're pressed for time and just want a quick rundown of the process, here it is:
First, download the Parallels installation file from their website.
Then, open the Parallels.dmg file and double-click the Install Parallels Desktop icon to begin setting up the program on your Mac.
Choose Install Windows and wait for the Windows Virtual Machine to be created.
After that, register for a Parallels account in order to have access to the virtual machine.
You should download the Steam client to the virtual machine and then search for Stumble Guys to download it.
Play Stumble Guys on Mac with Boot Camp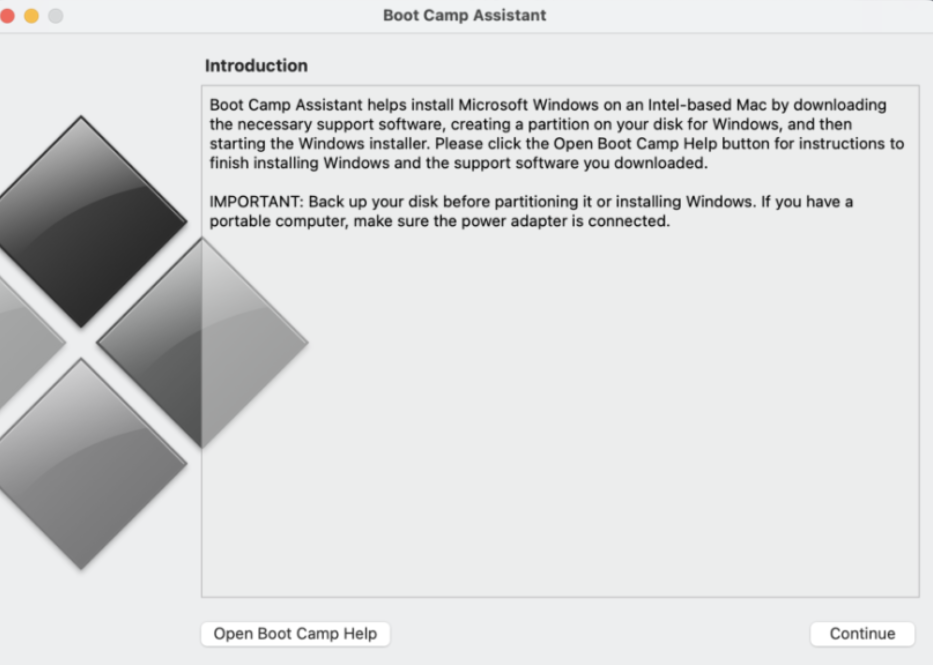 The first step in playing Stumble Guys on a Mac running Boot Camp is to install Windows using Boot Camp Assistant. With Boot Camp, you may divide your hard drive into two, one for Mac OS and one for Windows. Once you've done so, you may treat your Mac as if it were a Windows computer and install games designed for Windows, such as Stumble Upon, on it. Unfortunately, M1 Macs do not have the necessary hardware requirements to run the Boot Camp software, therefore this cannot be done on machines with an M1 chip.
In case you have an Intel-based Mac and are interested in playing Stumble Guys or another Windows game, you can find all the information you need about installing Windows in our full guide. The brief steps necessary to run Boot Camp are briefly described here.
Downloading the ISO 64bit file from Microsoft is the first step in installing Windows 10.
Boot Camp may be accessed via the Utilities folder. Once launched, the ISO file can be imported in the program.
The next step is to partition the disk as needed and then click the Install button.
Follow the on-screen prompts to begin the Windows 10 installation.
Upon finishing the installation of the new OS, you should go ahead and set up Windows and install any updates or drivers that may be required.
As the last step, install Steam on the Windows drive and then search for Stumble Guys to download it.
Martina Nikolova
Martina likes to get into nitty-gritty of tomorrow's tech, from product design across to security based solutions. A long time mac user and developer, she has the expertise and strives to give new insight