Portal 2 (Mac)
Martina Nikolova, 1 year ago
0
15 min

read
Methods
Specifics
Who is it for?
Cloud Gaming
(click a link to go to the respective guide)
1. Play immediately. 2. Good performance, but only with good internet. 3. Multiple plans and platforms to choose from. 4. Can be run on browsers and all android devices.
For those who want smooth performance with the ability to casually play all games with the highest visual quality in a matter of minutes. Has the option to play on multiple devices (not simultaneously).
BootCamp
1. It's free. 2. Unstable performance (drops and hitches). 3. Compatible only with Intel Macs. 4. Installs a Windows 10 layer. 5. Lots of setup needed.
For those who don't have a good internet connection or don't like cloud gaming and don't mind sacrificing visual fidelity and performance to get a native experience.

Parallels Virtual Machine
1. Easy setup. 2. Moderately good performance with high compatibility. 3. Runs on Windows 11. 4. Requires a yearly fee, but has 14-day free trial to test it out.
For those willing to let their mac run hot in order to get adequate performance in a native experience. Overall better performance, compatibility and results than Bootcamp, but for a fee (if you don't use the free trial or it has run its course).
Crossover
1. Setup is easy if you follow our guide. 2. Good performance and stability – but that may change with game or Crossover updates. We recommend not updating anything (don't fix what ain't broken). 3. Requires a fee.
Portal 2 on Mac
Portal 2 is an acclaimed first-person puzzle game that can be played on Mac in several ways. You can play Portal 2 on Mac with cloud gaming platforms like Boosteroid and GeForce Now or by emulating or installing Windows with Parallels, CrossOver, or Boot Camp.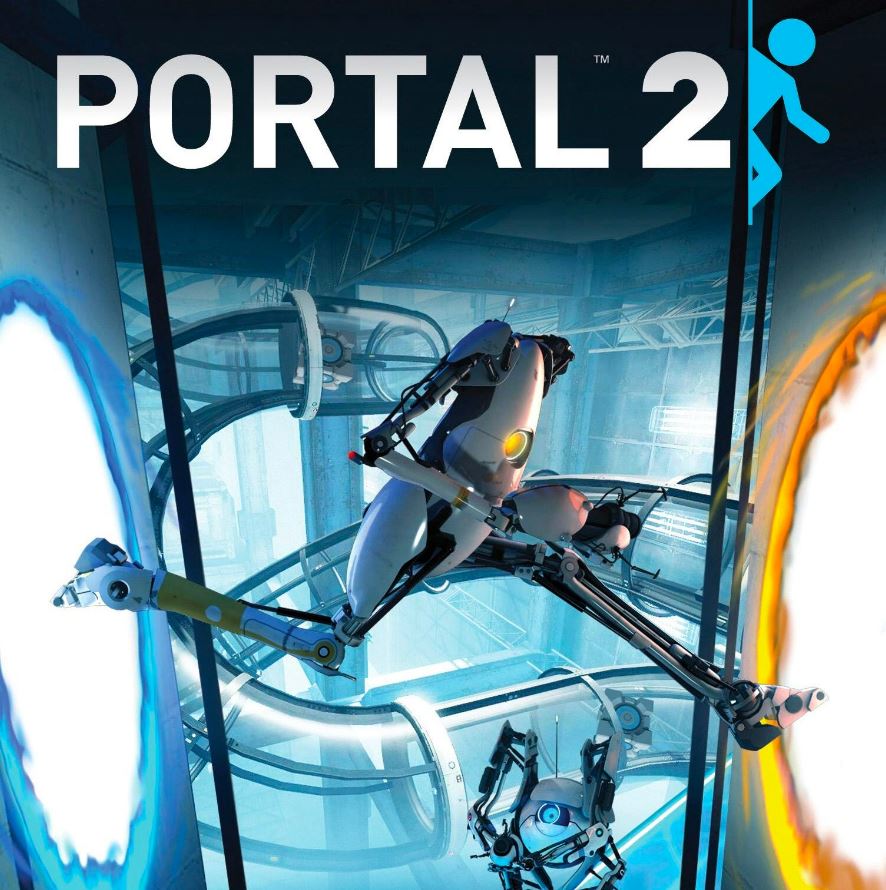 Portal 2 is the sequel to the legendary first Portal game, developed and published by Valve. Like its predecessor, Portal 2 is a unique type of puzzle game played from a first-person perspective, where the player finds themselves in the depths of an enormous underground research facility, with their sole goal being to escape. The thing that makes this game particularly interesting and sets it apart from other first-person puzzle games is that the player needs to employ portals between two distant points in order to solve the increasingly complex puzzles. This specific mechanic is at the core of the gameplay in both Portal 1 and 2, and it sets the stage for some very creative and entertaining level designs, but that also presents the player with plenty of unexpected challenges with even more unexpected ways to overcome them.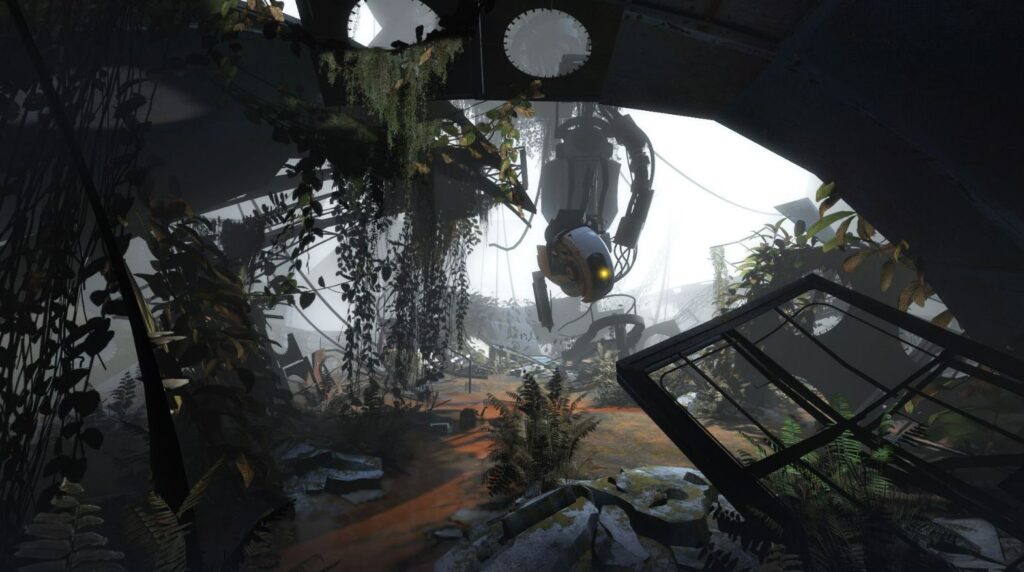 Setting and premise
In Portal 2, the player once again takes control of Chell – the silent protagonist from the first game. Chell wakes in the Aperture Science Enrichment Center – the same underground research facility that served as the setting of the first Portal game. However, this time Aperture is in a decrepit state, with everything slowly falling apart. It soon becomes clear that the events are taking place many years after the end of Portal 1, and ever since that point in time, Aperture has fallen into disrepair as a direct result of the destruction of GLaDOS – the artificial intelligence previously responsible for maintaining the facility.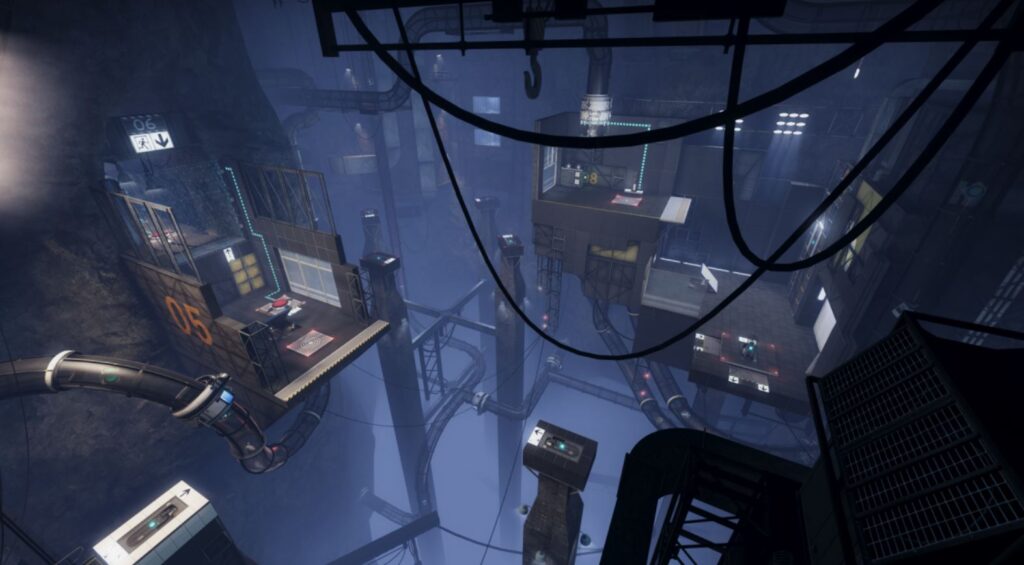 Although Portal 2 is set in the same place as the original, the dilapidated state of Aperture provides a vastly different atmosphere. Gone are the clean and sterile halls of the first game, replaced by half-destructed corridors that are being slowly overtaken by vegetation and mold. In my opinion, this change in the environment is a welcome one, as it opens further opportunities for even more interesting and inventive level-design decisions, which has always been one of the main strengths of the Portal series.
Story and plot
Soon after waking up, Chell is reunited with the portal gun from the first game and meets Wheatley – a friendly artificial intelligence that says he'll help Chell leave the facility. However, just as things start to look up, GLaDOS reawakens and once again forces Chell to endlessly go through her test chambers, at which point the main part of the game begins.
The first half of the game is spent trying to overthrow GLaDOS just like you did in Portal 1, but just as you are about to succeed, something unexpected happens that introduces a brand-new challenge and that is bound to change the player's perspective concerning certain previously-established plot and story elements. We won't say much else to avoid spoilers for those who have not yet played the game, but it's safe to say that Portal 2 delves deeper (both literally and figuratively) into the past and present of Aperture and masterfully builds upon the themes, lore, and characters established in the first game., ultimately providing a highly-immersive and engaging single-player experience.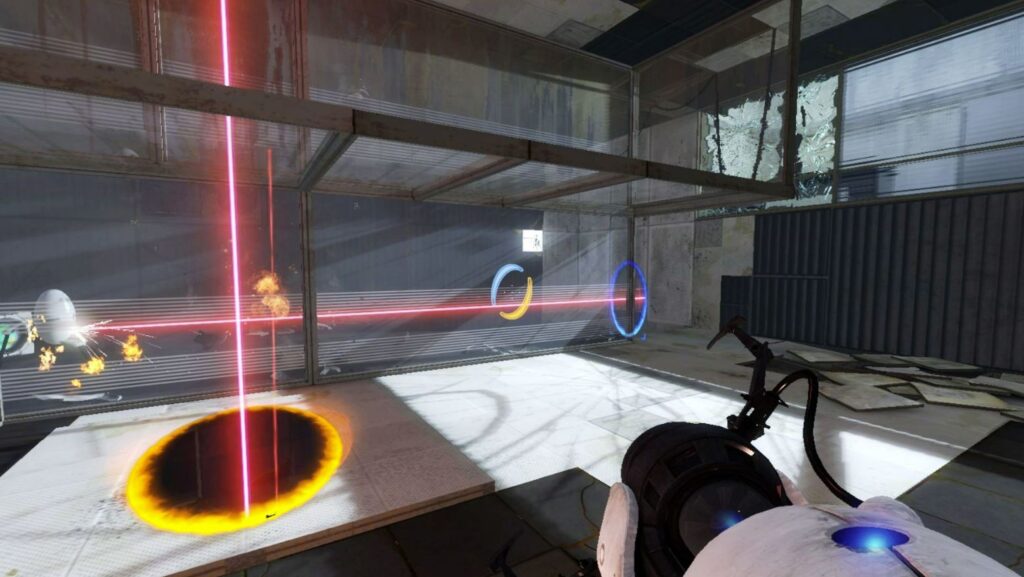 Gameplay
The setting, plot, and story in Portal 2 are quite great, but, let's be honest, the main highlight of this title is its clever, creative, and inventive gameplay. If you haven't played the first game, the gameplay in both Portal 1 and 2 revolves around the use of the portal gun to solve various puzzles and progress through the levels of the game. The portal gun is a tool that can shoot out two portals – an orange and a blue one. The portals stick to most types of surfaces, and when both portals have been deployed, they allow the player to walk through the one and emerge from the other, as if they are passing through a walkway, regardless of how apart the two portals are in relation to one another.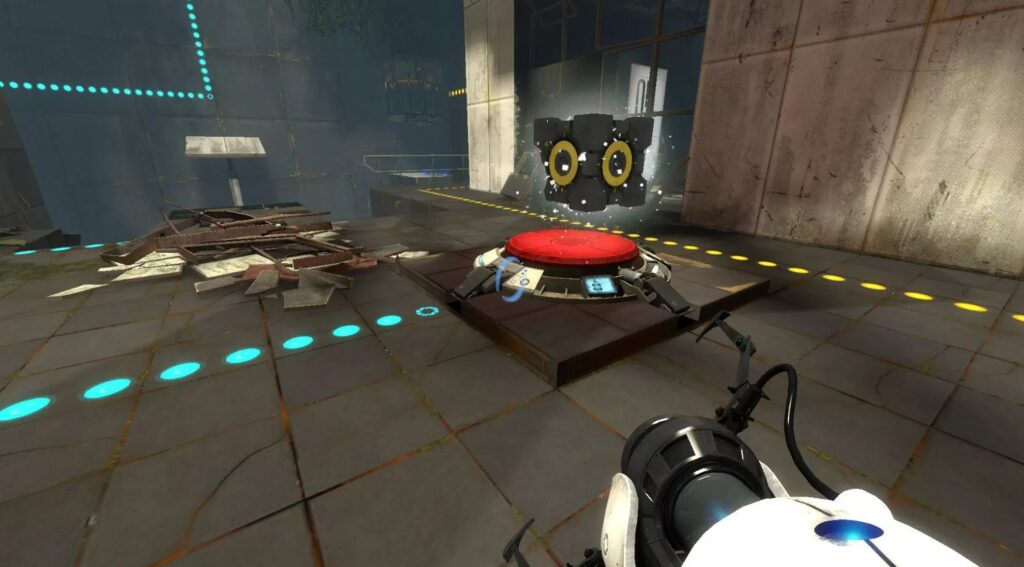 This deceptively simple gameplay mechanic has provided Portal's developers with a highly potent gameplay tool that has allowed them to create some of the most interesting, fun, and ingenious puzzles, which is why both Portal games are regarded as gaming classics. That said, there is no doubt that the levels in Portal 2 have taken the concept of using portals for puzzle solving to a whole other level, with some truly intricate and complex head-scratchers that can take a while to solve, but feel super satisfying once you figure them out.
In other words, the gameplay in Portal 2 is extremely well done, and even if you don't care about the game's story and/or aren't a particularly big fan of puzzle games, we still think you should give it a go. The game has the ability to seamlessly draw you in and keep engaged for hours, while you are trying to solve the puzzle in "just one more room" before you are done for the day.
Conclusion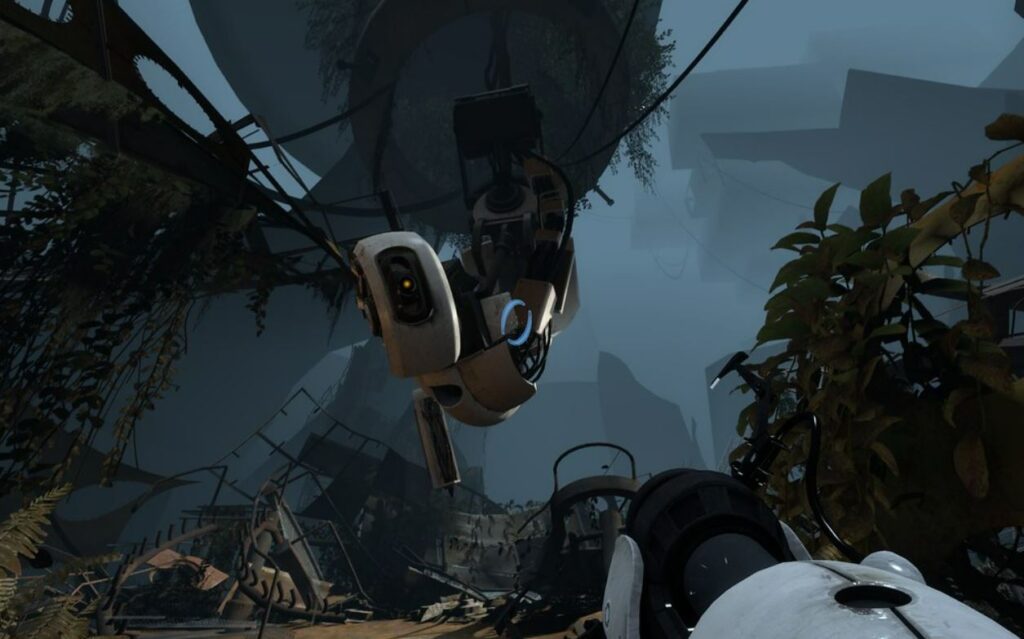 If you are looking for a relaxing, yet challenging single-player game with a top-notch level design and highly-entertaining gameplay, you should definitely check out Portal 2. The off-beat humor of the game and its intriguing story are only bonuses to an already excellent title. And if you've already decided to give it a try, don't worry if Steam tells you that the game won't run on your macOS version – we will show you a number of easy-to-apply ways to run the game on your Mac and have fun with it just as if you are playing it on a Windows PC!
Can you play Portal 2 on Mac?
You can play Portal 2 on Mac by streaming it with Boosteroid or GeForce Now – two popular cloud gaming platforms. You can also play Portal 2 on Mac by using the CrossOver compatibility layer, or by installing Windows on your Mac with Parallels or Boot Camp Assistant.
Although Portal 2 technically has an official macOS version, that version won't work on modern macOS releases, because macOS 10.15 and later versions of the operating system do not support 32-bit apps. This means that, if your Mac is running on macOS Catalina or later, Portal 2 won't run natively on your Mac.
However, this doesn't mean you still cannot play it on your Mac – you'll simply need to use alternative methods, and there are quite a few of them. In the next guide, we will show you five ways you can play Portal 2 on Mac and give you instructions on how to use each method.
How to play Portal 2 on Mac
To play Portal 2 on Mac, you can stream the game over the Internet with Boosteroid or GeForce Now. Other ways to play Portal 2 on Mac are to use CrossOver or Parallels to emulate Windows or install Windows on your Mac with Boot Camp.
To play any unsupported game on a Mac, you typically have two main options – cloud gaming and Windows installation/emulation. The cloud gaming approach is much easier and less time-consuming to set up, and it also makes your Mac's hardware specs irrelevant, allowing you to play very demanding games on weaker machines. The downsides are that it requires a semi-decent Internet connection and a small monthly fee.
The Windows installation/emulation alternative takes more time and effort to set up and, with it, performance will depend on how powerful your Mac is. Here, you may also need to pay a fee depending on which specific method you choose. The plus with this approach is that your Internet connection won't matter as much, or at all when talking about single-player games.
In the case of Portal, this is an older game with low requirements, so even weaker Macs should run it without an issue through Windows.
How to get Portal 2 on Mac
To get Portal 2 on Mac, you will need a Steam registration to buy the game from Steam. Once you've purchased the game, you can play it via Boosteroid and GeForce Now or get Portal 2 on your Mac after installing Windows on it.
If you already own the game, using Boosteroid can let you stream not only to your Mac, but also to your iOS devices and your Apple TV.
Play Portal 2 on Mac with Boosteroid
To play Portal 2 on Mac with Boosteroid, you'll need an account on the Boosteroid website and an active subscription to the service. After that, you simply need to launch the game from its Boosteroid page to play Portal 2 on Mac with Boosteroid.
If you are interested in playing Portal 2 with Boosteroid, here's how you can quickly set everything up and start the game on your Mac:
Visit Boosteroid's site, register there, and access your new account.

Go to your profile settings by clicking your account's icon in the top-right and then click the Subscribe button.

Choose which Boosteroid plan you want to use and what payment method you prefer, and start your subscription to the service.
Next, click on the search button at the top of any Boosteroid page, type Portal 2, and select the game.

Click the Play button, then click on OK, let's go in the prompt that shows up and wait a couple of moments for Boosteroid to load.

Next, you'll need to access your Steam account, so enter your details to proceed to Steam.
If the game doesn't start automatically, open your library in the Steam client that will be shown on the Boosteroid page, find the game, and launch it from there.
The Boosteroid service can be used from within any browser, but we've had the best experience with it using Google Chrome, as the platform seems best optimized for it, so we recommend getting Chrome if you don't currently have it on your Mac.
Play Portal 2 on Mac with GeForce Now
To play Portal 2 on Mac with GeForce Now, get registered on the service's site, download its app for Mac, and install it. Next, launch the app, log in, search for the game, and start it to play Portal 2 on Mac with GeForce Now.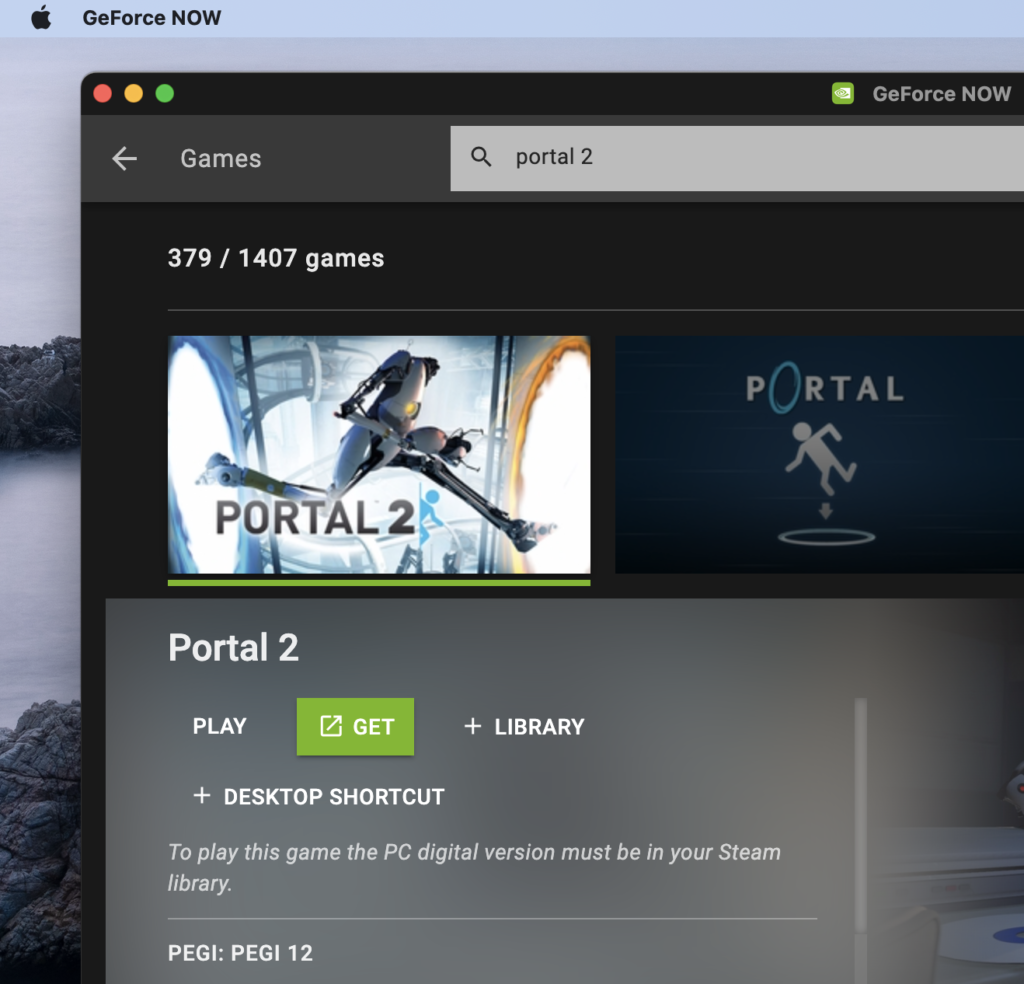 If you want to try playing Portal 2 through GeForce Now, you can learn how to do that from this detailed guide or check out the following quick instructions:
Start by going to the GeForce Now site, clicking on Join Now, choosing a subscription plan, and creating a new account.
Next, go to the Downloads section of the site, download GeForce Now for Mac, and install it.
Start the app, log in, and type Portal 2 in the search bar.
Click the game's image, select Play, and then connect your Steam account to GeForce Now to be able to play Portal 2.
Once your Steam account is connected, start the game, and wait for it to load. Soon Portal 2 will start within GeForce Now, and you'll be able to start playing.
Play Portal 2 on Mac with CrossOver
To play Portal 2 with CrossOver, install the CrossOver app on your Mac, create a new bottle for the game, and download Steam in it. Then launch Steam, use it to download the game in CrossOver, and then start it within the app.
Crossover functions as a compatibility layer for different Windows versions, thus allowing you to download and locally run Windows software on your Mac. It may take some time to set it up, but once everything is ready, you should be running Portal 2 as if it has a native Mac version.
Important: Currently, Portal 2 performs well through the compatibility layer, but note that changes to CrossOver and/or the game introduced by updates can affect the stability and performance of the latter while it's being run in CrossOver.
Here are our instructions on how to play Portal 2 on your Mac using the CrossOver compatibility layer:
Go to the website of CrossOver, download the app from there, and install it on your Mac. There is a 14-day free trial version of the app that provides you with all the functionality of the paid version, so we recommend using that to test CrossOver with Portal 2 and see if everything works fine.
Start CrossOver, open the Bottle menu from the top, click New Bottle, choose a name and set the compatibility mode to Windows 10 64 bit, and create the new bottle.


Select the Portal 2 bottle from the left, then click on Install (bottom-left corner), search for Steam, and install it in that bottle.



Click on Steam in the Portal 2 bottle, and click Run Command from the right panel.

Log in to your Steam account, access your library, find Portal 2 and install it in CrossOver without changing the preset installation directory.

Next, go to this page, and download the ZIP file from the Assets section below the newest DXVK update.

Open the downloaded ZIP file in Finder and access the folder named x64 that's in it.

Back in the CrossOver app, click Open C: Drive (right panel), and go to windows > system32.

Copy the contents of x64 and paste them in system32, replacing everything.

Finally, click Install again in CrossOver, search for Net Framework 4.7.2, and install the item in the Portal 2 bottle.

Now you can start Steam in CrossOver and launch Portal 2 through it.
How to download Portal 2 on Mac
To download Portal 2 on Mac, you need to have Windows installed or emulated on the computer. It's not possible to directly download Portal 2 on Mac since the game doesn't have a working macOS version, so you will need to do it through Windows.
The first way of downloading Portal 2 on Mac was already explored above when we talked about CrossOver. The other two methods are to use Parallels and Boot Camp.
Portal 2 on Mac M1
Portal 2 can be played on Mac M1, but only through the use of workaround methods such as cloud gaming and Windows emulation. The services that can let you play Portal 2 on Mac are Boosteroid, GeForce Now, Parallels, and CrossOver.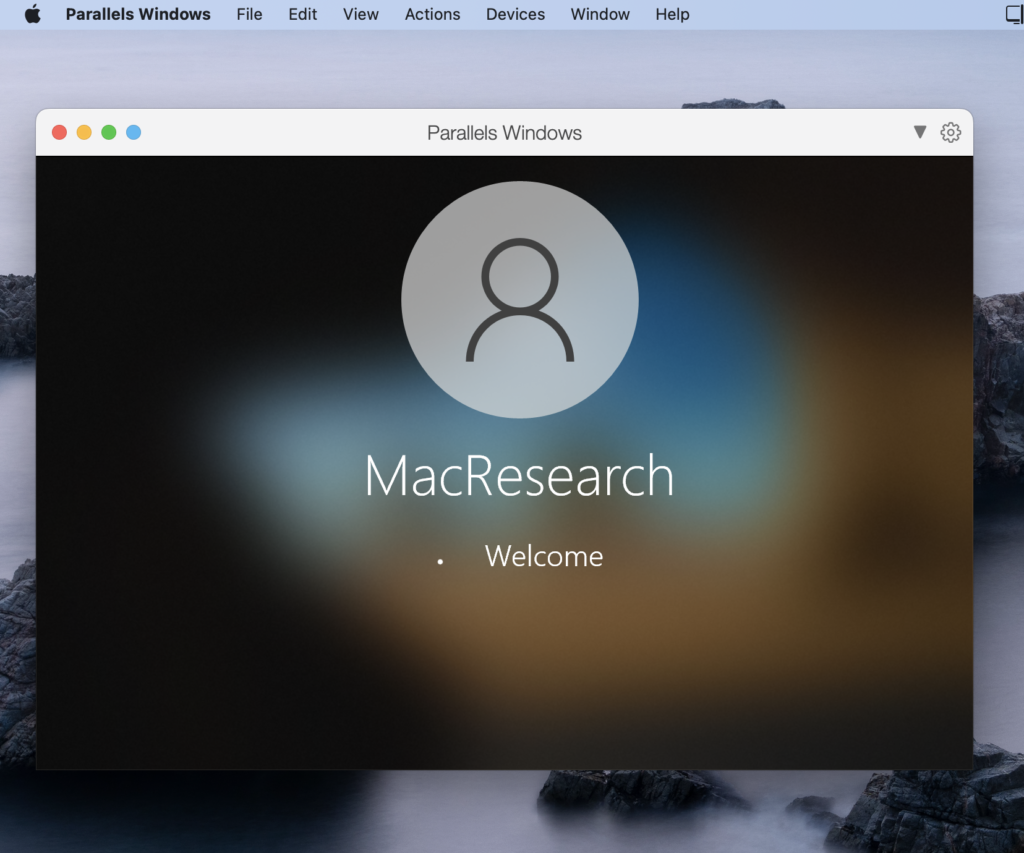 We will now tell you more about the Parallels method. Parallels is a virtualization app that works similarly to CrossOver, but instead of simply providing you with a compatibility layer, it instead creates a Windows virtual machine, which is basically a program within your macOS that emulates a Windows environment. This opens up a lot more options and provides compatibility with a lot more games and other Windows software, but it also splits your system's resources into half, as the machine now needs to support two operating systems at the same time. Again, since Portal 2 is an undemanding game, this shouldn't be an issue.
If you want to learn how to quickly set up and use Parallels to play Portal 2 and other Windows games, check out our detailed Parallels guide.
You can also take a look at the following quick instructions if you don't need a more detailed explanation of the process:
Download the Parallels app from its official site.
Install it on your Mac computer and start the app.
Make sure that you have a stable connection to the Internet and click on Install Windows.
Create a Parallels account or use one of the other sign-up options to enter the newly-created virtual machine.
Download Steam and then download Portal 2 in the Parallels VM to start playing.
Play Portal 2 on Mac with Boot Camp
To play Portal 2 on Mac with Boot Camp, you must first install Windows on your Mac in a separate partition, and then download the game from Steam. Note that the Boot Camp method for playing Portal 2 on Mac works only on Intel Macs.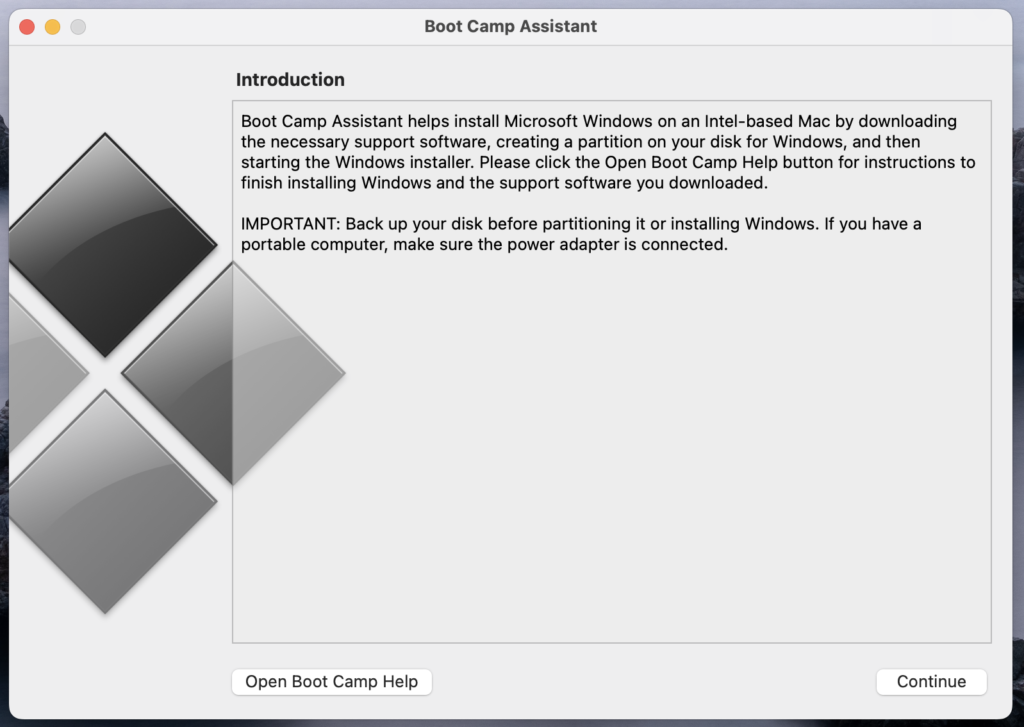 You can learn how to do this from the detailed guide on this page, or use the brief instructions shown below.
To play Portal 2 on Mac with Boot Camp you must first download a Windows 10 ISO file from Microsoft's site.
Then you must load the file into the built-in Boot Camp app on your Mac and make changes to the storage space distribution if such is needed.
Next, you must start the installation, go through the various prompts, and install Windows 10 on your Mac.
Once Windows 10 installs, update both the Windows and Apple drivers in the Windows partition, and then download and install Steam.
Lastly, you can use Steam to download Portal 2 on your Mac.
Martina Nikolova
Martina likes to get into nitty-gritty of tomorrow's tech, from product design across to security based solutions. A long time mac user and developer, she has the expertise and strives to give new insight