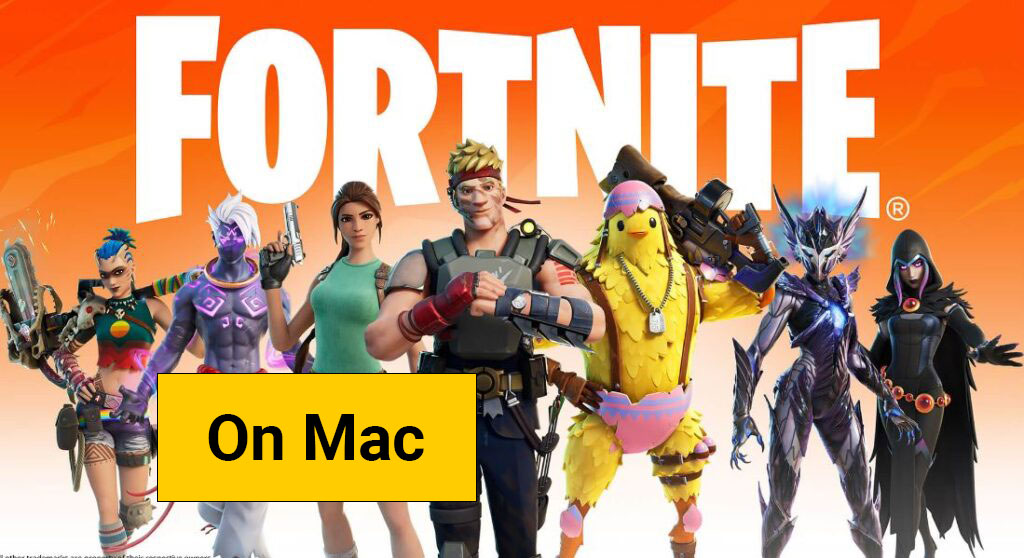 Fortnite (Mac)
Martina Nikolova, 3 months ago
1
8 min

read
Fortnite on Mac
Fortnite is a popular free-to-play multiplayer action game that is available on platforms such as Windows, Xbox, PlayStation, and Nintendo Switch. But is there Fortnite on Mac? In September 2020, the game has stopped being officially supported for Mac systems due to a lawsuit between Apple and Epic Games. For this reason, fans who want to play Fortnite on Mac need to resort to alternative methods to enjoy it.
Can you play Fortnite on a Mac?
Most MacBook Pros meet the system requirements to play older versions of Fortnite as the game supports Intel HD Graphics 4000 or better. In other words, all recent models should have no problem running the game, providing smooth gameplay with high FPS levels.
Is Fortnite in the Mac Store?
Fortnite was ultimately removed from the App Store by Apple, who blamed Epic Games for violating the store's rules.
Is Epic Games available on Mac?
Yes, Epic Games Store offers Mac support, allowing you to access its library of games on your Mac computer. To verify whether a specific game is compatible with your Mac, you can check its "Specifications" section on the product page.
Will Fortnite come back to Apple?
Fortnite's return to iOS is uncertain, but Epic's CEO Tim Sweeney is hopeful for a 2023 return. In the meantime, there are ways to play the game on Apple and Android devices, such as Nvidia's GeForce Now that allows both iOS and Mac users to enjoy the game.
Can you play Fortnite on Mac?
Yes, you can play Fortnite on Mac, but to do that, you need to usesome workarounds. The good news is that although the Fortnite macOS version is no longer supported, Mac users still have plenty of options to play this game on their machines. For instance, they can resort to cloud gaming or install Windows on their Mac to download Fortnite's Windows version. Below, we will tell you about these options and provide you with a detailed explanation for each of them, so be sure to check out the following paragraphs if you want to play Fortnite on Mac.
How to download Fortnite on Mac?
To download Fortnite on Mac, you must install Windows on the computer or emulate it using a virtual machine. In the next paragraphs, we will show you how to use the Boot Camp Assistant app or the Parallels virtualization tool to respectively install or emulate Windows and download Fortnite on your Mac.
Please note that, in recent testing, we've found that trying to run Fortnite in a Parallels virtual machine on an M1 Mac won't let us start thegame, which means that, at the moment, it's not possible to download Fortnite on a Mac M1. For this reason, we will explain you how to use cloud gaming to play the game on Apple Silicon Macs without the need to physically download Fortnite on Macbook. As for Intel Macs, you can check on the guide below and learn how to use both the Boot Camp method and the Parallels method to download Fortnite on Mac.
How to play Fortnite on Mac
Mac users can no longer play Fortnite on Mac natively. This calls for workaround methods if they want to be able to run the game on their Mac machines. One such viable method that can make it possible to play Fortnite on Mac is to use a cloud gaming service. Currently, Fortnite is available on Boosteroid and GeForce Now – two platforms that could let you play Fortnite on Mac M1 or Intel-based Mac despite the fact that there is no official macOS version. Below, we've provided instructions on how to set up and use them.
How to get Fortnite on Mac
Before you get Fortnite on Mac, make sure you register through the official Epic Games website. Once registered, you will be able to play this and many other games with cloud gaming services.
Play Fortnite on Mac with Boosteroid
Boosteroid is a cloud-based gaming service that basically allows you to remotely play any game included in its library. Using such a cloud gaming service is perfect for playing demanding games that your machine cannot run, as well as for playing games that don't have versions for macOS on Mac computers. Here's a brief explanation of how to set up and use Boosteroid to play Fortnite on your Mac.
Full disclosure: we may earn a commission from some of the links on this page. Please support us if we were useful.
1. The first thing that you need to do is go to Boosteroid and create an account or select your Google account to login quickly:
2. After you create an account and login, go to the top right corner of the Boosteroid page, select the Profile details icon and click on My account.
3. Next, in "My subscription" choose a subscription plan and follow the on-screen steps to activate it.
4. As soon as you see that your Boosteroid subscription is activated, use the search bar and search for Fortnite.
5. Click on the game when it shows up and select Play on the game's page.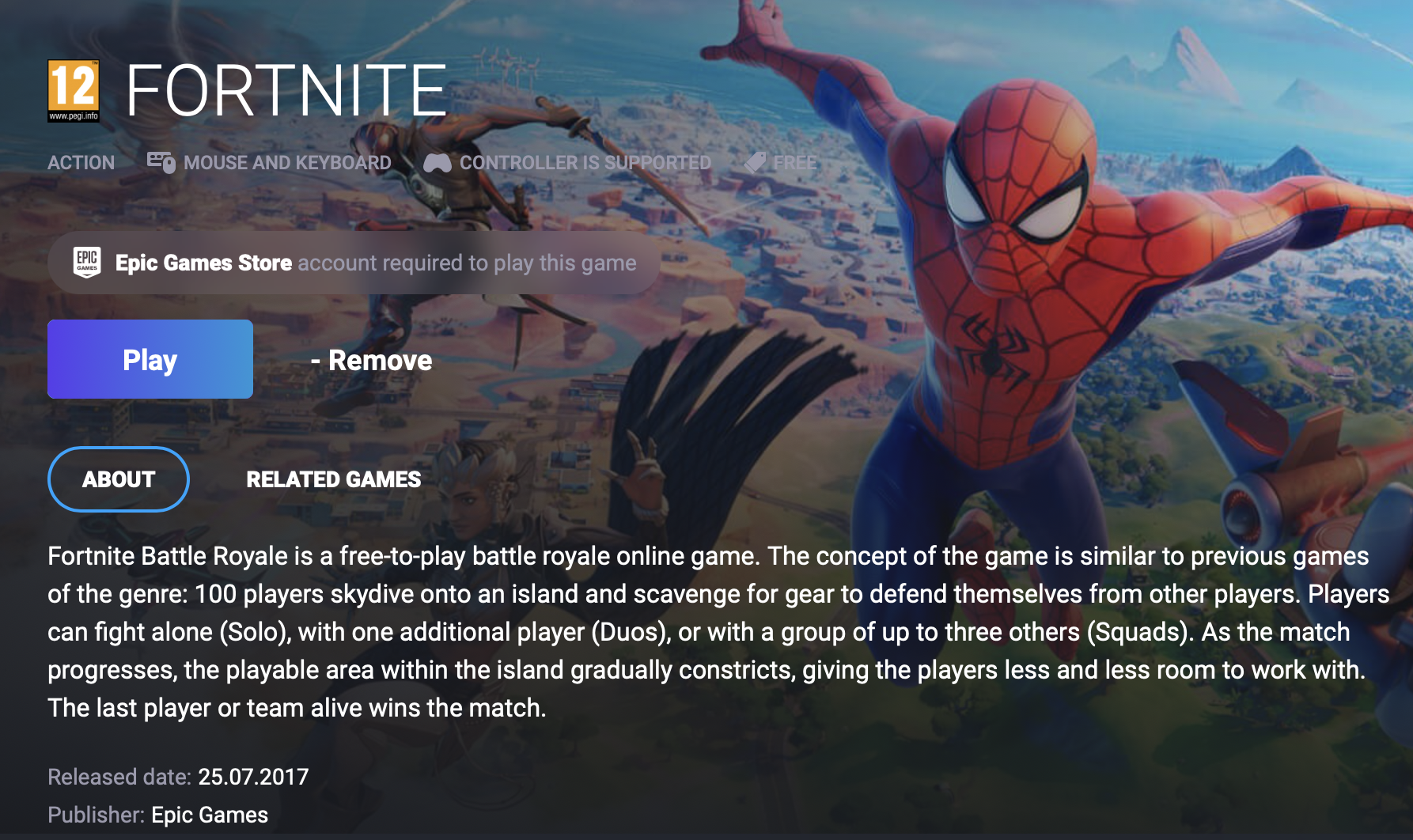 6. Click on OK, Let's Go when you get told that you will need to sign in to your Epic Games account.
7. Next, enter your Epic Games account credentials and sign in. After that, the game should start, and you can begin playing.
Play Fortnite on Mac with GeForce Now
Here is a guide that explains how to play Fortnite on Mac with GeForce Now:
Other Methods to Play Fortnite on Mac
In addition to the cloud gaming options described above, owners of Macs can also use Parallels and/or Boot Сamp Assistant to emulate Windows and play Fortnite on Mac. Here we have detailed guides for these two programs, but please note that the gaming performance that you can get with them may vary between Mac models.
Fortnite Review
Fortnite is a third-person action game primarily known for its battle royale mode, where one hundred players fight against one another, in a free-for-all style. The game is played on a huge map that gradually shrinks over time, forcing the players to engage in battles until there's only one player left, who is then declared the winner of the match.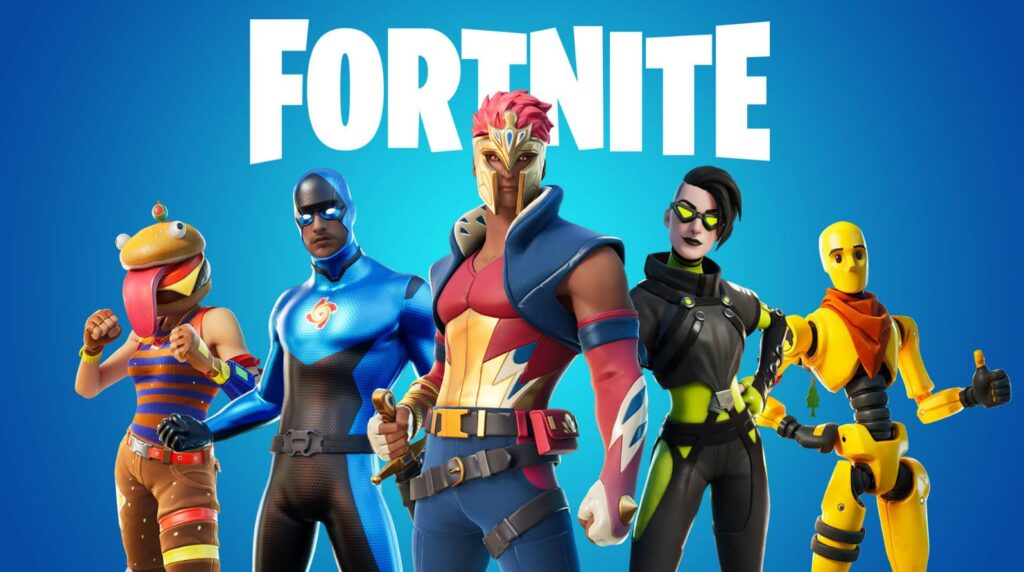 Easy to get started
If you have never played Fortnite before, then you should know that the game is very easy to get into, because the controls are intuitive, and the game mechanics are easy to learn, making it accessible for players of all skill levels. At the beginning of each round, players start in a large map and must scavenge for weapons, ammunition, and resources in order to build structures and defend themselves. The gameplay is fast-paced and action-packed, making it an engaging experience. The game features a voice chat system that makes communication between players smooth and easy.
Fun for everyone
In addition to the battle royale mode, Fortnite has other game modes such as Team Rumble, where two teams of 20 players each are battling to eliminate the other team's players. The mode is a more casual and respawn-based version of the standard battle royale mode. In it, players have the opportunity to practice their skills, test out new weapons and strategies, and enjoy the social aspect of the game with their friends.
There is also a Creative mode, where players can create their own game modes, maps, and structures. This mode is probably the strongest point of Fortnite since it gives its community of players the freedom to come up with new ways to have fun with the tools provided by the game's developers.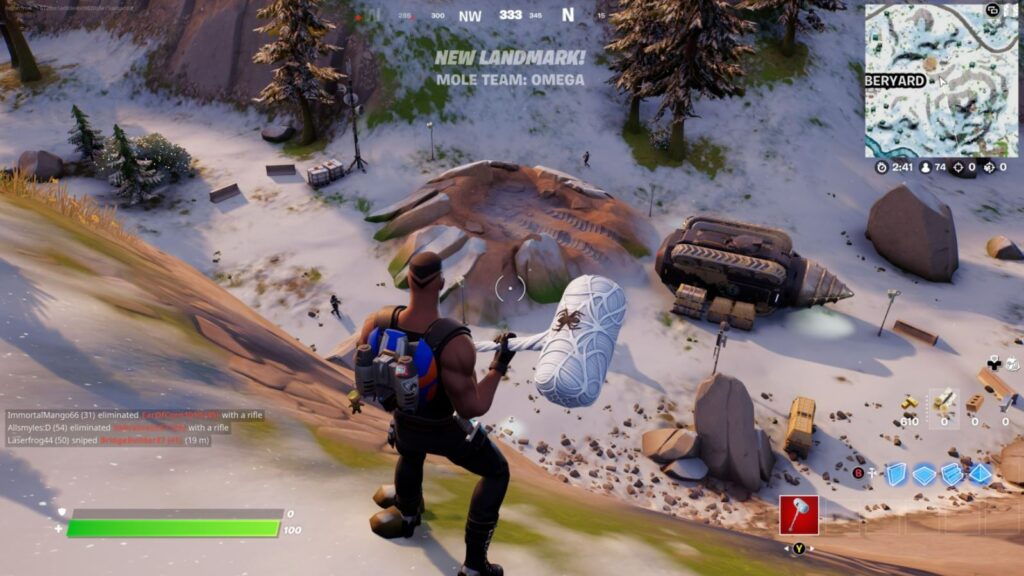 Balanced battle royale experience
Fortnite offers is a highly-balanced battle royale experience that is welcoming to new players and, at the same time, doesn't fail to offer plenty of opportunities for high-level fans. The large, open maps, with a lot of terrain variety, and the wide range of view thanks to the third-person camera, allow the player to carefully plan their routes and find creative ways to outmaneuver their opponents. This, in turn, let's anyone to stand a good chance at winning a round, even if they aren't the best shooter, or don't have the fastest reflexes. Of course, to an extent, this can be said about other battle royales as well, but many players have found that Fortnite's battle royale is where being creative with your approach, strategy, and tactics feels the most rewarding.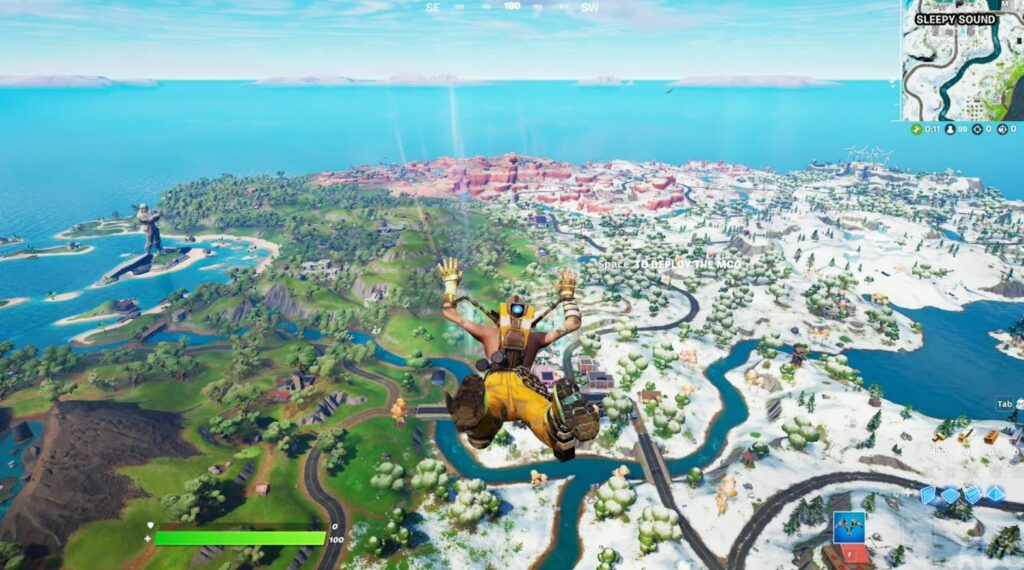 Conclusion
Fortnite, at its core, is still a solid game, that, both casual and hardcore players, can have tons of fun with. So, if you've never tried this title before or haven't played it in a while and want to get back to it, be sure to check out the methods for playing Fortnite on Mac we've included above. In case you want to learn about the more intricate aspects of playing the game and actually get good at it, there's a ton of online content and video guides that can help you with every aspect of Fortnite and allow you to drastically improve your gaming experience.
Martina Nikolova
Martina likes to get into nitty-gritty of tomorrow's tech, from product design across to security based solutions. A long time mac user and developer, she has the expertise and strives to give new insight