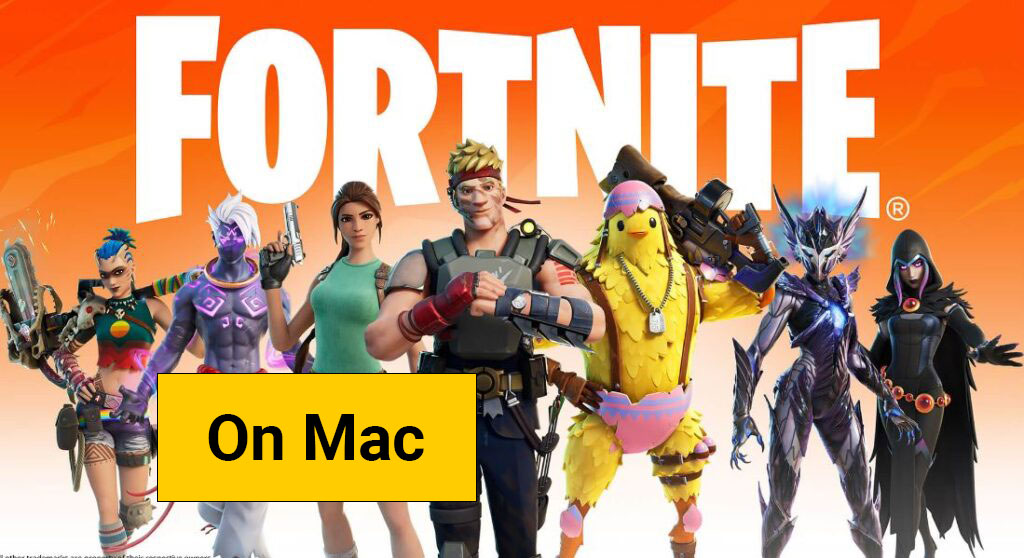 Play Fortnite Mac Tutorial
Martina Nikolova, 2 weeks ago
0
11 min

read
About Fortnite on Mac
Fortnite is a free-to play multiplayer game that can be played natively on Mac computers. Fortnite is currently among the most popular computer games out there, and you can easily play it on your Mac so long as the computer meets the game's hardware requirements.
Unless you have been living under a rock for the past four or so years, chances are you've heard about Fortnite – an online action video game that comes in three distinct gameplay modes, each with a different objective but shared gameplay mechanics. The game is developed by Epic Games and was released in 2017 to quickly become one of the most popular multiplayer games. Its player base in 2020 reached 350,000,000 registered accounts and that number has most certainly increased with at least another 50,000,000 accounts since then. The game's peak player activity reached 12,3 million players logged into the game at once in 2020.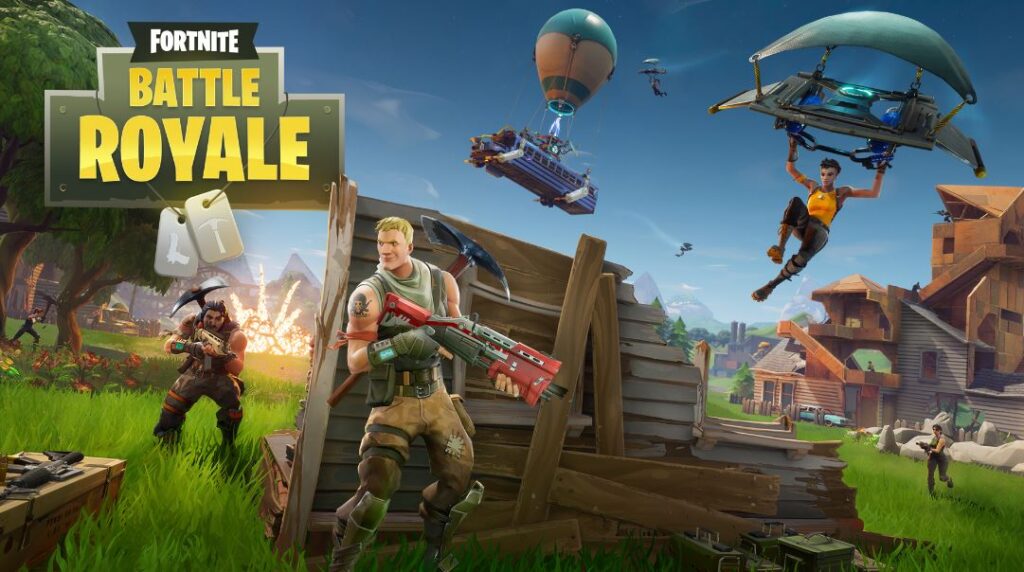 Obviously, the game is immensely popular and would continue to be that way for the foreseeable future, but does this mean it's a good game worth playing? Well, there may not really be a definitive and clear-cut answer to that question – after all, gaming is all about personal experience and the individual's perception of a given game. That said, as popular as Fortnite is, it certainly has its flaws and, in fact, the user score for the game on Metacritic clearly reflects that with the very low score of 3.0/10. At the same time, however, Fortnite is has received a relatively high rating from critics – 81/100, so what gives?
Well, let's talk about the game itself for a bit to try to figure that out. As said, Fortnite is a free-to-play multiplayer game. Its most popular mode, Battle Royale, puts the player and a set number of other players (up to 100 players) in a large battle arena, with the goal of each player, player due, or player squad being to be the last one standing. At the beginning of each game, the players/duos/squads start far apart from one another and the twist is that the arena gradually shrinks, forcing the players to close the distance between themselves and other players and engage in skirmishes.
Editors' Choice: Play Genshin Impact on Mac
Battle Royale mode
The Battle Royale mode for Fortnite wasn't initially planned to be part of the game, but two months prior to Fortnite's release, PUBG (another popular multiplayer first-person/third-person action game) was released, and it used the Battle Royale mechanic as the basis of its gameplay. As soon as PUBG got released, its gained immense popularity due to its Battle Royale-based gameplay. The developers of Fortnite figured out that they can expand their original vision of the game to include a similar mode, and thus the Battle Royale Fortnite mode got created and was readily available once the game was released. As was expected, this mode of Fortnite went on to become the most popular of the three.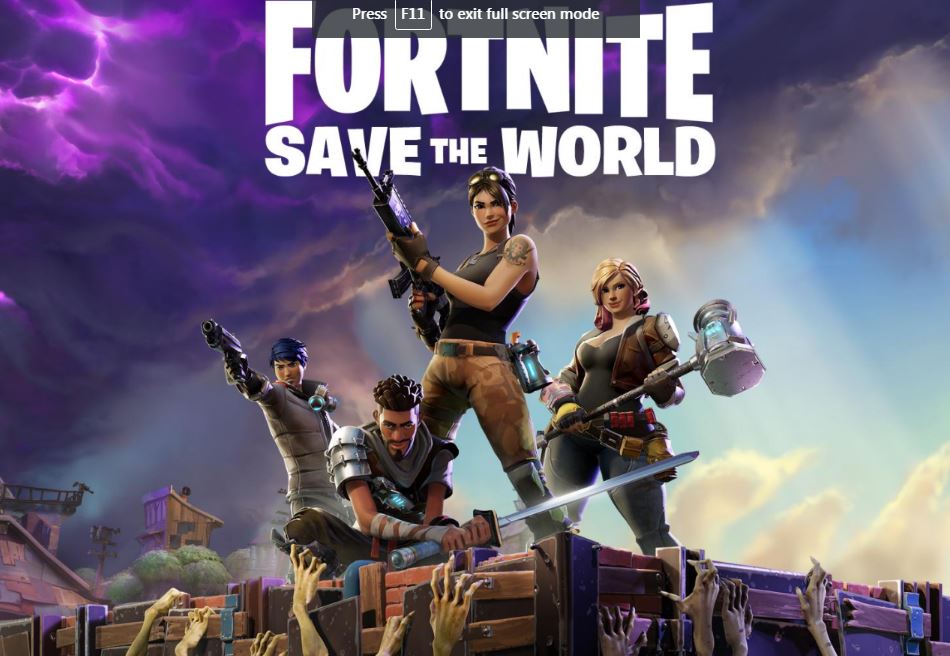 Second Fortnite mode
the one intended as the game's main one, is called Save the World, and it focuses on teamwork. The players are all on the same team and must survive incoming waves of zombie-like creatures. In this mode, the players can gather resources from the map and build fortifications that help them survive the waves of attackers that gradually increase in strength and size. This game mode is akin to other zombie-survival games, but the cartoonish graphics of Fortnite, in general, give this mode a more light-hearted and less serious feel compared to other games that focus on surviving waves of zombies.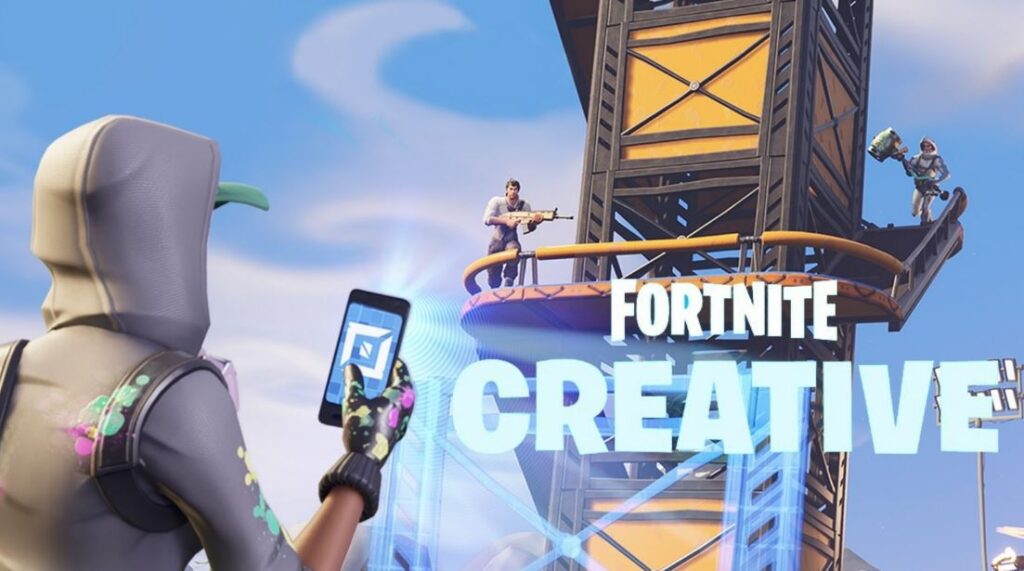 Fortnite Creative
Unlike the other two, in it, there isn't a specified objective that the player must complete. This game mode has sandbox-type of gameplay, reminiscent of games like Minecraft or the Half-Life 2 Garry's Mode. The player is given the freedom to build anything that the game's engine can support, and thus create custom battle arenas, race tracks, platforming courses, and other mini-games.
The good
Now that we've covered the three base modes of Fortnite, we can talk a bit about the things that make this game as popular as it is.
The first aspect of Fortnite that contributes to its immense popularity is the appeal of the Battle Royale gameplay style and the huge number of players that this game mode of Fortnite can accommodate at any given time. Games that have Battle Royale-based gameplay are popular for a reason – the game mode is fun and was relatively unexplored before PUBG and Fortnite came along. The steady and exponential build-up of pressure, risk, excitement, and adrenaline caused by the gradually shrinking map makes for interesting in-game situations and adds a level of urgency that more conventional types of gameplay in action games lack.
Another important point to be made about Fortnite is its ever-evolving gameplay. The game-as-a-service model has been on the rise ever since games like League of Legends and Dota 2 got released about a decade ago, and Fortnite is currently one of the most notable examples of this model. Innovations, balance changes, new gimmicks, and improvements are made to the game on a monthly basis, ensuring that the gameplay experience doesn't get stale and that there's always new content to explore and play around with.
The bad
Popularity doesn't equal quality, and Fortnite may be an example of that – in spite of some of its strengths, there are certain controversial decisions made by the game's owners that negatively impact the overall gameplay experience.
The main issue has to be the questionable business practices implemented in the game. There is a fine line between an actual free-to-play game and a pay-to-win game disguised as free-to-play. While for the most part, Fortnite is indeed a free game that you can download right now and start playing on your Mac without paying anything, sooner or later you will discover that, in order to progress past a certain point, you either need to spend hours upon hours of grinding in the game or pay real-life money to purchase in-game currency and use that currency to greatly increase the speed of your progress (potentially). What's even worse, however, is that, since the game's progression system is based on loot boxes, the contents of which are determined randomly by RNG (Random Number Generation), in some cases, you may end up spending your real-life money and still not get the type of gear you actually need. Any way one looks at it, such practices are very reminiscent of real-life gambling systems, but in this case, they have been put into a game that tends to appeal to younger demographics (and intentionally so).
Unfortunately, due to such business practices, a base game that does indeed have a lot to offer in terms of engaging and fun gameplay is reduced to either a mindless grind-fest or a pay-to-win slot machine.
With all that said, the game is still perfectly playable, and due to the demands of its popularity, has great support for every platform it's available on, including Mac. Also, if you are looking for some casual gaming and aren't looking to get competitive for the time being, the grinding side of Fortnite may not be as apparent since it kicks in later into one's progress with the game and is less noticeable when you are first starting up.
How to play Fortnite on Mac M1
To play Fortnite on Mac M1, you must simply go to the Epic Games site, download the game from there, and install it. If you don't already have one, you'd need to create an Epic Games account to download and play Fortnite on Mac M1.
It may be difficult to run certain games on Mac M1 models due to the different architecture of the M1 chip compared to Intel processors, but no such issues are present when it comes to Fortnite. The Mac version of the game is perfectly playable on a Mac M1 models, and it's very easy to start playing it. All you need to do is download the game from the Epic Store site (click the Download button in the top-right when you open the link), then execute the downloaded file and perform the installation by dragging the Fortnite icon to the icon of your Applications folder (just like when installing any other app). Once the installation is complete, you can start playing. Obviously, if you don't already have an account for the game, you will first need to create one, but this takes only a couple of minutes.
How to play Fortnite on Mac with GeForce Now
To play Fortnite on Mac, you must download the game from the Epic Games site and install it on your Mac like any other regular app. Another viable method to play Fortnite on Mac is to use the GeForce cloud gaming service.
Playing Fortnite on Macs with Intel processors is exactly the same as playing the game on M1 Macs. You simply download it from Epic Games, install it, and start playing. However, if you own an older Mac model that maybe doesn't meet all of the system requirements for Fortnite, but you still want to play the game without buying a new machine for this specific purpose, it may actually be possible to still play Fortnite on your current Mac via a workaround method.
Note: Although the system requirements for using GeForce Now to play games are significantly lower compared to those of Fortnite, your Mac still needs to meet them, so make sure to check whether it does before you attempt to use the service. According to the official Nvidia website, any Mac released in 2009 or later should be able to run GeForce Now with up to 1080p and 60 FPS.
GeForce Now is a cloud-based gaming service that basically allows you to remotely play any game included in its library. When playing a game over GeForce Now, the game is technically running on a very powerful machine and with the gameplay being streamed to your computer. From your Mac, you'd have full control of what happens in the game, but the game itself won't be running on your machine, but rather on one of the GeForce Now gaming rigs. Using such a cloud gaming service is perfect for playing demanding games that your machine cannot run, and/or for playing games on Mac computers that don't have versions for macOS. Here's a brief explanation of how to set up and use GeForce Now to play Fortnite on your Mac.
Go to Nvidia GeForce Now site, click on Play Now, and choose the subscription plan you prefer (Free or Priority).
If you have an Nvidia account, log in to it. If you don't have an account, create one now.

If you are creating a new account, once it is created, you will need to verify your email, and then go back to the GeForce Now site and select Play Now once more. After that, you will need to log in with your newly created account.

Once in your account, scroll down a bit and find and select the Download Apps button (under Quick Links).

Now download the Mac version of the GeForce Now client, open the downloaded file, and install the client by dragging the GeForce Now icon to the Applications folder icon.
Once the client is installed, open the Applications folder and start the client app.
Then log in with your GeForce Now account, and use the client's search bar to search for Fortnite.
Click on the Fortnite tile, then click Play, and select Continue when you are asked to sign in to your Epic Games account.


You will be asked whether you'd like to connect your Epic Games account to GeForce Now in order to get faster launch time. If you want to connect your Epic Games account, click Continue and log in to your Epic Games account. You can also select Not Now, as connecting your Epic Games account isn't actually mandatory.

Next, wait for GeForce Now to analyse your network. If it tells you that your connection may not be fast enough, you can still click Continue and try to play, but it's possible that you may experience lag and performance issues.


After that, wait at the queue and once it's your turn, the game will launch. All that's left to do is to choose how to sign in to your Epic account – you can sign in with Epic Games, Google, Facebook, Step, Apple, and more. Choose the option you prefer, and after you sing in, you can start playing the game.

Martina Nikolova
Martina likes to get into nitty-gritty of tomorrow's tech, from product design across to security based solutions. A long time mac user and developer, she has the expertise and strives to give new insight
Buy Me a Coffee
If my work has been helpful, the following link is only for those who have the means, and want to show their gratitude.