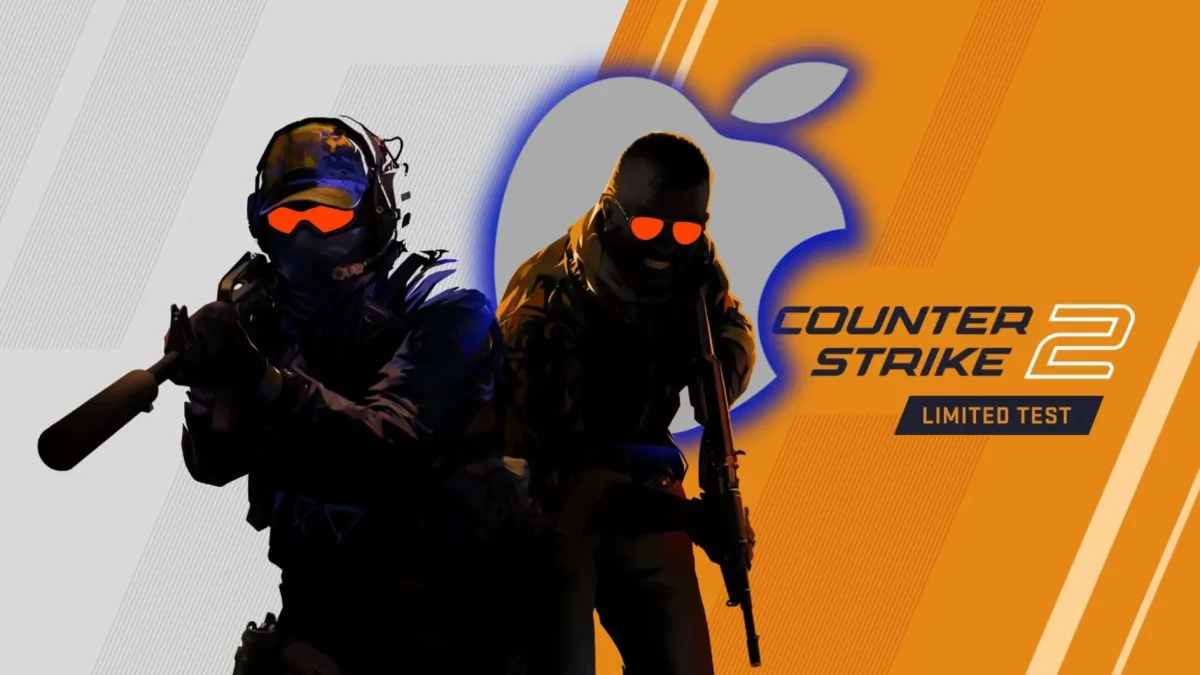 4 Ways to play CS2 on Mac: Our Experience
Martina Nikolova, 4 weeks ago
0
11 min

read
CS2 is a free update and overhaul of the long-standing CS:GO, but with it comes the unfortunate discontinuation of the game's Mac support. Yes, even though Counter-Strike: Global Offensive had a fully-functioning macOS version for years, Counter Strike 2 isn't available for Mac. While this is undeniably bad news for Mac fans of the game, not everything's lost.
We, too, wanted a way to still play CS2 on our Macs, so we looked for alternatives and came across some promising variants. We tested those potential workarounds and are now eager to tell you about our experience with each of them. The methods we'll be discussing are Boosteroid, GeForce Now, CrossOver, and Boot Camp.
How to pay CS2 on a Mac: All working methods
In case you want to get straight to playing CS2 on your Mac and test the methods for yourself, you can find them right below. If, instead, you prefer to first read what we have to say about them, you can scroll past the methods to the overview of our experience from testing them.
Boosteroid Cloud Gaming (Recommended method)

Features: Constant 1080p/60 FPS; Stable connection; Low bandwidth requirements (15 MBPS); Huge gaming library with all the latest AAA titles.

Pros

Cheapest cloud-gaming option
Compatible with all macs
Hardware specs don't matter
You can play in your browser in about 15 minutes

Cons

Requires a good internet connection
You need to look if the game is supported with your chosen vendor

Extras: Here's our review of Boosteroid with a comparison to GeForce Now; also check out our Boosteroid Games List.

For Mac users, especially those who aren't into competitive gaming, we suggest Boosteroid. It's a straightforward and efficient way to enjoy gaming on your Apple device, offering excellent graphics and smooth gameplay.

Click the "Play with Boosteroid" button to visit the Boosteroid site. Here, you can sign up or log in with your Google Account.
In the screen's top-right corner, find "My account." Choose and activate a subscription plan under "My subscription" to get started.
Use the search tab to find the game and click on the 'Play' button to get started.
GeForce Now

Pros

Access to a vast library of games.
High-quality graphics and performance.
No need for powerful local hardware.
Cross-platform support.

Cons

Requires a stable and fast internet connection.
Limited to supported games.
Potential latency issues in online games.
Requires a subscription for some features.

GeForce Now provides a cloud gaming platform, enhancing the gaming experience on Macs with a wide range of games.

Note: You need to claim the game before you proceed with this method. Here is a link to its official Steam page.

GeForce Now transforms Mac gaming by making an extensive library of games accessible, even on less powerful Macs. Thanks to NVIDIA's servers handling the processing, you can enjoy top-notch graphics and fluid gameplay on any Mac. It also supports cross-platform play, allowing seamless transitions between Mac, PC, or mobile while preserving your game's progress.

The downside is GeForce Now's dependence on stable internet. Poor connectivity may cause lag or image quality issues. Not every game is supported, and while there's a free version, premium features require a paid subscription. Hence, it's crucial to ensure a good internet connection and game availability on the platform.
CrossOver + the Game Porting Toolkit

Pros

It's free
Unlimited compatibility
Stable and reliable

Cons

Takes time to set up
Takes tons of storage

Apple's Game Porting Toolkit (GPTK) enables native Windows gaming on Macs. Although GPTK is potent, its setup involving Terminal commands can be intricate. To make this easier and more user-friendly, integrating GPTK with CrossOver is recommended. This combination simplifies the installation process and the setting up of compatibility layers, easing system configuration for users.

1. Visit the CrossOver site by clicking the button below, and download and install CrossOver.

2. Open CrossOver and create a new Bottle from the Bottle menu.

3. Right-click the newly-created bottle, click Install Software in Bottle, and then search for and install Steam (or another game launcher if you own the game elsewhere).

4. Make sure that D3DMetal option is enabled if you are about to play a DirectX 11 or 12 game, and then launch and log into Steam, find the game in your library, install it, and click Play.
Boot Camp

Features: Provides a native Windows 11 experience. Allows running all Windows-compatible programs and games as long as the Mac's hardware can support them.

Note: Not available for Apple Silicon models.

Pros

It's free
Unlimited compatibility
Stable and reliable

Cons

Takes time to set up
Takes tons of storage
Unavailable for M1/M2

Note: You need to claim the game before you proceed with this method. Here is a link to its official Steam page.

Boot Camp facilitates running Windows on a separate Mac partition, ensuring compatibility with all Windows applications.

Boot Camp's primary advantage is its stability, ensuring a smooth, error-free gaming experience on your Mac. It's also free, with the only cost being the game itself.

However, it requires substantial hard drive space to house both the game and the Windows OS. This method works only on Intel Macs, so those with Apple Silicon must consider alternatives. Also, it's time-consuming to set up, requiring several hours.
Testing each method to play CS2 on Mac: Here's what we learned
The good news about playing CS2 on Mac is that the game itself isn't too graphically demanding, which makes some potential workarounds, that don't work with other games, viable in the current case. It's also a highly popular game, so it's bound to be available on at least a couple of cloud gaming services.
Testing CS2 on our MacBook with Boosteroid and GeForce Now
On the topic of cloud gaming, this is the first method we considered when we started our research and two cloud platforms that provide access to the game are Boosteroid and GeForce Now.
With cloud gaming, Counter Strike 2 is streamed to you from a remote server so, technically, the game is running on another machine, but you get to play it on your Mac. This solves the problem with compatibility and also makes the hardware specifications of your Mac irrelevant, letting you play the game on even on old and weak machines from over a decade ago.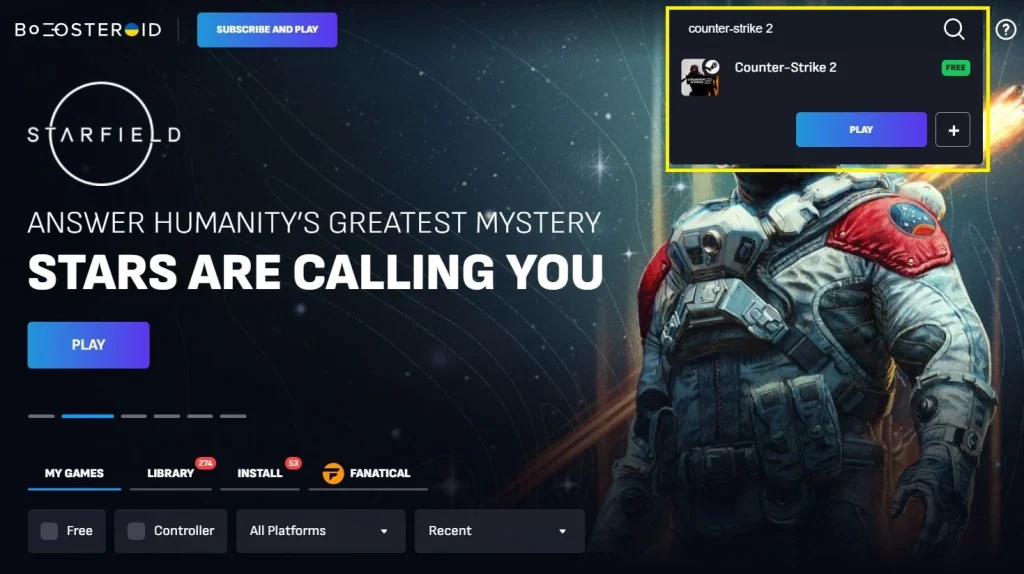 The only factor that determines the quality of your gameplay when using cloud gaming is your Internet strength, but both Boosteroid and GeForce Now have quite forgiving Internet requirements. For GFN, you'll need a connection with 25 Mbps speed and for Boosteroid, you can get away with a 15 Mbps connection and still get a smooth streaming quality. For both services, we used a less-than-impressive 25 Mbps wireless Internet, which had an average latency of 50 ms.
Our first test was with Boosteroid, where our subscription allowed for up to 1080p/60FPS streaming. During our test, the streaming was smooth, and it consistently provided us with the maximum allowed resolution and frames-per-second rate with only a couple of hiccups because our internet started acting up. We played a couple of matches, had some fun, and moved on to GFN.
The plan for GeForce Now we are subscribed to also allows for up to 1080p and 60FPS and, the experience here was nearly identical. The only notable difference is that, with our current GFN settings, the service seems to prioritize performance over image quality, so during the occasional lag spike, it would significantly degrade the resolution to prevent the gameplay from stuttering. That said, we cannot definitively say where the streaming was better in our case, as the two services provided a very comparable experience with this game.
One thing to note about both services is that, since the game is streamed from far away, there's some added lag while playing. It's minor enough to not be noticeably to casual players, but if you are a competitive gamer and play high-level matches, then this might be more of an issue to you. But aside from this and the occasional hiccup caused by an Internet lag spike, cloud gaming with Boosteroid and GeForce Now is a good way of playing CS2 on Mac and we can recommend it.
CS2 on Mac with CrossOver – is this better than cloud gaming?
Our experience with Counter Strike 2 on an M1 Max MacBook, using CrossOver, was initially positive during the download and launch phase. Thanks to some valuable advice from the Mac gaming community, that we'll tell you about below, the process was smooth and error-free.
However, once we actually entered the game, the performance was disappointingly slow, with FPS (frames per second) lingering in the single digits in the menu stage. This sluggishness, we discovered, was due to ongoing caching of shaders and animations. As we continued playing, enduring several rough, stutter-filled matches against bots, performance gradually improved. Eventually, we got to a decent 50-60 FPS on low-to-medium settings, though not without encountering and resolving a few crashes along the way.
Interestingly, while Counter Strike 2's low system requirements suggested it should run smoothly, especially on a high-spec M1 Max MacBook, our experience was less than ideal. This aligns with reports from other users who have attempted this method, facing various issues like crashes, FPS drops, and mouse control problems, which we also experienced. In case you've also tried the CrossOver method and faced any such problems, the fixes suggested below should help you take care of the situation.
Now, even though playing CS2 on Mac with CrossOver turned out to be a bumpier ride than we expected, we can still say that this is not a bad option and will likely become better over time. Just note that it's not recommended for MacBooks with the base M1 chip, because the performance will probably be too bad on them. However, if you have an M1 Pro Mac or better, then it's worth giving CrossOver a try, especually since it has a 14-day free trial that lets you test for yourself and see if the experience is up to your standards.
As for whether this method is better than cloud gaming, it really depends on what Mac you have and what your preferences are. In general, we'd say that cloud gaming with Boosteroid or GeForce Now is still better, but if you have a high-end Apple Silicon Mac and the patience to troubleshoot the aforementioned CrossOver issues, then CrossOver could marginally better due to the lower delay since the game will be running locally.
Important fixes for CS2 on Mac with CrossOver
As we mentioned, you may encounter some errors and crashes while trying to play Counter-Strike 2 on your MacBook with the CrossOver app, so here are some important and helpful optimizations and fixes:
Before starting the game, be sure to enable both DXVK and ESync in the CrossOver bottle where you installed CS2.

For better FPS, open Steam in CrossOver, right-click on CS2 in your Steam library, go to Properties, copy-paste this "-nojoy -+cl_forcepreload 1 -novid" in the Launch Options section, and close Properties before staring the game.

VSync must be enabled in the game's optons.
Avoid maps that have a lot of water, because playing on them tends to lead to much a much lower FPS rate. We assume this is an optimization issue in the game that will hopefully be fixed soon.
If your in-game mouse feels laggy, exit CS2, go to Apple Menu > System Settings > Mouse > Advanced and turn off the Mouse Acceleration feature.

Our experience with Counter-Strike 2 on Mac with Boot Camp
The final method we atempted is to dual-boot into Windows 10 on an Intel-based MacBoo Pro (16 GB RAM) and install and run the game there. The main advantage of this method is that it should have the least amount of compatibility issues as the game is running natively, in Windows. The drawback is that it requires at least 150 gigs of free storage, a couple of hours to set up, and an Intel Mac powerful enough to actually run the game.
As we mentioned earlier, CS2 is a lightweight game, so Boot Camp is actually not a bad option here. On our 2018 MacBook Pro, it ran decently, hitting around 40 to 50 FPS on low settings. Admittedly, this performance isn't amazing, yet it's definitely playable and if you don't care too much about visual candy and simply want to play the game on your Intel Mac, it's definitely a viable solution.
In our opinon, cloud gaming is still better due to the several significant downsides of the Boot Camp method that we mentioned, yet we cannot say that this isn't worth considering, so if you feel like going through its lengthy setup process, you should definitely give it a try.
Martina Nikolova
Martina likes to get into nitty-gritty of tomorrow's tech, from product design across to security based solutions. A long time mac user and developer, she has the expertise and strives to give new insight