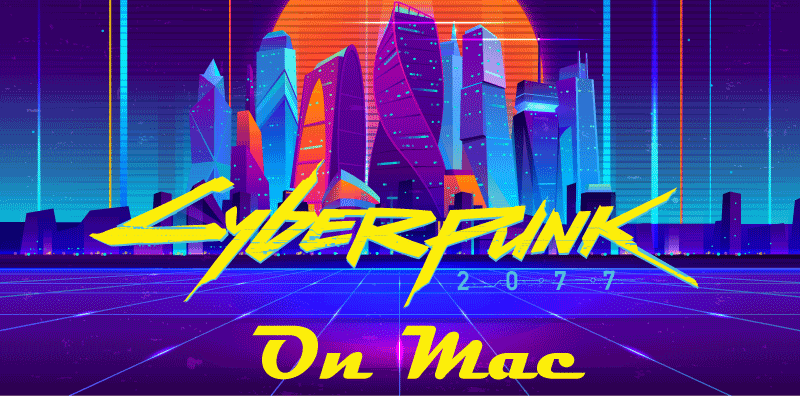 Table of Contents
The wait is over and Cyberpunk 2077 is finally here. The highly anticipated action role-playing game developed by CD Projekt is now available for Microsoft PC, PlayStation 4, Xbox One, and Stadia, and is set to receive a port for PlayStation 5 and Xbox Series X/S in the next year. Indeed, an impressive selection of gaming platforms so that as many users as possible can enjoy this long-awaited and incredibly hyped open-world RPG.
Some of you have probably noticed that there was no mention of a Cyberpunk 2077 version for Mac. This is because such a version is neither available at the moment nor is it set to be released any time soon. Unfortunately, if you are a Mac user, you don't have a whole lot of viable options for playing Cyberpunk on your machine…or don't you?
FAQ
Can I Play cyberpunk 2077 on macbook pro?

Cyberpunk 2077 on macbook pro is just as playable if you are using Geforce Now since all the GPU processing is happening on the cloud.

Can you play Cyberpunk 2077 on Steam for Mac?

Steam doesn't not offer a compatible version of Cyberpunk 2077 for Mac

Can you Play Cyberpunk 2077 for free on Mac?

It would be only possible if you install boot camp on to your mac, download and install a cracked version for Windows. The Performance results will be more then disappointing.

Is CyberPunk 2077 compatible with Apple iPad

Google Stadia recently rolled out there app for iPad which does allow you to play the game over their cloud servers.
---
Playing Cyberpunk 2077 with Boot Camp on Mac
We Highly recommend you do NOT use boot camp for Mac to play Cyberpunk 2077. Unless you are on a Mac Pro with high end dedicated video card, your game experience will be terrible. Our testing verified that using GeForce Now will give you the best possible performance and satisfaction.
If you still feel like this is the option for you we have an in-depth guide on how to install and setup Boot Camp on Mac
GeForce Now on Mac explained
Some of you may have already heard about the possibilities that streaming (cloud) gaming services offer but for lots of people, this concept is still totally alien. The gist of a streaming gaming service is similar to that of streaming movie/TV show streaming services.
Just like Netflix and HBO GO allow you to watch movies and TV shows online without actually having them downloaded onto your device, cloud-based gaming services such as GeForce Now allow you to play games like Cyberpunk that aren't installed locally on your computer. Obviously, this opens a whole lot of possibilities to anyone who wishes to enjoy a certain game but cannot, for whatever reason, run said game locally, on their Macbook Pro.
Cyberpunk 2077 with GeForce Now on Mac
GeForce Now is a cloud-based gaming service developed by Nvidia that allows users to play video games on a remote server and stream the gameplay onto their computer in real-time. GeForce Now can allow you to play games that your computer can't support.
This means that even if your Mac or Macbook is on the weaker side, you can still get to play the latest titles in the gaming industry on the highest possible settings without worrying about how much RAM, CPU frequency, or GPU memory your Mac has. The only limitation here is the strength and speed of your Internet connection, but we will elaborate upon this in a bit
One other huge advantage of services such as GeForce Now, and also the reason we are even telling you about it in this article about Cyberpunk 2077, is that it can also allow you to play games that don't have versions for the type of Macbook Pro or Macbook air that you are currently using. In other words, if you want to play Cyberpunk 2077 on your Mac, you technically can, even though the game itself doesn't have a Mac version.
How to play Cyberpunk 2077 on Mac using GeForce Now?
To play Cyberpunk 2077 on your Mac using GeForce Now, you must create an account on the Nvidia website. Next, you must install the GeForce Now app like you would install any other application, and then you will be able to start playing Cyberpunk 2077.
However, before we show you exactly how to do this, we must mention some of the requirements for using this cloud gaming service. Even though most computers (even weaker and older ones) can support GeForce Now, there are still certain requirements that must be met, namely:
Hardware Requirements for GeForce Now
Unlike the specific hardware requirements listed for Windows machines, for Mac computers, Nvidia has made a list of different Mac models that have been tested with GeForce Now and have been confirmed to support the service without a problem. Here is the full list of Mac configurations that have been tested by Nvidia and have been confirmed to support GeForce Now:
iMac 20" Late 2009 and newer
iMac 21.5" Late 2009 or newer
iMac 27" Late 2012 or newer
MacBook 2008 and newer
MacBook Retina Mid 2017 or newer
MacBook Air 11" Early 2015 or newer
MacBook Air 13" Late 2008 or newer
MacBook Pro 13" Early 2015 or newer
MacBook Pro 15" Late 2008 or newer
MacBook Pro 17" 2009 or newer
Mac Pro Late 2013 or newer
GeForce Mac OS Requirements
Nvidia states that the required macOS version needs to be at least 10.10. This version or anything above it should run the service without any problem.
Internet Connection Requirements
Even if you have a Mac model and OS version that can support GeForce Now you still need a good Internet connection for the streaming to be smooth and with low latency or else your gameplay experience would not be as good and you may not even be able to start a game if your connection is bad.
The minimum Internet connection speed required to play games over GeForce Now is 15Mbps, which is okay for playing with a 720p resolution at 60 frames per second. If you want to play with a 1080p resolution and 60 FPS, the connection speed must be at least 25Mbps. It is also suggested that you use an Ethernet cable to connect to the Internet or, if you are using Wireless, your router must provide a frequency of at least 5GHz.
Other Requirements
Obviously, since you are going to be gaming, you'd also need a keyboard and a mouse. The built-in MacBook keyboards or a USB keyboard would do perfectly fine but when it comes down to the mouse you are using, you will need to buy a USB mouse because the built-in Apple Magic Mouse doesn't have a scroll wheel or dedicated left/right buttons, both of which are required to play most computer games, including Cyberpunk 2077.
Playing GeForce Now for Cyberpunk 2077 on Mac OS
Now that you have made sure that your Mac meets all of the requirements listed above, it is time to set up the service and finally start playing Cyberpunk 2077.
First, go to the Nvidia site and create an account if you don't have one, or log in to your Nvidia account if you are already registered.
Next, choose the type of GeForce Now subscription that you prefer to join the service.
Thirdly, download the GeForce Now app onto your Mac and drag it to the Applications folder so that it is where your other apps are.
Next, open the GeForce Now app, and log in to your Nvidia account from the interface of the app.
Connect your GeForce Now to a third-party gaming library, such as Steam or GOG, where you have an account and fill in your credentials for that account to connect to the library.
Choose the game you want to play from the game library (Cyberpunk 2077 in the current case) and start it. The game will load shortly after and you can then begin playing.
Important note!: In order to play any game via GeForce Now, you must already own that game on the respective game library. If you do not own a particular game that you want to play, you will have to purchase it first on the respective game library. On the Nvidia site, you can find a list of all games that are supported by the GeForce Now service as well as the game library from where you can purchase them. Cyberpunk 2077, in particular, can be bought either from Steam or from GOG.
GeForce Now supports over 400 popular game titles and has a big number of pre-installed games on its gaming servers. However, not all of those over 400 games are pre-installed so if you want to play a game that isn't already installed on the GeForce server that you are using, you will have to wait a couple of minutes for the game to be installed before you can start playing.
How does GeForce Now work on Mac?
What makes GeForce Now so convenient is the fact that it allows you to play very demanding and resource-intensive games on Mac Book Pro that are weaker and can't run those games locally. It also allows you to play a game that has no version for the device that you're currently using. The way GeForce Now works is as follows: once you start the service, it connects you to a GeForce Now server – an extremely powerful computer optimized for gaming that can run any game on the highest possible settings and can also do this for multiple users simultaneously.
In other words, the game is running on another computer and the gameplay is getting streamed to your device. Because you are connected to that server, you can control the game that is running on it from your device.
In order for the game to run smoothly, your Internet connection needs to be decent so that the back-and-forth exchange of data between your Macbook Pro and the GeForce Now server would happen quickly enough for the latency to be minimal and for your gameplay to feel smooth and responsive with as little lag as possible. There are different settings concerning the bandwidth usage of GeForce Now that you can customize for focus on bandwidth economy or for best performance.
Cyberpunk 2077 Verdict
We definitely recommend trying out Cyberpunk 2077 on a Mac. The game itself is one of a kind and should not be missed out. Most reviews hail the game for its open world RPG, mastering charachter development and narratives. Just remember without a strong internet connection attempting to play the game is pointless. If you are having any trouble with the set up feel free to reach out to us.
Martina Nikolova
Martina likes to get into nitty-gritty of tomorrow's tech, from product design across to security based solutions. A long time mac user and developer, she has the expertise and strives to give new insight