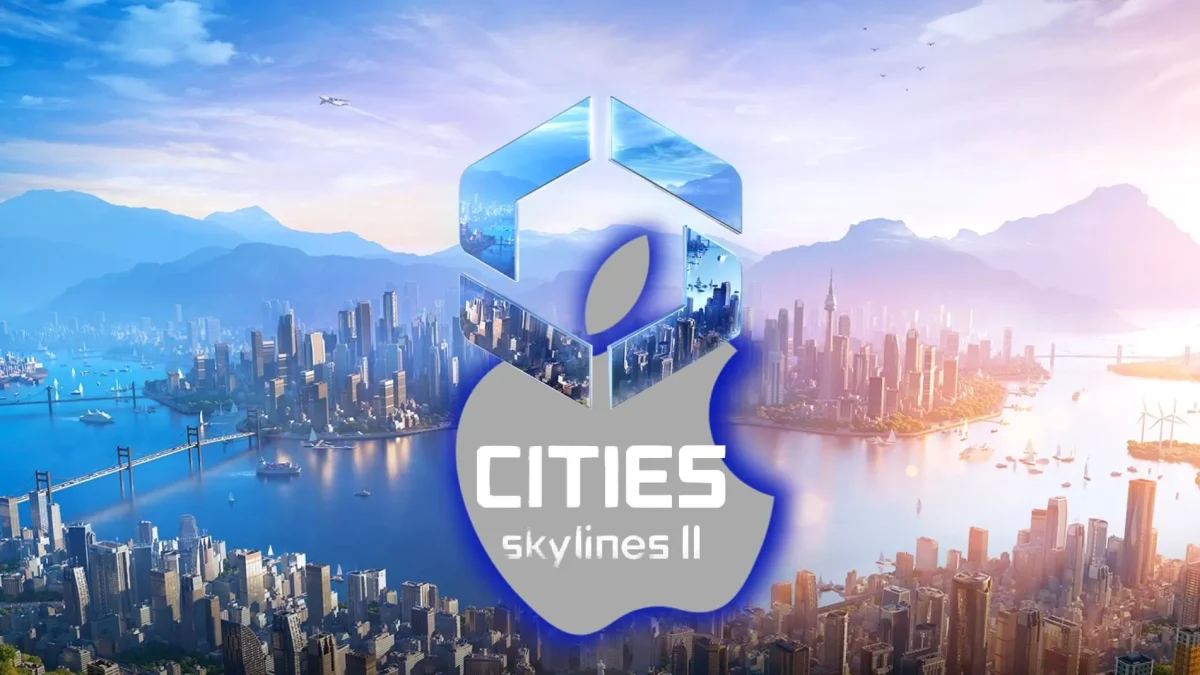 The original Cities Skylines is among the few games that both have a native Mac version and a relatively big player base among Apple users, so a lot of people expected Cities Skylines 2 to also be available for Mac. Unfortunately, the sequel's recent release left us without a native macOS version, so we had to look for other ways to play it on our Macs. Today, we'll tell you about the Cities Skylines 2 workarounds we tried and if and how well each of them worked.
For your convenience, we've also created a video, where you can find visual guides about each of the suggested workarounds. You can find the video further down this page.
Cities Skylines 2 on Mac: What are the methods we used?
In theory, there are several methods that could allow for Cities Skylines 2 to be played on a Mac, but right now, the only truly viable ones seem to be cloud gaming with Boosteroid and GeForce Now. Both we and other users who've tried other popular Mac gaming methods, such as CrossOver, Parallels, Apple's Game Porting Toolkit, and Boot Camp have had mixed results while testing.
Boosteroid, GeForce Now and the other mentioned methods are explained below, where you can also find instructions for them in case you want to try them out for yourself. For the non-cloud gaming methods, we recommend that you first read further down this page about our experience with them to decide if it's even worth trying to get them to work at the moment.
All Cities Skylines 2 Mac methods
Our video tutorial on the different methods to play Cities Skylines 2 on Mac:
Trying to play Cities Skylines 2 on Mac: What we learned about each method
One thing that significantly limits the number of Macs that can run Cities Skylines 2 locally, through the non-cloud methods, is the game's high system requirements. However, what makes matters even worse in this particular case is the current state of the game itself, which seems to be very poorly optimized to the point where even powerful gaming PCs are struggling to run it with more than 50 FPS.
Our testing for most of these methods was done on an M1 Max with 32 gigs of memory, and it had a pretty hard time running this game with all the methods, with the obvious exception of the Boosteroid and GeForce Now cloud gaming platforms. Now, here's our brief rundown of what specifically happened when we tried each of the methods.
Cities Skylines on Mac with Boosteroid and GeForce Now
Since these are cloud gaming services, they let us play the game by streaming it to us from powerful remote servers, so nothing's really running on our Mac except for the Boosteroid and GeForce Now clients. Our current plans for both platforms grant us a 1080p and 60 FPS gameplay, which satisfies our needs. However, note that you do need to have an internet with around 15 Mbps and no more than 20 ms latency for Boosteroid, or else stuttering, and some image degradation are likely to occur. For GFN, the Internet requirements are 25 Mbps and below 40 ms latency.
We tested the Cities Skylines on Mac through Boosteroid with an Internet connection that wasn't very good (25 Mbps and 50 ms latency), but we were pleasantly surprised to see that, for the majority of our play time, everything was smooth and looked good with only a couple of momentary exceptions.
GeForce Now provided a similar experience, but since its Internet speed requirement is a bit higher, we experienced sligthly more stuttering and, during lag spikes, the image degradation was more noticeable. However, instances of this were rare, so we still managed to have a pretty good time with Cities Skylines 2.
In other words, both Boosteroid and GFN are good ways to play Cities Skylines 2 on a Mac, and they are currently the only options that we can recommend.
Trying to run Cities Skylines 2 with CrossOver + GPTK
CrossOver and Apple's Game Porting Toolkit work roughly in the same way, but they each have certain drawbacks, so we figured that combining them with the help of an app called CXPatcher will bring together the best of both worlds.
So after we set everything up, we tried to launch the game and would you know it, the game's engine crashed. We tinkered around with the settings a bit, we disabled the Game Porting Toolkit, and tried to run the game solely in CrossOver. That got us to the EULA of the game, but no further. Apparently, it wasn't only us, as a number of other users have reported similar results on Reddit forums.
The good news is that the game doesn't seem to be a lost cause with CrossOver/GPTK and future updates to either or both emulators may make it playable. However, for these methods to actually become viable, the game itself will also need to get some much needed optimization.
Attempting to play Cities Skylines 2 in a Parallels Desktop Virtual Machine
Another popular way for running Windows games on Mac is with Parallels, which basically creates a virtual Windows PC within your macOS. This usually provides more stable performance and fewer errors and bugs compared to CrossOver/GPTK, but it doesn't support DirectX 12.
The good news is that City Skylines 2 doesn't require DirectX 12. The bad news is that the game's high requirements, poor optimization, and the fact that Parallels requries your Mac to run two operating systems at once results in very, very bad performance. We technically got the game Cities Skylines 2 running on our M1 Max Mac, but the game was almost unplayable, barely hitting above 20FPS at low settings. At this point, even with an M1 or M2 Ultra Mac Studio you'd probably not get any decent amount of FPS with this method.
Maybe, if/when the devs of Cities Skylines 2 provide their game with the performance optimization that it desperately needs, Parallels might become a more viable method, but as it stands right now, this is not something we can recommend to anyone.
Is Boot Camp a viable method for playing Cities Skylines 2 on Mac?
In theory, Boot Camp should solve all the problems met with CrossOver, GPTK, and Parallels. Boot Camp installs Windows in a separate partition, quite literally turning half of your Mac into a Windows PC, which resolves all copatibility problems that occur with the other non-cloud workarounds.
In practice, however, this method is probably the least viable one for playing Cities Skylines 2 on a Mac for the sole reason that there are almost no powerful enough Mac models that can use this workaround for running the game. Boot Camp only works for Intel Macs and most such Macs lack the GPUs that can support a graphically demanding game such as Cities Skylines 2. Maybe if you have a really powerful iMac or a Mac Pro, you might be able to run this game using Boot Camp, but we are pretty sure that there are no Intel-based MacBook models that can pull this off.
Needless to say, we didn't even attempt to try this method on our old 2016 MacBook Pro.
Conclusion
It's unfortunate that the sequel to one of the more popular gaming titles among Mac users is so difficult to play on Mac, yet we are optimistic that this will change in the foreseeable future.
As we said above, we expect the CrossOver, GPTK, and Parallels methods to actually become viable after some updates to both the tools and the game itself. Furthermore, it's highly likely that other cloud gaming platforms will soon have the game in their libraries, expanding the available methods to stream Cities Skylines 2. And also, even if there don't seem to be any immmediate plans to port the game on macOS, this is certainly still a possibility, albeit a distant one.
And in the meanwhile, GeForce Now provides a solid way for enjoying this game on any Mac, regardless of its hardware specs or the type of CPU it uses.
Martina Nikolova
Martina likes to get into nitty-gritty of tomorrow's tech, from product design across to security based solutions. A long time mac user and developer, she has the expertise and strives to give new insight