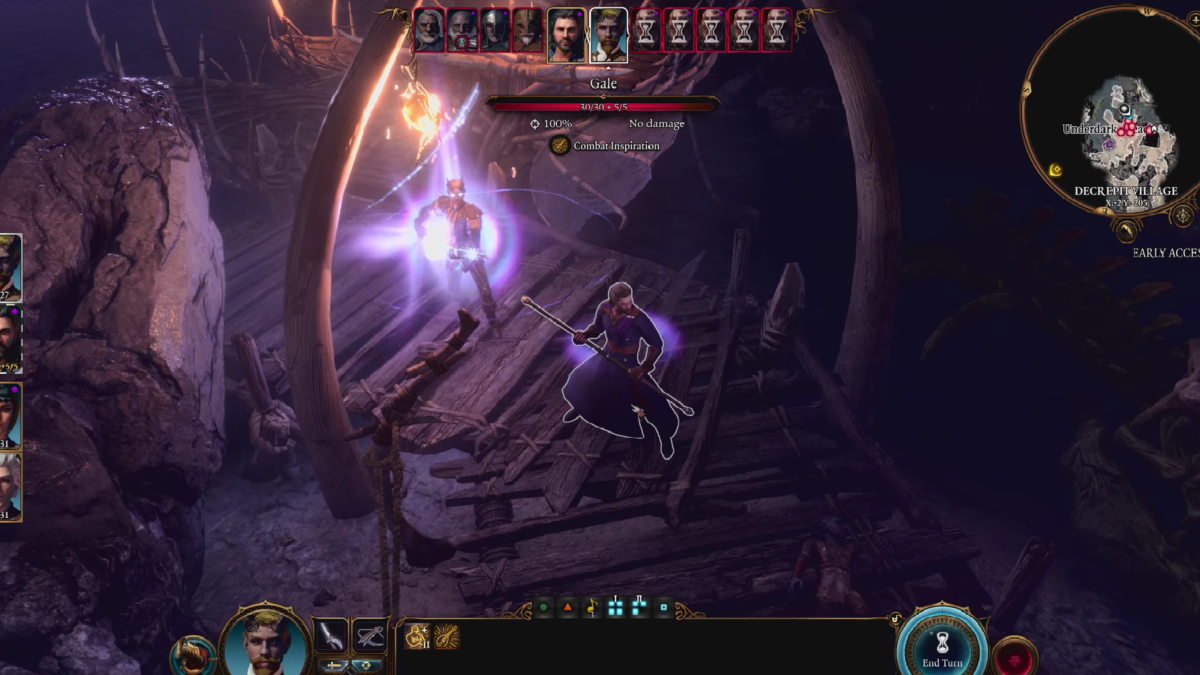 Baldur's Gate 3 (Mac)
Martina Nikolova, 8 months ago
0
9 min

read
Baldur's Gate 3 on Mac
Baldur's Gate 3 is a role-playing video game, that is the third main game in the Baldur's Gate series, which is based on the Dungeons & Dragons tabletop role-playing system. An early access version of the game was released on October 6, 2020, and the early access is intended to last until 2023.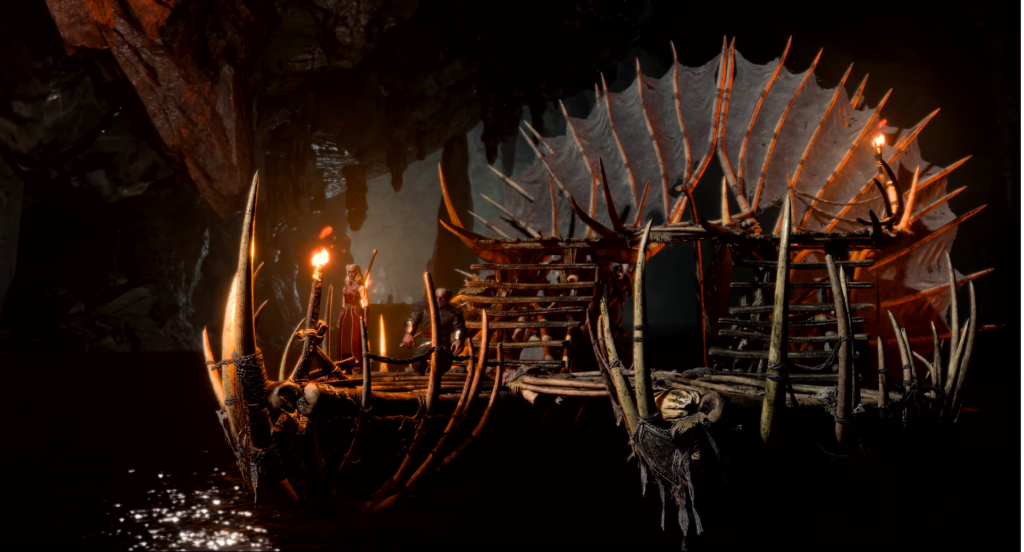 Baldur's Gate 3 has single-player and cooperative multiplayer options, which are giving you plenty of ways to enjoy the game. Players may create their own characters or form a group with computer-generated characters to explore the game's narrative. Another option to play is to join forces with other online players by taking one of their characters and playing with it.
What makes Baldur's Gate 3 game stand out from earlier games in the series is the use of turn-based combat which is inspired by the Dungeons & Dragons 5th Edition rules.
The story
The beginning of the story takes you to a world where evil forces are rising. The mind flayers, who have initiated an invasion of Faerûn, have captured the player character (whose name is given by the player). They've implanted the main character (and many other species) with tadpole illithids, parasites that can change them into other mind-flayers.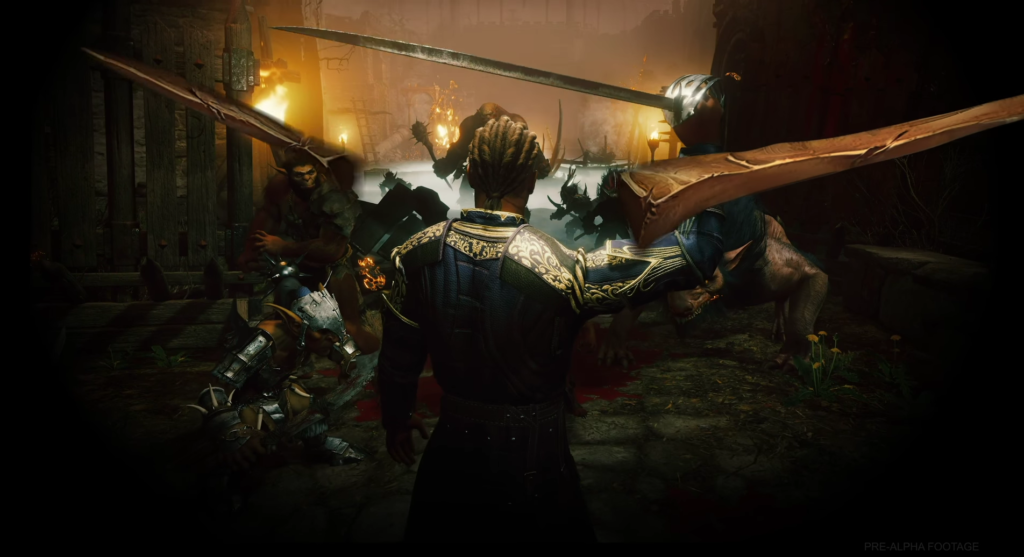 The flying ship they are all on is attacked by githyanki warriors and their red dragons before the mind flayers can transform their captives. In the middle of the battle, the main character is freed from the mind flayers and manages to escape with the ship back to Faerûn, where the ship crashes. Gale, Shadowheart, Astarion, and Wyll are all survivors of the shipwreck, as are Lae'zel and Shadowheart's half-elven cleric, Shadowheart's half-elf vampire rogue, and the human warlock Wyll. Their adventure starts with searching for a way to remove their parasite and prevent transforming into mind flayers.
Gameplay
Act one of the game can easily give you over 20 hours of exploration in gameplay until you reach the game's current level ceiling of four.
The amount of time it takes for you to complete the game depends on how many battles you get into and how much exploration you do. There are various strategies to avoid conflicts. You can easily sink into the main quest that will take you across the game's map, but there's a lot more to discover if you go off the established road.
An ancient castle known as Grymforge and a short trip into Hell are all part of the opening act, which takes place in the Sword Coast region of the Forgotten Realms. Baldur's Gate itself is out of reach, but there is still a lot to see and do.
Classes and Races
As in most role-playing games, Classes, of course, are critical. You may choose from a total of ten different classes, including cleric, fighter, ranger, rogue, warlock, wizard, druid, sorcerer, barbarian, and the newly introduced bard. The stories you come across during the gameplay are very much related to classes.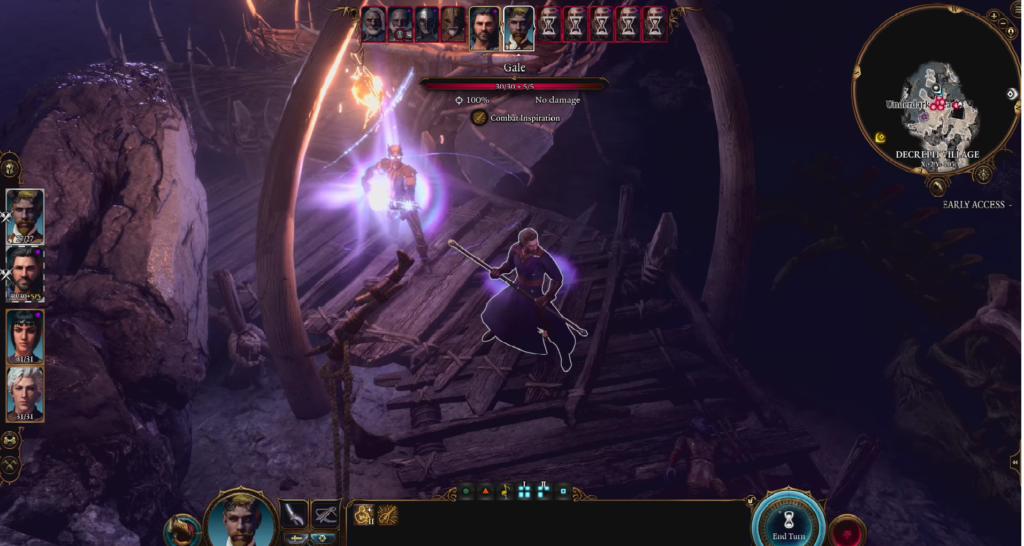 When it comes to races, the human, halfling, elf, half-elf, dwarves, and gnome races, as well as the less common tieflings, drow, and githyanki, are presently playable.
In Baldur's Gate 3, you can create a custom character or select one of the game's pre-existing cast. We're not kidding when we say that your decisions can have major consequences for your future in the game. You'll uncover quests and storylines that are directly related to the character you're playing and the things you've done as you go through your journey.
In battles, almost anything may be used as a weapon in a pinch. Additionally, you have superhuman jumps, the ability to dip your weapon in acid or light it with a flame, and the power to push people and toss items. It's possible to utilize these powers in turn-based combat at the expense of an action or a bonus action, and even in real-time when you are wandering around.
What is an interesting touch to your gameplay is that your party members can have opinions on everything you do as a player character, including which sides you support and whom you choose to kill. This is an attempt of the developers to make the relationships formed in the game feel as realistic and authentic as possible, much like the ones you have with people in the real world.
Can you play Baldur's Gate 3 on Mac?
Mac users will be happy to know that Baldur's Gate 3 is accessible on macOS X, so there is no need for difficult workarounds to get the game running. Baldur's Gate 3 has a macOS X version but, of course, to ensure smooth play, you should check the system requirements before purchasing the game, and make sure that your Mac machine is matching them.
Steam is a popular Game Store that may be used to download the macOS X version of Baldur's Gate 3 and run it on a Mac computer. Once the Steam client has been downloaded and installed, all you need to do is search for Baldur's Gate 3 in the search field, purchase the game and download it.
How to play Baldur's Gate 3 on Mac
Installing Baldur's Gate 3 on a Mac is as simple as downloading and running the Steam client. It's also possible to play Baldur's Gate 3 on a Mac via the Boosteroid cloud-based gaming service, which doesn't need an installation of the game on the computer.
You may prefer playing Baldur's Gate 3 on your Mac without downloading it through cloud gaming to save some space on your hard drive. Boosteroid is a cloud-gaming service that works with subscription and makes it possible to stream a wide range of games, including many game titles that don't have Mac versions, directly on your Mac machine. In-depth instructions for running Baldur's Gate 3 on a macOS X machine through the Boosteroid cloud-gaming service may be found below.
Baldur's Gate 3 Set Up Methods:
Methods
Advantage
Disadvantage
Cloud Gaming
– No set-up required – Register and Play
– Access to a Library of over 70 top-rated free Games
– Smooth performance even on old Macs
– Monthly Fee
– Requires Decent Internet Connection

Native Version
– No Compatibility issues
– Optimized for Mac
– Slow Performance on older Macs
To play Baldur's Gate 3 with Cloud Gaming:
First, you will need to purchase the game.
Now you will need to register for Boosteroid. This allows you to add Baldur's Gate 3 to their Cloud Gaming Library. Once uploaded you can seamlessly play the game from your Mac, TV, or Mobile Device.
When Registered you will have additional access to more games for free. Pricing varies depending on the subscription plan.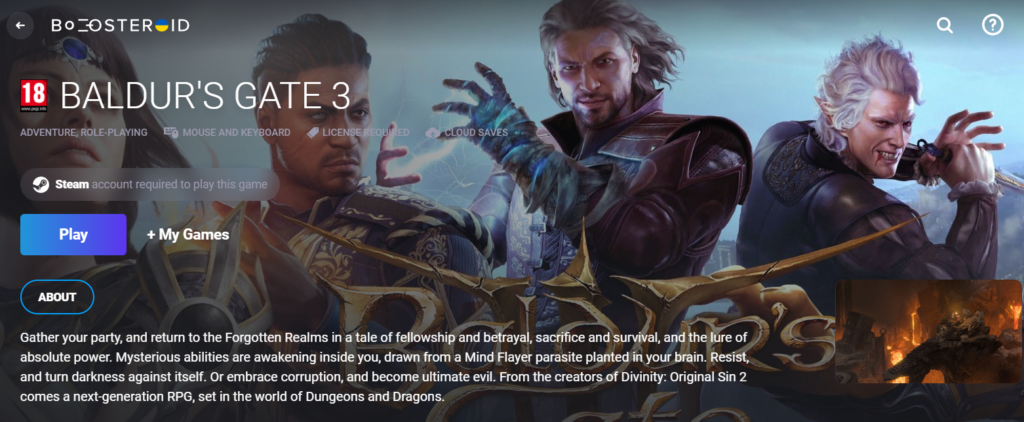 Play Baldur's Gate 3 on Mac with Boosteroid
Visit the Boosteroid website and sign up for an account using your email address.
Next, once you are logged in, choose your profile name from the menu that appears in the top-right corner of the page and select the Subscribe option.
In order to activate your Boosteroid subscription, you will first need to choose a payment method and a subscription plan from those that are provided on the website. After that, you will need to enter the necessary payment information.
To find the Baldur's Gate 3 game, go to the Boosteroid's search page by clicking the symbol that looks like a magnifying glass at the very top of the page, type in "Baldur's Gate 3", and then select it from the list of results.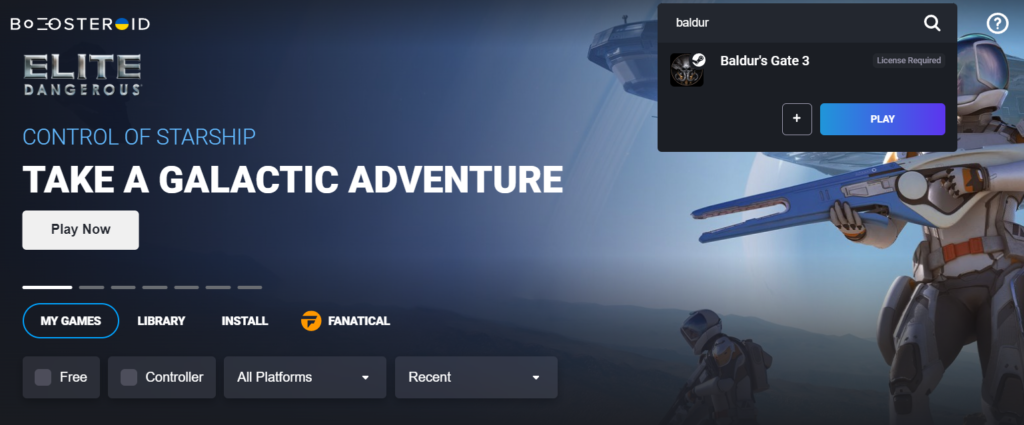 On the game's page that loads, click the Play button.
Once the initial loading is finished, click on the OK, let's go button to confirm that you accept to connect your Steam Store account to Boosteroid. After this, you will be prompted to enter your Steam Store login information.
Baldur's Gate 3 should start loading shortly, at which time you will be able to begin playing the game. If you want to have an experience that is more immersive, we recommend that you turn your browser to Full-Screen mode to hide its toolbar.
How to download Baldur's Gate 3 on Mac?
You will need to download and install the macOS version of the Steam client application in order to play Baldur's Gate 3 on your Mac. This may be done via the Steam website. Launch the application, log in to your Steam account, and then search for "Baldur's Gate 3" to find the game and download it to your Mac.
Downloading and playing games that are compatible with Macs is often a simple process. The only thing that will take a significant amount of time is waiting for the game to download, but even that shouldn't take too long. If you want to play Baldur's Gate 3 on your Mac, just follow these simple steps:
Navigate to the Steam website, and if you do not already have a Steam account, create one and log in with it.
After that, follow the on-screen instructions to install Steam on your Mac by selecting the "Install Steam " button located at the very top of the website.
Launch the Steam app, enter your credentials to log in, and then choose the Store option from the menu.
Search for "Baldur's Gate 3" in the search box of the Steam Store, and select it from the search results.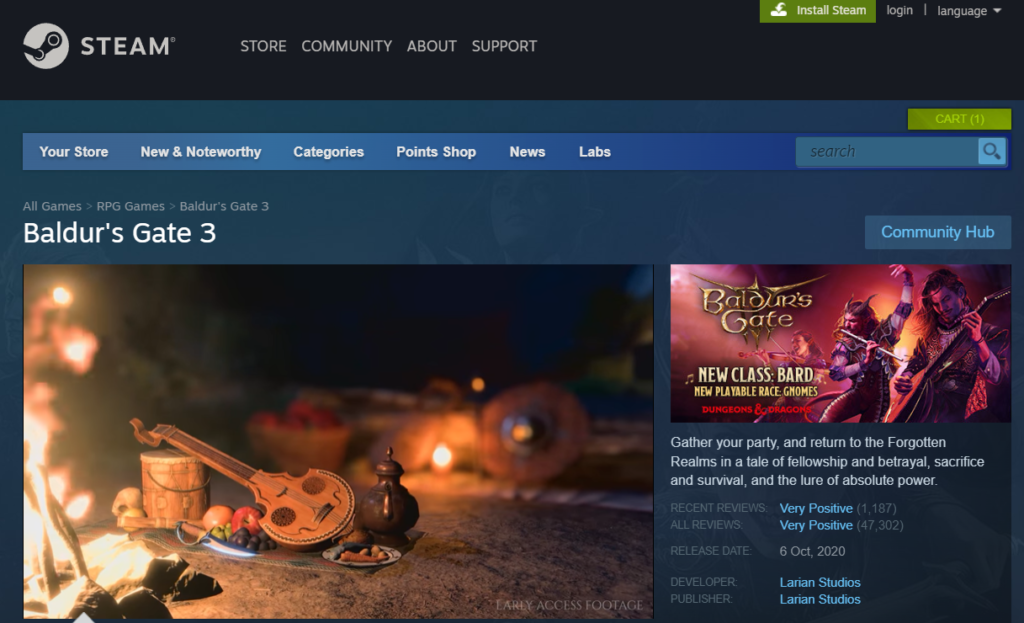 After clicking the "Add to Cart" button and choosing the "Purchase for Myself" option, you will finally be able to purchase the game by providing the required payment information for the payment method you have selected.
After that, on the Steam client, go to the Baldur's Gate 3 page, and then choose the Play Game option. You will need to wait until the download is finished before you can launch the game. Once it is finished, you can either open the game straight from the Steam client or use the icon for the game that should have been created in your Applications folder.
Baldur's Gate 3 on Mac M1
The Mac OS version of Baldur's Gate 3, which can be downloaded through Steam, is compatible with computers that have either an M1 chip or an Intel CPU. Thus, if you want to play Baldur's Gate 3 on a Mac with an M1 Chip, you shouldn't have a problem doing so.
Besides, applications that were originally developed for Intel-based Macs may now function just as well on Macs that use M1 processors with the help of Apple's Rosetta 2 emulation software. So, when you try to open an application that was developed for an Intel Mac for the very first time, a Rosetta 2 installation prompt will automatically appear on your screen. All you need to do in order to proceed with the installation is to accept it. Once this is done, Rosetta would activate itself without any more intervention anytime an Intel Mac application needed to be run on an M1 chip Mac machine. Thanks to this, video games like Baldur's Gate 3 can be played without any hiccups when Rosetta 2 is used.
Martina Nikolova
Martina likes to get into nitty-gritty of tomorrow's tech, from product design across to security based solutions. A long time mac user and developer, she has the expertise and strives to give new insight