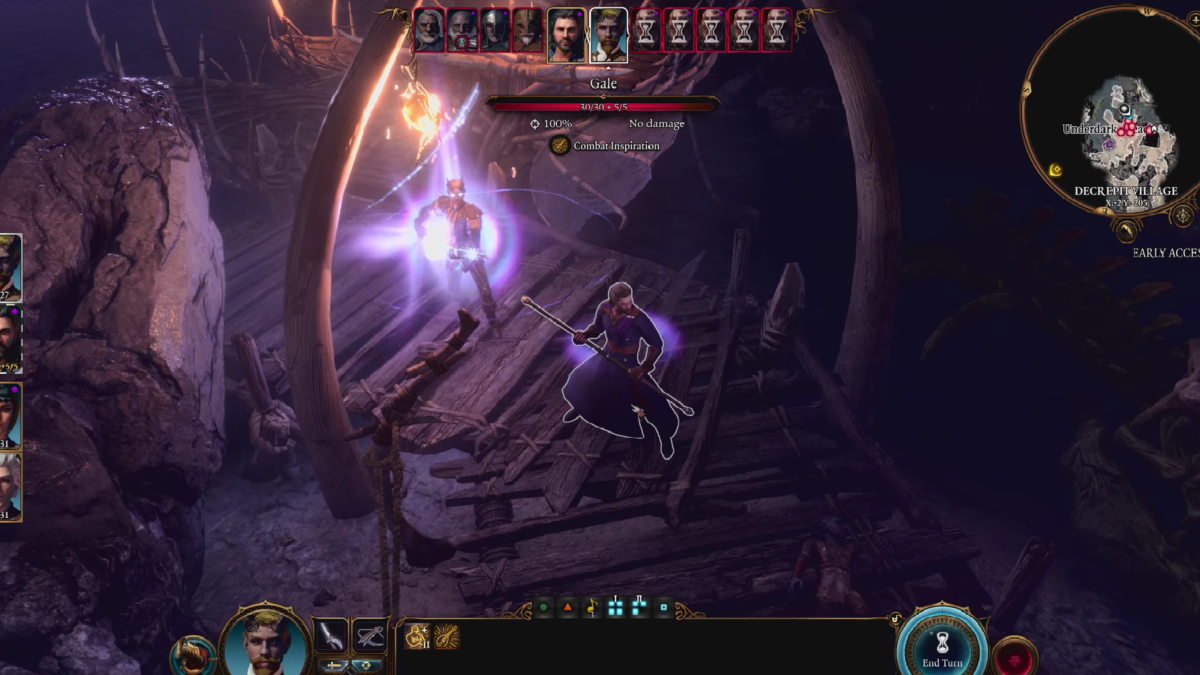 Baldur's Gate 3 (Mac)
Martina Nikolova, 4 days ago
0
13 min

read
The Baldur's Gate 3 Mac and PC versions are officially out, but their size of 150 GB may lead some users to cloud gaming as an alternative option for playing this game. After nearly three years of being in an Early Access stage, the third installment in this legendary gaming series is finally out, and now both Mac and PC users can enjoy it on their machines. Indeed, due to the full Baldur's Gate 3 Mac support, Apple users can, too, directly download this game onto their MacBooks or Desktop Macs and start playing it, but they'll need at least 150 GB of free space to do that, in addition to a Mac that meets the game's hardware requirements, which makes cloud gaming platforms like Boosteroid and GeForce Now viable alternatives.
Is Baldur's Gate 3 on Mac?
Yes, the full release of Baldur's Gate 3 has finally come to macOS on the September 21, and now Mac owners can download it from Steam and play it locally on their Apple computers.
When does Baldur's Gate 3 release on Mac?
Baldur's Gate 3 release on Mac was on the September 21, after an initial delay that required Mac users to wait, while PC owners were already able to enjoy the game's full version.
Can you play Baldur's Gate 3 on Mac?
Yes, you can play Baldur's Gate 3 on Mac natively, by downloading the game from Steam, or you can try the game via Boosteroid or GeForce Now if your Mac cannot handle the game's requirements or lacks the needed 150 GB of free space for its installation.
How to play Baldur's Gate 3 on Mac?
To play Baldur's Gate 3, either download its native macOS version from Steam and run the game directly or, if you are on an older machine that might struggle or if you don't have enough free space, you can also play Baldur's Gate 3 on Mac through cloud gaming platforms like Boosteroid and GeForce Now.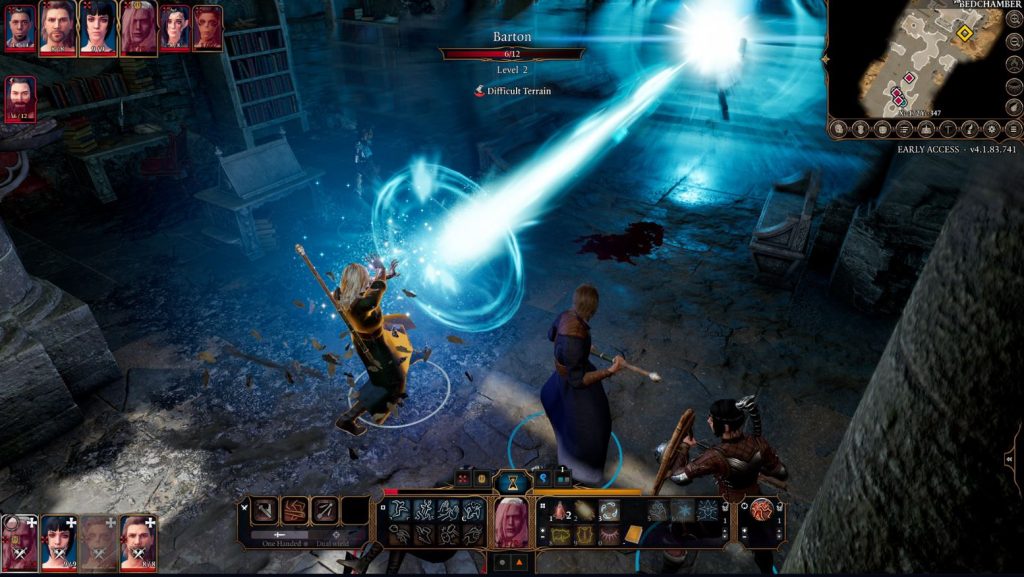 Baldur's Gate 3 Mac compatibility
Baldur's Gate 3 Mac compatibility has long been confirmed, as the game was playable on Apple computers during most of its Early Access stage, so it's no surprise that its finished version is also available to Mac users. In other words, you don't need to jump through any hoops to get the game running on your Mac. However, despite Baldur's Gate 3 Mac compatibility, this doesn't mean that every Mac can run it. If your Mac is too old and lacks the hardware characteristics or if it simply doesn't have enough space, the game won't run. That said, as we already mentioned, you can still use a cloud gaming service like Boosteroid and fully circumvent this issue by streaming the game over the Internet.
Baldur's Gate 3 Mac release date
The release date for Baldur's 3 on Mac is September 6th, 2023, which is also when the game becomes available for PS5. The initial release of BG3 on Steam was on August 3d, 2023, but this covered only the PC version of the game, while the Mac port release was delayed for a later time. However, since the game's early access version had a fully-supported macOS variant, it was expected that the release date for the full version of Baldur's Gate 3 on Mac will follow soon after. Now that the waiting is over, Mac users can enjoy the full game natively, on their Macs, by downloading it from Steam.
When is the Baldur's Gate 3 full Mac release on Steam?
The Baldur's Gate 3 Mac full release on Steam was set for an unspecified date in September and it's release came on the 21st of that month. After failing to meet their targeted date of September 6, Larian Studios have briefly mentioned that the game's full release is planned to come to Mac at a later time before the end of the month. Some users fully expected the Baldur's Gate 3 Mac full release to be delayed even furhter, but Larian Studios kept their promise and provided us with the macOS port of the game earlier than what many people anticipated. Now all Mac owners whose machines have the hardware specs to run the game can download it from Steam and play it natively.
BG3 Mac performance
Depending on your machine, the BG3 Mac performance can differ significantly. For instance, you'll be able to get decent FPS rate on weaker or older Macs, such as a 2016 15-inch MacBook Pro with 8 gigs of RAM, but you'll need to significantly lower the game's graphical settings. To get decent BG3 Mac performance (60+ FPS) while using the High or Ultra settings, you'll need something along the lines of a MacBook Pro 15 inch or 16 inch from 2019 with 16 gigs of RAM and AMD Radeon Pro 5500M 8 GB GPU, or an M1/M2 model with 16 GB of unified memory. Of course, M1 Pro, Max, or Ultra chips will do even better. And if you choose cloud gaming, your performance will entirely depend on your Internet strength.
Baldur's Gate Mac Requirements
The Baldur's Gate 3 Mac requirements vary depending on desired game settings. For low to medium settings, you need a 2016 or newer MacBook Pro 15 inch or a 2018 or newer MacBook Pro 13 inch with 8 GB of RAM, 4 GB of VRAM, and 4-core, 2.6 GHz CPU. For Apple Silicon models, a MacBook Air, MacBook Pro, or Mac mini with 8 GB of unified memory should be enough. For higher settings, the Baldur's Gate 3 Mac requirements are a 16 GB RAM and 8 GB VRAM as well as a 2.3 GHz 8-core Intel CPU. As for M1 and M2 Macs, the machine will need to have 16 GB of unified memory to reliably run the game at higher settings chip and 16 GB RAM.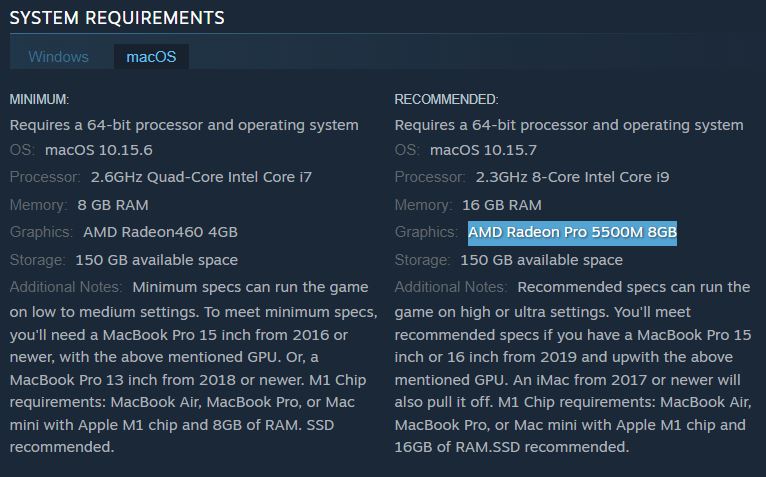 Baldur's Gate 3 macOS download options
The Baldur's Gate 3 macOS version is currently only available on Steam, so if you want to play this game on your Apple computer, you'll need to first install the Steam client on your Mac and then download the game from it. Before proceeding with the Baldur's Gate 3 macOS download, remember to check if you have enough space on your machine's hard drive. As mentioned, this is a very big game that requires around 150 gigs of storage to install, so if you don't have that much on your Mac, you'll either need to free up some space or resort to an alternative method of playing the game, such as Boosteroid.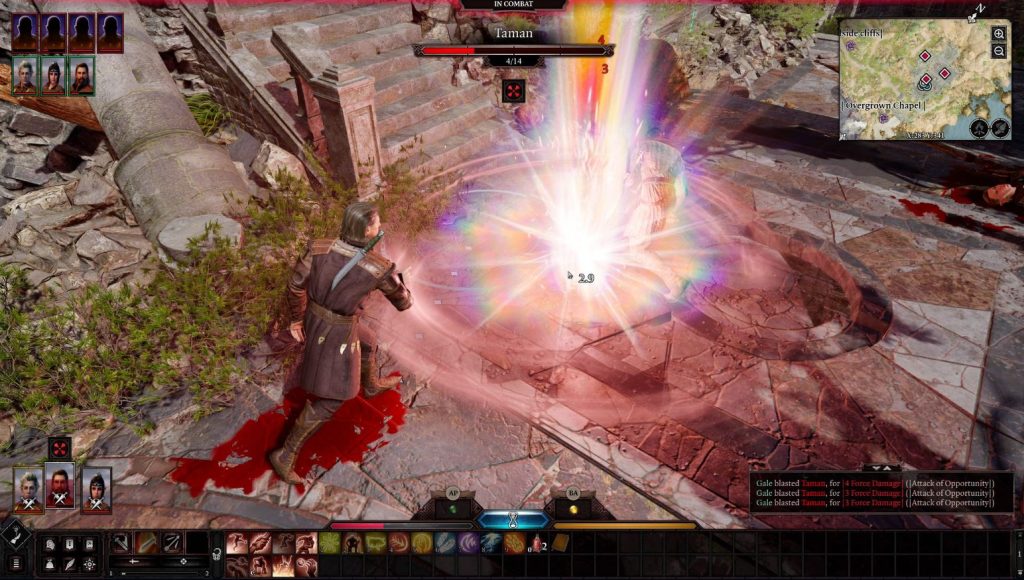 Is Baldur's Gate 3 Mac M1 supported?
As expected, there is Baldur's Gate 3 Mac M1 and M2 support meaning that the immersive world of Dungeons & Dragons, with its complex narratives and expansive gameplay, is accessible on these powerful devices. Utilizing the advanced processing capabilities of the M1 and M2 chips, the game ensures a smooth, high-quality gaming experience for Mac users. Whether you're navigating the intricate maps or engaged in intense battles, expect seamless performance and stunning graphics. The Baldur's Gate 3 Mac M1 and M2 support extends this RPG experience to a broader audience, inviting more players into its captivating universe. You can easily access the game by going to Steam and downloading it from there.
Baldur's Gate 3 MacBook instructions
Now we'll give you our Baldur's Gate 3 MacBook instructions that will explain the different ways to play this game on an Apple machine. Obviously, the main way to run this game on a Mac is to download its macOS version from Steam. However, as mentioned, older Macs with weaker hardware or Macs that don't have enough storage won't be able to run this game, so we've also provided instructions on how to enjoy the Baldur's Gate 3 MacBook experience by streaming the game through two cloud gaming services that support it – Boosteroid and GeForce Now. To learn how to use each of them, check out the tutorials we've posted below.
Now, if you want to download the macOS version of Baldur's Gate 3 and play the game natively, simply go to Steam, buy the game, download the Steam client, and install it. Then launch the client, log in, find the game, and click Install.
How to play Baldur's Gate 3 with Boosteroid
Recommended Method
Boosteroid Cloud Gaming
Why we recommend Boosteroid over the other methods
Boosteroid has the best 'bang for buck' of all methods. It provides fast support for new big titles, hits a constant high performance level (60 FPS) that's rarely achievable except for native mac ports, and with graphics options reserved for high-end PCs. It requires only a good internet connection.
GeForce Now is a higher-value alternative, but to achieve better results than Boosteroid, the service wants 6-month payments to subscribe to its highest tier. We recommend starting with Boosteroid, then switching to GFN later if you feel like it.
Methods like Game Porting Toolkit or Crossover will not give you a good experience in general and will drain your battery fast.
Our Policy

Read why you should trust us.

Direct Link

Try Boosteroid
1. To get started with Baldur's Gate 3 via Boosteroid, first, click the button below to establish your Boosteroid account. You have the choice to register using your email or utilize the 'Sign up with Google' feature for a more streamlined setup.
2. Your next task is to set up your subscription. Visit your profile page by selecting your username located in the top-right corner, then click 'Subscribe'. Opt for the subscription plan that best suits your needs, and provide the necessary payment information to embark on your gaming expedition.
3. Let's move on to getting Baldur's Gate 3 up and running. Locate the game by inputting its name into the search bar at the top. Once the game appears, just hit the 'Install and Play' button.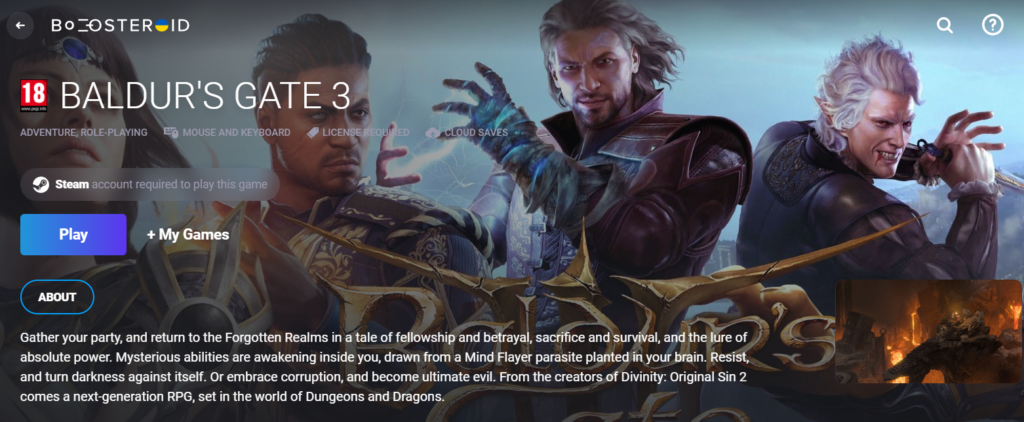 4. A dialog box will appear where you need to select OK. Following some initial loading and a Blizzard login screen, you'll be all set to plunge into the realm of Baldur's Gate 3. Enjoy your gaming adventure!
How to play Baldur's Gate 3 with GeForce Now
GeForce Now is another popular cloud gaming service that lets you play Baldur's Gate 3 on a Mac. If you want to check out our detailed guide on how to set up and use GeForce Now to stream the game to your Apple machine, please, click the link below:
How to play Baldur's Gate 3 with CrossOver + Game Porting Toolkit
1. Update your macOS to macOS Sonoma, visit the CrossOver site by clicking the button below, and download and install CrossOver.
2. Search for and download the Game Porting Toolkit from this Apple page and then open the downloaded file to mount it.
3. Download the CXPatcher from this page and install it in your Applications folder. Then run the following Terminal command: "xattr -cr /Applications CXPatcher.app".
4. Open the CXPatcher, turn on the Enable External Resources and the Allow repatch / upgrade options.
5. Click Locate External Resources and open the Game Porting Toolkit folder. Then drag-and-drop the CrossOver app into the CXPatcher.
6. Create a new CrossOver bottle and install in it Steam (or another game launcher if you own the game elsewhere).
7. Turn off DXVK, launch and log in to Steam, go to your gaming library, install the game, and launch it.
How to play Baldur's Gate 3 with Boot Camp
Finally, there's also the tried and tested Boot Camp method, which lets you play any Windows game on an Intel Mac machine, provided that the computer meets the game's system requirements. To learn how to use Boot Camp to play Baldur's Gate 3 on Mac, check out the following guide:
---
Baldur's Gate 3 Review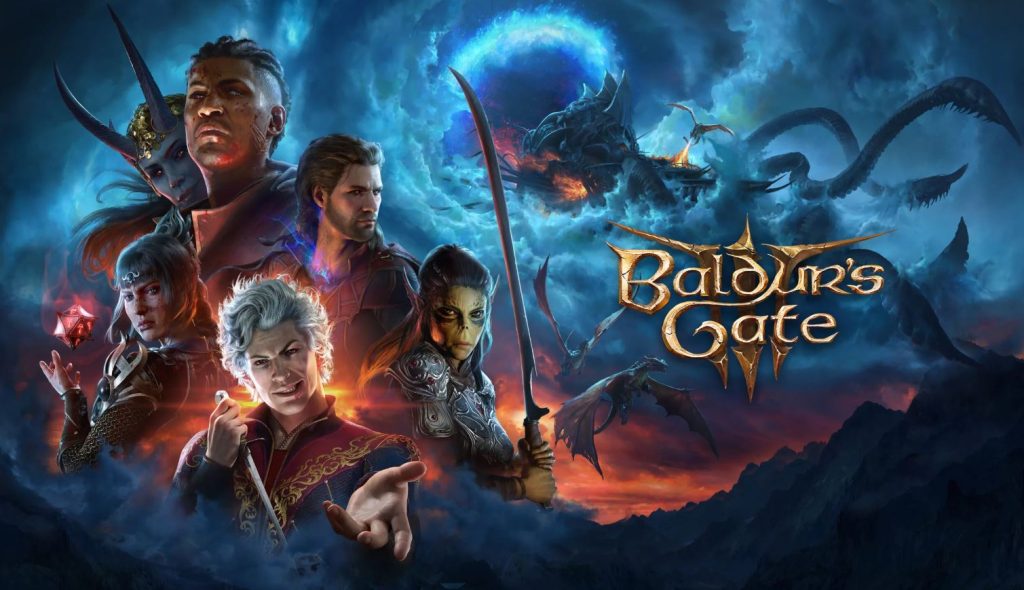 Baldur's Gate 3: A Triumph Awaiting its Mac Debut
The video game industry has seen a slew of remarkable titles, but few have garnered as much attention, anticipation, and acclaim as Baldur's Gate 3. With the game currently in its full release state, players worldwide have been indulging in its expansive world, rich storytelling, and captivating gameplay mechanics. However, a significant segment of the gaming community, particularly Mac users, eagerly awaits its macOS iteration. Let's dive deep into what makes this game resonate so deeply with fans and what Mac enthusiasts can anticipate.
Storytelling at its Peak
Larian Studios, the developers behind the game, have masterfully expanded on the lore and narrative that the Baldur's Gate series is renowned for. Baldurs Gate 3 entices players with its intricate web of character relationships, moral choices, and epic quests. The storyline isn't merely a succession of events; it's a living, breathing entity that reacts and morphs based on player decisions. This creates a personal and unique adventure for each player, enhancing replayability.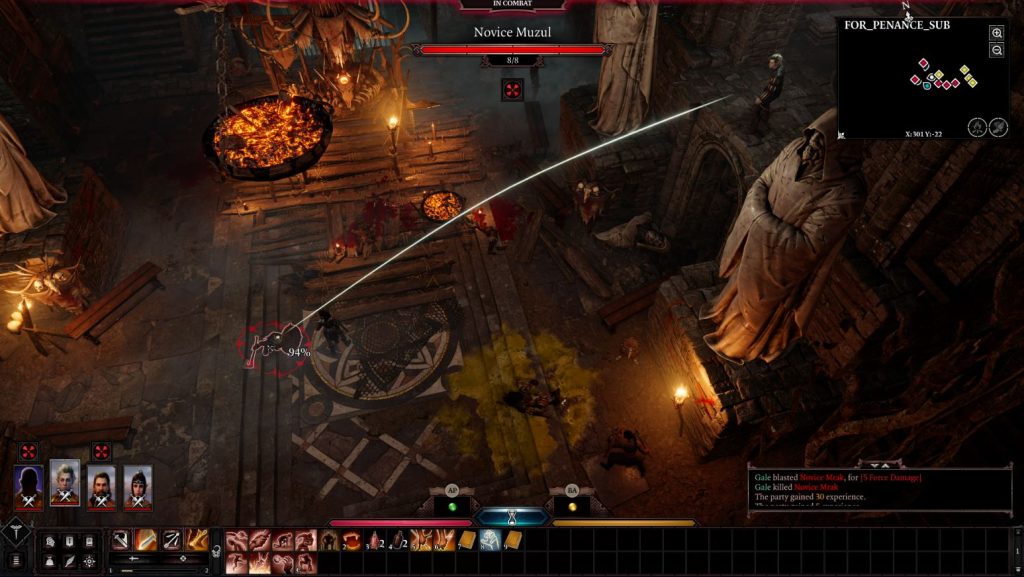 Next-Level Graphics and Design
The visuals are nothing short of breathtaking. Leveraging the latest in gaming technology, Baldur's Gate 3 boasts a detailed and immersive world that feels both familiar to series veterans and awe-inspiring to newcomers. From the sprawling cityscapes to the tiniest of intricate details on a character's armor, the game is a visual feast.
Gameplay Evolution
While staying true to its roots, Baldur's Gate 3 introduces refined gameplay mechanics, offering both depth for hardcore gamers and accessibility for those new to the franchise. The turn-based combat system feels strategic and rewarding. Moreover, the inclusion of environmental interactions during battles adds another layer of strategy that feels fresh and innovative.
Character Creation and Development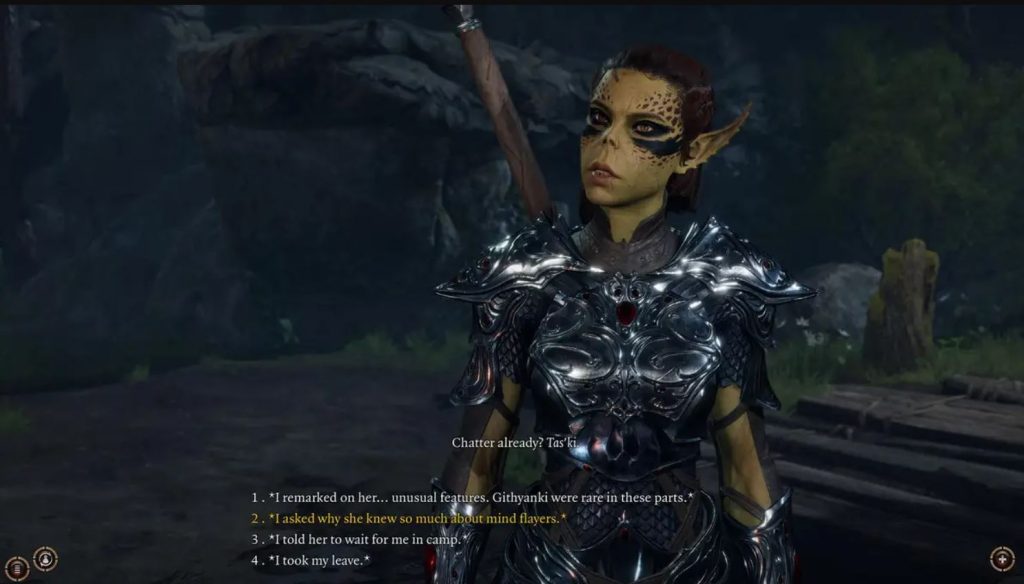 One of the standout features is the character creation tool. Players aren't just choosing a face and class; they're sculpting a unique identity. This is further enriched by the vast array of skills, spells, and abilities available, allowing for in-depth customization.
As your character traverses the world, they evolve. This isn't limited to just leveling up and increasing stats. Characters grow emotionally and morally, influenced by the decisions players make, the allies they choose, and the enemies they confront.
Sound and Music
No game review is complete without mentioning its audio component. The score of Baldurs Gate 3 is hauntingly beautiful, effectively setting the mood for various in-game scenarios. Whether it's the heat of battle, a moment of reflection, or a pivotal plot revelation, the music is always on point.
Mac Users: What to Expect?
Now, for the Mac enthusiasts reading this, one might wonder, "What does all this mean for me?" Given the game's intense graphics and complex mechanics, Mac users might have concerns about performance and compatibility. While the macOS version is yet to debut, there are high hopes. Larian Studios has a track record of ensuring their games are well-optimized across platforms. When Baldur's Gate 3 lands on Mac, it's expected to provide an experience that mirrors its PC counterpart in quality.
Until that much-anticipated macOS release, Mac users have a few workarounds. Tools like CrossOver, Boot Camp, or cloud gaming platforms are offer viable solutions. However, nothing beats the native experience, which is why the macOS gaming community is on tenterhooks.
Closing Thoughts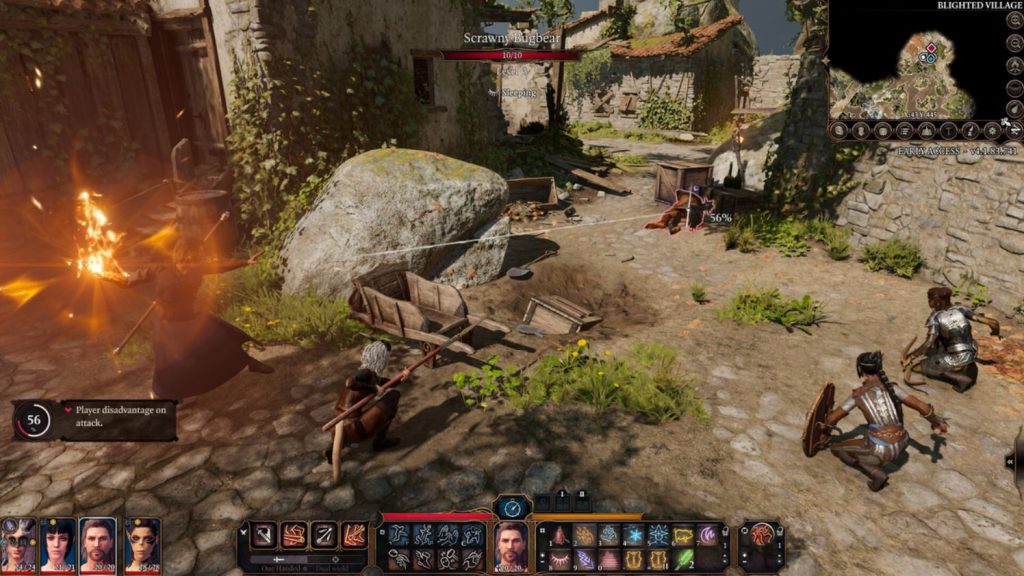 Baldurs Gate 3 is not just a game; it's an experience. It's a testament to what modern gaming can achieve in terms of storytelling, immersion, and emotional engagement. While it's unfortunate that Mac users have to wait a bit longer to dive into this world natively, the promise of what's to come is worth the wait. When Baldur's Gate 3 and Mac finally converge, it'll undoubtedly be a match made in gaming heaven.
Martina Nikolova
Martina likes to get into nitty-gritty of tomorrow's tech, from product design across to security based solutions. A long time mac user and developer, she has the expertise and strives to give new insight