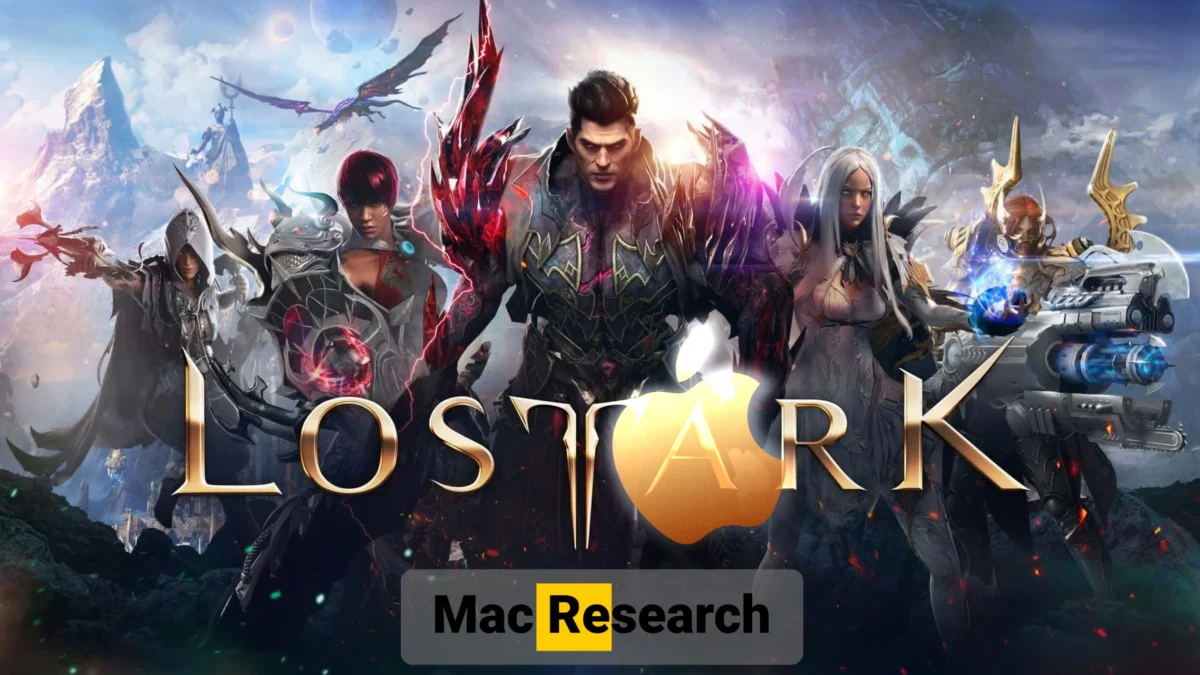 How to Play Lost Ark on Mac
Lost Ark is a dynamic action MMORPG that blends elements of World of Warcraft and Diablo and offers a lot of hack-and-slash fun, but due to its lack of a native macOS version, fans cannot enjoy it directly on their Macs. For this reason, our team decided to explore different methods to play this popular game on Mac, tested it on cloud gaming platforms like Boosteroid and GeForce Now, and checked if it works through local gaming methods. This guide shares our personal experience and highlights the game's performance in terms of settings, FPS, and resolution.
Lost Ark Mac Methods and Instructions
For those of you ready to dive right in, here are the methods to start playing Lost Ark on your Macs:
Boosteroid Cloud Gaming (Recommended method)

Features: Constant 1080p/60 FPS; Stable connection; Low bandwidth requirements (15 MBPS); Huge gaming library with all the latest AAA titles.

Pros

Cheapest cloud-gaming option
Compatible with all macs
Hardware specs don't matter
You can play in your browser in about 15 minutes

Cons

Requires a good internet connection
You need to look if the game is supported with your chosen vendor

Extras: Here's our review of Boosteroid with a comparison to GeForce Now; also check out our Boosteroid Games List.

For a smooth gaming experience on your Mac, we highly recommend Boosteroid, unless you're a competitive gamer. This method is perfect for those who want to enjoy the game hassle-free, offering an excellent blend of visuals and performance on your Apple device.

Use the "Play with Boosteroid" button and go to the Boosteroid website. There, you need to create a new account or log in using your Google Account credentials.
Go at the top-right corner of the screen and click on "My account". To begin using Boosteroid, you need to activate a plan of your choice under the "My subscription" tab.
Look for the game in the search tab on top to see which vendors Boosteroid supports. You need to own the game before you proceed with this method. Here are links to the game for different vendors: Steam.
GeForce Now

Pros

Access to a vast library of games.
High-quality graphics and performance.
No need for powerful local hardware.
Cross-platform support.

Cons

Requires a stable and fast internet connection.
Limited to supported games.
Potential latency issues in online games.
Requires a subscription for some features.

GeForce Now is a cloud gaming service that offers an accessible way to enjoy a large selection of games on your Mac.

Note: You need to own the game before you proceed with this method. Here are links to the game for different vendors: Steam.

If you're a Mac gamer, GeForce Now is your go-to solution, unlocking access to a diverse game library that might have remained out of reach. The beauty of it? Your Mac doesn't need to be a powerhouse; NVIDIA's servers handle the heavy lifting, ensuring top-notch graphics and seamless performance, even on older Mac models. What's more, it's cross-platform, allowing you to effortlessly switch between your Mac, PC, or mobile device while preserving your gaming progress.

On the other side of the coin, GeForce Now leans heavily on a stable internet connection. Lag and visual hiccups may happen if your connection is unreliable. Additionally, not all games are supported, so your favorite title might be missing. While the basic service is free, certain features, such as priority access and extended play sessions, come with a subscription fee. So, while GeForce Now is a boon for many, a reliable internet connection is crucial, and it's wise to check if your favorite games are part of the platform.
Boot Camp

Features: Provides a native Windows 11 experience. Allows running all Windows-compatible programs and games as long as the Mac's hardware can support them.

Note: Not available for Apple Silicon models.

Pros

It's free
Unlimited compatibility
Stable and reliable

Cons

Takes time to set up
Takes tons of storage
Unavailable for M1/M2

Note: You need to own the game before you proceed with this method. Here are links to the game for different vendors: Steam.

Boot Camp installs Windows in a separate partition on your Mac and allows you to run any Windows program without any compatibility issues.

This method shines in stability, ensuring a seamless gaming experience on your Mac without the headaches of errors, crashes, or other glitches. Moreover, it comes free of charge, with your only expense being the game itself.

However, be prepared for a substantial demand on your hard drive space, as both the game and the entire Windows 10 OS need accommodation. This method caters to Intel Macs, leaving Apple Silicon users to explore alternative options. Additionally, setting it up can be time-consuming, requiring a couple of hours to get everything in place.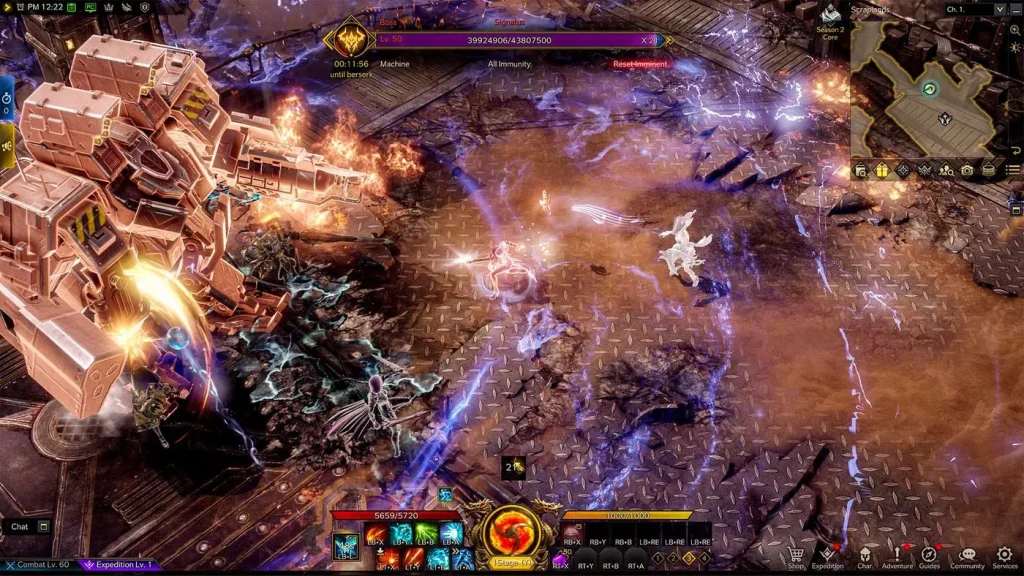 Our Experience with Lost Ark on Mac
Lost Ark on Mac with Boosteroid
Boosteroid was a very convenient option for playing Lost Ark on Mac for us. We didn't have to go through any complicated installations or downloads – just a good internet connection, and we were ready to dive into the game. The cloud service handled the game's fast-paced action smoothly and give us good graphics and consistent frames per second (FPS), having in mind that we weren't using a super powerful computer to play.
Occasionally, the internet caused tiny pauses, which is normal because cloud gaming can have a bit of lag, but they quickly went away and were not a big deal for regular gamers like us. However, super competitive players who love action-packed games might notice the delay more. But in our opinion, even with some internet hiccups, playing Lost Ark on Mac was a solid and enjoyable experience on our Mac.
The ease of accessing the game through Boosteroid, combined with its stable performance, made it a preferable choice, and we were happy to find out that our experience was similar to what other gamers have shared on Reddit.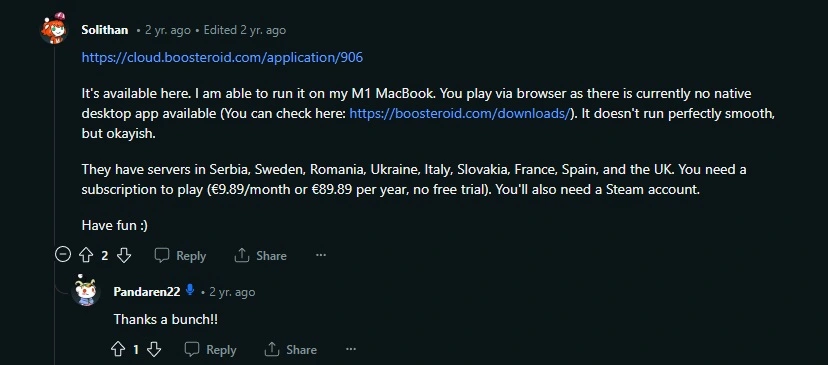 Lost Ark on Mac with GeForce Now
Similar to Boosteroid, GeForce Now handled the game well even with all settings at the highest, and the performance only took a hit during internet lag spikes, but when the internet was stable, Lost Ark played beautifully and allowed us to experience the game's vibrant world in full detail. What we noticed was that GeForce Now seemed to prioritize performance over image quality and was automatically adjusting resolution during lag spikes to maintain smooth gameplay. But, if you prefer consistently high image quality (even at the potential cost of performance), you have the option to customize the GFN client settings accordingly.

Lost Ark MacBook performance with Boot Camp
We didn't personally test this method, but we came across a Reddit user experience detailing his Lost Ark MacBook Pro performance. The setup included a 6-Core Intel Core i7, 16 GB memory, and AMD Radeon Pro 5300M graphics. The user reported that the game ran impressively well when he adjusted the Windows display to 1080p and configured the game to run in a borderless window with medium settings. The result? A consistent 60fps which indicated that, with the right hardware and settings, Lost Ark can indeed be enjoyed on a Mac through Boot Camp.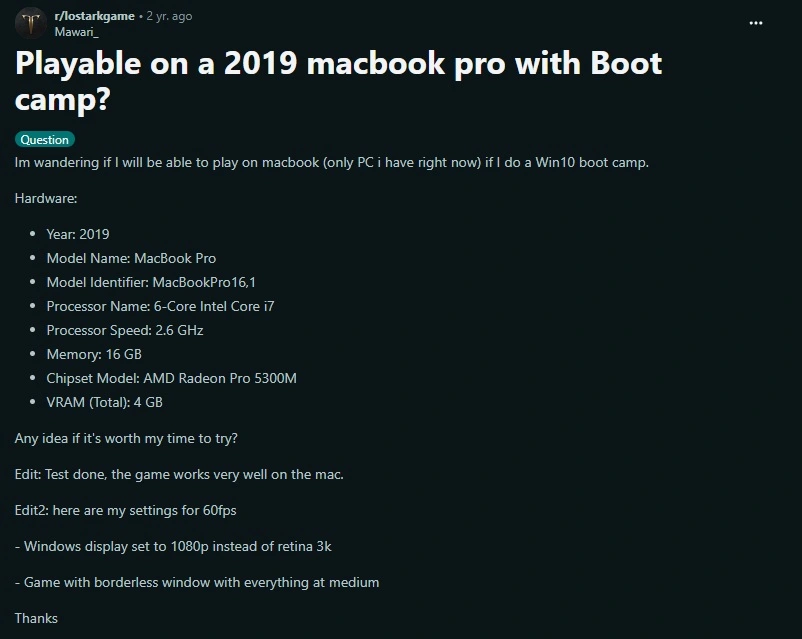 Limitations with Parallels or CrossOver for Playing Lost Ark on Mac
During our research on looking for ways to play Lost Ark on Mac, which included scouring through numerous discussions on Reddit, we found that other users have encountered significant issues when attempting to play with Parallels or CrossOver. With Parallels, the game frequently fails to launch, displaying an error message instead. In the case of Crossover, users reported that the game does not load at all. This limitation is attributed to the anti-cheat system in Lost Ark, which is incompatible with the way these virtualization applications operate. Consequently, Mac users looking to dive into the world of Lost Ark will have to seek alternative methods, as Parallels and Crossover are unable to bypass the game's strict anti-cheat protocols.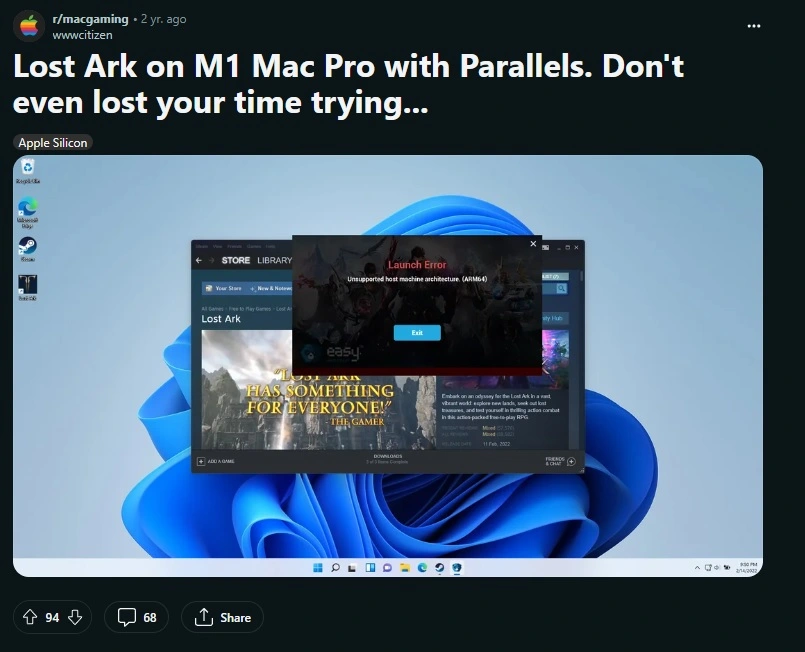 How to choose the Best Method to Play Lost Ark on Mac?
Comparing our experience with Boosteroid and GeForce Now for playing Lost Ark on Mac, both cloud gaming platforms offered a smooth performance. Our subscription plans for both services delivered what they promised but, based on our tests, Boosteroid stands out as the preferable method as it offers a blend of convenience, accessibility, and performance, ideal for those who want to jump into the game without the complexities of installations or hardware limitations.
For Mac users with a compatible setup, such as the MacBook Pro 2019, another option to consider is Boot Camp. This alternative provides a more traditional gaming experience with better control over performance settings. The choice between these methods ultimately depends on individual preferences and the users' ability to tailor their gaming experience to their needs.
Martina Nikolova
Martina likes to get into nitty-gritty of tomorrow's tech, from product design across to security based solutions. A long time mac user and developer, she has the expertise and strives to give new insight