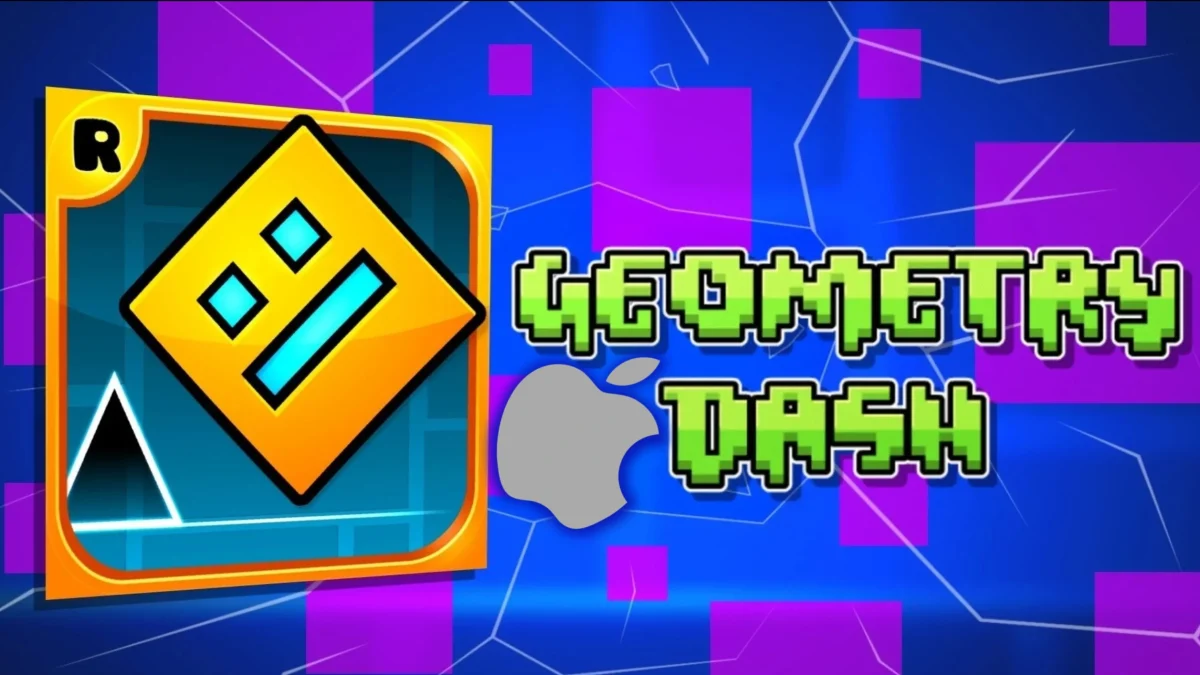 Geometry Dash Mac Download Methods
Geometry Dash is a popular rhythm-based platformer that has captured the hearts of many gamers. But while there is a native Geometry Dash Mac download version available on Steam, there are some hitches for Mac users. The problem? The Mac version of the game is 32-bit and is outdated since Apple ended support for 32-Bit games in macOS Catalina 10.15 and later, leading to compatibility issues on newer operating systems. Faced with these challenges, we embarked on a quest to find alternative solutions and describe our experience.
How to play Geometry Dash on Mac
We found several viable methods to play Geometry Dash on Mac: Boosteroid, Parallels, BootCamp, BlueStacks running the Android version of the game, CrossOver and the native Steam version. Each has its pros and cons, and the best method will likely vary based on your setup. Here's a quick rundown to guide you:
Boosteroid – Recommended for users with a stable internet connection, regardless of their Mac model and operating system.
Parallels – Ideal for users who don't mind running a virtual Windows environment on their Mac.
CrossOver – perfect for Mac users who want to play Windows games on M1 MacBooks and achieve good performance and stability.
BootCamp – Suitable for those who prefer a more native Windows experience on their Mac and have enough storage space.
BlueStacks – For those interested in playing the Android version of Geometry Dash on excessively old Macs that cannot run the native version well.
Steam (Native Mac Version) – A straightforward method best for older Macs running MacOS versions before 10.7.
Our Recommendation: For the smoothest experience, BootCamp won our hearts. But if you're hesitant about partitioning your drive, Parallels is a close second. Those looking for a quick fix without much setup can consider Boosteroid, as long as they have a strong internet connection. So, while Geometry Dash's outdated Mac version threw us off track, the detours proved insightful. Our hope? That our journey helps you navigate yours. Happy gaming!
Geometry Dash for Mac: methods and instructions
What you will see next is an overview of the methods and detailed instructions for them.
Geometry Dash for Mac: our firsthand experience with each solution
There's no denying the addictive charm of Geometry Dash for Mac has kept many of us tapping our screens for hours. Here is what we explored from our tested solutions:
Steam's Native Mac Version:
Our first attempt was, of course, the official route. We tried Steam's Native Mac Version on a MacBook Pro (15-inch, 2019), with a 2.6 GHz 6-core Intel Core i7 processor with 16 GB RAM and macOS Ventura, but it did not work well because a notification informed us Geometry Dash is not supported on Mac operating systems that are newer than 10.7. This method might still be viable for older macOS, but for newer systems, especially those running macOS versions beyond 10.7, we would recommend exploring alternative options.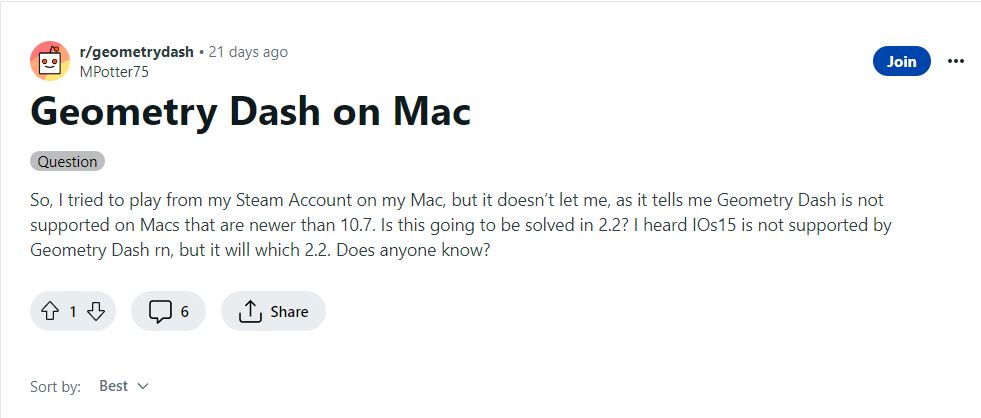 Our team had previous experience with Boosteroid's cloud gaming service, and we found it to be an excellent choice for those with system compatibility issues. The platform offered smooth gameplay during our Geometry Dash for Mac sessions, we encountered minimal lags, even on peak hours and the average FPS hovered around 60.
When we tested Parallels to run Geometry Dash for Mac, the experience was notably smooth. We achieved a consistent 60 FPS in most scenarios, with a resolution of 1920×1080 that provided optimal performance. However, it was evident that this method consumed additional system resources and demanded more from our Mac.
Our team had an impressive experience running Geometry Dash on an M1 MacBook Air equipped with 8GB of RAM via CrossOver. The game achieved an unwavering 60 FPS, even when cranked up to a high resolution of 2560 x 1600 with the most crisp textures. This performance outshone our previous attempts using Rosetta 2, where we encountered annoying stuttering and frame drops. It's worth noting that on levels with an extraordinarily high object count, we did notice some frames dropping, tough. To enhance the gaming experience, we turned off V-Sync, which not only reduced input lag but also came without any visible screen tearing. In the end, Geometry Dash on our M1 MacBook Air via CrossOver delivered a smooth gaming experience that left us thoroughly impressed.
Our journey with Boot Camp, the native Mac utility to run Windows on a separate partition, provided to be a rewarding one on our Intel-based MacBook Pro. The results were impressive and Geometry Dash achieved a consistent 60 FPS. The resolution of 2880×1800 contributed to the game's smooth performance and replicated a high-end Windows gaming experience.
BlueStacks provided access to the Android ecosystem on our MacBook Pro (15-inch, 2019) and opened up new possibilities to play the game. Our experience revealed that while it didn't match the smoothness of playing on an actual Android device, it offered a feasible alternative. We did encounter some minor lags, but with some setting optimizations, the gameplay improved significantly. The frame rate fluctuated between 45-60 FPS, with 1280×720 resolution providing the most consistent performance.
In Conclusion, for Mac users, playing Geometry Dash can be a bit of a hurdle. While the native Steam version may work for some, many will need to seek alternatives. From our tests, Boosteroid and BootCamp provided the best experiences. But ultimately, the right method for you depends on your preferences and Mac setup.
Martina Nikolova
Martina likes to get into nitty-gritty of tomorrow's tech, from product design across to security based solutions. A long time mac user and developer, she has the expertise and strives to give new insight