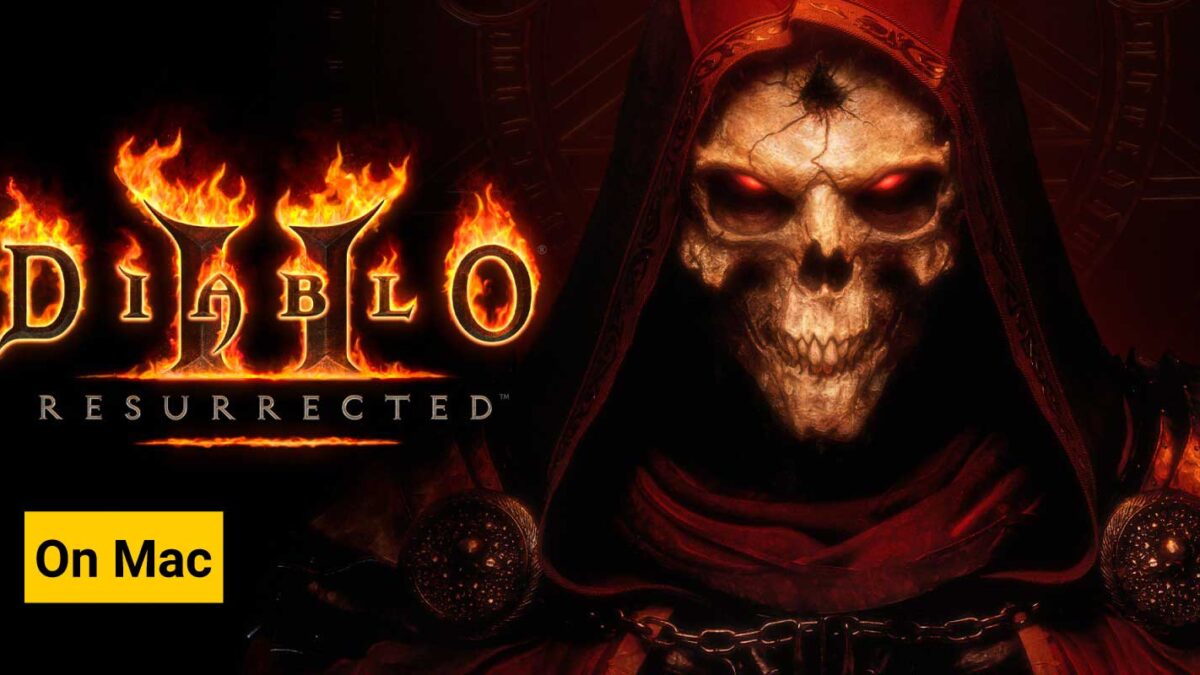 About Diablo 2 Resurrected on Mac
Diablo 2 Resurrected can't be played on Mac through conventional means because, unlike the original, the remastered version lacks support for macOS. That said, with some tinkering around, you may be able to run Diablo 2 Resurrected on your Mac through a workaround method.
Another classic Blizzard title got its remake/remaster and many old-school gamers are hyped about it and are looking forward to giving it a try. Diablo 2: Resurrected was released on the 23d of September this year – the result of the collaboration between Blizzard Entertainment and Vicarious Visions.
A Classic Remade
For those unfamiliar with the Diablo games franchise, this is a series of RPG, hack-and-slash games that got extremely popular in the late 90s and early 2000s with its first two installments and their expansion packs. Diablo 2, especially, has gone down in gaming history as one of the classics, next to titles such as Warcraft 3, Age of Empires, Half-Life, and more. Sometime later, in 2012, the long-awaited Diablo 3 came out and gamers who remembered the glory of its predecessors had high hopes for it.
Unfortunately, the third installment of this legendary franchise didn't live up to the hype that surrounded it. Much time passed and Blizzard decided to remake one of its other classic titles – Warcraft 3. This 2020 remake of the game also got a lot of hype and expectations for it were very high. Sadly, Warcraft 3: Reforged (the remake version) was an even greater disappointment for pretty much everyone who took any interest in the game.
Editors' Choice: Play Genshin Impact on Mac
All of this brings us to the current topic of this article – Diablo 2: Resurrected – a remastered version of Diablo 2 which got released back in 2000. At the moment of writing this post, the game has been out for no more than a week, but enough eager gamers have already given it a try and the general consensus is that… the remaster isn't particularly good. As is the case with a lot of newly-released games nowadays, the main complaints stem from the fact that the game is still unpolished and the abundance of bugs that will have to be patched out after the game's release. On the bright side, the graphics have (obviously) been improved significantly without making the game unrecognizable.
What's changed?
The way the game has been changed graphically is reminiscent of the Age of Empires 2: Definitive Edition, where you can still tell it's the same old Age of Empires 2 game but with vast graphical improvements that make everything more enjoyable. That said, Diablo 2: Resurrected still has its problems (quite a lot of them) and if you really want to play this game, you'd have to be prepared.
To be fair, though, the engine and the mechanics of the game are from over twenty years ago, and while many gamers claim that this is what they want from the Diablo 2 remaster, it's also possible that a lot of the complaints towards the game are due to people being used to more modern games and finding it difficult and jarring to go back to a game that lacks many of the quality-of-life features that we take for granted in modern games.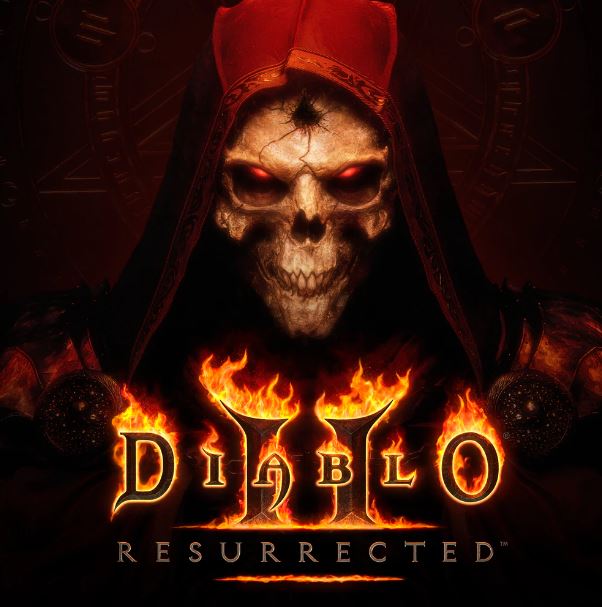 As for playing the game on a Mac machine, there is no official way to do this. As of right now, there are no indications that Diablo 2: Resurrected would ever come to macOS or be available on cloud gaming services such as Google Stadia or GeForce Now. Because of this, the only viable method to still play this game on a Mac would be to install Windows 10 on your Mac. For Macs with Intel processors, this can be done with the help of the Boot Camp Assistant app.
Recommended: Diablo with Cloud Gaming
Diablo Resurrected is now available to play on cloud gaming servers. This assures NO
compatibility issues while playing on your Mac as well as top-notch performance.
Step 1. Get Diablo Resurrected
Before playing Diablo Resurrected make sure you get the game through the official Blizzard website. Carefully choose the battle.net platform as this will allow you to play on cloud gaming services such as Boosteriod and Geforce. Below is a link to the official website.
Step 2. Register and Add Diablo To Boosteroid Cloud Gaming Library
All you need to do now is register for Boosteroid. This allows you to add Diablo Resurrected to their Cloud Gaming Library. Once uploaded you can seamlessly play the game from your Mac.

When Registered you will have additional access to more than 70 top-rated games for free. Pricing varies depending on the subscription plan.
Play Diablo 2 Resurrected on Mac M1 Parallels
Diablo 2 Resurrected can't be played on Mac M1 machines via the Boot Camp Assistant Method because this app isn't available for those Macs. You may be able to play Diablo 2 Resurrected on Mac M1 with the help of hardware virtualization software called Parallels.
Update: Please keep in mind we have had users mention that the game is not compatible with Parallels. The following error message appears: "Your CPU needs to support AVX instructions to run this game"
The idea is to run Windows 10 on your Mac through the help of such software, which would create a virtual Windows 10 machine on your Mac, and then install the game in Windows 10 rather than in macOS. A program that does a good job at this is Parallels Desktop for Mac. It will allow you to run Windows 10 in your Mac parallel to macOS. All you'd have to do then is download and install Diablo 2: Resurrected (or any other Windows PC game) on the virtual machine. Installation instructions for Diablo 2: Resurrected on Windows 10 are available at the end of this post.
Disclaimer: Note that using virtualization software isn't guaranteed to work in all cases, especially for gaming. You may or may not be able to get this game running on your Mac. If you want to try Parallels, then we suggest using its 14-day free trial period to figure out if this program would let you play Diablo 2: Resurrected and only then decide whether you'd buy Parallels.
How to play Diablo 2 Resurrected on Mac Boot Camp?
To play Diablo 2 Resurrected on Mac, you must first install Windows 10 on your Mac using Boot Camp Assistant. After Windows 10 is installed, you should be able to download and play Diablo 2 Resurrected on your Mac through its Windows 10 partition.
Now we will show you exactly how to perform the installation of Windows 10 on your Mac using Boot Camp Assistant, but before we get there, know that your Mac will need to have a considerable amount of free storage space. It's recommended that you have at least 200 GB of free space on your Mac before you begin the process of installing Windows 10 and then downloading Diablo 2: Resurrected (which takes up about 30 GB). If you don't have that much space on your Mac, you should first make sure to free it up.
Also, remember that your Mac should also meet the system requirements for the game (which are considerable, especially for a remaster of a game that came out more than 20 years ago). Here is the full list of the game's requirements – it's best if your Mac exceeds the minimum ones for a smooth gameplay experience.
Minimum Requirements:
Operating System: Windows 10
Processor: Intel Core i3-3250/AMD FX-4350
Video: Nvidia GTX 660/AMD Radeon HD 7850
Memory: 8GB RAM
Storage: 30GB
Internet: Broadband Internet connection
Resolution: 1280 x 720
Recommended Specifications:
Operating System: Windows 10
Processor: Intel Core i5-9600k/AMD Ryzen 5 2600
Video: Nvidia GTX 1060/AMD Radeon RX 5500 XT
Memory: 16GB RAM
Storage: 30GB
Internet: Broadband Internet connection
Resolution: 1920 x 1080
Now, if you've made sure that your Mac has enough free space and has the hardware power to run this game, let's get started on how to install Windows 10 and then Diablo 2: Resurrected on it.
Installing Windows 10 (via Boot Camp Assistant)
Go to Microsoft's page for downloading Windows 10, choose the regular Windows 10 edition, and click Confirm.
Pick the language you prefer and click Confirm again.

Select the 64-bit Download and download the file on your Desktop if Safari asks you to pick a download location. If it doesn't, the Windows 10 ISO file should end up in your Downloads folder unless you've changed the folder where Safari should download files.

Next, go to Applications > Utilities on your Mac, start the Boot Camp Assistant app, and click Continue when it opens.

Next, select Choose a Windows 10 ISO file, click Choose again, and find the file you just downloaded from Microsoft's site. Select the file, and click Open.

After that, remember to allocate no less than 150 GB of space to the Windows partition, but make sure to also leave at least 50 GB for the macOS one – use the dot between the two partitions to change their sizes accordingly by moving it to the left or right.

Next, click the Install button and wait as the Boot Camp Assistant prepares for the installation. Once the preparation is over, you will have to type in your Admin password and then click OK to start the installation.
Your Mac will restart and next you will see a screen with the Windows logo – there you must choose your language and location and click Next.
Next, if you have a product key, type it in and click Next. If you don't have a key, select Skip/I don't have a product key.

If you get to a screen where you must choose between the Home or Pro editions of Windows 10, go for the Home one. Pro is recommended only if you will also need Windows 10 for more advanced tasks and not only for gaming.

On the next screen, click I agree and then click Next – this will start the installation of Windows on your Mac. Since this process requires some time to complete, we recommend keeping your Mac plugged in to a power outlet so that you don't risk running out of battery – if your Mac shuts down mid-installation, this could have some pretty unpleasant consequences that are not easily-fixed.
Once the Windows 10 installation finishes and your Mac restarts, you will get to a screen where you can choose to either customize your Windows settings or use the premade one. We recommend going for the former option and setting everything up yourself.
Next, create an account by choosing a username and a password, and continue to the next screen.
You will be asked whether you'd like to activate Cortana (Windows 10 equivalent of Siri) and customize its settings or leave this for later – pick whatever you prefer.
Your Mac should finally boot into Windows and the Bootcamp Assistant should be open on your screen – you need to click Next > I Accept > Next in it to initiate the installation of drivers that your Mac needs in order to properly run on Windows 10.
If your Mac requires your Admin approval to install something, click Yes to allow it.
After the process finishes, select the Finish button to restart your Mac.
Installing software updates (optional steps)
Though these finishing steps are optional, they are still very important if you'd like to be able to get optimal performance in Windows 10, so we recommend not skipping them.
When you are in Windows 10 on your Mac, go to the Start Menu (located in the bottom-left), and select the Apple Software Update button.
An automatic search for updates will begin and once it's finished, you will see what updates are available. Install all updates that have been found and if your Admin permission is required at any point, provide it by clicking on Yes.
Once the installation completes, and you get asked if you'd like to restart your computer now, click Yes.
After your Mac restarts, return to the Start Menu, and go to Updates & Security > Windows Update (left panel) – this will cause Windows to automatically start searching for available software updates and install them.
Once all updates are installed, restart your Mac one more time, and this should put the final touches to the Windows 10 installation on your Mac.
Switching between partitions
It is important to be able to easily switch between the two operating systems that are on your Mac before you try to install anything in the Windows 10 one, so here's how to easily do this:
Going from Windows 10 to macOS – Simply locate a small slanted/tilted square icon in the bottom-right of your screen, click it, and click on Restart in macOS. If you don't see such an icon, then click the upward-pointing arrow in the bottom-right, and you should see the tilted square in the box that appears.
Going from macOS to Windows 10 – Open the Apple Menu from the top-right, and select System Preferences. Next, open Startup Disk, click the padlock in the next window, type your password, and click on Unlock. After this, select Bootcamp Windows and click on Restart.
Installing Diablo 2: Resurrected in the Windows 10 partition on your Mac
You will need to download the Windows PC version of the game in the Windows 10 partition of your Mac.
To do this, go to the official Blizzard page for the game, verify your age, click Submit, and then click on Buy Now.

Choose the PC version/Battle.net version of the game, select the edition you prefer, and click on Buy Now.

Next, log in with your Blizzard account (if you haven't already done that) in order to be able to purchase the game.

If you don't have an account, create one now or log in with your Apple ID or Facebook.

Make the purchase and download the game's installation file. Then start the file and perform the installation. Once you are done, you should be able to run the game on your Mac through its Windows 10 partition.
Martina Nikolova
Martina likes to get into nitty-gritty of tomorrow's tech, from product design across to security based solutions. A long time mac user and developer, she has the expertise and strives to give new insight