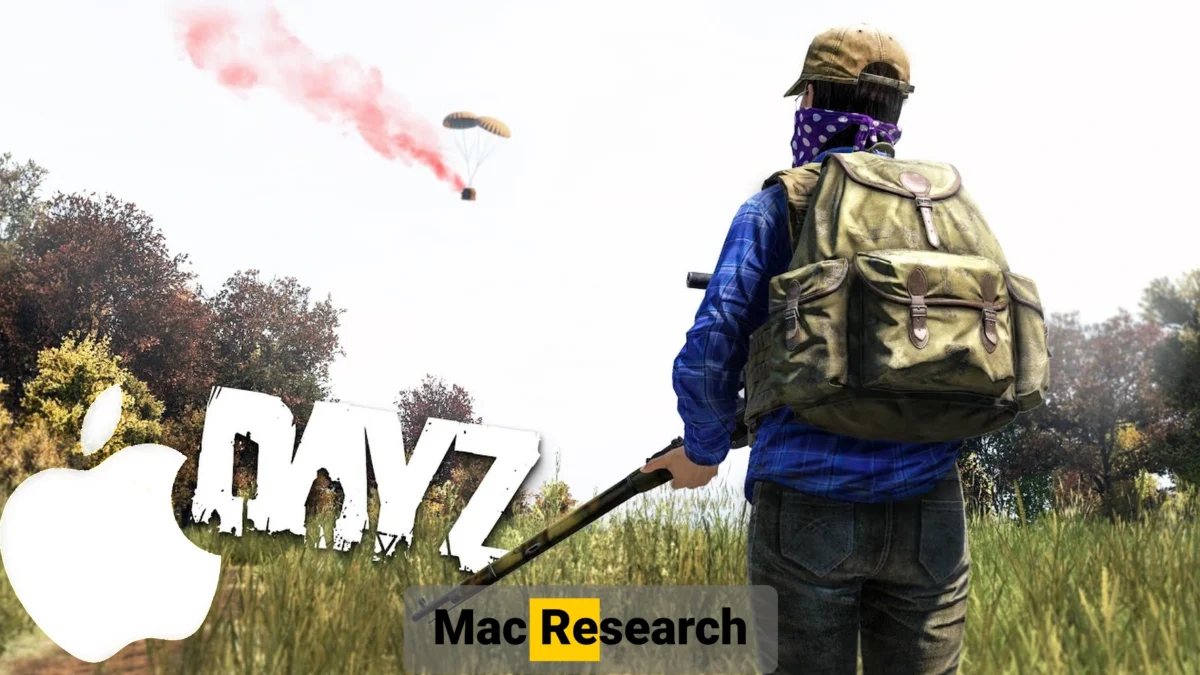 4 Ways To Play DayZ on Mac – Our Experience
Martina Nikolova, 2 weeks ago
0
9 min

read
How to Play DayZ on Mac
DayZ is a gripping multiplayer survival game that lacks official support on macOS, but many Mac users seek alternative ways to play it. Our team explored three cloud gaming services and one local gaming method to test how the game performs with each of them and help the fans find the best way to play DayZ on Mac. You can read more about our experience below and take a look at the methods that we tried in the section that follows.
DayZ Mac Methods and Instructions to play
Boosteroid Cloud Gaming (Recommended method)

Features: Constant 1080p/60 FPS; Stable connection; Low bandwidth requirements (15 MBPS); Huge gaming library with all the latest AAA titles.

Pros

Cheapest cloud-gaming option
Compatible with all macs
Hardware specs don't matter
You can play in your browser in about 15 minutes

Cons

Requires a good internet connection
You need to look if the game is supported with your chosen vendor

Extras: Here's our review of Boosteroid with a comparison to GeForce Now; also check out our Boosteroid Games List.

If you are looking for a hassle-free gaming experience on your Mac, Boosteroid is our top pick, especially if you're not a competitive gamer. It provides an excellent combination of visuals and performance, making it the ideal choice for enjoying games on your Apple device.

Use the "Play with Boosteroid" button and go to the Boosteroid website. There, you need to create a new account or log in using your Google Account credentials.
Go at the top-right corner of the screen and click on "My account". To begin using Boosteroid, you need to activate a plan of your choice under the "My subscription" tab.
Look for the game in the search tab on top to see which vendors Boosteroid supports. You need to own the game before you proceed with this method. Here are links to the game for different vendors: Steam or CD Keys discount.
Xbox Game Pass/Xbox Cloud Gaming

Features: Access to hundreds of games without the need to purchase them individually. Ability to play the Game Pass titles on any device through the Xbox Cloud Gaming service.

Pros

You don't need to buy the game
M1/M2/Intel-compatible
Hardware specs don't matter

Cons

Requires good Internet for its cloud-gaming
Controls are console-based, emulated for mouse an keyboard.
Available in few countries.

Step 1: Subscribe to Game Pass

To play with Xbox Cloud Gaming, you'll need to subscribe to the Xbox Game Pass Ultimate plan by clicking on the button below. Then click the Join button, sign up with your Microsoft account and follow the instructions that appear on your screen.

You can play without cloud gaming by following with the Boot Camp Method.

Step 2: Play with Xbox Cloud Gaming (Optional)

This step is optional and you should perform it only if you want to play through the Xbox Cloud Gaming service. Go to the Xbox site and click on the Game Pass menu. After that, click on Xbox Cloud Gaming, and then select Join Now. Search for the game in the search bar, select it, and click on Play with Cloud Gaming.

It is important to note that playing games through Xbox Cloud requires a controller. So, if you don't have one, then install this extension to your Edge/Chrome browser, enable it, and then click in the center of your screen once the game starts to begin using it.
GeForce Now

Pros

Access to a vast library of games.
High-quality graphics and performance.
No need for powerful local hardware.
Cross-platform support.

Cons

Requires a stable and fast internet connection.
Limited to supported games.
Potential latency issues in online games.
Requires a subscription for some features.

GeForce Now is a cloud gaming service that offers an accessible way to enjoy a large selection of games on your Mac.

Note: You need to own the game before you proceed with this method. Here are links to the game for different vendors: Steam; check for discount on CD Keys.

For Mac enthusiasts delving into gaming, GeForce Now stands out as a lifesaver, opening the door to an extensive game library that might have otherwise been off-limits. The standout feature is that yur Mac's power isn't a limiting factor – NVIDIA's servers take the reins, delivering top-tier graphics and performance, even on aging Macs. The cross-platform functionality adds an extra layer of convenience, enabling smooth transitions between your Mac, PC, or mobile device while maintaining your gaming progress.

On the flip side, GeForce Now's performance heavily relies on a robust internet connection, which means that lag or visual hiccups may appear if your connection is shaky. Moreover, not all games are supported, so your favorite title might be absent. While the basic service comes free of charge, features like priority access and extended play sessions require a subscription fee. Thus, while GeForce Now caters to many gamers, a dependable internet connection is paramount, and it's wise to confirm if your preferred games are part of the platform.
Boot Camp

Features: Provides a native Windows 11 experience. Allows running all Windows-compatible programs and games as long as the Mac's hardware can support them.

Note: Not available for Apple Silicon models.

Pros

It's free
Unlimited compatibility
Stable and reliable

Cons

Takes time to set up
Takes tons of storage
Unavailable for M1/M2

Note: You need to own the game before you proceed with this method. Here are links to the game for different vendors: Steam; check for discount on CD Keys.

Boot Camp installs Windows in a separate partition on your Mac and allows you to run any Windows program without any compatibility issues.

A standout feature of this method is its unparalleled stability, guaranteeing a glitch-free gaming session on your Mac without the hassle of errors or crashes. What's more, it's a cost-free approach, with the only expenditure being the game itself.

On the flip side, brace yourself for a substantial hard drive space requirement, as both the game and the entire Windows 10 OS demand accommodation. This method is tailored for Intel Macs, leaving those on Apple Silicon to seek alternative solutions. Furthermore, it's the most time-intensive method, demanding a few hours for setup.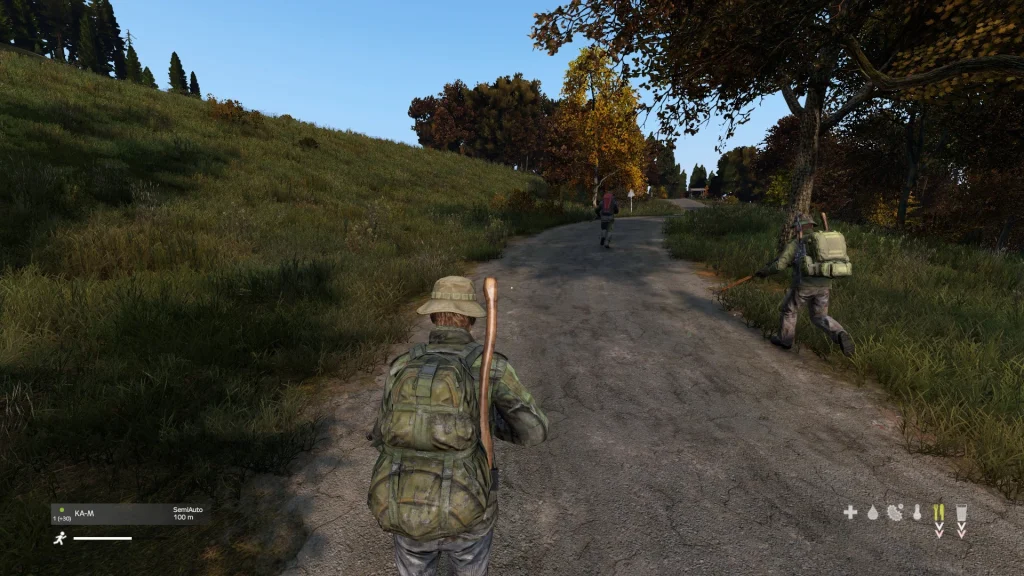 Our Day Z Mac experience through Cloud Gaming
To our luck, we found that DayZ is supported in the libraries of three popular cloud gaming services: Boosteroid, Xbox Game Pass, and GeForce Now, so we decided to test them and compare our experience. The experiment began with Boosteroid. Signing up was effortless, and in no time, we were streaming DayZ at a satisfying 1080p resolution and stable 60 FPS. Despite relying heavily on our internet connection, the occasional lag spikes were just minor hiccups in an otherwise smooth experience, so even thoug the latency was noticeable, it didn't detract much from our casual gameplay.
Moving on to Xbox Game Pass, the integration felt seamless. The game's graphics and performance were on par with Boosteroid and offered us a comparable gaming experience in tersm of FPS and resolution. So we found this as a refreshing option, especially for those already invested in the Xbox ecosystem.
GeForce Now was our final stop. The service demanded a slightly better internet connection, but it handled DayZ on Mac admirably. We noticed a bit more latency compared to Boosteroid and Xbox Game Pass, but the customizable settings in the GeForce Now app allowed us to fine-tune the experience.
If we have to draw a conclusion, from what we experienced, the cloud gaming method appeared as an excellent choice for playing DayZ on Mac, especially for casual gamers. Of course, we have to note that this method doesn't offer the high-end performance of a dedicated gaming PC, but it provides a great way for Mac users to access games typically not available on their platform. The three services that we tested managed to bridge the gap between complex technical requirements and enjoyable gameplay which makes each of them an appealing option for those looking to enjoy gaming on their Mac without the complexities often involved in setting up games that are not natively supported on macOS.
The performance of DayZ for Mac with BootCamp
Last, we tried to play DayZ on a 2017 Intel-based MacBook Pro using Boot Camp. After installing Windows on the MacBook, we successfully launched DayZ, diving into its post-apocalyptic world.
Our experience was generally smooth, with no game-breaking bugs or crashes. However, the MacBook's performance was somewhat limited – we averaged around 35 FPS at medium settings and 1080p resolution. While the game was certainly playable, the MacBook struggled to maintain high frame rates during more intense scenes.
Notably, the MacBook heated up significantly during our gaming sessions, which is a common occurrence when playing resource-intensive games on older Intel-based Macs. While this heating issue didn't directly impact the game's performance, it did make prolonged playtimes a bit uncomfortable. In light of this, for those with similar Mac models, cloud gaming might be a more comfortable and efficient alternative to enjoy games like DayZ without the overheating concerns.
Can you play DayZ for Mac with Parallels or Crossover?
According to our research, playing DayZ for Mac using Parallels or Crossover encounters significant challenges due to the game's anti-cheat technology, which is not supported in virtualization. Both Parallels and CrossOver have been reported to refuse to launch DayZ . This is particularly relevant for Apple Silicon Macs, as there is currently no way to play DirectX 12 games on these devices using virtualization. Users have reported issues with the game freezing or not launching properly when attempting to use these methods.

Which DayZ Mac method should you choose?
Selecting the optimal DayZ Mac method for playing involves considering various factors. Our exploration into the cloud gaming services above revealed their effectiveness in delivering a smooth and enjoyable experience with DayZ on Mac for users with reliable internet connections. These platforms shine in terms of performance and user-friendly interfaces, and are ideal solution for Apple Silicon Macs and Intel-powered Macs alike, which makes them stand out options. For users who prefer local gaming and have a Mac with an Intel chip, our test showed that BootCamp is also a reliable choice, though it requires a more intricate setup process. Of course the method that you choose should align with your specific Mac model, preferences, and desire for a smooth gaming experience.
Martina Nikolova
Martina likes to get into nitty-gritty of tomorrow's tech, from product design across to security based solutions. A long time mac user and developer, she has the expertise and strives to give new insight