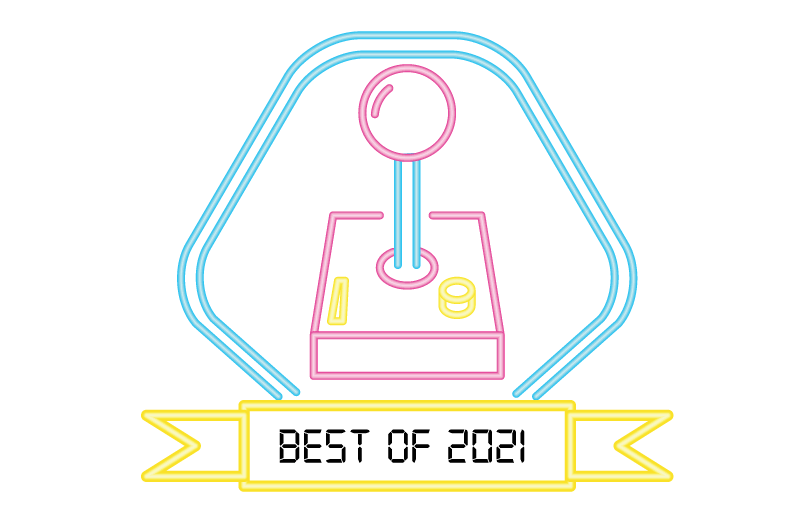 Top 11 Best Games For Mac 2021
Martina Nikolova, 2 years ago
1
21 min

read
When talking about gaming, few people would think of gaming on Mac, which is quite understandable seeing as how Mac computers aren't particularly well-suited for this type of activity. That being said, Mac machines, especially some newer models, can offer some hardware potential that would allow them to run a wide variety of gaming titles on higher settings, providing the player with satisfying gaming experience.
However, there's one major obstacle in the path of Mac gaming and that is the simple fact that the number of games that have a Mac port (a version for Mac) is exceedingly low when compared to the selection of games for Windows PC.
Furthermore, the number of games created specifically for Mac computers is even lower. This means that if you own a Mac computer and wish to use it for some casual gaming every now and then, you'd be quite limited by the availability of gaming titles compatible with your system.
That said, not all hope is lost as there are still some (quite a few actually) popular game titles that have received a Mac port over the years and our task within the current write-up is to share with you our opinion on which of those titles we consider to be the best. Without further ado, we present you our list (in no particular order) of the top 10 best games for Mac.
List of the Top 11 Games for Mac 2021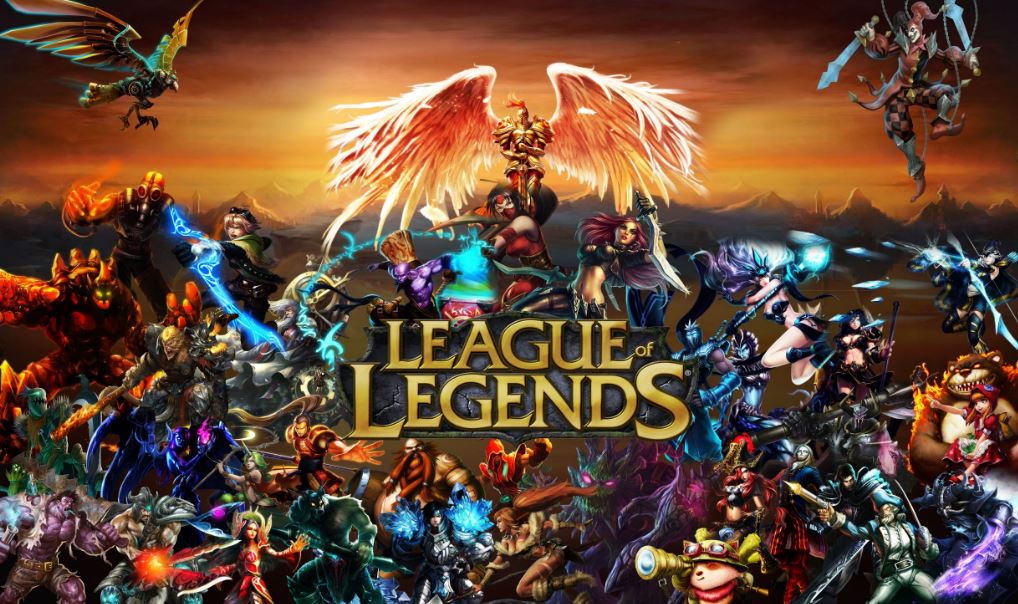 1. League of Legends (Multiplayer; MOBA) For Mac
To start off our list, we will tell you about a well-known gaming title that has been around for quite some time and is still going strong with tenths of millions of active players. League of Legends is what is known as MOBA (Multiplayer Online Battle Arena) and it's deceivingly simple premise (one map, two teams, 10 players) can quickly suck you in and keep you entertained for tenths or even hundreds of hours.
We believe there's no need to elaborate upon the gameplay mechanics of MOBA games seeing as how popular they have been throughout the entirety of the 2010s. Suffice to say, the gameplay of League of Legends is what makes it so addictive and interesting – you always want to try that one new champion or improve your skills with your favourite one (and boy, are there a lot of champions to pick from).
The fact that the game is entirely played online also helps keep it interesting and fresh although, admittedly, playing with other people can sometimes be quite frustrating. That said, if you can ignore this last aspect of online gaming in general and simply enjoy yourself, we believe League has many hours of fun to offer you – just be careful not to get addicted! Oh, and did we mention that the game is entirely free-to-play.
The only micro-transactions in the game are either cosmetic or allow you to purchase status improvements that you could still get for free with some in-game grinding. We, as pretty much everybody else, hate pay-to-win games disguised as free-to-play so we won't be including any such titles throughout the rest of this list. You can get League of Legends from the official site of the game.
Minimum System Requirements:
CPU: 3GHz Processor (supporting SSE2 instruction set or higher)
RAM: 2GB RAM
HDD: 12GB Free Space
DirectX: Version 9C or better
Shader: Version 2.0b capable video card
Mac Gaming Recommended System Requirements:
CPU: 3GHz Processor (supporting SSE2 instruction set or higher)
RAM: 4GB RAM
HDD: 16GB Free Space
GPU: Nvidia GeForce 8800 / AMD Radeon HD 5670 or equivalent video card with dedicated memory of 512MB or higher VRAM.
OS: Windows 7, 8.1, or Windows 10
DirectX: Version 9.0C or better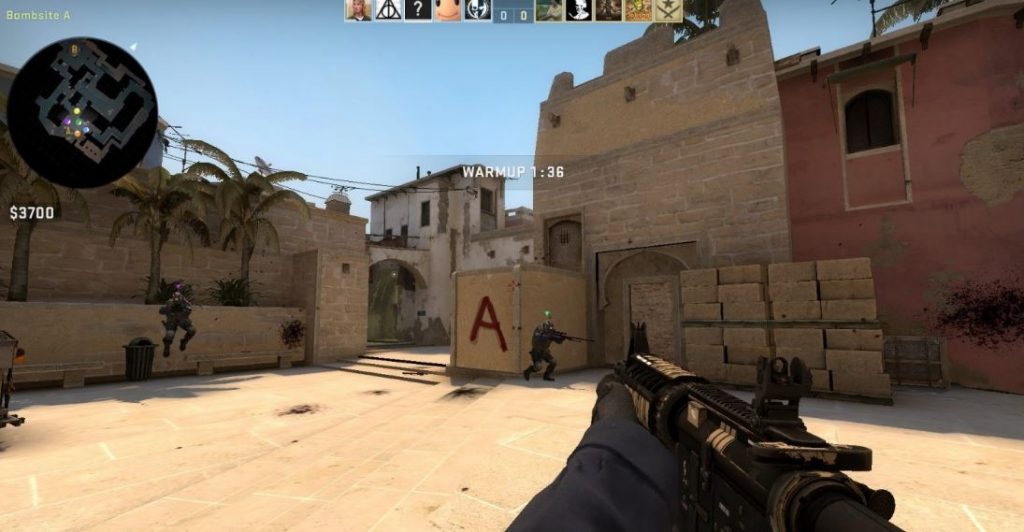 2. Counter Strike: Global Offensive (Multiplayer; FPS) For Mac
Here is another incredibly popular online game that most of you have probably already heard about. Counter Strike is a First Person Shooter developed by Valve and the latest iteration of the legendary Counter Strike game series. This one, too, has a fairly simply premise. There are two teams – terrorists and counter-terrorists, that go up against one another with the goal to eliminate the opposing team and/or complete a map-specific quest. Again, we won't dig into the gameplay mechanics because they are fairly simple which makes the game easy to learn but very difficult to master.
Personally, I think that it might be a bit tricky to get into CS: GO (or any of the previous CS games for that matter) for the simple fact that there's a certain skill threshold that can be quite difficult to overcome for casual players and for newcomers to the tactical FPS genre. Still, it is a definitely a fun game that can be very addictive and offer you hours of action-packed fun.
Minimum System Requirements:
CPU: Intel Core 2 Duo E6600 / AMD Phenom X3 8750 or better
RAM: 2 GB
HDD: 15 GB of storage space
GPU: Video card must be 256 MB or more and should be a DirectX 9-compatible with support for Pixel Shader 3.0
DirectX: Version 9.0c
Network: Broadband Internet Connection
Recommended System Requirements:
CPU: Intel Pentium Dual-Core E5700 3GHz / AMD Phenom 8750 Triple-Core
RAM: 2 GB
HDD: 15 GB of storage space
GPU: NVIDIA GeForce GT 630 / AMD Radeon HD 6670
DirectX: Version 9.0c
Network: Broadband Internet Connection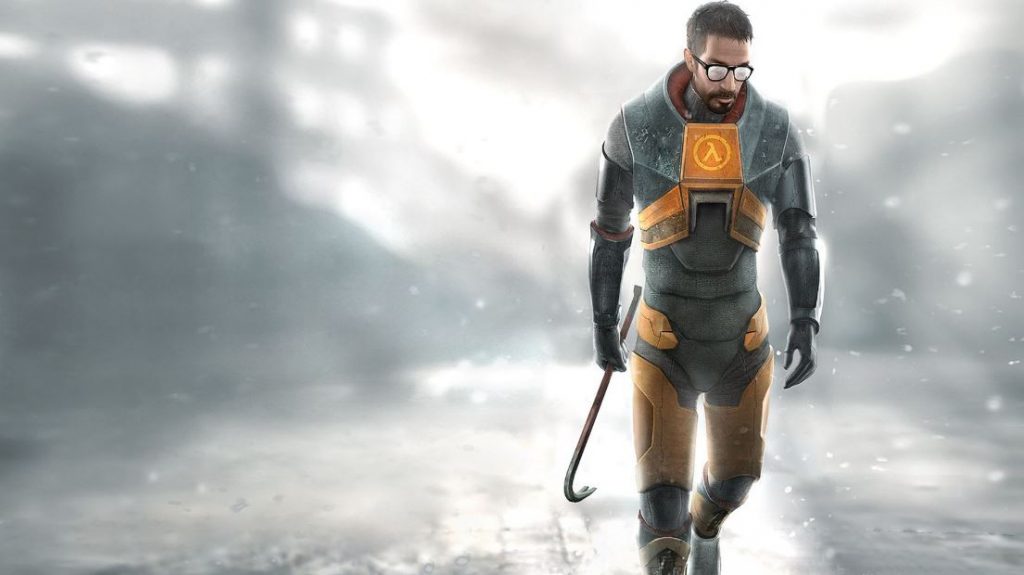 3. Half Life (Single Player; FPS) For Mac
If you don't know what Half Life is or have never played a single title from this game series, then what are you even doing here, reading this article, instead of rushing to Steam and getting the Half Life Complete Bundle, installing the games included in it, and embarking upon an epic journey seen through the emerald eyes of a silent, crowbar-wielding, alien-slaying, HEV suit-wearing theoretical physicist.
Jokes aside, the Half Life games (developed by Valve) are seen as some of the best video games to have ever been created, and for a good reason. Sure, the first half life game has come 22 years ago and the newest one, Half Life 2: Episode Two, (if we don't count Half-Life: Alyx and the Black Mesa remake, which we don't for the purposes of this article) came out back in 2007. However, despite their age, these games will always remain a classic and I firmly believe that anyone who enjoys video games and yet has never played any of those titles should, at the very least, give them a go.
The bundle we've linked here includes all 6 official Half Life games plus the Half Life 1: Source remake (which is not a very good remake, so we don't recommend it) and Team Fortress Classic, which could offer some nostalgia fun with friends but is inferior to the infinitely more popular Team Fortress 2 (which is also available for Mac). As for the games themselves, there's not enough room in this article to write even a brief review that goes over the main elements that make them so good.
Suffice to say, the combination of masterful storytelling through gameplay, the focus on realism, and the effort put into every detail makes for a profound and stunningly immersive experience that leaves you thinking about and coming back to those games weeks, months, and even years after you have played them for the first time (at least it did that for me).
System Requirements: Different for the different Half Life games but since those are old games there's virtually no chance that you won't be able to run them so long as your Mac has been manufactured within the last 15 years.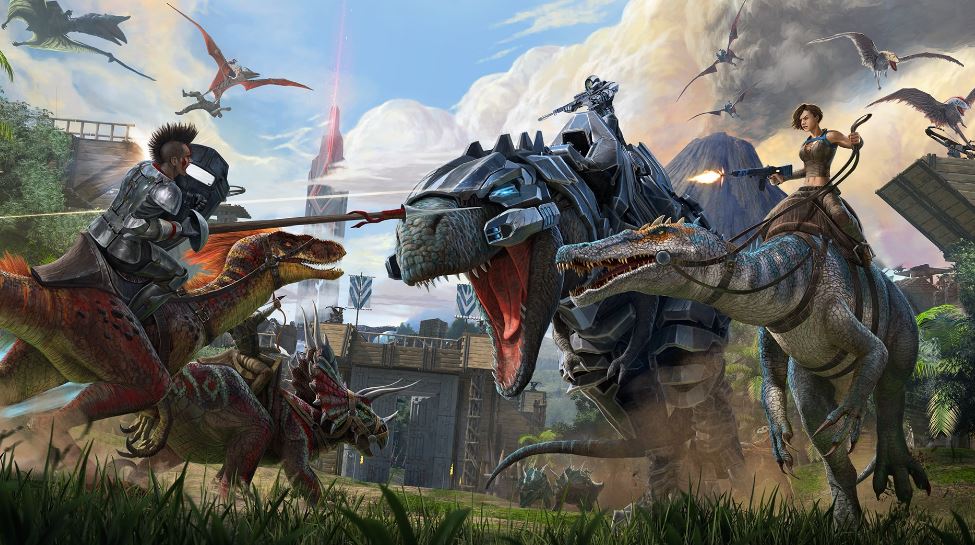 4. Ark: Survival Evolved (Multiplayer; Action; Survival; RPG) For Mac
Ark: Survival Evolved is a survival multiplayer game developed by Studio Wildcard, Instinct Games, Efecto Studios, and Virtual Basement and it places the player in a hostile world where they need to build shelter, craft tools, grow crops, and do anything else they need to survive while being in constant danger of being mauled, torn apart, devoured, impaled, or grievously harmed in any other number of ways by dinosaurs and other primordial creatures that roam the island of Ark. This game is open-world allowing for freely exploring the huge game map and finding the prefect spot to set up a camp and fend off the threats that surround you at any given time.
The huge scale of the game obviously offers many hours spent learning more about its world and improving your own skills in the meanwhile, but it can also become frustrating at times because the learning process in such open-world games can take quite a while since the game isn't constantly pushing the player towards a predefined path like many of the more linear games do. Still, Ark: Survival Evolved is a lot of fun, and we definitely recommend it to those who seek a more open-world experience in a game.
Mac Gaming System Requirements:
OS: OSX 10.9 or Higher
Processor: 2 GHz Equivalent CPU
Memory: 4000 MB RAM
Graphics: OpenGL 3 Compatible GPU with 1GB Video RAM
Storage: 20000 MB available space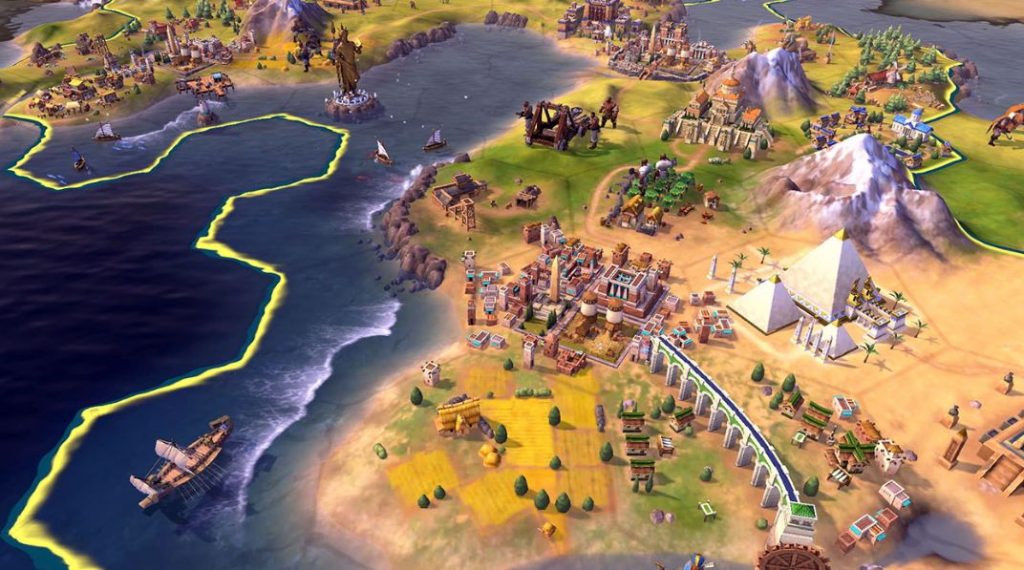 5. Civilization VI (Single-Player, Multiplayer, Turn-based Strategy) for Mac
If you are not so much into action games and would prefer a more laid-back experience, you can try the latest game from the Civilization series – Civilization VI. The premise of the game is that you are the ruler of an empire and your goal is to expand the empire by exploring the game-world, exploiting its resources, and exterminating any opposition you may face during this time (those are the 4Xs of turn-based strategies). Every action you can perform in the game is done in turns so aren't controlling anything in real time (this is the difference between turn-based strategies and real-time strategies).
Civ VI improves upon the earlier iterations of this game series by adding new features such as dynamic diplomacy, active research, and combined arms as well as enhancing the game's multiplayer.
If you are new to turn-based strategies and are used to more conventional types of game genres, this type of game may seem odd and less impressive once you first try it. It may also take some time to get the hang of it and get used to the gameplay mechanics specific for 4X games. If you have played strategy board games in the past, however, you will feel right at home with Civ VI. Either way, we recommend the game to both those who have never tried anything similar before as well as to those who are already familiar with turn-based strategies.
System Requirements:
Requires a 64-bit processor and operating system
OS: 10.12.6 (Sierra)
Processor: Intel Core i5 2.7Ghz
Memory: 6 GB RAM
Graphics: 1 GB GPU Minimum – GeForce 775M | Radeon HD 6970 | Intel Iris Pro
Storage: 15 GB available space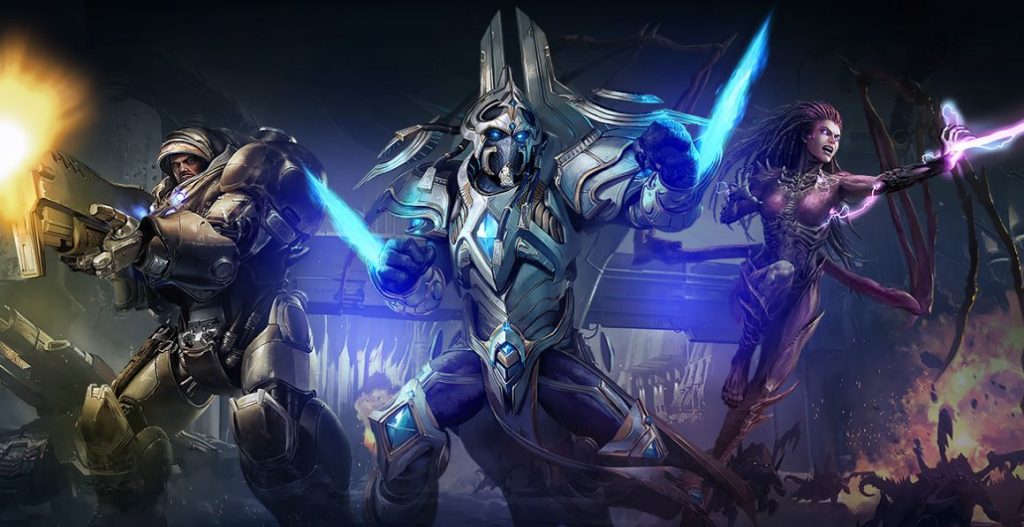 6. Starcraft 2 (Single-Player; Multiplayer; Real-Time Strategy) for Mac
Since we included a turn-based strategy in this list, it's only fair to also include a real-time strategy (RTS). This genre of games used to be very popular in the early 2000s but by the start of the 2010s seems to have fallen into obscurity with fewer and fewer gamers playing RTS games. Nevertheless, Starcraft 2, developed by Blizzard, is still a major gaming title and a well-established E-sport with frequent tournaments and highly-skilled players. For a casual gamer, however, this probably doesn't mean much and might even be a turn-off in some cases.
Both the original Starcraft and Starcraft 2 are rather challenging games that represent a game genre that, in and of itself, is already challenging enough (which is probably one of the reasons RTS-s are not all that popular anymore). However, this doesn't stop us from recommending this game to our readers – it is a classic one and even though it has been released over 10 years ago, it has aged really well and its gameplay mechanics and visuals still feel as fresh as they did when the game first came out.
Starcraft 2 may have a somewhat steep learning curve but the immersive single-player campaigns do a great job of easing the player into the game's mechanics while, at the same time, delivering an engaging and emotional story. Even if you aren't interested in playing the game online, the single-player experience delivered by Starcraft 2: Wings of Liberty and its two expansions – The Heart of the Swarm and Legacy of the Void, is more than enough to make trying out this game trilogy totally worth it.
Minimum System Requirements:
CPU: Intel Core 2 Duo or AMD Athlon 64 X2 5600+
RAM: 2 GB
VIDEO CARD: NVIDIA GeForce 7600 GT or ATI Radeon HD 2600 XT or Intel HD Graphics 3000 or better
PIXEL SHADER: 3.0
VERTEX SHADER: 3.0
FREE DISK SPACE: 30 GB
DEDICATED VIDEO RAM: 64 MB
Recommended System Requirements:
CPU: Intel Core i5 or AMD FX Series Processor or better
RAM: 4 GB
VIDEO CARD: NVIDIA GeForce GTX 650 or AMD Radeon HD 7790 or better
PIXEL SHADER: 5.0
VERTEX SHADER: 5.0
FREE DISK SPACE: 30 GB
DEDICATED VIDEO RAM: 1024 MB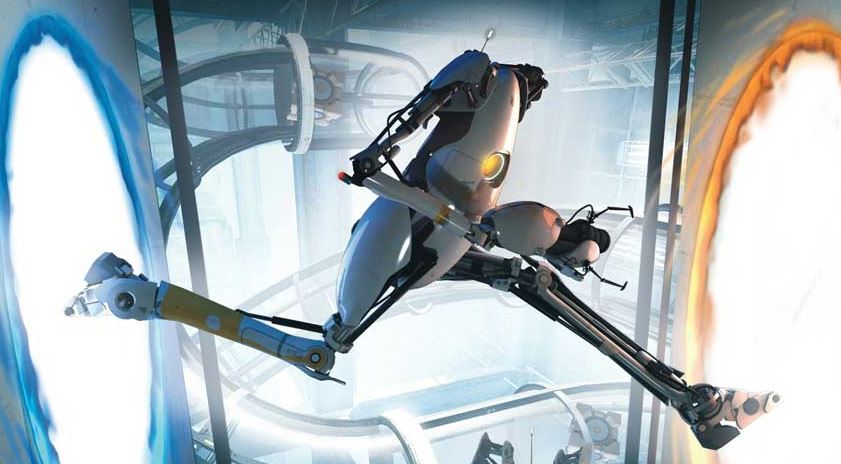 7. Portal 1 and 2 (Single-Player; Co-op; FPS; Puzzle) for Mac
Yes, this is yet another Valve title but what can I say, Valve has made some amazing games throughout the years and since I am trying to fill this list with the best titles I could think of, here is another one of them. Both Portal 1 and Portal 2 are some of the most unique, creative, and fun games I have ever played largely due to a single gameplay mechanic that opens a whole world of possibilities – I am talking, of course, about the portal gun, which allows you to create a portal between different places and move through it.
Saying it like this makes it sound very plain and unimaginative, but it takes no more than 10 to 20 minutes playing either Portal game to see how well the developers at Valve have implemented the game's main mechanic and how creative the gameplay could get because of it.
Even if you aren't a fan of puzzle games, we still strongly recommend Portal 1 and 2 – it's just that fun. Also, there's an engaging story that's slowly revealed to you throughout the game in Valve's trademark "show, don't tell" fashion, but you'd need to pay close attention to the details in the game's levels to piece together the different story elements (which is something that usually takes a backseat in favour of solving the next mind-twisting puzzle).
System Requirements for Portal 1:
OS X version Leopard 10.5.8, Snow Leopard 10.6.3, or higher
1GB RAM
NVIDIA GeForce 8 or higher
ATI X1600 or higher, or Intel HD 3000 or higher
Mouse
Keyboard
System Requirements for Portal 2:
OS: MAC OS X 10.6.7 or higher
Processor: Intel Core Duo Processor (2GHz or better)
Memory: 2 GB RAM
Graphics: ATI Radeon 2400 or higher / NVIDIA 8600M or higher / Intel HD Graphics 3000
Storage: 8 GB available space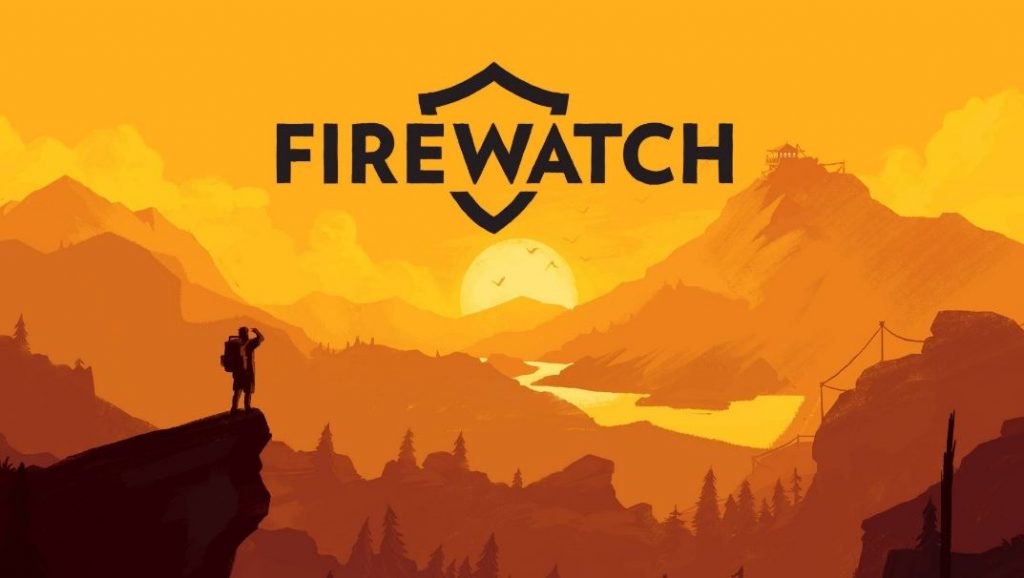 8. Firewatch (Single-Player; Adventure; Mystery; Walking Simulator) For Mac
Firewatch feels less like a video game and more like an interactive movie where the game's story is mostly told through dialogue and where the player is being led towards a certain ending that they have little control over no matter what they do throughout the game. "Aren't most games like that?" you may ask. Well, in fact, very few games are like Firewatch, and those few games are commonly referred to as walking simulators.
Firewatch is all about its story and very little about its gameplay. You spend the entirety of the game as a fire lookout who is hiking through the Shoshone National Forest and investigating certain mysterious events while talking over a long-range walkie-talkie to his boss/supervisor, a woman named Delilah.
You don't fight in this game, you don't run in this game, you don't solve puzzles in this game. All you do is walk, perform simple interactions with some objects, and talk over the walkie-talkie. You have conversation options to choose from like in an RPG game, and you get different responses from Delilah, but the different conversations you could lead don't really affect the way the story unfolds – they only determine your experience of the latter. It is those conversations and dialogue choices that are the game's main draw – this and the steadily uncovering mystery that will keep you guessing until the game's ending.
I really cannot say much more about Firewatch without spoiling its story, and I certainly don't want to do that. What I can say about this title, though, is that it is a very mature game that deals with many uncomfortable truths of life and presents the player with the type of difficult questions that lack a right or wrong answer. It is not unusual for players to be left with a somewhat bitter taste after playing Firewatch due to its rather somber story, but it is exactly because of this that the game sticks with you long after you have finished it.
System Requirements:
OS: Mac OS X 10.8+
Processor: 2011 or newer Intel Core i5
Memory: 6 GB RAM
Graphics: Nvidia or ATi GPU with 1GB Memory
Storage: 4 GB available space
Additional Notes: Dedicated graphics card required. No Mac Mini model is officially supported at this time.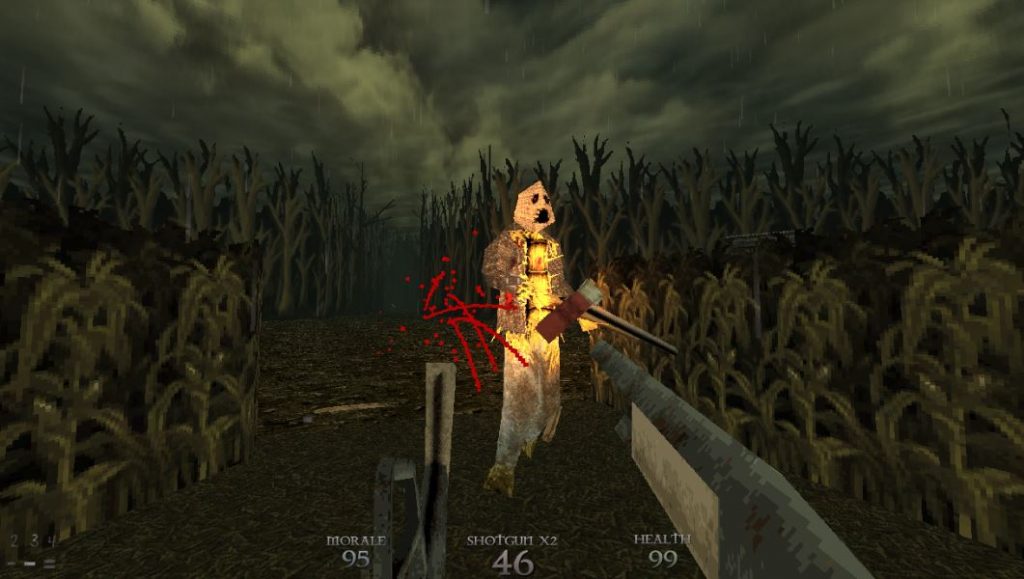 9. Dusk (Single-Player; Multiplayer; FPS; Horror) For Mac
Dusk is what I consider to be the polar opposite of Firewatch, with its fast-paced, white-knuckled action and wide selection of weapons and ways to slay your opponents. If you have ever played a 90s shooter game and have enjoyed the experience, then you should feel right at home with Dusk. This game is non-stop, retro-inspired, blood-stained action of the purest kind.
Dusk is intentionally made to look like a retro 90s game and is aimed to have a certain type of aesthetic which explains the seemingly aged graphics. If you are not into this type of aesthetic and prefer modern 3d graphics, that's okay, but don't be fooled by the game's look – it packs tons of fun even for players who are always looking for the most modern-looking games with the most photo-realistic graphics and this is all due to the polished gameplay mechanics and its stellar gunplay. There's a lot to like about this title, especially if you are looking for pure, unrestrained, and guilt-free fun.
Minimum System Requirements:
OS: macOS 10.11 El Capitan
Processor: 2.2GHZ Dual Core Processor Or Higher
Memory: 2 GB RAM
Graphics: 512MB VRAM Or Greater
Storage: 2 GB available space
Additional Notes: Requires a 64-bit OS
Recommended System Requirements:
OS: macOS 10.14.3 Mojave
Processor: 2.4 GHZ Intel Core i3 Or Higher
Memory: 4 GB RAM
Graphics: 1gb VRAM Or Greater
Network: Broadband Internet connection
Storage: 2 GB available space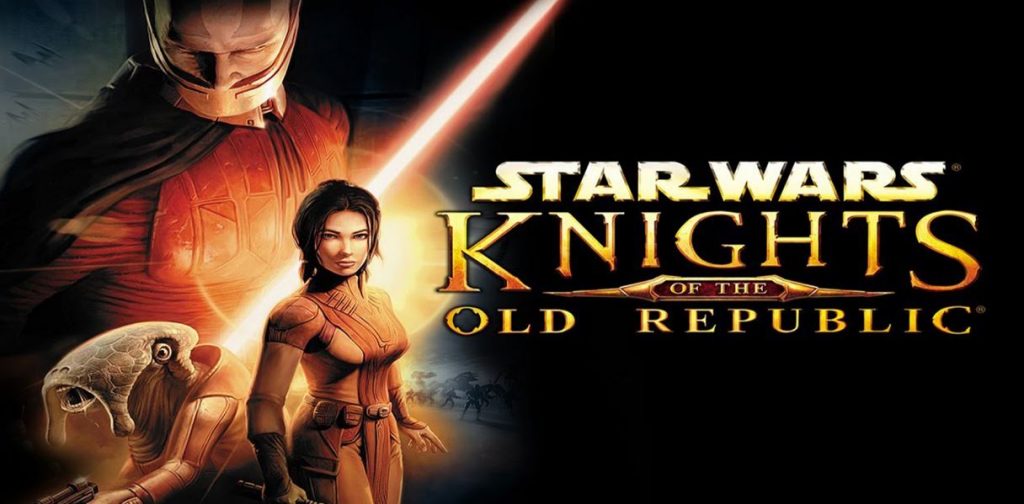 10. Star Wars: Knights of the Old Republic 1 and 2 (Single-Player; RPG) For Mac
This older title may be less known among younger gamers, but it is regarded as one of the classics of the RPG genre and one of the best Star Wars-inspired games to have ever been created. Both the original KOTOR game and its sequel are great, but they may take some time to get used to and fully appreciate. I remember the first time I tried KOTOR 1 – the game felt very odd, clunky, and maybe a bit boring even. I wasn't used to RPGs back then and the fact that these games are old didn't help either.
The presentation of KOTOR is certainly not its strong side – the graphics have aged badly and so has its gameplay. Here, players won't find any fast-paced action that they have likely come to expect based on other Start Wars gaming titles – the turn-based RPG combat combined with the aged gameplay mechanics can make it both confusing and frustrating to play KOTOR and this could turn many players away from the game within the first couple of hours of playing it.
Well then, what makes the KOTOR games worth recommending? Well, in my opinion, this game is the purest, best example of what it would be if you were put in the Star Wars universe and given the opportunity to interact with that world anyway you see fit. You can align yourself with the light or dark side of the force and characters in the game will react to you differently based on your alignment.
You can pick your dialogue options when interacting with the NPCs and build your character to become exactly who you want them to be. Character building is the most fun part of this game and it more than makes up for all of the games' shortcomings. It is an amazing and immersive experience to make your own character, put them in the world of Star Wars, and let them play a defining role in the history of the galaxy far away.
System Requirements:
OS: 10.12 (Sierra)
Processor: Intel Core i3 (2 Cores)
CPU Speed: 2.2 GHz
Memory: 4GB RAM
Hard Disk Space: 10 GB
Video Card (ATI): Radeon HD 3870
Video Card (NVidia): GeForce 330M
Video Card (Intel): HD 3000
Video Memory (VRam): 256MB
Note: These are the system requirements stated on Steam but, in reality, these games have much lower system requirements and can easily run on a machine with as little as 1GB of RAM (or even less). After all, the games came out in 2003 and 2004 – back then a computer with 512MB of RAM was considered average in terms of hardware specs. I actually remember playing KOTOR 1 on a PC with 256 MB of RAM.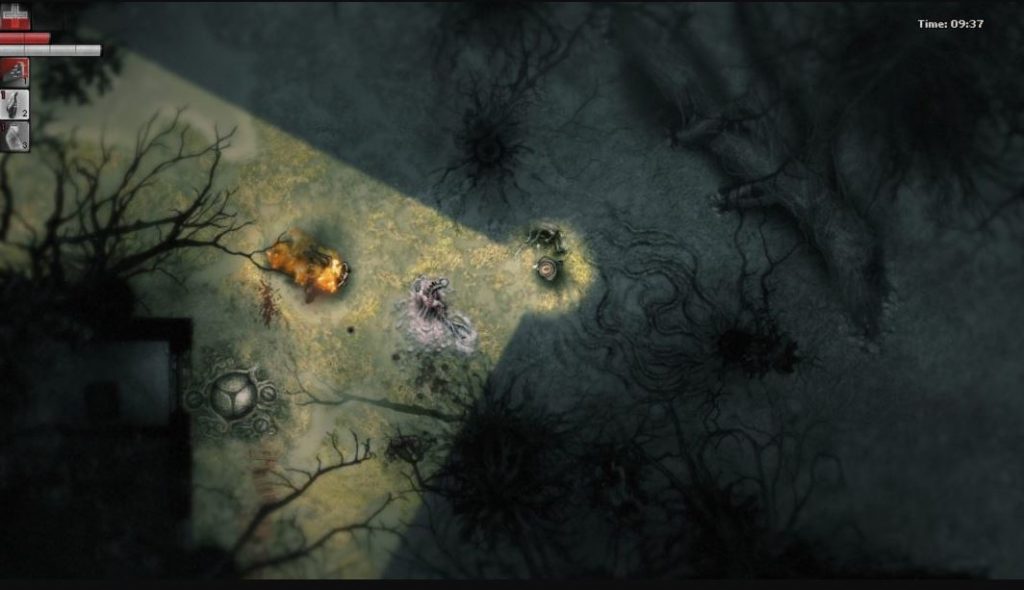 11. Darkwood (Single-Player; Survival Horror; RPG)
Darkwood is also an RPG game but one very different from the previously mentioned Star Wars game. In Darkwood, you are a scavenger living (read: trying to survive) in a gloomy and dark world that hides many unseen threats and horrors that come out at night and try to hunt you down. The game is open world, with a top-down view and a unique visibility system where you can only see what is going on directly in front of your character whereas everything behind them remains dark (even during daytime).
This realistic gameplay mechanic adds to the horror element of the game and further ramps up the suspense that's already very high as it is due to the atmosphere of the game. There is a main storyline that is quite interesting but the main part of the gameplay is focused on freely exploring the hostile world around you, scavenging materials, crafting tools and weapons, and barricading yourself for the night before the horrors come out.
While you can certainly improve the stats of your character, the gameplay of Darkwood is built around powerlessness and lack of control. Most of the time, you'd be struggling to survive, and you'd be in constant danger even when you are doing well in the game. You won't get any amazing powers and juggernaut through your enemies – instead, you'd be lucky if you manage to fortify your shelter well enough for the monsters to be kept out at night. Darkwood is definitely a game we recommend to fans of the horror and RPG genres who'd like a good challenge.
Minimum System Requirements:
OS: OSX 10.8
Processor: Intel Core 2 Duo 2.8Ghz or equivalent
Memory: 4 GB RAM
Graphics: GeForce 8800GT / ATI Radeon HD 4850
Storage: 6 GB available space
Recommended System Requirements:
OS: OSX 10.8
Processor: Intel i3
Memory: 6 GB RAM
Graphics: GeForce GTX 660
Storage: 6 GB available space
Best Games that almost made the list
Best Games for Mac Final Notes
Hopefully, this article has shown you that computer gaming isn't reserved for Windows PC and that there are lots of great gaming titles out there waiting to be played by eager gamers. The one thing you should pay attention to when picking up a Mac-compatible game are its system requirements – if your Mac meets or, better yet, surpasses them, then you should have no trouble playing the specific game. You can see the hardware specifications of your Mac by selecting the Apple Logo menu and then clicking on the About This Mac option – this will show you a window with the specs of your computer.
Lastly, before we wrap this up, we must also mention that there's a legitimate method to play games on Mac that don't have Mac ports/versions and that method is through the use of a cloud-based gaming service such as GeForce Now and Google Stadia. Click on the provided links to learn more about how these services work and how you can use them on your Mac. If you liked our suggestions, have other suggestions of your own, or simply want to share your opinion with regard to gaming on Mac, be sure to leave us a comment down below.
In the meantime, this is where I get off…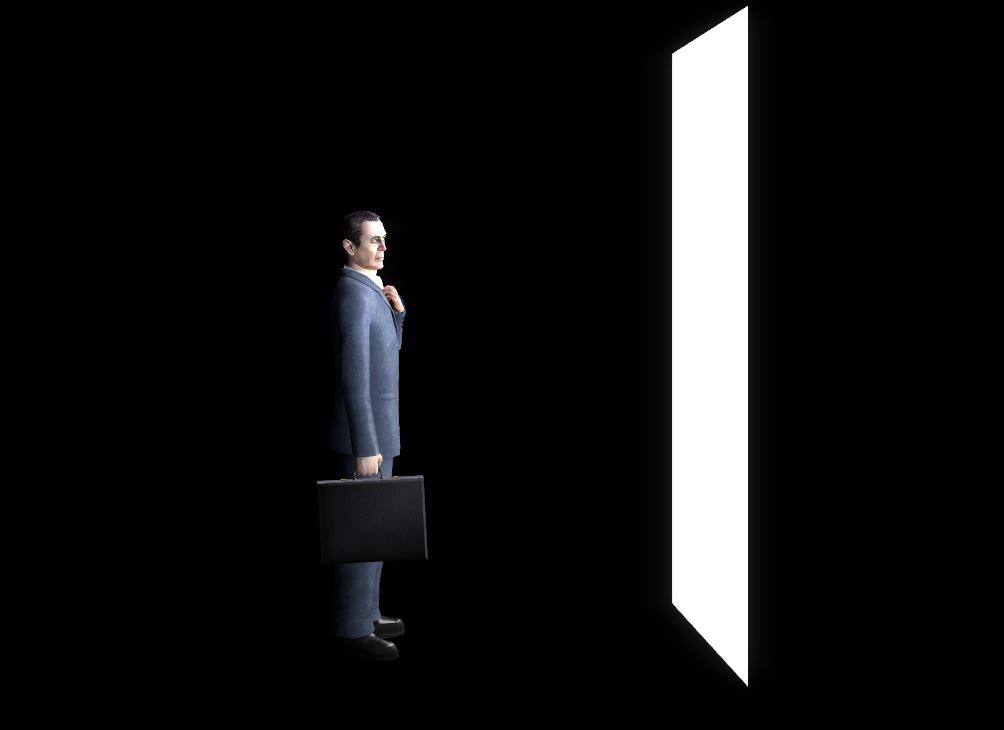 Martina Nikolova
Martina likes to get into nitty-gritty of tomorrow's tech, from product design across to security based solutions. A long time mac user and developer, she has the expertise and strives to give new insight