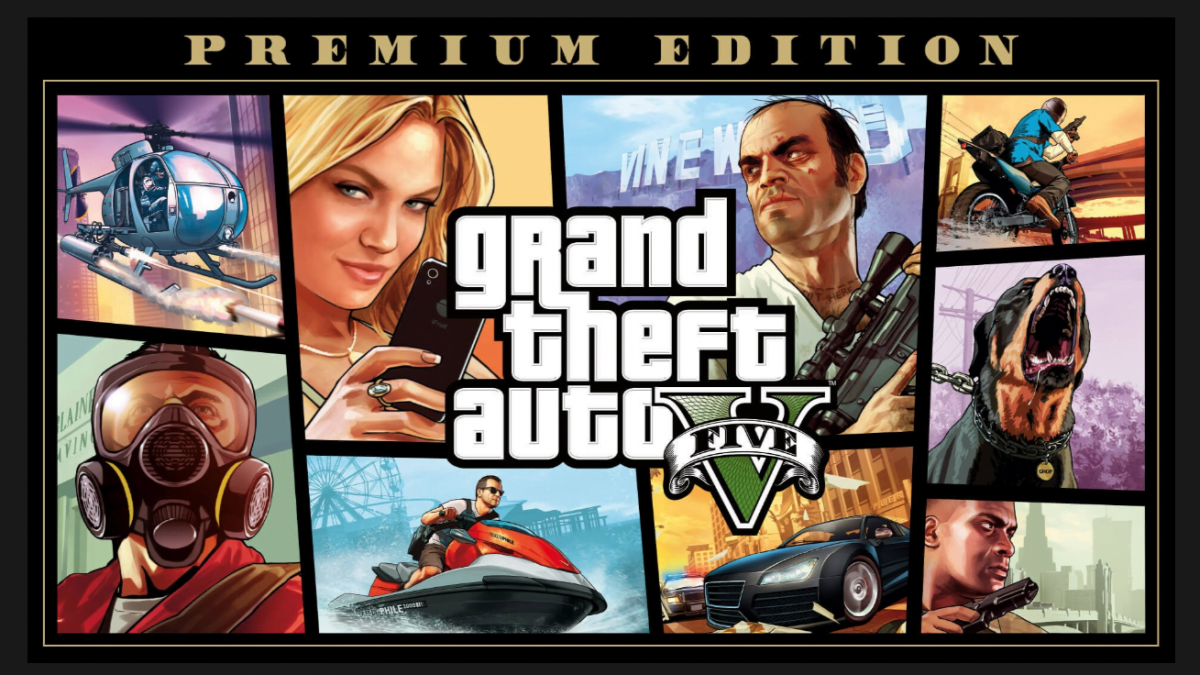 GTA 5 (Mac)
Martina Nikolova, 1 month ago
3
7 min

read
GTA 5 for Mac
GTA 5 is not available for Mac, but playing it on an Apple computer is definitely possible, and there are a lot of ways to do it. The options to play it that we've shown below are the Boosteroid cloud gaming service, Parallels, and Boot Camp – we'll go over each of them and explain how to set them up and play GTA 5 on Mac.
Can you play GTA 5 on Mac?
You can totally play GTA 5 on Mac, but you'll need to use a workaround method such as cloud gaming or Windows emulation. The cloud gaming method is the easiest one to set up and can be used on any Mac – we'll show you how further down this post. The other options to play GTA 5 on Mac are to install or emulate Windows, or to use a compatibility layer.
Despite the lack of a macOS version for this game, there's clearly no shortage of useful workarounds that can still let you enjoy it on a Mac computer. Obviously, none of these methods are perfect, but they can still get you pretty close to the experience of playing the game on a Windows PC machine.
Play GTA V on Mac
To play GTA V on Mac, our recommendation is to use a game-streaming service that supports the game, like the one we've included later in this article. With this method, you won't even need to install the game and dedicate a ton of storage space to it. Also, the specs of your machine will be irrelevant and won't impact the game's performance, whether you are playing GTA 5 on an M1 Mac or an Intel Mac.
If you are not a fan of cloud gaming or if your Internet isn't good enough to get a decent streaming quality, the alternative is to try using apps like Parallels or Boot Camp. Those will allow you to install the Windows version of GTA V on your Mac and play the game locally, but those methods are significantly more demanding on the computer and take more time to set up.
Play GTA 5 with Cloud Gaming
To play GTA 5 with cloud gaming, you need to subscribe to a cloud gaming service that supports the game. Currently, the only game streaming platform that features this title in its library is Boosteroid, and we'll show you how to use it. You can game with Boosteroid on any Mac (Intel, Apple Silicon), so long as the machine can run a browser and you have a decent Internet connection. If you choose to play GTA 5 with Cloud Gaming trough Boosteroid, we recommend testing the speed and latency of your Internet through the built-in tool on the service's website.
Before playing GTA V make sure you have a Steam, Epic Games, or Rockstar compatible version of the game.
Update: Limited time offer now available at CDkeys.com, buy GTA V Premium Edition -84% Off for $10.99 (RockStar Launcher)
Play GTA 5 on Mac with Boosteroid
1. Go to the Boosteroid website and follow the steps to create an account, or simply sign up with your Google account (we recommend this).
2. Click on your new account's name in the upper right corner of your screen to view the available subscription options.
3. Select a subscription plan and provide the necessary payment details.
4. Use the search option in the upper right corner to type GTA 5.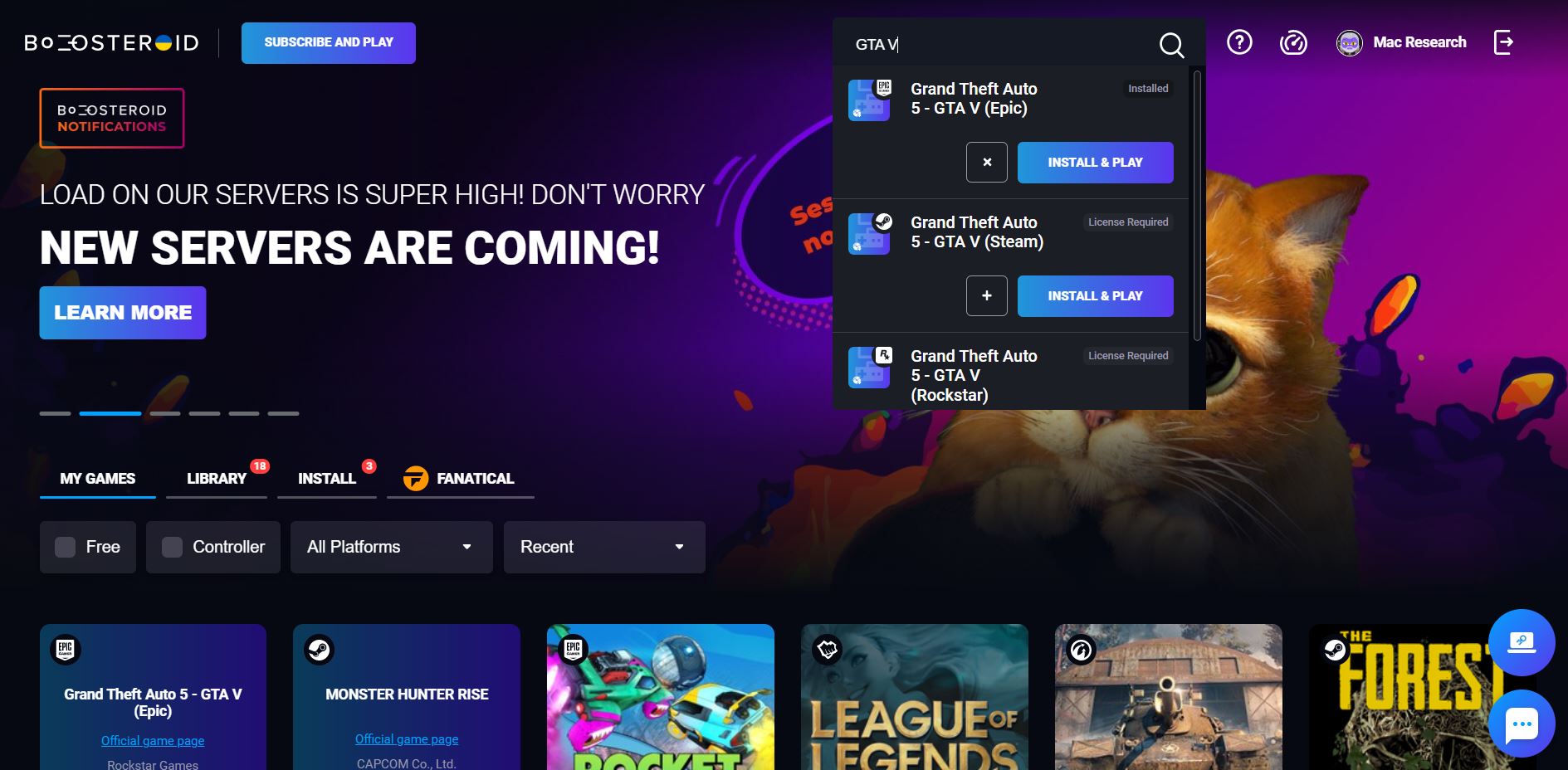 5. Click on the Install and Play button and then select Ok, let's go if you get a prompt.
6. Wait for the game to start. Depending on the chosen version, you will need to log in to your Steam/Epic Games/Rockstar account to Boosteroid.
7. You may need to find the game in your personal library – do that, click Play, and the game will start inside the browser.
Boosteroid runs perfectly fine through browsers like Chrome and Firefox (the Safari experience can be a bit janky), but if you want, you can also try using the service through the Boosteroid client for Mac, which you can download for free from the service's site.
How to Download GTA 5 on Mac
To download GTA 5 on Mac, you must have Windows installed on the computer. This can be done either through Parallels or Boot Camp, as is shown in the guides below. Note the Boot Camp option only works on Intel machines and Parallels works on both Intel and Apple Silicon Macs. Once you have Windows installed, you can download the Windows version of GTA 5 on your Mac and play locally.
Since both of those methods require more steps to set up, we've created detailed guides for them and we've linked them below:
Is GTA 5 still worth it?
GTA 5 is, without a doubt, one of the most popular video games of all time, but it's also a game that's been around for a decade, and in that time, many more great games have been released – ones with better graphics and a more modern gameplay. However, despite its considerable age, GTA 5 has retained most of its popularity and is still a highly respected title with a significant player base, so what gives? Is the game really that good or are so many people still playing it out of nostalgia? I mean, obviously nostalgia isn't enough to keep a game popular so many years after its release, so yes, GTA 5 is definitely a very good game and totally deserving of its status of an all-time classic. However, if you are someone who hasn't played it in a long while and is thinking about coming back to it or may be even you have never played it and are wondering why you might pick this game over a vastly more recent title, here are three reasons why GTA 5 is totally worth playing today.
World
One of the main staples of the Grand Theft Auto games has always been their gameplay worlds. Although there are many other examples of great open-world games set in modern day, none have managed to capture the real world in such an entertaining and provocative way as a GTA game. This applies to pretty much all GTA games, but since 5 is the most recent one, it leverages the hardware power of modern day systems to provide an incredible amount of detail and put the player in a world that feels truly alive. Even by today's standards, the world of GTA 5 is impressive, full of places to explore, people to meet, and pots to stir.
Content
Speaking of the many places you can go and things you can do in this game brings me to my next point – the sheer amount of content in GTA 5. The vanilla game was already chock-full of content, but the ten or so years since its release have brought many updates and DLCs that further expand the game, giving you upwards of 50 hours of single-player story-focused gameplay, and many times that if you are also interested in multiplayer.
Humor
Another staple of the GTA games as a whole is their provocative, often crude, but always cleverly-written and greatly entertaining humor. These games have always tried to poke fun at today's world and have done so with great success, which, I would argue, is one of the main reasons why they've become so popular. GTA 5 is no exception to this formula and if you are into that sort of humor, it is absolutely a title you should play through at least once. And considering how nowadays it's difficult to poke fun at anything without irrevocably offending someone, getting another AAA game with the same sense of humor as GTA 5 (or any of its predecessors) is becoming more and more unlikely – all the more reason why this game is totally still worth playing today!
Martina Nikolova
Martina likes to get into nitty-gritty of tomorrow's tech, from product design across to security based solutions. A long time mac user and developer, she has the expertise and strives to give new insight