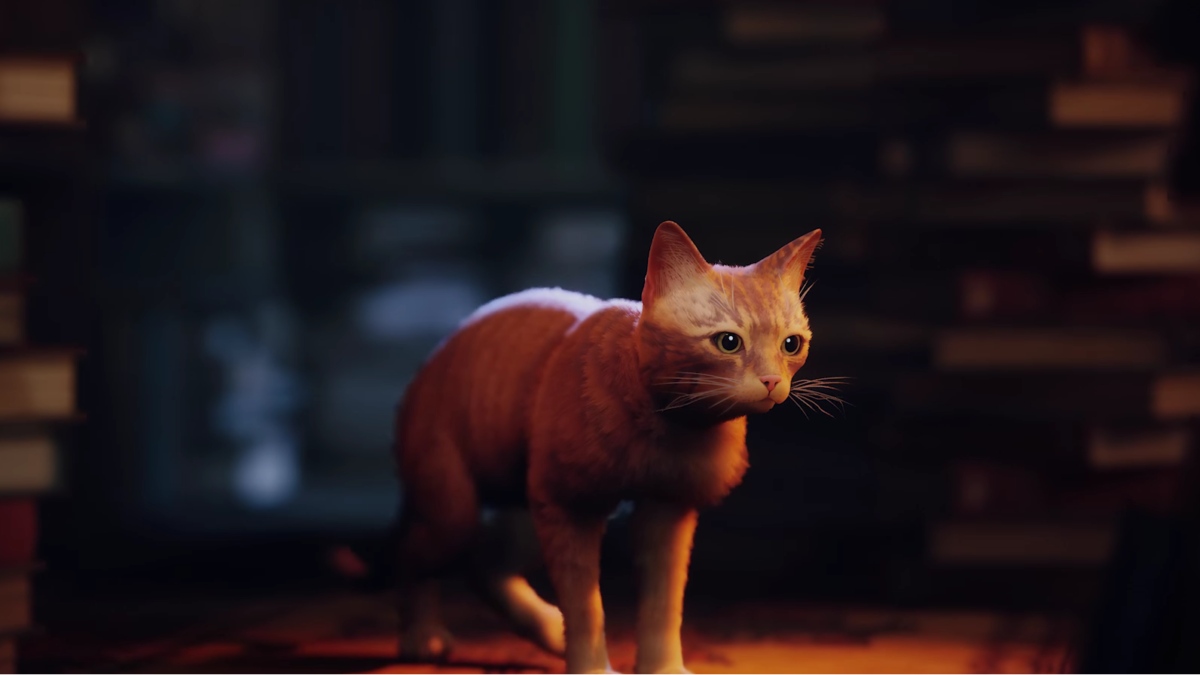 Stray (Mac)
Martina Nikolova, 1 year ago
1
10 min

read
Stray On Mac
Stray is a funny Cat-adventure video game that has swept the world by storm, and since its original release in 2020, it's been a must-have game for cat lovers everywhere.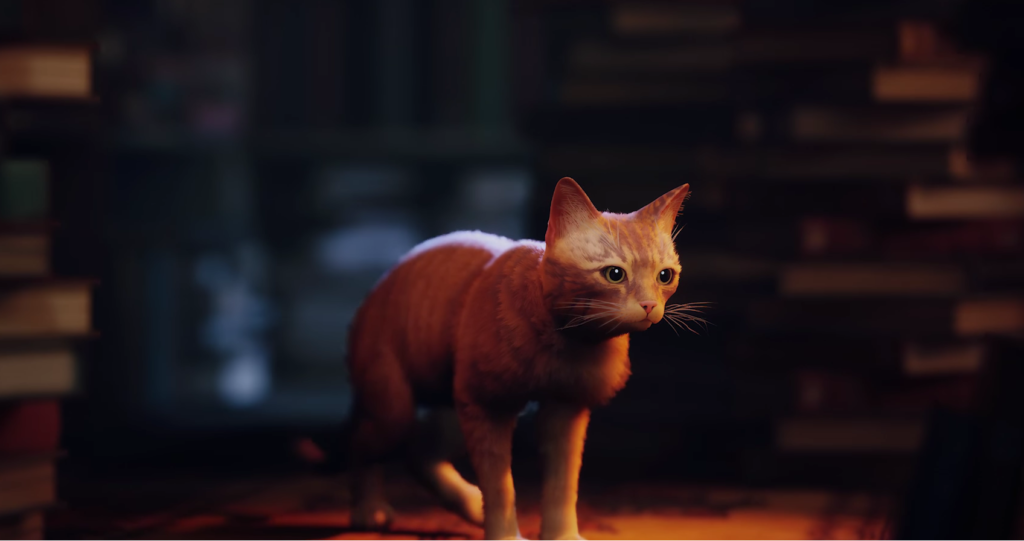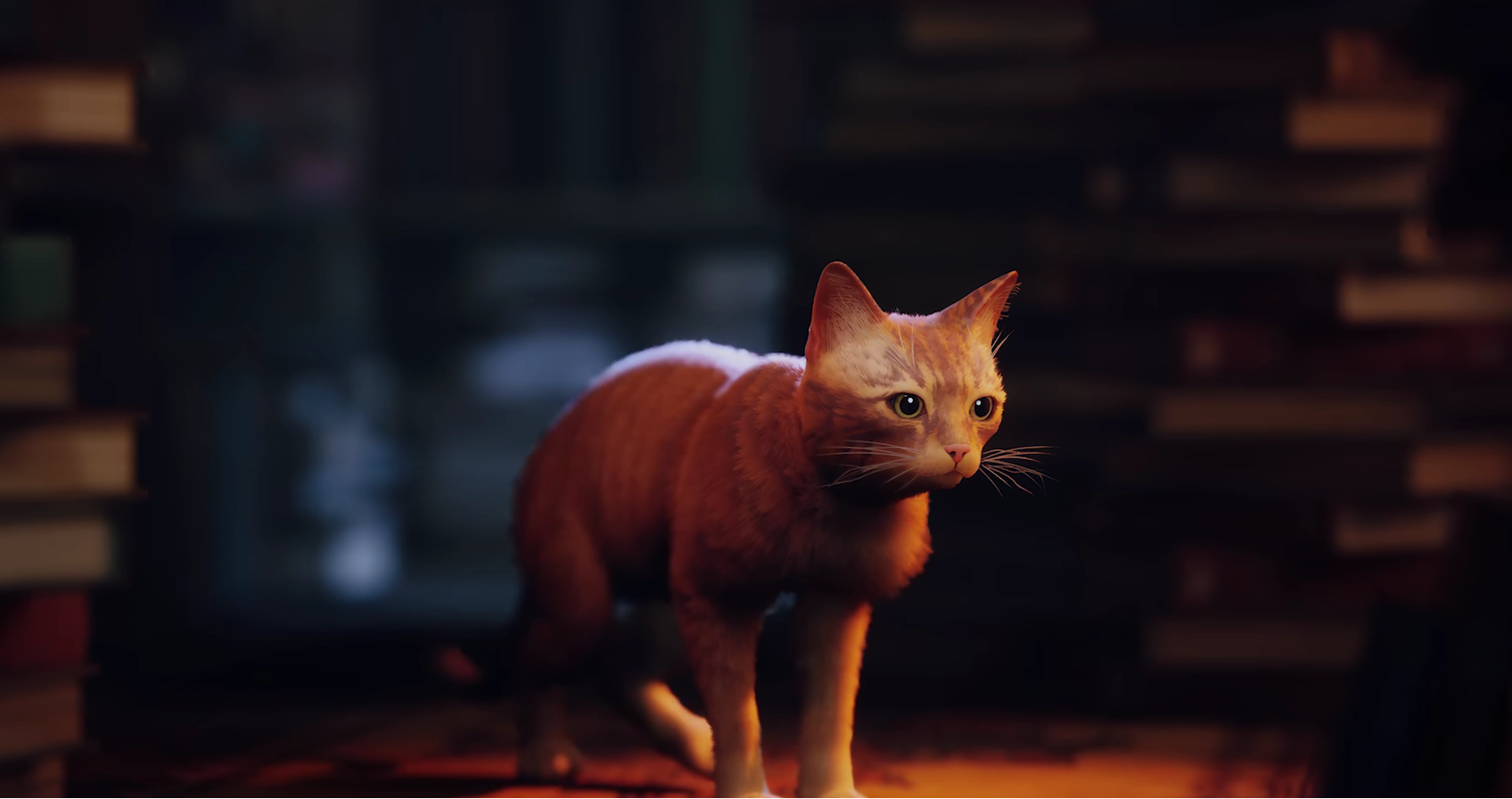 The story of Stray drops you into a new world that you know nothing about where there is a lot to enjoy while you are exploring the world in the paws of your furry companion. This game is an absolute treat for the eyes and ears. Many of the game's moments may cause you to break out in a cold sweat, cry, or feel excited. As you travel around, scratching and slapping various puzzle pieces into position to fulfill a goal, you will have the ability to put your natural curiosity to good use and turn it into an advantage. No matter how often you find yourself engaging in this activity, you will find that it never fails to bring a grin to your face.
Once you join the game, you play from a third-person view and control a furry little cat. You'll discover unique locations all around the map where you may scratch up certain areas, take a little sleep, or rub up on the legs of an unsuspecting robot to see how they respond. There are a few locations where you'll be able to let your cat do what cats do best, whether it's on a carpet, a sofa leg, a tapestry hanging on the wall, or something else. You can even take a cat nap which is such a sweet thing to do, and fortunately, these kinds of moments are found in plenty during the game.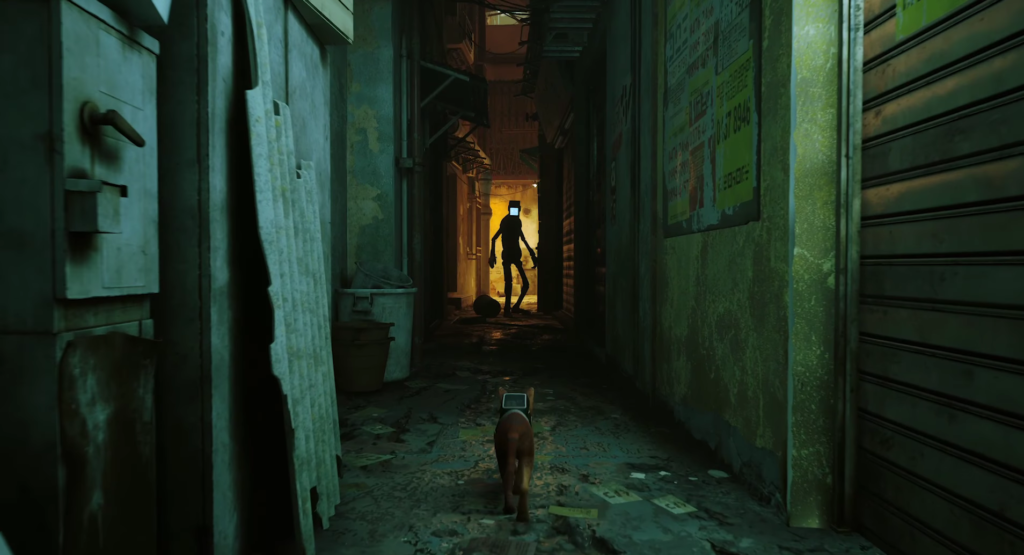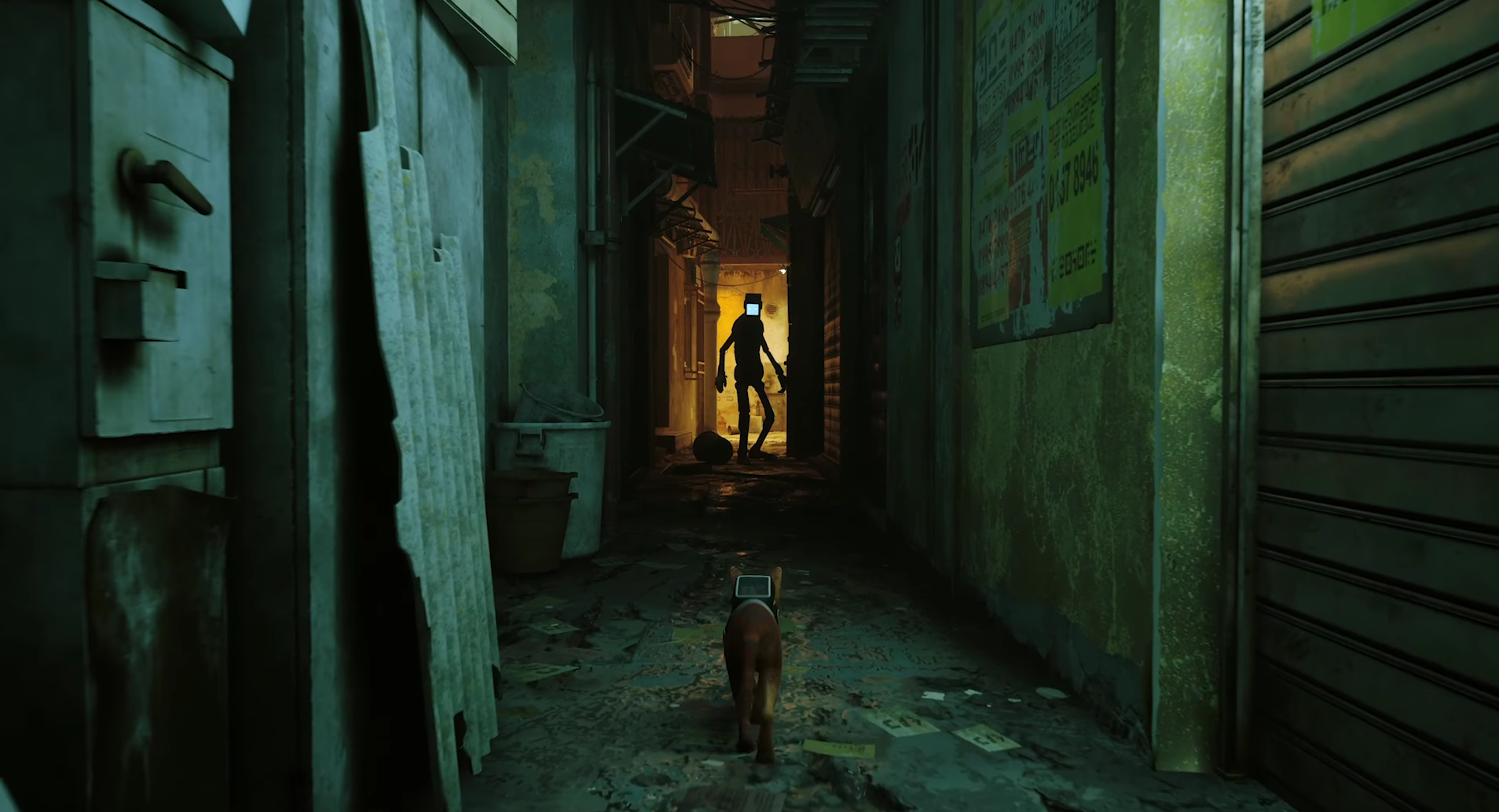 All of this is wrapped up in a variety of challenging adventures, some of which are more impressive than others. While the stealth gameplay moments in the game can be some of the most enjoyable, the action gameplay moments often leave something to be desired.
Some of the most fun stealth gameplay moments that have been featured in Stray include avoiding drones, breaking into buildings, and creeping around the map. The puzzles are masterfully created, and in order to uncover all of the clues, it will be necessary for you to use certain investigative strategies like those of a cat. Once you figure out how things work, you'll discover an incredible amount of satisfaction in the answers that you uncover.
Unfortunately, there is no method for you to protect yourself before you obtain a specific item, that's why the action essentially comes down to a game of cat and mouse, but with the roles reversed. You have no choice but to flee from the Zurks, who are little creatures that resemble a mix between crabs and ticks that will chase you till the end of the world or at least until you find a source of light. The Zurks offer many methods to get rid of you, so, your best option is to run away from them. There will be instances when you will be able to use elements of the environment around you to your advantage in order to get away, but for the vast majority of your encounters with the Zurks, you will need to just run for your life.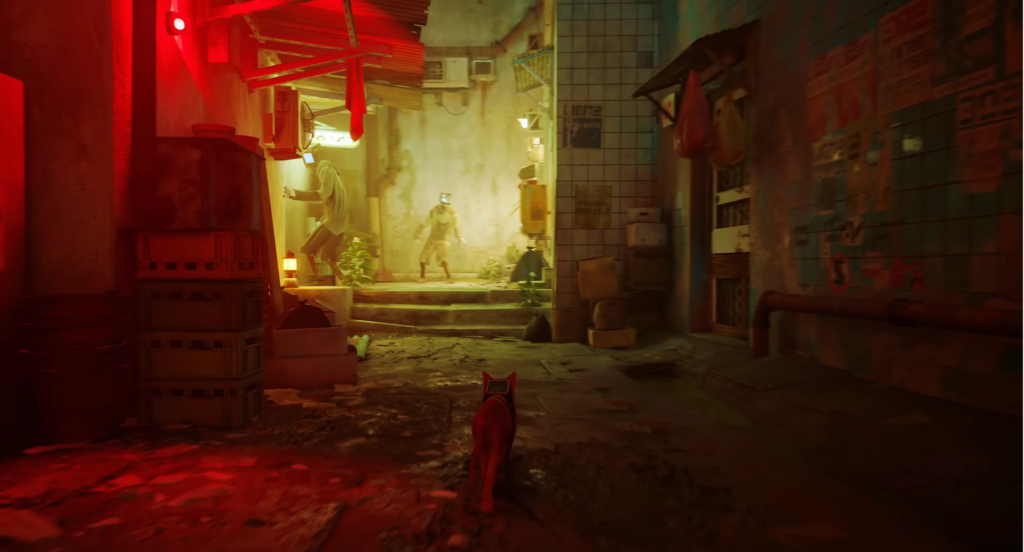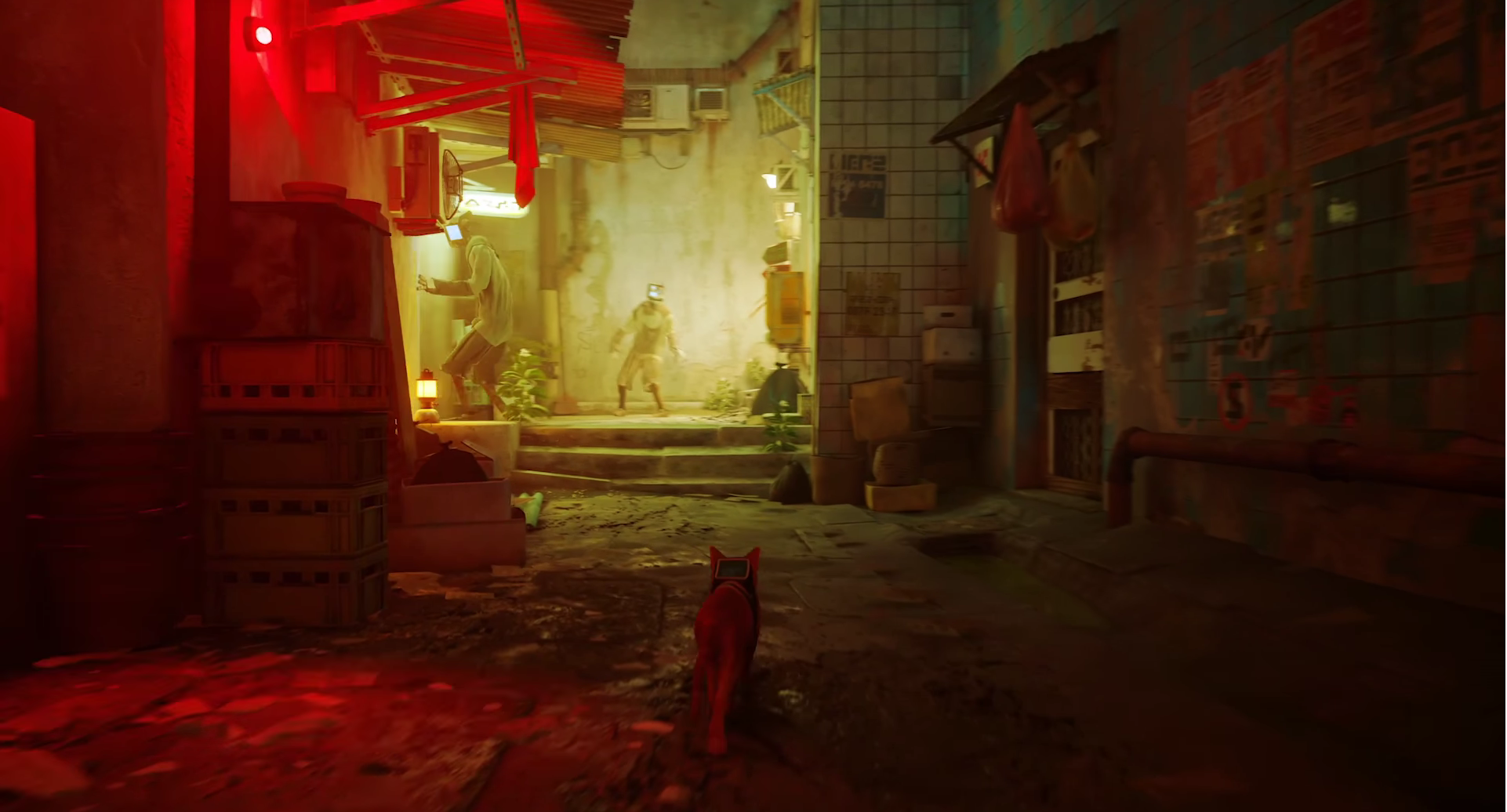 Investigate the world around you
With one of the cutest quick-travel systems that have ever been seen in a video game, you'll have the opportunity to investigate a wide variety of environments, both on the ground and up, as you make your way through the game. We highly recommend you to take your time and investigate around, as there are many hidden details to reveal, robots to converse with, and a setting that seems to change in response to your actions as you go through the game.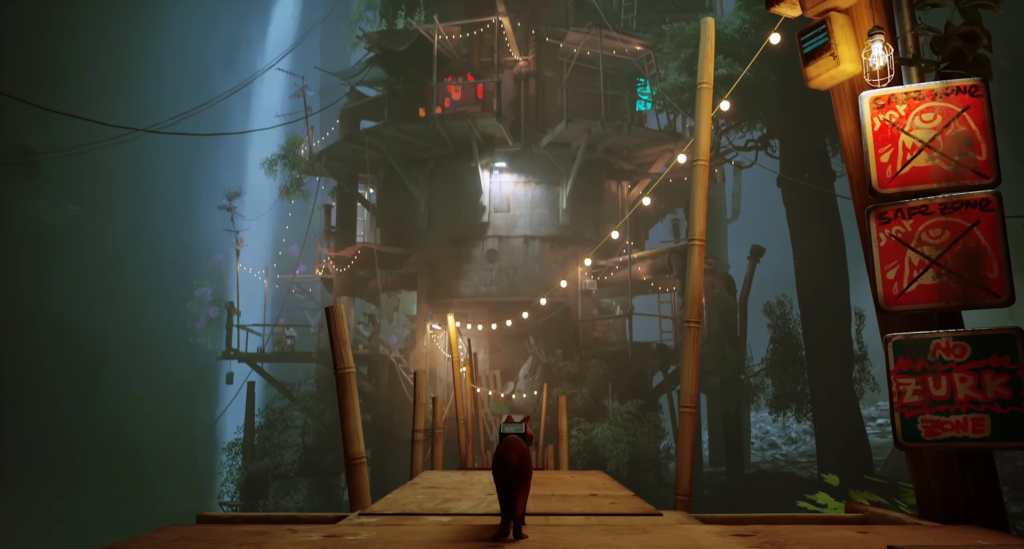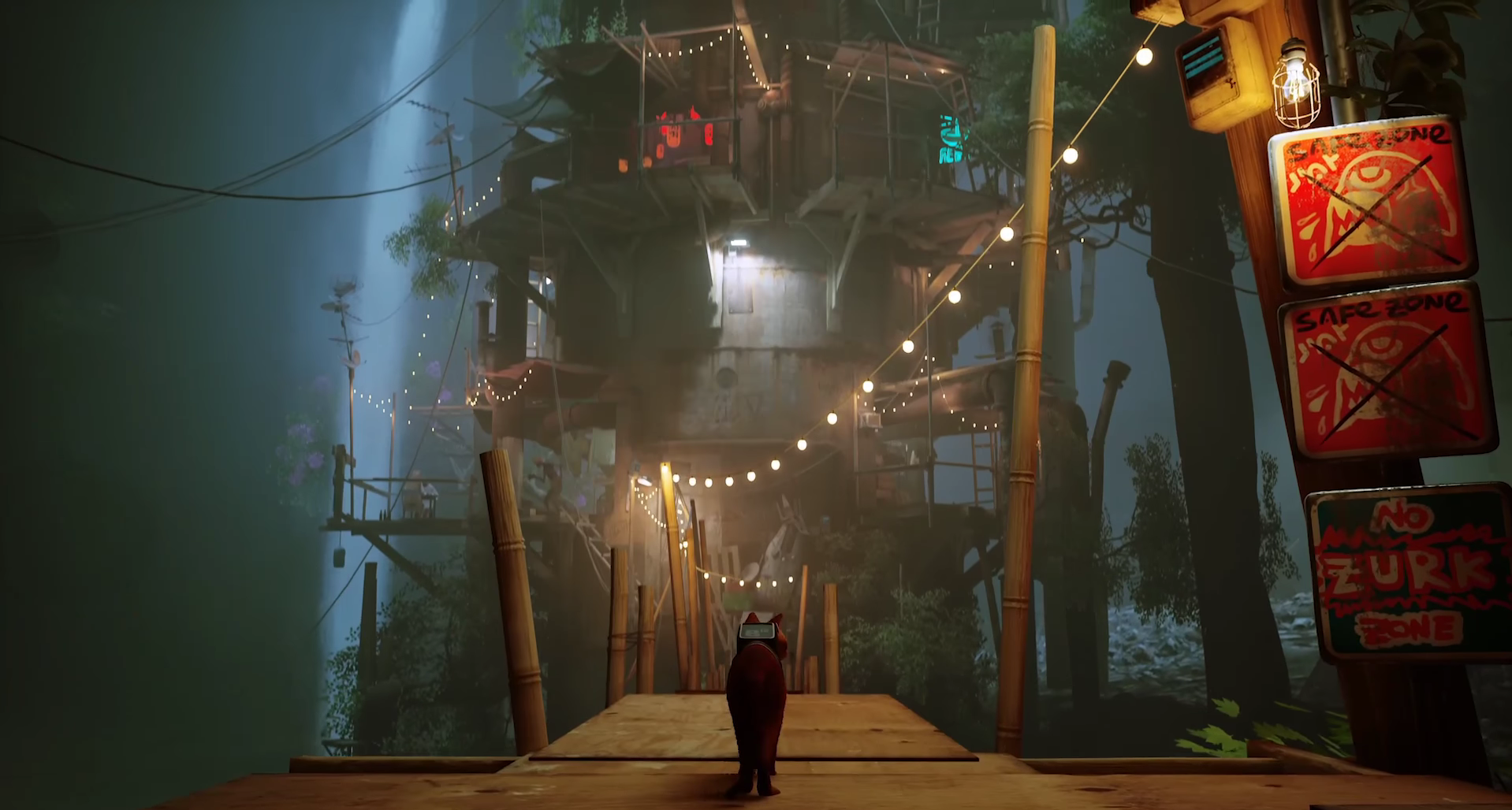 If you talk to the characters around you, you'll not only learn their backstories but also discover some really funny lines of dialogue. Because of this, you should make it a point to introduce yourself to everyone as soon as you can.
You are going to breeze through this game even if you are not trying to rush through it because you get absorbed into the story, and when you finish off the final level and are treated to the ending, you'll be left in a bit of disbelief that you've already finished the entire story off.
Can you play Stray on Mac?
Stray can be played on Mac, however, native play is not an option since the game does not have a macOS version. Still, Stray may be played on a Mac using Boosteroid streaming or by installing Windows on your Mac.
Fans of Stray may not be excited by the news that a Mac version of the game is not expected to be released in the near future. That's why, we'll show you three methods to play this game on a Mac in the next section of this article, so you can still enjoy Stray if you have a Mac machine and not a gaming PC.
It is possible to stream different games to your Mac using Boosteroid, a cloud gaming service and this is our first suggestion to use. Installing or emulating Windows on a Mac and then downloading the Windows version of Stray from Steam is the second alternative, which can be done with the help of two programs.
How to play Stray on Mac
If you're looking for the quickest and most efficient way to play Stray on your Mac, we suggest using Boosteroid. Your Internet speed and stability are the only important requirements here (apart from having a paid membership to the service) in order to have decent in-game performance. Besides, if you opt for the Boosteroid cloud gaming service, you don't have to download and install the game on the system to play Stray on your Mac.
Aside from using Boosteroid to play Stray on a Mac, you may run Stray on a Mac by installing (or emulating) Windows which are two additional techniques that are more complicated and time-consuming. Below, you can learn about all methods and the exact steps that you need to follow to use them.
Stray Set-Up Methods
Methods
Advantage
Disadvantage
Cloud Gaming
– No set-up required – Register and Play
– Access to a Library of over 70 top-rated free Games
– Smooth performance
– Compatible with M1 and Intel Macs
– Monthly Fee
– Requires Decent Internet Connection
– No Free Trial
BootCamp
– Free to use any time
– Windows 10 Environment

– Painful Setup
– Mediocre Performance
– Only Compatible with Intel Macs

Parallels Virtual Machine
– Easy Set-up
– Adequate Performance
– Play almost any PC game
– Windows 11 environment
– Compatible with M1 and Intel Macs
– 14-day free trial
– Yearly Fee
How to Get Stray on Mac:
First, you will need to purchase the game.
Now you will need to register for Boosteroid. This allows you to add Stray to their Cloud Gaming Library. Once uploaded you can seamlessly play the game from your Mac, TV, or Mobile Device.
When Registered you will have additional access to more games for free. Pricing varies depending on the subscription plan.
Play Stray on Mac using Boosteroid
To get started, go to Boosteroid.com, register, and log in with your new account.
Next, you need to subscribe to the service. This is done by clicking on your profile name (top-right) and then clicking on the Subscribe button.
You may choose between a one-month or one-year Boosteroid subscription and begin using it by entering the necessary information for the payment method you've selected.
As soon as you've finished subscribing, click the search icon at the top, enter "Stray", and then click on the game's listing when it appears.


On the Boosteroid page of Stray, click Play > Continue, and wait for the streaming service to load.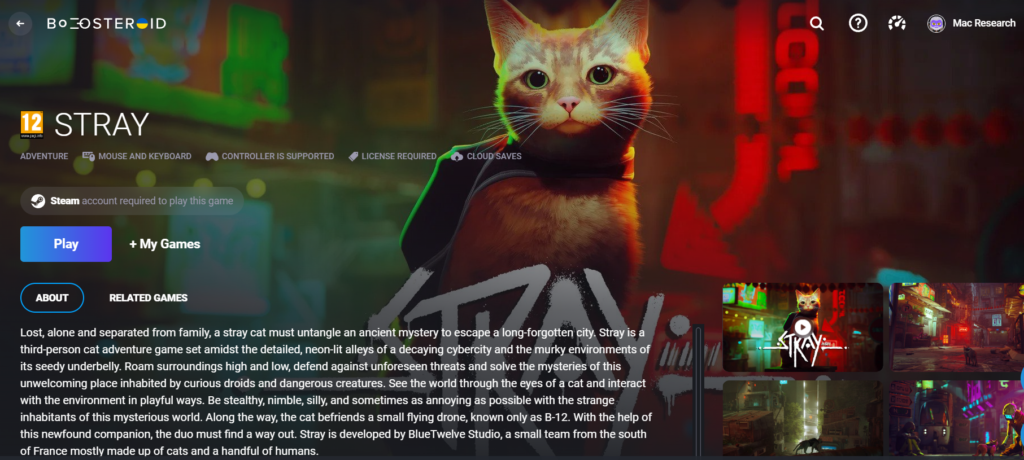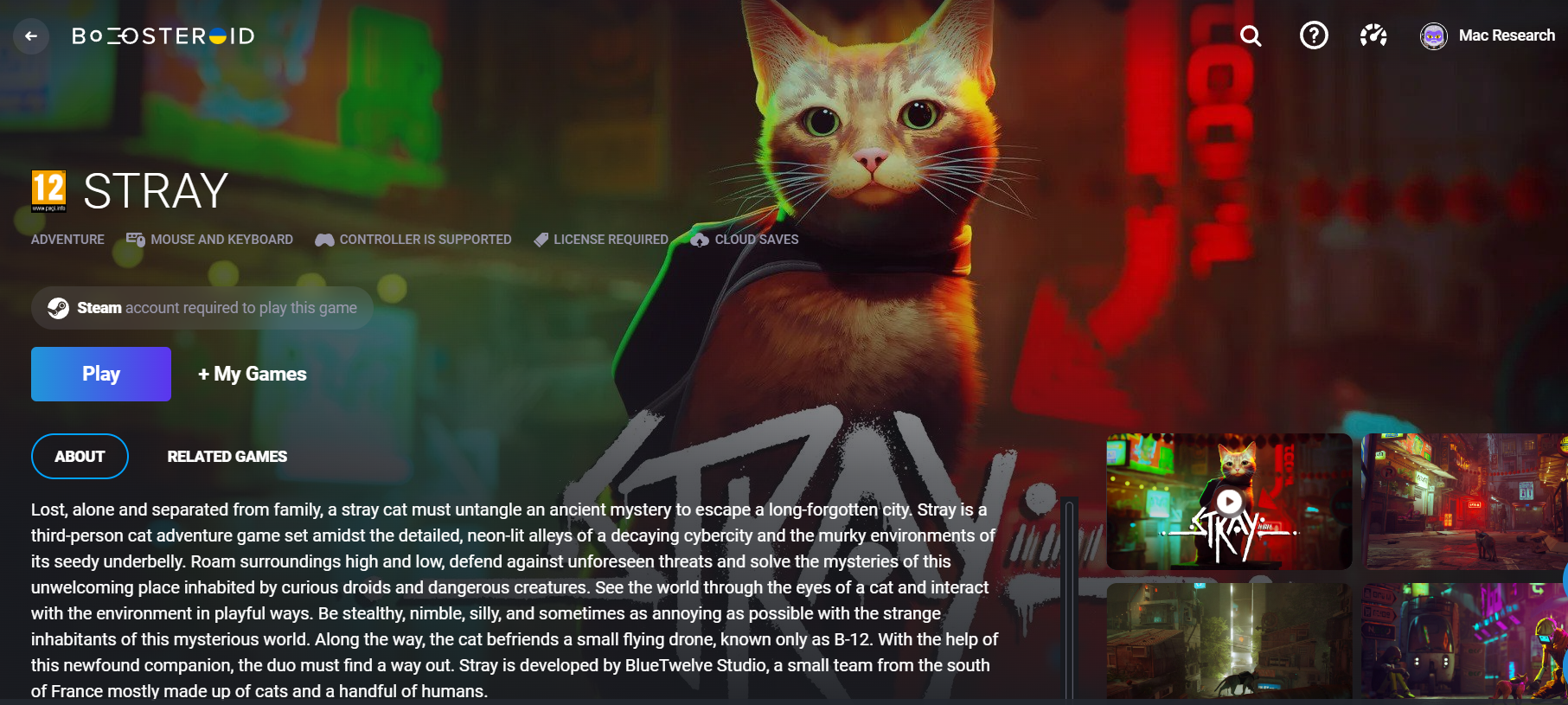 After logging in to your Steam account, the game should begin loading inside your browser in a matter of seconds. Use the browser's Full-Screen mode and hide the browser's toolbar for the best experience (the option for that can be found in the View menu from the browser's menu bar).
How to download Stray on Mac
If having Stray downloaded on your Mac is what you prefer, you may do so by first installing Windows on your computer or by using a virtual machine emulator to emulate Windows. Boot Camp Assistant or Parallels are two popular software tools that may be used to install Windows on a Mac and then download Stray on the system. Depending on the Mac version you have, you'll need Windows 10 or 11 installed or a virtual machine prior to downloading Stray on your Mac.
Both of those methods are shown below, but we strongly encourage checking out the link given after the instructions for each method you choose to use, to see a more in-depth version of that guide.
Play Stray on Mac using Parallels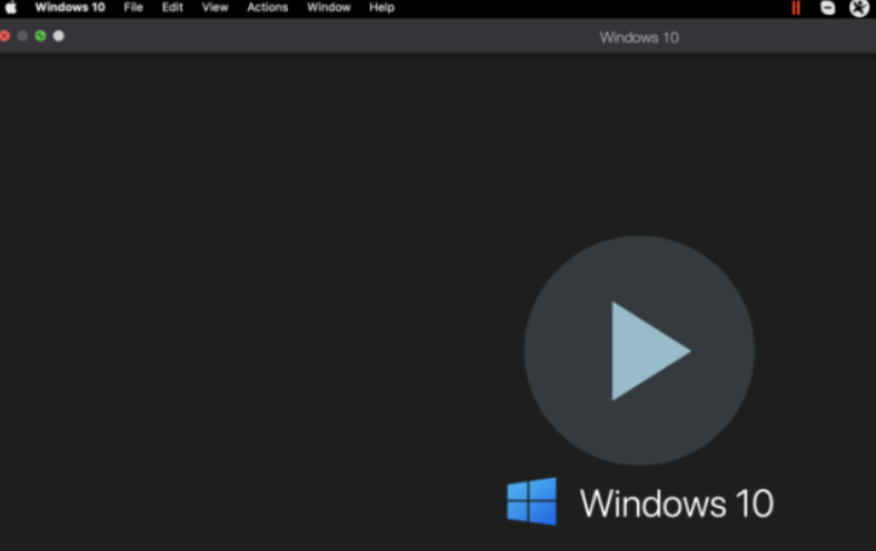 Getting Parallels installed on your Mac is as simple as going to Parallels.com and downloading the appropriate file.
Install Parallels on your computer by running the .dmg file and following the directions on the screen.
Once Parallels has been installed, open it and select the "Install Windows" option to begin the process of creating a Windows VM.
Create a Parallels profile or sign in to the virtual machine using one of the other available sign-up options.
Once you enter the VM, download the Steam or the Epic Games client and use it to install the game on the virtual machine.
If you need more in-depth steps for Parallels with screenshots, check out our Full Parallels Guide.
Play Stray on Mac using Boot Camp Assistant
Download a Windows 10 64-bit ISO file from Microsoft, and then install it.
Installing an ISO file is as simple as loading it into Boot Camp Assistant (located in the Utilities folder).
Create a Windows partition and click the Install button to begin the process.
Once your Mac has restarted, complete the Windows 10 installation steps and begin the installation of your Mac's second operating system.
Make the necessary customization for Windows once it installs. You may then use the Boot Camp Assistant to install the drivers your Mac requires to run Windows.
Install Stray on your Mac's Windows partition using a Steam client you can download from Steam.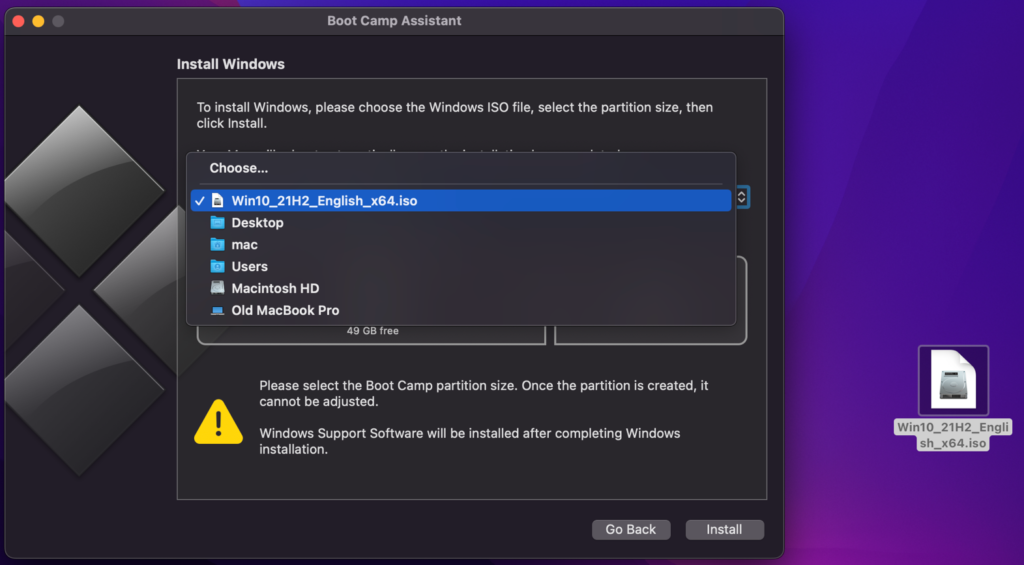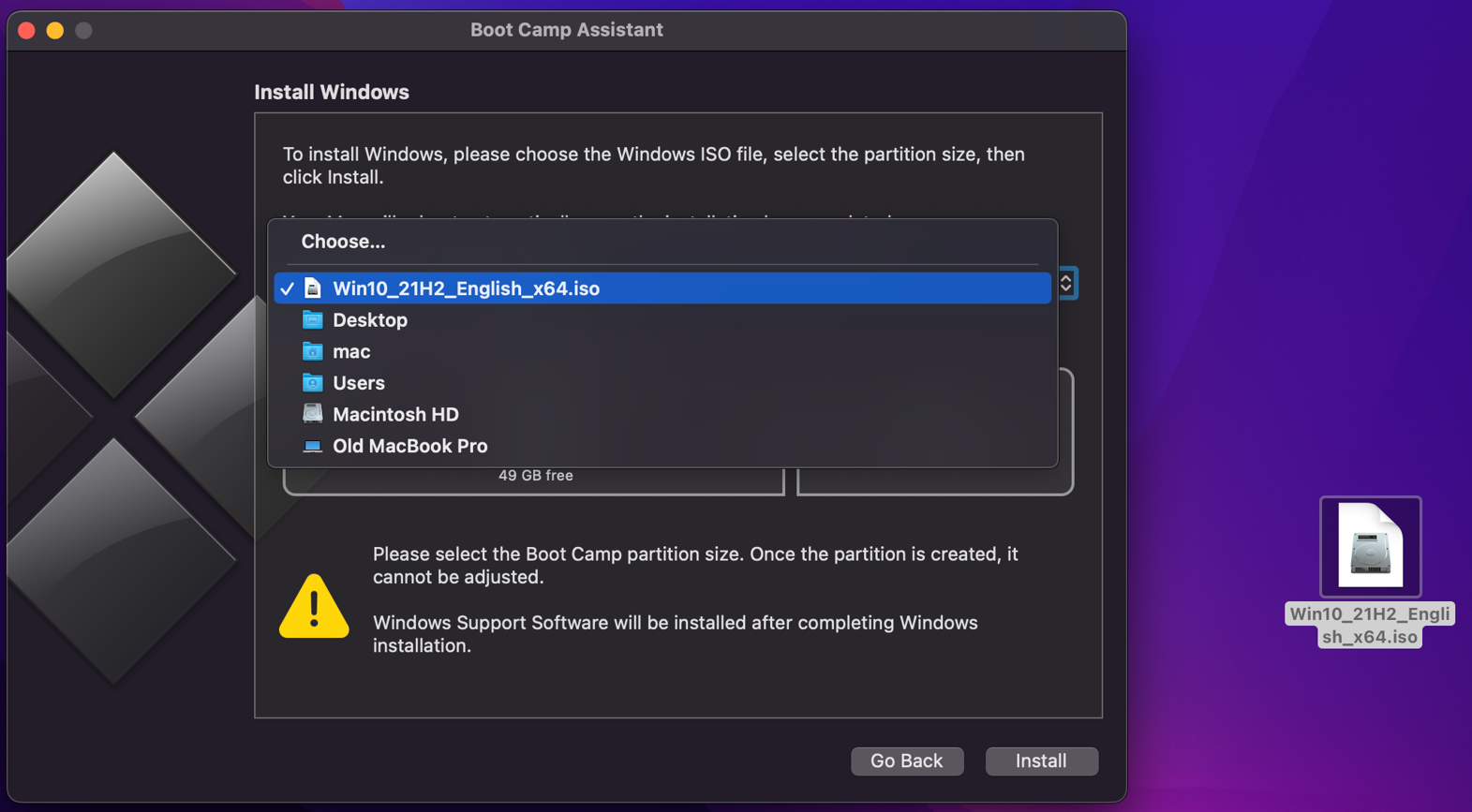 Our in-depth guide on using Boot Camp Assistant
Downloading Stray on Mac from Steam: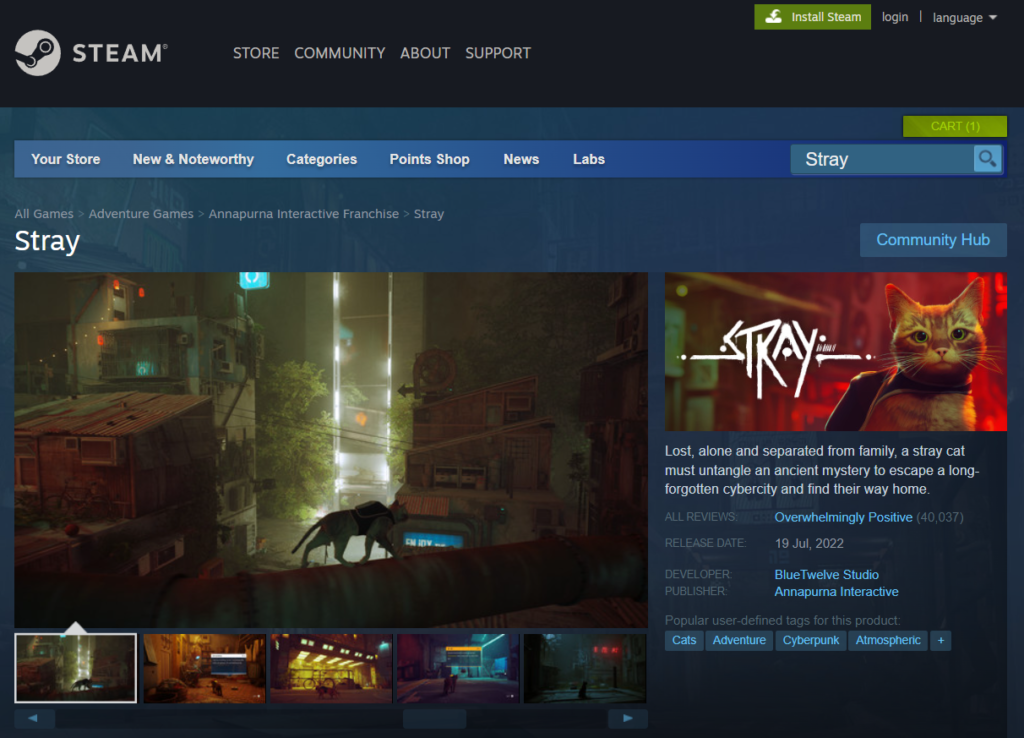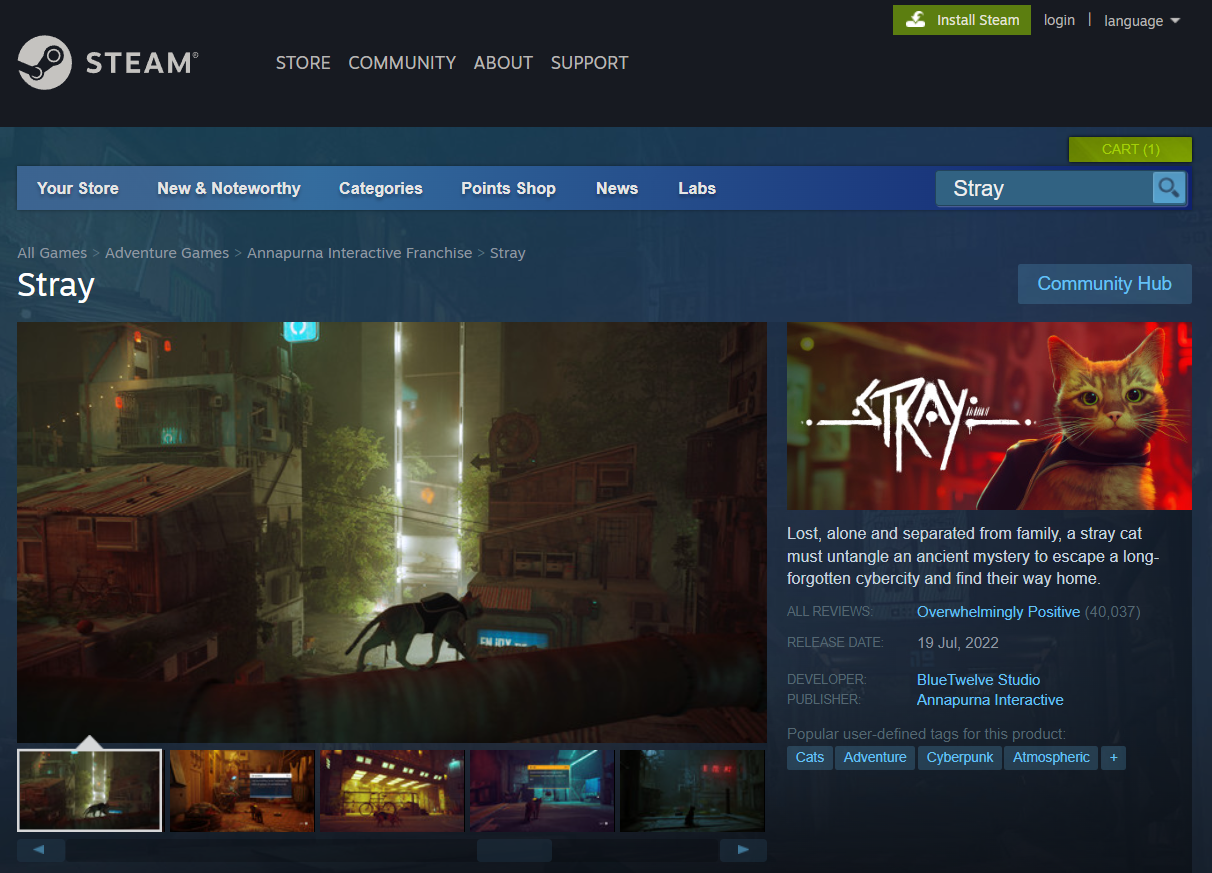 The first step is to create a Steam account and log in to it.
Install Steam by going to the official Steam website and clicking on the Install Steam button at the very top of the webpage.
Search for "Stray" in the client's Store section.
You'll be prompted to enter your payment information after hitting the "Buy Now" button on the Steam page of the game you'd want to purchase.
In the Library section, find Stray and then click it. Then click Install on the game's Steam page.
The installation should begin after clicking Next in the popup window that pops up. To start playing, go to your Steam library and find Stray.
Stray on Mac M1
Boosteroid, a cloud-based gaming service, makes it possible to play Stray on a Mac M1. Another alternative to play Stray is to download Parallels, set up a virtual computer, then install Stray on your Mac M1 using the software.
To play this game on an M1 Mac, you may use Boosteroid to stream it directly to your computer, or you can use Parallels to set up a Windows 11 virtual machine, install the game, and then play it from there. The usage of Boot Camp Assistant, the third way of playing Stray on Mac that we've shown on this page, isn't possible for M1 Macs since Windows 10 and the M1 chip architecture are incompatible.
Video Tutorial
Martina Nikolova
Martina likes to get into nitty-gritty of tomorrow's tech, from product design across to security based solutions. A long time mac user and developer, she has the expertise and strives to give new insight