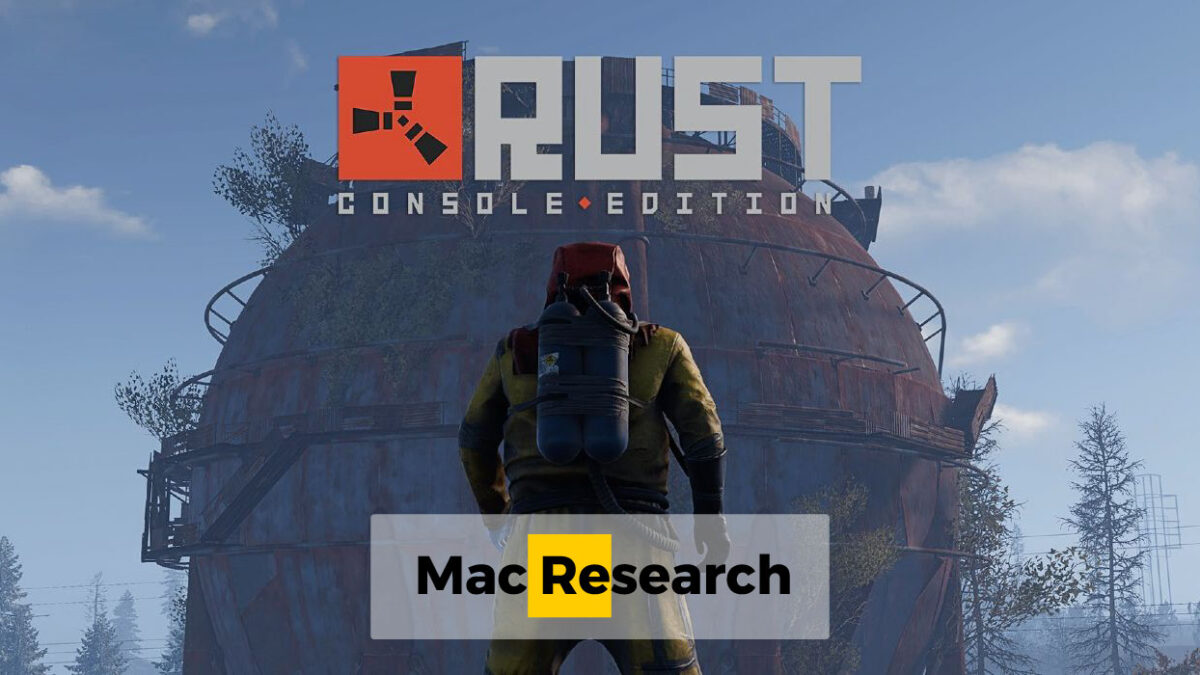 Rust (Mac)
Martina Nikolova, 6 months ago
0
11 min

read
Rust on Mac
So, you've got your heart set on surviving the harsh wilderness, combating players and non-players alike, and scraping by on limited resources? If yes, the engaging world of Rust, a multi-player survival game that thrives on competition, cooperation, and tactical strategy, is for you. But if you're a Mac user, you might be wondering if your beloved Apple machine is up to the task. Well, you are just about to find out. Stay with us as we explain how to play Rust on Mac.
Is there a native Rust Mac OS version?
Yes, Rust is supported natively on Mac OS. You can download and install Rust directly on your Mac without any additional software or emulators.
How to install Rust on Mac?
To install Rust on your Mac using Steam, follow these steps:
1. Install Steam from the official Steam website (https://store.steampowered.com/about/).
2. Create a Steam account by following the instructions on the Steam website.
3. Open the Steam client on your Mac and log in to your Steam account.
4. Search for Rust in the Steam client (use the search bar located at the top-right corner).
5. From the search results, click on "Rust" to access the game's store page.
6. On the Rust store page, click the "Add to Cart" button and proceed to purchase the game. Follow the prompts to complete the purchase.
7. After purchasing Rust, the game will start downloading and installing automatically.
8. Once the download and installation are complete, you can launch Rust by clicking the "Play" button on the Rust store page or finding it in your Steam library.

Configuration and updates: The first time you launch Rust, it may require additional configuration or update downloads. Follow the on-screen prompts to complete any necessary setup.
What are the Rust game Mac requirements?
These requirements outline the minimum specifications your Mac needs to meet in order to run the Rust game:
1. Processor: Your Mac needs to have a 64-bit processor, such as an Intel Core i7-3770 or an AMD FX-9590, or a more powerful one.
2. Operating System: You should have OS X El Capitan 10.11 or a newer version installed on your Mac.
3. Memory: Your Mac should have a minimum of 10 GB RAM to run the game smoothly.
4. Graphics: For graphics processing, you'll need a graphics card like the GTX 670 with 2 GB of VRAM or an AMD R9 280, or a better graphics card.
5. Network: You'll need a broadband internet connection to play the game online or download updates.
6. Storage: Make sure your Mac has at least 25 GB of available storage space for the game installation.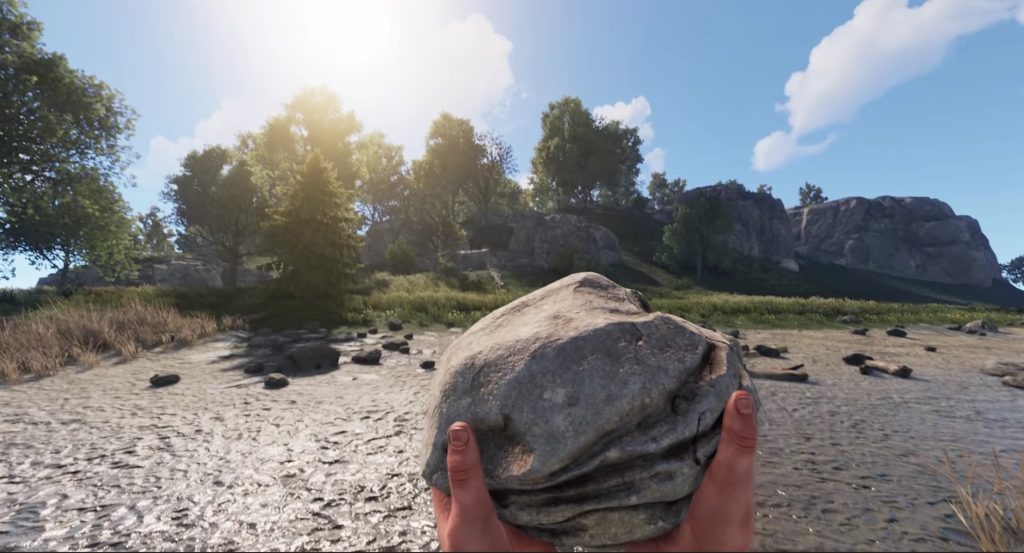 Can you get Rust for Mac OS?
First things first, let's address the burning question, "Can you get Rust for Mac OS?" The answer is yes. Facepunch Studios, the developers behind Rust, have gone the extra mile to ensure that Mac users can join in the fun. The game has a native macOS version that runs just as smoothly as its Windows counterpart, ensuring that no one is left out of the survival mayhem. However, there are also two other methods to play the game if you don't want to go through the installation process, or, especially if you want to save up some disk space. Stay with us to learn more about them in the next paragraphs.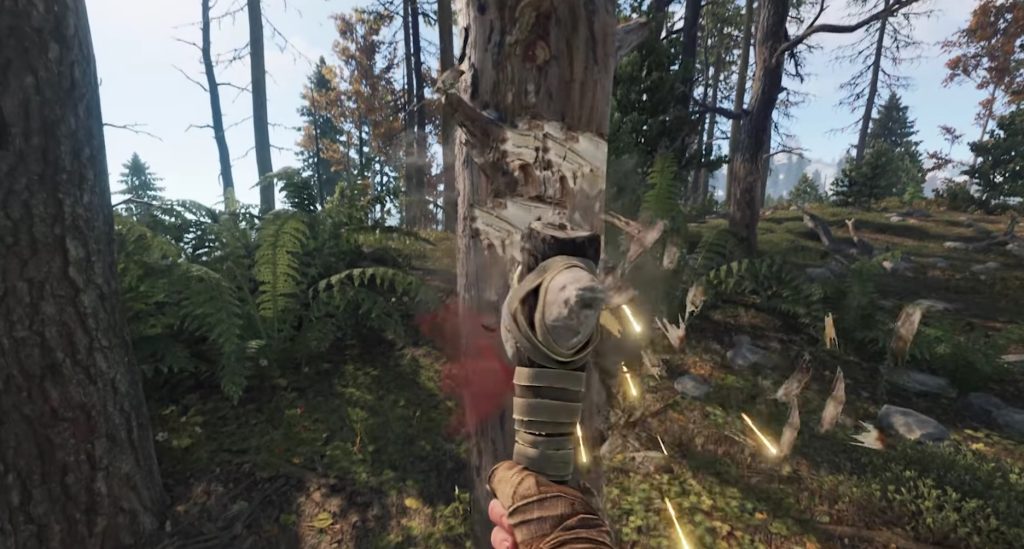 Can You Play Rust on a MacBook?
Perhaps you are not just a Mac user, but a MacBook user, wondering if your portable Apple device can handle Rust's intense gameplay. Rest assured, you certainly can play Rust on a MacBook. However, as with any game, the performance will depend on the specifications of your MacBook. Modern MacBooks, particularly the Pro and Air models with decent hardware specifications, can run Rust effectively. Remember, though, gaming is demanding on any machine, so make sure your MacBook is well-ventilated and consider using a cooling pad to prevent overheating. If you want to enjoy the game without a regard to your system's specs, you can always turn to cloud gaming solutions like those that we will explain about below and stream Rust in your browser.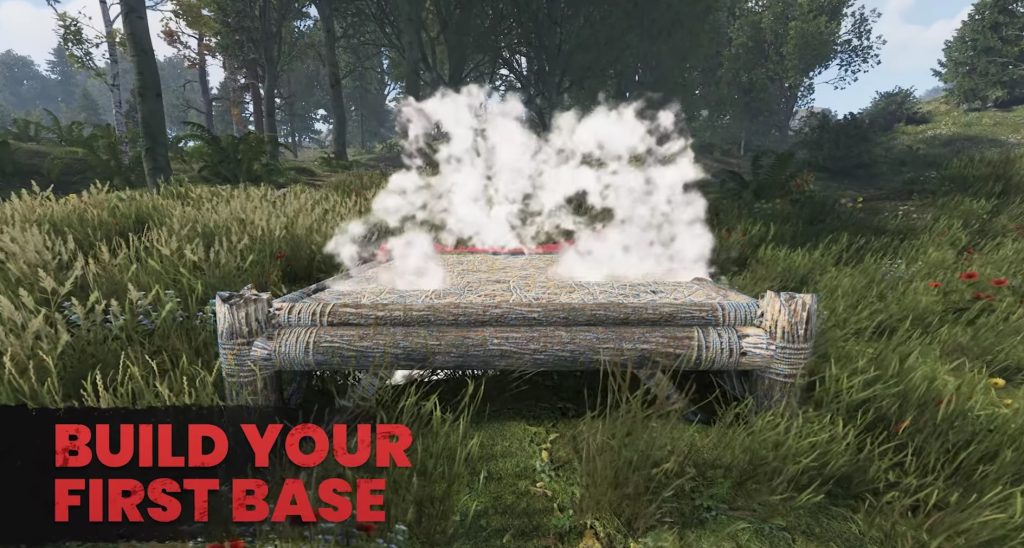 How to Install Rust on Mac?
Installing Rust on Mac is a straightforward process thanks to Steam, a platform where Rust is available for purchase and download. All you need to do is install the Steam client on your Mac, search for Rust in the Steam store, purchase it, and then install it on your Mac. Then, you will be ready to dive into the gripping world of Rust.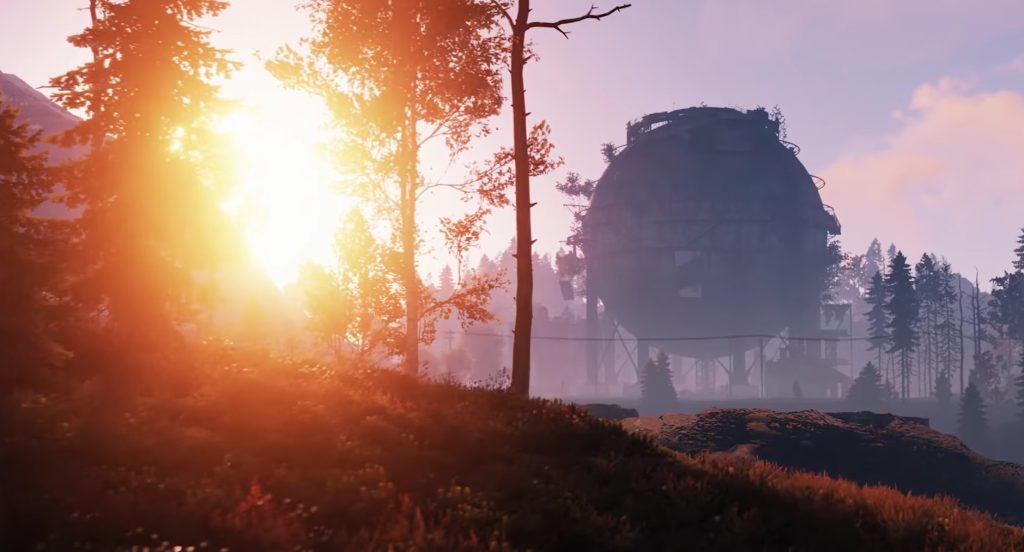 How About Rust on Mac M1/M2?
For those owning Apple machines with M1 or M2 chips, you're in luck. The native macOS version of Rust is compatible with these machines. However, please bear in mind that some users have reported varying degrees of performance due to the M1/M2 architecture's differences compared to Intel-based Macs. This shouldn't deter you from enjoying Rust, but it's something to be aware of.
Rust System Requirements
Before you get started with your survival adventure, it's important to check Rust's system requirements. The requirements to run Rust on your Mac are: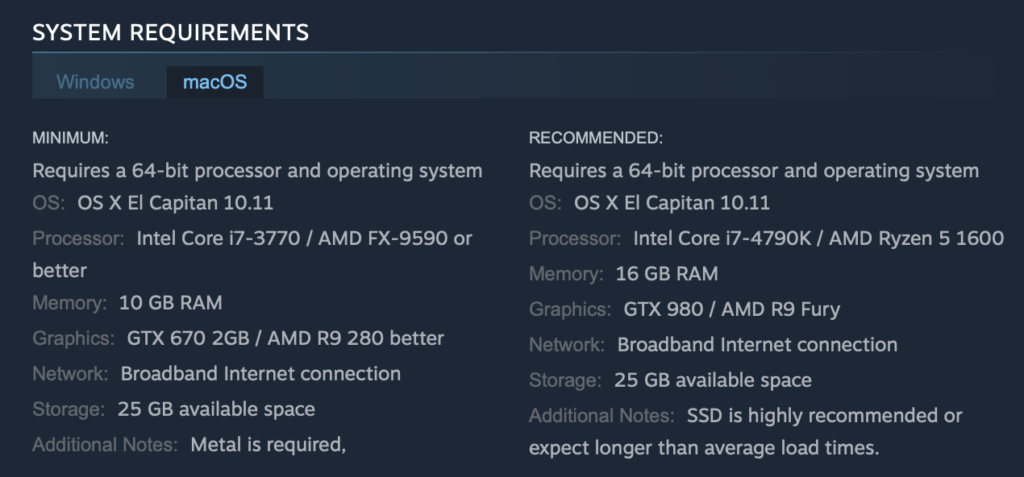 If your Mac meets these requirements, you're all set for a smooth gaming experience. The macOS version of the game is there, on Steam, and can be downloaded by any Mac user who wants to play it, granted that the Mac meets the game's requirements and has enough free storage space.
Play Rust on macOS
There are several methods to play Rust on macOS, with the main one being to simply download the game's macOS version. If you want to save up some disk space, you can play Rust on your Mac through a cloud-gaming service. Each of the different methods has its pros and cons. For example, playing the game natively requires considerable computing power that a lot of older Macs do not have.
On the other hand, using a cloud service such as Boosteroid or GeForce Now could will allow you to play Rust virtually on any device. So, if your machine doesn't meet the system requirements of the game or if you encounter performance issues, you still have options. Boosteroid and GeForce Now can run Rust on Mac on their high-end servers and stream it to your device, meaning your Mac's hardware isn't as much of a factor.
Before you select any of the methods below, however, you'll need to purchase the game:
Play Rust on Mac with Boosteroid
Boosteroid is a cloud gaming platform that allows you to play demanding games like Rust on your Mac, regardless of your device's specifications. To use Boosteroid, you will need a good internet connection and a subscription to the service. Once subscribed, you can access Rust from the Boosteroid web interface, and the game will be streamed to your device. No installation or downloads are needed, freeing up your device's storage and resources.
1.To begin, visit the Boosteroid website by using the provided button. You can either create a new account or log in using your Google Account credentials.
2. Access your profile details by clicking on "My account" in the top-right corner of the screen.
3. Activate a plan under the "My subscription" tab to start using Boosteroid.
4. Once your Boosteroid subscription is active, enter the name of the game in the search field.
5. On the game's Boosteroid page, click the "Play" button to launch it.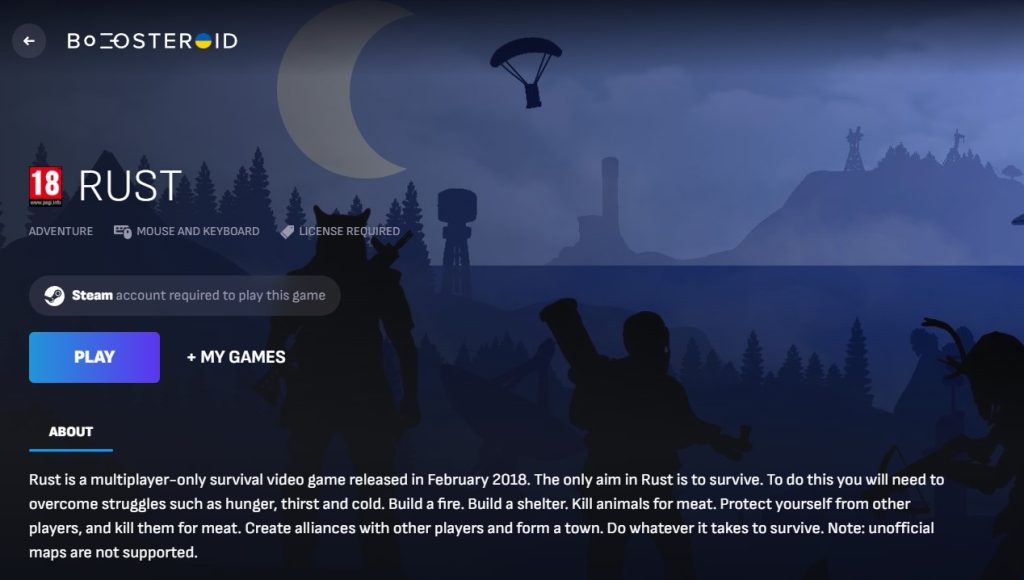 6. If prompted, link your Boosteroid and Steam accounts. Once the accounts are linked, you can play the game instantly through your browser by selecting it in the Steam Store.
There aren't any other requirements – you don't even need to download a client for Boosteroid, as the service lets you play the games in its library directly from your Safari or Chrome browser. Everything is really easy to set up
Play Rust on Mac with GeForce Now
NVIDIA's GeForce Now is another excellent cloud gaming service. Like Boosteroid, it streams the games from its servers, allowing you to play Rust on your Mac even if it doesn't meet the game's system requirements. GeForce Now also provides a seamless gaming experience, with minimal latency and excellent graphics. The only requirements are that you have a GeForce Now registration, have downloaded the GeForce Now client, and that you own the game that you want to play or that the game in question is free. You can find the instructions by clicking the button below:
Play Rust on Mac with Steam
Though cloud gaming services provide an excellent workaround for Macs, nothing beats the experience of running the game natively on your machine. As we mentioned earlier, Rust does have a native macOS version. So, if your Mac meets the game's system requirements, we recommend going for the native version for the best gaming experience: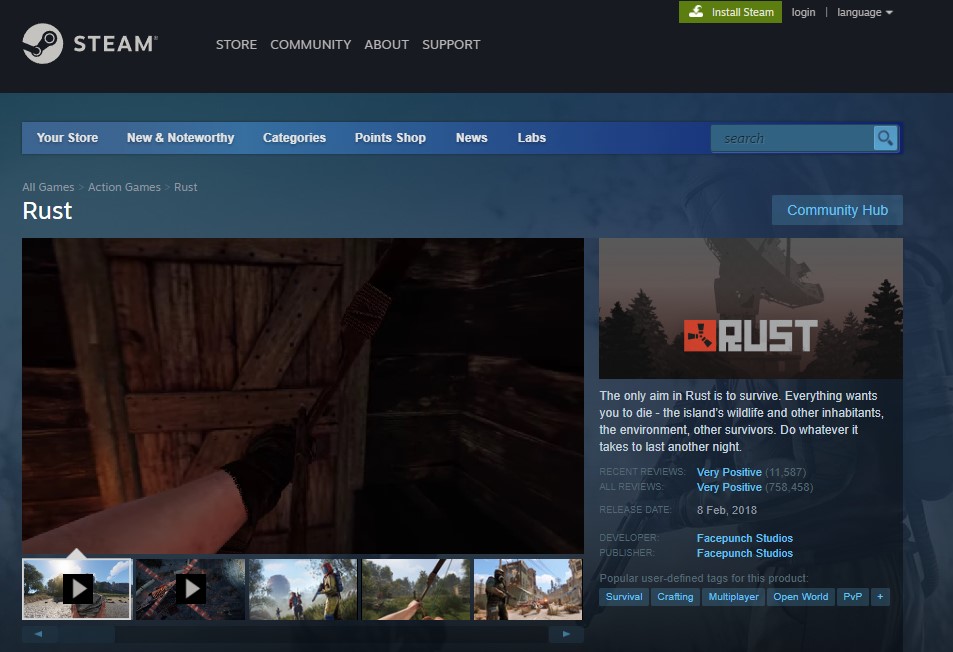 To begin, visit the Steam website and proceed to create an account if you don't already have one.
Once you've successfully created an account, log in using your account credentials. Locate the "Install Steam" button situated in the top right corner of the page and click on it to acquire the Steam client.
After downloading the Steam client, initiate the installation process by running the installer. Follow the provided instructions to complete the installation and launch the Steam program.
Now, navigate to the Steam Store section within the client and use the search function to find the desired game. Click on the game's listing to add it to your personal Library.
Having added the game to your Library, access the Library tab and locate the "Install" button associated with the game. Click on this button to start the downloading and installation process of Project Zomboid onto your Mac.
Once the installation is complete, you can launch the game and start playing. Enjoy your gaming experience! For an optimal experience, consider adjusting the game's settings to match your Mac's capabilities, particularly if you're playing on a MacBook or an older Mac model.
Rust Game Review
Rust is a multiplayer survival game that separates the wheat from the chaff in a brutal, primal fashion. Developed and published by Facepunch Studios, the game takes the survival genre to starkly realistic heights. It doesn't hold your hand, coddle you, or ease you into its cruel, unforgiving world. Instead, it tosses you right into the thick of things and simply says: survive.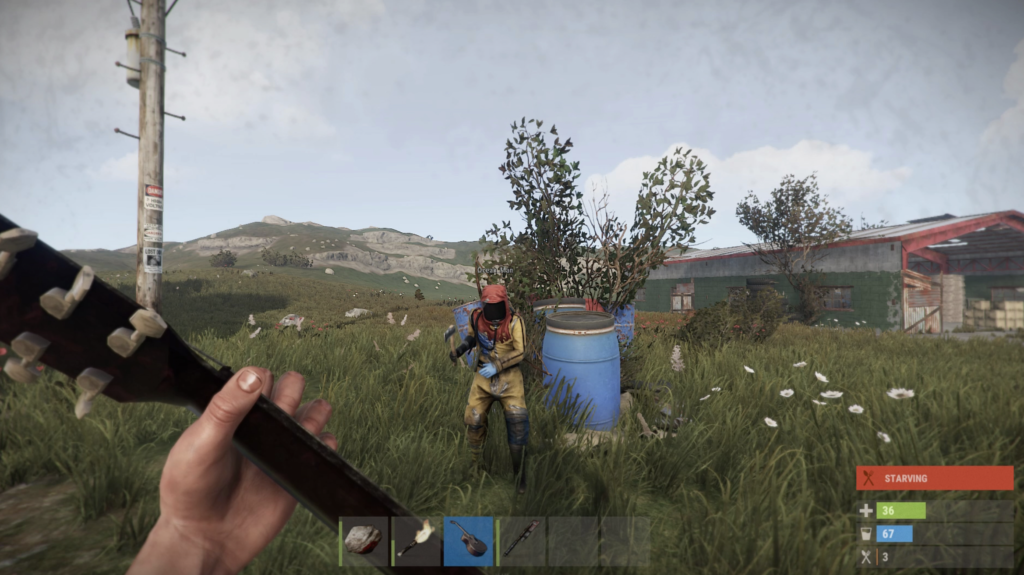 Making its debut in early access back in 2013 and hitting the mainstream market in 2018, Rust has grown a dedicated player base over the years. It's like the Frankenstein's monster of multiplayer games, with elements of DayZ, Player's Unknown Battlegrounds, Fortnite, Subnautica, and Ark: Survival Evolved meshing together. Yet, Rust has carved out its unique identity with its intensely hostile competitive ambiance, and with a survival-at-all-costs mentality that separates it from the pack.
A Ruthless Game of Survival
In Rust, character creation is replaced by a randomly-generated avatar, who embarks on this survival adventure completely stripped of gear and attire, armed only with a rock and a torch. The developers have boiled down the objective to one simple yet profound goal: "survive."
From the get-go, the game pushes you to the limits. Your rock and torch are all you have to fend off the elements, wildlife, and other players. Your only hope of upgrading from your rudimentary tools lies in the scattered blueprints across the expansive map, that, if you're lucky, can be crafted into advanced structures and tools. However, as much as Rust is about fortune, it's even more about persistence. It's a grinding experience that rewards the time you invest while punishing fleeting, sporadic engagement.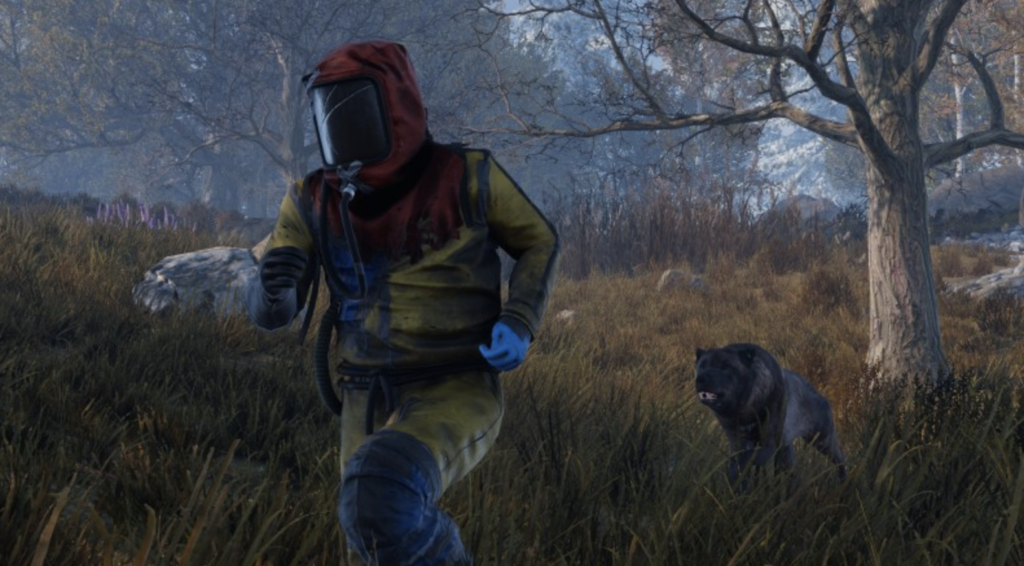 Man versus Nature
One of the immediate challenges in Rust is the brutal environment. The game thrusts you into a world rife with aggressive wildlife, from bears to wolves, ready to make a meal out of the unprepared. Add to this, starvation, dehydration, and environmental hazards like frigid weather and drowning, and Rust becomes a relentless battle against nature itself.
What elevates this title above the survival game crowd is its unapologetically competitive and hostile multiplayer environment. It isn't unique in its survival elements but distinguishes itself through the dynamics of player interactions.
Man versus Man
Rust's player base is known for being ruthless, but this isn't a criticism; it's a compliment. The game mechanics favor the "griefer" style of play. If the thrill of raiding and looting other players' camps, ambushing rivals, and seizing their possessions excites you, then Rust is your playground. It encourages players to be aggressive, cunning, and opportunistic. While forming alliances and playing with friends can be beneficial, it's far from easy. The game tempts you to betray and ambush, adding an additional layer of tension to every interaction.
However, Rust's PvP combat system, while functional, doesn't quite reach the standards set by more combat-centric games like PUBG or Fortnite. That said, advancing through the game yields more sophisticated tools, weapons, and even vehicles, offering varied styles of play.
The Verdict: Brutal, But Rewarding
Rust is an adrenaline-pumping sandbox survival game that leans heavily towards players willing to invest time in mastering its mechanics and embracing its grinding nature. It might deter casual gamers seeking a quick fix of excitement. Yet, with its gripping gameplay and intense multiplayer experience, this title offers an unforgettable journey where you must adapt, scavenge, and outsmart your opponents to emerge as the last person standing.
Martina Nikolova
Martina likes to get into nitty-gritty of tomorrow's tech, from product design across to security based solutions. A long time mac user and developer, she has the expertise and strives to give new insight