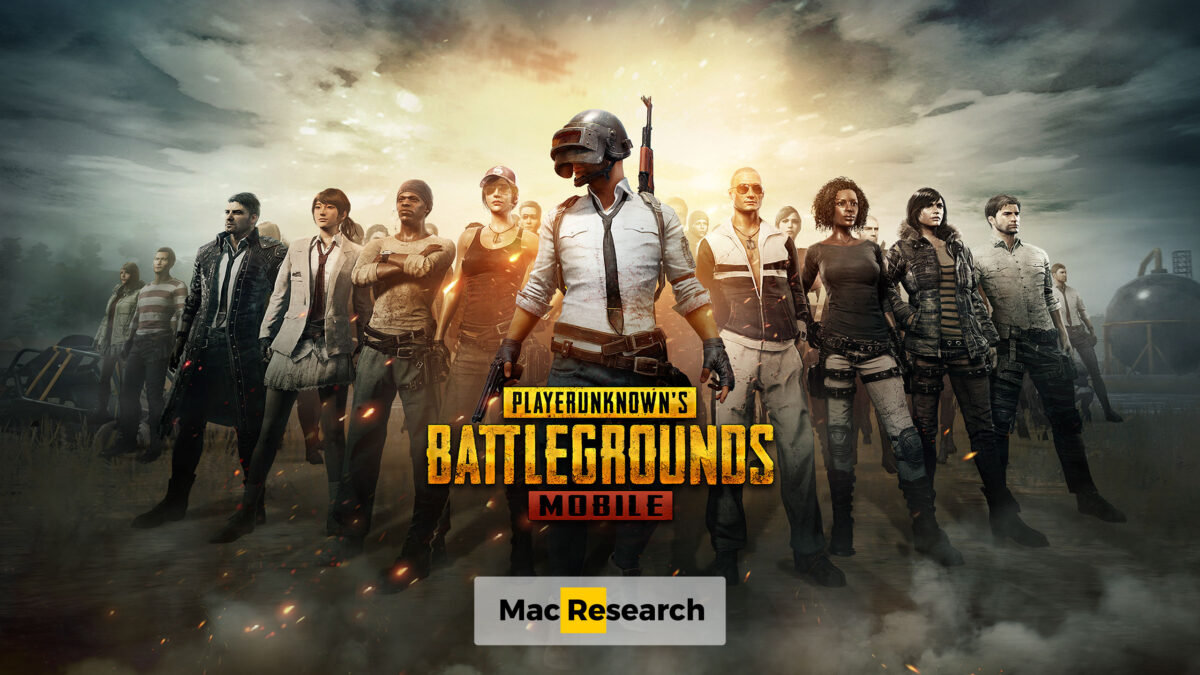 PUBG (Mac)
Martina Nikolova, 1 month ago
0
10 min

read
How to Play PUBG on Mac
PUBG isn't available for Mac, but if you are looking to play the free Battle Royale game on an Apple computer (MacBook Pro, MacBook Air, etc.), there are a few different methods you can try out. One option is to use a cloud gaming platform like Boosteroid. This allows you to run the Playerunknown's Battlegrounds without having to download any additional software to your Mac. You can also play the mobile version of PUBG on Mac using the PlayCover or BlueStacks emulation apps, or by installing Windows on your Mac using Boot Camp Assistant (works only on Intel models) and then downloading the game from Steam.
How to Play PUBG on Mac With Boosteroid
Playing PUBG on Mac can be challenging, as the game does not have official support for macOS. Fortunately, there are alternative solutions like Boosteroid that allow Mac users to play the game seamlessly without having to worry about hardware requirements and storage limitations.
Step 1: Create a Boosteroid Account
First, you need to create a Boosteroid account by accessing the Boosteroid website through the button provided below. Once you arrive on the Boosteroid website, you can create an account or log in with your Google Account credentials to access the platform's numerous benefits.
Step 2: Access Your Profile Details
After successfully logging in, navigate to the top-right corner of your screen and select "My account" to access your profile details.
Step 3: Activate a Plan
Activate a plan by selecting the "My subscription" option to start enjoying the benefits of Boosteroid without any limitations and to be able to play any of the games available in the service's Library.
Step 4: Find the game in the Game Library
After activating your subscription, make use of the search field to find the game that you want to play (in this case, PUBG), and click on it to start the installation process.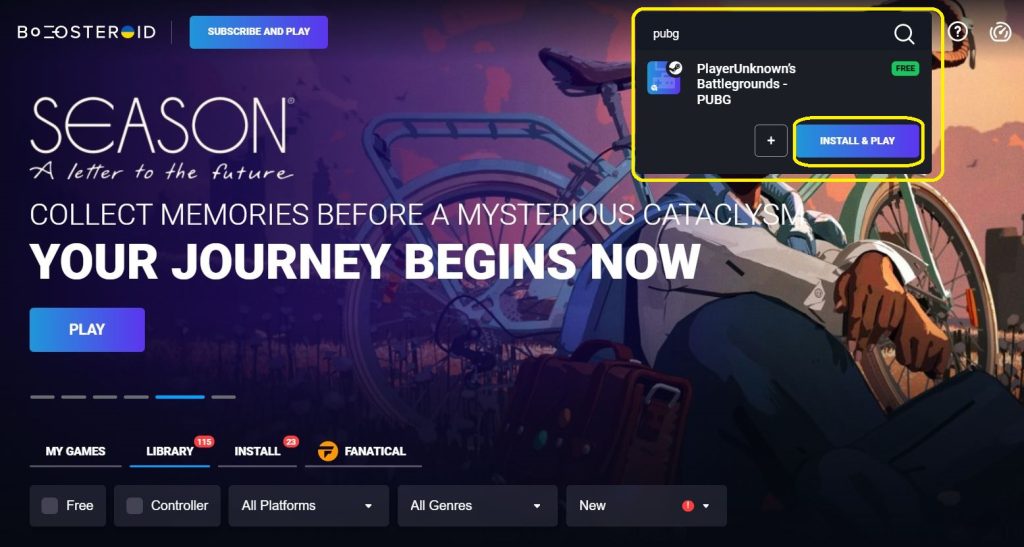 Step 5: Play the game
Click on the "Install & Play" button and follow the prompts required by the site. The process may take a few minutes, but once completed, you can run the game directly via your browser. The service guarantees a seamless gaming experience, and you do not have to worry about system requirements or storage space.
How to Play PUBG on Mac With BootCamp
You can access and play PUBG on Mac with Boot Camp just as you would on a Windows PC.
How to Play PUBG on Mac Using BlueStacks Android Emulator
BlueStacks Android emulator is a great option that enables you to run Android apps and games, including PUBG, on Mac.
If you are using an M1 or M2 Mac, you won't be able to use BlueStacks, but there's another similar app called PlayCover, that lets you run the iOS version of PUBG and is exclusive for Apple Silicon machines.
How to Play PUBG on Mac via Cloud Gaming
Cloud gaming has become increasingly popular among gamers, and playing PUBG on your Mac using cloud gaming platforms offers a convenient and hassle-free way to enjoy the game. With cloud gaming, the game runs on powerful remote servers, and players can access the game via a stable internet connection, allowing for a seamless and lag-free gaming experience. The only cloud gaming service that currently allows Mac users to play PUBG is Boosteroid.
How to play PUBG on Mac via Parallels Virtual Machine
Playing PUBG on Mac via Parallels Virtual Machine is currently not possible due to an anti-cheat system that prevents the game from running. When you try to play the game via Parallels, you may encounter the error message "Failed to initialize BattlEye service (driver load error 1275)" due to this system. This error is caused by the BattlEye service not being able to load the required drivers, which is a result of the virtual environment created by Parallels.
How to Download PUBG on Mac
If you want to download PUBG on Mac, one option is to use an emulator, such as BlueStacks or PlayCover, for the mobile versions of the game, but be warned that using these methods could potentially lead to account bans, so it is recommended to test them out first with a throwaway account instead of your main one.
Another option for Intel Mac users is to install Windows on their machine using Boot Camp, which allows you to install the Steam (Windows) version of PUBG.
Best Way to Play PUBG Mobile on Mac
If you want the best way to play PUBG Mobile on your Mac, cloud gaming services like Boosteroid offer a seamless and convenient solution. You don't need to worry about system requirements or storage limitations as long as you have a reliable internet connection.
Mac Requirements for PUBG
There aren't any official Mac requirements for PUBG since the game doesn't have a macOS version. However, since it is possible to download and play on your Mac both the Windows and the mobile versions (iOS, Android) of the game, we'll now you about the requirements of those versions.
Operating System
The operating system required to play PUBG on a desktop machine is Windows (10,11). As we mentioned, this game isn't supported for macOS, so the version of your Mac's native operating system is irrelevant here. However, if you choose to install Windows on your Mac and play that version of PUBG or emulate the iOS/Android versions, your computer will need to need their system requirements.
Processor
Minimum: Intel Core i5-4430 / AMD FX-6300
Recommended: Intel Core i5-6600K / AMD Ryzen 5 1600
These are Windows PC CPUs, so it's a bit difficult to draw a direct comparison to their Mac counterparts, especially if we are talking about M1-based Macs. Still, to give you a general idea of what Mac models should cover the minimum processor requirements, Intel MacBook Pro models from 2017 should have powerful enough CPUs to run this game.
As for Apple Silicon Macs, running locally the Windows version of the game on them is not possible, because the Windows installation method (Boot Camp) that can be used to download and play PUBG on Mac doesn't work on models with M1 or M2 chips.
Note about the mobile versions: It's difficult to compare the processor requirements for the iOS/Android versions of PUBG with the specs of a particular Mac model, due to differences in the CPU's architecture. However, since mobile games are typically a bit less demanding compared to their desktop counterparts, if your Mac is released in 2016 or later, it should probably be able to run the iOS/Android version of the game with the help of emulation software like PlayCover or BlueStacks.
RAM
Minimum: 8 GB
Recommended: 16 GB
The RAM requirement is a bit more straightforward. If you are on an Intel Mac, simply search its model in Google, open the first Apple page that shows up, and check what's written in the RAM/Memory section to find out if your computer covers this requirement.
Mobile versions:
HDD
Minimum: 40 GB
Recommended: 50 GB
Although the minimum space required to install this game on Mac is 40 gigs, remember you'll also be installing Windows 10 to run it. Furthermore, it's also important to leave some free space to prevent your Mac from becoming sluggish. Considering all this, you should realistically have at least 100 GB of free storage on Mac if you want to download and play PUBG on it.
Mobile versions:
iOS – 2.7 GB
Andoid – 731 MB
Is There a Difference in Installing PUBG on Different Macbook Versions
There can be a significant difference in installing PUBG on different MacBook versions as far as performance and playability are concerned. However, what's most important are the individual specs of your Mac model and its release year, rather than whether it's a MacBook Pro or Air. Also, remember that these comparisons are only relevant if we are talking about the Windows/Boot Camp method of playing this Playerunknown's Battlegrounds on Mac.
PUBG on MacBook Pro
PUBG should generally perform better on MacBook Pro models since they typically have better characteristics compared to their MacBook Air counterparts of the same year.
PUBG on MacBook Air
The PUBG performance on MacBook Air models will usually not be very good unless we are talking about newer models from 2019 or 2020, yet even then they'll generally be outperformed by a MacBook Pro. That said, what must also be taken into account is how each specific Mac model is configured on purchase. Higher-end CPU configuration and more RAM can greatly affect gaming performance. Ultimately, it all comes back to the requirements of Playerunknown's Battlegrounds versus the specs of your individual Mac.
PUBG on Mac M1
It's currently impossible to locally run the Windows version of Playerunknown's Battlegrounds on Mac M1 since the Boot Camp method of installing Windows doesn't work for Mac computers with Apple Silicon silicon chips and the Parallels method is blocked by the game's anti-cheat system. The cloud gaming option is still available, but as we said, the performance there is entirely determined by your Internet connection. As for the option to run the mobile version of PUBG on Mac M1, no Apple Silicon model should have any performance problems with this.
Our Verdict
The fact that PUBG isn't compatible with Mac certainly makes enjoying this title on an Apple computer a bit trickier, especially if you are determined to have the game downloaded onto your Mac in order to play it. However, between the options to play PUBG by first installing the Windows OS on your Mac, by emulating the game's iOS or Android version, or by directly streaming it over the Internet with Boosteroid, we are sure that you'll find a method that works for you and lets you have some battle royale fun on your Mac!
FAQ
Can we play PUBG in Apple?
Yes, you can play PUBG on Apple devices such as iPhones and iPads by getting the iOS version of the game from the App Store. However, to play it on Mac, you'll have to use workarounds since the game isn't available for macOS. In fact, one of those workarounds is to get the iOS version of the game installed on your Mac with the help of an application called PlayCover. Other methods to run this game on Mac involve the use of the Boosteroid cloud gaming platform and the installation of Windows on the computer with the help of Apple's proprietary Boot Camp Assistant app.
Why is PUBG removed from Apple Store?
PUBG is not removed from the Apple Store, but it is not supported for macOS, so you cannot get it on your Mac from the Store. In other words, if you aren't seeing PUBG show up in the App Store while you are on your Mac, then that is the reason the game appears to have been taken down. However, if you are on your iPhone or iPad and you are still unable to find the game, then it's possible that the game has been banned by your country's government. For example, as of September 2020, Playerunknown's Battlegrounds has been banned in India out of concerns about the user's data privacy. 
How to install PUBG in iOS after ban?
1. Go to Settings and tap on your name at the top.
2. Open the Country & Region section and tap on Change Country or Region.
3. Choose another country/region where PUBG isn't banned and then agree to the Terms & Conditions.
4. Next, select a preferred payment method and provide the required billing address and payment information. The payment method must be valid for the selected country.
5. For an address, choose a random address from Google Maps for the specified country and use that.
6. Finally, tap Done and the game should now show up in the App Store.
Martina Nikolova
Martina likes to get into nitty-gritty of tomorrow's tech, from product design across to security based solutions. A long time mac user and developer, she has the expertise and strives to give new insight