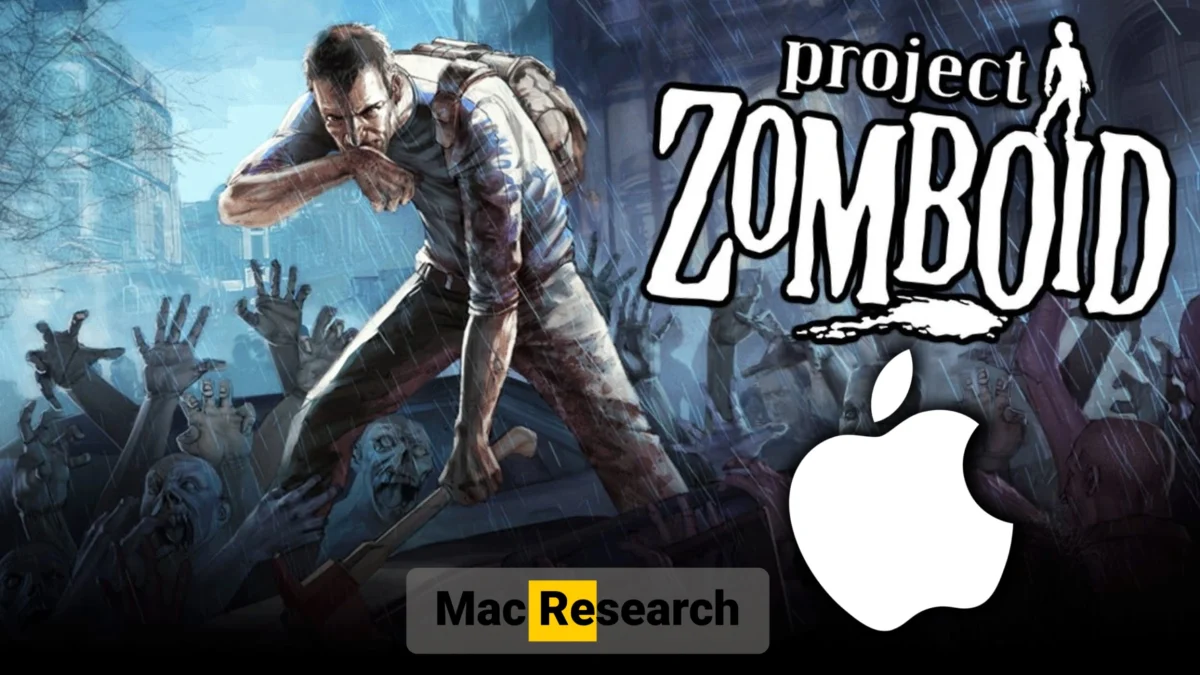 3 Ways to play Project Zomboid on Mac: Our Experience
Martina Nikolova, 3 weeks ago
0
9 min

read
Project Zomboid is an ideal game to play on a Mac – it's super fun, yet has low GPU requirements and doesn't take a ton of space. But above all else, the game has a fully-functioning macOS port, so you can directly download it from Steam and play it natively on your Apple machine without needing to use emulation layers or install Windows.
We've never played Project Zomboid before and were interested to give it a try to see how well it would perform on a weaker Mac model, such as an M1 MacBook Air. After our initial test, we realized that the game can also be played via two cloud gaming services – Boosteroid and GeForce Now, so we tried those as well to see if to see if there are any reasons to choose cloud gaming over playing the game locally. Now that we've concluded our tests, we wish to tell you about our experience with each of the three methods to play the Project Zomboid on a Mac.
How to play Project Zomboid on Mac: All working methods
Of course, if you want to get straight into the game and figure out for yourself what method you prefer, here are the three options we tested:
Natively with Steam

Playing the native macOS version of the game via Steam is a straightforward process. Here's how you can do it:

Acquire the Game: Purchase Project Zomboid via its official Steam's page, or check CDKeys for a discount on the Steam version of the game.
Steam Setup: Download the Steam client, install it, log in, and navigate to your library. Find Project Zomboid, select 'Install', choose the installation location, and await the download's completion.
Launch Project Zomboid: Once downloaded, click 'Play' in the Steam client to begin the game.

Remember to make sure your Mac meets the system requirements for the game you want to play. Steam provides system requirement information on each game's store page.
Boosteroid Cloud Gaming (Recommended method)

Features: Constant 1080p/60 FPS; Stable connection; Low bandwidth requirements (15 MBPS); Huge gaming library with all the latest AAA titles.

Pros

Cheapest cloud-gaming option
Compatible with all macs
Hardware specs don't matter
You can play in your browser in about 15 minutes

Cons

Requires a good internet connection
You need to look if the game is supported with your chosen vendor

Extras: Here's our review of Boosteroid with a comparison to GeForce Now; also check out our Boosteroid Games List.

We suggest Boosteroid as the go-to choice for Mac gamers, particularly those not into competitive gaming. It's perfect for enjoying games on your Apple device with minimal fuss, offering an impressive mix of graphics and performance.

To get started, click "Play with Boosteroid" on their site and either sign up for a new account or use your existing Google Account.
Navigate to "My account" in the top-right corner and activate your preferred subscription plan under "My subscription".
To play, ensure you own the game. You can purchase it from Steam or Cdkeys.com for a discount.
GeForce Now

Pros

Access to a vast library of games.
High-quality graphics and performance.
No need for powerful local hardware.
Cross-platform support.

Cons

Requires a stable and fast internet connection.
Limited to supported games.
Potential latency issues in online games.
Requires a subscription for some features.

GeForce Now is a cloud gaming platform, providing Mac users with easy access to a vast array of games.

Note: You need to own the game before you proceed with this method. Here are links to the game for different vendors: Steam; check for a discount on Cdkeys.com.

GeForce Now is ideal for Mac users, offering access to a range of games, regardless of your Mac's specs. NVIDIA's servers handle the heavy processing, enabling high-quality graphics and performance on even older Macs. It also supports cross-platform play, allowing you to maintain progress across different devices.

However, a stable internet connection is crucial for GeForce Now. Unreliable internet may cause lag and affect image quality. Not all games are available, and while there is a free version, enhanced features require a paid subscription. It's important to check for game availability and ensure a reliable internet connection.
If you are still here and haven't already started the game through one of the three suggested options, we assume you'd first like to read about our experience with them, so without further ado, let's talk about how our tests with playing Project Zomboid on or Macs went.
Testing the native Project Zomboid Mac version: Performance analysis
Project Zomboid is a game that's been around for over a decade, so it doesn't have the highest system requirements, yet, over the years, updates have made the game more demanding, so even though Intel Macs released in the past 6-7 years as well as all Apple Silicon Macs should be able to run the game natively, the performance may not always be great. Obviously, a higher-end Mac, such as an M1 Pro MacBook will provide decent performance, but we were interested in seeing how the game would perform on less potent machines, so the Macs we used for testing were an M1 MacBook Air from 2020 and an Intel-based MacBook Pro from 2016, both of which have 8 gigs of memory (unified memory/RAM).
Performance of Project Zomboid on M1 MacBook Air
We were confident that the game will run on our M1 MacBook Air because we've already seen accounts from other users with the same machine who've reported that the game runs without a problem. However, what we wanted to see is what performance we can squeeze out of our MacBook Air while playing Project Zomboid on it.
After downloading the game from Steam and starting it, we set all settings to low and then joined a moderately-populated server, which didn't have any mods. Admittedly, the performance wasn't exceptional – we weren't getting more than 45 FPS – yet it was definitely playable. We even attempted to turn some of the graphical settings to medium, just to see what will happen and, as expected, we got a significant decrease in the FPS rate, getting as low as 20 frames per second.
Performance of Project Zomboid on MacBook Pro 2016
Next, we tried the game on our 2016 MacBook Pro, and we were pleasantly surprised to see that the game ran with an acceptable performance of around 35 to 40 FPS on the lowest possible settings. However, one potential issue we had here that wasn't present when testing with the M1 MacBook Air is that the Intel-based model got quite hot. Not hot enough for the game performance to become worse or for the Mac to shut down automatically, but it was definitely not a pleasant feeling sensing the heat through the keyboard and listening to the fan spinning at maximum speed. Of course, this is expected from Intel-based Macs, which is why they are generally not great for gaming. That said, Project Zomboid is definitely playable on older Intel MacBooks, provided that they meet the system requirements of the game.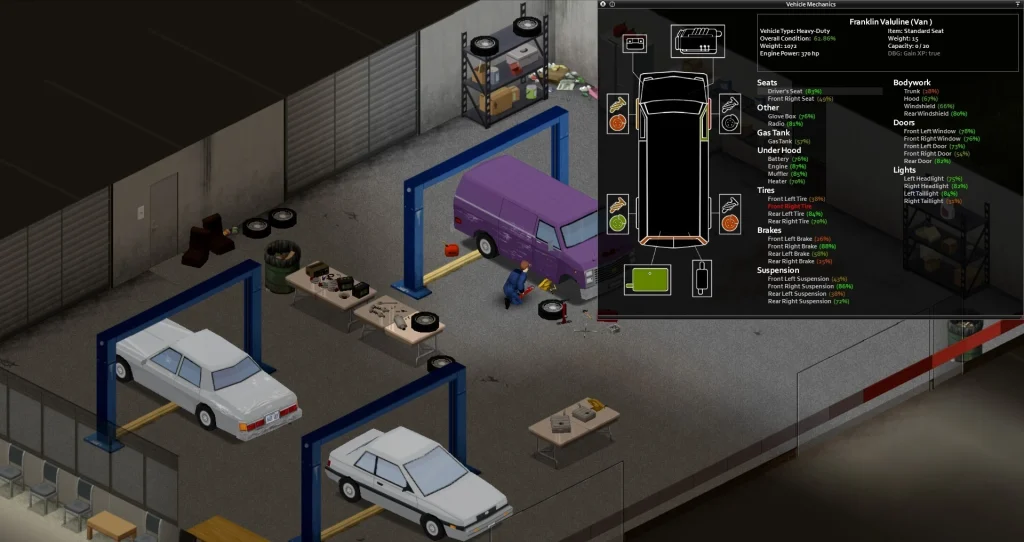 Playing Project Zomboid on our Mac with cloud gaming: Is it worth it?
On this site, we always aim to give our readers all viable options for playing a given game on a Mac, so even if Project Zomboid has a macOS version, we also wanted to see if playing the game via cloud gaming has any noteworthy advantages. The two cloud platforms we tested here are Boosteroid and GeForce Now.
Cloud gaming streams Project Zomboid from a remote server, effectively bypassing compatibility issues and making your Mac's hardware specifications a non-factor. This is especially beneficial for playing on older Macs and Macs with weaker hardware, as this method of playing the game can allow them to run it with the highest possible settings and still get great performance.
The primary determinant of gameplay quality in cloud gaming is internet strength. For smooth streaming, GeForce Now requires a 25 Mbps connection, while Boosteroid can work well with a 15 Mbps connection (though 25Mbps is still recommended). We tested both services with a modest 25 Mbps wireless connection, experiencing an average latency of 50 ms.
The Boosteroid plan we are subscribed to allows for a maximum resolution of 1080 and a maximum frame rate of 60 provided that the Internet connection meets the service's requirements. We played Project Zomboid at maximum settings for about an hour and a half across several different servers and the performance was consistent, without any noticeable drops in the FPS rate. The only times there were any performance hiccups was due to our Internet acting up and even then everything returned to normal in a couple of seconds.
With GeForce Now, the experience was similar: our plan there also allowed up to 1080p and 60FPS, and that is what we got in practice. Like with Boosteroid, we set all the game's settings to highest, yet that didn't affect the overall performance, which would only dip if our Internet experienced lag spikes. However, we noticed a slight preference for performance over image quality; the resolution would drop significantly during lag spikes to keep the gameplay smooth, but if you prefer to always get the best image quality possible (at the potential cost of performance loss), you can customize the GFN client settings accordingly.
What's noteworthy Boosteroid and GeForce Now added some lag due to the game being streamed remotely. This lag is minor and generally unnoticeable for casual players, but competitive gamers might find it more problematic. Nevertheless, barring occasional internet-related issues, cloud gaming on both platforms proved to be an effective way to enjoy Project Zomboid on a Mac.
Project Zomboid on Mac: Our Conclusion
Ultimately, we can't say that cloud gaming is better than playing the game natively, but there are definitely instances where some users may prefer this method. In our opinion, if you own an older Intel-based Mac or a base M1 MacBook, you can benefit from choosing the cloud gaming alternative, especially since it also lets you play other games, including ones that aren't nativey supported for Mac. On the other hand, if you have a mid or high-end Mac and/or are only interested in playing Project Zomboid, then the native version will probably the better option.
Martina Nikolova
Martina likes to get into nitty-gritty of tomorrow's tech, from product design across to security based solutions. A long time mac user and developer, she has the expertise and strives to give new insight