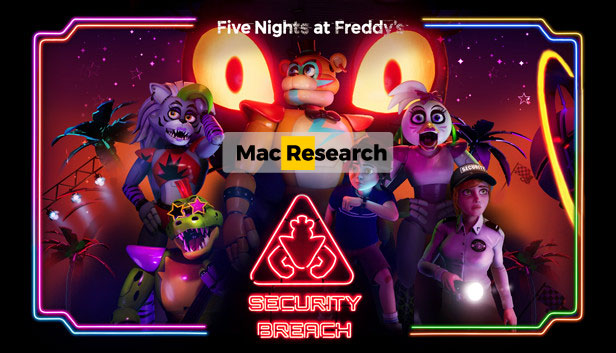 Play FNaF Security Breach on Mac
Martina Nikolova, 1 year ago
0
17 min

read
About FNaF Security Breach on Mac
FNaF Security Breach isn't officially available on Mac, so the only viable method of running it on a Mac is to first install Windows on it. Possible variants to get Windows and run FNaF Security Breach on your Mac are through Parallels or Boot Camp Assistant.
The GamePlay
Five Night at Freddy's: Security Breach (FNaF Security Breach for short) is a first-person survival horror game developed by Steel Wool Studios. In the game, the player's goal is to escape a large mall building at night before getting caught by the animatronic animals who are chasing him/her. This is the eighth and latest main installment in the long-running Five Night at Freddy's game series. It's also the thirteenth game that takes place in the FNaF universe. The game was released on 16th December 2021, opening up to mixed reviews. FNaF Security Breach significantly changes the gameplay formula established by the previous entries in the series by being the first FNaF game to have a conventional "free-roam" gameplay, where the player is free to walk around and explore the game's world. In all of the previous FNaF installments, the player's movement and interaction options were restricted to his/her immediate surroundings, and the player wasn't allowed to walk to other locations.
Horror game at heart?
This change in the gameplay style means that FNaF Security Breach comes a lot closer to a more conventional survival horror game as compared to previous FNaF installments. Depending on how you look at it, this could be a welcome change or an unnecessary departure from what gave the FNaF series its unique style and charm. In our opinion, this change in gameplay is a way to help prevent FNaF from getting stale. While the gameplay concept of the previous Five Nights at Freddy's entries is one of the main things that gained this game series its popularity, that concept is, admittedly, very simplistic, and we believe that the new "free-roam" perspective of FNaF Security Breach is bound to bring some needed freshness to the franchise.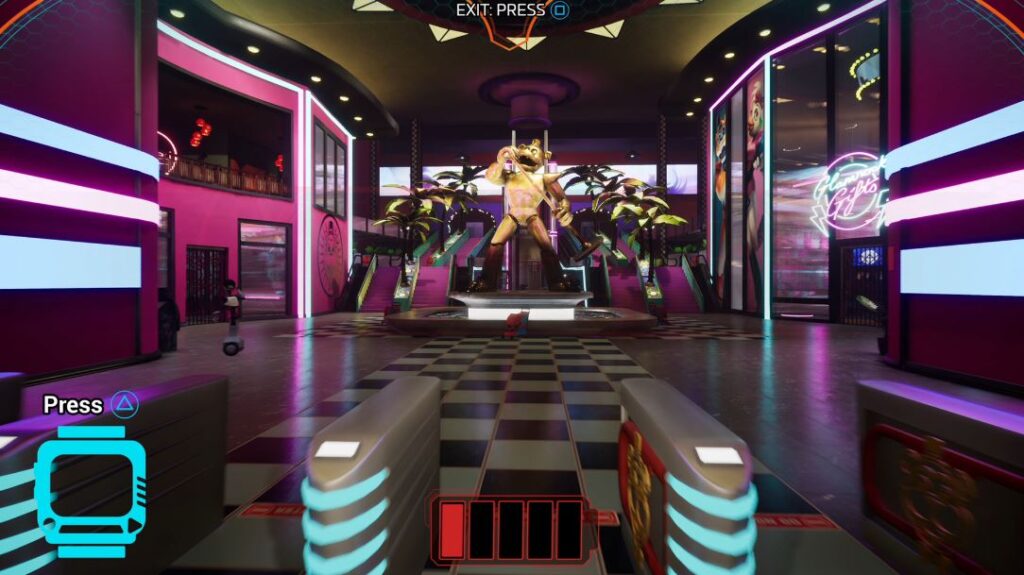 Game Highlights
On the positive side, the game's core atmosphere, character models, art, and design stays faithful to the theme of FNaF in general. In fact, the ability to freely walk around the large and very realistic mall building in which the game takes place further enhances the dread and horror elements. In addition, there's now the element of exploration that adds to the gameplay experience, making it more engaging and immersive – something that was absent in the previous games altogether.
At the same time, mechanics from the previous games, such as the ability to look through security cameras in order to see where the enemies (called stalkers) are, make a return and are, in our opinion, well integrated into the more dynamic gameplay. Admittedly, though, it can sometimes be rather disorienting switching between your regular first-person view and the view from a security camera, especially when you're trying to figure out the whereabouts of an animatronic stalker with regard to your own location.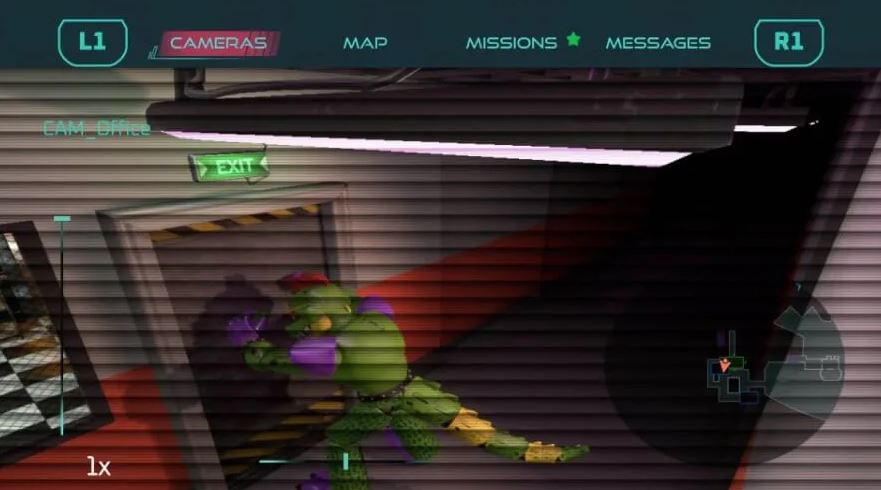 What sucks
Another, potentially more irritating, problem with the gameplay is the unbalanced nature of the robotic security guards. They seem to be too fast for the player to successfully escape once noticed by them, and, though they are supposed to have a predetermined movement pattern, they occasionally tend to break those patterns, which could feel unfair from the player's perspective. When "caught" by a guard, the player could still run away, but the guard would sound an alarm that results in an animatronic stalker almost immediately spawning near the player, and if the player gets caught by a stalker, the game is over.
Speaking of this, once the player gets caught by an animatronic animal, all progress made up to this point is lost, which is a considerable loss, considering that the game can only be saved at specific "checkpoint" locations, so if you get caught just before saving your progress at a certain location, you'd start from the previous checkpoint and would need to go through all the obstacles to the next one. Some players may find this unnecessary, some will like the challenge, but after the third or fourth time of passing through the same areas just to not get caught this time is bound to quickly become frustrating and tedious.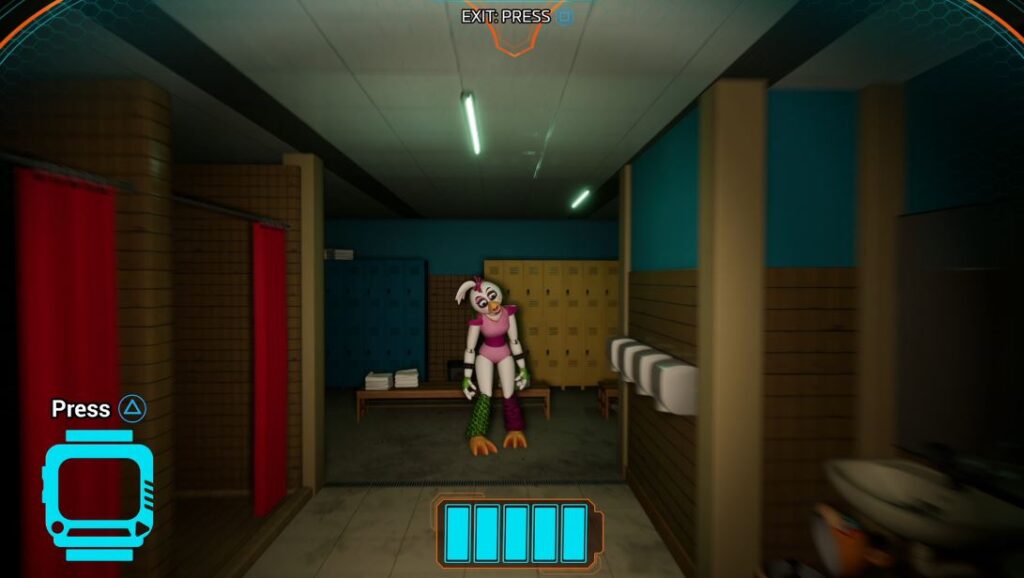 Concerning the stalkers, they are as creepy and as eager to jumpscare you when you aren't paying enough attention as ever. One of the main criticisms of Five Nights at Freddy's Security Breach is exactly that – its reliance on jumpscares. However, if you are an FNaF fan, you are probably already used to them – this game series is well known for its jump scares, and it's okay if that's not your cup of tea, but it's also a trademark feature of the FNaF franchise in general.
What can be improved
Really, the only truly objective problem with Security Breach, other than the unbalanced security guard enemies, is the many bugs present in the game. Though few of them are game-breaking, all of them are annoying. From random graphical glitches to AI getting stuck in random objects, it's all there and shows that the game, in its current state, is far from properly polished. Hopefully and likely, future patches will take care of most of that, but if you get the game now and start playing it, know that you will most likely come across a glitch or two.
Can you play Five Nights at Freddy's Security Breach on Mac?
Yes you can, however FNaF Security Breach isn't officially playable on Mac however, it is now available on some cloud-gaming services, another option to run it on a Mac is through Windows. Using Parallels or Boot Camp Assistant it is possible to play FNaF Security Breach on a Mac.
Still, if you really want to play it but don't want to get a PlayStation or a PC for your gaming needs, we hope that the following suggestions on how you may be able to get Five Nights at Freddy's Security Breach running on your Mac.
Before you attempt to perform the instructions we've shown below, however, you need to make sure that your Mac meets the Five Nights at Freddy's Security Breach system requirements when setting up a Virtual Machine. If you want to try the Parallels method, your machine should meet not only the minimum but also the recommended requirements for the game.

FNaF Security Breach Set Up Methods
Methods
Advantage
Disadvantage
Cloud Gaming
– No set-up required – Register and Play
– Access to a Library of over 70 top-rated free Games
– Smooth performance
– Compatible with M1 and Intel Macs
– Monthly Fee
– Requires Decent Internet Connection
– No Free Trial
BootCamp
– Free to use any time
– Windows 10 Environment

– Painful Setup
– Mediocre Performance
– Only Compatible with Intel Macs

Parallels Virtual Machine
– Easy Set-up
– Adequate Performance
– Play almost any PC game
– Windows 11 environment
– Compatible with M1 and Intel Macs
– 14-day free trial
– Yearly Fee
FNaF Security Breach with Cloud Gaming
FNaF Security Breach is now available to play on cloud gaming servers. This assures NO
compatibility issues while playing on your Mac as well as top-notch performance.
Step 1. GetFNaF Security Breach
Before playingFNaF Security Breachmake sure you get the game through the official websites. For the moment only the Steam version is compatible with cloud gaming services such as Boosteriod.
Step 2. AddFNaF Security Breach To Boosteroid Cloud Gaming Library
All you need to do now is register for Boosteroid. This allows you to addFNaF Security Breach to their Cloud Gaming Library. Once uploaded you can seamlessly play the game from your Mac, TV or Mobile Device.

When Registered you will have additional access to more than 70 top-rated games for free. Pricing varies depending on the subscription plan.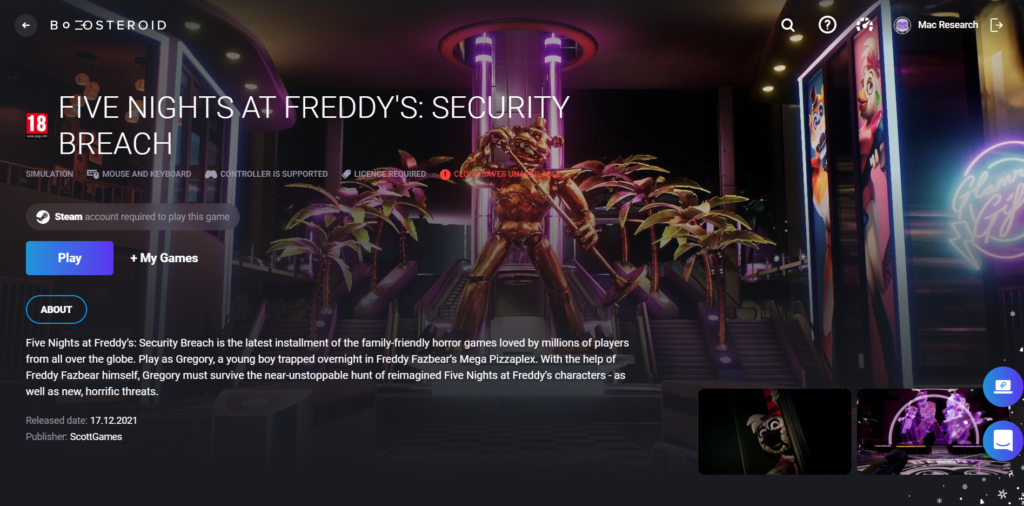 Play FNaF Security Breach on Mac M1
FNaF Security Breach can potentially be played on Mac M1 with the help of virtualization software such as Parallels. Using Parallels, you can create a Windows 11 virtual machine and use it to play FNaF Security Breach on your Mac M1.
Be warned, however, that since this is a workaround method of running this game on a Mac, it may not always work as intended – performance issues may be present, or the game may not even start. There's no way of knowing for sure before you've tried it yourself on your Mac. The good news is that, though Parallels is a paid program, you can make use of its 14-day free trial to see if you can get Five Nights at Freddy's Security Breach running on your Mac through the Parallels virtual machine (VM). To help you with the process of setting up the VM, below, we've shown detailed instructions on exactly what you'd need to do. Once the Parallels virtual machine is installed on your M1 Mac, you can then proceed to downloading and hopefully playing the game.
Start by going to the official site of Parallels, click the Download Free Trial button and then select Download Now.
Once you download the Parallel installation file, start it, and double-click Install Parallels Desktop. Your Mac will probably ask you if you are sure you want to start this app – if it does, click Open.

If you are asked to enter your Admin password, type the password and click OK.
Some data will need to be downloaded now – wait for the process to be over, and then select OK on each of the permission request prompts that appear.
After that, confirm that you want to Continue the Trial and then click the Continue button.

Click Next in the Parallel's Desktop Permissions screen, and then provide your approval for each permission that gets requested by clicking OK.
Next, you will need to create a Microsoft account – go to this page to create an account.
You must now go here and select the Register option in the Meet the Windows Insider Program section.

After that, you must log in with your newly-created Microsoft account and then select Register again.

Next, click the Flight Now button and this will get you enrolled in the Windows Insider program and allow you to download the Windows 11 ARM file.
Click here, select the ARM Insider Preview download button, and download the file onto your Mac. If there isn't a download button on this page, click the on the log-in icon in the top-right to log into your Microsoft account, and then the download button should appear. The ARM file is rather big, so it will be some time before it downloads.


Wait for the Windows installation file to finish downloading, then go to it and double-click it (Parallels must still be open).
Next, when Parallels asks you what you will primarily be using the Windows VM for, click on Games Only and proceed to the next section.
Here, check the Customization option and click Create. This will get you to a Customization screen, in which you must click on Hardware and then go to CPU & Memory.
In the CPU & Memory section, click on Manual, and then change the value shown in Processors and Memory to whatever's the shown maximum. Note, however, that, in order to allocate more than 8 GB of RAM to the VM, you will need to have purchased the paid (Pro) version of Parallels.

Next, close the customization screen, click Create, and wait for the installation to complete. Note that, during the installation, your permission will be required on multiple occasions – provide your confirmation every time this happens.
Once the installation of the VM is over and Windows 11 starts in Parallels, Windows will likely automatically start to update itself. If this doesn't happen, go to Start Menu > Settings > Update & Security > Windows Update and manually install all available updates. After that, restart the VM from the Start Menu.
When Windows 11 starts again, wait as Parallels completes the installation of tools that it needs in order to run smoothly, restart the VM once again, and you should finally be ready for gaming. You will find brief instructions on how to download the Windows version of FNaF Security Breach at the end of this article.
For users of Intel-based Macs: Parallels can also be used on Intel Macs to create a Windows VM (for Windows 10), and the process of doing this is largely the same. The most significant difference is that, rather than downloading the Windows 11 ARM VHDX file, you will instead need to get the Windows 10 ISO file from this Microsoft page.
Play FNaF Security Breach on Mac Intel
To play FNaF Security Breach on Mac, your main two options are to use Boot Camp Assistant or a virtualization tool such as Parallels. Both options would allow you to get Windows and then play the Windows version of FNaF Security Breach on your Mac.
The Parallels variant was already shown above, so if you are interested in giving it a go, follow the shown instructions to install a Windows 10/11 VM on your Mac, and then you should be able to install the game within the VM.
The other option, the one that uses Boot Camp Assistant, is only available on Intel-based Macs, as this tool isn't available for M1 models. The main advantage of the Boot Camp Assistant method is that it won't require you to split your Mac's RAM and CPU between Windows and macOS. However, it will require you to split your Mac's drive between the two operating systems. You will need no less than 250 GB of free storage on your Mac to install Windows 10 using Boot Camp Assistant and to have enough space on the Windows 10 partition to get Five Nights at Freddy's Security Breach installed in it. If your Mac currently doesn't have that much free storage on it, be sure to first free up enough space (if possible) before you proceed.
If you have the needed space and want to give this method a try, follow the instructions we've shown below.
The first thing you must do is download a 64-bit Windows 10 ISO file from this page on the Microsoft site. When you open it, first confirm the Windows 10 edition you will be using and the language you prefer, and then click the download button (64-bit version) to start downloading the file.


After the download is completed, open Spotlight, type Boot Camp Assistant, and open the tool. Alternatively, you can find the Boot Camp Assistant in Applications > Utilities and start it from there.
Click Continue, then click Choose in the Boot Camp Assistant, go to the location where you downloaded the ISO file, and choose it to be used in the installation of Windows 10.

Next, you must give enough space to the Windows 10 partition by dragging the dot between the two partitions to the left. To be able to accommodate both the Windows 10 OS and the FNaF Security Breach game, the Windows partition will need at least 200 GB of space. However, you must also make sure that you leave some free storage for macOS – at least 50 GB.

Once the redistribution of storage space between the partitions is complete, click Install, wait for the initial loading process to finish, then enter your password when prompted, and click OK, which will cause your Mac to restart.
After your Mac starts again, and you get to a Windows screen, you will have to specify your location and the language you prefer and then continue to the next screen.
Next, you will be asked to provide your Windows 10 product key. It's okay if you don't have a key – in such a case, you simply need to click the Skip (or I don't have a product key) option to continue. There is no need to purchase a product key for Windows 10 in order to install it on your Mac for the purposes of gaming. A product key, however, will unlock some extra features for Windows.
If you clicked on Skip/I don't have a product key, you will likely be asked to pick a preferred Windows 10 edition – Home or Pro. It typically doesn't matter what you choose, but we still recommend the Home version, as it is enough for the purposes of gaming, so there's no need to opt for Pro.
After that, all that's left to do is agree to the Terms and Conditions and then click Next to begin the installation process. This process will probably take some time, and it is important to not allow your Mac to shut down or fall asleep before the end of the installation. If you are installing Windows 10 on a MacBook, we strongly recommend keeping the machine plugged in so as to prevent its battery from accidentally running dry.
After the Windows 10 installation finishes, your Mac will restart once more, and it should now boot into Windows. However, before you get to your Windows 10 Desktop, there are a few more steps to cover. First, we suggest taking the time to go through the customization of Windows 10 rather than using the preset default settings.
Next, you will need to create an Admin account for Windows – simply type a username and a password of your choice and continue to the next screen.
After that, you will be given the option to activate the Cortana virtual assistant and customize her settings – this could be left for later, as it really isn't necessary to do it right now, so we suggest skipping it.
Next, you will finally get to your Windows 10 Desktop and you should now see that the Boot Camp Assistant is open on your screen – click Next in it, and follow the prompts to start the installation of Apple drivers for Windows 10. The Boot Camp Assistant will require your permission on multiple occasions during the installation, so click OK when this happens to finish the installation. After that, you must restart your Mac once more.
This final step is Optional, but you are advised to perform it to get the best possible gaming performance in Windows 10 on your Mac. Do the following two update installations, restarting your Mac/MacBook after each:

Go to the Start Menu in the bottom-left, type in it Apple Update, open the item that shows up, and then install any updates that may get found.
Click the Start Menu again, find Settings, and go to Update & Security > Windows Update. If there are any pending updates shown there, install them manually.

Once your Mac restarts after performing the Apple and Windows updates from the last step, you can now proceed to install Steam and download FNaF Security Breach in the Windows 10 partition of your Mac. Instructions on how to do this are included below.
Download and Install FNaF on Mac (Intel/M1)
Now that you have Windows 10/11 on your Mac thanks to Boot Camp Assistant or Parallels, you should be able to install and run the FNaF Security Breach game from within Windows in the following way:
To get the game, you will first need to be registered on Steam, so follow the linked page, and create an account if you don't have one.
After that, if you used the Boot Camp Assistant method, restart your Mac into Windows 10 (if you aren't already in Windows 10). If you used the Parallels option, then start the Parallels virtual machine and perform the next steps from within it.
Next, you need to download the Steam client app for Windows – you can get the app's installation file from this page.

Once you download the .exe installation file for Steam, double-click it, give your Admin permission to open it, and follow the installation prompts to install the Steam client.
Once Steam is installed in Windows on your Mac, start it, and enter your Steam account.
Next, go to the Store section of Steam and search for Five Nights at Freddy's Security Breach in the search bar.

Click on the game when it shows up, scroll down a little, and select Add to Cart.

On the page you get redirected to, select the Purchase for myself option, then choose what payment method you want to use for the purchase, give the required details, and purchase the game.


Once the game is purchased, you need to return to its page in the Steam client, and click on Play Now – this will open a prompt to download and install the game. Follow the on-screen instructions to perform the download and installation process. After the game is installed, you can start it from its icon that should have been created on your Windows Desktop (unless you've opted out of this during the installation). Alternatively, you can go to the game's directory and start it from there, or you can also launch it from its page in the Steam client.
Martina Nikolova
Martina likes to get into nitty-gritty of tomorrow's tech, from product design across to security based solutions. A long time mac user and developer, she has the expertise and strives to give new insight