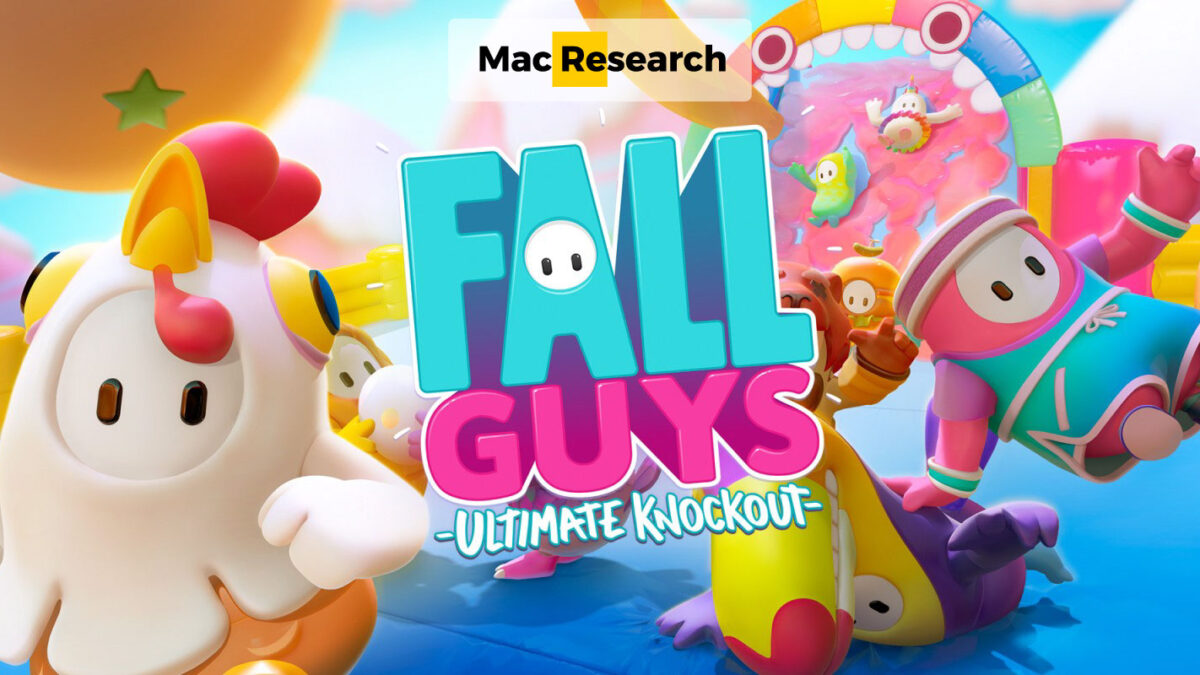 Fall Guys (Mac)
Martina Nikolova, 5 months ago
2
9 min

read
Methods
Specifics
Who is it for?
Cloud Gaming
(click a link to go to the respective guide)
1. Play immediately. 2. Good performance, but only with good internet. 3. Multiple plans and platforms to choose from. 4. Can be run on browsers and all android devices.
For those who want smooth performance with the ability to casually play all games with the highest visual quality in a matter of minutes. Has the option to play on multiple devices (not simultaneously).
BootCamp
1. It's free. 2. Unstable performance (drops and hitches). 3. Compatible only with Intel Macs. 4. Installs a Windows 10 layer. 5. Lots of setup needed.
For those who don't have a good internet connection or don't like cloud gaming and don't mind sacrificing visual fidelity and performance to get a native experience.

Parallels Virtual Machine
1. Easy setup. 2. Moderately good performance with high compatibility. 3. Runs on Windows 11. 4. Requires a yearly fee, but has 14-day free trial to test it out.
For those willing to let their mac run hot in order to get adequate performance in a native experience. Overall better performance, compatibility and results than Bootcamp, but for a fee (if you don't use the free trial or it has run its course).
Fall Guys on Mac
Fall Guys is a Battle Royale video game developed by Mediatonic. In this massively multiplayer party game, up to 60 players compete in a free-for-all struggle through round after round of growing challenges until only one player is left as a winner.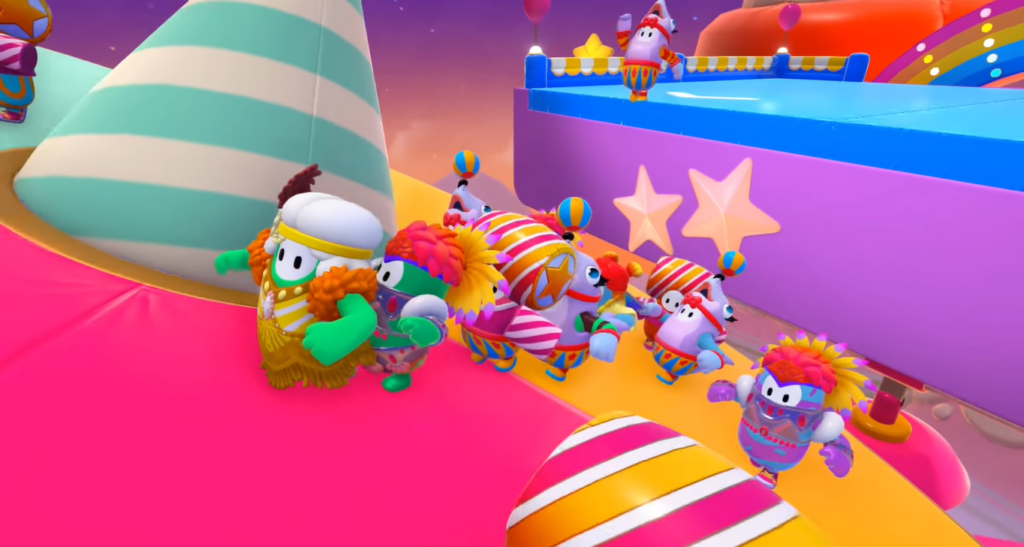 The competition for first place is the main focus of Fall Guys. There are up to five rounds in which the 60 players compete in order to become a winner, although the emphasis here is on racing to the finish line rather than punching opponents in the face. Each round, which includes obstacle courses, team-based matches, and survival tests, whittles down the field of competitors until one final challenge determines who will be victorious in the end. Even in the face of defeat, the developer's team has managed to create something that is joyful, spectacular, and a genuine source of amusement for everyone.
The gameplay
The Fall Guys concept can be summarized as follows: you'll have a chance to win the crown if you can guide your very own personalized jelly bean avatar through up to five rounds of inflatable chaotic trace.
Each match is presented as an episode and lasts no more than 15 minutes at the most, which adds to the feeling of being in a television show.
The controls are straightforward: you can cross obstacles, avoid enemies and try to stay in the game by sprinting, jumping, diving, and grasping with your hands and feet as your only tools. If you are unfortunate enough to be eliminated, you have the option of sitting back and watching the remaining players compete for the first place, while high-tempo music is being poured into your ears as a background.
The obstacle course-style races are where most of the fun is, especially when the competition is tight and beans are bouncing off one another and lunging wildly for the finish line in an attempt to make the cut.
The fact that there is always more than one road to choose from, with some presenting a high risk-reward option, is beneficial since it never feels like you're fully out of the race, even if you're at or near the tail end of the pack.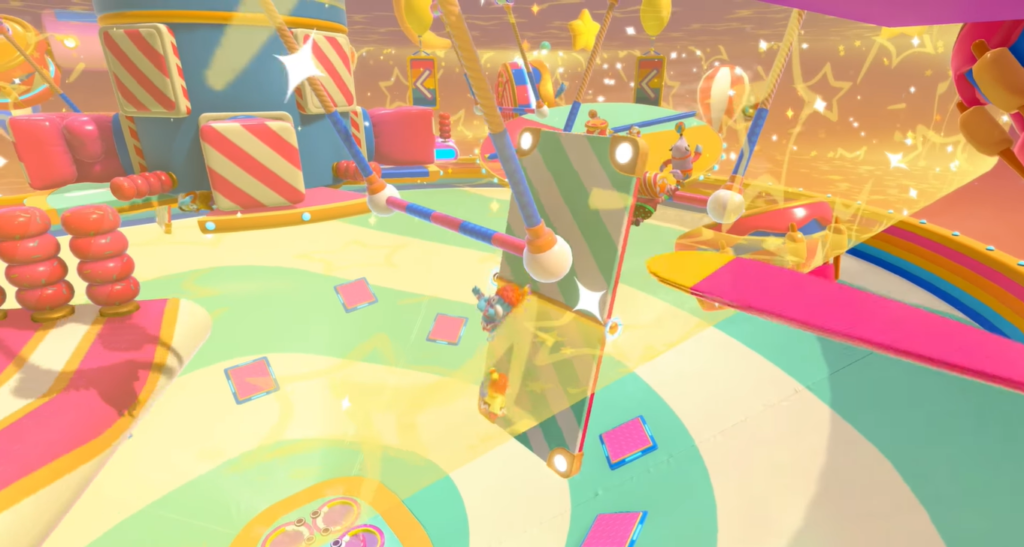 Slowly rising slime forces you to fight against the clock, your opponents, and a mountain of obstacles. Witch each round, Fall Guys' original pool of 60 participants is reduced by around a quarter to half on average until only a handful of players manage to remain till the last round.
Having said that, there are no offline modes available in Fall Guys, therefore, mastery in the game can be gained solely after a significant amount of online defeats. What's more, there is no practice area available in order to gain a handle on the dozen activities and challenges. More importantly, there is no opportunity for local co-operation.
Play with friends
Most of the enjoyment you may get out of Fall Guys is when you play with other people. You can only enter one event at a time with a maximum of four other people in your party, which is the only way to ensure that you will all be in the same tournament.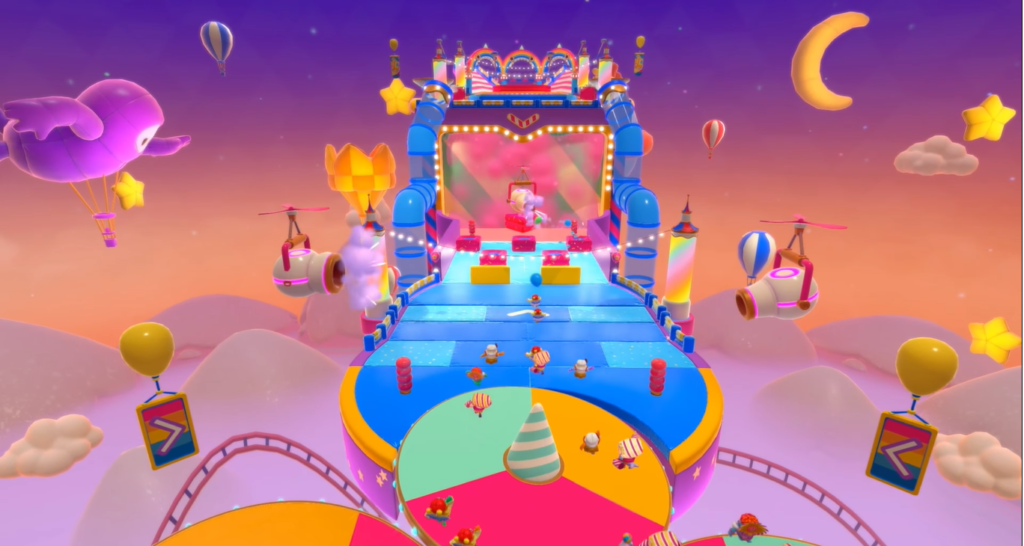 Then there are team competitions. These team competitions might be the highlight of an episode, while having a good time with your friends you all work together to attain your objectives together. Speaking of which, you will be required to participate in team-based rounds on occasion, which will require you to collaborate with random players.
Create a unique look for your character
Fall Guys allows you to earn in-game currency by participating in events. These are then utilized to obtain cosmetic accessories for your character, which will serve to distinguish you from the rest of the pack visually. Alternatively, you may purchase this currency with actual money. The visual upgrades are entirely decorative in nature and do not provide any form of pay-to-win functionality, nor do they contain any sort of loot box or 'surprise mechanic'. Also, from experience, earning in-game currency is really simple, and you may make a substantial amount simply by participating in the game.
Even the music in the soundtrack is a pleasure to listen to. You'll find yourself humming along to these tunes as soon as an event begins or even when you're not playing because they're high-tempo music that can get you motivated. When combined with the vibrant visuals, this all helps to create a joyful experience, as Fall Guys is truly a game that is fully focused on pure enjoyment.
Can you play Fall Guys on Mac?
Yes, you can play Fall Guys on Mac, despite the absence of a native mac version, there are workarounds.
Despite the fact that it can also be frustrating at times, Fall Guys is a constant thrill thanks to a range of interesting minigames and a play environment that consists of every color in the rainbow.
Currently, there is no compatible version of Fall Guys available for the Mac operating system at the time of writing. The game has been published exclusively for the PC and PlayStation 4 platforms by Mediatonic and Devolver Digital. However, if you want to play this game on your Mac, we recommend that you follow the steps in the next paragraphs.
How to play Fall Guys on Mac
To play Fall Guys on Mac, the easiest option and the one that requires the least amount of setting up is to use Boosteroid – a cloud-gaming platform. The other option to play Fall Guys on Mac is to first install Windows on the computer.
We recommend cloud gaming because it will let you play the game without needing to download it, even if your Mac doesn't meet the game's minimum system requirements. However, the Mac will still need to meet the system requirements for Boosteroid (which are very low) and you will need an above-average connection to the Internet to play without lag.
Before you attempt to play Fall Guys through Boosteroid or through any of the other methods we will show you below, first, make sure to purchase the game.
Play Fall Guys with Cloud Gaming
Fall Guys is now available to play on cloud gaming servers. This assures NO
compatibility issues while playing on your Mac as well as top-notch performance.
Step 1. Get Fall Guys
Before playing Fall Guys make sure you get the game through the official websites. At the moment the Steam and the Epic Store version is compatible with cloud gaming services such as Boosteriod and Geforce.
Update: Limited time offer now available at CDkeys.com, – 50% Discount Fall Guys for just $13.09 (Steam Launcher)
Alternatively, you can instead get the Epic Store version of Fall Guys which is, at the time of writing, free of charge.
Step 2. Register and Add Fall Guys To Boosteroid Cloud Gaming Library
All you need to do now is register for Boosteroid. This allows you to add Fall Guys to their Cloud Gaming Library. Once uploaded you can seamlessly play the game from your Mac, TV, or Mobile Device.

When Registered you will have additional access to more than 70 top-rated games for free. Pricing varies depending on the subscription plan.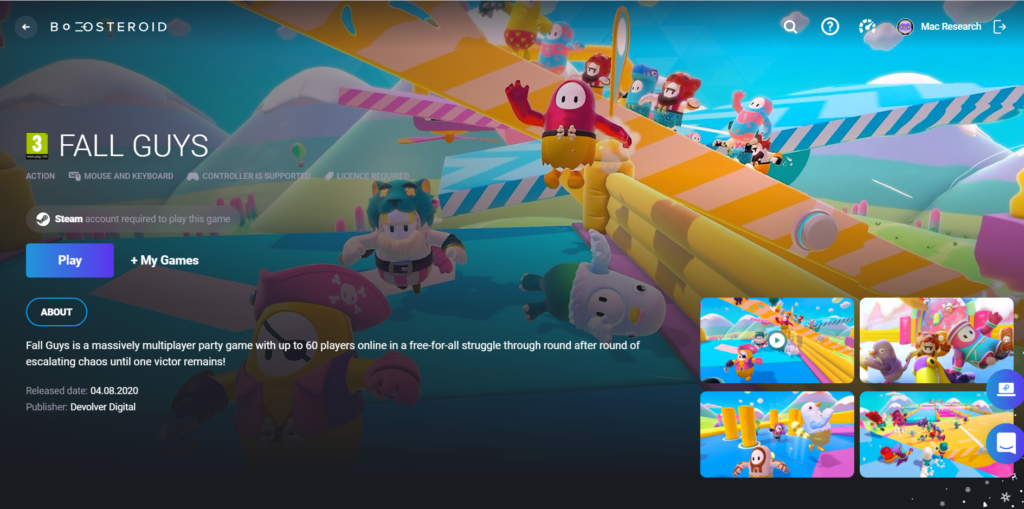 Play Fall Guys through Boosteroid
Get Google Chrome or the Opera browser for the best Boosteroid experience. The service may not work as well from other browsers.
Visit Boosteroid, sign up with your email, and log in to your account.

Go to the Boosteroid page of Fall Guys and click on Play.


When a Subscribe prompt window appears, click Subscribe, choose the plan that you prefer, and subscribe to it by entering your payment details.

Once you have an active Boosteroid subscription to your profile, return to the Fall Guys page on Boosteroid, and start the game.
After the game loads, you will be asked to log in with your Steam account – do that, and you can begin playing Fall Guys directly from your browser.
Check Our Latest List Of The Best Free Mac Games in 2023
How to download Fall Guys on Mac
To download Fall Guys on Mac, it's best to use Parallels to create a Windows 10/11 virtual machine and then download the game on the virtual machine. Alternatively, you can use Boot Camp to install Windows and download Fall Guys on your Mac.
Parallels is a virtualization program that has specific optimization settings for gaming, and it also receives frequent updates (the same cannot be said about Boot Camp), which is why it is the recommended option. Here is a short summary of how to use both Windows installation methods, along with links to our more detailed and in-depth guides for each of them.
Play Fall Guys using Parallels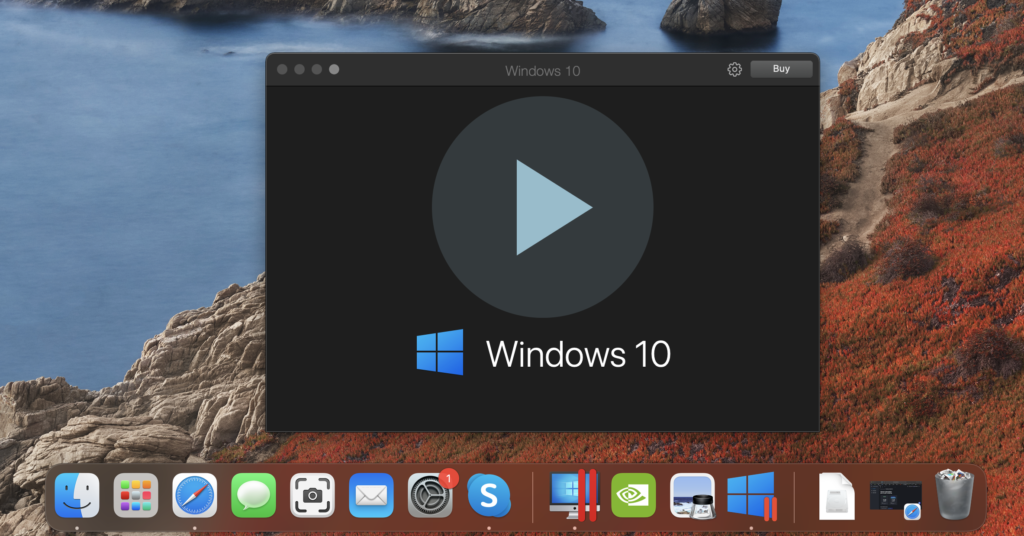 Download the Parallels app from its site and install it.
Get a Windows 10 ISO file, for Intel Macs, or a Windows 11 VHDX file for M1 Macs.
Use Parallels together with the file from the previous step to create a Windows 10/11 virtual machine (VM).
Create a new account with your email, install any missing updates in the VM, and download Fall Guys from Steam.
Fall Guys with Boot Camp Assistant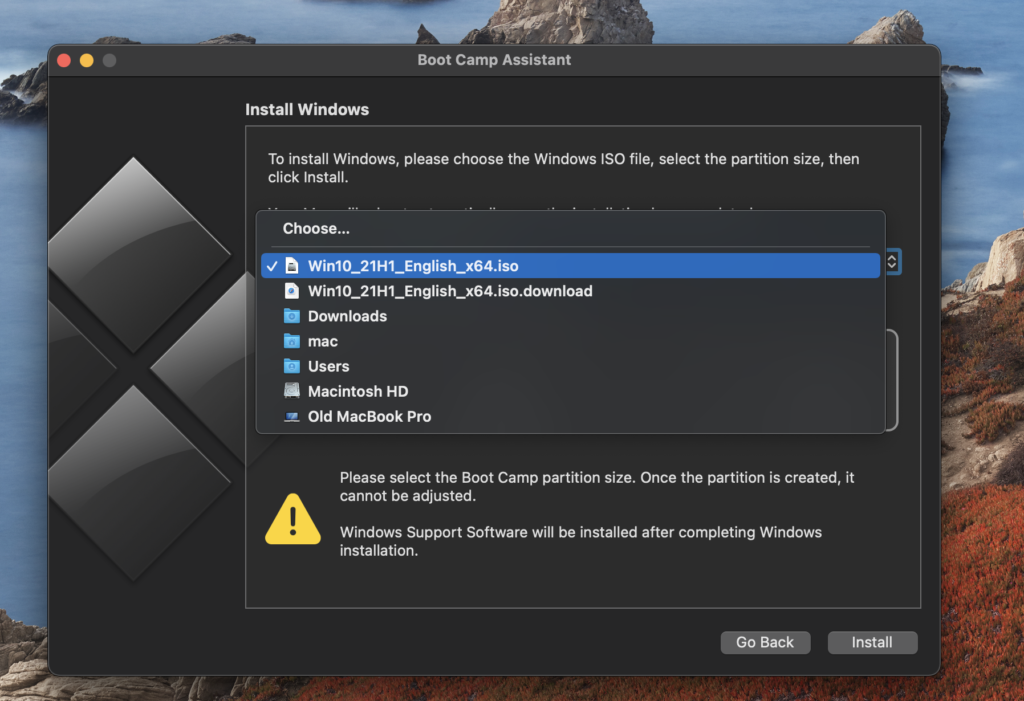 Acquire a Windows 10 installation (ISO) file from Microsoft's site.
Start and prepare the Boot Camp Assistant by selecting in it the ISO file and making any necessary changes to the storage space distribution. After that, click Install.
Proceed through the prompts, agree to the Terms and Conditions, and begin the installation.
Once Windows 10 is installed, customize its settings, install Apple updates for Windows, and go to Steam to download the game.
Fall Guys on Mac M1
To play Fall Guys on Mac M1, the quickest option is to play the game through Boosteroid – we recommend it if you have a good Internet connection. The other option for playing Fall Guys on Mac M1 is to first create a Parallels virtual machine.
Boosteroid is the more convenient option to use for playing Fall Guys on M1 Macs, but if your Internet connection isn't stable or fast enough, you may get a lot of lag and bad latency, especially since this is a multiplayer game. If you don't have good enough Internet, you may get better gameplay performance by first creating a Parallels virtual machine on your Mac M1 and then downloading and playing the game through the virtual machine.
Martina Nikolova
Martina likes to get into nitty-gritty of tomorrow's tech, from product design across to security based solutions. A long time mac user and developer, she has the expertise and strives to give new insight