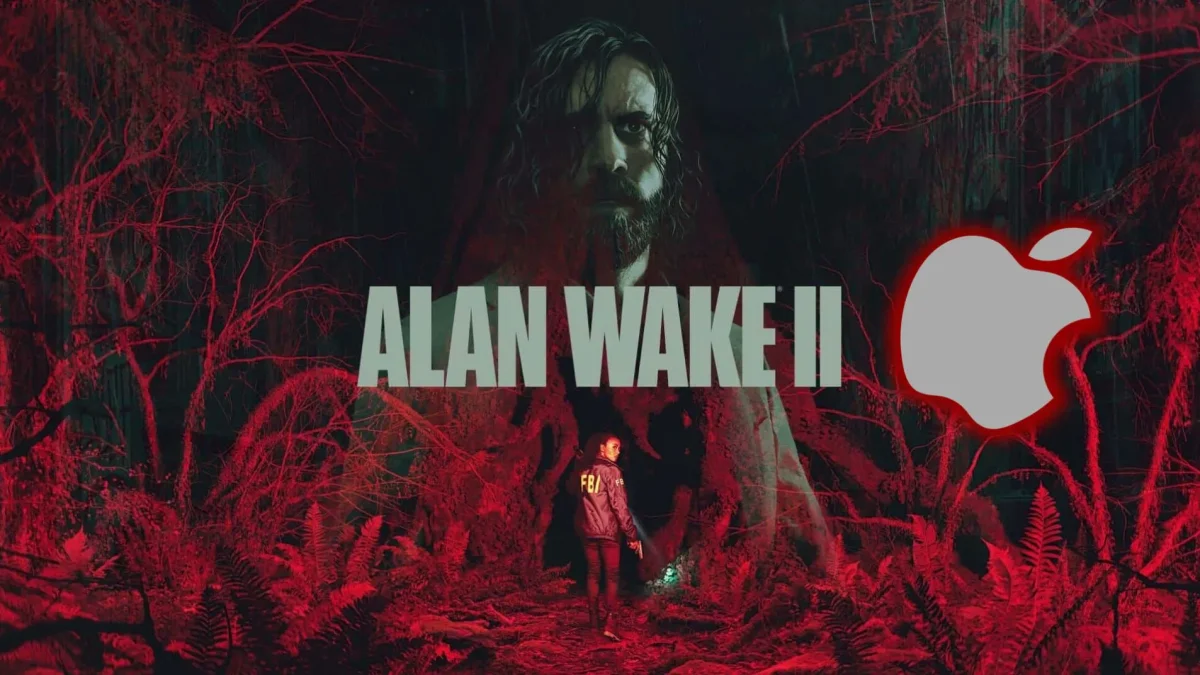 It didn't surprise us in the slightest to learn that Alan Wake 2 won't be coming to Mac, but as fans of the first game, we were determined to find a way to play the sequel on our Macs. We looked at many different potential options, most of which didn't work. Eventually, we did find two ways that worked for us – Boosteroid and the GeForce Now cloud gaming services, and now we wish to tell you more about our experience of playing Alan Wake 2 with them.
If you want to directly try out the methods for yourself, you can find more details about the services and how to use them right below. If you first prefer to read about our experience with the platform, you can check it further down this page.
Play Alan with Cloud Gaming
Boosteroid Cloud Gaming (Recommended method)

Features: Constant 1080p/60 FPS; Stable connection; Low bandwidth requirements (15 MBPS); Huge gaming library with all the latest AAA titles.

Pros

Cheapest cloud-gaming option
Compatible with all macs
Hardware specs don't matter
You can play in your browser in about 15 minutes

Cons

Requires a good internet connection
You need to look if the game is supported with your chosen vendor

Extras: Here's our review of Boosteroid with a comparison to GeForce Now; also check out our Boosteroid Games List.

Boosteroid is our preferred method for playing games on your Mac, especially if you're not super competitive. It's easy to use and lets you enjoy your favorite games on your Apple computer with great graphics and smooth performance, which makes gaming fun without the need for complicated setup.

Use the "Play with Boosteroid" button and go to the Boosteroid website. There, you need to create a new account or log in using your Google Account credentials.
Go at the top-right corner of the screen and click on "My account". To begin using Boosteroid, you need to activate a plan of your choice under the "My subscription" tab.
Look for the game in the search tab on top to see which vendors Boosteroid supports. You need to own the game before you proceed with this method. Here are links to the game for different vendors: Epic Games Store;
GeForce Now

Pros

Access to a vast library of games.
High-quality graphics and performance.
No need for powerful local hardware.
Cross-platform support.

Cons

Requires a stable and fast internet connection.
Limited to supported games.
Potential latency issues in online games.
Requires a subscription for some features.

GeForce Now is a cloud gaming service that offers an accessible way to enjoy the game on your Mac.

Note: You need to own the game before you proceed with this method. Here are links to the game for different vendors: Epic Games Store;

If you're gaming on a Mac, GeForce Now can be a lifesaver. It opens up a whole library of games that you might not have been able to play otherwise. The best part? You don't need a supercharged Mac because all the heavy lifting is done on NVIDIA's servers. That means you can enjoy high-quality graphics and smooth performance, even on older Macs. Plus, it's cross-platform, so you can switch between your Mac, PC, or even mobile device seamlessly while keeping your progress.

Now, here's the flip side. GeForce Now is pretty reliant on a solid internet connection. If your connection is spotty or slow, you might run into lag or visual hiccups. Another thing to keep in mind is that not all games are supported, so your favorite title might not be available. And while the basic service is free, some features, like priority access and extended play sessions, require a subscription fee. So, while GeForce Now is fantastic for many, it's essential to have a reliable internet connection and check if your favorite games are on the platform.
Testing Alan Wake 2 on Mac
As we said, after extensive research and testing attempts to play Alan Wake 2 on our Macs, we came to the conclusion that there aren't any viable non-cloud methods. This led us to look for cloud gaming platforms that feature the game in their libraries and the platforms at the moment seems to be Boosteroid and GeForce Now.
Alan Wake 2 on Mac with Boosteroid
We've tested many other games with Boosteroid, so we had a general idea what to expect, yet Alan Wake 2 is indeed a very demanding game, so we weren't sure if the platforms' servers will grant us the desired performance. However, when we launched the game, we enjoyed a smooth experience with full HD resolution, and we were pleasantly surprised by how fantastic the game looked on the platform when we set up all the graphical settings to High. In terms of FPS, Boosteroid's servers handled our high graphical settings with ease, consistently hitting the target FPS. We did experience some stuttering, primarily due to intermittent internet lag spikes, but these occasional hiccups were infrequent, and they didn't affect the visual quality significantly. Our internet connection, operating on a wireless setup, was sufficient to meet Boosteroid's bandwidth requirements and provided an overall enjoyable experience while playing Alan Wake 2 on Mac.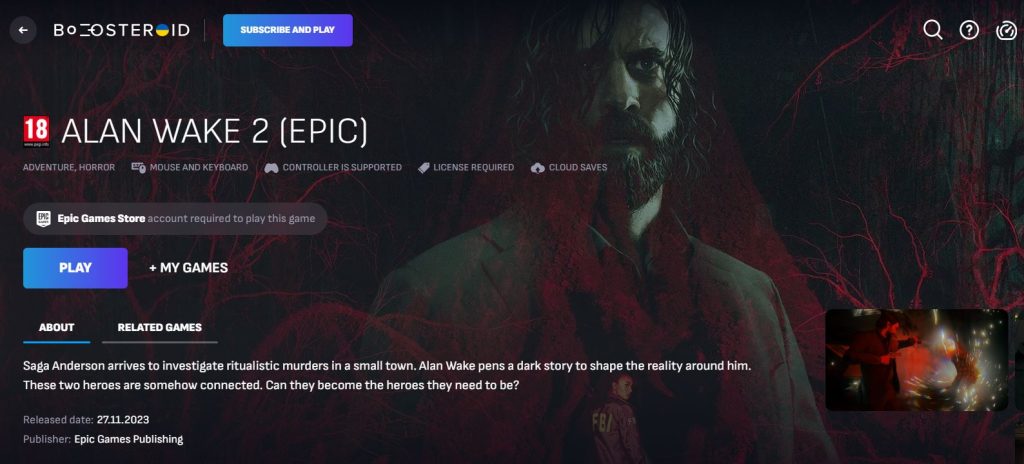 Alan Wake 2 with GeForce Now Priority
The plan we are currently using for GFN is the standard one (Priority), which provides 1080p and 60 FPS gameplay. Admittedly, for a visually impressive game such as Alan Wake 2, the 1080p limitation leaves out some of the splendor, but the game still looked fantastic when we started it in GeForce Now. Also, we set all the other graphical settings to High, which really added to the game's visual aspect.
But what about the FPS rate? Well, apparently, GFN's servers weren't particularly bothered by us running everything at high, and the FPS numbers were consistently hitting our plan's limit. Some occasional stuttering did occur, but that was due to lag spikes in our Internet. The lag also led to some decrease in the visual quality but luckily, this only happened a couple of times and didn't last long. The internet we tested with is a wireless connection with a speed of 25 Mbps and around 40 ms latency, which barely meets the GeForce Now requirements, yet, overall, we had a pretty good time while playing Alan Wake 2.
Alan Wake 2 with GeForce Now Ultimate
Next, we checked Reddit, and the comments there made us want to try out the GeForce Now Ultimate plan with this particular game. So, we got our Ultimate subscription, plugged in an Ethernet cable to our Mac, which gave us around 30 ms latency and 50 Mbps, and started the game. Immediately, it became apparent that it's totally worth it. The Ultimate plan delivered on its promise for 4K resolution at 60 FPS and the game looked magnificent without any notable performance hiccups.
In our opinion, if your Internet connection is up for the task, and you have a 4K Mac-compatible screen, it's totally worth it to get the GFN Ultimate for a 1-month to play through the Alan Wake 2 on your Mac. And if you don't have the screen for it or your Internet isn't that great, the GFN Priority plan is still a solid option for playing Alan Wake 2 on an Apple machine.
What about other methods to play Alan Wake 2 on Mac?
The main problem with playing Alan Wake 2 on a Mac is that this is one of the most demanding games of 2023, so most of the typical methods to run Windows games on Apple machines aren't adequate here. Cloud gaming obviously solves this by simply streaming the game to you from a Windows server, but what about downloading the game locally and running it either through methods such as Apple's Game Porting Toolkit, CrossOver, Parallels, or Boosteroid.
First we looked at the Game Porting Toolkit and though our M1 Max MacBook with 32 gigs of memory should technically meet the hardware requirements of the game, Alan Wake 2 also requires AVX support, which isn't present in Apple Silicon chips. In other words, even if GPTK can translate the game's code to something that macOS can run, the AVX requirement makes it impossible to play Alan Wake in this way.
CrossOver and Parallels are also not usable here. In addition to the aforementioned AVX hurdle, another problem with these two methods is that they don't support DirectX 12, which is needed to run Alan Wake 2.
But what about Intel-based Macs then? They can get Windows installed on them with Boot Camp, resolving all compatibility problems, and their Intel CPUs have AVX support. Well, the issue here is that there's pretty much no Intel-based Mac (save for maybe really high-end Mac Pro and iMac models) that can meet the high demands of Alan Wake 2. We certainly don't have such an Intel Mac, so we have no way of testing this theory.
Final Notes
There are a lot of obstacles on the path of playing Alan Wake 2 on a Mac machine, yet thanks to cloud gaming, it is not impossible. In fact, Boosteroid and GeForce Now provide Apple users with a very good option for playing this game and since Alan Wake 2 is a single-player experience that you can complete in about a week or two, you don't need to stay committed to the cloud service for any extended period of time to play this game and get the most out of it.
Martina Nikolova
Martina likes to get into nitty-gritty of tomorrow's tech, from product design across to security based solutions. A long time mac user and developer, she has the expertise and strives to give new insight