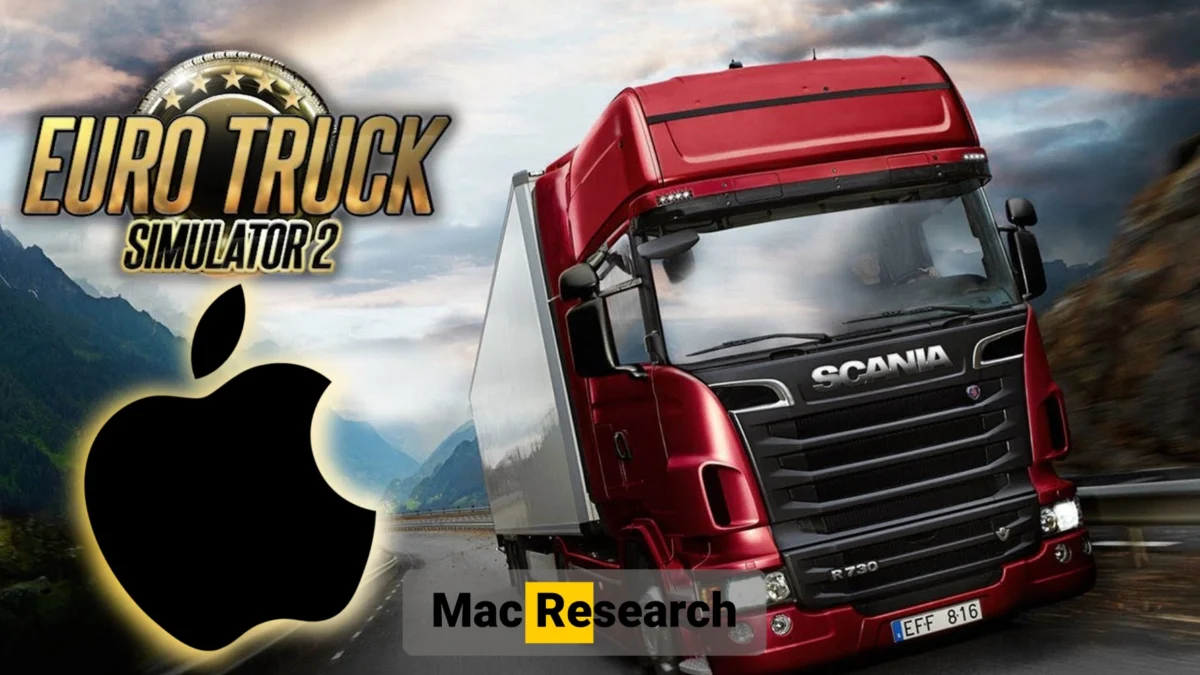 Euro Truck Simulator 2 is undeniably one of the best simulator games out there, and we are happy to say that it also has a native macOS version that you can easily get from Steam and play locally on your MacBook or desktop Mac. Additionally, the game can also be played without even downloading it – this can be done with the Boosteroid and GeForce Now cloud gaming services.
How to play Euro Truck Simulator 2 on Mac: All viable methods
To provide our readers with the most objective perspective of the Euro Truck Simulator 2 experience on a Mac, we tried the three methods, and now we are ready to talk about each of them. However, if you don't feel like reading through what we have to say about the methods and prefer to try them for yourself, you can find them right below:
Natively with Steam

Playing Euro Truck Simulator 2 on a MacBook Air through Steam is an easy process. Follow these steps to get started:

Acquire Euro Truck Simulator 2: Purchase the game through its official page on Steam. Alternatively, you might find a discount for the Steam version of the game on CDKeys.
Steam Setup: First, download and install the Steam client on your Mac. Once installed, log into your Steam account and go to your library. Locate Euro Truck Simulator 2, click on 'Install', select your preferred installation location, and wait for the download to complete.
Launch Euro Truck Simulator 2: After the game has been downloaded, simply click 'Play' in the Steam client to start your trucking adventure across Europe.

Remember, it's important to ensure your Mac meets the minimum system requirements for Euro Truck Simulator 2. You can find these requirements on the game's Steam store page. This will help guarantee a smooth and enjoyable gaming experience.
Boosteroid Cloud Gaming

Features: Constant 1080p/60 FPS; Stable connection; Low bandwidth requirements (15 MBPS); Huge gaming library with all the latest AAA titles.

Pros

Cheapest cloud-gaming option
Compatible with all macs
Hardware specs don't matter
You can play in your browser in about 15 minutes

Cons

Requires a good internet connection
You need to look if the game is supported with your chosen vendor

Extras: Here's our review of Boosteroid with a comparison to GeForce Now; also check out our Boosteroid Games List.

Boosteroid comes highly recommended for Mac users who aren't necessarily competitive gamers but still seek a quality gaming experience. It's the go-to choice if you're looking to enjoy Euro Truck Simulator 2 on your Apple device without any complex setup, offering an excellent balance of visuals and performance.

Access the game via Boosteroid by clicking the "Play with Boosteroid" button, which will redirect you to the Boosteroid website.
There, create a new account or log in with your Google Account credentials.
Navigate to "My account" at the top-right corner of the screen and activate a subscription plan of your choice under the "My subscription" tab.
Use the search tab to check which vendors are supported by Boosteroid for Euro Truck Simulator 2. Remember, you must own the game to use this service. You can find the game on Steam; discounts may be available on Cdkeys.com.
GeForce Now

Pros

Access to a vast library of games.
High-quality graphics and performance.
No need for powerful local hardware.
Cross-platform support.

Cons

Requires a stable and fast internet connection.
Limited to supported games.
Potential latency issues in online games.
Requires a subscription for some features.

GeForce Now is a versatile cloud gaming service that enhances the gaming possibilities on your Mac, offering access to a broad range of games.

Note: You need to own the game before you proceed with this method. Here are links to the game for different vendors: Steam; check for a discount on Cdkeys.com
Still here? If you are not already playing Euro Truck Simulator 2 on your Mac, then you probably first want to learn about what to expect with each of the methods, so without further ado, let's get down to it.
Playing the Euro Truck Simulator 2 macOS version: Performance review
Euro Truck Simulator is quite an old game, released all the way back in 2012, so its system requirements are low and most Macs released in the past 6 or 7 years should be able to run it without any issue. Of course, it's worth noting that older Intel-based MacBooks are likely to provide mediocre or poor performance, since they don't have very good GPUs. On the other hand, all Apple Silicon machines should provide a decent performance with Euro Truck Simulator 2, including lower-end M1 MacBook Air models.
When testing the native Euro Truck Simulator 2 version, we downloaded the game on a 2020 M1 MacBook Air with 8 GB of unified memory. This is one of the weakest Apple Silicon machines, but we wanted to see if the game would still run with acceptable performance.
It turned out that our MacBook Air handled ETS2 without any problems, letting us play the game with an FPS rate around 40 that only dropped to 30 in crowded areas, mostly when we were driving within a city. This was played with medium settings, so it's not even the maximum performance we can squeeze out of our MacBook.
Later, we also tried opting for the low settings, and then we would get an average of around 50 FPS in the countryside and around 40 in the more crowded city areas. Of course, neither of these FPS rates are anything amazing, but for a relaxed and laid-back game such as Euro Truck Simulator 2, we think both are perfectly acceptable.
And if you play the game on a more powerful Apple Silicon machine, such as a M1 MacBook Pro, then the performance will be significantly better and the game will be playable even at high settings. Also, worth noting is that we didn't have any overheating issues despite the fact that M1 MacBook Air models are fanless laptops.
One final thing to mention is that, while any Apple Silicon machine should run the game with no issues, the same won't be true for Intel-based MacBooks. While even an older 2016 or 2017 machine should be able to run the game with a decent performance at low settings, there will be significant overheating, since Intel-based MacBooks heat up really easily.
Case in point, we tested the game on a 2016 MacBook Pro with 8 GB memory and while we did get an average of 35 FPS with the low settings, playing ETS2 on it caused the machine to generate a lot of heat and make a lot of noise, which made the entire experience less than ideal. Overheating also shortens the lifespan of Intel Macs, so it's another thing worth considering.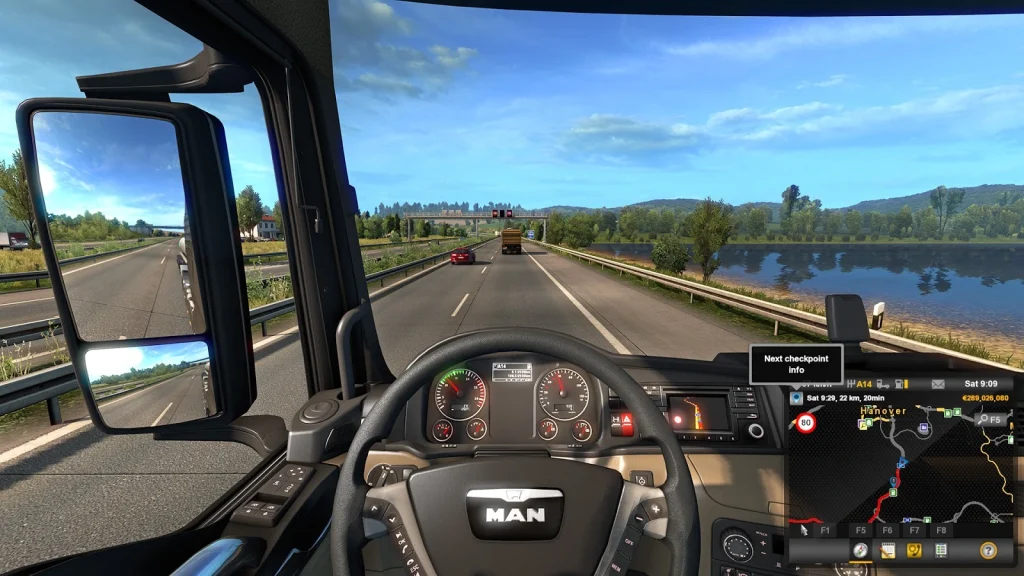 Testing Euro Truck Simulator 2 on Mac with cloud gaming – is it worth it?
Cloud gaming services will stream the game to you, letting you play Euro Truck Simulator 2 without needing to have it installed locally. This is great for games that don't have a native macOS version or ones that are too demanding, but is it really worth it for an older game that's already available for Mac?
To answer that question, we tested the performance and overall experience we'd have with Euro Truck Simulator 2 on our MacBook Air, while streaming the game with two cloud gaming services that have the game – Boosteroid and GeForce Now.
ETS2 on Mac with Boosteroid
Boosteroid has emerged as a formidable cloud gaming platform, particularly for Mac users, offering an accessible way to play a range of games, including Euro Truck Simulator 2.
Streaming ETS2 on Boosteroid, we experienced similar performance levels to what we saw with other games we've tested in the past with this cloud service. Our current subscription enabled us to enjoy the game in 1080p resolution at 60 FPS, which proved more than sufficient for the immersive gameplay of Euro Truck Simulator 2. The game's rich landscapes and intricate designs were well-preserved at this resolution. But to consistently stream with high image quality and a stable FPS rate, our Internet needed to meet the requirements of the service.
Fortunately, Boosteroid's low internet requirement (15 Mbps or more) is a significant advantage, particularly for users with limited connectivity. Our tests with a 25 Mbps connection, though not ideal, resulted in a stable and smooth gaming experience. Occasional lag spikes did occur, causing brief dips in image quality and slight stuttering, but these were momentary and didn't detract from the overall experience.
ETS2 on Mac with GeForce Now
Switching to GeForce Now, the experience with Euro Truck Simulator 2 was notably similar to that on Boosteroid. The ease of use and streaming quality of GeForce Now were comparable, though it does have a slightly higher internet requirement. For a stable stream at 1080p and 60 FPS, a connection of at least 25 Mbps is recommended.
Our gameplay experience with Euro Truck Simulator 2 on GeForce Now mirrored our experience with Boosteroid. The game ran smoothly for the most part, though there were occasional increases in lag which momentarily affected the image quality and FPS. Despite these minor issues, GeForce Now provided a reliable stream, ensuring an enjoyable gaming experience even with less-than-ideal internet connections.
Comparing Boosteroid and GeForce Now for playing Euro Truck Simulator 2 on our MacBook Air, both platforms stand out as solid options. While Boosteroid might have an edge in terms of game selection and pricing, GeForce Now's wider server network could offer better streaming quality in different parts of the world. Ultimately, both platforms provide a viable solution for enjoying Euro Truck Simulator 2 on a Mac, with each having its unique strengths and offerings.
Is there a reason to choose cloud gaming for Euro Truck Simulator 2 on Mac?
And now to answer whether there's any point in choosing cloud gaming over the fully-functioning Euro Truck Simulator 2 Mac version. Even though the cloud gaming experience is pretty good, in our opinion, if you are an Apple Silicon Mac user, most of the time you'll be better off using the native version of the game, since it runs well on all M1 and M2 machines. However, if you are short on storage space or want to be able to play other games on your Mac, including ones that aren't supported for macOS, then Boosteroid and GeForce Now become viable options.
As for anyone with an Intel-based MacBook, although you can still probably play the native EST2 version, it's probably going to cause your machine to overheat, which is why choosing cloud gaming might be the better option here. Streaming Euro Truck Simulator 2 with Boosteroid or GeForce Now shouldn't cause any overheating problems, so it's worth to at least give a try to either (or both) options if you are on an Intel Mac.
Martina Nikolova
Martina likes to get into nitty-gritty of tomorrow's tech, from product design across to security based solutions. A long time mac user and developer, she has the expertise and strives to give new insight