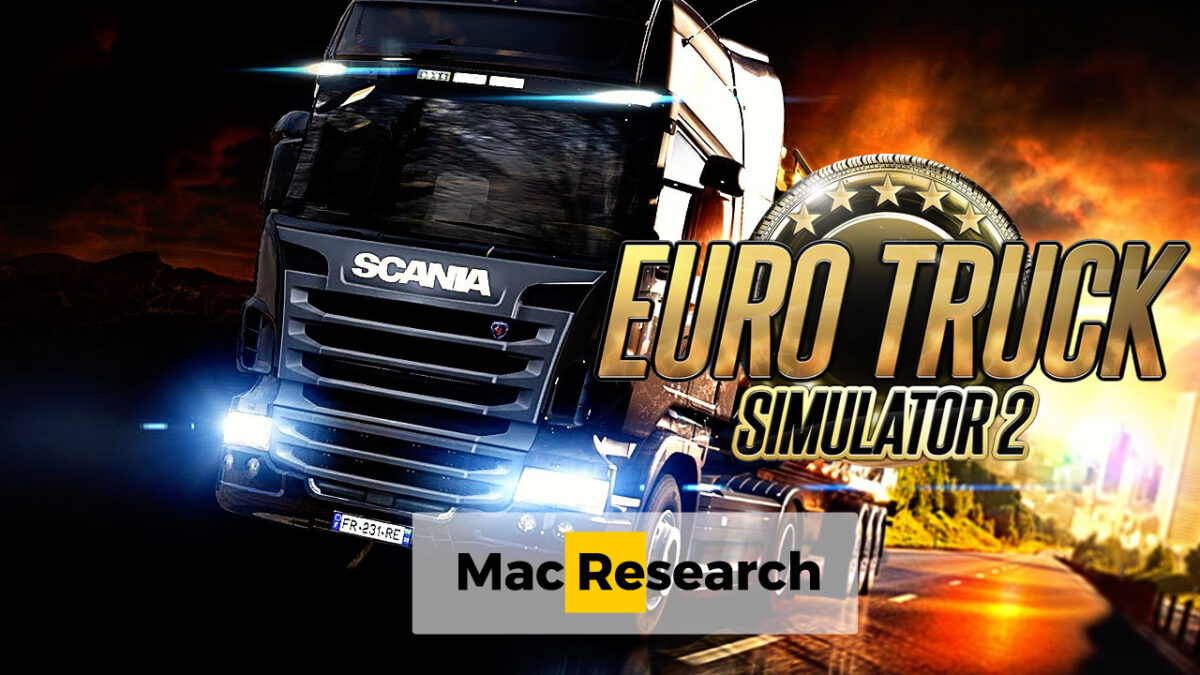 About Euro Truck Simulator 2 on Mac
Euro Truck Simulator 2 is a truck simulator game developed by SCS Software. This is the second video game in the Truck Simulator series and a direct sequel to the 2008 game Euro Truck Simulator. Euro Truck Simulator 2 has versions for Microsoft Windows, Linux, and macOS and was first released in 2012 as open development.
There are several different types of trucks that a player can virtually drive in this game to transport goods across Europe, and then deliver them to their final destination. More trucks and depots can be purchased and drivers can be hired to work for the player as he levels up in the game.
Gameplay
Euro Truck Simulator 2 players can set up their headquarters in any of the game's cities. If you're just starting out, you'll only be able to take on so-called "Quick jobs" which are basically delivery jobs where the player is paid to use a delivery company's truck with all associated costs (fuel, tolls, ferry rides, etc.) paid.
It's possible for the player to buy a truck, have a garage, and start generating more money by driving their own truck instead of working as a driver for others, as they earn money or take out bank loans.
Truck upgrades and purchases of more trucks, hiring skilled NPC drivers for deliveries, and enlarging the home garage to accommodate more trucks may all be done using money earned in the game. The player's fleet of trucks and drivers grows as he gains more experience, allowing him to develop his business across Europe.
Trailers, just like the trucks, can be extensively customized by players as they advance in the game and accumulate money. Cargo can be picked up and delivered using trailers owned by the players. In the same way as trucks, trailers can be used to increase the income of the player's company.
The realistic graphics and the wide range of customizability choices for its licensed trucks have helped the ETS2 game to quickly become the most popular truck driving simulator available. The game's setting allows players to enjoy the thrill of being truck drivers and see precisely re-created landmarks, plus the ability to build and manage their own transportation company.
The player's endurance, talent, and speed are all being put to the test as they virtually visit dozens of places around Europe, from the UK to Belgium to Germany to Italy.
After each delivery, you get experience points in this game. In addition, every time you complete a level, you get a skill point. Using skill points, you can have access to special ADR deliveries, long-distance deliveries, fragile cargo loads, urgent deliveries, and even eco-driving. With this advancement comes the chance for higher-paying positions.
Features:
Cargoes of all shapes and sizes can be transported throughout 60 European locations.
When you fulfill your cargo deliveries, your business grows.
Hire drivers, buy garages and trucks and set up your own trucking company that you can run for maximum profit.
Choose from a wide spectrum of truck tuning, from performance to visual changes that make your trucks stand out with a variety of add-ons like lights, horns, bars, and even smoke exhausts.
Hundreds of landmarks and sites can be seen along thousands of kilometers of real road networks.
SYSTEM REQUIREMENTS MacOS
MINIMUM:
OS: Mac OS X 10.9 (Mavericks)
Processor: Dual core CPU 2.4 GHz
Memory: 4 GB RAM
Graphics: GeForce GTS 450-class (Intel HD 4000)
Hard Drive: 12 GB available space
RECOMMENDED:
OS: Mac OS X 10.10 (Yosemite)
Processor: Quad core CPU 3.0 GHz
Memory: 6 GB RAM
Graphics: GeForce GTX 760-class (Intel HD 5300)
Hard Drive: 12 GB available space
Learn more about the Mac version of Euro Truck Simulator 2
TRUCKS
There are currently 17 licensed trucks from 7 different manufacturers in the ever-expanding fleet. The developers claim to have re-created all the vehicles in the game as realistically as possible to ensure that driving any of the trucks featured in the game feels just like driving them in real life.
SELECT YOUR TRUCK
The game offers players to take a virtual tour of each of the vehicles listed below with a 360-degree rotating camera:
DAF – XF105
DAF – XF
IVECO – STRALIS
IVECO – STRALIS HI-WAY
MAN- TGX
MAN- TGX EURO6
MERCEDES-BENZ -ACTROS
MERCEDES-BENZ- NEW ACTROS
RENAULT – MAGNUM
RENAULT- PREMIUM
RENAULT- T
SCANIA- R 2012
SCANIA – S
SCANIA – STREAMLINE
VOLVO – FH16 2009
VOLVO- FH16 2012
TRUCK CUSTOMIZATION
There are numerous possibilities to customize your truck, from the size of the cabin and the chassis to the engine and transmission, as well as a selection of cosmetic options, including everything from side skirts, mirrors, tires, rims, beacons, rims, doorsteps, and multiple light sets and colors.
PERSONAL CAREER
A professional path in Euro Truck Simulator 2 is completely up to you; different techniques can open up new chances early on, letting you mold your advancement as you see fit, and allowing you to take full advantage of all the game has to offer.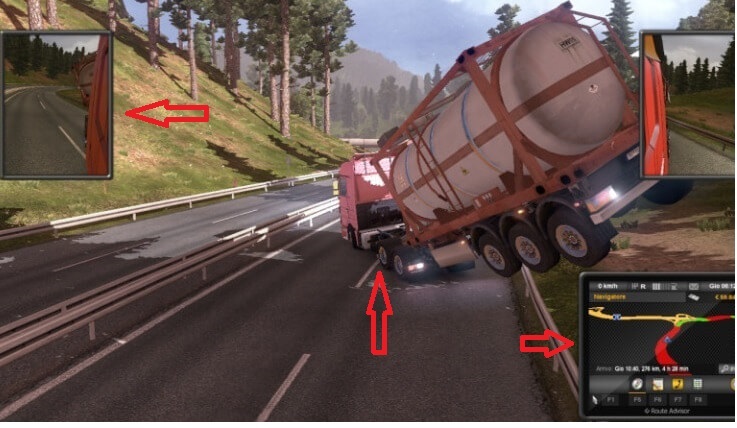 INDIVIDUAL PLAYERS SKILLS
Work experience is a tremendous asset. When it comes to gaining experience, the further you go, the better. In the long run, you'll accumulate experience points that you may use to demonstrate your proficiency in the trucking industry. Higher-paying positions with more responsibility are unlocked with more experience in the game.
GAME HISTORY TRACKING
The game offers a timeline that allows you to track your progress and the key moments such as your first delivery, first trip abroad, first ADR certification, etc.
COMPANY MANAGEMENT
After you buy your dream truck, Euro Truck Simulator 2 gives you the freedom to expand your shipping business – you can choose who to employ, what trucks they will drive, and how your business grows.
THE LANDSCAPE
The game covers 26 European countries, each with its own unique landscapes, highways, cities, and landmarks that have been re-created in detail and as realistically as possible. The in-game world's dynamic landscapes, real-time traffic, stunning lighting, and weather system bring everything to life for everyone playing it.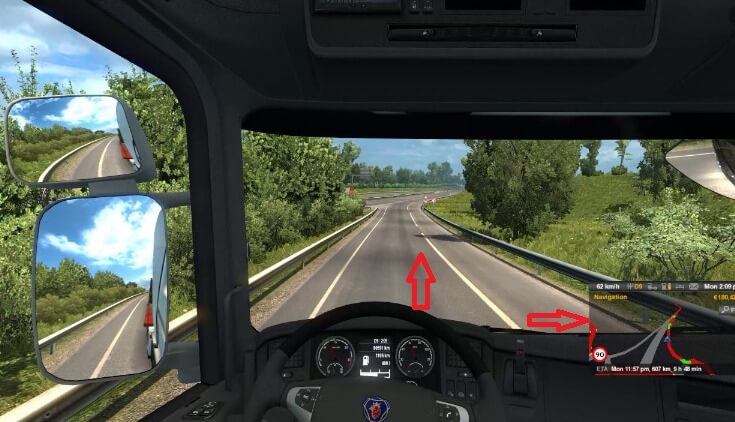 COMMUNITY
Almost anything you can imagine can be added to the game as a mod by the large and active modding community that has grown up around it. The content contributed by the community ranges from basic visual changes to your vehicles' appearances to entirely new trucks and even map extensions on a regular basis.
REVIEWS
Euro Truck Simulator 2 has an overwhelmingly positive review score on Steam and is being described by players as a realistic, curiously cathartic, and soothing game. The developers are also to be commended for keeping the game fresh and exciting by constantly adding new content and introducing new features such as the recently introduced multiplayer, which includes the already established trucking community multiplayer.
How to play Euro Truck Simulator 2 on Mac?
To play Euro Truck Simulator 2 on Mac, you can directly download the macOS version of the game from Steam and start playing it. An alternative way you can play Euro Truck Simulator 2 on your Mac is to use a cloud-gaming service.
Euro Truck Simulator 2 is among the few games that can be played natively on a Mac. In other words, the game has a macOS version that can be downloaded and directly played on a Mac computer without the need for using any workaround techniques (such as installing Windows on your Mac). The game is available on Steam and so long as your Mac meets its system requirements (as shown above), you should have no problem running it.
That said, there are two additional methods of playing Euro Truck Simulator 2 on a Mac that don't even require you to install the game. Those methods involve the use of either Boosteroid or GeForce Now. Both of those are cloud-gaming services that allow you to play any game from their libraries, so long as you already own the game, and you are subscribed to the service you've chosen.
Down below, you will find detailed instructions on how to get Euro Truck Simulator 2 running on your Mac with each of the three mentioned methods.
Euro Truck Simulator 2 on Mac M1
Euro Truck Simulator 2 can easily be played on Mac M1 – all you need to do is purchase and download the game from Steam, as it has an official macOS version. Alternatively, you can also play Euro Truck Simulator 2 on Mac M1 through cloud gaming.
There's virtually no difference in the methods of playing Euro Truck Simulator 2 on an Intel Mac and on an M1 Mac. The macOS version should perform equally well on both types of processors, and the same can be said about Boosteroid and GeForce Now.
The instances when M1 users tend to have difficulties running a certain game on their computers is when the game in question doesn't have an official macOS version and isn't available on any cloud-gaming service, and so workaround methods need to be used to play it. In the current case, all of the methods we've shown above should let you play Euro Truck Simulator 2 on your M1 Mac without any problems.
ETS2 On Mac Set Up Methods
Methods
Advantage
Disadvantage
Cloud Gaming
– No set-up required. Register and Play
– Access to a Library of over 70 top-rated free Games
– Smooth Performance
– Compatible with M1 and Intel Macs
– Play on any Desktop or Mobile device
– Monthly Fee
– Requires Decent Internet Connection
– No Free Trial
Native
– Fully Supported on Mac
– Low Performance on old Macs
ETS 2 on Mac with Cloud Gaming
Euro Truck Simulator 2 is now available to play on cloud gaming servers. This assures NO compatibility issues while playing on your Mac as well as top-notch performance.
Step 1. Get Euro Truck Simulator 2
You can go straight ahead and buy ETS 2 from the Steam store. You can play the game right away after you have purchased it. If you feel the game graphics are under-performing, you can proceed to step two where you can upload the game to the cloud gaming library for better performance.
Update: Limited time offer now available at CDkeys.com, – 75% Discount ETS 2 for just $8.99 (Steam Launcher)
Step 2. Register and Add Euro Truck Simulator 2 to Cloud Gaming Library
All you need to do now is register for Boosteroid. This allows you to add Euro Truck Simulator 2 to their Cloud Gaming Library. Once uploaded you can seamlessly play the game from your Mac, TV or mobile device.

When Registered you will have additional access to more than 70 top-rated games for free. Pricing varies depending on the subscription plan. Full Guide Bellow
Downloading Euro Truck Simulator 2 from Steam
This is the default way of playing the game – you go to Steam, purchase it, download it, and play it. Euro Truck Simulator isn't too big of a game, so you will probably have enough space on your Mac to play it, and the download and installation process shouldn't take too long:
First, you need to go to Steam and register there, after which you must download and install the Steam client.


Next, start the client app, log in with your account, and open the Store section.
Type Euro Truck Simulator 2 in the search bar at the top and click on the game's tile when it shows up.

Select Add to cart on the game's page, and then click on Purchase for myself.


Choose which payment method you want to use and then provide the necessary details.
Purchase the game, return to its page, and click on Play Game.
Click on Next to begin installation process and once the game is installed, start it from its page in the Steam client or from its icon that should be in your Applications folder.
Play Euro Truck Simulator 2 on Mac Boosteroid
This is the quickest and easiest way to play the game, as it doesn't require you to download or install anything, which also means that it will save some space on your Mac's drive.
Go to Steam, enter your account (or create an account now if you don't have one), search for Euro Truck Simulator 2, and purchase the game.
Next, visit the official site of Boosteroid, create an account there, and log into it.

Next, click the search button from the top, type Euro Truck Simulator 2, and select the game when it appears.

On the next page, select Play, then click on Subscribe, pick a preferred payment plan and payment option, provide the required details, and pay for your Boosteroid subscription.



Next, click OK, let's go when told that you will need to connect to your Steam account.

Wait for Boosteroid to load the game, and then enter your Steam username and password to connect your Steam account to Boosteroid.

After that, Euro Truck Simulator should start directly in your browser. If you want to toggle the full-screen mode on or off, you use the Ctrl + Command + F keyboard combination.
Play Euro Truck Simulator 2 On Mac GeForce Now
GeForce Now, like Boosteroid, is a cloud-gaming service through which you can play Euro Truck simulator without needing to install it on your Mac. The only differences are that you will need a GeForce Now client app to use the service and that GeForce Now offers a free subscription plan, though it has a 1-hour limit per gaming session and some waiting in a queue before you could start playing. Here are our instructions on how to set up GeForce Now and play Euro Truck Simulator through it:
As with the previous methods, you must first register on Steam and purchase the game if you haven't done it already.
The next step is to go to GeForce Now and register there – click the Join Now button, then select Join under the subscription plan you prefer, and then create an account.


If you've selected a paid subscription plan, you will also need to choose a payment method and provide the requested details.


After your registration is completed, you must confirm your email, and then log in to your GeForce Now account.
Once you've entered your account, select the GeForce Now section from the top, scroll down, and under the Quick Links section, select the Download Apps link.

Select the macOS version of the GeForce Now client, download its installation file, open the file, and install the app.
Next, go to your Applications folder, start the GeForce Now application, and log in.
Search for Euro Truck Simulator 2 in the search bar, select the game, click on Play, and then click Continue.



After that, your Internet connection will be scanned and if GeForce Now detects that it's not stable or fast enough, you will get a warning.

If you get a warning, you can still ignore it and start playing by clicking Continue, but know that you are likely to experience severe lag while playing the game.

Before Euro Truck Simulator 2 starts in GeForce Now, you will be asked to connect your Steam account to your GeForce Now account, so enter your Steam username and password to proceed. After this, the game should load on your screen, and you can start playing. Once you are done playing, you can exit the game from its menu or use a three-finger swipe to the right/Command + Tab to go back to your Desktop and then quit GeForce Now from the Dock.
Martina Nikolova
Martina likes to get into nitty-gritty of tomorrow's tech, from product design across to security based solutions. A long time mac user and developer, she has the expertise and strives to give new insight