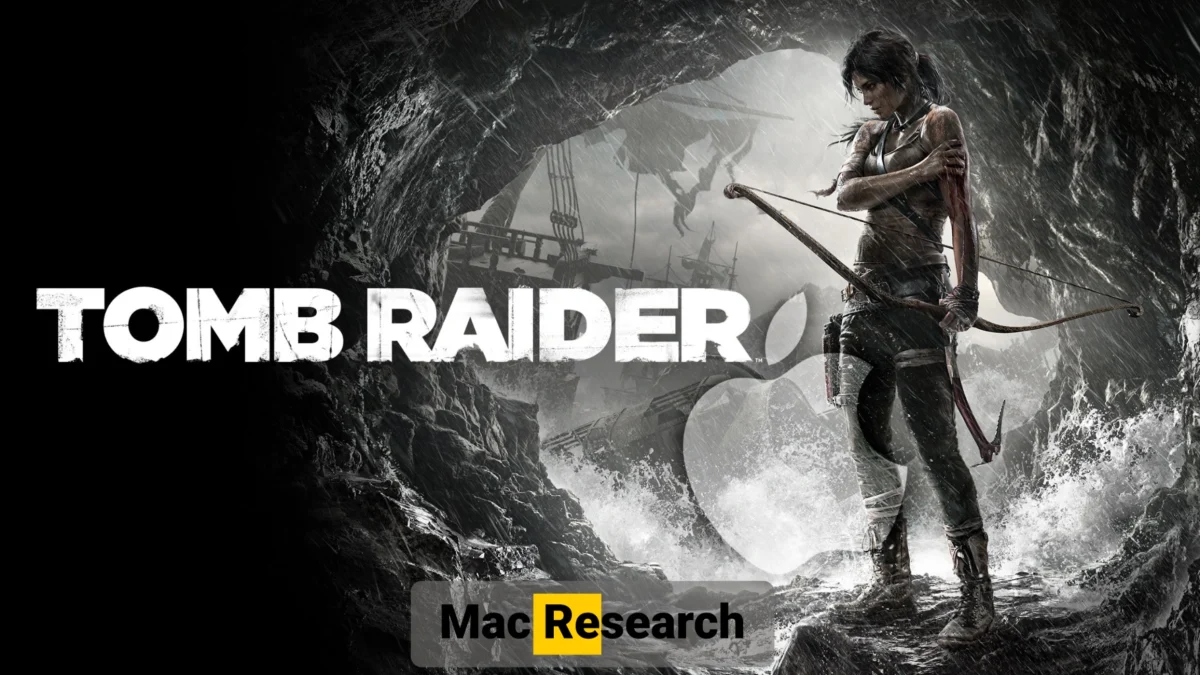 Tomb Raider Mac Methods
Tomb Raider is a thrilling adventure game that extends its reach to macOS and offers Mac users the chance to join Lara Croft on her iconic journey. However, while a native macOS version exists, we wanted to save disk space and avoid lengthy downloads, therefore we decided to explore alternative Tomb Raider Mac methods, such as the cloud services of Boosteroid and GeForce Now, and compare the performance across these platforms with the local play. If you are interested in an in-depth look at our experience, you're in the right place, as this page holds all the insights you need.
Tomb Raider MacOS Instructions And Alternatives That We Tested:
In this section, we will guide you through the process of trying these instructions on your personal Mac to enjoy Tomb Raider. Below, we'll also share our firsthand impressions and experiences with the game using each method.
Natively with Steam (Recommended method)

You can get the Tomb Raider Mac download directly from Steam, since the game is officially supported for macOS. Please note, however, that the online multiplayer mode is not available on macOS.

Install Steam: If you don't already have Steam installed on your Mac, you can download it from the Steam website.
Create or Log In to Your Steam Account: If you don't have a Steam account, you'll need to create one. If you already have an account, simply log in.
Access the Steam Store: After logging in, you'll have access to the Steam Store. You can browse and purchase games from the store.
Purchase and Download The Game: Once you've found the game you want to play, click on it to view its details. You can purchase it from the store, and it will be added to your Steam library.
Install and Play: In your Steam library, locate the game you've purchased, and click the "Install" button. The game will be downloaded and installed on your Mac. After installation, you can click "Play" to start the game.
Manage and Customize: Within Steam, you can also customize your gaming experience. You can adjust settings like graphics, controls, and more to optimize your gaming experience.

Remember to make sure your Mac meets the system requirements for the game you want to play. Steam provides system requirement information on each game's store page.
Boosteroid Cloud Gaming

Features: Constant 1080p/60 FPS; Stable connection; Low bandwidth requirements (15 MBPS); Huge gaming library with all the latest AAA titles.

Pros

Cheapest cloud-gaming option
Compatible with all macs
Hardware specs don't matter
You can play in your browser in about 15 minutes

Cons

Requires a good internet connection
You need to look if the game is supported with your chosen vendor

Extras: Here's our review of Boosteroid with a comparison to GeForce Now; also check out our Boosteroid Games List.

Boosteroid is our top choice for Mac gaming unless you're a hardcore competitive gamer. It's perfect if you just want to enjoy the game on your Apple device without any complicated setups, and it offers a great balance of visuals and performance.

Use the "Play with Boosteroid" button and go to the Boosteroid website. There, you need to create a new account or log in using your Google Account credentials.
Go at the top-right corner of the screen and click on "My account". To begin using Boosteroid, you need to activate a plan of your choice under the "My subscription" tab.
Look for the game in the search tab on top to see which vendors Boosteroid supports. You need to own the game before you proceed with this method. Here are links to the game for different vendors: Steam, Epic Games; check for a discount on

Cdkeys.com
GeForce Now

Pros

Access to a vast library of games.
High-quality graphics and performance.
No need for powerful local hardware.
Cross-platform support.

Cons

Requires a stable and fast internet connection.
Limited to supported games.
Potential latency issues in online games.
Requires a subscription for some features.

GeForce Now is a cloud gaming service that offers an accessible way to enjoy a large selection of games on your Mac.

Note: You need to own the game before you proceed with this method. Here are links to the game for different vendors: Steam, Epic Games; check for a discount on Cdkeys.com

For Mac gaming, GeForce Now is a game-changer. It gives you access to a wide game library, expanding your options. The beauty is, you don't need a super powerful Mac; NVIDIA's servers handle the heavy work. This ensures top-notch graphics and smooth performance, even on older Macs. The added bonus? It's cross-platform, so you can effortlessly switch between your Mac, PC, or mobile device, all while maintaining your progress.

Now, let's talk about the other side. GeForce Now depends a lot on a good internet connection. If your connection is shaky or sluggish, you might face some lag or visuals acting up. Also, not every game is supported, so the one you love might not be there. While the base service is free, extras like priority access and longer play sessions come with a subscription fee. So, while GeForce Now is awesome for many, having a strong internet connection is crucial, and it's wise to check if your go-to games are part of the platform.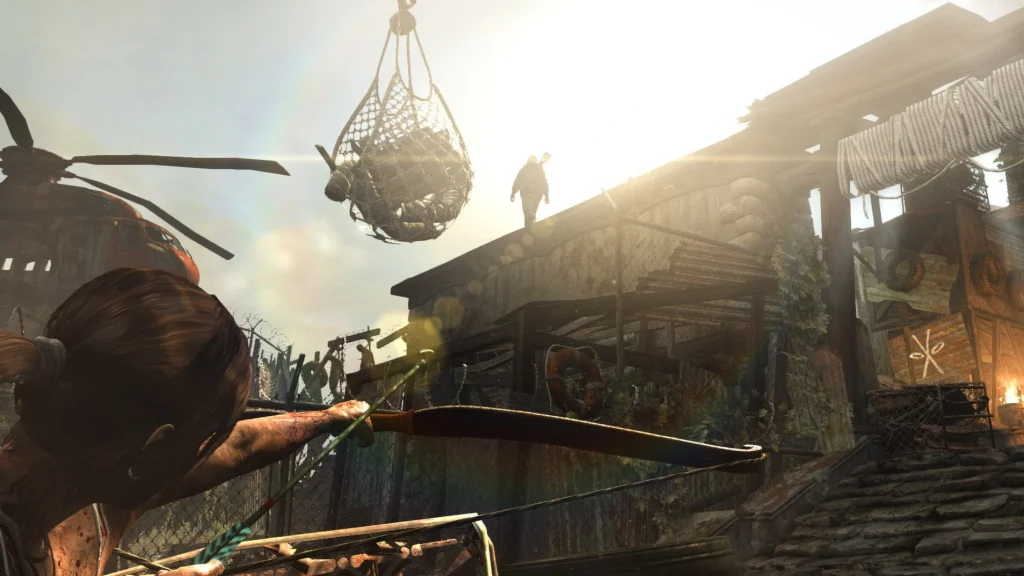 Our Tomb Raider MacOS Experience with the available methods
Tomb Raider for Mac: Boosteroid vs GeForce Now
Playing Tomb Raider through Boosteroid turned out to be quite a convenient experience for us. The browser-based setup made things easy, and we enjoyed the game in 1080p at 60 FPS. Surprisingly, even for a visually rich game like this one, the resolution looked fantastic, with high settings. Gameplay was mostly smooth, with only occasional hiccups during internet fluctuations, but they were brief and didn't disrupt the overall enjoyment. Unfortunately, Boosteroid doesn't support 2K or 4K streaming yet, but the experience we had was more than satisfying for our adventure through Lara Croft's captivating world and should meet the requirements of any Mac gamer, who simply wants to enjoy the game without putting too much effort.
Moving on to GeForce Now, our expectations were somewhat high. To avoid queuing on the free plan, we opted directly for the Priority plan which gave us a consistent FPS, though there were a bit more stutters compared to Boosteroid, and the image quality took a hit during internet lags. Nevertheless, it provided a good gaming experience that allowed us to test Tomb Raider on several of our Mac machines, from the 2020 Macbook Pro M1 to the older 13-inch Intel-powered MacBook Pro from 2016. We even tried the GFN Ultimate plan for a 4K experience, which showcased more of the game's visual splendor, but we do have to note that it required a stable 100 Mbps Ethernet connection for smooth streaming.
Tomb Raider for Mac: our experience with the native version
Our test with playing the Steam macOS version of Tomb Raider on our trusty MacBook Pro M1 (2020) using Rosetta 2 was quite an exciting ride. Initially, we set the resolution at 2360 x 1440 to explore the game's intricate details and toggled the high settings. The frame rate was a solid 60 FPS, and delivered a smooth and visually immersive gaming experience. However, there were instances when we dialed it down to 1080p at medium settings, and the frame rate skyrocketed to 120 FPS, which gave us a gameplay session as swift as Lara's acrobatics. This allowed us to appreciate the game's stunning visuals without compromising on the frame rate and demonstrated the adaptability of the M1 chip, which made our Tomb Raider experience on Mac both visually captivating and incredibly smooth.
Which method offers the best Tomb Raider Mac Experience?
If we have to compare our experience with the Steam macOS version of Tomb Raider on Mac and the two cloud services, all the methods provide a satisfying experience that caters to different preferences in gaming setups. While the native version is best when it comes to performance, in cases where your Mac might not meet the recommended specifications, opting for cloud gaming can be a practical solution that ensures smooth gameplay without the need for extensive downloads that take up disk space or concerns about system capabilities. In our experience, Boosteroid felt more consistent with our regular internet setup and offered a solid 1080p experience. GeForce Now's Ultimate plan did impress us with 4K visuals, but it demanded a robust internet connection. Therefore, for standard setups or varying internet speeds, Boosteroid emerged as a slightly better choice for playing Tomb Raider on a Mac, and offered us the promised balance between performance and accessibility.
Martina Nikolova
Martina likes to get into nitty-gritty of tomorrow's tech, from product design across to security based solutions. A long time mac user and developer, she has the expertise and strives to give new insight