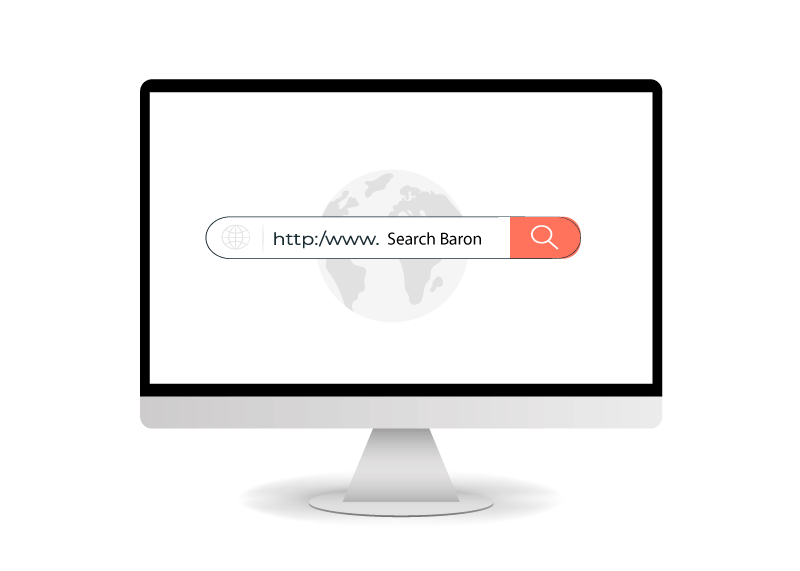 What is Search Baron?
Martina Nikolova, 3 years ago
0
5 min

read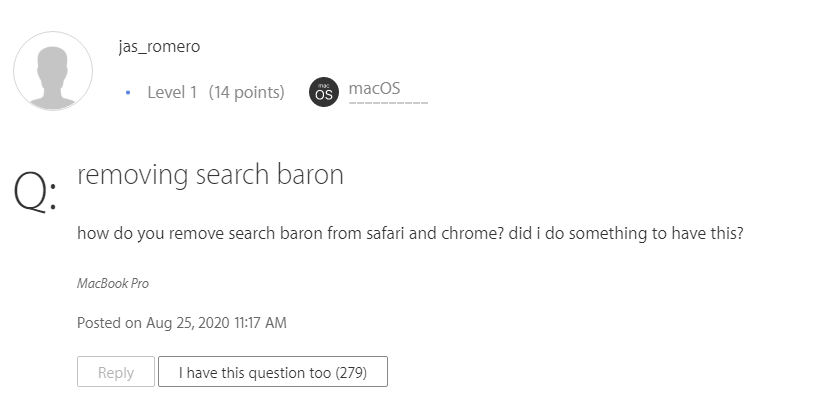 Table Of Contents
What is Search Baron?
Search Baron (searchbaron(.)com) is an invasive program of the browser hijacking type capable of establishing control of the main Mac web browser and modifying the settings originally set by the user. In most cases, the app tends to replace the main search tool with searchbaron.com and works as a bogus search engine that displays sponsored results.
Search Baron is easy to detect on your Mac since, from the moment it gets installed, it starts to redirect your traffic to its own page (searchbaron.com) and then forwards you to Bing.com. In addition, this browser hijacker aggressively loads different transit websites that are unrelated to your actual search.
Every time a redirect happens, for a fraction of a second, a number of custom in-between domains get loaded in the Mac browser. These are typically domains hosted at Amazon Web Services platform such as searchroute-1560352588.us-west-2.elb.amazonaws.com, as well as other bogus sites like searchnewworld.com. These sites may not be actually displayed in separate tabs, but technically, you will be visiting them as part of the redirecting process.
New questionable domains are constantly being added to Search Baron's page-redirect mix. Another site that has been actively rotating recently is hut.brdtxhea.xyz/api/rolbng/ffind, as well as mybrowser-search.com. These are bogus sites that rely on traffic redirected from custom search engine tools.
This behavior can easily irritate the users to a point where they want to remove Search Baron from their Mac without a second thought.
How can Search Baron infect your Mac?
The most common way to end up with Search Baron on your Mac is to install programs downloaded from non-official app stores and questionable software developers. Browser hijackers like this one also can be found in different free online software bundles, download managers, and files. In many cases, such apps can be distributed inside the installer of third-party Mac applications and can be installed along with them if you don't read the fine print of the given software installer. That's why the best way to avoid Search Baron and apps of its kind is to stick to reliable app stores and download and install apps on your Mac only from reputed software developers.
Can Search Baron do harm to your Mac?
The "virus" Search Baron is not as destructive as other viruses such as Trojans and Ransomware. In fact, it is not correct to call this app a virus because it really cannot be kept responsible for any direct damage to your Mac. However, keeping it on the computer can be incredibly annoying because Search Baron can constantly redirect you to various web locations and spam your screen with aggressive ads that cannot be removed. And this activity may potentially expose you to a variety of online threats including misleading links, fake web ads, and infected web pages.
As soon as it starts operating on your Mac, Search Baron unleashes a proxy module that establishes control of your browser settings, surfing preferences, search engines, and homepage configurations, which means that it is able to modify your search results and track all your web surfing activity. The software may also collect details unrelated to your web surfing such as your macOS version and the applications and security tools you have installed.
The data obtained by the hijacker may even be exchanged with advertisement companies that can flood you with promotional spam. Malicious actors may also take advantage of Search Marquis and its access to your system to perform attacks on your Mac computer or compromise your browsing privacy.
Can Search Baron be removed without any damage to your Mac?
Once it nests inside a Mac, Search Baron adds itself to the login items for persistence. Another element of persistence is that the software adds a custom administrative profile in System Preferences. This profile prevents the removal and imposes specific settings on the hijacked browser.
With all the above said, browser hijackers like Search Baron may initially look stubborn when it comes to their removal. However, if you arm yourself with a trusted removal tool (there are more than enough powerful scanners and malware removal apps out there) you can remove this app quickly and effectively. Another method to get rid of this software is to use a manual removal guide. Just make sure that if you choose this method, you pick a detailed and tested guide in order to avoid potential system corruption.
We have created a detailed guide to check if your mac has a virus.
How to get rid of Search Baron on Mac?
Below we have included a series of directions explaining how to manually remove Search Baron:
Start your Safari Browser (in case this is the affected Mac browser), and open the Safari menu.
Click on the Preferences menu afterward.
Next, click on the tab named Extensions that is found in Preferences.
Once this is done, you should be able to see a list of all Safari-installed extensions.
Search for Search Baron or any other extensions that are unknown to you, and you haven't installed on your own.
Delete all the unfamiliar and questionable extensions from the Extensions list.
Next, return to Preferences, but select General this time.
See the address written as a homepage in the new window that opens.
If you see a new homepage unknown to you or a Search Baron URL, delete it and write an address that you want to be your default homepage. Save the changes.
Once you have done that, return to Preferences again and this time select Privacy.
Click on "Remove All Website Data" from the available options. Then click on Remove Now to confirm the action. Be aware that this removes all saved data for the websites you have logged into.
Finally, select the History submenu in the Safari menu. Click the Clear History button once you've entered it. A time frame for the history that will be cleaned must be selected. Select All History and confirm your action by selecting Clear History.
Martina Nikolova
Martina likes to get into nitty-gritty of tomorrow's tech, from product design across to security based solutions. A long time mac user and developer, she has the expertise and strives to give new insight