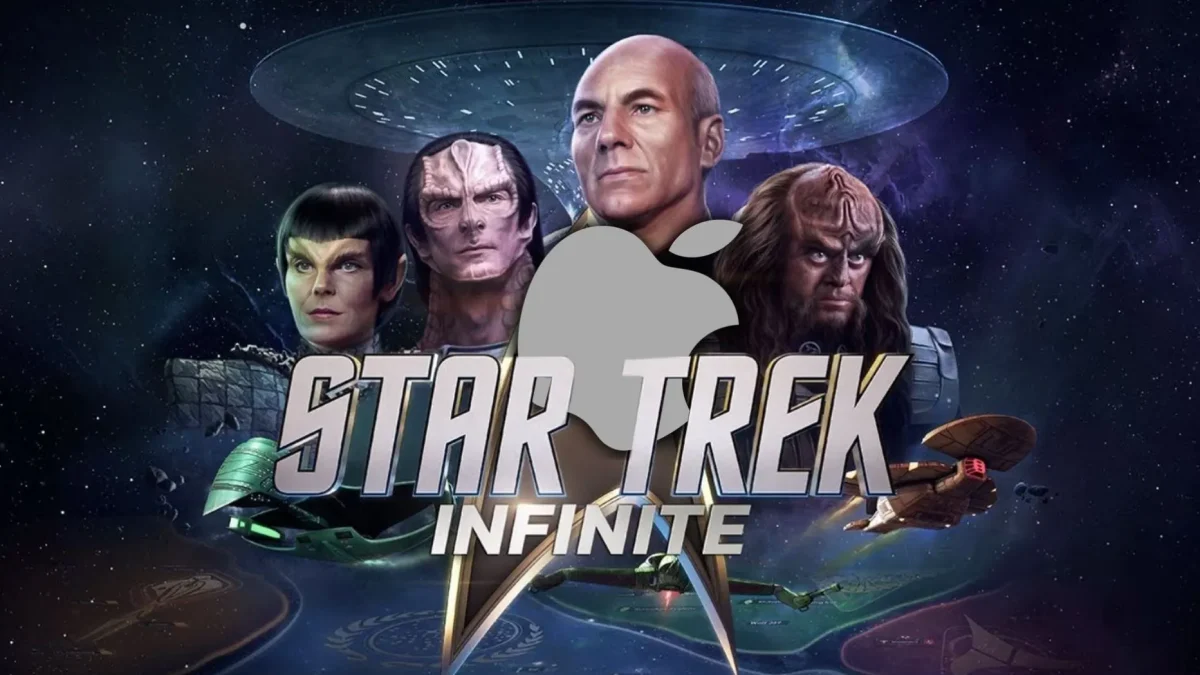 Star Trek Infinite (Mac)
Martina Nikolova, 2 months ago
0
4 min

read
Star Trek Infinite is among the few Mac compatible games released in the past months. Owners of both Intel and Apple Silicon MacBooks to enjoy them natively, without needing to resort to elaborate workarounds. And since we are both sci-fi 4X nerds as well as among the select few, who actually think Macs can be decent gaming machines, we decided to give this game a go and share our experiences with it.
If you are eager to try the game for yourself and don't have the patience to read through what we have to say about it, here's a quick guide to help you download and install the Star Trek Infinite Mac version on your Apple machine.
Play Natively with Steam

Playing the native macOS version of the game via Steam is a straightforward process. Here's how you can do it:

First, If you don't already have Steam installed on your Mac, you can download it from the Steam website.
If you don't have a Steam account, you'll need to create one. If you're already registered, simply log in.
After logging in, search for the game and click on it to go to its page where you can purchase it. Alternatively, you can check CDKeys for discounts on Star Trek Infinite and buy the game from there.
Next open your Steam library, find the game, and click the 'Install' button and wait for the process to complete. Once the game's ready, you can start it through its 'Play' button.
Our experience with Star Trek Infinite on Mac
Contrary to what the the game's Steam page says about the Star Trek Infinite Mac requirements, the game doesn't actually require a whopping 15 gigs of Memory to run on an Apple computer. We opted to test the game on our MacBook Air M1 and its 8 gigs of unified memory were more than enough for this game.
However, even though the game's performance, as determined by our testing hardware, was reasonable while running the game at medium settings, the real issue came from the current state of the game itself. You see both PC and Mac users have reported that the game has a lot of bugs and is prone to crashing, and we can attest to the validity of those complaints. It seems that the Apple crowd have it particularly bad in this instance, with the Star Trek Infinite macOS port being full of issues that make the game difficult to enjoy.
According to other users, who've played the game on PC, the Windows version also seems to have some annoying bugs, but is generally more stable and less frustrating.
Within the first several hours of playing the game, we experienced several crashes, especially after completing first contact missions. Also, we weren't even able to load the Tutorial as any attempts to do so threw us out of the game. Good thing that gameplay-wise, Star Trek Infinite is basically a re-skin of Stellaris, so we had a good idea of what we were supposed to do.
In other words, if you are thinking about getting Star Trek Infinite on your Mac, we recommend giving it some time until a patch is released that hopefully fixes most of the issues present in the game's macOS port. Otherwise, the frustration you might get from trying to play the game in its current state my make you lose your taste for it as a whole.
Are there other ways to play Star Trek Infinite on Mac?
If the current state of the Star Trek Infinite Mac version is so unpolished, and the PC version plays better, then is there a way to play that version on a Mac? There are, in fact, a couple of ways that can be attempted, such as using CrossOver or Boot Camp, but they come with their own set of disadvantages, so we cannot recommend them for a game that has a native macOS version that will probably have most of its bugs patched out in the coming weeks.
A good alternative for playing Star Trek Infinite on an Apple computer would have been cloud gaming, but right now the game isn't available on any cloud platform, so this is also not a valid option at the moment. If the game becomes available on any cloud services in the future, we'll make sure to update this post accordingly, because this method of gaming on a Mac is viable even in cases where the specific game is supported for macOS.
Ultimately, as we said, if you are eager to try out the latest grand strategy from Paradox Interactive, getting its native version is your best bet, but our advice is to wait a week or two until the main problems with the Star Trek Infinite Mac port are taken care of.
Martina Nikolova
Martina likes to get into nitty-gritty of tomorrow's tech, from product design across to security based solutions. A long time mac user and developer, she has the expertise and strives to give new insight