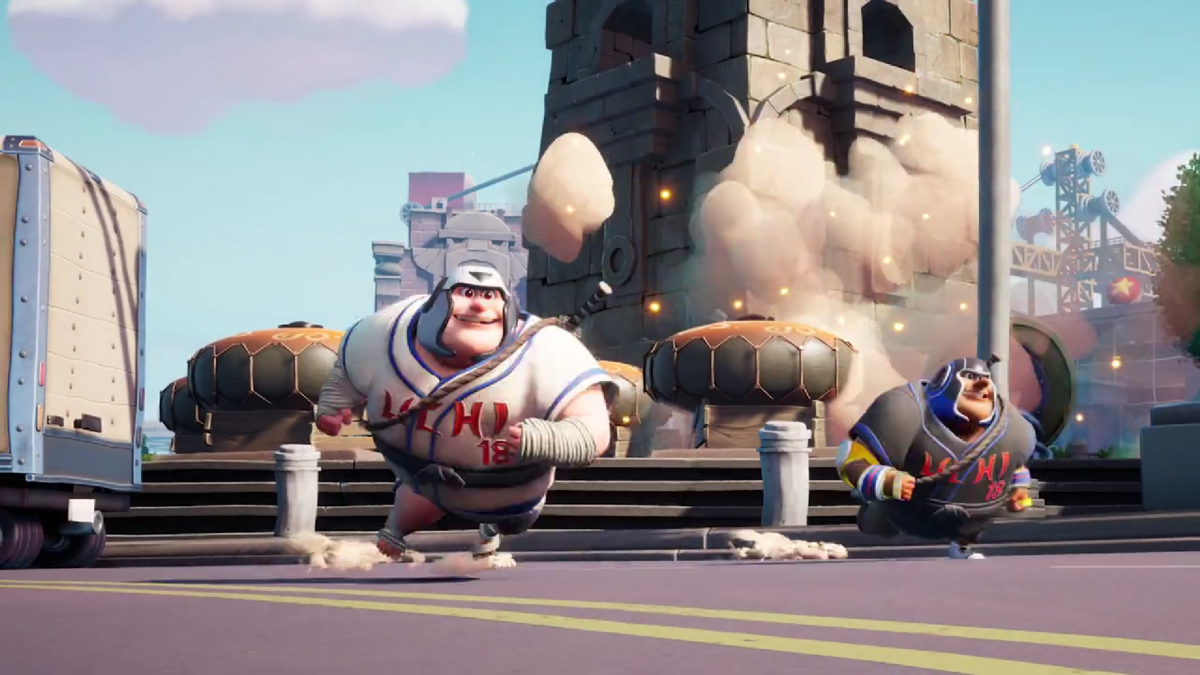 Rumbleverse (Mac)
Martina Nikolova, 1 year ago
0
9 min

read
Rumbleverse on Mac
Rumbleverse is a free-to-play battle royale video game dripping with the glitz and glamor of the professional wrestling world. The game is a breath of fresh air in a crowded genre and offers a lot of fun thanks to its dynamic battles and cartoony design.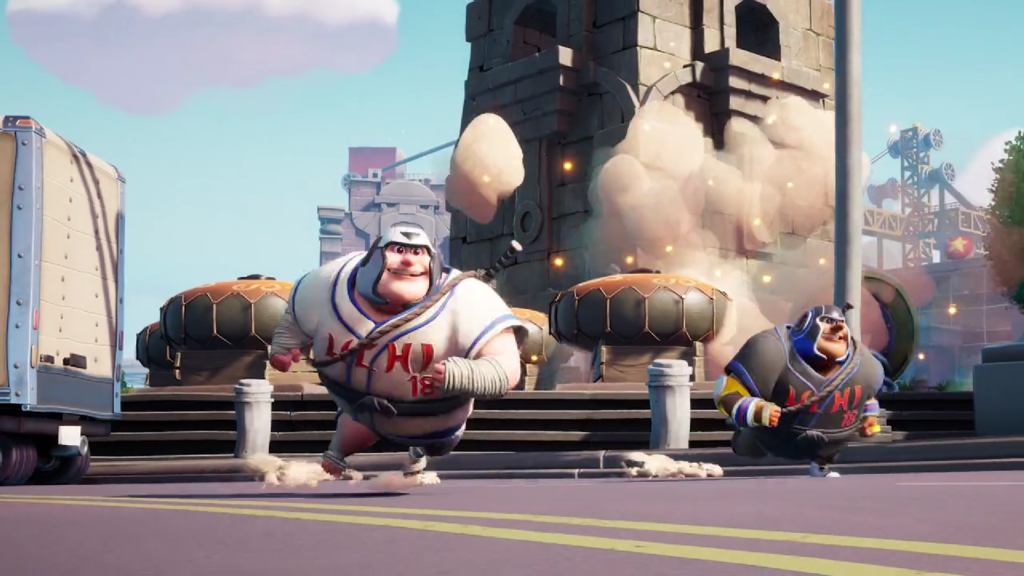 Gameplay
The game starts with forty players that are thrown into Grapital City and forced to battle with each other until only one player remains. The Rumbleverse fighting system is intuitive and simple to learn from a quick playthrough.
Players play from a third-person perspective and don't have access to any kind of weapons. Melee combat is the main focus of the game, which makes it stand out from other games in the genre.
There are a number of base attacks that can be used in fights. You can drop your opponents with punches, kicks and elbow strikes, but you can also use different objects in your surroundings as weapons. Blocking a basic attack is possible, but blocking a greater strike is not, hence the latter must be avoided when possible.
At the start of each match, players need to search the city for hidden magazines which may be used to learn advanced fighting techniques. They also need to look for boxes containing potions that boost their health, stamina, and strength. In a single game, you are only allowed to use ten potions, so you need to make careful calculations on what exactly to boost.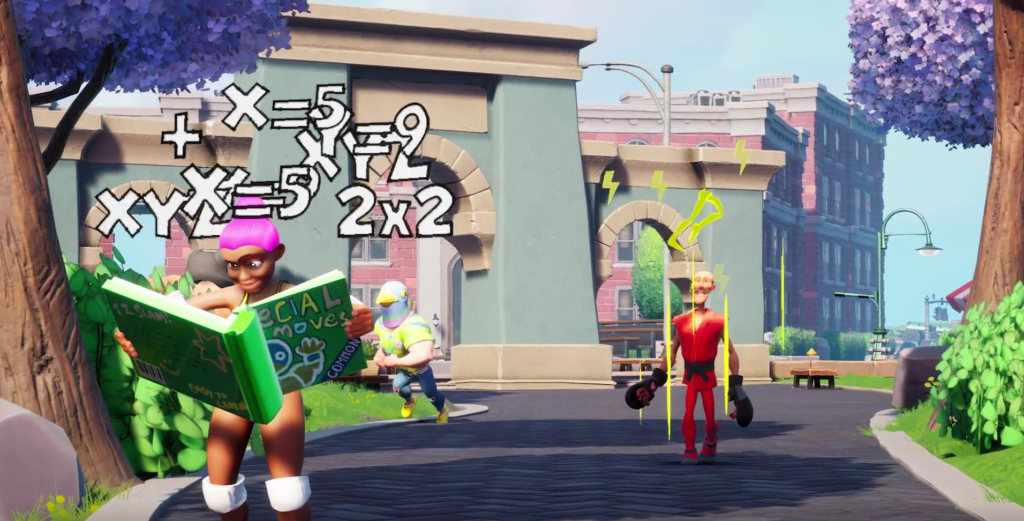 Climbing any of the game's many buildings is a fast and easy way to get a full glance at Grapital City or gain a tactical advantage. As in other battle royale games, players have to remain within a constantly shrinking play area. On average, each match typically lasts around 15 minutes.
Players may customize their in-game character's appearance by spending a currency called Fan Mail they receive from winning matches and leveling up.
New rules
Rumbleverse also has a few surprises up its sleeve. For one, it encourages everyone to engage in dangerous fights by giving them random perks once they reach particular damage thresholds.
For example, there is a perk that can heal you if you stay still for a while. There is a perk that can add a bounce-off effect to your regular three-hit combination. There is also a perk that can add a lot more range and damage to your dropkick attack.
It's easy to dismiss these perks at first glance, but they may have a huge impact if you know how to use them. Also, they provide a lovely touch of randomness that makes each game of Rumbleverse seem unique. What is more, the developers have done a great job at balancing them, so other players won't feel completely helpless.
Another major highlight is that you are not damaged by being outside the ring that reduces the play area in regular intervals. Instead, a countdown of 10 will begin if you are found outside the ring, and if you're still there when the count hits zero, you'll be disqualified, just like in true pro wrestling.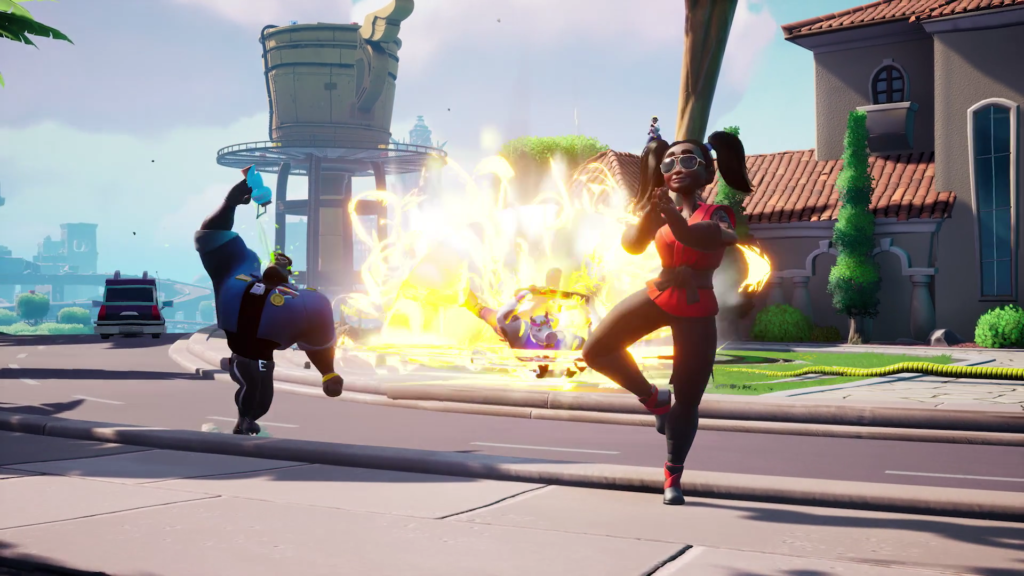 This is a nice change, especially when there are just a few people left in the game and the playfield is so small that you sometimes have to sprint out of the ring for a second. It also makes for some nail-biting moments, as players race to get back in before the 10-count, or attempt to prevent an opponent from re-entering the ring.
Verdict
The key to victory in Rumbleverse is trying to predict where the final phase of the battle might take place and selecting strikes that will be most effective. Players also need to have a good understanding of the moves that can be countered by others and the objects they can use as weapons in the different surroundings.
If you are new to this type of game, Rumbleverse does have a tutorial inside the game's Playground mode that you can use as a starting point. Thanks to the ever-changing environment, players are always challenged to adapt to new situations and the matches never get boring. The game strikes a good mix between accessibility and complexity to creates something fresh, exciting, and highly competitive.
Can you play Rumbleverse on Mac?
The easiest way to play Rumbleverse on a Mac is to subscribe to a cloud gaming service, such as Boosteroid and GeForce Now. Playing Rumbleverse on a Mac is also possible with the help of Windows virtualization software such as Parallels or BootCamp.
Fans of Rumbleverse will be disappointed that the game cannot be played natively on a Mac. In any case, there are solutions for Mac users, as there are for many other unsupported games. If you own a Mac and want to play Rumbleverse, you may do so via one of the methods explained below. Just choose the method that best suits your needs and follow the instructions.
How to play Rumbleverse on Mac
If you have a Mac and want to play Rumbleverse, you may do so by subscribing to Boosteroid or another streaming service that allows you to play games online. Rumbleverse may also be downloaded and played on a Mac, as long as Windows is installed on it.
Unless you are a really serious gamer, playing Rumbleverse over a cloud gaming service should be a pleasant experience, especially if you have a fast and steady Internet connection. In the next paragraph, we will explain to you step-by-step how to use Boosteroid and GeForce Now, two of the most well-known cloud gaming services, that can help you play Rumbleverse on your Mac. We have provided a separate guide for each, in spite of the similarities in the setup process for the two services.
Rumbleverse Set Up Methods
Methods
Advantage
Disadvantage
Cloud Gaming
– No set-up required
– Register and Play
– Access to a Library of over 70 top-rated free Games
– Smooth performance
– Compatible with M1 and Intel Macs
– Monthly Fee
– Requires Decent Internet Connection
– No Free Trial
Parallels Virtual Machine
– Easy Set-up
– Adequate Performance
– Play almost any PC game
– Windows 11 environment
– Compatible with M1 and Intel Macs
– 14-day free trial
– Yearly Fee
BootCamp
– Free to use any time
– Windows 10 Environment
– Painful Setup
– Mediocre Performance
– Only Compatible with Intel Macs

How to Get Rumbleverse on Mac:
Rumbleverse is a free-to-play game that you can get from the Epic Games Store.
Now you will need to register for Boosteroid. This allows you to add Rumbleverse to their Cloud Gaming Library. Once uploaded you can seamlessly play the game from your Mac, TV, or Mobile Device.
When Registered you will have additional access to more games for free. Pricing varies depending on the subscription plan.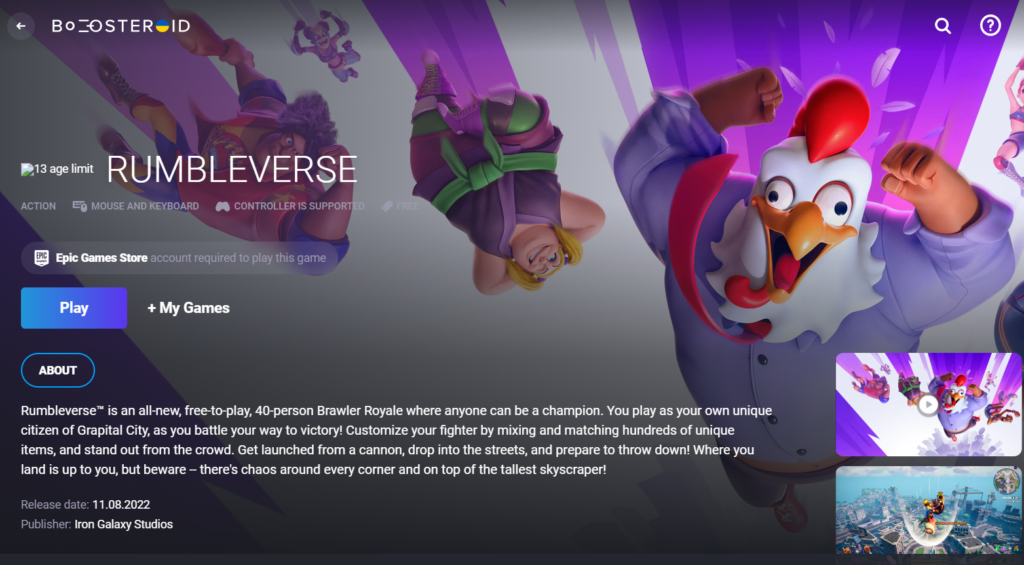 Play Rumbleverse on Mac with Boosteroid
Visit Boosteroid to create a new account.
To view your profile, log in using your username and password, then click on your account name in the upper right corner.
To activate your subscription, go to the My Subscription section of the page and click Subscribe. From there, choose a subscription plan and enter your billing information.
Next, search for the game in the search bar, and click on it.

Once the page of the game opens, click the Play button, and then click the "OK, let's go" button.
Link your Epic Games account to Boosteroid by logging in with your Epic Games credentials. Once you do that, Rumbleverse should be available to play within the browser.
Play Rumbleverse on Mac with GeForce Now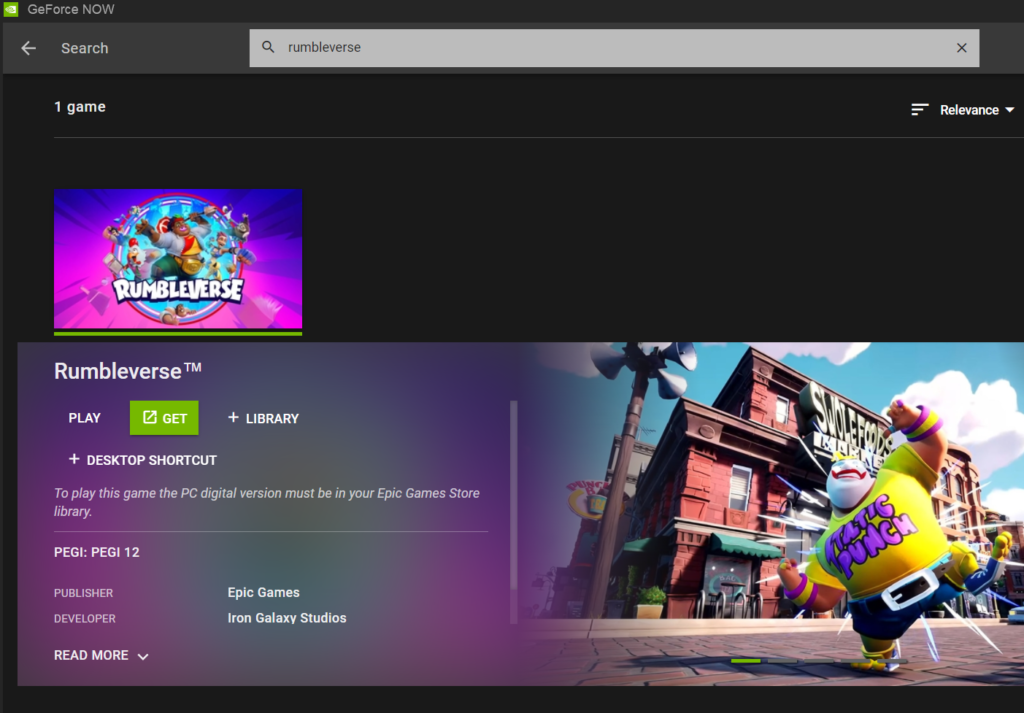 First, sign up for an account on GeForceNow.com.
The second step is to download the GeForce Now Mac app from the official website.
Run the installation file and follow the setup steps.
Start the app, sign in, and search for Rumbleverse.
Then, after choosing the game's tile, click Play > Continue, wait for the game to load, and enter your Epic Games account information to begin playing.
Click here for our detailed GeForce Now guide.
How to download Rumbleverse on Mac
To get Rumbleverse downloaded on your Mac, you need to have a Windows virtual machine set up. Parallels and Apple's Boot Camp Assistant are both solid choices for running Windows on a Mac.
If you want to run Windows in a virtual machine, you may use Parallels program. To install Windows on a dedicated partition on your system, you may use Apple's Boot Camp Assistant tool. There are pros and cons of using each software, and your experience with them may differ depending on the Mac you're using. Generally, Boot Camp Assistant works best with Intel-based Macs, Parallels can work with both Intel and M1-based Macs. The instructions for each software are described below, followed by a link to a more comprehensive guide on our site.
Play Rumbleverse on Mac using Parallels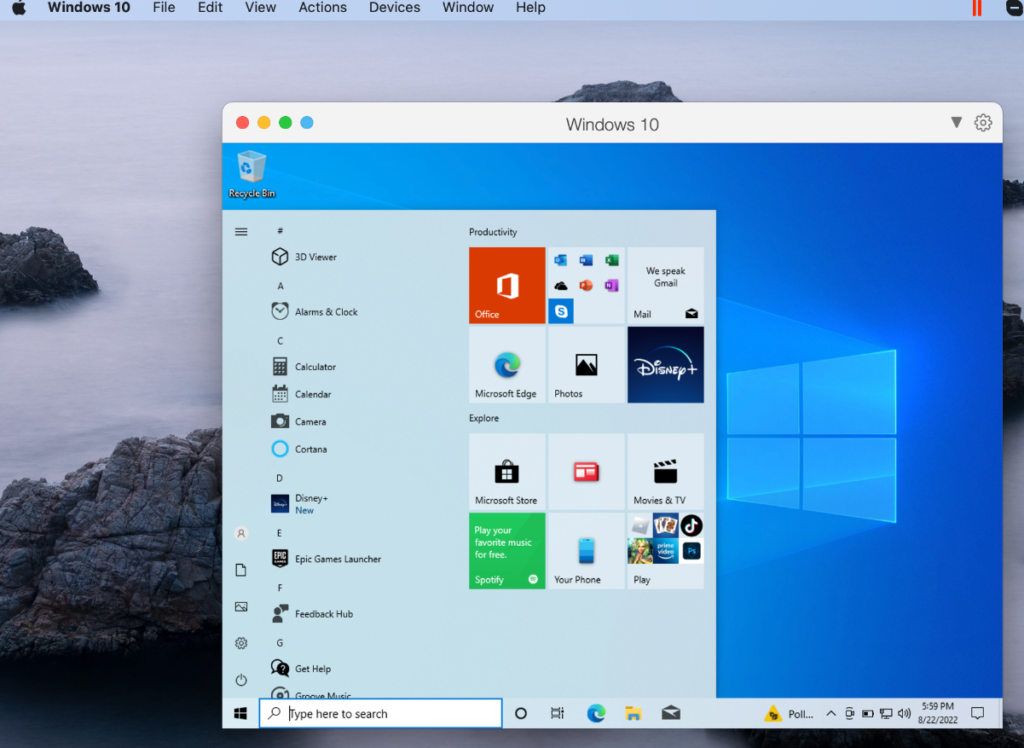 First, go to

parallels.com

and get the Mac version of Parallels downloaded on your system.

Install Parallels on your computer by running the .dmg file and following the directions on the screen.
Once Parallels has been installed, open it and select the "Install Windows" option to begin the process of creating a Windows VM.
Create a Parallels profile or sign in to the virtual machine using one of the other available sign-up options.
Once you enter the VM, download the Steam or the Epic Games client and use it to install the game on the virtual machine.
If you need more in-depth steps for Parallels with screenshots, check out our Full Parallels Guide.
Play Rumbleverse on Mac using BootCamp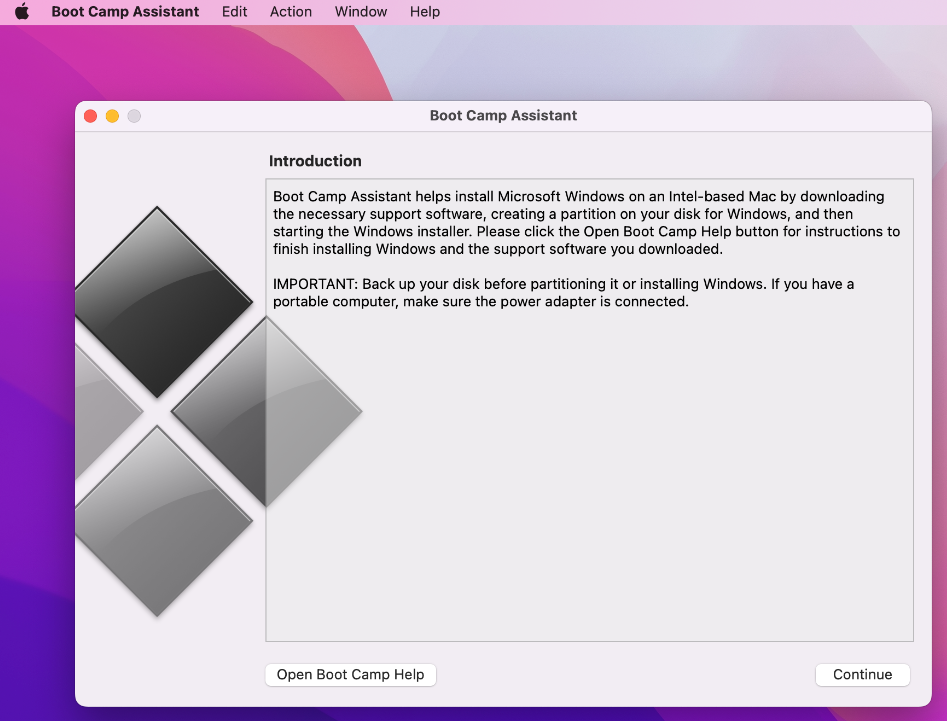 Get an ISO (64 bit) of Windows 10 from Microsoft and save it.
Next, on your Mac, go to Applications>> Utilities, select BootCamp Assistant and import the ISO file in it.
Create your Windows and MacOS partitions on the machine and then click on the Install button.
Following the Mac's restart, proceed with the Windows 10 installation.
After installing and customizing Windows, you may use the Boot Camp interface on your screen to install the required Apple drivers.
Once Windows is all set up, download and install the Windows version of the Epic Games launcher in order to get Rumbleverse onto your Mac's Windows disk.
Click here for our detailed Boot Camp guide.
Rumbleverse on Mac M1
Rumbleverse can be played on Mac M1 via cloud gaming services like Boosteroid and GeForce Now. These cloud-gaming services do not require downloading the game and installing it on the system. Instead, they depend on the quality and the speed of your Internet connection to provide the best possible play experience directly in your browser. An alternative to the cloud-gaming is to set up a Windows virtual machine with Parallels and launch the Windows version of Rumbleverse on your Mac M1. The Boot Camp Assistant is not available to Mac M1 users due to incompatibility with the Mac M1 chip.
Martina Nikolova
Martina likes to get into nitty-gritty of tomorrow's tech, from product design across to security based solutions. A long time mac user and developer, she has the expertise and strives to give new insight