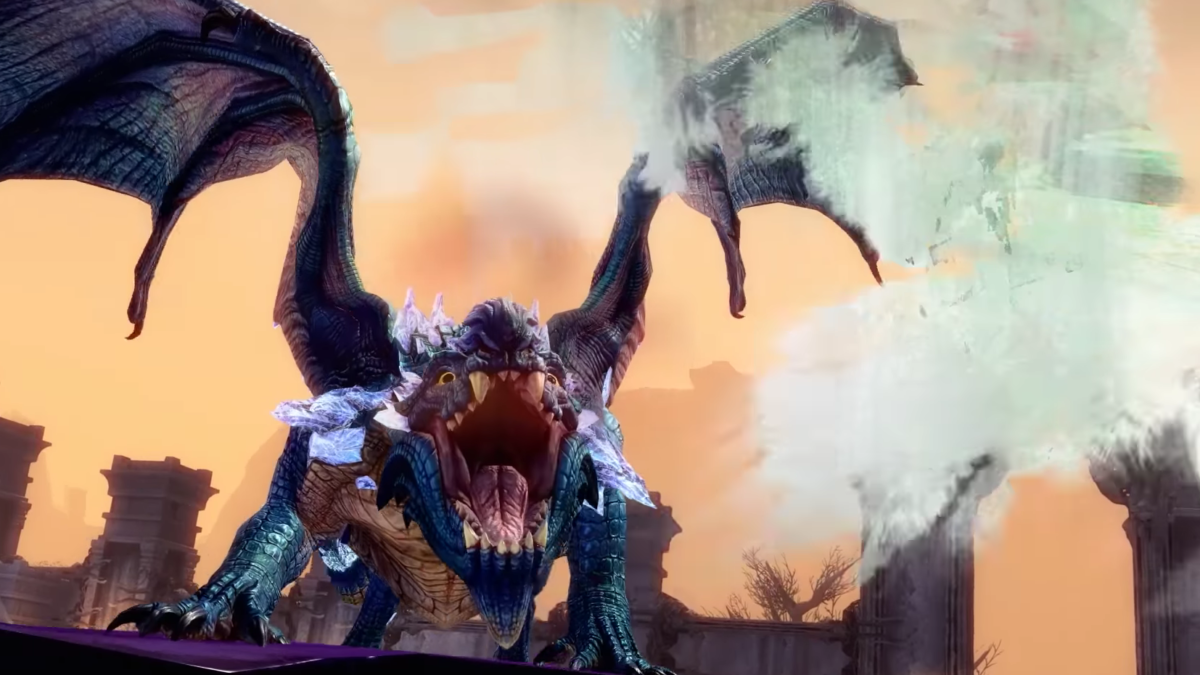 Guild Wars 2 (Mac)
Martina Nikolova, 1 year ago
0
11 min

read
Guild Wars 2 on Mac
Guild Wars 2 is a free-to-play MMORPG and is a sequel to the popular Guild Wars series. The game claims to be unlike any other game of its genre by having a responsive story that changes based on what the players do. This is a feature more common in single-player RPGs but unusual in multiplayer ones.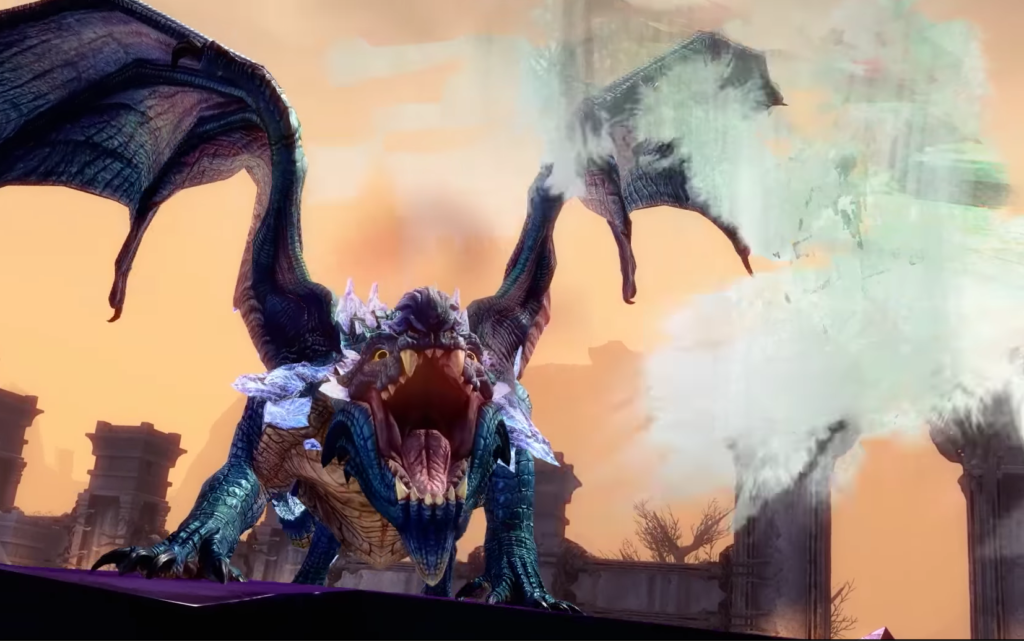 Traditional questing is replaced with a dynamic event system that gives players more freedom in how they complete missions. The combat system is also noteworthy. It seeks to be more dynamic than its predecessor by encouraging synergy between professions and making use of the environment as a weapon. In addition to that, the original game's magic-like skill system has been simplified in Guild Wars 2 to improve the game's balance.
If you want to play Guild Wars 2 just to obtain the best gear, the fastest leveling, and the sharpest end-game strategy, you might find it disappointing that there isn't a story-driven end-game quest and gear upgrade system. However, you'll definitely find a lot of fun in exploring the game's vast content that is responsive to your actions and choices.
Plot
The story of Guild Wars 2 is ongoing, and it's expanded upon with each new expansion and each new "Living World" season. The latter are live content updates that can be played again and again. They continue stories in a way that is similar to an episode, filling in the time between expansions.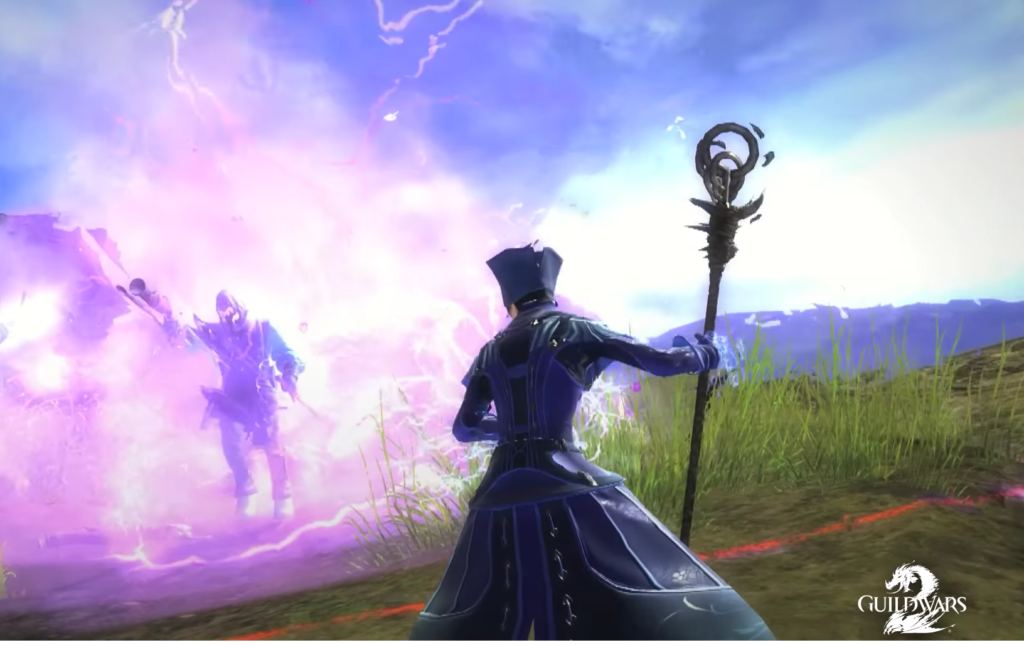 Dynamic events throughout the entire game provide "consequences" for your actions. That is to say, the primary quest is tailor-made for you since it evolves based on your choices and the dialogues, battles, and cinematic cutscenes you come across.
The game's system reacts to your presence to generate custom storylines and challenges such as having to face robbers, finding a hidden treasure, or getting caught in a trap. Some events in Tyria, (the game's fantasy land, full of strange creatures) may even be altered in response to your playstyle. There are also plenty of random events that are not related to the chapters and acts of the main quest, but they add a pinch of adventure and excitement to the overall journey.
Gameplay
Players in Guild Wars 2 can customize their characters by selecting from five different races and eight different professions. The character's race and profession provide access to certain skills.
Similar to the first Guild Wars, in Guild Wars 2 there is a skill-based combat system that requires players to strategically choose their top 10 skills. In contrast to Guild Wars, however, each skill slot has a specific purpose: the first five are tied to the player's weapon and profession, the sixth is for healing, the seventh through ninth will be generic skills that unlock as the player levels up, and the tenth slot will be for an "elite" skill.
In player versus environment games, there is a mechanism in place that automatically adjusts the player's level and statistics to match the level of the monsters, keeping the game at a consistent level of difficulty. In PvP, a player will have access to almost all abilities and equipment and compete at level 80 to provide a fair playing field.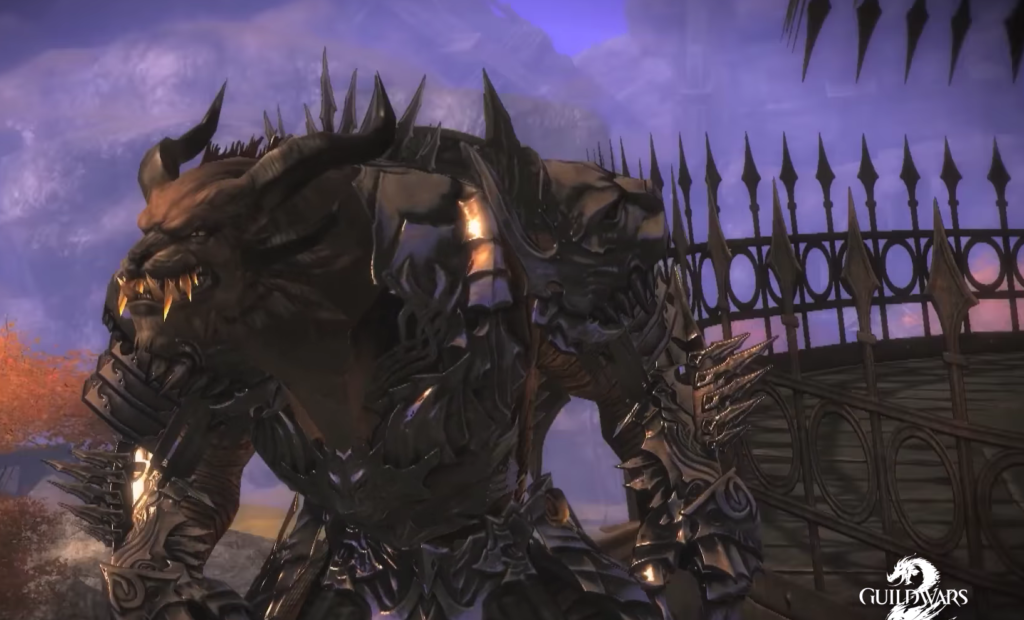 In addition to the game's standard PvP mode, which emphasizes small-scale, tactical fights, there is also a "World vs. World" mode, which involves large-scale battles in a persistent world, separate from the main world. Players may join and leave the game at will, and they have the tools to build siege weaponry that can earn them prizes, proportional to their achievements.
Combat is exciting and different from most games. Its many components operate in tandem to provide a flexible method of attack. Combinations of elements or debuffs, area-of-effect (AoE) effects, defense bars, stuns, stun breaks, spell interruption effects, and much more are all at your disposal. This may seem daunting at first, but rest assured that the game will reveal its mechanisms to you as you go.
From its large and evocative setting to its addictive and engaging gameplay, Guild Wars 2 is a huge improvement over the first game. The title gives a fresh spin on the MMO RPG genre by giving players control over their own unique stories set against a breathtaking visual background. So, if you're a gamer looking for an epic adventure, this game will give you plenty to explore.
Can you play Guild Wars 2 on Mac?
Despite not having a native macOS version, Guild Wars 2 can be played on a Mac using a variety of methods, such as Boosteroid and, GeForce Now cloud gaming solutions, as well as Windows virtualization software such as Parallels, or the Boot Camp app.
As of now, there are no indication for a release of an official Mac version of Guild Wars 2, and this is unlikely to change very soon. However, considering that Guild Wars 2 is a popular game that many people want to play, many Mac users are seeking workarounds to enjoy the title. That's why, below we're going to show you several alternatives for running this game on a Mac with a quality that comes close to the original.
How to play Guild Wars 2 on Mac
The easiest way to play Guild Wars 2 on a Mac is by streaming it via a cloud service like Boosteroid or GeForce Now. Parallels, and Boot Camp Assistant are alternative methods to play Guild Wars 2 on a Mac that require the installation of the software on the system.
Guild Wars 2 Set-up Methods
Methods
Advantage
Disadvantage
Cloud Gaming
– No set-up required – Register and Play
– Access to a Library of over 70 top-rated free Games
– Smooth performance
– Compatible with M1 and Intel Macs
– Monthly Fee
– Requires Decent Internet Connection
– No Free Trial
Parallels Virtual Machine
– Easy Set-up
– Adequate Performance
– Play almost any PC game
– Windows 11 environment
– Compatible with M1 and Intel Macs
– 14-day free trial
– Yearly Fee
BootCamp
– Free to use any time
– Windows 10 Environment

– Painful Setup
– Mediocre Performance
– Only Compatible with Intel Macs

How to get Guild Wars 2 on Mac
To get Guild Wars 2 on Mac, first, you need to get the game from Steam. After that, you can play it without downloading it by using Boosteroid or GeForce Now, or you can get Guild Wars 2 downloaded on Mac with the help of Parallels, or Boot Camp.
Once you have the Steam version of Guild Wars 2, you can register in the Boosteroid cloud gaming service and use it to stream the game to your Mac, iPhone, iPad, and Apple TV.
Play Guild Wars 2 on Mac with Boosteroid
Any Boosteroid subscriber may use the service to play Guild Wars 2 on their Mac. To play Guild Wars 2 on Mac with Boosteroid, all you need to do is sign up for an account and a subscription.
The great thing about Boosteroid is how straightforward and easy to use this service is. Waiting for a game to finish downloading before you can launch it on your Mac is a thing of the past. It makes no difference what kind of Mac you're using, so your machine's hardware specs play no role. With cloud gaming, your gaming experience is entirely dependent on the quality of your Internet connection. If you want to get the most out of playing Guild Wars 2 with Boosteroid, the recommendation is to have an internet connection with speed of <25mbps/>20ms for best experience.
If you want to try Boosteroid, please follow these steps:
Sign up for an account at Boosteroid.com.
Just log in, go to your profile settings by clicking your name up top, and then hit the subscribe button.
In order to start your Boosteroid subscription, just choose a plan, select a payment method, and fill out the necessary information.
To access Guild Wars 2, use the search bar at the top, enter "Guild Wars 2", and then choose the game's tile from the resulting list.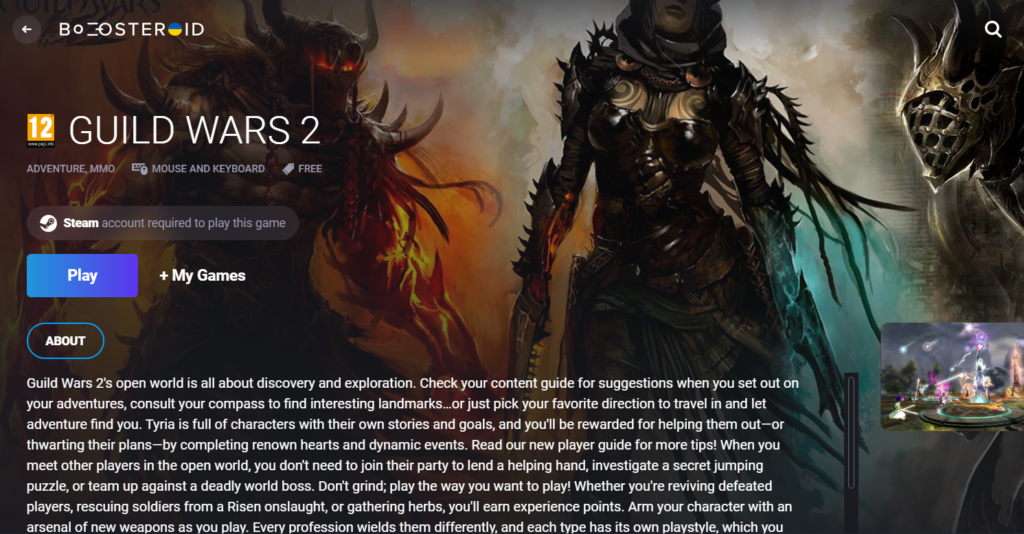 Click the "Play" button on the Guild Wars 2 Boosteroid page, and then confirm that you are OK with connecting to Steam.
Follow the prompts to input your Steam account information and log in.
The Steam client will appear on the same page as the game immediately, and Guild Wars 2 will launch shortly thereafter. In the event that the game does not launch immediately, you may access it from your Steam Library.
Although the Boosteroid service works with the majority of browsers, we suggest using Google Chrome for the best experience.
Play Guild Wars 2 on Mac with GeForce Now
Creating a GeForce Now account and downloading the service's macOS client application are prerequisites for playing Guild Wars 2 with GeForce Now. To use GeForce Now to play Guild Wars 2 on a Mac, just run the client and search for the game in the search bar.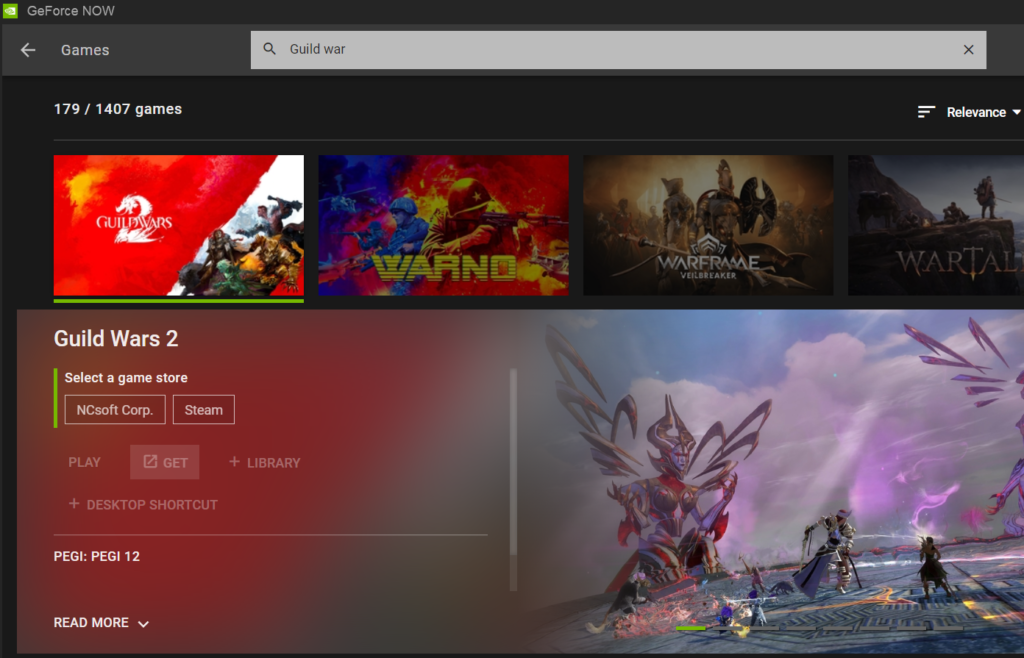 Like Boosteroid, GeForce Now lets you play games directly from the service without having to download them to your Mac. Here are some brief instructions on how to get this service up and running.
Create a GeForce Now account by visiting the official website, clicking the "Join Now" button, selecting a subscription plan, and completing the registration process.
The next step is to go to the GeForce Now site's downloads page and get the macOS client for the service.
You may access your GeForce Now profile after installing the client software, starting the app, and logging in.
To play Guild Wars 2, open the app, type "Guild Wars 2" into the search field, and then choose the game from the results.
To proceed with the Steam connection and game loading, click the Continue button and accept the connection terms.
This page has more details on how to use GeForce Now.
How to download Guild Wars 2 on Mac
In order to download Guild Wars 2 download on a Mac, you will need to have Parallels installed, or have Windows installed on a separate partition on your disk. As long as you have one of them, you can download Guild Wars 2 on your Mac and play it locally.
Unfortunately, you will not be able to download and play Guild Wars 2 as it is because the game is not compatible with Mac OS. With one of these two alternatives, though, you may still access the game's download and play it.
When you use Parallels, Windows is installed inside your Mac and runs alongside macOS so you may run Windows games within the virtual machine.
It is important to mention that only Intel-based Macs are compatible with Boot Camp, which allows you to install Windows 10 on a separate drive, thereby transforming your Mac into a Windows PC when booted from the Windows sector.
Guild Wars 2 on Mac M1
You may use a cloud gaming service, such as Boosteroid, or GeForce Now to play Guild Wars 2 on a Mac M1 quickly and without downloading and installing anything. Guild Wars 2 may also be played on a Mac M1 by installing it on a virtual computer created with Parallels.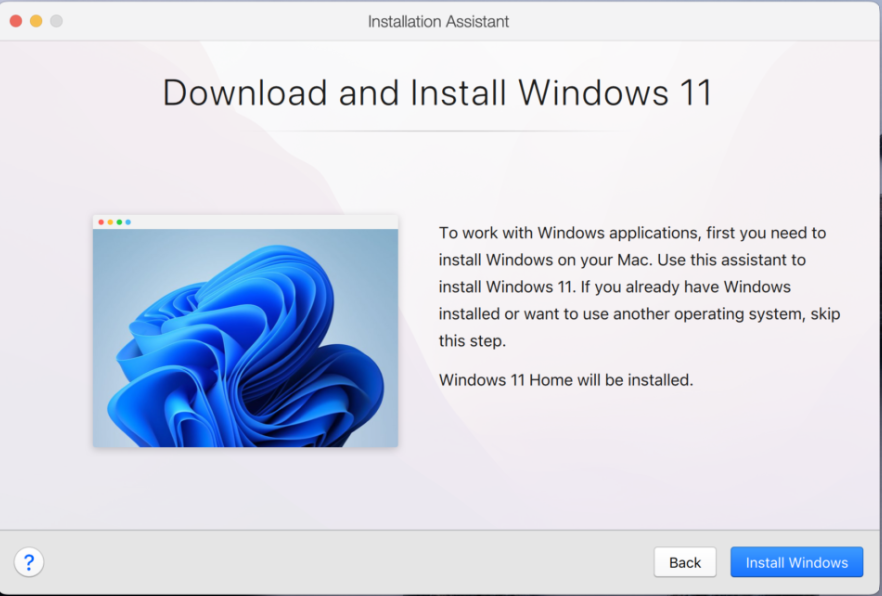 Despite the fact that playing games in Parallels may be taxing on Mac's hardware, M1 Macs are fast and powerful enough to handle the job. Furthermore, Guild Wars 2 isn't a very demanding game, so you shouldn't have any trouble running it on a Parallels virtual computer.
We advise you to read our full guide on the subject if you want to understand how to install and use Parallels. If you are short on time and need a summary of the steps, however, here they are:
First, get Parallels from their website and save it on your computer.
After that, double-click the Install Parallels Desktop icon inside the Parallels.dmg file to begin the software's installation on your Mac.
Third, choose Install Windows, and then sit tight while Windows Virtual Machine is being constructed.
Following this, create an account on the Parallels website and use it to access the virtual computer.
Install the Steam client within the virtual machine and search for Guild Wars 2.
Play Guild Wars 2 on Mac with Boot Camp
Installing Windows using Boot Camp Assistant is the first step in playing Guild Wars 2 on a Mac running Boot Camp. Then, using Boot Camp, access the Windows disk, install Steam, and get Guild Wars 2 for Mac.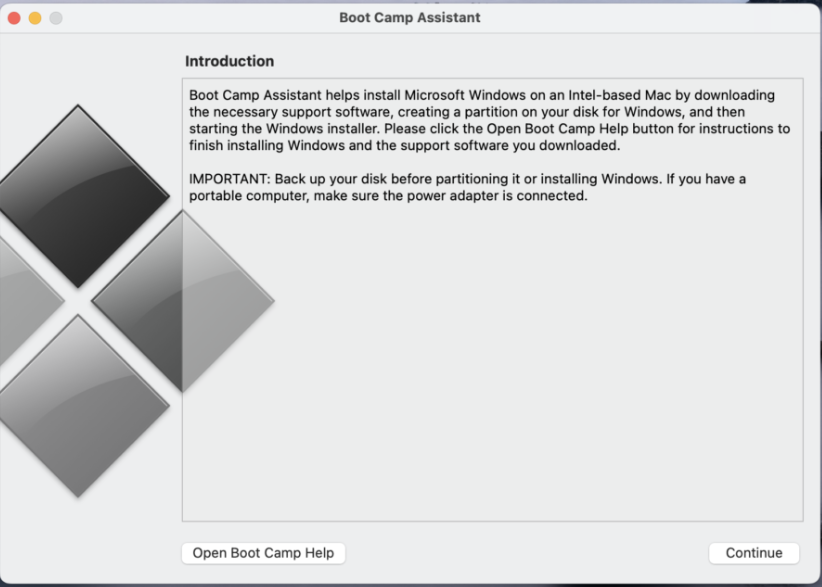 Using Boot Camp, you may partition your hard drive in two, with Windows running on the second partition. Then, you may use your Mac as if it were a Windows PC, and run Windows-only programs like Guild Wars 2 on it. Sadly, this can't be done on M1 Macs since they don't support the Boot Camp software.
If you have an Intel-based Mac and would want to play Guild Wars 2 or another Windows game, you can learn all you need to know about installing Windows by reading our full guide. Here is a brief summary of everything you need to do to set up Boot Camp:
In order to install Windows 10, step one is to get the ISO file from Microsoft.
Next, find Boot Camp in the Utilities folder, open it, and then import the ISO file.
Third, set the disk partitions as required, and then choose Install.
Fourth, start the Windows 10 installation by following the on-screen instructions.
Upon completion of the installation of the new operating system, you should configure Windows and install all necessary drivers and updates.
As the last step, install Steam on the Windows partition and download Guild Wars 2 with it.
Martina Nikolova
Martina likes to get into nitty-gritty of tomorrow's tech, from product design across to security based solutions. A long time mac user and developer, she has the expertise and strives to give new insight