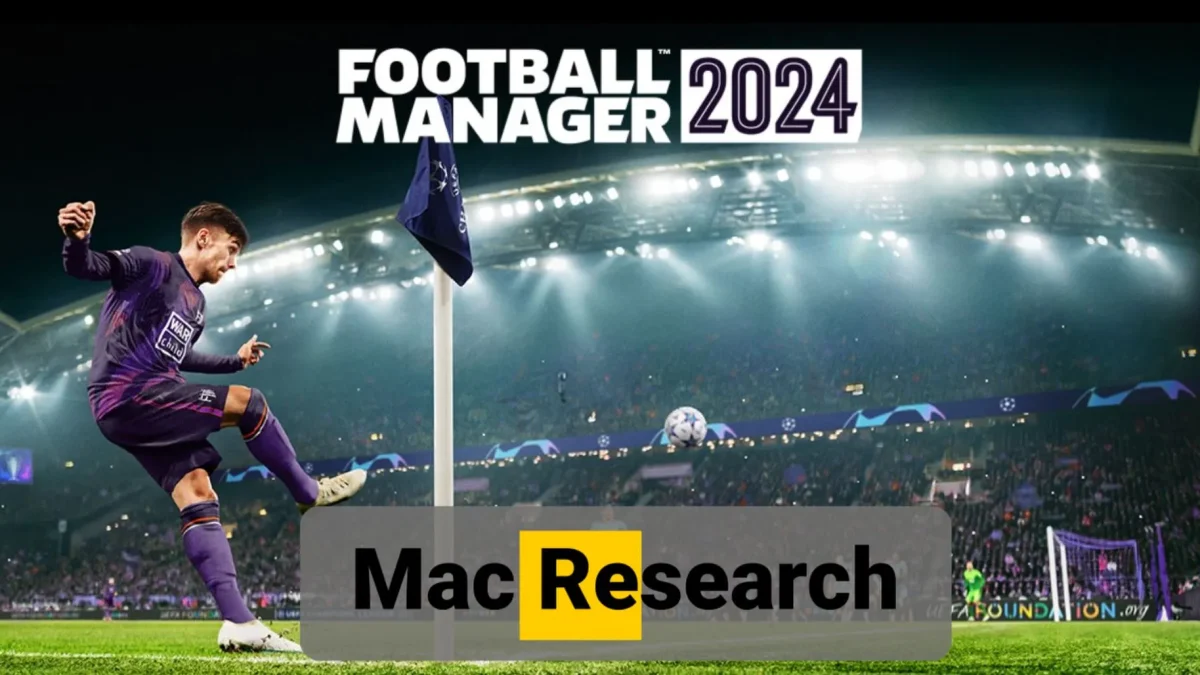 Like its predecessor from last year, Football Manager 2024 is available on Mac and can easily be played on Apple machines without requiring the implementation of elaborate workarounds. This is great news for any Mac user who enjoys the thrill of managing a high-level soccer team on its way to stardom. And since we, too, appreciate this type of simulation games, we decided to give Football Manager 2024 a shot on an M1 MacBook Air.
But after testing the native macOS version of the game, we learned that there's an alternative way to play it on Mac and that is through the use of the Boosteroid and Xbox Cloud Gaming services. Now, one might wonder what's the point of cloud gaming if the game's already available for Mac, but we always strive to be exhaustive and explore all viable Mac gaming methods, so we also tried both Boosteroid and XCloud.
All methods to play Football Manager 2024 on Mac
Now, if you are interested in learning how our testing went with both methods to play Football Manager 2024 on Mac, you can read about it further down, but if you are eager to start playing as ASAP, here are the three mentioned methods:
Natively with Steam

Step 1: Installing Steam on Your Mac

Head to the Steam homepage at store.steampowered.com.
Click the 'Install Steam' button, located in the top-right corner.
Choose 'Install Steam for Mac', download the installer, then locate and open the 'Steam.dmg' file.
Drag the Steam icon to your Applications folder, open Steam, and sign in or create a new account if needed.

Step 2: Buying and Installing Football Manager 2024

In the Steam app, search for 'Football Manager 2024'.
Buy the game and then navigate to your Steam Library to locate it.
Hit 'Install' and set your preferred installation options.

Step 3: Launching the Game

Once installed, press 'Play' to start Football Manager 2024.
Begin your journey as a football manager and enjoy!
Natively through the App Store

To download FM24 for Mac through the App Store, you'll need a subscription to Apple Arcade. If you want to own the game individually to play it, you should opt for its Steam variant.

Here's how to get Football Manager 2024 from the App Store and install it on your Mac:

Check Your Subscription: Ensure you have an active Apple Arcade subscription. If not, subscribe via the App Store by clicking on the 'Arcade' tab and following the subscription prompts.
Open App Store: Click on the App Store icon on your Mac. It's usually found in the Dock or you can search for it using Spotlight (Command + Spacebar).
Navigate to Apple Arcade: In the App Store, select the 'Arcade' tab from the sidebar to access the Apple Arcade section.
Search for Football Manager 2024: Use the search bar at the top of the App Store window to search for "Football Manager 2024".
Download the Game: Once you find Football Manager 2024, click on its icon and then select the 'Get' or 'Download' button. The game will start downloading and will be available in your Applications folder or Launchpad once the download is complete.
Launch and Enjoy: After downloading, click on the game icon to start playing. Enjoy managing your football team!
Boosteroid Cloud Gaming

Features: Constant 1080p/60 FPS; Stable connection; Low bandwidth requirements (15 MBPS); Huge gaming library with all the latest AAA titles.

Pros

Cheapest cloud-gaming option
Compatible with all macs
Hardware specs don't matter
You can play in your browser in about 15 minutes

Cons

Requires a good internet connection
You need to look if the game is supported with your chosen vendor

Extras: Here's our review of Boosteroid with a comparison to GeForce Now; also check out our Boosteroid Games List.

For those who value simplicity in their gaming setup on a Mac, Boosteroid stands out as a top recommendation. This service excels in providing a straightforward gaming experience, combining excellent graphics and performance, all without the need for intricate configurations.

Click the "Play with Boosteroid" button to visit the Boosteroid website.
Sign up for a new account or log in with your existing Google Account.
In the top-right corner, select "My account", then under "My subscription", choose and activate your preferred plan.
Use the search bar to check which vendors are supported by Boosteroid. Ensure you own the game beforehand.
You can find the game on various platforms:

Steam

,

Epic Games

. Look for potential discounts on

Cdkeys.com

.
Xbox Game Pass/Xbox Cloud Gaming

Features: Access to hundreds of games, including Football Manager 2024, without the need to purchase them individually. Ability to play the Game Pass titles on any device through the Xbox Cloud Gaming service.

Pros

You don't need to buy the game
M1/M2/Intel-compatible
Hardware specs don't matter

Cons

Requires good Internet for its cloud-gaming
Controls are console-based, emulated for mouse an keyboard.
Available in few countries.

Step 1: Starting with Xbox Game Pass Ultimate

Click the provided link to initiate your subscription.

Choose 'Join', then sign up or create a Microsoft account.
This subscription is necessary for cloud gaming with Xbox.

Step 2: Playing via Xbox Cloud Gaming (Optional)

Access XCloud by selecting 'Game Pass' on the Xbox site, then 'Xbox Cloud Gaming'.
Find and choose the game, and click 'Play with Cloud Gaming'.

Note on Controller Requirements

A console controller is needed for XCloud gaming. If you lack one, consider

this browser extension

for Chrome or Firefox that maps mouse and keyboard inputs to console controls.
Our experience with testing Football Manager 2024 for Mac
Football Manager 2024 is actually among the few games that have not one but two ways of being played locally on a Mac. The first one is to download the game through Steam, and the second one is to get it from the Apple App Store, after subscribing to Apple Arcade. Since there's virtually no difference in the game itself regardless of which option you chose, we only tried the Steam FM24 Mac version in our tests.
When testing Football Manager 2024 on Mac, we chose two relatively modest machines: a 2020 M1 MacBook Air and a 2016 MacBook Pro, each equipped with 8 gigabytes of memory. Given the game's lack of heavy graphics, we anticipated smooth sailing on both devices. After launching Steam, logging in, and installing the game, we were quickly up and running.
The game itself, while not a benchmark for performance demands, ran admirably on both Macs. There was no noticeable lag or stuttering. It's worth mentioning that FM24 for Mac has enhanced its live match simulations visually, with improved lighting and more detailed models. On our M1 MacBook Air, the game consistently hit 45 FPS during these simulations, while the older MacBook Pro hovered around 35 FPS. Watching the matches play out in real time was a treat, and it felt like the game's simulation engine was even smoother than in last year's version.
We also paid attention to the overall stability and optimization of the Foorball Manager 2024 Mac version. Apart from some minor flickering in menus, which seems like something that will easily be fixed in a future update, the game ran without any significant issues.
In summary, the Football Manager 2024 macOS version is pretty great, especially for a Mac port, and it seems that the majority of other Mac users who've also tried share our opinion. For this reason, so we do recommend this as the main method of playing the game on an Apple machine. That said, there may be an argument to be made for the cloud gaming alternative, that we'll talk about below.
Playing Football Manager 2024 on Mac with Cloud Gaming – is it worth it?
Although the Football Manager 2024 Steam version is compatible with Mac and the game is also available in the Mac App Store, there are still valid reasons to explore cloud gaming platforms like Boosteroid and Xbox Cloud Gaming. These services work by streaming games from a remote server, thereby offer a versatile way to experience a variety of games on your Mac, including those not natively available for macOS. You do need a stable Internet for the steam but the requirements are pretty low: 15 Mbps for Boosteroid and 20 Mbps for XCloud.
First off, cloud gaming is a boon for those looking to dive into a wider array of games, beyond just Football Manager 2024. Whether a game has a Mac version or not becomes irrelevant with a cloud service subscription. And let's be fair, most games aren't like FM24, and don't have a native macOS support..
Another consideration is storage space. Opting for cloud gaming means you can save significant space on your device. Although Football Manager 2024 isn't a large game by today's standards, requiring only 7 gigs, the saved space is still beneficial.
Moreover, the flexibility of cloud services like Boosteroid and Xbox Cloud Gaming extends beyond your Mac. You can stream games to any Apple device, including your iPhone or iPad, enhancing the gaming experience.
Given these advantages, we decided to experiment with both Boosteroid and XCloud for playing Football Manager 2024 on Mac. The prospect of easy access, space-saving, and device flexibility made them appealing options to consider.
Testing Football Manager 2024 on MacBook with Boosteroid
Kicking off Football Manager 2024 via Boosteroid on our M1 MacBook Air was straightforward: We simply logged into our account on the Boosteroid app for Mac, located the game after a quick search, and hit 'Play'. Moments later, we were immersed in the FM24 management simulation.
The experience was smooth, thanks to a solid connection to Boosteroid's servers. We played on a stable 40 Mbps internet connection with 30 ms latency, which ensured consistent resolution and frame rate. There were very few and brief hiccups in the streaming performance and quality, but this doesn't really impact the experience with a laid back game such as FM24. We spent a good two to three hours exploring the game's features and strategies before concluding this part of our test.
Post our session, it was clear that Boosteroid offers a viable choice for Mac users who want to play Football Manager 2024, but are also interested in exploring other games as well. The platform's reliability, coupled with the convenience of cloud gaming, makes it an attractive option for those seeking an alternative to traditional gaming setups.
Streaming FM24 on Mac with Xbox Cloud Gaming
Jumping into the world of XCloud, we started by signing up for the Game Pass Ultimate plan. Then we went to the XCloud section of the Xbox site, found FM24 and launched it directly in our browser.
Note that you don't need to own the game separately to play it through XCloud, so if you haven't already purchased it, you may want to consider this option. However, the XCloud version of Football Manager 24 can't be played locally, so keep that in mind.
Another important heads-up is that you'll need a controller to play this (or any other) game with XCloud, since it streams the Xbox versions of the games. We hooked up our controller and were pleasantly surprised. The performance was on par with Boosteroid, and even though we generally prefer the mouse and keyboard setup, everything worked great. So, if you've got a solid internet connection and a handy controller, XCloud delivers an experience that's pretty close to playing the game directly on your Mac.
But what if you don't have a controller? Well, we tried a browser extension (link in our XCloud guide) that lets you use your keyboard and mouse in place of a controller by emulating console controls. Honestly, it was a bit of a rough ride, and we're not entirely convinced it's the way to go, though we won't tell you no to try it.
One big plus of going the Game Pass Ultimate route is the instant access to Football Manager 2024 and a whole bunch of other games, all without buying them separately. It's like having a gaming buffet at your fingertips.
Methods to play FM24 on Mac: Conclusion
Football Manager 2024 is one of the few gaming titles that are both supported for macOS and work very well on Mac computers right out of the box. Because of this, there aren't many reasons to choose an alternative avenue for playing this game on an Apple machine.
But here's the thing: if you're itching to explore a wider gaming universe on your Mac or fancy playing on multiple devices seamlessly, then cloud gaming is a path worth exploring. It's not just about Football Manager 2024; it's about the freedom to jump between games and devices. If that kind of gaming flexibility tickles your fancy, then the cloud gaming route might just be your ticket to a more versatile gaming experience on your Apple gear.
Martina Nikolova
Martina likes to get into nitty-gritty of tomorrow's tech, from product design across to security based solutions. A long time mac user and developer, she has the expertise and strives to give new insight