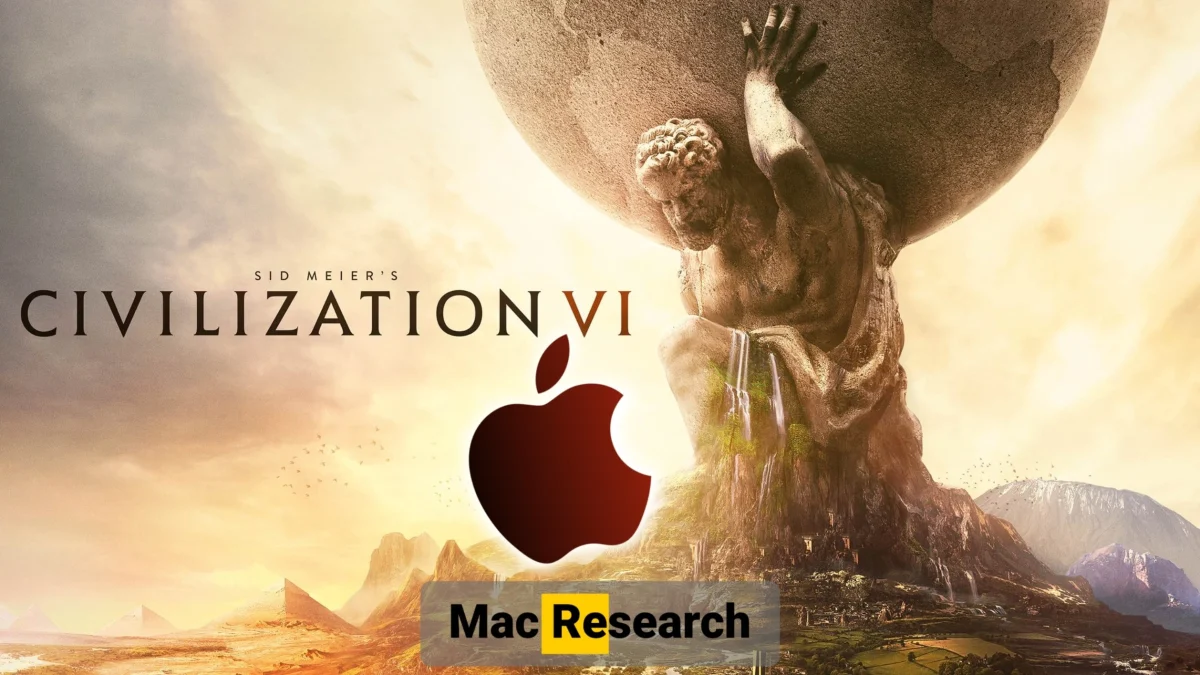 Civilization VI is among the few big titles that have a well-optimized and regularly updated Mac version, so, naturally, we wanted to try it out, see how well it runs on our Macs, and tell you about it. But after checking out its native macOS version, we also saw that the game is playable through the Boosteroid cloud gaming, thus giving us another option to play the game which we also tried.
Now that we have done our tests both with the native Civ 6 Mac version and with Boosteroid, we are ready to share our experience with you.
How to play Civilization 6 on Mac
Below, you can find the two methods we mentioned, but if you first want to read about what we learned from our testing, you can scroll further down to check out our overview of playing Civilization 6 on a Mac.
Natively with Steam

To download Civilization VI on your Mac from Steam, follow these steps:

Visit the Civilization VI page on the Steam website and purchase the game from there or check CDKeys for a discount.
After purchasing, download the Steam client from the Steam website (https://store.steampowered.com/about/).
Install and open the Steam client on your Mac.
Log in to your Steam account (or create a new one if you don't have an account).
In the Steam client, click on the "Library" tab.
Locate Civilization VI in your game library.
Click on Civilization VI and select "Install."
Follow the on-screen instructions to install the game. Once installed, you're ready to play!
Boosteroid Cloud Gaming

Features: Constant 1080p/60 FPS; Stable connection; Low bandwidth requirements (15 MBPS); Huge gaming library with all the latest AAA titles.

Pros

Cheapest cloud-gaming option
Compatible with all macs
Hardware specs don't matter
You can play in your browser in about 15 minutes

Cons

Requires a good internet connection
You need to look if the game is supported with your chosen vendor

Extras: Here's our review of Boosteroid with a comparison to GeForce Now; also check out our Boosteroid Games List.

For those who prefer a casual gaming experience on their Mac, Boosteroid emerges as a top pick. This method is perfect for those who want to game on their Mac without complicated setups, offering a blend of good visuals and smooth performance.

Click on the "Play with Boosteroid" button to reach the Boosteroid site. You'll need to sign up for a new account or use your existing Google Account to log in.
On the top right of the screen, find and click "My account". Here, you'll need to choose and activate a subscription plan under "My subscription".
Find the game by clicking the magnifying glass icon at the top and typing its name.
Testing the native Civilization 6 Mac version: Performance review
Civilization isn't the newest or most demanding game, but don't let that deceive you, as once you gate into the mid and late stages of a match, when there are hundreds of moving parts on the map, the performance can become noticeably affected depending on the hardware you are using.
In our tests for Civ 6 on Mac, the machine we used was a M1 MacBook Pro with the M1 Pro chip and 16 GB of unified memory. We set the video settings to Medium and the resolution to 1080p, and we started a game on a large map with 7 other players. Initially, we were getting around 80 FPS, but as the game progressed, that dropped to around 55, which was still perfectly fine for a slower-paced game such as Civilization 6. In other words, our M1 Pro MacBook handled this game pretty well, and we were quite satisfied with the experience.
However, when we also tested Civ 6 on an M1 MacBook Air with 8 GB of memory, we had to use the low video settings to get an average of 40 FPS, which was still okay for this game, but the decrease in both performance and image quality was noticeable. In other words, while this isn't the most demanding of games, it still really depends on what type of Mac you are playing it. Weaker machines such as the base M1 MacBook Air models, while still offering a decent performance, won't give you the best experience if you value high-end graphics and performance.
If you are on a weaker Mac, but still want to enjoy the game with its video settings set to high without sacrificing performance, you may want to check out the alternative way to play Civilization 6 on Mac that we'll be talking about next.
Playing Civ 6 on MacBook with Boosteroid: Is this a viable alternative?
After testing the native Civ 6 macOS version, we decided to give a try to Boosteroid as an alternative way of playing this game. Since Boosteroid is a cloud gaming service that streams the game to us, our Mac's hardware didn't matter and the performance and image quality we'd get depended on the strength of our Internet connection.
From the get-go, our experience was promising. With Boosteroid, we bypassed the need for a high-spec Mac, streaming the game directly from Boosteroid's servers. This approach opened up a new realm of possibilities, especially for those of us using older Mac models. The performance was generally impressive, with the game running smoothly at high settings. We were pleasantly surprised to see Civilization 6 playing at 1080p resolution and a steady 60 FPS, thanks to our reliable internet connection.
Internet speed is crucial for cloud gaming, and Boosteroid recommends a minimum of 15 Mbps. However, we found that a 25 Mbps connection offered a more stable and seamless experience. With this setup, we delved into the world of Civilization 6, building empires and strategizing our way through various eras. The game's turn-based nature was well-suited to the cloud gaming format, as it reduced the impact of potential latency issues.
Latency, of course, is an important factor in cloud gaming. We noticed occasional lag spikes, particularly during intense gameplay moments or when our internet speed fluctuated. These instances were brief and didn't significantly detract from our overall experience, but they were noticeable. For those engaged in longer gaming sessions, this could be a point of consideration.
One of the highlights of using Boosteroid was the ease of access. There was no need for lengthy downloads or installations – we jumped straight into the game. This convenience is particularly appealing for those who prefer a more streamlined gaming experience.
In summary, playing Civilization 6 on a Mac via Boosteroid was a delightful experience. It's an excellent option for Mac users who may not have the latest hardware but still want to enjoy this complex and engaging game. While cloud gaming comes with its set of challenges, mainly related to internet stability, our time with Civilization 6 on Boosteroid was largely positive, offering us a new way to enjoy one of our favorite strategy games.
Martina Nikolova
Martina likes to get into nitty-gritty of tomorrow's tech, from product design across to security based solutions. A long time mac user and developer, she has the expertise and strives to give new insight