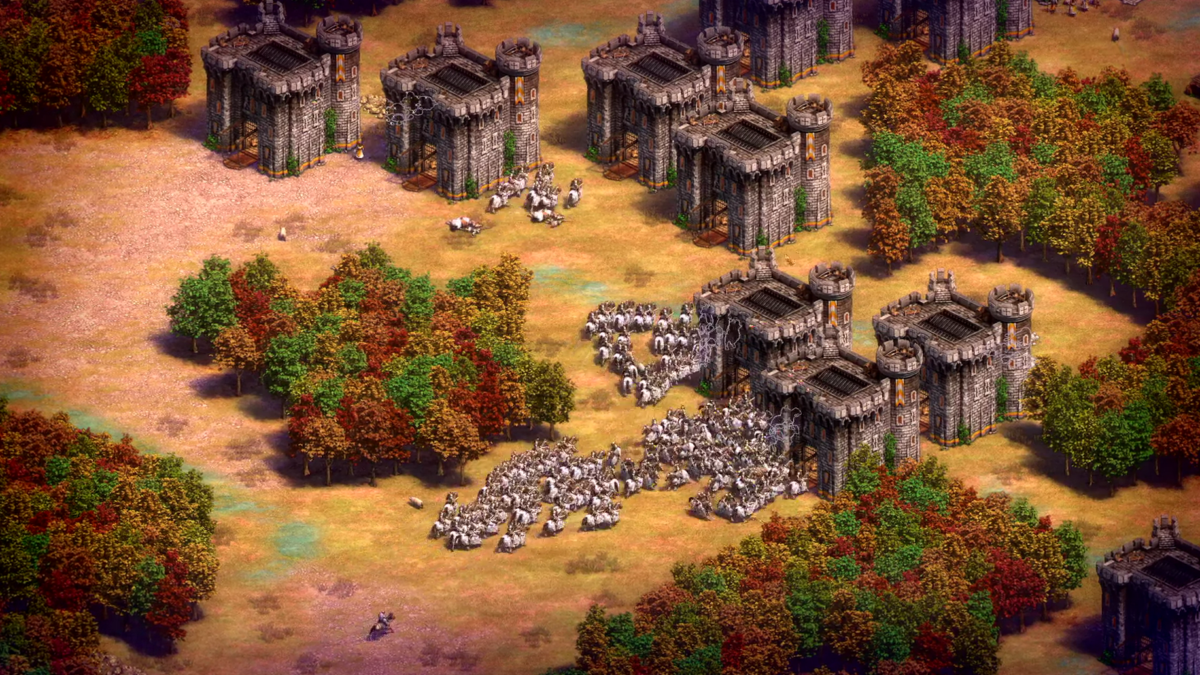 Age of Empires 2 (Mac)
Martina Nikolova, 1 month ago
0
12 min

read
Is Age of Empires Mac compatible?
Even though there isn't Age of Empires Mac compatibility for any of the games in the franchise, including the focus of this post – Age of Empires 2: Definitive Edition, there are still plenty of ways to play the second installment of this beloved gaming series on a Mac computer. In this article, you will learn about the different ways you can play Age of Empires 2 on your Apple computer despite the lack of Age of Empires Mac support. The methods we are about to show you here are the Boosteroid, Xbox Cloud Gaming, and GeForce Now cloud gaming services, CrossOver, Parallels, and Boot Camp. You will find detailed guides for each of them further down this page.
Table of Contents:
Is there Age of Empires for Mac?
There isn't an official version of Age of Empires for Mac. This applies not only to the highly popular Age of Empires 2: Definitive Edition, but also to all other installments of the popular real-time strategy series. However, this doesn't have to be a reason to not enjoy one of the best RTS games of all time. Besides, the Apple Silicon chips for the newer models of Macs have proven time and time again that an Apple computer can go toe to toe with powerful gaming PCs in terms of performance. In other words, the only obstacle in your way to play the beloved strategy game on your Apple machine is the lack of a version of Age of Empires for Mac – an obstacle that we'll help you circumvent.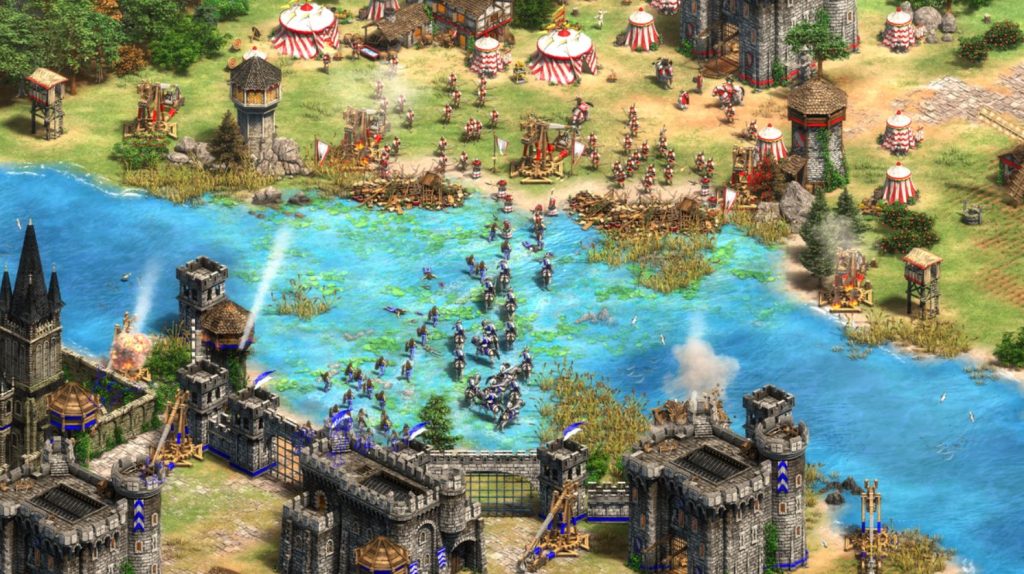 Can you play Age of Empires 2 on Mac?
You can definitely play Age of Empires 2 on Mac and there are multiple ways to do that. However, the best option for you will depend on what model of Mac you own, how good your Internet is, and, obviously, on your own preferences. In our opinion, the easiest and most straightforward option to play Age of Empires 2 on Mac is to go for Boosteroid, Xbox Cloud Gaming, or GeForce Now. These are cloud gaming services that let you stream the game, providing equally good performance on any Mac, including weaker and older ones. The other option is to download the Windows version of the game and play it through CrossOver, Parallels, or Boot Camp – also great variants if your Mac comfortably meets the game's system requirements.
Age of Empires 2 Mac download
To perform an Age of Empires 2 Mac download and be able to play it, your only option is to download the game from Steam and then run it in a Windows environment. CrossOver provides such an environment by running the game in a translation layer, which is the quickest and most straightforward option. Parallels takes this a step further, creating a Windows virtual machine within your macOS and letting you perform the Age of Empires 2 Mac download in it. Then there's Boot Camp, which lets you split your hard drive into two partitions and then installs the entire Windows system on one of those partitions. When booting from the Windows partition, your Mac will function as a regular PC and be able to run any Window app.
Note: The Boot Camp method is unavailable for Apple Silicon Macs (M1 and M2), as it only works on Macs with Intel CPUs.
Age of Empires MacBook performance
The Age of Empires MacBook performance you can expect will strongly depend on the method you choose to use for playing the game on your Mac. If you go for cloud gaming services like Boosteroid or XCloud, the only factor that can downgrade your performance is your Internet. If your Internet is fast and stable, the game should run smoothly on any Mac. As for the other methods that involve downloading the game and running it locally, then it's best to have a powerful Mac with, preferably, 16 GB RAM/Unified memory and a discrete GPU if we are talking about an Intel-based model. Otherwise, your Age of Empires MacBook performance may not be that great since AoE 2: Definitive Edition is actually a rather demanding game.
How to play Age of Empires on Mac?
To play Age of Empires on Mac, first check out the different methods we've listed below, choose one you think will work the best in your situation, and then follow our instructions for it to get the game running on your machine. For users with weaker and older Macs or for anyone short on storage space, the cloud gaming platforms we mentioned will be ideal as long as your Internet is good. And if you have a relatively powerful Apple computer, you can try to play Age of Empires on Mac with the help of the CrossOver translation layer, the Parallels virtualization software, or the Boot Camp app that lets you install the entire Windows OS on your computer.
Unless you choose to play Age of Empires 2 on your Mac using the Xbox Cloud Gaming service (more on that later), you'll need to first buy the game before being able to run it on your Mac:
How to play Age of Empires 2: Definitive Edition on Mac with Boosteroid
Recommended Method
Boosteroid Cloud Gaming
Why we recommend Boosteroid over the other methods
Boosteroid has the best 'bang for buck' of all methods. It provides fast support for new big titles, hits a constant high performance level (60 FPS) that's rarely achievable except for native mac ports, and with graphics options reserved for high-end PCs. It requires only a good internet connection.
GeForce Now is a higher-value alternative, but to achieve better results than Boosteroid, the service wants 6-month payments to subscribe to its highest tier. We recommend starting with Boosteroid, then switching to GFN later if you feel like it.
Methods like Game Porting Toolkit or Crossover will not give you a good experience in general and will drain your battery fast.
Our Policy

Read why you should trust us.

Direct Link

Try Boosteroid
1. Establish a Boosteroid account or utilize your Google account for Boosteroid registration. Please be aware that only the Steam version of Age of Empires 2: Definitive Edition is compatible with Boosteroid.
2. After successfully logging in, tap on your account's identifier in the upper-right corner, followed by the Subscribe option on the ensuing page.
3. Choose a plan that aligns with your needs, input the required payment information, and activate your subscription to the platform.
4. Use the search icon located at the top, input the game's title, and hit the Play button when the game surfaces in the search outcomes.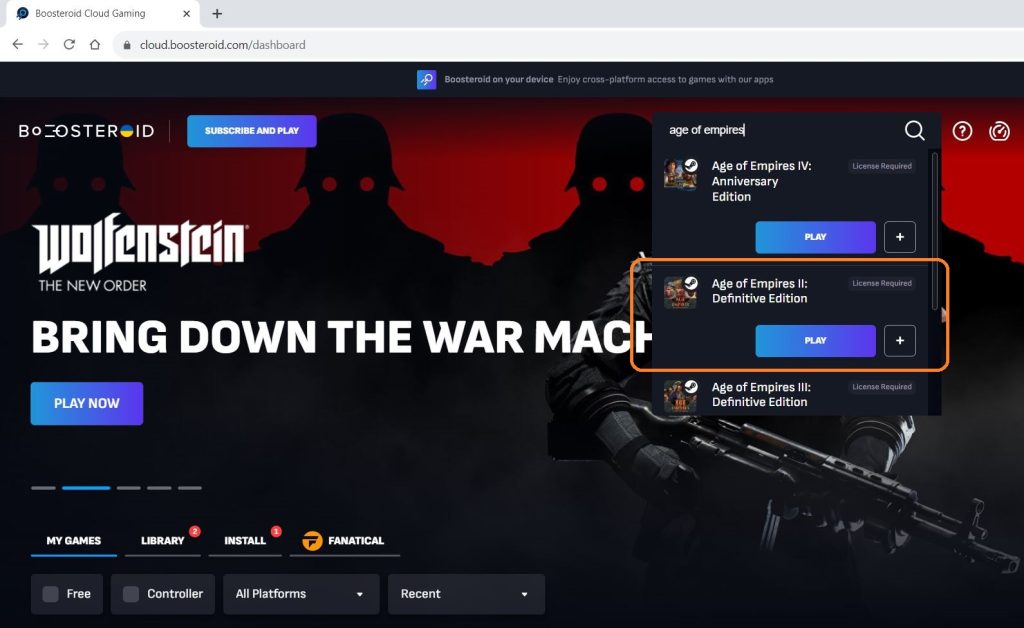 5. Grant Boosteroid permission to link with your Steam account, provide your Steam credentials, then patiently await for the game to start.
How to play Age of Empires 2: Definitive Edition on Mac with CrossOver
1. Update your macOS to macOS Sonoma, visit the CrossOver site by clicking the button below, and download and install CrossOver.
2. Search for and download the Game Porting Toolkit from this Apple page and then open the downloaded file to mount it.
3. Download the CXPatcher from this page and install it in your Applications folder. Then run the following Terminal command: "xattr -cr /Applications CXPatcher.app".
4. Open the CXPatcher, turn on the Enable External Resources and the Allow repatch / upgrade options.
5. Click Locate External Resources and open the Game Porting Toolkit folder. Then drag-and-drop the CrossOver app into the CXPatcher.
6. Create a new CrossOver bottle and install in it Steam (or another game launcher if you own the game elsewhere).
7. Turn off DXVK, launch and log in to Steam, go to your gaming library, install the game, and launch it.
How to play Age of Empires 2: Definitive Edition on Mac with Xbox Cloud Gaming/Xbox Game Pass Ultimate
Xbox Cloud Gaming, often referred to as XCloud, hosts Age of Empires 2: Definitive Edition amongst its diverse game collection. To tap into this platform, you must enroll in the Xbox Game Pass Ultimate plan. This subscription not only gives you access to Age of Empires 2: Definitive Edition but also opens the doors to hundreds of other games, eliminating the need to own them individually. The majority of these titles, including Age of Empires 2: Definitive Edition, are housed within the XCloud service, ensuring they're compatible with macOS. Here's your guide to securing the Game Pass Ultimate subscription and delving into Age of Empires 2: Definitive Edition via the XCloud platform:
1. Initiate the process by clicking the link provided below. Select 'Join' and sign in using your Microsoft credentials (if you don't possess an account, take a moment to create one). Next, opt for the Game Pass Ultimate Plan and furnish the requisite payment information to activate your subscription.
For optimal performance, we suggest employing either the Google Chrome or Mozilla Firefox browsers when utilizing XCloud.
2. Upon successful subscription, navigate to the Game Pass section, then select Xbox Cloud Gaming (Beta). Utilize the search function to locate Age of Empires 2: Definitive Edition. If you're equipped with a game controller, connect it to your Mac at this juncture.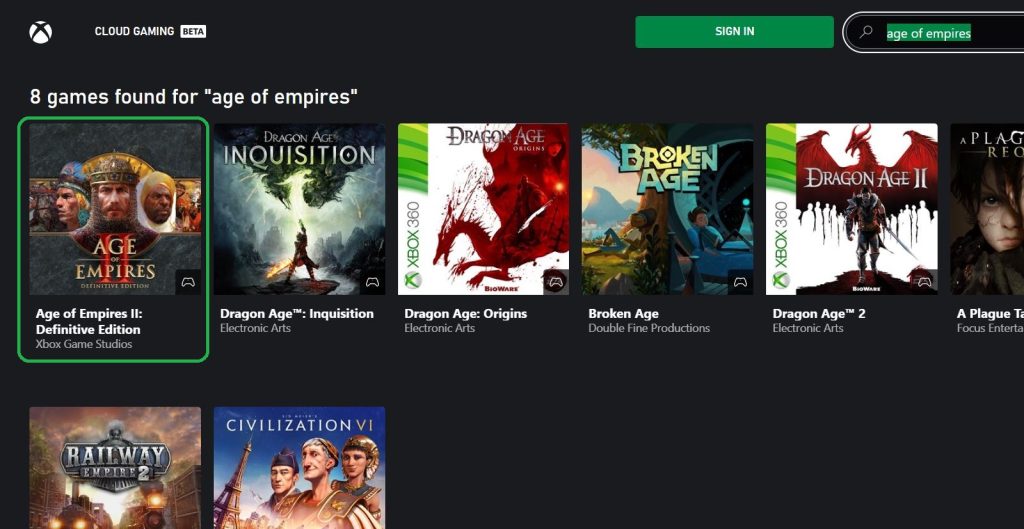 3. Conclude by pressing the Play button to launch the game. If you've incorporated the previously mentioned extension, initiate its functionality by clicking the center of your display screen.
How to play Age of Empires 2: Definitive Edition on Mac with GeForce Now
For GeForce Now, we've prepared a detailed guide, which you can find on the page linked below to learn how to play Age of Empires 2 on your Mac using this cloud platform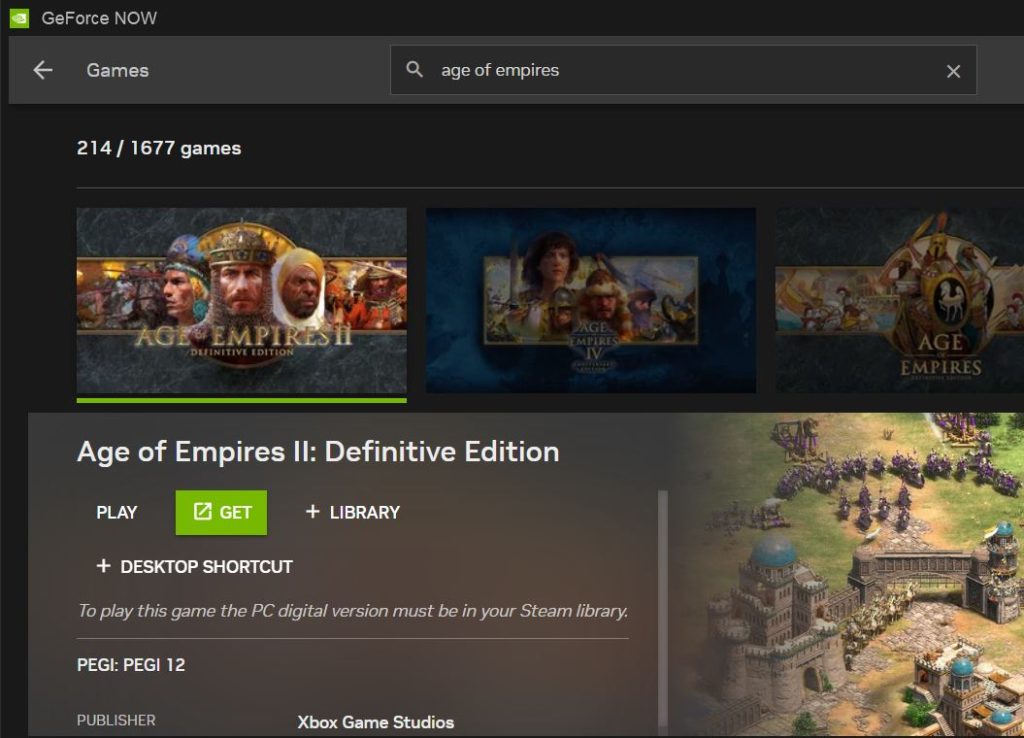 How to play Age of Empires 2: Definitive Edition on Mac with Parallels
You can learn how to install and use Parallels Desktop to play Age of Empires 2 on your Mac from the following detailed tutorial:
How to play Age of Empires 2: Definitive Edition on Mac with Boot Camp (Intel Macs Only)
Finally, we'll also give you or Boot Camp Assistant tutorial that will guide you through the process of partitioning your hard drive and installing Windows 10 on one of the partitions, where you'll be able to download and play Age of Empires 2. As noted earlier, this method is only for Intel Macs and cannot be used on an M1 or M2 model.
Age of Empires II: Definitive Edition – Timeless Nostalgia Meets Modern Innovation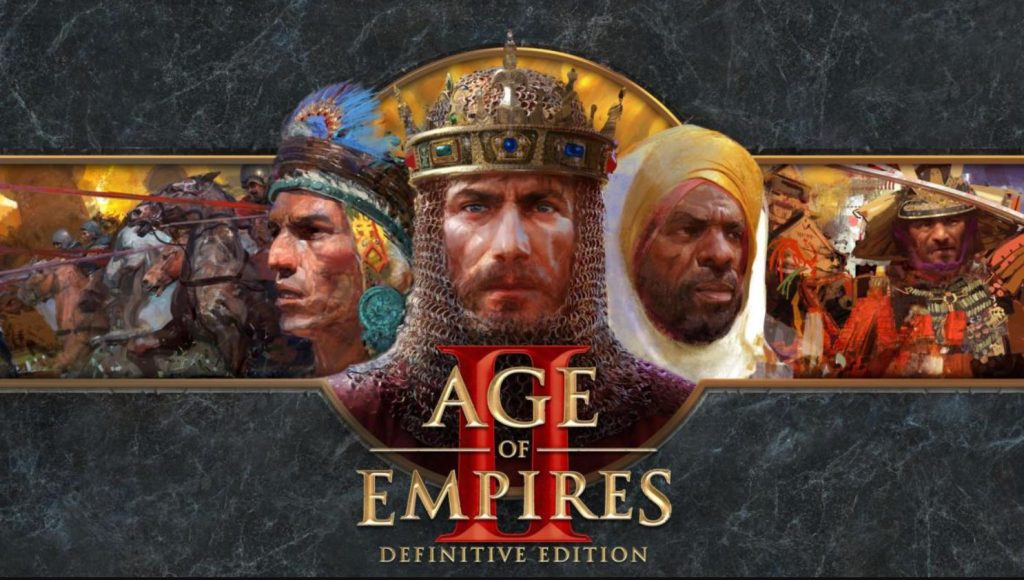 In the vast annals of gaming history, certain titles shine like timeless jewels, ever bright, never fading. Among such stalwarts stands Age of Empires II. With the Definitive Edition, this classic hasn't just been dusted off; it's been regilded, enhanced, and presented afresh to old devotees and curious newbies alike. However, Mac users, before your hopes rise, a note of caution: this gem hasn't made its way to MacOS. But read on, because good things come to those who wait (or dual-boot).
Graphics and Sound: A Rebirth in High Definition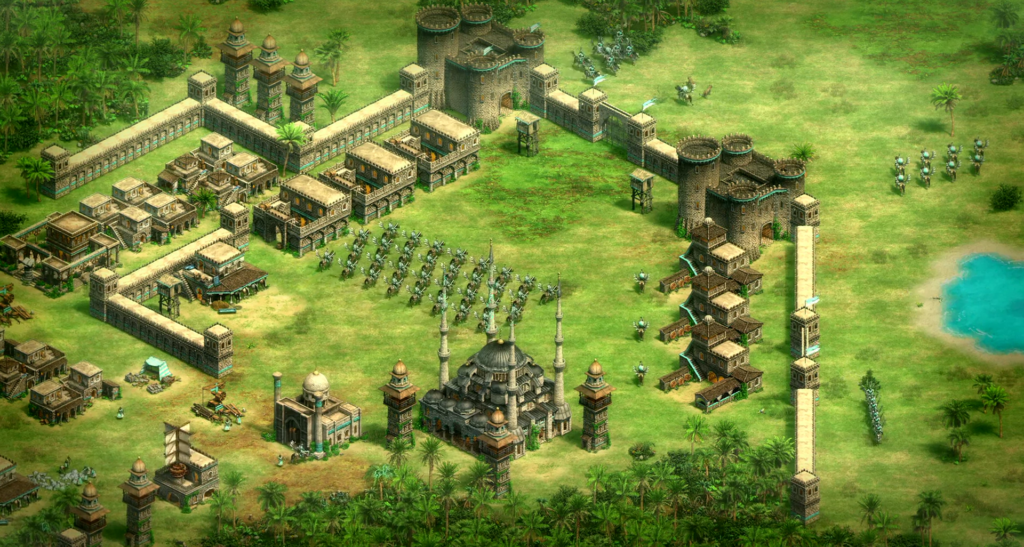 The game has been reimagined visually. Those once (charmingly) pixelated units and structures are now crisp, high-definition versions of themselves, teeming with details that make every skirmish feel incredibly lifelike. While the game retains its authentic aesthetic, every graphic element feels smoother, sharper, and more refined.
On the audio front, the clangs, thuds, and celebratory sounds of yesteryears have been enhanced. The remastered soundtrack is the cherry on top, setting the mood for those epic battles or peaceful city-building moments.
Gameplay: The Age-Old Dance with a Few New Steps
Why fix what isn't broken? The game's core mechanics, beloved by many, remain intact. However, tucked within the familiar are several quality-of-life improvements designed to make gameplay smoother and more intuitive. These range from more sensible unit pathfinding (though be prepared for an occasional scenic detour) to a user-friendly interface that feels both classic and contemporary.
New campaigns and civilizations infuse further depth, introducing fresh challenges and broadening strategic horizons. Each adds a layer of complexity, ensuring gameplay remains as engrossing as it was two decades ago.
Multiplayer: The Arena Where Legends Are Made (and Often Humiliated)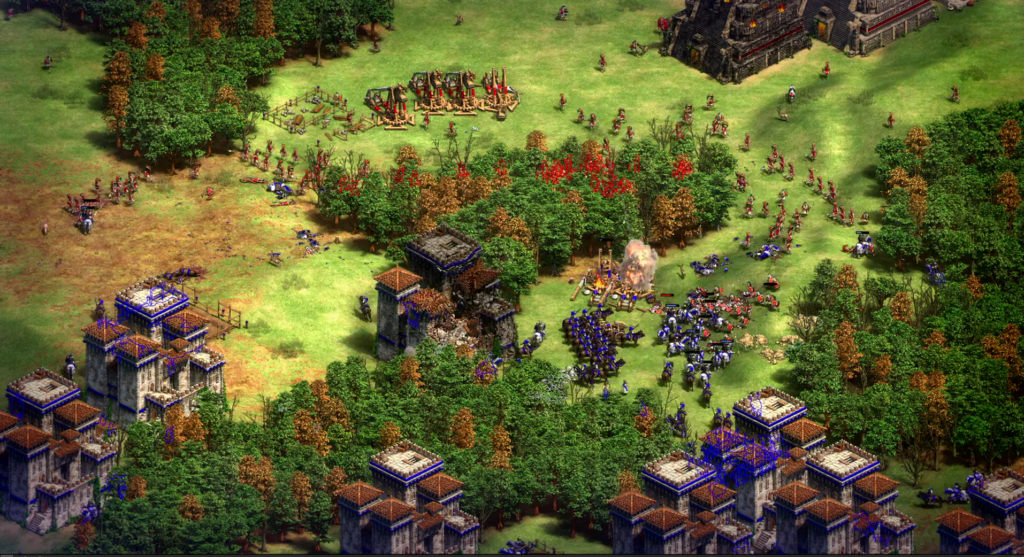 The revamped multiplayer is where nostalgia hits hardest. Old-timers will instantly recognize the thrill, while newcomers may face a steep (but enjoyable) learning curve. Fear not, rookies: today's defeats pave the way for tomorrow's conquests!
Added features, like the spectator mode and streaming support, mean you can learn from seasoned players or simply relish the spectacle of epic clashes without being in the heat of the battle.
Performance & Compatibility: The Slight Chink in the Armor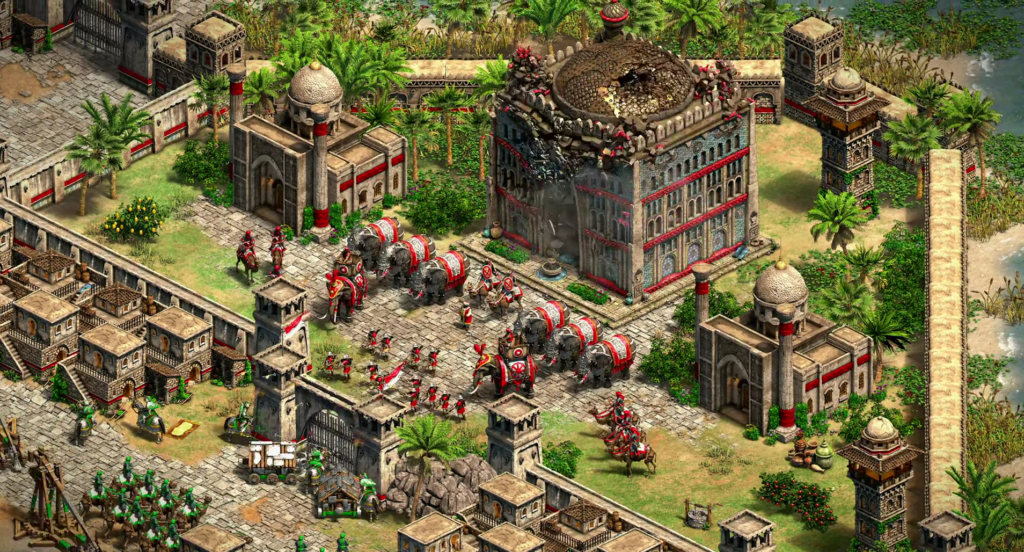 Here lies the game's only quirk. Age of Empires II: Definitive Edition, in all its grandeur, has yet to grace the MacOS and become available for Mac machines. Mac enthusiasts might feel a pang of envy, and rightly so. For a game of this stature, it's a tad surprising to not find native Mac support. But for those who've experienced the rigors of dual-booting or using virtual machines, there's still a glimmer of hope. Here's to holding out for future compatibility updates! In the meanwhile, check out the alternative methods to play Age of Empires 2: Definitive Edition on Mac.
Conclusion: A Triumph of Legacy Gaming
Age of Empires II: Definitive Edition is more than just a game. It's a piece of history, lovingly refurbished for a new generation. It epitomizes what makes a classic – an offering that stands the test of time, only to return stronger and more captivating.
For those fortunate to experience it on compatible systems, the game promises hours of unbridled fun, strategic depth, and a trip down memory lane. As for our Mac-using friends, keep those fingers crossed and those virtual machines or cloud gaming accounts ready. After all, in the world of gaming, one never truly knows what tomorrow brings. But until then, remember: there's always wine (the compatibility layer software, of course). Cheers to conquests, knights, and kingdoms!
Martina Nikolova
Martina likes to get into nitty-gritty of tomorrow's tech, from product design across to security based solutions. A long time mac user and developer, she has the expertise and strives to give new insight