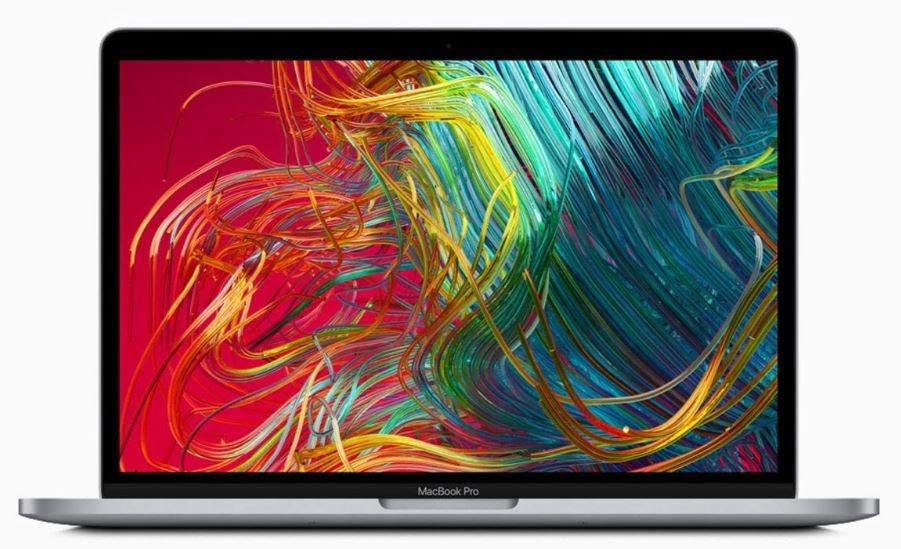 Apple stores are reopening around the United States and users are ones again ready to pick out the latest macbooks from apple. You can now buy the MacBook Pro 13-inch 2020 model which comes with a new and improved keyboard, improved specs, and the option to use a 10th gen CPU. In the next lines, we will go into more detail about the new improvements brought by the latest laptop in the MacBook Pro series and we will also mention a few words about any potential drawbacks users may find in this model. We have the full price list for the Macbook pro 13 inch here and advise on where you can buy it the cheapest.
Key Features – MacBook Pro 13 inch 2020
Magic Keyboard
One of the main improvements that come with the 2020 MacBook Pro is the new keyboard that this laptop uses. It replaces the Butterfly keyboard (which lots of people disliked) of previous models with a scissors-type keyboard that provides a tangible improvement in typing experience.
Keys now are more responsive and easier to type with resulting in higher typing accuracy. The new improved key design with rubber dome further contributes to the more pleasant overall typing experience.
People who tend to spend hours typing long texts on their Macs are the ones who will benefit the most from this keyboard improvement.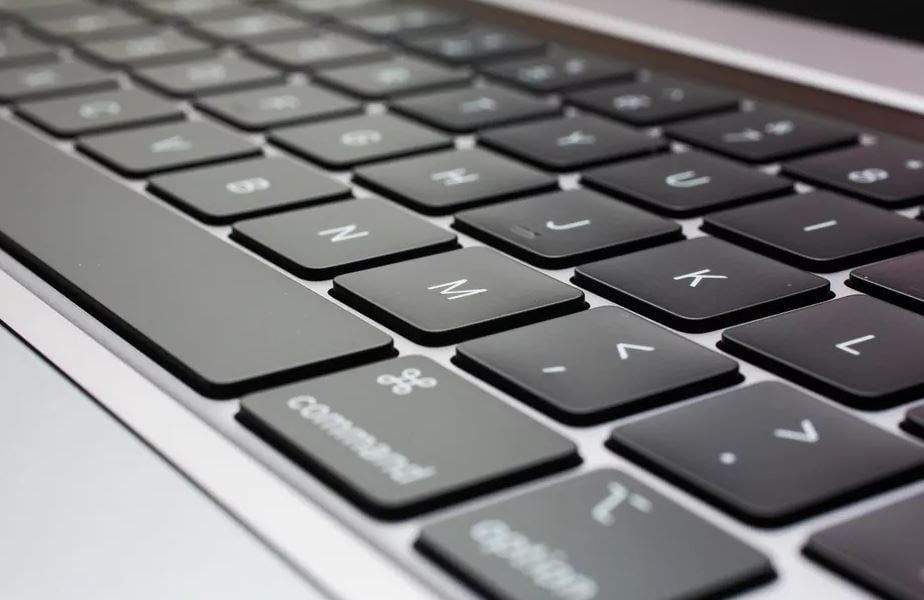 New Audio Speakers
The speakers on MacBook Pro 13-inch are surprisingly good – they play crisp and loud audio and even offer some base, which is surprising for a laptop. In addition, even though we are talking about a 13-inch laptop, one could still feel the speaker's stereo separation to an impressive extent. Of course, don't expect wonders from a set of built-in laptop speakers but it's still a nice touch that is much appreciated for times when you want to watch a movie or listen to some music but don't have access to a proper stereo setup or quality headset. Now your Zoom meetings will be crisper then ever.
Enhanced Display
Unfortunately, MacBook Pro 13-inch 2020 doesn't support 4k resolution – like its 2019 predecessor, it still uses a 2560 x 1600-pixel resolution. Nevertheless, this certainly doesn't mean that the display isn't good. In its price range, this laptop offers one of the brightest screens out there allowing users to clearly see what's happening on the screen even when outdoors on a sunny day. Its colour reproduction is also on point and its colour accuracy is even a bit above that of other machines comparable to the MacBook Pro 13-inch 2020. One potential drawback that some users may not be happy about is the lack of touchscreen, considering that a lot of modern laptops of the same price range offer that.
Better Thermal Design
There's not much to be said about the design of MacBook Pro 13-inch 2020. In all fairness, it looks quite dated so if you are looking for a design overhaul with the latest addition to the MacBook Pro series, you won't find it here. MacBook Pro 13-inch 2020 sports the same old MacBook look that has been around for quite some time now and while this isn't necessarily a bad thing, some users may prefer a more modernized appearance. One of the main complaints people tend to have with this model is its thick bezels that are still there to frame the display. Compared to other modern laptops that have much slimmer bezels, those on MacBook Pro 13-inch 2020 seem particularly dated in terms of design.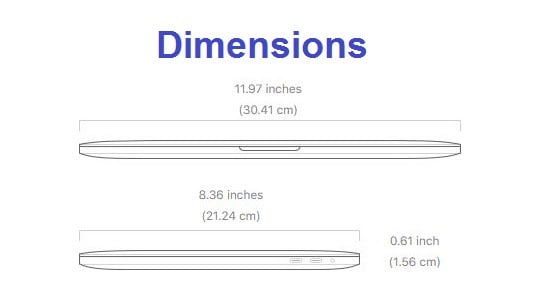 Specifications – MacBook Pro 13 inch 2020 Review
MacBook Pro 13-inch 2020 comes in four main variants that vary in price and specifications:
1299$ The entry-level model and offers a quad-core 8th gen Core i5 CPU with 256GB of SSD storage and 8GB of RAM.
1499$ The higher level MacBook costs and the only difference here is that the amount of storage space is doubled to 512GB.
1799$ The third version is the most popular version because it is the first one to benefit from a 10th gen processor.
Here, the RAM has been doubled to 16GB and there's 512GB of SSD. Additionally, this version comes with four Thunderbolt 3 ports as opposed to only two in the previous two variants.
1999$ Lastly, the most expensive version ads another 512GB of SSD to a total of 1TB for those who need a lot of storage space.
All of the other specs of this model are identical to the 1799$ version.
Customers also have the option to customize the configuration of their new MacBook Pro 13-inch 2020 by paying extra for certain improvements added to the four base models. On the entry-level version, you can get 16GB of RAM (instead of 8) for an extra 100$ and increase the SSD storage space to 512GB/1TB/2TB for 200$/400$/800$. On the 1799$ version, you can get 32GB of Ram for another 400$ and up to 4TB of SSD, which would cost you 1200$.
In terms of graphics, the 1299$ and the 1499$ versions use the Intel Iris Plus 645 GPU and the two higher-end versions use the Intel Iris Plus GPU. Although both of those GPU models are well suited for photo and video editing, don't expect wonders if you try to play any resource-intensive video games on MacBook Pro 2020. Both of those graphics cards are integrated which isn't perfect for gaming and, in general, there are much better gaming GPUs out there. All can run on the latest version of Mac OS Catalina 10.15.5
CPU options – MacBook Pro 13 inch 2020
As was already noted from the previous paragraph, there are two main options to choose from in terms of CPU for the MacBook Pro 13-inch 2020 model:
The first one is the 8th gen Intel Core i5-8257U, which is actually the same processor used in the 2019 entry-level MacBook Pro version.
The second option is the new 10th gen Intel Core i5-1038NG7 which provides better specifications on pretty much all fronts but adds another 500$ to the overall price of the MacBook Pro.
Here is a comparison between the two processor variants made on cpubenchmark.net: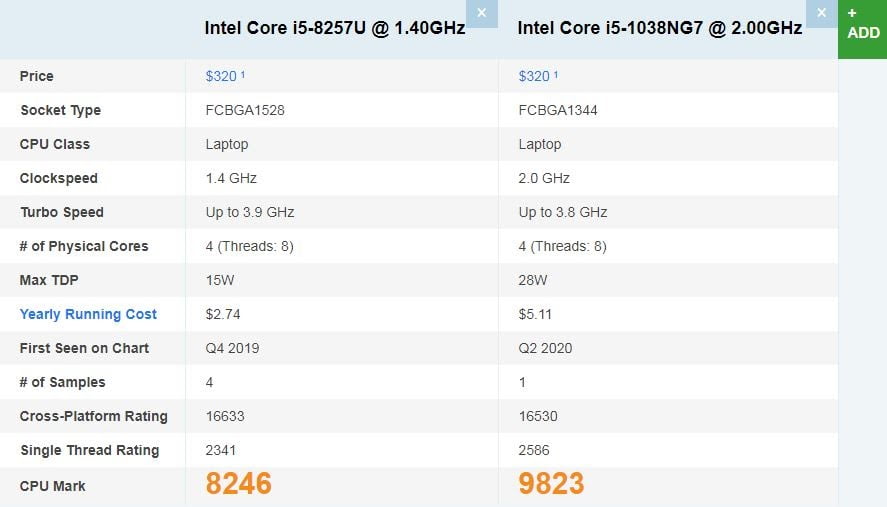 As you can see, the only advantage of the otherwise weaker Intel Core i5-8257U is the slightly higher Turbo Boost frequency, which would practically make no difference. On all other fronts, the Intel Core i5-1038NG7 is the better option and the one we would recommend using, especially due to it being a 10th gen processor.
Note that both processor options can be configured to be more powerful: The Intel Core i5-8257U can be configured to 8th gen Intel Core i7 with 1.7 GHz base frequency and a Turbo Boost of up to 4.5 GHz.
On the other hand, the Intel Core i5-1038NG7 can be configured to 10th gen Intel Core i7 with a base frequency of 2.3 GHz, a Turbo Boost of 4.1 GHz, and 8MB of shared L3 cache.
Comparison with the 2019 version
If you are interested in learning what the main differences between the MacBook Pro 13-inch 2019 and 2020 versions are, here is a quick overview of the most notable distinctions:
Price Options – Mac 2020 vs Mac 2019
Both the 2019 and the 2020 MacBook Pro 13-inch models come in four price variants: 1299$, 1499$, 1799$, and 1999$.
CPU
The entry-level (1299$) and the 1499$ variant use the same Intel Core i5-8257U processor on both the 2019 model and the 2020 model.
The CPU's of the higher-end variants (1799$ and 1999$), however, differ. The 2019 MacBook Pro uses an Intel Core i7-8557U 1.70GHz processor whereas the 2020 MacBook Pro model, as was already mentioned, uses an Intel Core i5-1038NG7 2.00GHz CPU. The latter is superior in almost all regards save for its Turbo Boost frequency (3.8 GHz vs. 4.5 GHz in favor of Intel Core i7-8557U 1.70GHz). Here is a more complete comparison between the two processors from cpubenchmark.net: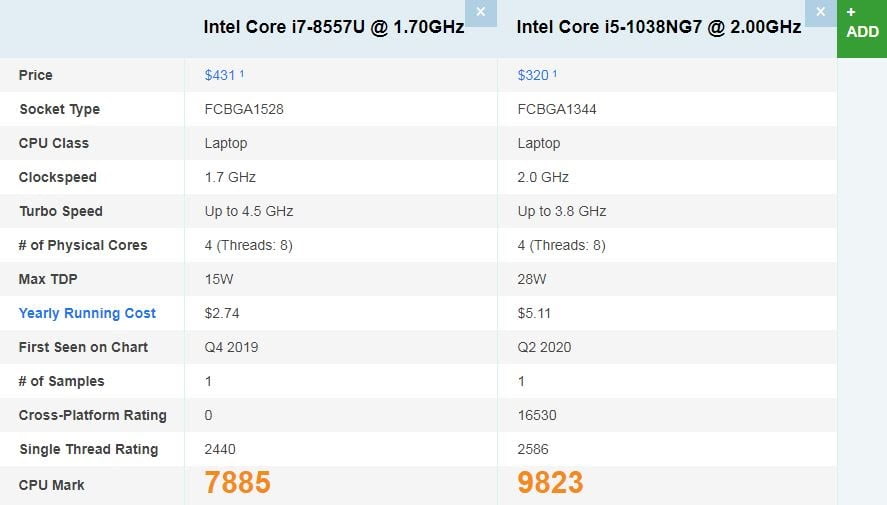 Storage memory – Mac 2020 vs Mac 2019
In terms of memory, the first two price variants from the 2020 MacBook Pro model double the amount of storage space offered by their 2019 counterparts: The entry-level and the 1499$ 2019 variants provide 128GB and 256GB of SSD whereas their 2020 versions offer 256GB and 512GB for the same price. The higher-end variants have the same amount of SSD storage space but users are given the option to pay extra and get up to 4GB of SSD on the 2020 model.
RAM – Mac 2020 vs Mac 2019
The amount of RAM is the same between the 2019 and the 2020 models and their respective price ranges. However, on the 2020 model, you get the option to configure the machine to have up to 32GB of RAM if you pay an extra 400$.
GPU – Mac 2020 vs Mac 2019
The first two price variants of both the 2019 and the 2020 model use the Intel Iris Plus Graphics 645. The 2019 higher-end variations use Intel Iris Plus Graphics 655 whereas their 2020 counterparts use the Intel Iris Plus Graphics GPU. All of those three graphics cards provide comparable performance with minor differences in their specs that mostly remain unnoticed in practice.
Final notes
Conclusion – MacBook Pro 13 inch 2020 Review
If you are looking for a total overhaul of the MacBook Pro series with the latest 2020 model, you might feel a bit let down by the latest MacBook Pro 13-inch laptop. However, this certainly doesn't mean that the 2020 model doesn't noticeably improve upon its predecessor in a number of major areas. From the use of a 10th gen processor to the new and better keyboard and the significant boost in the amount of SSD, there's no doubt that the MacBook Pro 13-inch 2020 model has brought a number of welcome improvements that many Apple users are sure to appreciate.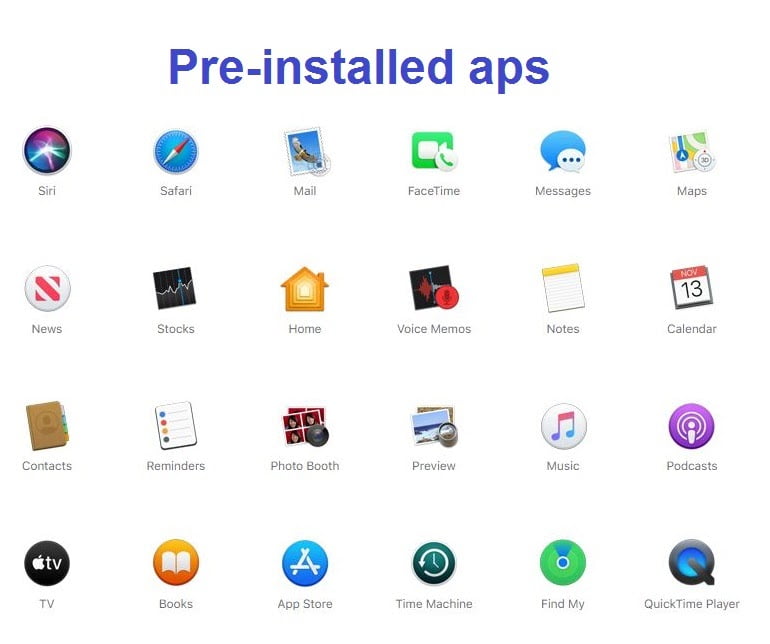 Martina Nikolova
Martina likes to get into nitty-gritty of tomorrow's tech, from product design across to security based solutions. A long time mac user and developer, she has the expertise and strives to give new insight