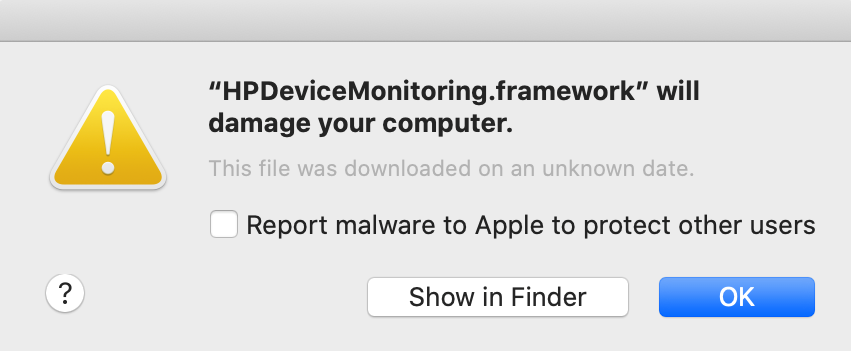 hp device monitoring framework malware on mac
Martina Nikolova, 3 years ago
3
1 min

read
We just received a report concerning HP device monitoring framework messages on MacOS Catalina and Mojave. The message contains the following: Hpdevicemonitoring.framework" will damage your computer. No official statements have been released from Apple or HP.
What we know about hp device monitoring framework
We assume a compatibility issue is to be the main culprit at first glance. MacOS seems to catch expired HP certificates that are not longer supported by apple. Though there could be a number of reasons for Macos to be alerting users that hp device monitoring framework is malware. Apple Xprotect could possibly flagging it as malware. The framework file is a key component in accessing and using HP products. Without it is nearly impossible to use your HP printer or other accessories.
Apples Xprotect
Apple has pushed two updates on the 19th of October version number to 2133 to there built-in anti-malware software. Apple does not publish what these update do or change, though the timing might not be a coincidence.
Our Recommendation
Update your HP product to the latest software and driver version.
Update your Mac or Macbook to the latest version of MacOS
Download Anti-malware software of your choice.
We highly recommend reading our article on virus symptoms on Mac. It will give you a good idea if your mac is infected or not.
Martina Nikolova
Martina likes to get into nitty-gritty of tomorrow's tech, from product design across to security based solutions. A long time mac user and developer, she has the expertise and strives to give new insight