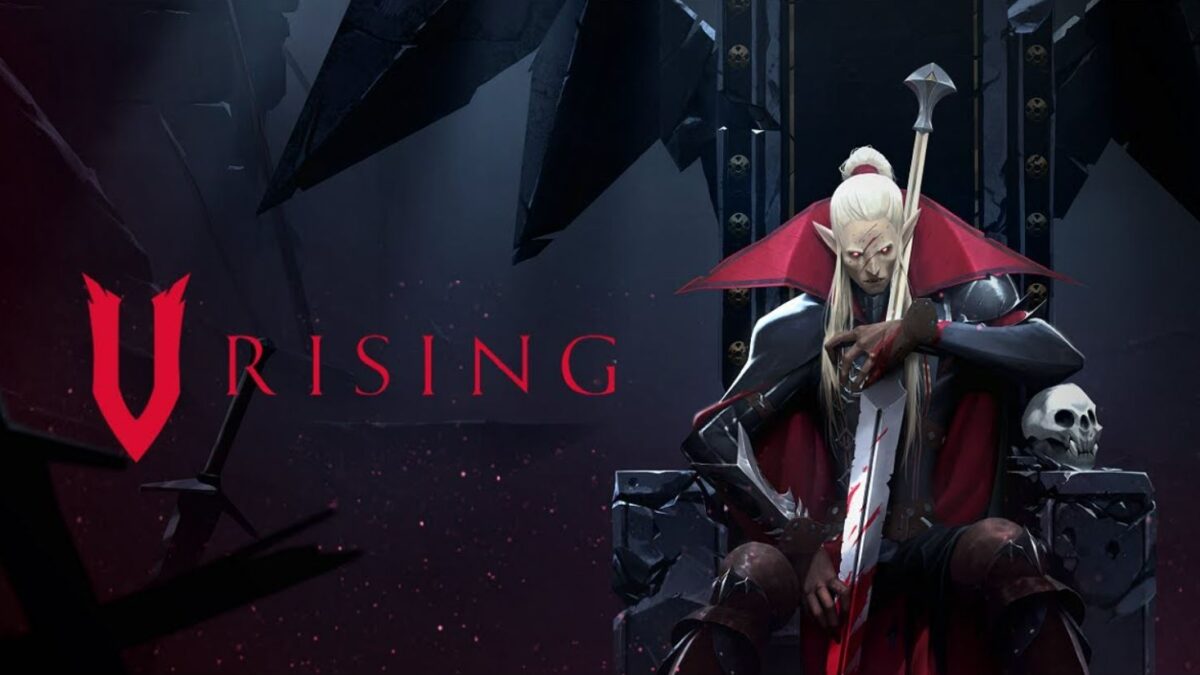 V Rising (Mac)
Martina Nikolova, 2 years ago
0
12 min

read
V Rising on Mac
V Rising is a top-down MMORPG game that can be played on Mac in several ways, despite lacking a native macOS version. If you want to play V Rising on Mac, you can stream it via Boosteroid, or play it through Boot Camp or Parallels.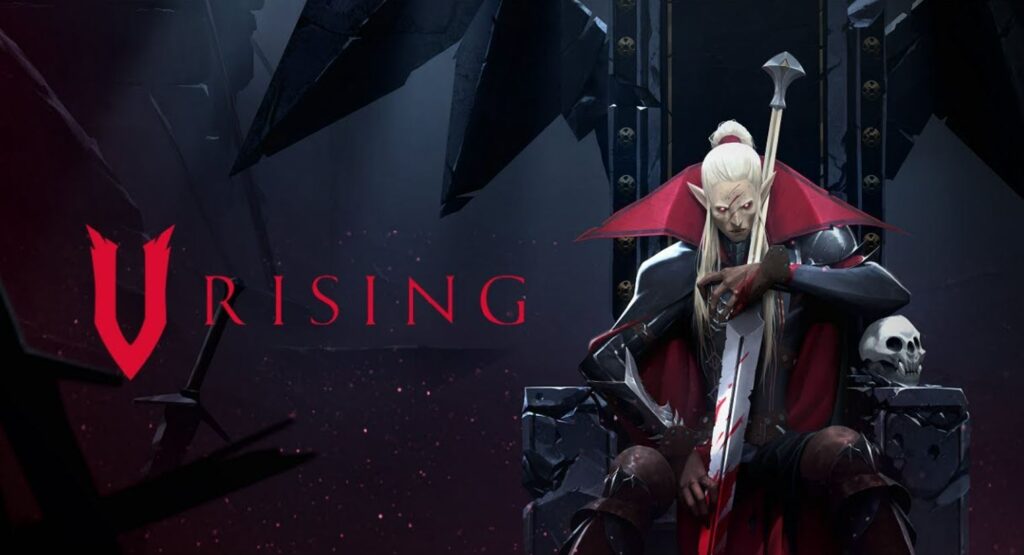 V Rising, developed and published by the indie company Stunlock Studios, is an interesting new addition to the MMORPG genre that combines the elements from other gaming genres, such as survival games like Rust and single-player hack-and-slash RPGs like the Diablo series, to deliver a unique and highly engaging multiplayer experience with a lot of gameplay depth and interesting options for your custom player character. The game, released on May 17, 2022, is still in early access, but there are already a lot of people playing it and if you want to join the fun from your Mac, the second part of this article will show you how – even though this game is not officially available for Mac, there are still several methods of playing it on your Mac computer, and they will be explained to you further down. As for now, let us share with you a bit more about this game, so that you can decide whether it may be worth checking out for you.
It's about vampires!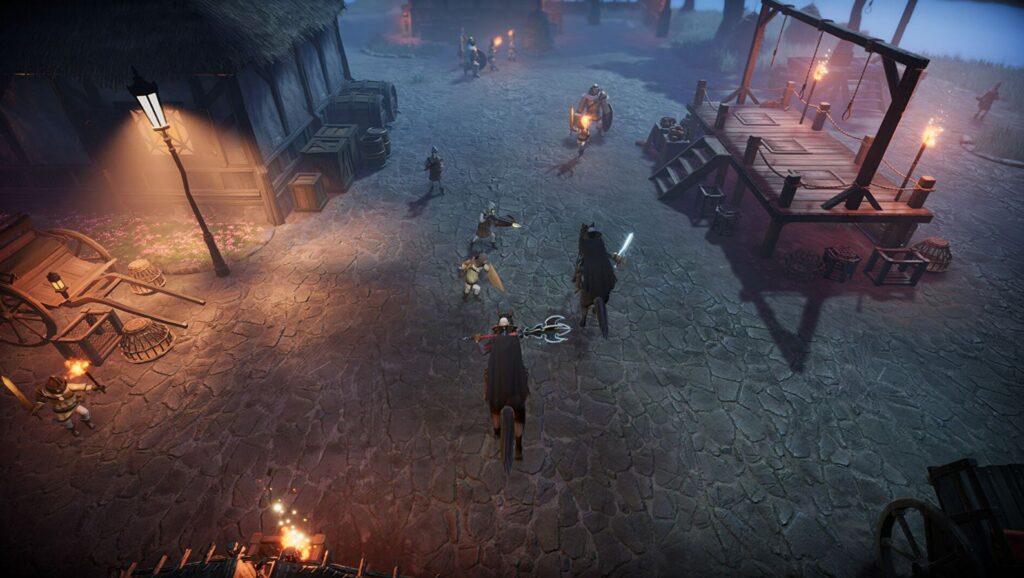 The main gimmick of V Rising is that you play the game as a vampire – one who has just woken from a long sleep and who is now weakened and vulnerable, desperately thirsting for blood. Additionally, direct sunlight hurts you and can kill you if you stay for too long in it, so that's another factor to consider. Other than that, the game starts out as you would expect an MMORPG to start: you engage in PvE fights with low-level mobs to gain experience and find loot and slowly and steadily improve and power up your character, until you can face some of the game's many bosses, each of whom would give you a special, highly-powerful ability once defeated. Once you get strong enough, you can also try some PvP raids and PvP battles, including full loot ones, where the winner takes all the loot of the loser.
Obviously, there are tons of vampire games and vampire-themed media in general, so it may not sound particularly exciting when you learn that this is yet another game about vampires. However, in our opinion, making the player characters vampires opens some interesting opportunities and allows the developers of the game to be creative with the mechanics of the game and the abilities available to the player. In this case, the vampire trope has been executed with great attention to detail and with a lot of inspiration and creativity. You do, indeed, feel like an actual vampire with huge potential that just waits to be fulfilled, but also with certain weaknesses that regular humans do not have.
Build your own Dracula's castle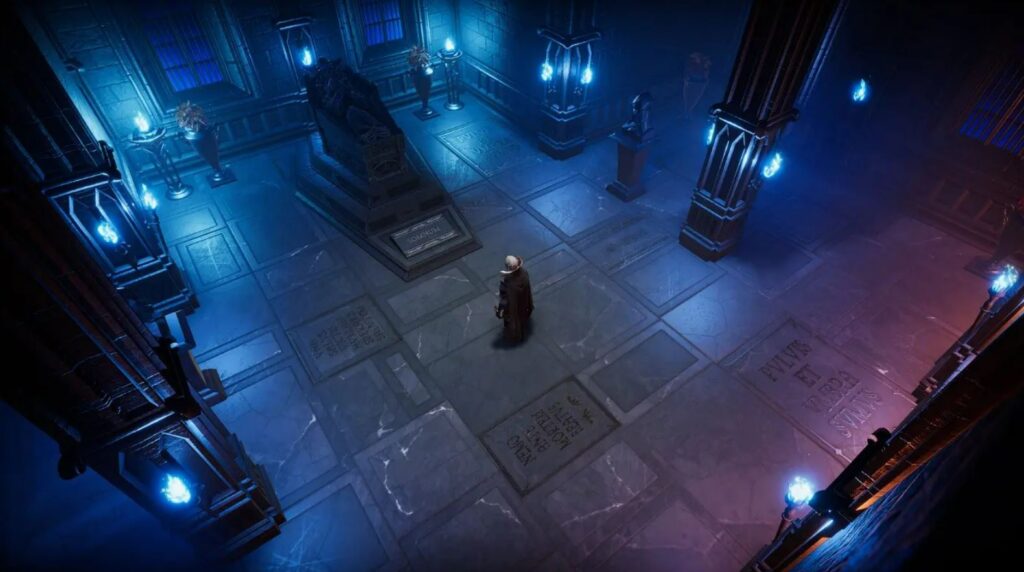 As mentioned, one of the unique aspects of this game is that it includes survival elements from games like Rust or Ark Survival: Evolved – something that hasn't really been done in other MMORPGs. In V Rising, not only do you get to evolve and improve your character, but you also get to build up your shelter, starting from a humble encampment with a wooden palisade to protect you, eventually being in control of a large gothic castle with long corridors, expansive halls, and thick stone walls. You do get to live the life of the classical vampire lord, but in this case, that is not a bad thing, especially since everything you have in the endgame is something you've earned yourself, and that you've built according to your own tastes and preferences.
PvE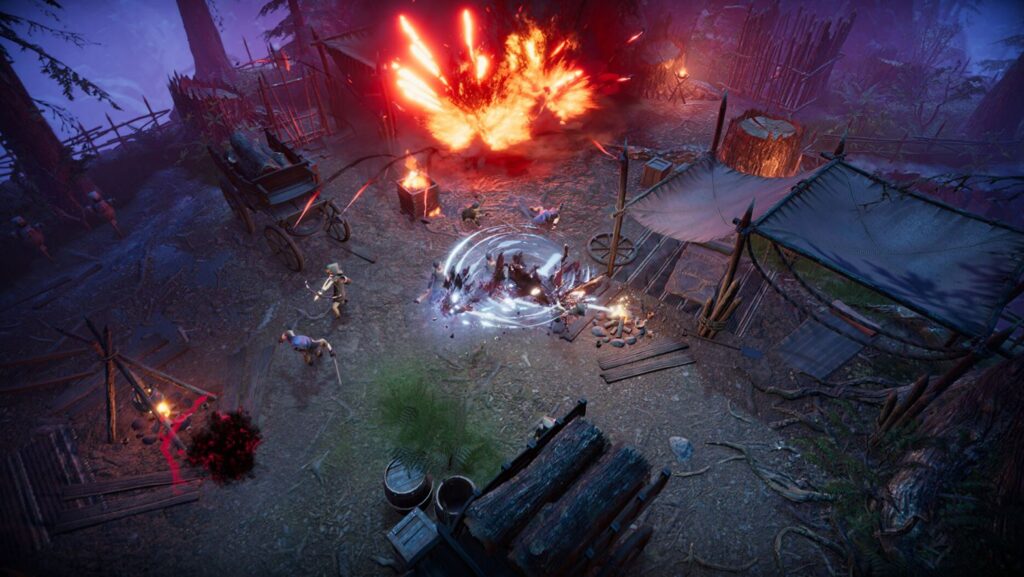 V Rising offers an extensive and engaging PvE mode that, in and of itself, is so well done, that many players may not even think about PvP. The world of V Rising feels like an actual world, populated by various types of AI-controlled NPCs that belong to different races and factions, each with their unique quirks and characteristics. There are regular humans, werewolves, vampire hunters, and more, and the different NPCs frequently interact with one another and even get into fights, irrespective of what the player does. In fact, players can often benefit from such encounters: for example, when some NPCs attack a boss, they can weaken him/her, allowing you to enter the fray at a later point and claim the reward from defeating that boss. All of this makes the world of V Rising feel alive and existing irrespective of your involvement with it.
Since we mentioned bosses, this is another aspect of the game that's really well realized – there are over 30 unique bosses in the game, and each of those fights is interesting and challenging, without ever feeling unfair. You are in control and your skill is the sole factor that determines the outcome of such a boss fight. Additionally, there isn't a single strategy to defeat a given boss – the game encourages you to experiment with the many abilities you are given access to, as there are many different ways to come out victorious in a boss battle.
PvP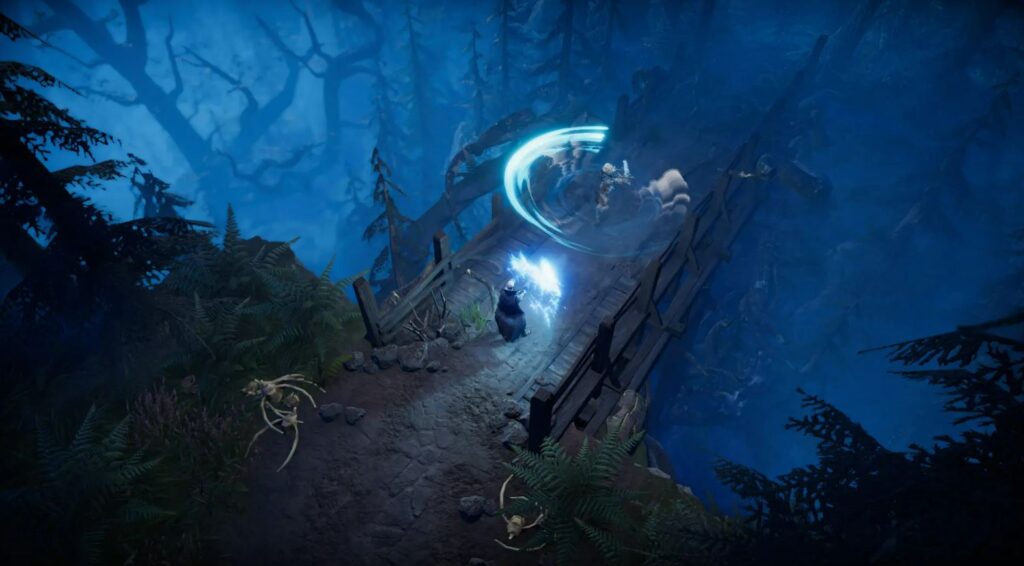 The PvP aspect of V Rising is also done very well. It's rare for a given player to get their character so overpowered that they would become unbeatable, even by a more skilled player. In general, V Rising is very rewarding for players who have a good understanding of the game's mechanics and of the different abilities, and who are able to think on their feet and use the correct spell or move. It's all about skill, and for a game with such a variety in the available character abilities and types of character stats, it's fascinating how its developers have managed to provide a balanced PvP mode, where combat rarely feels unfair. Of course, being an early-access game, some balance changes would eventually need to be made, once the meta gets properly established, but for a game that's not even fully released yet, it's a nice breath of fresh air to see a PvP and PvE that are so well-balanced and thought out.
Thirsting for blood
A major part of the gameplay in V Rising, and one of its more unique and interesting features is the way that the thirst for blood of the vampire player characters is handled. Not only do you need blood to keep your health up, but blood from different types of enemies gives the player different types of buffs and abilities. This means that you will often find yourself actively searching for a specific type of enemy, whose blood will empower you in a certain way. The higher percentage of a specific blood type that's in your character, the more access you'd gain to the abilities and buffs associated with that blood type. It's certainly an interesting take on the vampires' bloodthirst trope and one that's integrated into the gameplay in a unique and creative way.
Conclusion
V Rising is definitely a game with a lot to offer to anyone looking for some MMORPG fun, where you take on the role of a bloodthirsty vampire. Despite being a multiplayer game, V Rising offers a lot of PvE content that should satisfy even players who prefer more single-player-focused RPGs like the Diablo games. And, of course, if you are seeking some PvP action, the balanced combat and character progression systems of the game should let you have tons of fun and challenging battles against other players or even go on raids, trying to loot the castle of some rich vampire lord. It's all there, made with great attention and care about every detail, and considering the game's modest price of $19.99, it's absolutely something that we can recommend.
Can you play V Rising on Mac?
You can play V Rising on Mac, but since the game doesn't have a macOS version, native play is not an option. The way you can play V Rising on Mac is to either stream it via Boosteroid or by installing Windows on your Mac.
Unsurprisingly, V Rising isn't officially supported for Mac computers and considering this is an Indie game with a limited budget and people working on it, it's probably not going to get a version for Mac anytime soon. However, this doesn't make it impossible to play this game on a Mac, and in the next part of this post, we will show you three different ways to do that. The first method is to use Boosteroid – a cloud gaming service – to stream the game to your Mac. The second and the third options involve installing or emulating, respectively, Windows on the Mac, and then download the Windows version of V Rising from Steam.
How to play V Rising on Mac
To play V Rising on Mac, you can use the Boosteroid cloud gaming service to stream the game to your Mac without the need for downloading anything. The other way to play V Rising on Mac is to install (or emulate) Windows on the computer.
Using Boosteroid to play V Rising on Mac is the method we'd recommend since it requires minimal effort and time to set everything up and start playing. The only significant requirement here (other than having a paid subscription to the service) is that your Internet must be fast and stable in order to get good in-game performance.
Below, you can learn how to use Boosteroid to play V Rising on your Mac, and after that, we will tell you about the other two methods, which are more complex and time-requiring.
V Rising Set Up Methods
Methods
Advantage
Disadvantage
Cloud Gaming
– No set-up required – Register and Play
– Access to a Library of over 70 top-rated free Games
– Smooth performance
– Compatible with M1 and Intel Macs
– Monthly Fee
– Requires Decent Internet Connection
– No Free Trial
BootCamp
– Free to use any time
– Windows 10 Environment

– Painful Setup
– Mediocre Performance
– Only Compatible with Intel Macs

Parallels Virtual Machine
– Easy Set-up
– Adequate Performance
– Play almost any PC game
– Windows 11 environment
– Compatible with M1 and Intel Macs
– 14-day free trial
– Yearly Fee
How to Get V Rising on Mac:
First, you will need to purchase the game.
Now you will need to register for Boosteroid. This allows you to add V Rising to their Cloud Gaming Library. Once uploaded you can seamlessly play the game from your Mac, TV, or Mobile Device.
When Registered you will have additional access to more games for free. Pricing varies depending on the subscription plan.
Play V Rising on Mac using Boosteroid
Visit Boosteroid.com, get registration there, and enter your new account.
Click on your profile name (top-right) to go to the account section of the site, and then click Subscribe.

Pick one of the two subscription options (for one month or for one year), and start your Boosteroid subscription by providing the required details for the payment option you've chosen.
Once your subscription is complete, click the search button at the top, type V Rising in the search bar, and click on the game when it appears as a search result.

On the Boosteroid page of V Rising, click Play > Continue, and wait for the service to load.

You will be asked to log in to your Steam account, so go ahead and do that, and the game should start shortly within your browser. For the best experience, turn on Full-Screen mode in the browser, and hide the browser's toolbar (the option to do that should be in the View menu from the menu bar).
How to download V Rising on Mac
To download V Rising on Mac, you must have Windows 10 or 11 installed on the computer or emulated through a virtual machine. You can use Boot Camp Assistant or Parallels to install/emulate Windows and then download V Rising on your Mac.
If your preferred method of playing V Rising is to have the game downloaded on your Mac, it's still possible to play it in this way, but you will first need to have Windows installed on the computer or emulated via a virtual machine. Below, we've shown how you can do both of those things, but we recommend checking out the link provided after the method you decide to use, to view a more in-depth variant of that guide.
Play V Rising on Mac using Parallels
Download the Parallels Mac app, and install the app on your computer.
Install Parallels on your computer by running the .dmg file and following the directions on the screen.
Once Parallels has been installed, open it and select the "Install Windows" option to begin the process of creating a Windows VM.
Create a Parallels profile or sign in to the virtual machine using one of the other available sign-up options.
Once you enter the VM, download the Steam or the Epic Games client and use it to install the game on the virtual machine.
If you need more in-depth steps for Parallels with screenshots, check out our Full Parallels Guide.
Play V Rising on Mac using Boot Camp Assistant
Get a Windows 10 64-bit ISO file from Microsoft.
Open the Boot Camp Assistant from the Utilities folder and load the ISO file in it.
Allocate enough space to the Windows partition and click Install.
Complete the Windows 10 installation prompts once your Mac restarts and launch the installation of your Mac's second OS.
After the installation of Windows finishes, customize the OS settings and then use the Boot Camp Assistant window on your screen to install the drivers your Mac needs to run on Windows.
Finally, go to Steam, download the Steam client, and use it to install V Rising in the Windows partition of your Mac.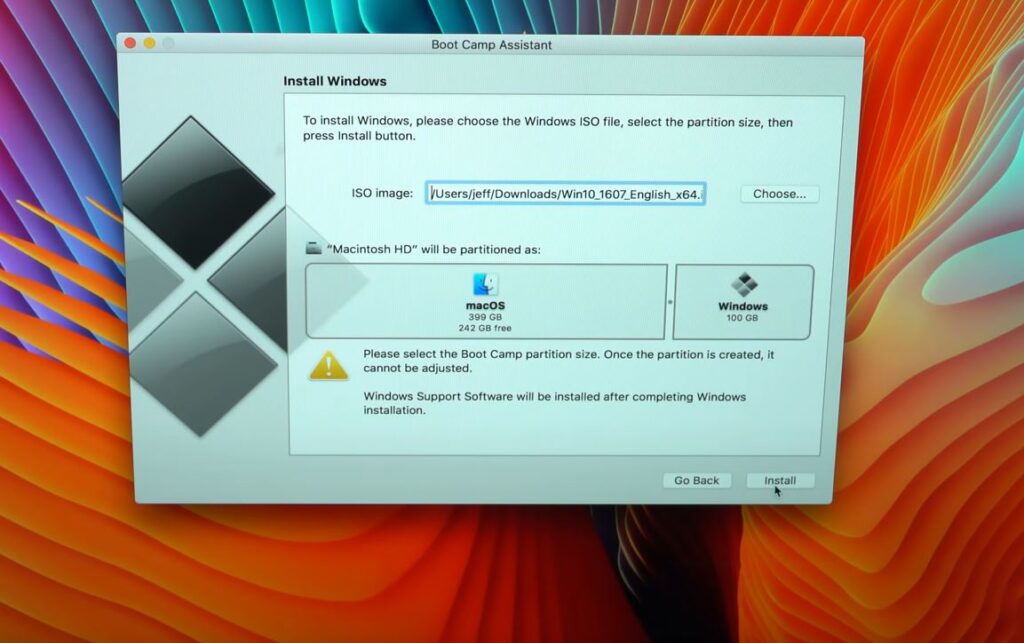 Our in-depth guide on using Boot Camp Assistant
V Rising on Mac M1
V Rising can be played on a Mac M1 computer through the use of cloud-gaming services like Boosteroid. One other option for playing V Rising on Mac M1 is to download Parallels, create with it a Windows virtual machine and download the game in it.
There are two main ways to play this game on an M1 Mac – through Boosteroid, by streaming the game to your Mac, and by creating a Windows 11 virtual machine with the help of the Parallels virtualization program, and then installing the game in the VM and playing it from there. Both of those methods are explained above. The third method for playing V Rising on Mac that we've shown on this page – the use of Boot Camp Assistant – isn't available for M1 Macs due to incompatibility between Windows 10 and the M1 chip architecture.
Martina Nikolova
Martina likes to get into nitty-gritty of tomorrow's tech, from product design across to security based solutions. A long time mac user and developer, she has the expertise and strives to give new insight