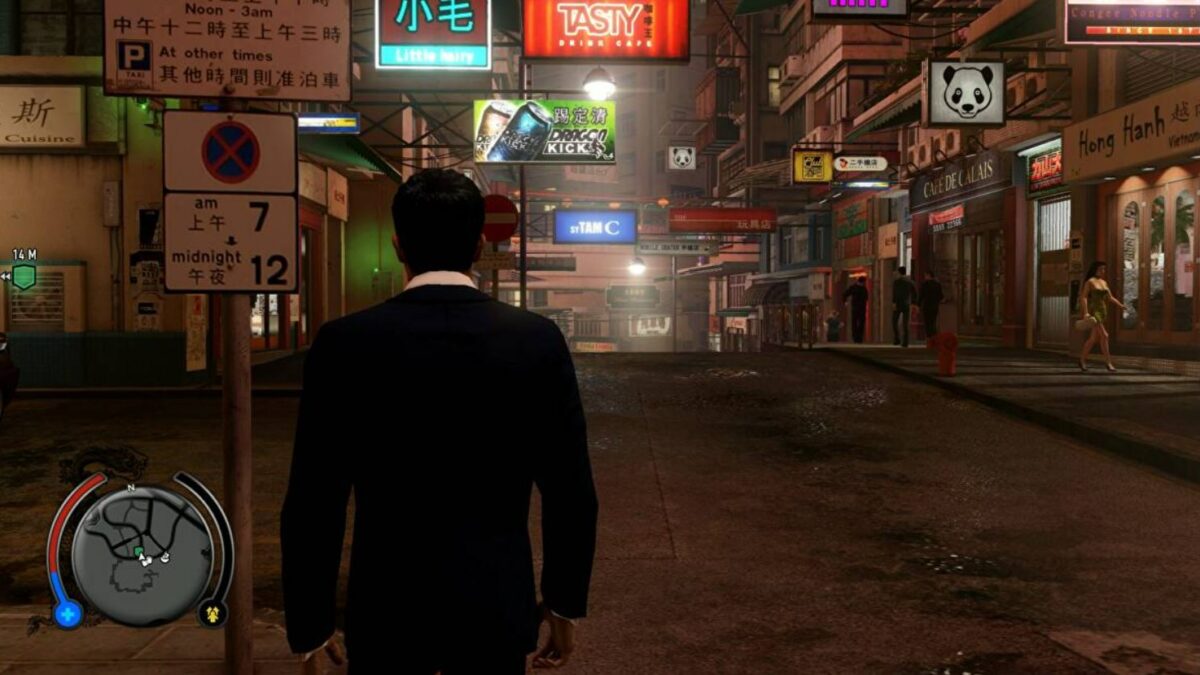 Sleeping Dogs (Mac)
Martina Nikolova, 1 year ago
0
12 min

read
Sleeping Dogs on Mac
Sleeping Dogs is an open-world, action-adventure game that you can play on Mac. The game features a native macOS version, but you can also play Sleeping Dogs without even downloading, by using a cloud gaming service such as Boosteroid or GeForce Now.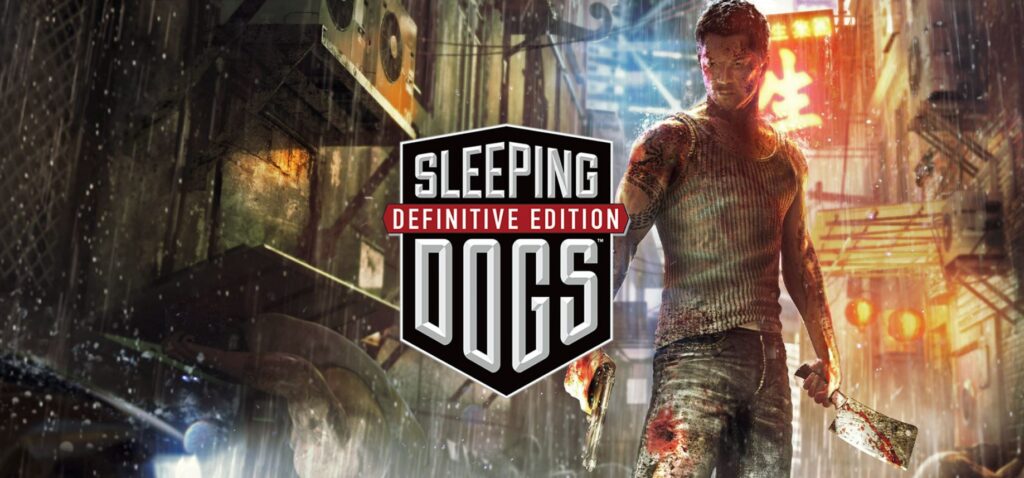 Have you ever wanted to play a game like one of the GTA titles, but one that is set in a different country? To a large extent, Sleeping Dogs gives you exactly that – it is an open-world game that allows you to roam around freely throughout a large city and its neighboring areas, complete different missions that further the game's main narrative, and take up on optional side-quests for some extra fun. However, even though it shares a lot of similarities with games like GTA IV or GTA V, it also has a lot of distinctive features in its gameplay and atmosphere, so don't think of it as just another GTA clone. It's quite an interesting game that has a lot to offer, even if many things in it may feel familiar to anyone who has played any Grand Theft Auto title.
Setting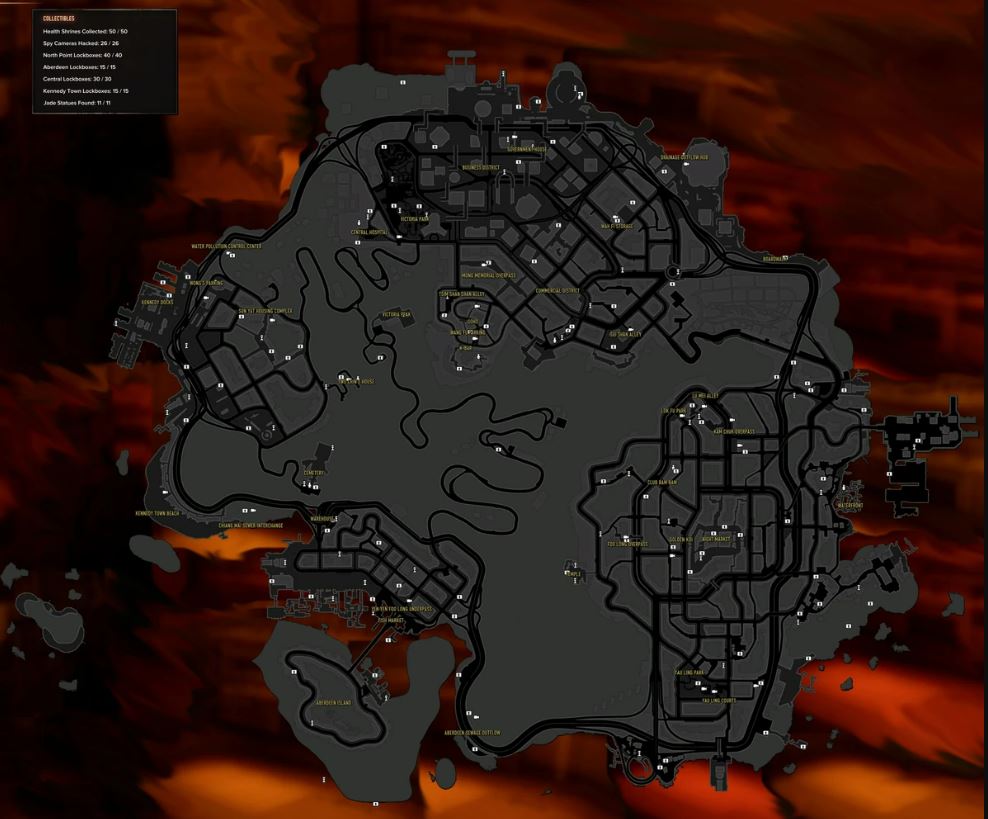 Sleeping Dogs takes place in modern-day Hong Kong, with its map being split into four areas. The game does a good job at showcasing its Chinese setting – the vehicles, the NPCs, the buildings, and the overall vibe of the city make it clear that the action takes place in China. The map itself isn't particularly large and there aren't too many things you can do throughout the city if we compare it to GTA IV or V, but it's still a nicely executed setting, and you can have a lot of fun in it.
Story and characters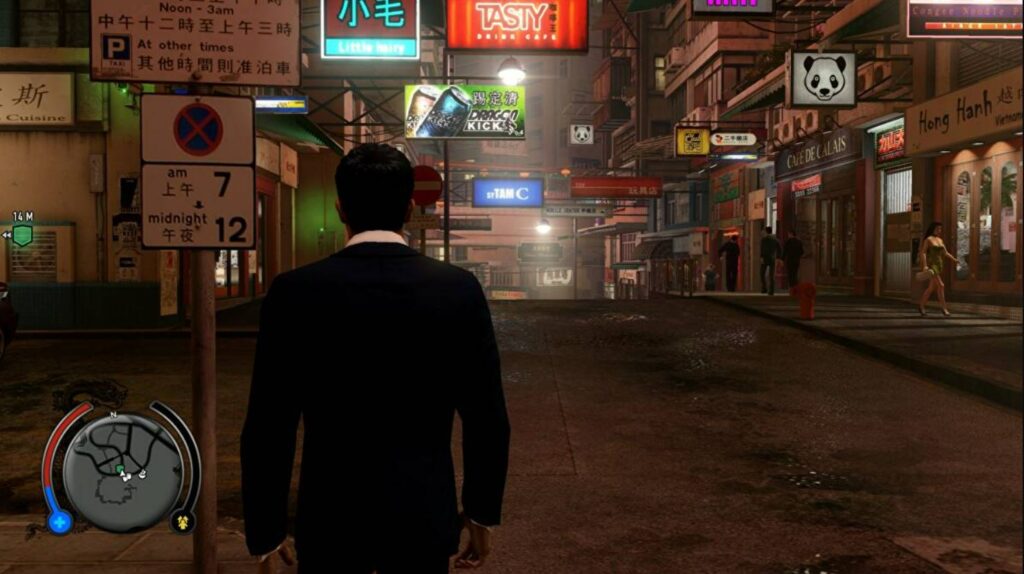 The story in Sleeping Dogs revolves around Wei Shen, an undercover cop whose job is to infiltrate a Triad organization called Sun On Yee and to destroy it from within. Most of the game's narrative revolves around Shen trying to balance his trying to complete his police-assigned mission and commit various crimes in order to prove his loyalty to the Triads. Initially, the story starts out slow, and it takes some time before all the important characters are properly introduced to the player. In the second, the pace picks up, and things start to get interesting, and the initial build-up is getting paid off. However, some may find the finale of the game a bit disappointing due to it being rather predictable and maybe even clichéd. That said, Sleeping Dogs can definitely draw you in with its story – it's interesting, engaging, and has no shortage of emotional moments. In other words, if the story is important for you in a game, then you'd want to check out Sleeping Dogs.
Gameplay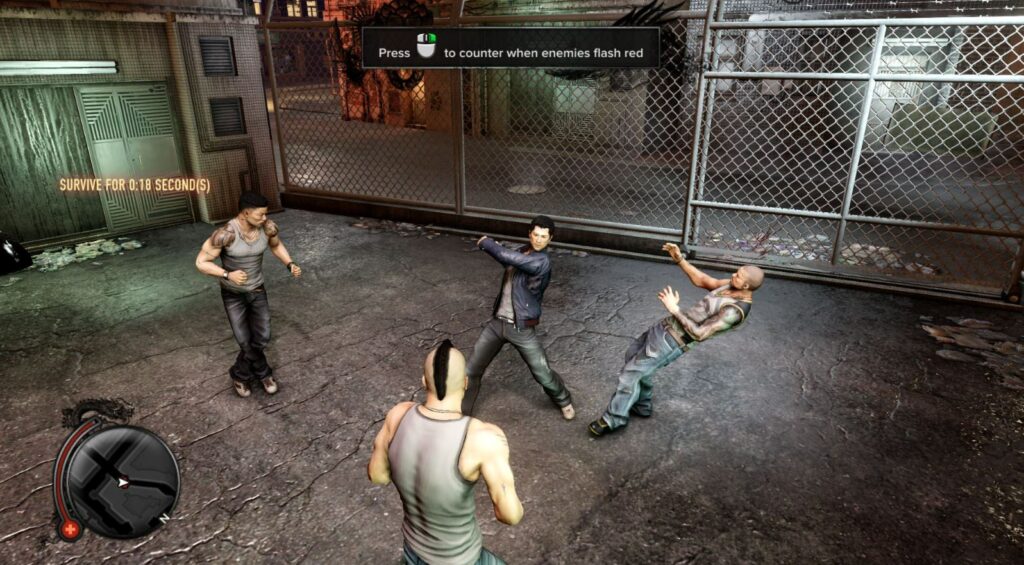 At first sight, the gameplay in Sleeping Dogs may feel very similar to that of GTA IV or V, but this is yet another area in which the game does a lot to stand out as its own thing. One important difference is the emphasis on action. The game offers a lot of cool mechanics to spice up its gameplay and make it more dynamic and fun. One great example is the ability to jump from one vehicle to another during a car chase, Hollywood style. This opens up a lot of opportunity for some stylish plays and adds variety to your options for chasing someone down – something you will be required to do rather often in this game.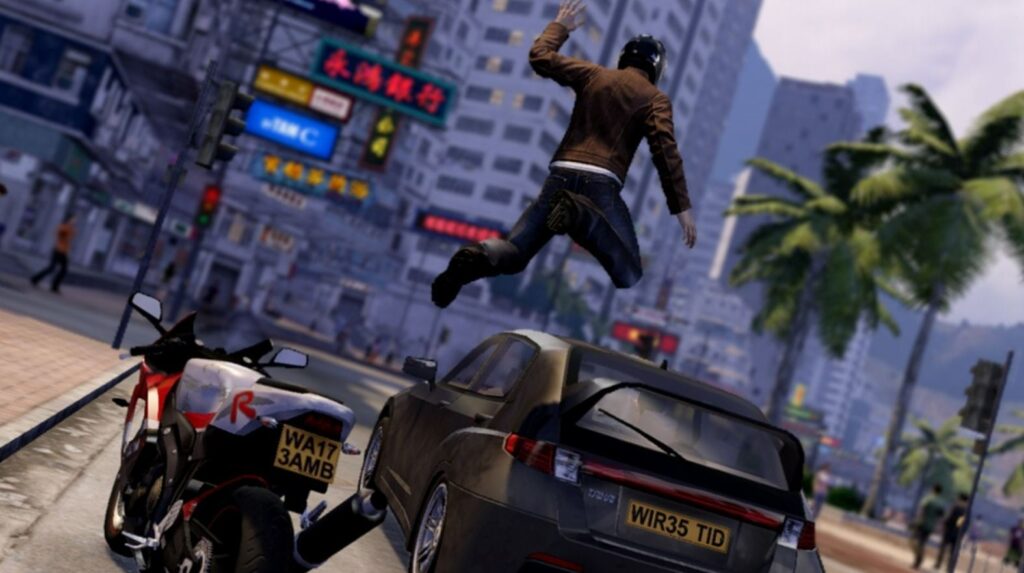 The gunplay in Sleeping Dogs is also quite adequate. Admittedly, it's not anything extraordinary, but it's perfectly serviceable and gives you something to do while waiting for your character to get into melee range. Speaking of melee combat, this is where things get interesting.
After all, we are talking about a game set in Hong Kong, so it's only natural that there would be a display of martial arts. The game has a cool combat system that lets you dispose of your enemies in melee range using a combination of kicks, punches, throws, grapples, melee weapons, and environmental attacks (e.g. slamming an enemy's head with the door of a refrigerator). Overall, there's a nice variety in the game's melee combat and there's even a progression system that lets you unlock new moves and improve your current one. Sure, you won't find the same in-depth combat system as you would in a game such any of the Yakuza titles, but it's still tons of fun to chain together combos and dispose of multiple enemies like you are the protagonist in a Bruce Lee film.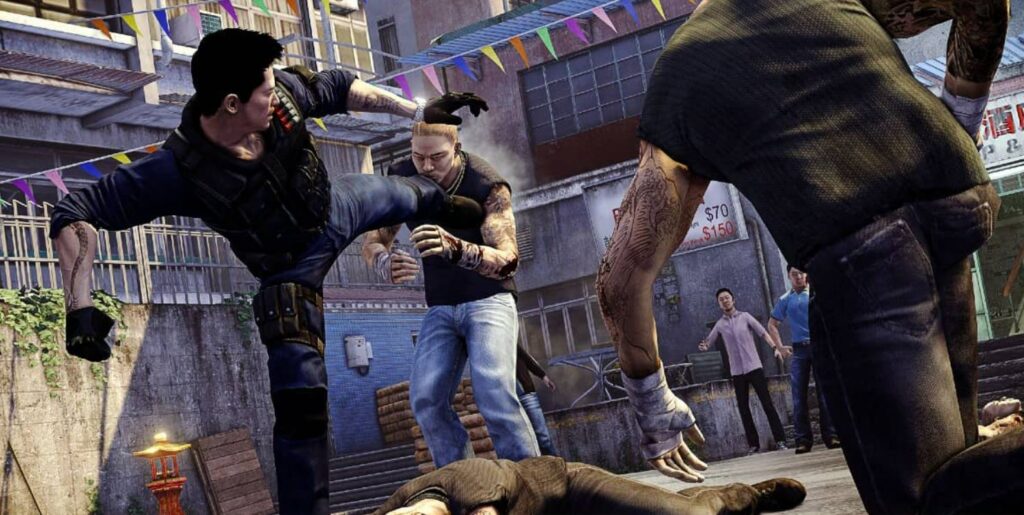 Lately, we will briefly mention the handful of parkour moves that your character can execute – they look nice and can help you chase down enemies, but this part of the game feels more like an afterthought that's there to add some flare. The parkour mechanic isn't particularly explored, so you'd be forgiven if you get bored by it after an hour or two of gameplay.
Conclusion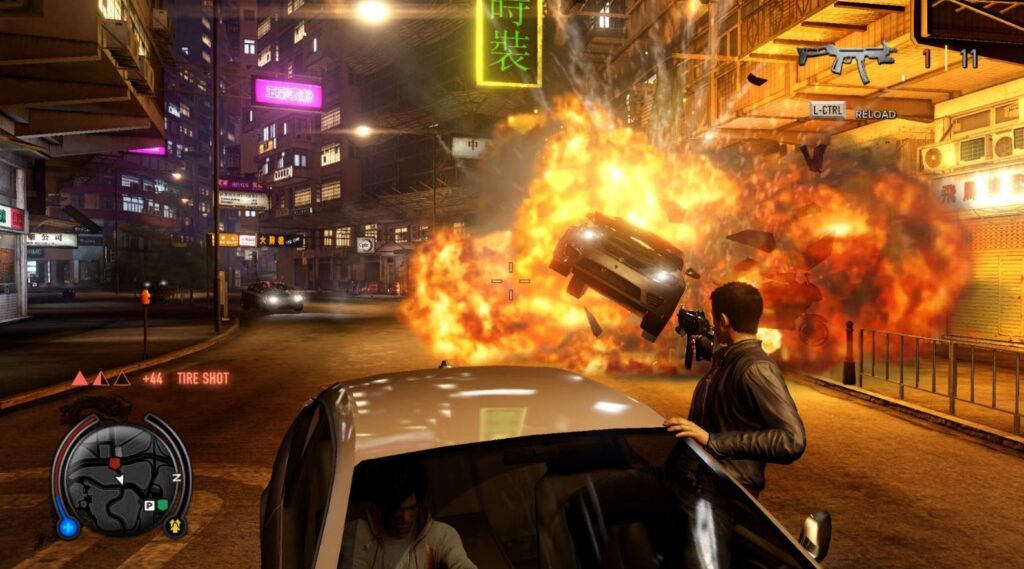 Sleeping Dogs is truly a gem of a game – a well executed and action packed open-world adventure with a good story and an interesting setting. Even if it shares a lot of similarities with the newer Grand Theft Auto games, it does enough things differently to deliver a unique experience that's worth checking out. It is definitely a game we recommend not only to people who like the GTA games, but to anyone who wants to play an engaging single-player open-world game. And since the game is natively available for macOS, you won't need to resort to any time-consuming and frustrating workarounds – you just download it and play, or use a cloud gaming service to stream the game.
Can you play Sleeping Dogs on Mac?
You can play Sleeping Dogs on Mac both natively and via cloud gaming. If you choose to play the game natively, you must download it from the App Store or from Steam, but you can also play Sleeping Dogs by streaming it to your Mac.
If you want to play Sleeping Dogs on your Mac, we have some good news for you – unlike most other games, this one comes with a native macOS version, and it is even available in the Apple App Store, so it's very easy to download it and play it on a Mac computer – no complex and time-consuming workarounds needed!
However, even though this is an older game that's not particularly demanding, it still requires 20 gigabytes of free space on your Mac. Additionally, playing games on Mac natively tends to cause overheating, which some users may find quite unpleasant. So, if you'd rather save your storage space for more important stuff and don't want to get your Mac hot, there's also the option to use cloud gaming to play Sleeping Dogs on Mac. Cloud gaming services allow you to stream games from their libraries to your Mac and play them in this way, which removes the need to download the game. This also means that your Mac won't be using its CPU, RAM, and VRAM to run the game, which, in turn, prevents overheating issues.
Below, we will show you both methods of playing Sleeping Dogs on Mac, so you can pick the one you like the most.
How to play Sleeping Dogs on Mac
To play Sleeping Dogs on Mac, you can directly download the game from Steam or the Mac App Store. However, if you don't want to wait for it to download, or you don't have enough storage, you can also play Sleeping Dogs via cloud gaming.
Sleeping Dogs Set-up Methods
Methods
Advantage
Disadvantage
Cloud Gaming
– No set-up required – Register and Play
– Access to a Library of over 70 top-rated free Games
– Smooth performance
– Compatible with M1 and Intel Macs
– Monthly Fee
– Requires Decent Internet Connection
– No Free Trial
BootCamp
– Free to use any time
– Windows 10 Environment

– Painful Setup
– Mediocre Performance
– Only Compatible with Intel Macs

Parallels Virtual Machine
– Easy Set-up
– Adequate Performance
– Play almost any PC game
– Windows 11 environment
– Compatible with M1 and Intel Macs
– 14-day free trial
– Yearly Fee
How to get Sleeping Dogs on Mac
To get Sleeping Dogs on Mac, you first need to purchase the game, which can be done from both Steam and the Apple App Store. Once you've purchased Sleeping Dogs, download it from the respective store. If you bought the game from Steam and you don't have the Steam client, you'll first need to download it on your Mac. If you want to go for the Steam version of the game, there's a big discount for it on CDKeys, so you can also get it from there.
If you get the game on Steam, you will be able to play it by streaming it to your Mac, Apple TV, or iOS device with the Boosteroid cloud gaming service.
Play Sleeping Dogs on Mac with Boosteroid
To play Sleeping Dogs on Mac with Boosteroid, all that's needed is to register and subscribe to the cloud gaming service. Once you do that, you can play Sleeping Dogs on Mac with Boosteroid directly within your browser, without needing to download or install anything.
Boosteroid is the first cloud gaming service we want to tell you about that features Sleeping Dogs in its library. Using this service is indeed very simple – you just need to have an account with an active subscription, and you are ready to go. Just note that, in order to play Sleeping Dogs with Boosteroid, you must own the Definitive Edition version of the game on Steam, because this is the version that's supported by the service. Here are our quick instructions on how to play Sleeping Dogs with Boosteroid:
Note: Boosteroid works with nearly any browser, but to get the best experience, we recommend using it with Google Chrome.
Open Boosteroid in your browser and create a new account if you don't already have one.

Log in with your account, then click on your profile name (top-right), and select Subscribe.

Select a subscription plan and start your subscription by providing your details for the payment method you've chosen.
Once you are already subscribed to Boosteroid, click on the search button (magnifying glass) shown at the top, type the Sleeping Dogs, and click on the game.

Next, click Play > OK, Let's go, and wait for the service to load.

You will soon see a Steam login screen – enter your username and password and login.
Next, if the game doesn't start automatically, find it in the Steam client window that should be shown in your browser, and click Play – Sleeping Dogs will soon load within your browser.
Play Sleeping Dogs on Mac with GeForce Now
To play Sleeping Dogs on Mac with GeForce Now, you first need to register on the service's site. Next, you'll need to download the GeForce Now client and start the game in it in order to play Sleeping dogs on your Mac.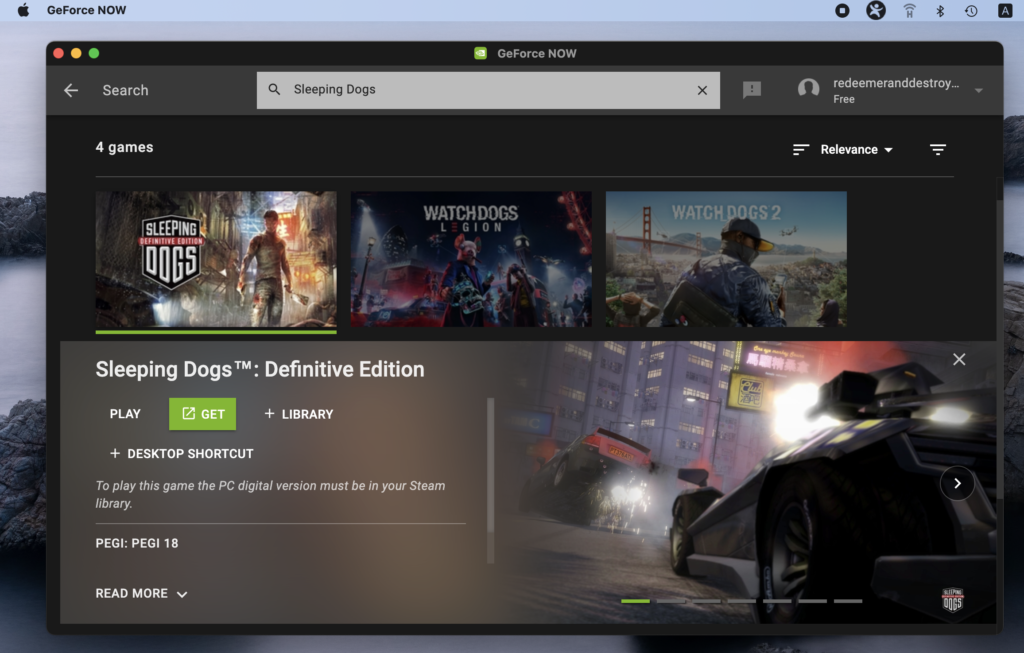 GeForce Now is another popular cloud gaming service that you can use to play Sleeping Dogs. Note that, just like Boosteroid, GeForce Now supports only the Steam version of Sleeping Dogs: Definitive Edition, so this is the only version of the game that you can play via the service. Here's a quick guide on how to use GeForce Now.
First, you will need to go to the site of GeForce Now, get a registration, and download the client app from the downloads section.
Install the GeForce Now client, launch it, and enter your details to log in.
Type Sleeping Dogs in the search field, click on the game, and click Play and then click Continue.
Once GeForce Now loads the game, you will be asked to enter your Steam username and password – do that and log in to Steam and Sleeping Dogs will start within the GeForce Now client.
You can find a detailed GeForce guide on this page.
How to download Sleeping Dogs on Mac
To download Sleeping Dogs on Mac, first purchase the game on either Steam or the Apple App Store. Then you can download Sleeping Dogs on Mac from the respective store – note that to download it from Steam, you'll need to first install the Steam client.
App Store
Go to your Applications folder or type press Command + Space and type App Store, and then open the App Store.
Type Sleeping Dogs in the App Store search bar and click the first result.

Select the game's price tag to purchase it and enter your Apple ID details to confirm the purchase.
Once you buy the game, click on Install and perform the installation.
After the game is installed, its icon should appear in your Applications folder, from where you can start it.
Steam
If you don't have Steam installed on your Mac, first go here, and click on Install Steam.

Download the Steam installation file for Mac, open it, and drag the Steam icon to the Applications folder icon to install Steam.
Next, if you don't have a Steam account, create one on this page.
Once you are registered on Steam and have the Steam client installed on your Mac, launch the client and log in.
Then go to the Store tab, search for Sleeping Dogs: Definitive Edition, and select the game's tile.
Click on Add to Cart on the game's page, then click on Buy for Myself, choose a payment option, and enter your payment details to complete the purchase.

After the game is purchased, go to the Library tab in the Steam client, find the game and select it.
Click Install, then click Next, and let the game install on your Mac.
Once the installation is completed, click on Play in the Steam client, and the game will start shortly.
Sleeping Dogs on Mac M1
You can easily play Sleeping Dogs on Mac M1 – the macOS version of the game works equally well on both Intel and Apple Silicon. Alternatively, you can also use cloud gaming services like Boosteroid to play Sleeping Dogs on Mac M1 by streaming the game.
Sleeping Dogs is available for both Intel and M1 Macs and works well on both. However, if you are on an M1 Mac, you may be asked to install Rosetta 2 the first time you launch the game. Simply agree to the installation and once it completes, the game will start normally. Rosetta 2 is an emulation software for M1 Macs that allows macOS software for Intel Macs to be run on them. It doesn't affect the performance in any way and works automatically, so you won't need to do anything after it's installed.
Martina Nikolova
Martina likes to get into nitty-gritty of tomorrow's tech, from product design across to security based solutions. A long time mac user and developer, she has the expertise and strives to give new insight