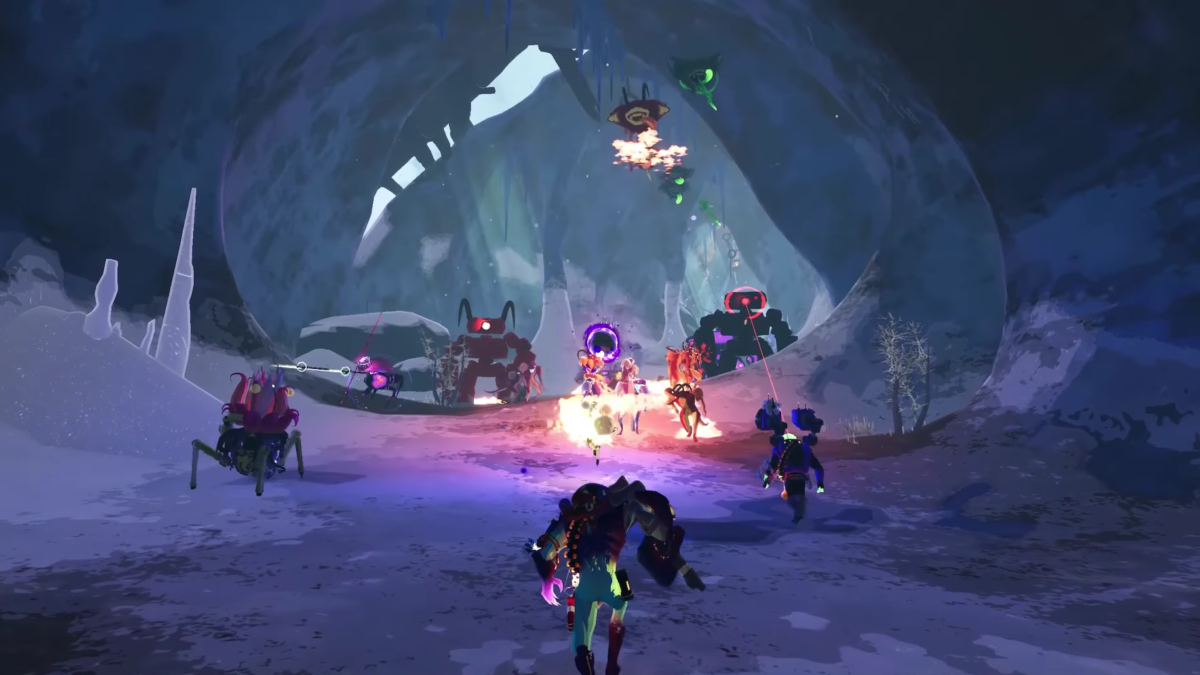 Risk of Rain 2 (Mac)
Martina Nikolova, 1 year ago
0
11 min

read
Risk of Rain 2 on Mac
In 2020, Hoopoo Games launched Risk of Rain 2, a widely awaited sequel to the first Risk of Rain roguelike platformer. The new game was converted from 2D to 3D, giving it a fresh aesthetic and engaging new gameplay. In Risk of Rain 2, you take on the role of a stranded survivor on a full of dangers planet.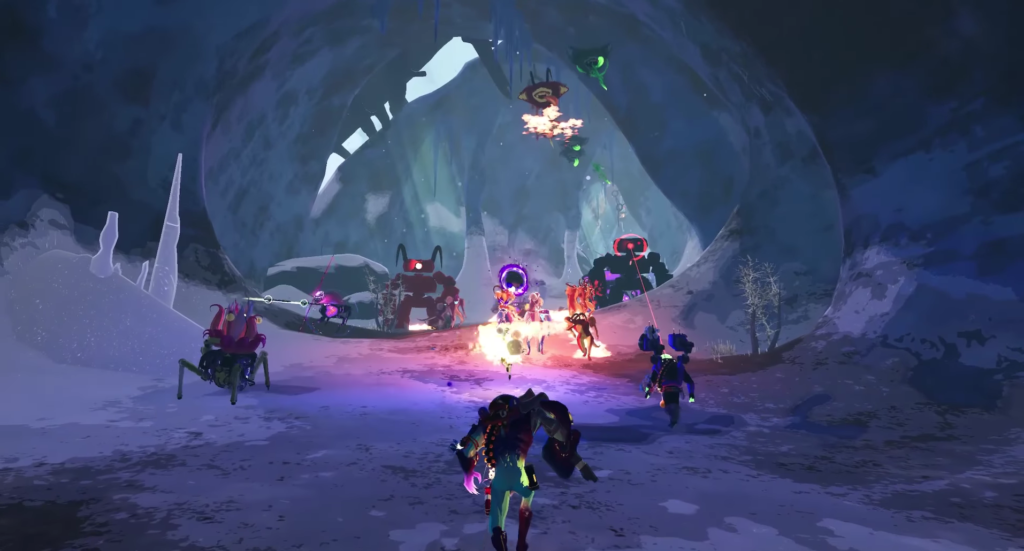 Given no other choice but to survive, you have to slay enemies with the help of a variety of powers and items that may be collected from chests that can be opened along the dangerous journey. As time goes on, the challenge increases, and the surroundings change as well. In order to maximize synergy, the player must consider which power-ups to acquire. Twelve characters are available, each with a specific set of abilities. Finally, since each run is generated at random, playing repeatedly does not become boring.
As you advance in playing Risk of Rain 2, you collect and stack various objects that increase your strength in both visible and unexpected ways. It seems on the screen that you are shooting and slicing your way through a weird zoo of alien animals, but what you're actually doing is climbing a precisely tailored power curve repeatedly.
When you're dropped into the planet's unpredictable environment, you must fight against swarms of enemies while collecting up random weapons and equipment that are spread over the environment. The difficulty increases as you go deeper into the game.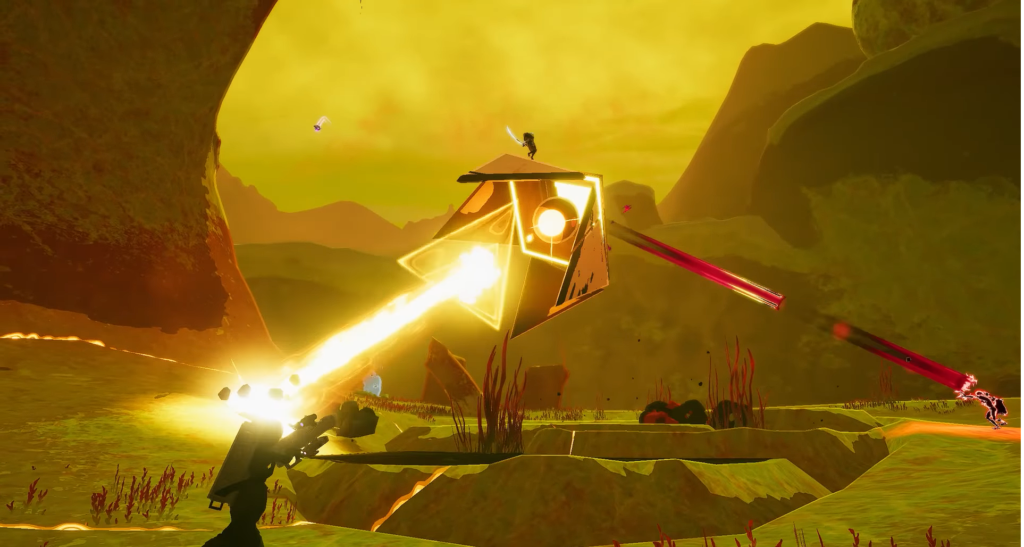 Risk of Rain 2 is a roguelike, and like every roguelike, a run relies on the equipment that may be discovered and purchased. At some point, you may find yourself in more than a few scary moments desperately trying to dodge death while scrounging just a few more pennies.
Just to tease your curiosity, we'll barely touch the surface of what can be discovered and unlocked in the game's gear, which ranges from basic things like enhanced walking speed to more complex equipment like drones that fire missiles or insect wings that allow flying.
While the game can be fun playing solo, Risk of Rain 2 is clearly designed to be more enjoyable when played in groups, and the online version works well and has an active player community to prove it. It is generally easy to locate games, and playing with others is enjoyable since there is no opportunity to troll anybody or engage in fire comments. All players fight for power-ups, so you need to be quick and collect money not to remain under-equipped because others are faster or have more money than you do.
In terms of gameplay mechanics, the jumps are floaty. When you whip your mouse around, characters move and aim precisely, and everything in the game is created to scale up aggressively. When you've raised your move speed, the floaty leap comes in handy, especially when you can triple leap over a gap or have an item that pushes you ahead out of a sprint.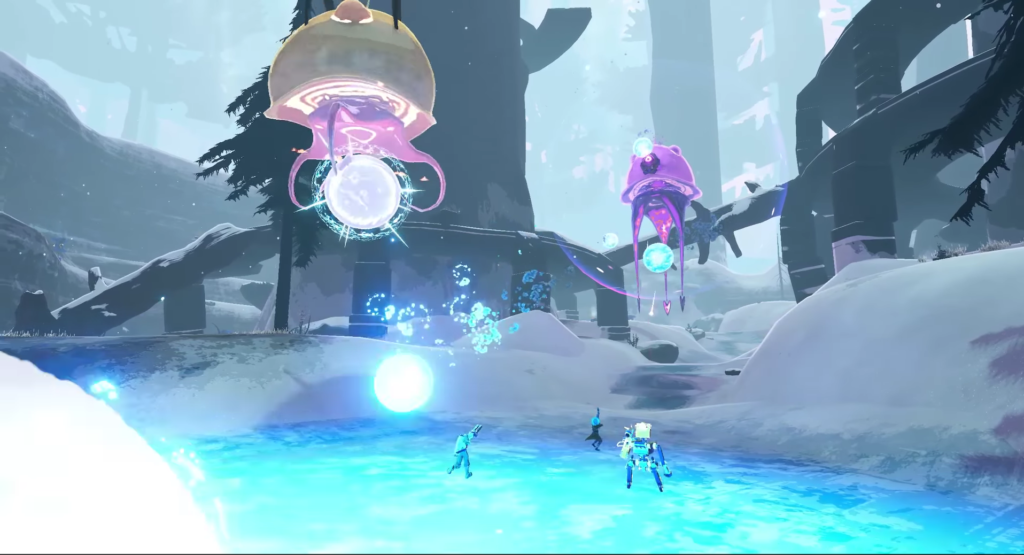 Risk of Rain 2 is unique in that your actions have an impact on how the shooting plays out. Additional decisions must be made throughout the run and even before it begins, aside from piling perk after perk.
As you face various foes, you must constantly swap between different skills. In addition to the diversity of foes, each Survivor has a unique set of basic abilities. You begin the game in a relaxed state, but soon find yourself in a frenetic battle for your life, with a red target on your back and the whole world on fire.
Can you play Risk of Rain 2 on Mac?
Risk of Rain 2 isn't presently compatible with the macOS operating system, so users of Macs who like playing the game may be dissatisfied. However, the positive news is that there are at least three alternative methods to play Risk of Rain 2 on a Mac and each of these methods will be shown and explained step-by-step in the following sections.
Playing the game using any of the workarounds may not give the same level of experience as playing a native game version on a Mac. However, this is not always the case. Risk of Rain 2 may be played in a number of ways, and all of them will provide you with a playable experience and allow you to get a respectable performance out of the game.
Since Risk of Rain 2 has no native Mac version at the time of this writing, to play the game on a Mac, you will need to use streaming or install a virtual Windows machine on your Mac. Here are more instructions on how each of these workaround methods works.
How to play Risk of Rain 2 on Mac
One way to play Risk of Rain 2 on a Mac is to use a cloud gaming service like Boosteroid, which saves you from the need to install the game. Risk of Rain 2 may also be installed on a virtual machine that is running Windows, with the help of software such as Parallels or Boot Camp Assistant. The downside is that it takes more time and storage space on the computer to use this method.
That's why Mac users who want to play a game that doesn't work with macOS but don't want to take up too much space on the system should first check out the cloud gaming option. With cloud gaming services, you may play many games on your Mac that would otherwise be on a PC. Besides, you may play the game on your Mac as if it were running on a powerful gaming PC.
Using a cloud service like Boosteroid has the benefits of being easy to set up, not requiring the game to be downloaded, and not relying on Mac's technical specs for performance. So, if your mac cannot satisfy the game requirements of Risk of Rain 2, this is an easy solution that will provide you with enough cloud resources for a fixed fee. As a drawback, you'll have to make sure you're constantly connected to a fast, reliable Internet connection if you want to play smoothly. To begin, we'll walk you through the basics of using Boosteroid to play Risk of Rain 2. If you want to download the game to your Mac, however, you can skip this part and go right to our instructions on downloading Risk of Rain 2 to your Mac.
Risk of Rain 2 Set Up Methods
Methods
Advantage
Disadvantage
Cloud Gaming
– No set-up required – Register and Play
– Access to a Library of over 70 top-rated free Games
– Smooth performance
– Compatible with M1 and Intel Macs
– Monthly Fee
– Requires Decent Internet Connection
– No Free Trial
BootCamp
– Free to use any time
– Windows 10 Environment

– Painful Setup
– Mediocre Performance
– Only Compatible with Intel Macs

Parallels Virtual Machine
– Easy Set-up
– Adequate Performance
– Play almost any PC game
– Windows 11 environment
– Compatible with M1 and Intel Macs
– 14-day free trial
– Yearly Fee
How to Get Risk of Rain 2 on Mac:
First, you will need to purchase the game. Limited time offer on CD.Keys.com for a discount – 70 % Risk of Rain 2 for $5.49
Now you will need to register for Boosteroid. This allows you to add Risk of Rain 2 to their Cloud Gaming Library. Once uploaded you can seamlessly play the game from your Mac, TV, or Mobile Device.
When Registered you will have additional access to more games for free. Pricing varies depending on the subscription plan.
How to play Risk of Rain 2 on Mac using Boosteroid
Visit Boosteroid.com, sign up for an account, and then log in.
Next, go to your account page on the Boosteroid website, click Subscribe in the box labeled My Subscription, choose a payment plan and then start your subscription to the service after filling in all the relevant information.

Once you've done that, go to the Boosteroid website and search for "Risk of Rain 2" from the magnifying glass icon at the top, then choose "Risk of Rain 2" from the results that display.
On the Risk of Rain 2 page, click "Play" and then "OK" to begin. You'll be asked to sign in with your Steam account when the game has loaded on the page.
Once Risk of Rain 2 has loaded, to get the most out of the game, make sure your browser is in full-screen mode and that the toolbar isn't visible.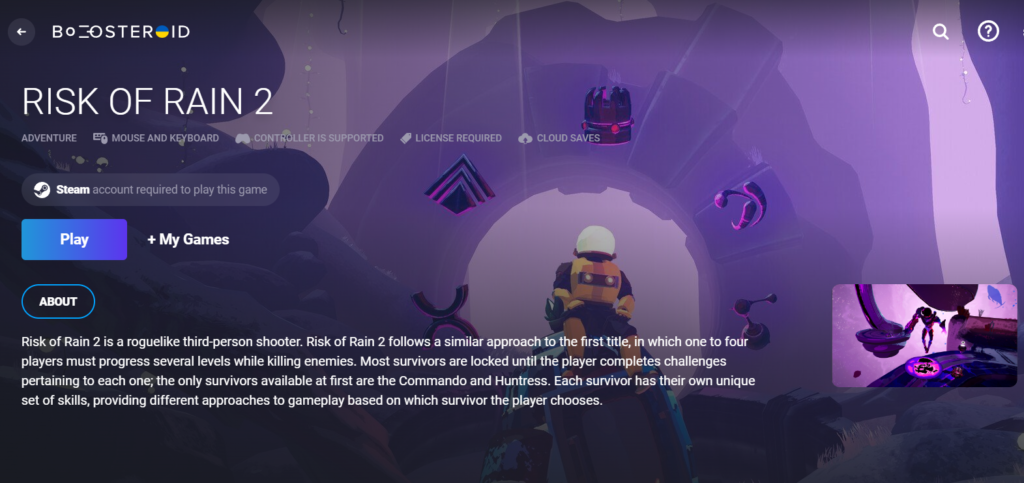 How to download Risk of Rain 2 on Mac
To download and play Risk of Rain 2 on a Mac, you must first install a Windows virtual machine with either Apple's Boot Camp Assistant application or the virtualization tool Parallels. Apple offers both of these programs for free.
You may use any of these techniques to download and play a Windows game, but each one works differently and has its own benefits and drawbacks.
Boot Camp is recommended for Macs with Intel processors, whereas Parallels is recommended for Macs with M1 processors for running Windows on a Mac.
Each of the virtualization tools has its own set of installation steps, which we'll go through briefly below. Clicking on the links given at the bottom will take you to a page with more detailed instructions for each one.
Playing Risk of Rain 2 on Mac with Parallels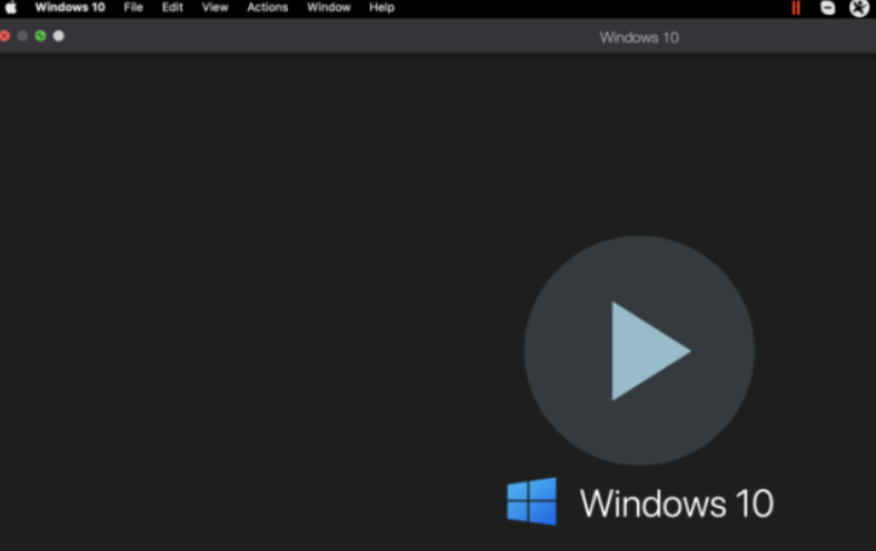 Getting Parallels installed on your Mac is as simple as going to Parallels.com and downloading the appropriate file.
Install Parallels on your computer by running the .dmg file and following the directions on the screen.
Once Parallels has been installed, open it and select the "Install Windows" option to begin the process of creating a Windows VM.
Create a Parallels profile or sign in to the virtual machine using one of the other available sign-up options.
Once you enter the VM, download the Steam or the Epic Games client and use it to install the game on the virtual machine.
If you need more in-depth steps for Parallels with screenshots, check out our Full Parallels Guide.
Playing Risk of Rain 2 on Mac with Boot Camp Assistant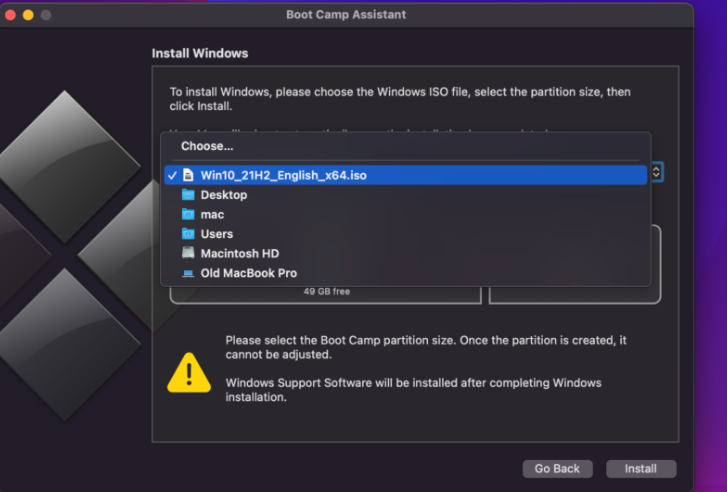 Open Google and search for "Windows 10 ISO download". Start your free download of a Windows 10 ISO file (the 64-bit variant) by clicking on the first result from Microsoft.
On your Mac, go to Utilities, launch the Boot Camp Assistant application, and then insert the ISO file inside the app.
Make sure there is enough space for both the Windows and the macOS partitions, click the Install button, and then follow the on-screen instructions of the program.
Using the Boot Camp window on your computer, make the necessary settings for Windows and install the appropriate Apple drivers.
As the last step, go to the Steam website and download the Steam client from the official website to the Windows partition so that you can install Risk of Rain 2 on your machine with its help.
Downloading Risk of Rain 2 on Mac from Steam
If you don't have a Steam account, you'll first need to sign up for one in order to get Risk of Rain 2 for Mac. To join, just click on this link and fill in the required fields.
On the Steam website, search for an "Install Steam" button and click on it. If you want, you can just download and install the Steam client on your Mac by visiting this page.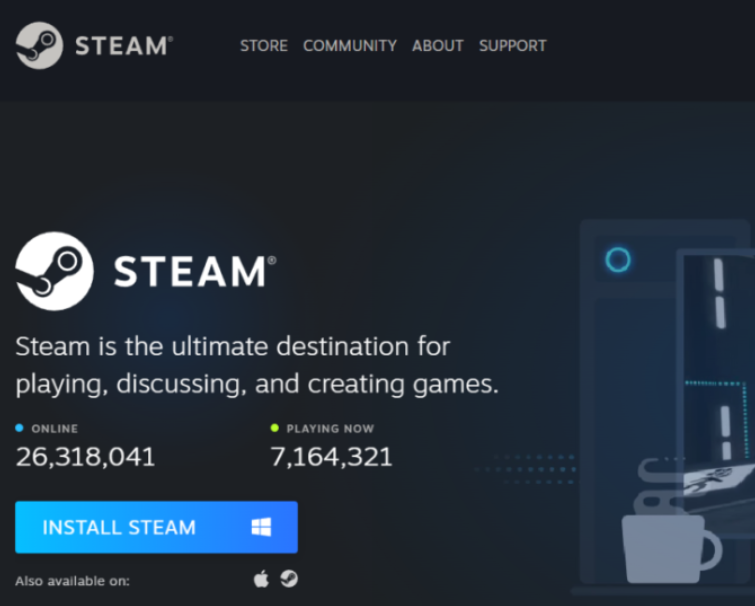 In order to play Risk of Rain 2 on the client app, type "Risk of Rain 2" in the search box in the Store section or tab.
Then, on the Risk of Rain 2 page, click Add to Cart, choose Purchase, choose a payment method, and then fill in the purchase details.
Once you've purchased the game, go back to Risk of Rain 2 page on Steam, click on the Play Now button, then on Next to download and install the game on your Mac.
Next, in the Steam client, go to the Library and choose the name of the game from the drop-down menu on the left. After that, click the Play button to begin playing Risk of Rain 2.
Risk of Rain 2 on Mac M1
Risk of Rain 2 may be played on a Mac M1 using cloud gaming and a virtual machine created by Parallels.
If you want to download and play Risk of Rain 2 on your Mac M1, you may do so by running Parallels on the system and following the instructions described in the previous step.
If you don't want to install the game, it is possible to play Risk of Rain 2 on Macs with M1 and Intel CPUs using the Boosteroid cloud gaming option described above.
Martina Nikolova
Martina likes to get into nitty-gritty of tomorrow's tech, from product design across to security based solutions. A long time mac user and developer, she has the expertise and strives to give new insight