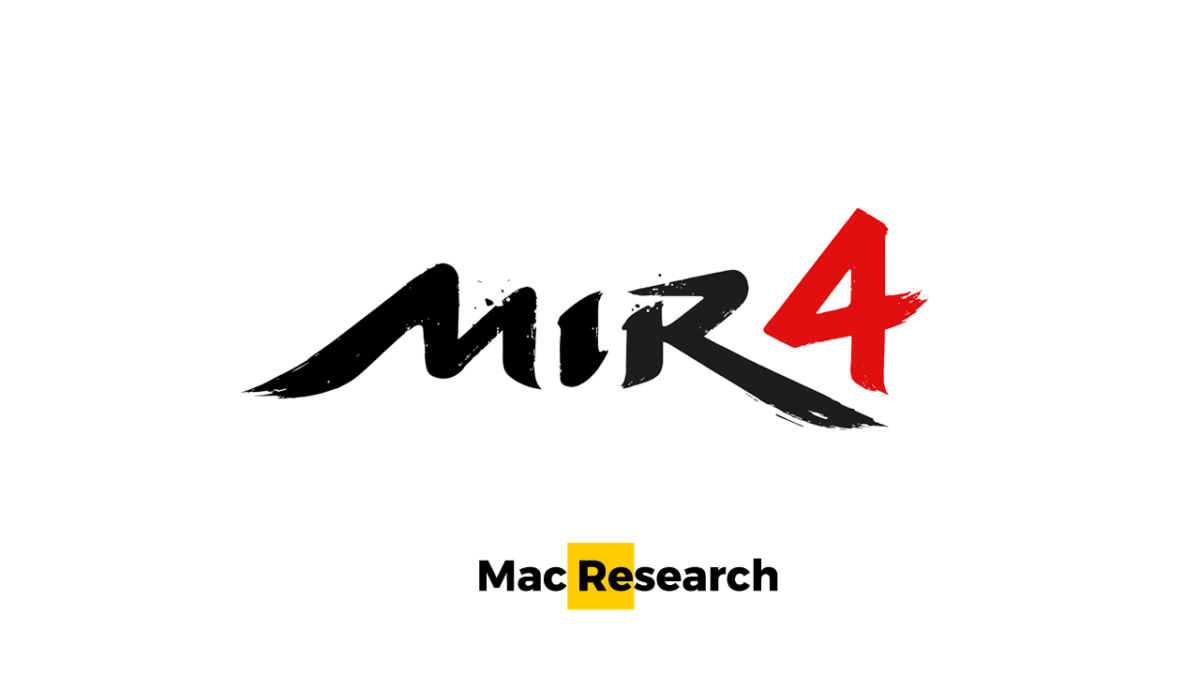 How to play Mir4 on Mac
Martina Nikolova, 2 years ago
0
11 min

read
Can you play MIR4 on Mac?
Just like most MMORPGs in the genre, MIR4 offers a wide variety of activities and tasks for players to complete. Moreover, thanks to its Auto-play option, you don't necessarily have to spend all day playing the game.
If you want to run MIR4 on a Mac computer, you may need to use some additional instructions, as the game isn't originally available for Mac OS. Fortunately, in the next paragraphs, we have included a guide with steps that may be helpful.
About MIR4 on Mac
Wemade's new MMORPG, MIR4, is a game that is heavily influenced by the original Legend of MIR MMORPG, which was published in 2004 for Windows PCs.
MIR4, however, has a lot to impress you with since it provides so much content to explore and a unique and exciting open world that is worth diving into. The game's graphics are stunning, thanks to Unreal Engine, and the character classes that are available are interesting and beautifully designed.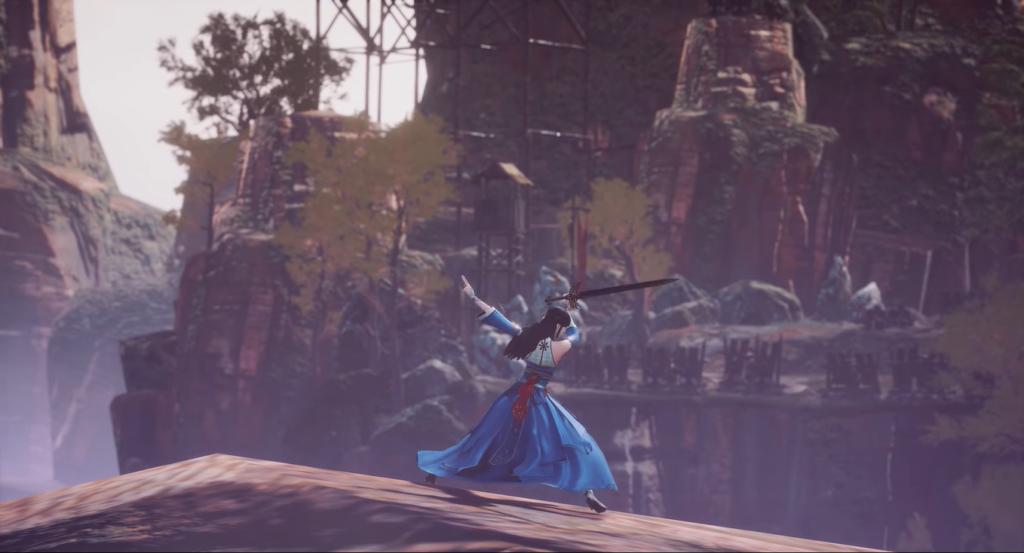 MIR4's Gameplay
In order to enroll in the game, you can select a character from one of four available classes – Warrior,
Sorcerer, Taoist, and Lancer. A welcome feature to the game is the ability to play with multiple characters simultaneously with just one account.
Another area where MIR4 shines is in the customization features, where players have a wide range of options for how their character should look. You'll have multiple ways to personalize your chosen character once you've made your decision. When you play MIR4 for a few hours, you'll discover that the game has a wide variety of activities for you to engage in, including missions and tasks.
You won't have to do it alone, either, as there will be thousands of other players in the game. As part of the game's fascinating PvP, you can engage in battles with other players and collect resources in the process. Even if you're not a fan of every other aspect of MIR4, you'll have something pleasant to say about the game's visuals, as they are impressive and look really good.
Fans of MMORPGs will also enjoy the auto-combat functionality which you can use in MIR4 in a variety of ways, including fighting and farming. Auto-Combat allows you to hand over control of your character to the computer during a battle. For example, you might be in a battle or a quest where you can't afford to fail or delay. Auto-combat is a lifesaver in this situation.
MIR4's auto-attack feature allows you to do more than just fight enemies. It also allows you to automatically finish tasks by selecting the mission you want to accomplish and then selecting an auto mission.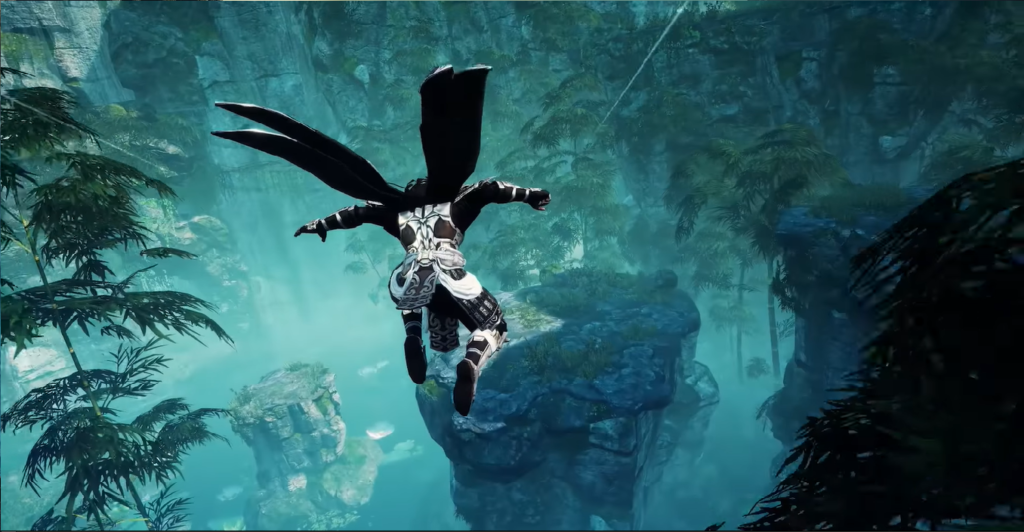 And with farming, it's not really Auto-combat but Auto-play because you're not actually fighting enemies but taking care of crops while you spend your time doing something else. Using the game's auto-mining feature, you can have your character go out and collect resources on their own, without your involvement.
In-game chats can now be translated automatically
Mobile action MMORPG rarely includes auto-translation features, but MIR4 does, and it automatically converts messages provided by other players in a different language into English.
Controls, Music, and Sound Effects in MIR4
When it comes to controls, MIR4 gives you the classical MMORPG with a virtual joystick button that is located in the lower-left corner of the screen, while the attack and special skills buttons are located on the right along with buttons that allow you to equip consumables. The game's controls are quite adequate, and there's nothing bad to say about them. Additionally, the game includes a very convenient Auto-play mode.
The soundtrack and music, in general, are of good quality and give a nice background. The game has engaging sound effects during battles with realistic cutting and slashing at enemies. It's also fun to see the characters interact in story missions.
The Play-to-Win feature is impressive
The Play-to-Win feature of MIR4 allows anyone to play the game and win cryptocurrency, regardless of their other skills. However, players must have reached level 40 in order to have access to this feature. After they get to that level, they'll be able to use Draco to smelt their Darksteel token and link their Wemix ID to the game.
Wemix tokens are traded for Korean Won at Bithumb, where you may exchange them for bitcoin, Ethereum, litecoin, and pretty much any other cryptocurrency that's available in the game.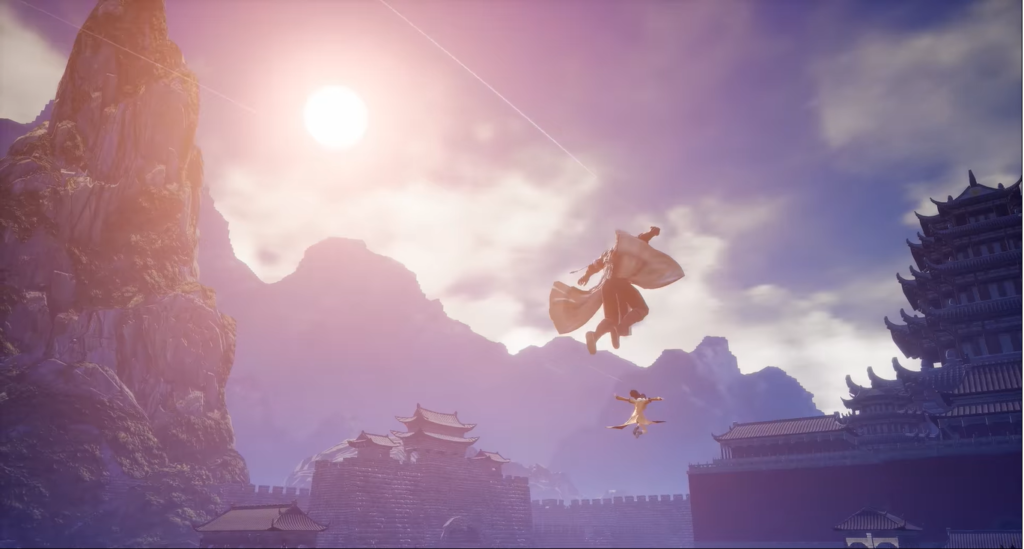 A new Mint, Trade & Play function was also revealed by Wemade, which allows users to trade and sell their actual in-game characters for real-world cash. Of course, there is still a lot of room for improvement in the Blockchain integration, and we can only hope that additional items and equipment with NFT support will be included in future releases.
Some MIR4 functionalities have restrictions.
Some features in MIR4 can only be accessed by players who have attained a certain level in the game. While this is common in games of this type, MIR4 has gone above and above to free players from their limits.
For instance, players must be level 40 or higher to use this feature to convert Draco to BTC, and even then, there are additional restrictions. Some non-BTC-related aspects in the game are also restricted to high-level players. This may not be a problem for some players, but it could be a put-off for newcomers to the game.
How to play Mir4 on Mac
To play Mir4 on Mac, you can use cloud gaming, or you can directly download the game if you have an M1 Mac. To download and play Mir4 on Mac with an Intel processor, you will first need to install Windows using Boot Camp Assistant.
The easiest option for playing Mir4 on a Mac is to register on Boosteroid and run the game through this cloud-gaming service. The game will start directly within the browser and there won't be a need to download or install anything. This would work equally well for both Intel and M1 Mac systems, and everything required to play the game in this way can be done within a matter of several minutes. There are pretty much only three prerequisites to being able to play the Mir4 through Boosteroid:
The first one is that you will need a Steam account because you will need to log in to your Steam account when you start the game in Boosteroid.
The second requirement is that your Internet connection is fast and stable. Cloud-gaming, in general, requires an above average connection to the web or else the game's performance is likely to suffer due to lag and high latency.
The last requirement is to have a paid subscription to Boosteroid, since this is a paid service.
We will show you how you can quickly set up your Boosteroid account and start this, or any other game from the service's library, right in your browser. If, instead, you wish to have the game downloaded on your Mac in order to play it, visit the How to download Mir4 on Mac section further down this page.
Mir4 Set Up Methods
Methods
Advantage
Disadvantage
Cloud Gaming
– No set-up required
– Access to a Library of over 70 top-rated free Games
– Smooth performance even on old Macs
– Monthly Fee
– Requires Decent Internet Connection

BootCamp
– Free to use any time
– Windows 10 Environment

– Painful Setup
– Mediocre Performance
– Only Compatible with Intel Macs

Parallels Virtual Machine
– Easy Set-up
– Adequate Performance
– Play almost any PC game
– Windows 11 environment
– Compatible with M1 and Intel Macs
– 14-day free trial
– Yearly Fee
Native Version
– No Compatibility issues
– Optimized for Mac
– Slow Performance on old Macs
Mir4 with Cloud Gaming
Get Mir4
Before playing Mir4 make sure you get the game through the official websites. For the moment only Steam is compatible with cloud gaming services such as Boosteriod and Geforce Now.
Register and add Mir4 to the Boosteroid cloud gaming library
All you need to do now is register for Boosteroid. This allows you to add Mir4 to their Cloud Gaming Library. Once uploaded you can seamlessly play the game from your Mac, TV, or Mobile Device.
When Registered you will have additional access to more top-rated games for free. Pricing varies depending on the subscription plan.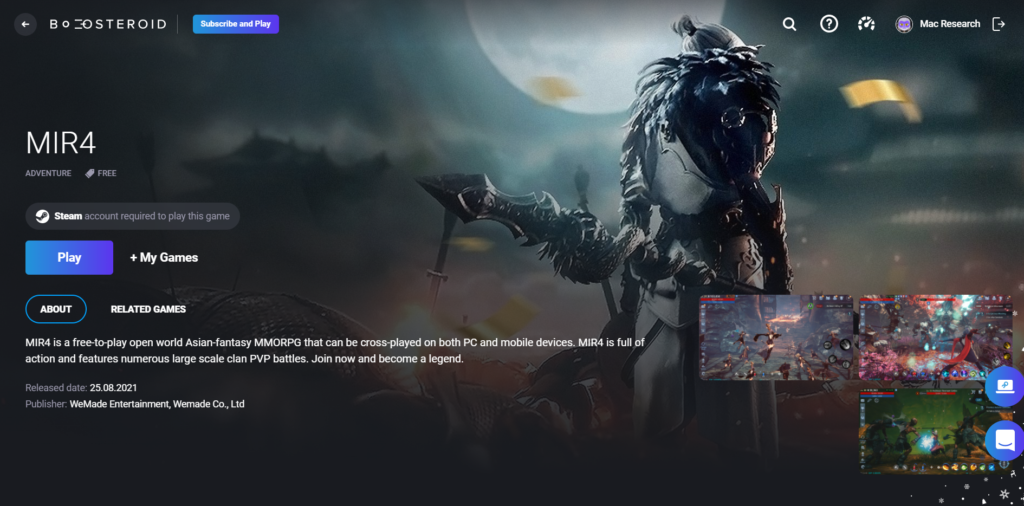 Play Mir4 with Boosteroid
Open this link to Boosteroid's login page, create an account with your email, and log in.

Visit the Boosteroid page for the Mir4 game and click on Play.


If you haven't played other games from this Boosteroid account in the past, you will be asked to subscribe to the service, so click Subscribe, then choose a subscription option and a payment method, and provide the necessary details to start your subscription.

Return to the Mir4 page on Boosteroid and launch the game.
Before the game begins, you must log in with your Steam account, so do that to continue.
Mir4 will soon load in the browser, and you can start playing it. It's likely that an update for the game will need to be installed once you click on Start Game – proceed with the installation and after that the game should start.

Note: Boosteroid should work from within most browsers, but for best performance, the Google Chrome and the Opera browsers are recommended.
How to download Mir4 on Mac
To download Mir4 on Mac, you need to install Windows 10 using Boot Camp Assistant if your Mac is with an Intel processor. If you have an M1 Mac, you can download Mir4 on your Mac directly from the App Store.
To play Mir4 on a Mac locally (by having the game downloaded and installed on the computer), it really depends on what Mac you have. The game is officially supported for Mac M1 machines, so if your Mac is with an M1 chip, you can easily get the game directly from the App Store and install it on your Mac like any other regular app. For Intel Macs, there isn't a direct option to download the game and play it from macOS, so you'd have to go through some additional steps before you can download and play the game locally.
In order to successfully download, install, and play Mir4 on an Intel Mac, you will first need to get Windows installed on it. We will introduce to you two ways you can effectively do that: with the Parallels virtualization tool and with the pre-installed Boot Camp Assistant app that all Intel Macs have. Typically, Parallels is the better option for Mac users who want to install Windows on their Macs specifically for gaming.
Play Mir4 with Parallels
Install Parallels on your Mac by downloading it from its official site.
Get a Windows 10 ISO file for 64-bit systems from this Microsoft page.
Load the ISO file in Parallels and create a Windows 10 virtual machine on your Mac; make sure to use the Games Only configuration for the Parallels virtual machine.
Once the Windows 10 virtual machine is installed, create a Parallels account, open the VM, and download Mir4 from Steam or from the game's official site.
Play Mir4 with Boot Camp
Click here and download the 64-bit Windows ISO file.
Start the Boot Camp Assistant from your Utilities folder and load the ISO file in it.
Make sure to give enough storage space to the Windows partition, click install, and follow the installation prompts after your Mac restarts.
Install Windows 10, customize its settings, and install the necessary drives. After that, you can download the Windows version of Mir4 on your Mac's Windows 10 partition.
Our full guide on Boot Camp Assistant
Play Mir4 on on Mac M1
You can play Mir4 on Mac M1 by downloading the game from the Mac App Store since the game has an official Mac M1 version. You can also play Mir4 on your Mac M1 without downloading the game, by using the Boosteroid cloud-gaming service.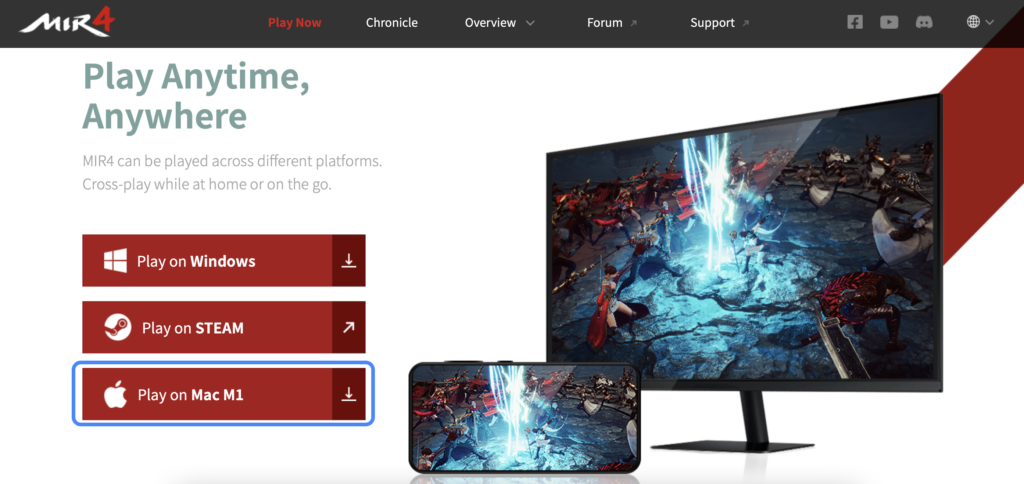 M1 Mac users would have an easier time playing Mir4 compared to owners of Intel-based Macs, seeing as how the game is officially supported for the former type of Mac models, but not for the latter. If you own an M1 Mac, you can go right now to your App Store, type Mir4, click on the game's title, and select Get to install it on your M1 Mac. If you are unable to find the game in the App Store, here is a link that should bring you to the Mac App Store page of Mir4.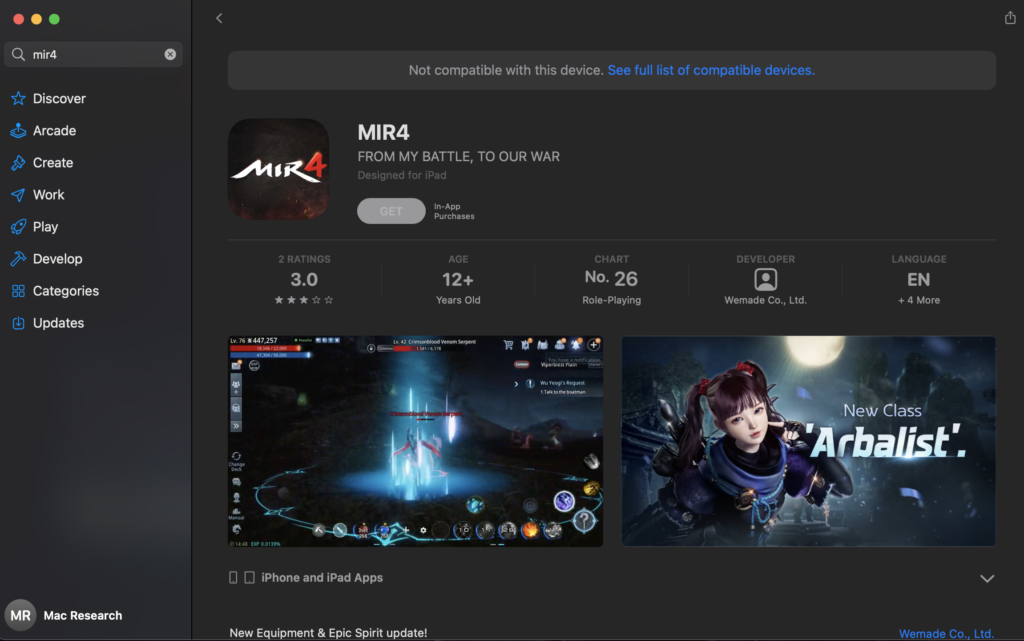 Mir4 is also on Steam, but only the Windows version of the game is available there, so you cannot download it from Steam on your M1 Mac. However, if you want to play Mir4 through Boosteroid instead of downloading it, you will need a Steam account to be able to enter the game.
Martina Nikolova
Martina likes to get into nitty-gritty of tomorrow's tech, from product design across to security based solutions. A long time mac user and developer, she has the expertise and strives to give new insight