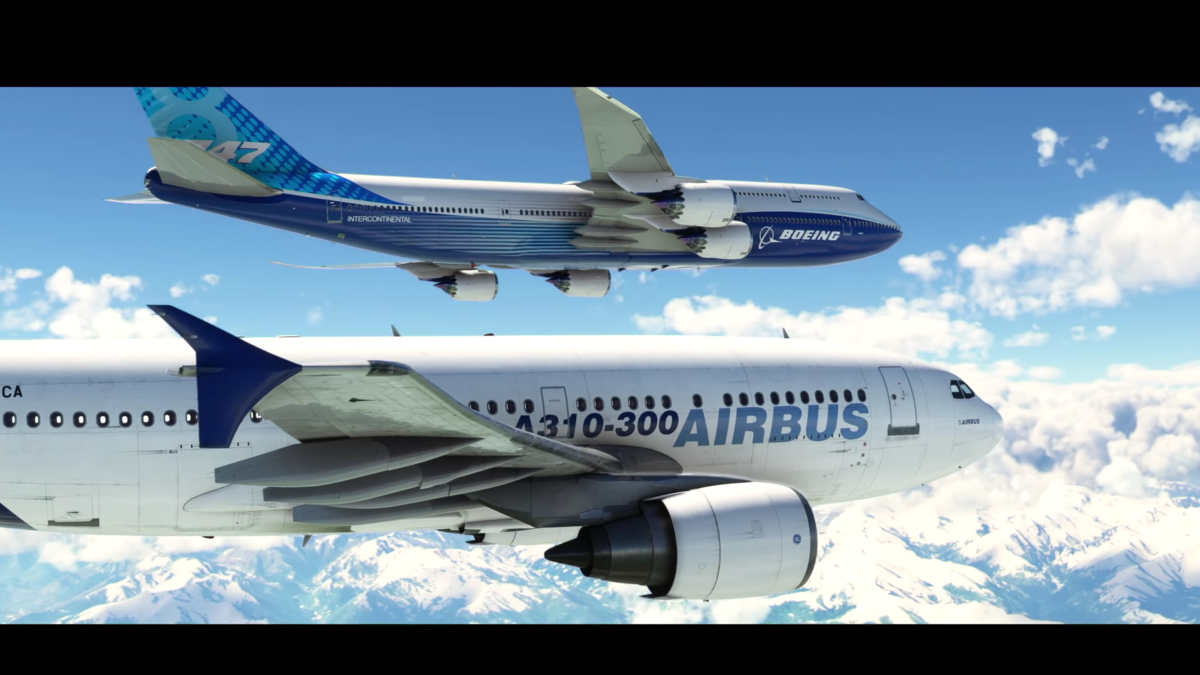 Is there Microsoft Flight Sim for Mac?
Microsoft Flight Sim (MSFS) is a flight simulator game that allows players to experience the beauty and thrill of flying with a variety of aircraft. Currently, there is no native Microsoft Flight Sim for Mac version, however there are a few workarounds that can help you play it on a Mac, and we will discuss them in this article. Please check the instructions below if you want to get as near as possible to the original experience of playing the Windows PC version of the game on your Mac.
Can Flight Simulator work on Mac?
Flight Simulator is a highly demanding game that requires a powerful computer to run smoothly. While the game is available on Xbox Series X|S and PC, it is not officially supported on Mac. However, it is possible to run it on a Mac using a Windows virtual machine.
Can Mac run FSX?
FSX will run on your Mac if you create a Windows environment on it. A simple solution is to install Parallels or use Boot Camp and set up a Windows OS with their help.
Can you play Flight Simulator on a laptop?
The game is not available to play natively on Mac, and we cannot guarantee that it will perform correctly on an emulator. However, Microsoft Flight Simulator is available on PC and can be played on a laptop that meets the minimum system requirements.
What devices can Flight Simulator be played on?
Microsoft Flight Simulator is available on PC Windows 10 via the Microsoft Store and Steam. The Xbox Series X|S was released on July 27th, 2021.
What computer will run Flight Simulator?
In order to run Microsoft Flight Simulator, the minimum system requirements include an Intel i5-4460 or an AMD Ryzen 3 1200 CPU, paired with an Nvidia GTX 770 or AMD RX 570 graphics card. Additionally, you'll need at least 8GB of RAM. However, it is important to note that Flight Simulator is a demanding game and higher-end components will result in better performance and a more enjoyable experience.
Is Flight Simulator used by pilots?
Flight simulators are used by pilots in training to simulate various types of scenarios, from basic cockpit procedures to full-motion simulations of real-life scenarios. Flight schools often use simulators like these to provide a safe and cost-effective way for pilots to train and gain experience.

So can you play MSFS on Mac?
Fans can enjoy MSFS on Mac in several ways, despite the fact that the game has no official Mac OS version. Of course, what they need to use are some workaround methods. A very convenient solution, that can give you a good gaming experience is to use the Xbox Cloud Gaming service, which lets you play the game without even needing to download it. As of the time of writing this, Microsoft Flight Simulator is available there and can be played through the service on any Mac. Another option is to install Windows OS on your Mac with the help of Parallels or Boot Camp Assistant to be able to download and play MSFS for Windows. Below, we'll give you detailed instructions on exactly how to do that.
But can you also run Microsoft Flight Simulator on MacBook M1 or M2
If you follow our Xbox Cloud Gaming instructions, you'll be able to play Microsoft Flight Simulator on any Mac, including M1 and M2 MacBooks. And on the off-chance the game gets removed from that service, you can still play it by first setting up Windows on your Mac. While the Boot Camp method won't work here, you can play Microsoft Flight Simulator on M1/M2 MacBooks using Parallels, which is a versatile app that's compatible with both Intel and Apple Silicon Mac models. However, we should mention that gaming through this app should be done on more powerful MacBooks and won't work great if your Mac is older, and its hardware is on the weaker side.
How to play Microsoft Flight Simulator on macOS?
Currently the best way to play Microsoft Flight Simulator on macOS is through Xbox Game Pass Ultimate. Subscribing to this plan gives you access to the game itself, a large library of other popular gaming titles, and to the cloud gaming platform through which you'll be able to run MSFS on your Mac. As mentioned, the other options to play this game on an Apple computer is to download its PC version after having installed Windows on the Mac. Instructions on how to get the Windows OS on your Mac will be provided further down this post.
Play Microsoft Flight Sim on Mac with Xbox Game Pass
If you're looking for a way to play Microsoft Flight Simulator on your Mac, using the XCloud platform included in the Xbox Game Pass Ultimate plan is one of the best options available. This plan provides you with access to the cloud platform itself, as well as to a vast collection of games, including Microsoft Flight Simulator, all for a monthly fee of $14.99.
With an Xbox Game Pass Ultimate Plan subscription, you'll be able to play Microsoft Flight Simulator on your Mac via the Xbox Cloud Gaming service. This cost-efficient plan allows gaming enthusiasts to enjoy their favorite titles without breaking the bank, and it's an excellent choice for Mac gamers who want to access hundreds of games without the need to own them separately.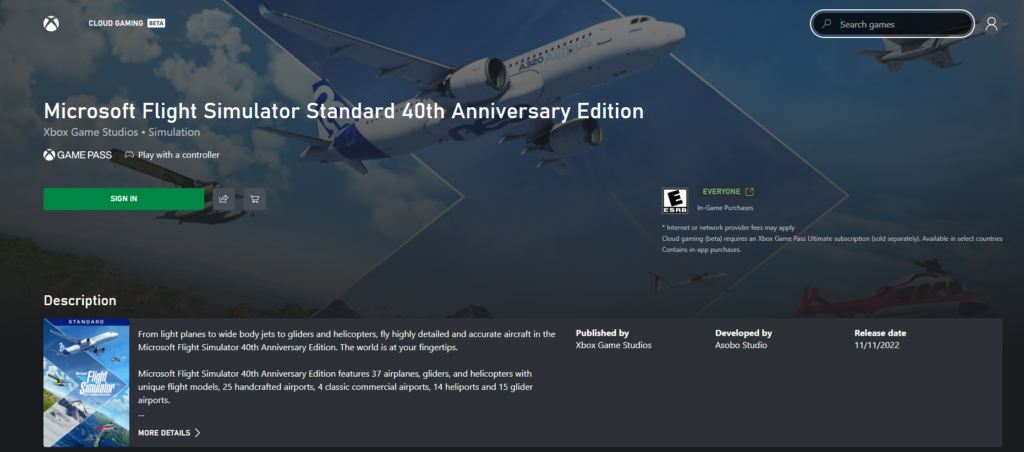 Xbox Game Pass Instructions
Sign up for Xbox Game Pass and then join the Ultimate Plan.
A Microsoft account will be required to proceed. Create one if you don't have already. Once you join Game Pass, you will need to do one additional step if you are using the cloud solution: In case you don't have a controller,

download

an extension that emulates it for keyboard and mouse for Chrome.
Then use the search box to search for the game and, once you find it, you will be ready to play MSFS.
Other Methods to Play Microsoft Flight Simulator on Mac
In addition to the cloud gaming option described above, owners of Macs can also learn how to use Parallels and/or Boot Camp Assistant to emulate Windows and play Microsoft Flight Simulator on Mac. Here we have detailed guides for these two programs, but please note that the gaming performance that you can get with them may vary between Mac models.
Microsoft Flight Simulator Review
The Microsoft Flight Simulator 40th Anniversary Edition (released in November 2022) is the most advanced version of the series to date. It honors aviation's fascinating history by introducing a selection of iconic aircraft recreated with impressive accuracy. Plus, it impresses the fans with numerous community-requested features and enhancements.
What is new is that fans of the series can now play with helicopters and gliders, as well as the fully functional, true-to-the-original Airbus A-310-300. The 40th Anniversary Edition also introduces several historical airplanes, including the 1903 Wright Flyer and the 1947 Hughes H-4 Hercules, also known as the "Spruce Goose".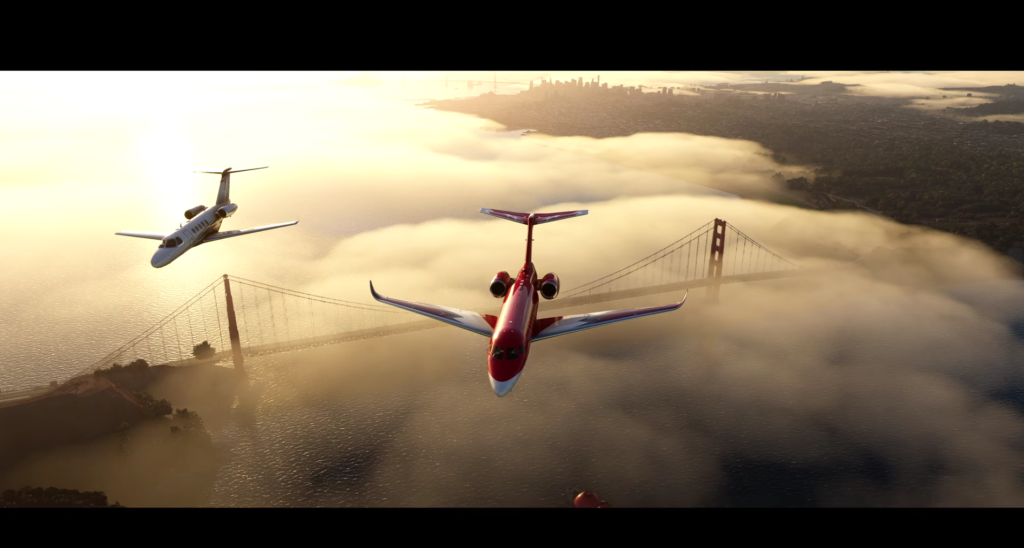 MSFS: Improvements
Several enhancements have been implemented to provide a smooth flight sim experience. What can't go unnoticed is that the live traffic feature has been simplified and made easier to use. The simulation of the weather has been vastly improved, particularly with regard to Thermals. The weather panel now has the option to toggle a 3D thermal depiction on and off.
The CFD (Computational Fluid Dynamics) has also undergone some general tuning. The developers have included a new in-game CFD airflow display visualization for CFD-enabled aircraft which is accessible in the help menu. The height gain function for the Back to Fly feature has been reworked and now takes into account the plane's present altitude, enabling swift course corrections in a wide range of situations.
The flying simulation experience in Microsoft Flight Simulator
Players can take control of an aircraft of their choice and put their flying skills to the test against a changing environment. They can maneuver an unpowered glider or control a rotor-wing aircraft over congested cities, all while experiencing enhanced real-time atmospheric simulation and challenging weather conditions.
The new ability to fly with a helicopter gives players a very different experience and a new level of freedom, which wasn't possible in previous installments. There are options that allow you to land anywhere you want, as well as change the course and fly somewhere else without needing to always stay on a set trajectory.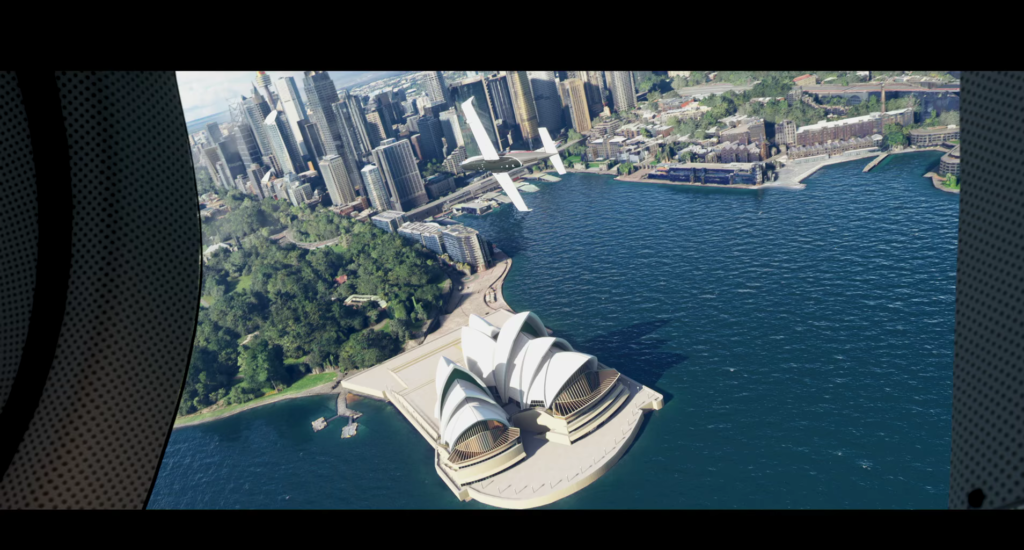 What about the graphics?
In terms of graphics, the simulator doesn't fail to impress with the visuals. Satellite imagery can be downloaded in real-time for a more authentic experience via the online functionality setting. The game offers an ever-growing list of scenery, representing major landmarks and popular cities with impressive attention to detail. The same amount of detail is put into the recreation of the new aircraft models, introduced in the simulator.
Conclusion
If you love aircraft, Microsoft Flight Simulator is a great sim. There is an active community and plenty of tutorials to introduce you to the basics. The game offers substantial technical enhancements in flight dynamics and simulation with an accent on the beauty and thrill of flying. There is a wide selection of upgrades, both free and commercial, as well as official and fan-made add-ons. If you already own Microsoft Flight Simulator, you can get the latest version as a free update. New players may get into the series now and enjoy the content-packed 40th Anniversary Edition with all of its improvements.
Martina Nikolova
Martina likes to get into nitty-gritty of tomorrow's tech, from product design across to security based solutions. A long time mac user and developer, she has the expertise and strives to give new insight