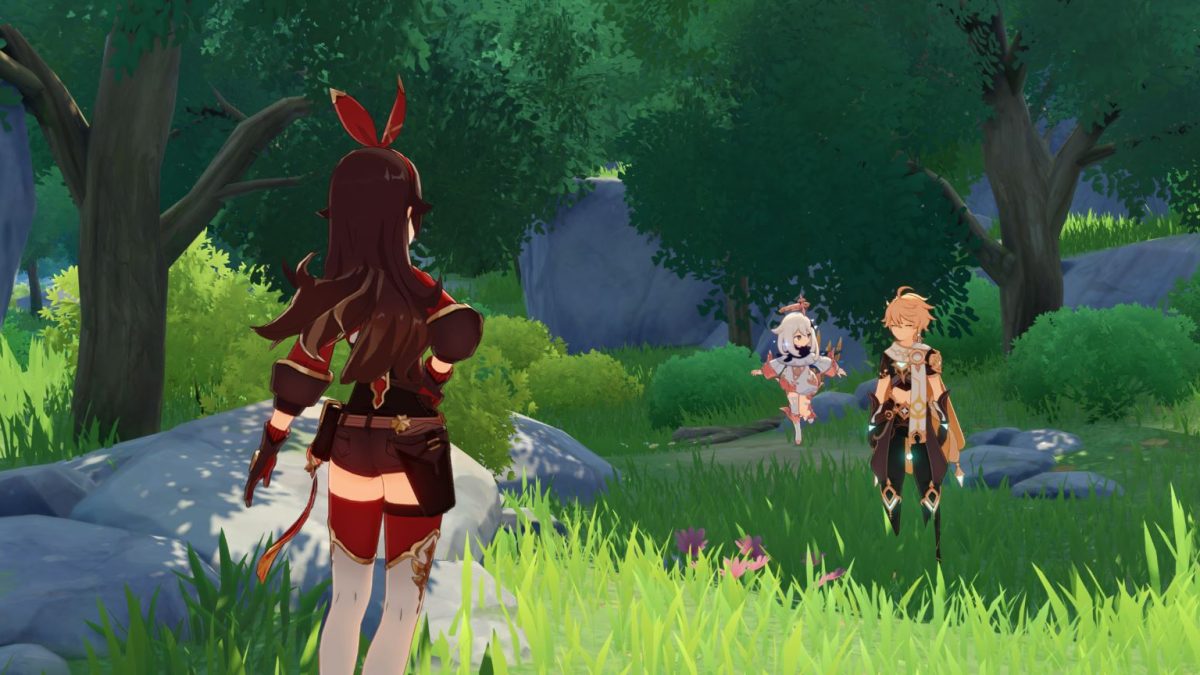 Genshin Impact Co-Op
While Genshin Impact is primarily a single-player experience, its Co-Op mode lets you join forces with your pals and have fun together. Some of the best (and most challenging) content in the game can be enjoyed in collaboration with others, so if you are interested in giving it a try, follow the steps provided on this page.
Before we go any further, if you are a Mac user who wants to play Genshin Impact, you are probably already aware that the game isn't supported for macOS. However, did you know that there are several great workarounds that can let you play the game on your Mac? If you want to learn more about each of those methods and use them to enjoy the game on your Apple computer, be sure to hit the button below.
Genshin Impact is an action role-playing game where players assume the role of a sibling exploring the world of Teyvat in search of their missing brother or sister. Although some activities can only be completed in single-player mode, the game offers a Co-Op mode that lets you work together with other players to complete a variety of tasks. These can include grinding for artifacts and materials, taking on weekly bosses, and solving puzzles.
The way Co-Op works in this game is that you either enter the world of another player or one or more other players enter your world, at which point you can begin playing together.
How to play Genshin Impact in Co-Op
In order to enable Co-Op mode in Genshin Impact and enter your friends' worlds (or let them come to yours), you do so from your Friends' list, like will be explained below. First, however, you must first make some new friends in the game by using a unique nine-digit UID code that's assigned to every user. The UID can be found under one's username in the Paimon menu and in the bottom right corner of the screen. Once someone has told you their UID, here's how you can use it to make them your friends in Genshin Impact:
Pause the game, go to the Paimon menu, and select the Friends section.

Open the second tab and there enter somebody's unique UID number in the search bar.

Once the person is found, you can send a friend request, and when they accept it, you can play in Co-Op with them.
Once you have successfully made a friend, you will be able to chat, share items during events, and, of course, join their world.
There, however, is one additional prerequisite to enter your friend's world in Genshin Impact, and that is to first reach Adventure Rank 16. Once you have done so, you can follow these instructions to enter your friend's world:
In the Paimon menu, select Friends.
Once you find the name of the friend whose world you wish to join, select Request to Join. Note, however, that you can only do this if your friend is currently online, as indicated in the Friends tab.

When the request is accepted, you will join the friend's world and will be able to play together with them.
As mentioned, it's also possible for you to be the host of a Co-Op session, in which case your friends can join your world. Here's how this is done:
Pause the game and in the Paimon menu, go to Co-Op mode.
Simply change the Permissions status of your world from Join After Approval or Allow Direct Join, depending on which one you prefer. The option to do this is in the bottom-left of the Co-Op Mode screen.
Once you've done this, your friends int the game will be able to join your world.
It's important to keep in mind that in Genshin Impact, you will be unable to join the game world of a player whose World Level surpasses your own. However, it is still possible for players with higher World Levels to join your game and provide assistance in overcoming tougher domains and bosses. Furthermore, it's worth noting that the Co-Op mode is exclusively available for players on the same server, so it is not possible for players from different servers to collaborate.
Martina Nikolova
Martina likes to get into nitty-gritty of tomorrow's tech, from product design across to security based solutions. A long time mac user and developer, she has the expertise and strives to give new insight