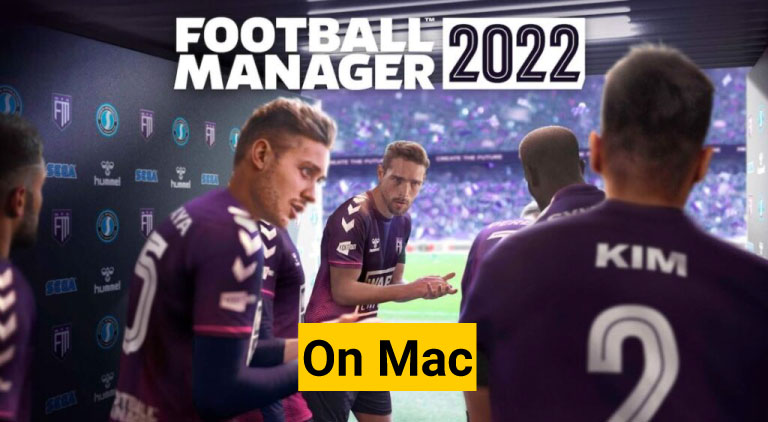 About Football Manager 2022 on Mac
Football Manager 2022 can be played on Mac without the need for resorting to any workaround methods. It's a football (soccer)-management simulator that has an official version for Mac that can be downloaded from Steam, Epic Games Store, and Microsoft.
A Different Type of Sports Simulator
Football Manager 2022 is the latest installment in the long-running Football Manager series and, like the games that come before it, it is still as inaccessible as ever with regard to getting to know the game and learning how to play it. This is because, even though this is a sports simulation game, the part that gets simulated isn't the actual act of participating in football (soccer) matches, but rather everything that surrounds it. Unlike more conventional soccer gaming titles such as the PES or FIFA series, where you play as a soccer player or as a whole team, that you control in real-time and your actions at the moment determine the result of the match, in Football Manager 2022 (and the Football Manager gaming franchise as a whole), your task is to meticulously manage all the aspects of the well-being of your soccer team (finances, training regime, transfers, scouting, etc.) so that, when the time comes, the members of your team would bring their A-game to the pitch and win the day.
Guide to play Football Manager 2021 on Mac
Strategy over Dynamics
During the match itself, you have virtually no real-time control over what the players do (or do not do). For gamers who are used to the aforementioned conventional soccer simulators, this may initially seem like a dull and rather uninteresting premise, and I won't lie to you – this is definitely not a game for everyone. I believe that a very small percentage of gamers would come to appreciate what the Football Manager games have to offer from the get-go. In my opinion, getting to enjoy this game is a slow and oftentimes frustrating process – liking the game is an acquired taste. Still, if you sink enough time into it, it has the potential to become scarily addictive, to the point where you have no idea where your entire weekend went.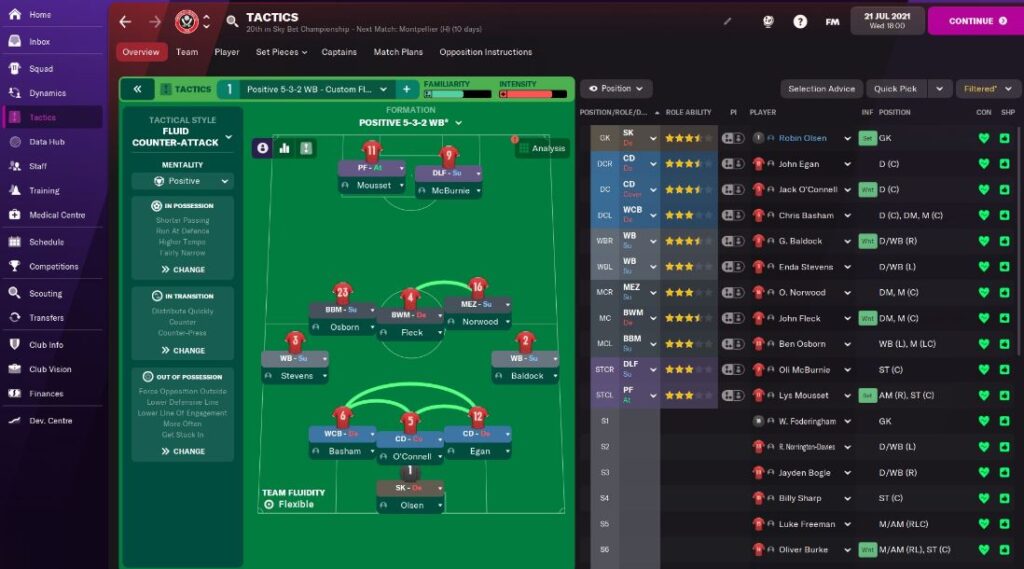 Improvements
Now, that the overall premise and idea of the game are made clear, let's talk specifics. Football Manager 2022 is still fresh out of the oven, and it may be a bit early to determine how well it compares to its predecessors. Thus far, the game has been getting predominantly positive reviews from critics, and it seems that gamers are also satisfied with what the title brings to the table (although it's a bit early to say).
Some of the main improvements that come with the game are the incredibly helpful Data Hub feature, the implementation of a new, better match animation engine and general improvements to matchday, and the improved staff meetings. Overall, the game is now more polished and feels more like the real thing.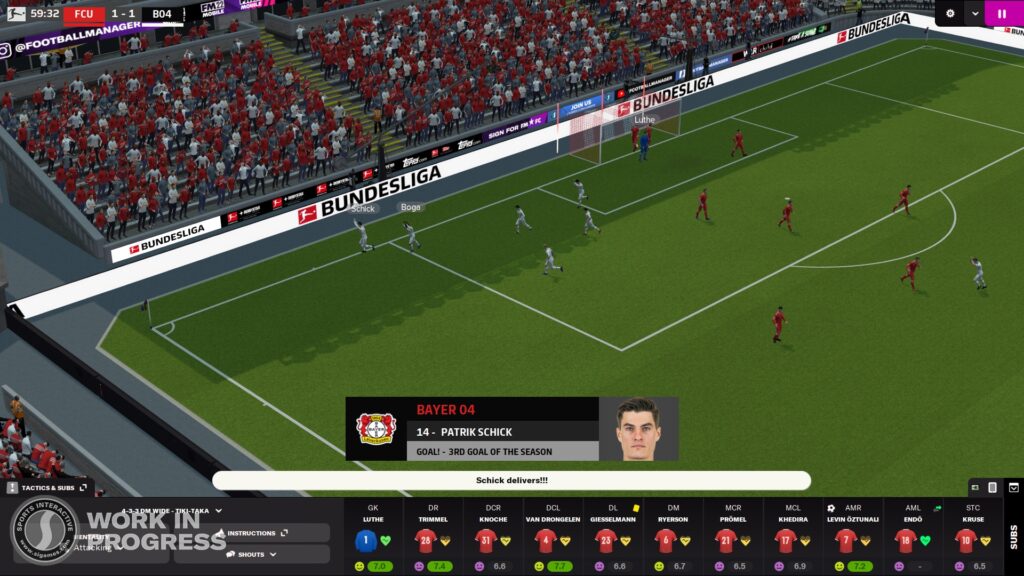 New Match Animation Engine
Earlier installments of Football Manager didn't even have a match animation engine and so you wouldn't get real-time visualization of what was actually happening on the pitch. You'd just get a report from the game that tells you what has transpired during the match. With Football Manager 2021, this aspect of the game was changed and players could now see the match being played out in real-time. However, a lot was left to be desired from that game's animation engine, which brings us to the current installment of this franchise. Rather than simply improving last year's animation engine, the developers behind Football Manager 2022 have come up with a brand new one that feels and behaves a lot more realistically. It's still not perfect, but now one can get a much better visualization of the tactics that they've set for their team, making the pay-off that more satisfying. The players on the pitch would still make mistakes, but those mistakes would be more grounded in reality and feel more "earned". At the same time, there would also be solid choices from the player's AI that correspond with what you, as a manager, have instructed prior to the match.
Here, we need to mention that players who are trying this game for the first time shouldn't expect any sort of hyper-realistic or beautiful graphics – the animation engine is supposed to give you a visual perspective of the matches but, since the matches themselves are a very small part of the gameplay experience, you cannot expect the same kind of graphical prowess that more dynamic and action-focused games have nowadays. If this is your first time playing Football Manager 2022, you will likely think that the graphics of the animation engine look incredibly aged, but again, this isn't what the game is all about and shouldn't be the aspect that newcomers to the franchise should be focusing their attention on.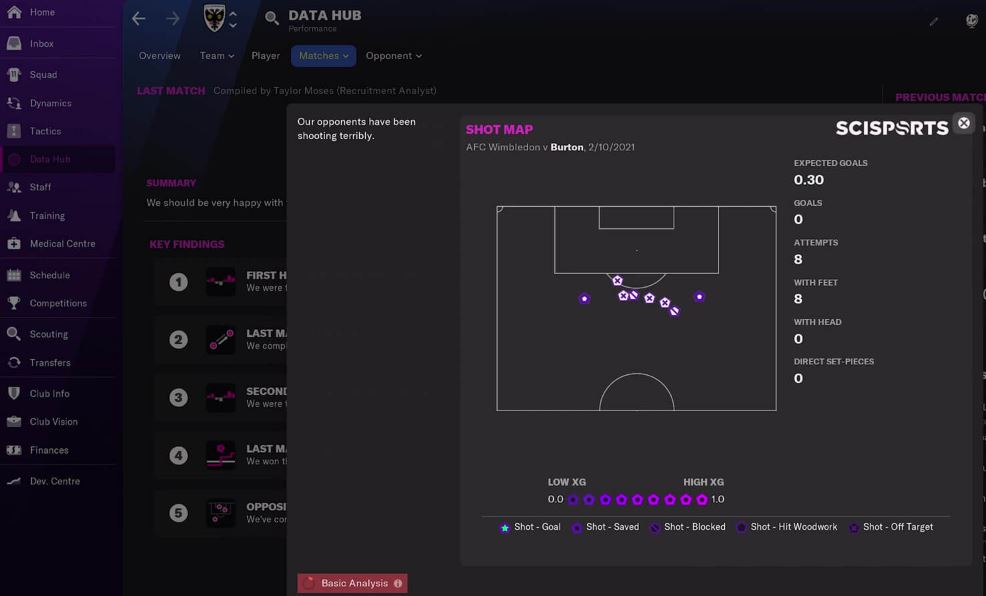 Data Hub
Another significant quality-of-life improvement that makes the game easier to manage is the addition of the Data Hub – a feature that feeds you with a huge amount of information that's all accessible from the same menu. Prior to the Data Hub feature, gamers could still get the needed data, but they'd usually have to go look for it in different menus, and it could often be difficult to quickly find what you are looking for. The Data Hub takes care of this by giving you an easy way to access any type of information concerning the state of your team and the individual players in it, and compare it to that of other teams. If you are into that sort of thing, the Data Hub feature could serve as a type of min-maxing tool that allows you to fine-tune everything to the last detail so as to squeeze the best possible performance out of your team. Obviously, this is easier said than done, but if it were any other way, the game would lose its charm and its appeal to the fans of the franchise.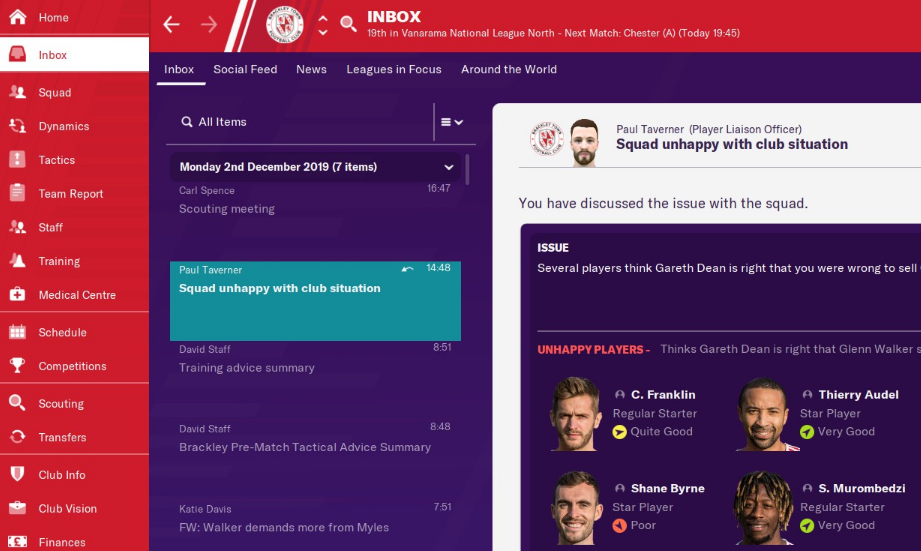 Management Staff Meetings
The last significant improvement I want to talk about is the staff meetings. This feature will let you get advice from members of your team's management staff, which could be very useful and highlight aspects that you may have overlooked or outright missed while managing the team. Those staff meetings can be especially helpful for newer players who are just getting to know the game and can use a guiding hand. Obviously, you are not required to take heed of the advice that's given to you – you can always disregard it and/or request a second opinion from another staff member. Maybe you do know what you are doing, and your chosen course of action is better than the one suggested to you.
Areas that require improvement
In spite of the significant improvements made to the game, there are still certain imperfections that should be noted. For instance, although the game includes tons of content, its simulation capabilities aren't limitless and certain things are bound to break the immersion. Notably, the press conferences can feel somewhat dull and repetitive, with reporters asking the same thing over and over again every week.
Another potential immersion-breaking aspect of the game that was present in the previous installments as well is the occasionally clunky interaction between you and the players on your team. You are often limited by the interaction options you are given and on top of that, the players are prone to behaving like spoiled kids, getting demotivated, and losing morale over the slightest inconvenience (or even without an apparent reason). Of course, realistic simulations are difficult to pull off in games, especially when there are so many moving parts involved. Besides, the improvements made in Football Manager 2022 definitely bring the game closer to real life, which is why it's probably worth checking out if you already have an interest in games of this type.
System Requirements for Mac
64-bit processor and operating system
OS: MAC OS X 10.13.6, 10.14.6, 10.15.5, 11.5 – 64-bit
Processor: Intel Core 2 or AMD Athlon 64 1.8GHz+ or M1 chip
Memory: 4 GB RAM
Graphics: Intel GMA X4500, NVIDIA GeForece 9600M GT, AMD/ATI Mobility Raedon HD 3650 – 256MB VRAM or equivalent
DirectX: Version 11
Storage: 7 GB available space
Football Manager 2022 Set Up Methods
Methods
Advantage
Disadvantage
Cloud Gaming
– No set-up required – Register and Play
– Access to a Library of over 70 top-rated free Games
– Smooth performance
– Compatible with M1 and Intel Macs
– Monthly Fee
– Requires Decent Internet Connection
– No Free Trial
BootCamp
– Free to use any time
– Windows 10 Environment

– Painful Setup
– Mediocre Performance
– Only Compatible with Intel Macs

Parallels Virtual Machine
– Easy Set-up
– Adequate Performance
– Play almost any PC game
– Windows 11 environment
– Compatible with M1 and Intel Macs
– 14-day free trial
– Yearly Fee
Football Manager 2022 with Cloud Gaming
Football Manager 2022 is now available to play on cloud gaming servers. This assures NO
compatibility issues while playing on your Mac as well as top-notch performance.
Step 1. GetFootball Manager 2022
Before playingFootball Manager 2022 make sure you get the game through the official websites. For the moment only Steam and Origin are compatible with cloud gaming services such as Boosteriod and Geforce.

Update: Limited time offer now available at CDkeys.com, buy FootBall Manager 2022 for $38.59 (Steam Launcher)
Step 2. Register and AddFootball Manager 2022 To Boosteroid Cloud Gaming Library
All you need to do now is register for Boosteroid. This allows you to addFootball Manager 2022 to their Cloud Gaming Library. Once uploaded you can seamlessly play the game from your Mac.

When Registered you will have additional access to more than 70 top-rated games for free. Pricing varies depending on the subscription plan.
Football Manager 2022 on Mac M1
To play Football Manager 2022 on Mac M1, first, download and install Steam or Epic Games Store on your Mac and purchase the game on the respective platform. After that, you can download, install and play Football Manager 2022 on your Mac M1.
If you want to play Football Manager 2022, but have an M1 Mac and are worried that you may not be able to run the game on it, know that, since Football Manager 2022 has an official version for macOS, there should be no issues with playing the game, regardless of whether you own an Intel Mac or an M1 Mac. The methods of getting games that don't have official macOS versions to run on a Mac can differ depending on what the machine's processor is (Intel or M1), but in the current case, there's virtually no difference, and the process of running the game on either type of Mac is as simple and as streamlined as it gets.
How to play Football Manager 2022 on Mac
To play Football Manager 2022 on Mac, you'll need to download and install either Steam's desktop client or the Epic Games Store app and purchase the game on the respective app. Then you can download and begin to play Football Manager 2022 on your Mac.
As we said above, it doesn't matter if your Mac has an Intel Processor or an M1 chip – either way, you should be able to install and run the game with no problem. The following steps will show you how to get Football Manager 2022 from Steam and play it on your Mac.
Go to Steam's download page, click on Install Steam, and download the steam.dmg file on your Mac.
–

Open the downloaded file and install the Steam client by dragging the Steam icon to the Applications folder icon. If at any point an Admin approval is required to continue, give your approval and enter your Admin password if needed.
Launch Steam from your Applications folder and enter your Steam account. If you don't have an account, you need to create one now and then sign in to the client using that account.
Once you've logged in to your account, use the search box at the top to search for Football Manager 2022 and click on the game's tile once it shows up in the results.

On the game's page, click Add to cart, then select Purchase for myself, and enter your payment details.


Purchase the game and then return to the game's page in the Steam client and click on Play Game.
Download the game on your Mac – once it's downloaded, you will find it in your Applications folder, so go to Applications and start the game from there.
Martina Nikolova
Martina likes to get into nitty-gritty of tomorrow's tech, from product design across to security based solutions. A long time mac user and developer, she has the expertise and strives to give new insight