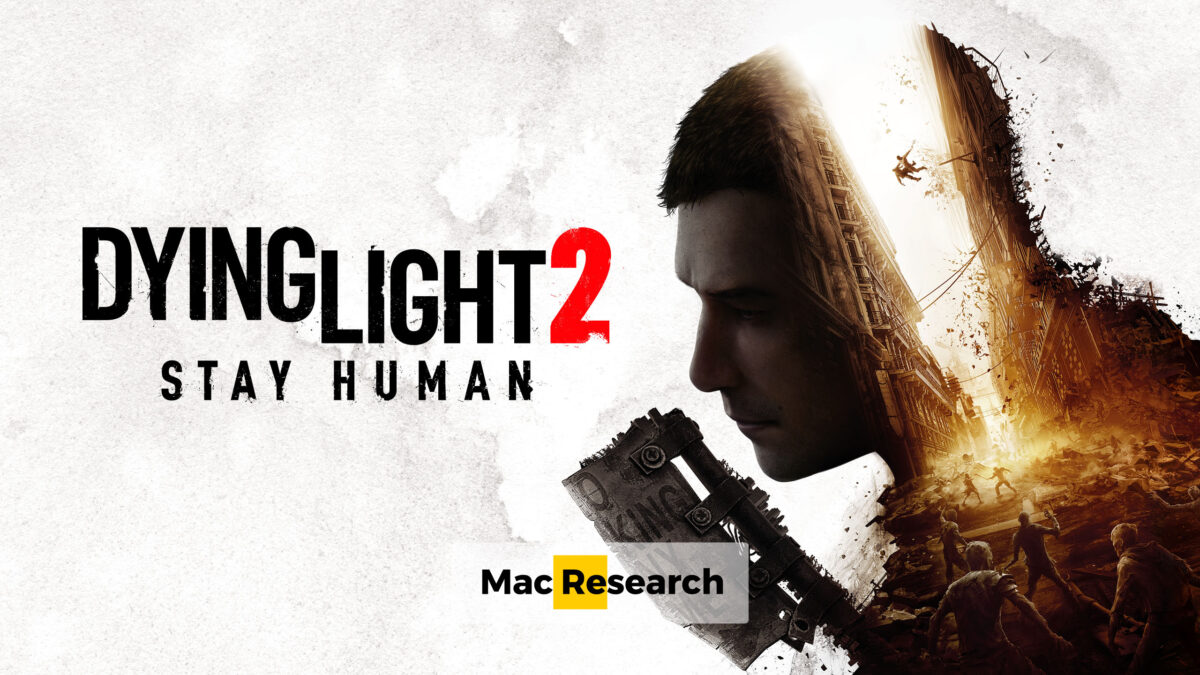 Can you play Dying Light 2 on Mac?
You can play Dying Light 2 on Mac, but you will need to utilize alternative methods, such as cloud gaming or installing Windows on your Mac. You cannot directly download and play Dying Light 2 on your Mac because the game isn't supported for macOS. The instructions in this article will cover all the possible methods to set up and play DL 2 game on Mac
About Dying Light 2 on Mac
Dying Light 2: Stay Human can be played on Mac, but only through the use of workaround methods. Since Dying Light 2 isn't officially playable on Mac, you will either need to use cloud-gaming services to play it or install Windows on your Mac.
Game-Play
Dying Light 2 is a first-person action survival game and the second main installment in the Dying Light game series. The game revolves around trying to survive in a zombie-infested, post-apocalyptic world and can be played in single-player and in co-op.
Dying Light 2 follows a similar formula to its predecessor – a lot of mechanics, enemy types, and style choices have returned in the second game, but at the same time, Dying Light 2 is its own beast and is different enough to feel like an actual next step in the franchise instead of more of the same. Like the first Dying Light game, in the sequel the player will need to move quickly through urban areas using the main character's parkour skills in order to evade enemies, engage in bloody melee combat, and adapt and take advantage, when possible, of the unique day/night cycle mechanic of the game that affects a lot of aspects of the gameplay. However, while the overall feel of the sequel is faithful to the original, there are also quite a few notable changes. The movement and combat systems have been overhauled, the game setting and world design have been changed and made more distinctive, and certain alterations have also been introduced to the day/night cycle with the goal to incite more players to dare explore the game world at night – something that a large portion of the players of the first game have been avoiding. The changes introduced with Dying Light 2 are aimed at addressing some of the first game's shortcomings. Whether or not that has been achieved is yet to become clear as more players flock to give the new game a try.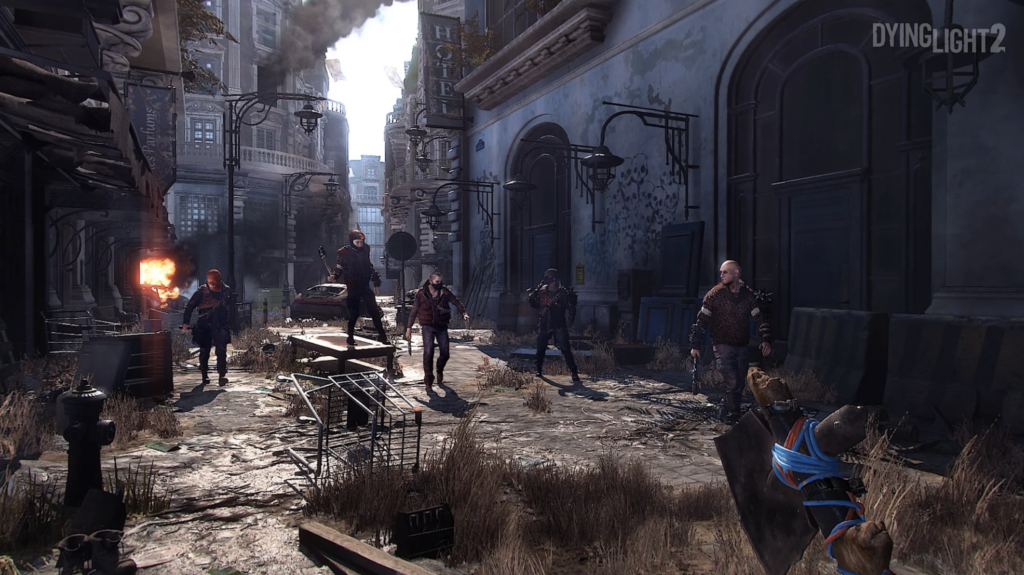 Setting and Story
The story of Dying Light 2: Stay Human takes place 20 years after the events in the first game. The game is set in an unnamed European city referred to only as The City. The infection that caused people to turn into zombies in the first game has now spread throughout the world, resulting in humanity's devolution to a sort of a dark age. However, what sets apart Dying Light 2 from other games with a post-apocalyptic setting is that here society has somehow managed to adapt to the new status quo, continuing to exist and function, albeit, severely limited in its options due to the zombie-like creatures that are roaming the streets of The City.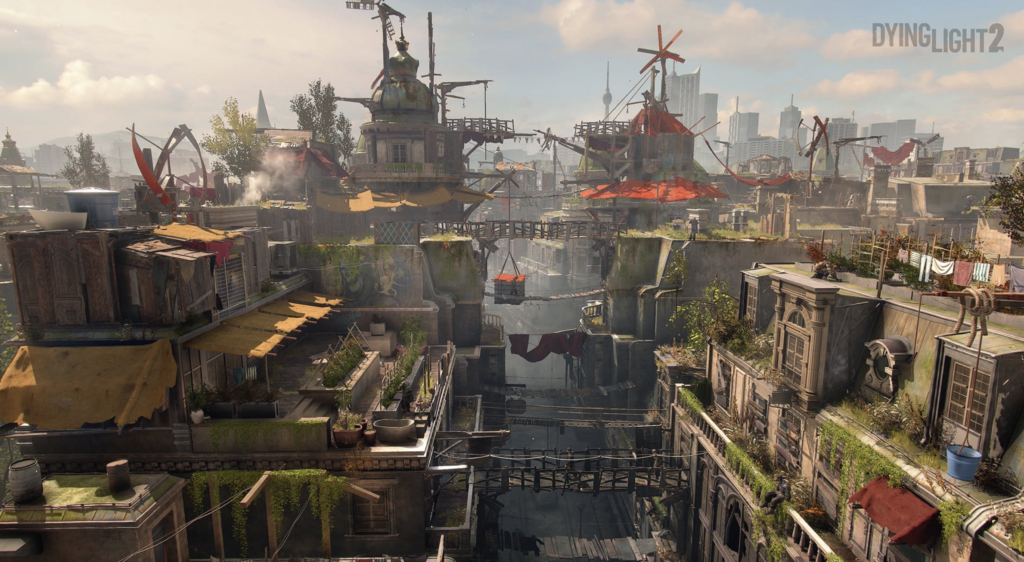 The fact that the game takes place 20 years after the events in the first one means that the entire world has changed, and now everything has a more medieval feel to it that reflects humanity's return to a dark age of technology. There is barely any working technology found in The City, and what little pieces of tech are left are crude and not all that effective. This becomes especially apparent when the player realizes there are hardly any firearms in the game. Instead, one is forced to primarily use melee weapons, makeshift bows, and throwable weapons such as spears or knives to fend off the enemies.
The city in which the game takes place also feels rather different from the one from the first game. The urban environment in The City is even more adjusted for using parkour moves to get around. The developers have stated that they wanted to double the amount of parkour in the game, and one of the ways they've done that is by making the game's setting even more encouraging for players to use their parkour skills while traversing The City.
As for the game's story, the player is this time put into the shoes of Aiden Caldwell, an outcast who is also infected by the virus and is in search of a cure, all the while trying to uncover more about his own past. Apparently, the effects of a lot of the events that took place in Dying Light can be seen in the sequel. However, no characters from the first game return in Dying Light 2 – there are only references to the events and characters in Dying Light.
Parkour
As you can tell from our comment on the setting of Dying Light, some significant changes have been made to the gameplay compared to the first game, while the gameplay focus of Dying Light 2 stays largely the same, certain modifications have been made to it. As already mentioned, using parkour is even more encouraged with a city environment that's specifically adjusted to this type of movement and with the addition of twice as many unique parkour moves in comparison to Dying Light 1. The use of these moves carries over into combat – the player can now execute advanced combat moves that implement parkour to dispose of enemies more quickly and effectively.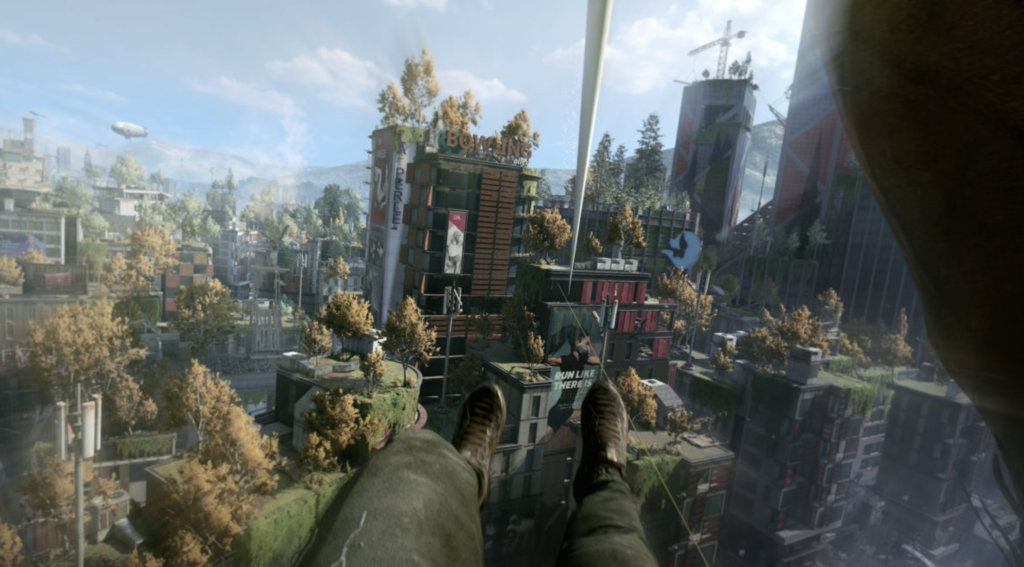 Combat
Speaking of combat, as already pointed out, using firearms to fend off the hordes of zombies coming your way is no longer an option. There are barely any guns in the game, so you'd need to use your melee fighting skills and weapons to defend yourself. Alternatively, you can spend points in improving your agility and use your parkour skills to a greater effect to fight off enemies. You can also choose to focus more on crafting useful items such as bows and throwable blades in order to take care of attackers from distance. However, as for actual firearms, there's almost none in the game, which is explained by the new dark age of technology, the result of the worldwide zombie apocalypse.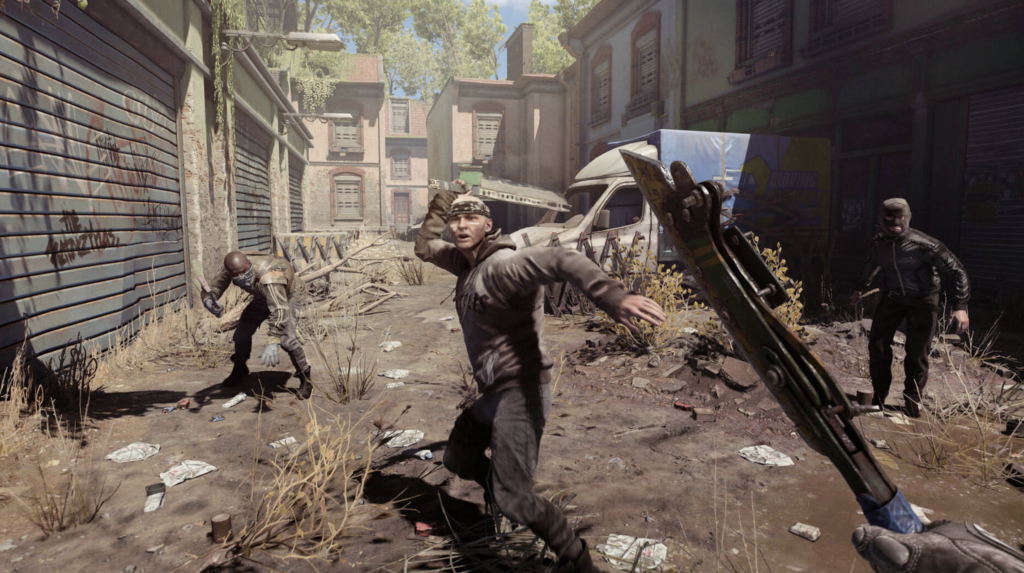 Day and night cycle
One other significant change to the gameplay, and one that a lot of players are speaking up against, is the one introduced to the game-night cycle and, more particularly, to its night part. The goal of the game's developers is to encourage players to explore the streets and buildings of The City during nighttime. In the first game, this is a dangerous thing to do because trickier and more threatening enemies roam The City at night. The same is true about the nights in Dying Light 2, but now players are encouraged to still go ahead and venture because the buildings that are full of zombies during the day empty at night as the zombie creatures start roaming the streets. Helpful items and other rewards can be found in many of those buildings, hence why one would dare enter them at night. The reason why some players are not very optimistic about this change is that it may turn out that the nights in Dying Light 2 are not as dangerous as the ones in the original, resulting in an overall less challenging gameplay experience. Whether that ends up being the case is yet to become clear.
Early conclusion
Time will tell if Dying Light 2 is a worthy successor to the successful first game, and what things it does better or worse compared to the original. For the time being, it seems that the team behind it has worked hard to provide gamers with a game that both stands on its own and also pays homage to everything that made the first one a success.
How to play Dying Light 2 on Mac
To play Dying Light 2 on Mac, you can create a Parallels virtual machine on your Mac, through which you can play the Windows version of Dying Light 2. You could also play Dying Light 2 on Mac using cloud gaming.
There are two main ways that Mac users can utilize to play games that aren't macOS-supported:
The first of those ways and the one that we'd usually recommend is to use cloud gaming. There are many cloud-gaming services at the moment, so it's likely that you will find the game that you want on at least one of them. In the case of Dying Light, the game has just been released, so it will take some time before it becomes available on any cloud-gaming service. Nvidia has already confirmed that Dying Light 2 will be added to the GeForce Now (Nvidia's cloud-gaming platform) library, so this would be one way to play the game on a Mac. Another platform where Dying Light 2: Stay Human will most likely be available is Boosteroid, though we haven't been able to find any official confirmation on the matter.
Dying Light 2 Set Up Methods
Methods
Advantage
Disadvantage
Cloud Gaming
– No set-up required
– Access to Over 70 top-rated free Games
– Smooth performance
– Compatible with M1 and Intel Macs
– Monthly Fee
– Requires Decent Internet Connection
– No Free Trial
BootCamp
– Free to use any time
– Windows 10 Environment

– Painful Setup
– Mediocre Performance
– Only Compatible with Intel Macs

Parallels Virtual Machine
– Easy Set-up
– Adequate Performance
– Play almost any PC game
– Windows 11 environment
– Compatible with M1 and Intel Macs
– 14-day free trial
– Yearly Fee
Dying Light 2 with Cloud Gaming
Dying Light 2 is now available to play on cloud gaming servers. This assures NO
compatibility issues while playing on your Mac as well as top-notch performance.
Step 1. Get Dying Light 2
Before playing Dying Light 2 make sure you get the game through the official websites. For the moment only Steam and Epic Games are compatible with cloud gaming services such as Boosteriod and Geforce.
Update: Limited time offer now available at CDkeys.com, – 20% Discount (Steam Launcher)
Step 2. Register and Add Dying Light 2 To Boosteroid Cloud Gaming Library
All you need to do now is register for Boosteroid. This allows you to add Dying Light 2 to their Cloud Gaming Library. Once uploaded you can seamlessly play the game from your Mac, TV or Mobile Device.

When Registered you will have additional access to more than 70 top-rated games for free. Pricing varies depending on the subscription plan.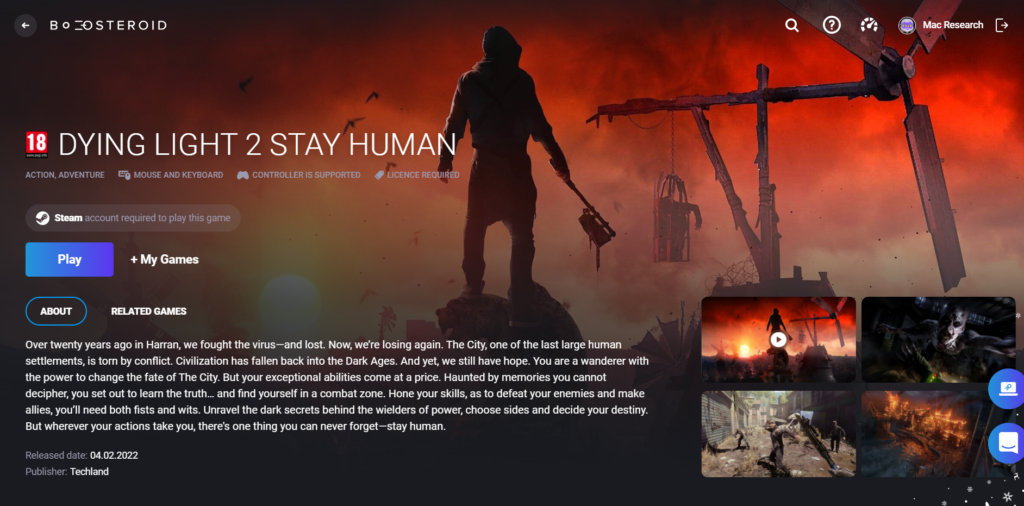 Dying Light with Geforce Now
Below, we will give you a brief guide on how to set up and use GeForce Now, together with a link to more detailed instructions, so that you can use this service to play Dying Light 2 on your Mac once the game becomes available there:
Purchase the game on Steam – you will need a Steam account for that, so get yourself one if you aren't already registered there.
Go to the GeForce Now section of the Nvidia site, create an account, and choose the subscription plan that you wish to use – if it is a paid plan, provide the necessary payment details to complete the subscription.
Get the GeForce Now app from the Downloads section of the site and install it on your Mac.
Start the app, log in, find Dying Light 2, and use Steam as your preferred platform from which you want to start the game.
We have a detailed guide with GeForce Now instructions for Mac that you can find right here.
Download Dying Light 2 on Mac
To download Dying Light 2 on Mac and be able to play it, your Mac will need to have Windows installed on it. Two tools we recommend using to install Windows and then download Dying Light 2 on Mac are Parallels and Boot Camp Assistant.
The second way to play an unsupported game on a Mac machine is to get the Windows OS installed on the Mac, and to then download the Windows version of the desired game within Windows.
There are substantial differences between the two mentioned options of getting Windows on a Mac, with the Parallels one being the more optimized variant, especially in terms of gaming. In fact, what Parallels do is create a Windows virtual machine within your Mac's own operating system (macOS). This means that you won't need to split your Mac's drive into two partitions and dedicate one of those partitions solely for the installation of Windows. The installation of a Parallels virtual machine can be done relatively quickly and will take very little space on your Mac compared to actually installing Windows in a separate partition. Additionally, Parallels offers Games Only optimization settings for its virtual machines and receives frequent updates to make it more effective at allowing Mac users to play Windows-exclusive games on their machines.
One thing to note about Parallels is that this isn't free software, but it does offer a free trial that lasts for 14 days. We recommend using the free trial option to test the performance of Dying Light 2 within the virtual machine.
Play Dying Light 2 with Parallels
If you are interested in creating a Parallels Windows virtual machine (VM) on your Mac in order to use it for playing Dying Light 2 (or other Windows-exclusive games), here is what you need to do:
Go to the Parallels website and download the program's installation file.
Install Parallels on your computer by running the .dmg file and following the directions on the screen.
Once Parallels has been installed, open it and select the "Install Windows" option to begin the process of creating a Windows VM.
Create a Parallels profile or sign in to the virtual machine using one of the other available sign-up options.
Once you enter the VM, download the Steam or the Epic Games client and use it to install the game on the virtual machine.
If you need more in-depth steps for Parallels with screenshots , check out our Full Parallels Guide for solutions.

Dying Light 2 with Boot Camp Assistant
Boot Camp Assistant comes pre-installed on Intel-based Macs, and it allows you to easily install Windows in a separate partition on your Mac. This is a popular way of getting Windows on a Mac and playing Windows games. However, it rarely gets any updates, and installing Windows in this way requires quite a lot of space on Mac's drive. Here are the specific steps to perform this:
Get a 64-bit installation file for Windows 10 from this page on Microsoft's site.
Load the file into Boot Camp Assistant, allocate enough space to the Windows partition, and select Install.
Follow the pre-installation prompts after your Mac restarts and launch the Windows installation.
When the installation completes, customize Windows, then download Steam, and use it to install Dying Light 2.
We have a more in-depth Boot Camp Assistant guide, so follow the link if you need additional details on how to perform the installation.
Dying Light 2 on Mac M1
To play Dying Light 2 on Mac M1, you will need a Windows 11 virtual machine to be created on the computer with the help of the Parallels virtualization tool. Alternatively, you can also utilize cloud gaming to play Dying Light on your Mac M1.
Currently, Parallels seems to be the most viable method of getting Windows on an M1 Mac with the aim to play Windows games on the computer. Parallels have specific optimization for Mac M1 as well as settings that allow for improved gaming performance. The Boot Camp method that we mentioned above isn't an option for M1 users, as Boot Camp Assistant isn't compatible with the different architecture of the M1 chips. This means that you cannot install Windows in a separate partition on your Mac, and it doesn't seem that Apple would ever do anything to change this. On the other hand, the creators of Parallels seem to be trying to improve the Windows experience provided by their virtual machines on both Intel and M1 Macs.
As for the cloud-gaming option – this variant is equally usable on both types of Mac Models (Intel/M1). As pointed out earlier in this article, Dying Light 2 has just been released, so it is yet to be seen which of the many cloud-gaming platforms out there will have support for it. GeForce Now is said to get the game added to its library, so you can expect to find it there sooner rather than later. The game will also likely become available on Boosteroid. We will make sure to update this article regarding the cloud-gaming availability of Dying Light 2.
How to play Dying Light 2 on Android
To play Dying Light 2 on Android, we'd recommend using cloud gaming – services like Boosteroid and GeForce Now let you stream the game to your Android device. The other option to play Dying Light 2 on Android is to stream it from your own PC.
There are many advantages to the cloud gaming method, such as being able to play the desired game on your Android device without the need to have a gaming-capable PC and regardless of where you are currently, so long as your Internet connection is good. Here is how to use Boosteroid and GeForce Now to play Dying Light 2 on Android.
Play Dying Light 2 on Android via Boosteroid
First, you'd need to register on Boosteroid, so go to Boosteroid.com and create an account there.
Next, download on your Android device the Boosteroid app (you can find it in the Play Store), open the app, and login to your account.

First, go to the profile/account section of the app (bottom-right), tap Subscribe, choose a preferred subscription plan option and start your Boosteroid subscription for that account by providing the required payment details for the payment method you've picked.
Next, tap the search button from the bottom of the Boosteroid app, type Dying Light 2, and select the Steam or Epic Games version of the game depending on where you've bought it.

Tap Play, then confirm that you want to log in to Steam/Epic Games Store, and wait for the app to load the respective store login screen.

Next, tap the keyboard from the top-left and use the on-screen keyboard to enter your Steam/Epic Games Store login details to log in.
Wait for Dying Light 2 to start, and then tap the controller from the top-left to get touch controls on your screen if you don't have a physical controller connected to your device.
Play Dying Light 2 on Android via GeForce Now
Begin by registering on the GeForce Now site and getting a subscription plan of your preference for your new account.
Next, download the GeForce Now app from the Play Store on your Android phone or tablet, start the app, and log in.
In the search bar, type Dying Light 2 and select the game when it appears in the search results.

Next, tap Play, choose which version of the game you'd like to load – Steam or Epic Games Store – and tap Continue. If you have not connected a gamepad to your device, you will be told that to get the best experience with playing Dying Light 2 on your phone, you'd need a gamepad. You can ignore this recommendation and simply tap Continue again to start.


Your Internet connection will now be checked and if it doesn't meet the recommended GeForce Now requirements, you will be notified. You can still play the game even if your Internet doesn't meet the platform's requirements by tapping Continue, but know that you may experience stuttering and poor performance.
Soon, you will be shown a login screen for Steam/Epic Games Store – enter your username and password for the respective store to continue.

After that, the game will be started – if you aren't using a gamepad, tap the controller icon to get touch controls on your screen that you can use for playing Dying Light 2.
Playing Dying Light 2 on Android by streaming it from your PC
This is the other option for playing this game on Android. For this, you will need a Windows PC that has the game installed on it and that can run it without a problem. You must also keep both your phone/tablet and your PC connected to the same network for the streaming to be possible. There are several apps that can allow you to stream Dying Light 2 to your Android device. Three of them that we will now tell you about are Steam Link, Moonlight, and AMD Link.
Steam Link only works with the Steam versions of games, so you must own Dying Light 2 on Steam to stream it with Steam Link. First, start the Steam client on your PC, log in, then download and open the Steam Link app on your Android device, and pair it to your PC. Then tap the Start Playing button on the Android phone/tablet and a connection will be established between the two devices. You will then be able to visit your Steam library from your phone and start streaming Dying Light 2.

Moonlight Game Streaming can only be used together with PCs that have Nvidia GPUs. To use this app, first register on the Nvidia site, download on your PC the GeForce Experience app, launch the app, and log in with your Nvidia account. Then go to Settings > Shield and turn on the Gamestream option. After that, download and start Moonlight Game Streaming on your Android device, pair the device with your PC, and select the respective store in which you own the game. From then on, you can find Dying Light 2 in your personal games library and launch it from there.

To stream Dying Light 2 with AMD Link, your PC will need to have an AMD Radeon GPU. First, you must go to the AMD Radeon Settings app on the PC, open the AMD Link section, toggle on AMD Link Server, and click Add Device. Then select the QR Scan option in the AMD Link app on your Android device and scan the code shown on your PC screen. Once the two devices are paired, go to Gaming on your PC, select Dying Light 2 and the game will begin getting streamed to the Android device.

Martina Nikolova
Martina likes to get into nitty-gritty of tomorrow's tech, from product design across to security based solutions. A long time mac user and developer, she has the expertise and strives to give new insight