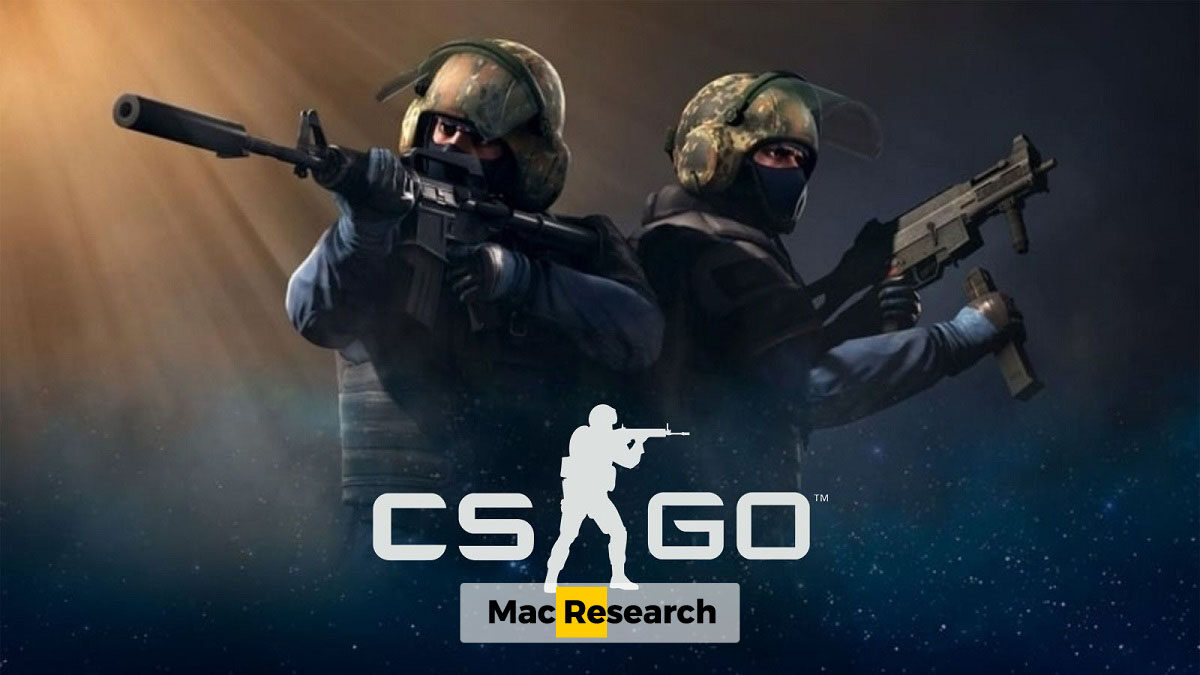 CSGO (Mac)
Martina Nikolova, 9 months ago
0
11 min

read
CS GO Mac
CS GO, short for Counter-Strike: Global Offensive, is a popular first-person shooter video game developed and published by Valve Corporation. It is the fourth game in the Counter-Strike series and was released in August 2012 for Microsoft Windows, macOS, Xbox 360, and PlayStation 3. Fans of the game can enjoy the CS GO Mac version on their machines in several ways, and, in the next lines, we will explain more about them.
Table of Contents:
Can I play CSGO on Mac?
Yes, you can play Counter-Strike: Global Offensive on your Mac, whether you have an Intel or Apple Silicon model. Although M1 and M2 Macs aren't mentioned in the requirements, all benchmarks show the game runs smoothly on Apple Silicon Macs.
How many FPS is CSGO on Mac?
On M1 Macs, you can expect 45-60 FPS, with smooth gameplay and no noticeable lag or stuttering.
How do I make CSGO run better on my Mac?
1. Use 1024х768 Resolution
2. Use Fullscreen Display Mode.
3. Disable Laptop Power Savings
4. Set Global Shadow Quality on Very low.
5. Set Model / Texture Detail on Low.
6. Set Shader Detail to Low.
7. Use low Effect Detail.
8. Enable Multicore Rendering.
Is CSGO optimized for Mac?
Counter-Strike: Global Offensive can be played on M1 Macs with Apple Silicon architecture using Rosetta 2.
Is there Counter Strike for Mac?
Without further delay, the simple answer to this question is yes, there is Counter Strike for Mac, and that is the CSGO edition. Unlike its predecessor, this game has had a macOS version since its release and the support for it continues to this day. CSGO is still receiving frequent patches to balance its gameplay and to take care of any potential bugs that may be discovered.
On this page, we will cover the best methods to play the game, and the ways to download and install it on a Mac machine. We will also explain the steps that you need to take to stream Counter Strike for Mac in your browser, in case you don't want to install the game locally on your hard drive.
Will there be a Counter Strike 2 Mac version?
After a long wait, Valve has finally announced the upcoming release of Counter Strike 2. The game has been popular for years due to its strong core mechanics and widespread adoption in the esports scene, resulting in an ever-growing player count.
Whether there will be a Counter Strike 2 Mac version is still unknown, but what is known is that the updated game is expected to feature revamped maps, improved lighting, changes to smoke grenades, and a new sub-tick server system. Fans will have access to play Counter-Strike 2 later this year, which is expected to be available on Steam. Valve plans to make CS2 available as a free-to-play upgrade for current CS:GO players during summer. However, before the official release, the company will test the game with a limited number of testers.
Can you play CSGO on mac?
Yes, you can absolutely play CSGO on Mac and here we will show you how to do that in several ways. The guide below contains instructions on how exactly to download the game's macOS version from Steam and install it on your Mac, as well as detailed steps on how to play CSGO on Mac through two reliable cloud gaming services.
Can you run CS GO on Mac M1?
Yes, you can run CS GO on Mac M1 computers. All you will need to do is follow the simple instructions that we have included in our guide. While for most other games, there are certain differences between playing them on an Intel-based Mac and on an M1 Mac, for Counter Strike Global Offensive, the gaming experience is more or less the same regardless of what type of Mac you are using. The game plays smoothly with all of the methods shown on this page, which means that you can run CS GO on Mac M1 without any major issues.
CSGO MacBook Performance
The CSGO MacBook performance can vary depending on the specific model of MacBook and its hardware specifications. Generally speaking, newer MacBook models with more powerful hardware will be able to run CSGO at higher graphical settings and with smoother performance than older models with less powerful hardware.
How to play CS GO on Mac ?
There are several viable ways to play CS GO on a Mac machine, so it is up to you to decide which one would be the best in your case. CS GO isn't a particularly big or demanding game, so pretty much any Mac released in the past 7-8 years should be able to run it with no problem. That said, if you lack the needed storage space or, for some other reason, don't want to install the game on your Mac, you can still play it remotely. Below, we will give you instructions for each of the methods of playing CS GO on a Mac computer, so that you can pick the one you prefer and use it to run the game.
Play CSGO on Mac with Boosteroid
Recommended Method
Boosteroid Cloud Gaming
Why we recommend Boosteroid over the other methods
Boosteroid has the best 'bang for buck' of all methods. It provides fast support for new big titles, hits a constant high performance level (60 FPS) that's rarely achievable except for native mac ports, and with graphics options reserved for high-end PCs. It requires only a good internet connection.
GeForce Now is a higher-value alternative, but to achieve better results than Boosteroid, the service wants 6-month payments to subscribe to its highest tier. We recommend starting with Boosteroid, then switching to GFN later if you feel like it.
Methods like Game Porting Toolkit or Crossover will not give you a good experience in general and will drain your battery fast.
Our Policy

Read why you should trust us.

Direct Link

Try Boosteroid
Boosteroid is a popular cloud gaming service that allows players to play any game included in its library without having to install it. Many users prefer this cloud gaming service because it is a perfect way for playing storage-demanding games, as well as games that don't have official versions for macOS on a Mac computer. Here are the exact instructions on how to use Boosteroid to play CSGO on your Mac.
Full disclosure: we may earn a commission from some of the links on this page. Please support us if we were useful.
1. First, you must go to the Boosteroid site and register there. You can also use your Google, Apple ID, or Facebook account to sign in.
2. Login to your newly created account, go to the top right corner of the Boosteroid page, click on your Profile details icon and then go to My account.
3. Next, go to "My subscription", select a subscription plan that best fits your gaming needs and follow the steps on the screen to activate it.
4. Once you've activated your Boosteroid subscription, you can go to the Boosteroid main page, click the search icon from the top, and search for Counter-Strike.
5. Select the game from the search results and when its page opens, click on the Play button.

6. Next, you will also be asked to sign in to your Steam account before you can start playing, so go ahead and provide your Steam account credentials to continue by clicking on OK, Let's Go. If you don't have a Steam account, go to this page and create one.
7. After you connect your Steam account to Boosteroid, the game should start, and you can begin playing. Note that you can toggle full-screen on and off using the Ctrl + Command + F keys from your keyboard.
Play CSGO on Mac with GeForce Now
GeForce Now is another cloud-gaming service, similar to Boosteroid. The difference here is that you need to install a GeForce Now client app in order to use the service, rather than directly play the games from your browser. Below is a quick explanation of how to set up GeForce Now on your Mac and use it for playing CSGO:
Download CSGO on Mac Mac with Steam
If you want to download CSGO on Mac and play it locally, you can do that easily because the game has official macOS support. The downside of this method, however, is that the game will take around 30 GB of storage space on your Mac, so if you don't have a whole lot of free space, this may be an issue. That said, here are the instructions on how to download and install CSGO on your Mac.
Go to Steam and

create an account

there if you don't have one.
Next,

download the Steam client

for Mac, open the installation .dmg file, and install the client by dragging its icon to the icon of the Applications folder.

Start the client app and enter your Steam username and password to log in.
Go to Store in the Steam client and search for Counter Strike: Global Offensive in the search bar.

Click on the game's tile when it appears and on the next page, click on Play Game.
Click Next and let the game install – this may take a while, so be patient.
After the game is installed, you can start it from its page in the Steam client or from its icon in the Applications folder.
Counter-Strike: Global Offensive Review
Counter-Strike: Global Offensive, (also abbreviated as CS: GO, CSGO or CS GO for short), is a popular first-person shooter (FPS) multiplayer game released nearly 10 years ago. The game is the fourth installment in the Counter-Strike game series, preceded by Counter-Strike 1.5/1.6, Counter-Strike: Condition Zero, and Counter-Strike: Source and, to this day, it retains its high popularity and large player base.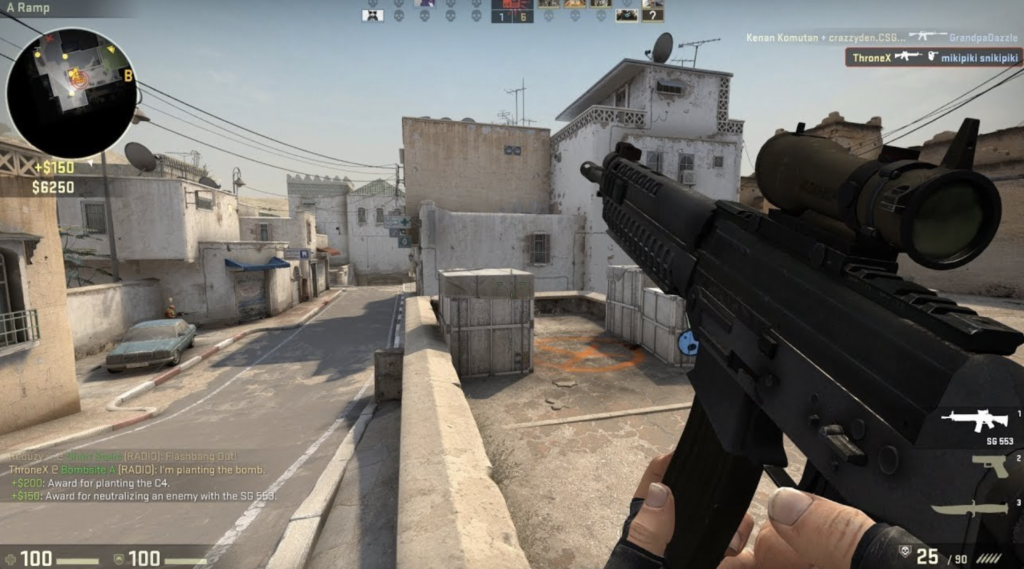 Gameplay
If you have played any of the earlier CS games all those years ago, you'd probably feel at home with CS: GO. This installment adds a lot of improvements to the Counter-Strike formula, but, at its core, the game doesn't differ too much from its predecessors in terms of mechanics and overall gameplay.
The players are separated into two teams: Terrorists and Counter-terrorists. The game is played in rounds, and each round usually lasts for a couple of minutes (though that time can be extended). In order to win, each team needs to either eliminate all players from the opposing team or complete a certain objective. Depending on the game mode, that objective could differ.
After the completion of each round, every player is rewarded with a sum of money based on their individual performance during the previous round, as well as on the performance of their team as a whole. The player can use that money to buy better weapons and gear at the start of the next round.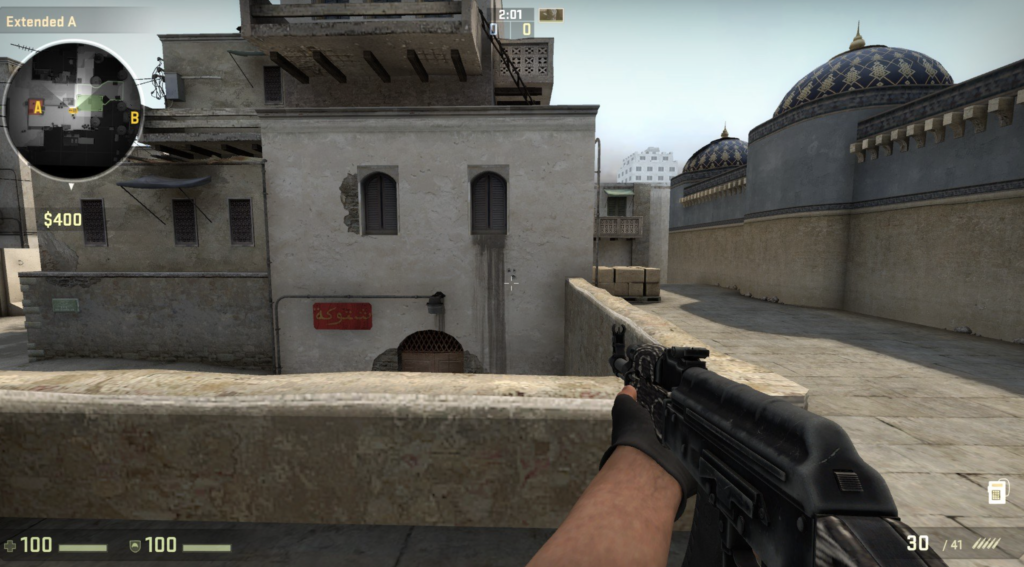 Game Modes
The two main and most popular game modes are Bomb Defusal and Hostage Rescue. In Bomb Defusal, the goal of the Terrorists' team is to secure a specified location on the map, plant a bomb there, and prevent the Counter-terrorists from defusing the bomb. In the Hostage Rescue mode, the Counter-terrorists must infiltrate the Terrorists' base and escort several hostages back to safety.
Of course, there are many other game modes that give the game a lot of variety – for example, CS: GO has a battle royale-type of mode for up to 18 players, where the map gradually shrinks, forcing the players closer to one another until there's only one person or one team remaining on the map.
Easy to learn, hard to master
On the surface, the game seems rather simple – there aren't any advanced movements to be performed or any unique attacks that can turn the tide of battle. However, in its simplicity, CS: GO could be a highly complex game, where in-depth knowledge about a number of different factors can make the difference between victory or defeat.
Simply having quick reflexes and a sharp aim is not going to be enough against an experienced player. In addition to that, being perfectly familiar with the layout of the map, the specifics of your weapon of choice, the dynamic position of your teammates, and the members of the opposing team are all key components of being successful.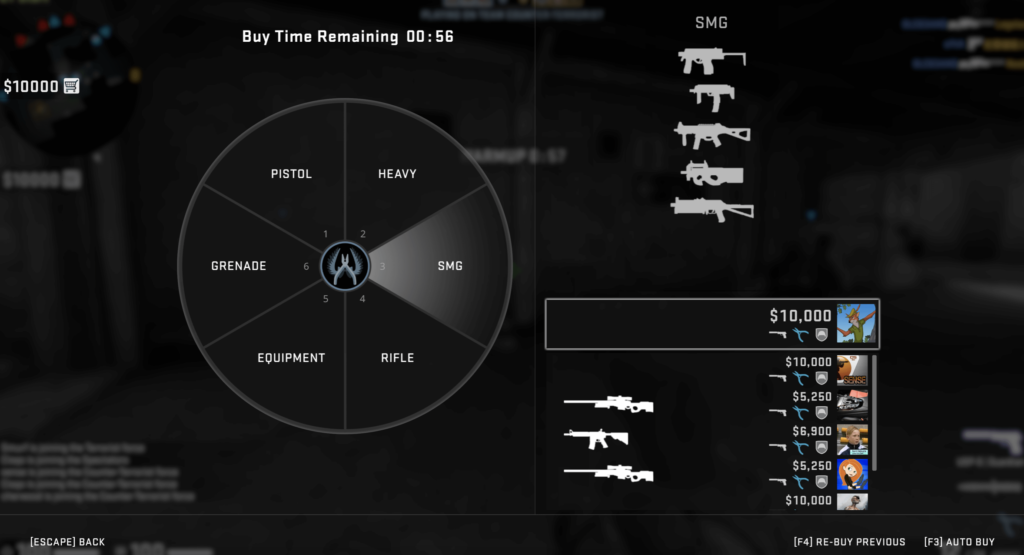 Also, another hugely important part of winning CS: GO matches is being able to effectively communicate with your teammates. After all, CS: GO is primarily a team game, where no single player can get overpowered even if they have the best weapon and gear.
Conclusion
In conclusion, CS: GO is a ton of fun – its deceivingly simplistic gameplay formula makes for a highly-dynamic and engaging experience, which only gets better as the player starts to become more familiar with the ins and outs of the game. It's a game that's easy to learn, and hard to master, but above all, one that is sure to keep you on the edge of your seat for hours on end.
Martina Nikolova
Martina likes to get into nitty-gritty of tomorrow's tech, from product design across to security based solutions. A long time mac user and developer, she has the expertise and strives to give new insight