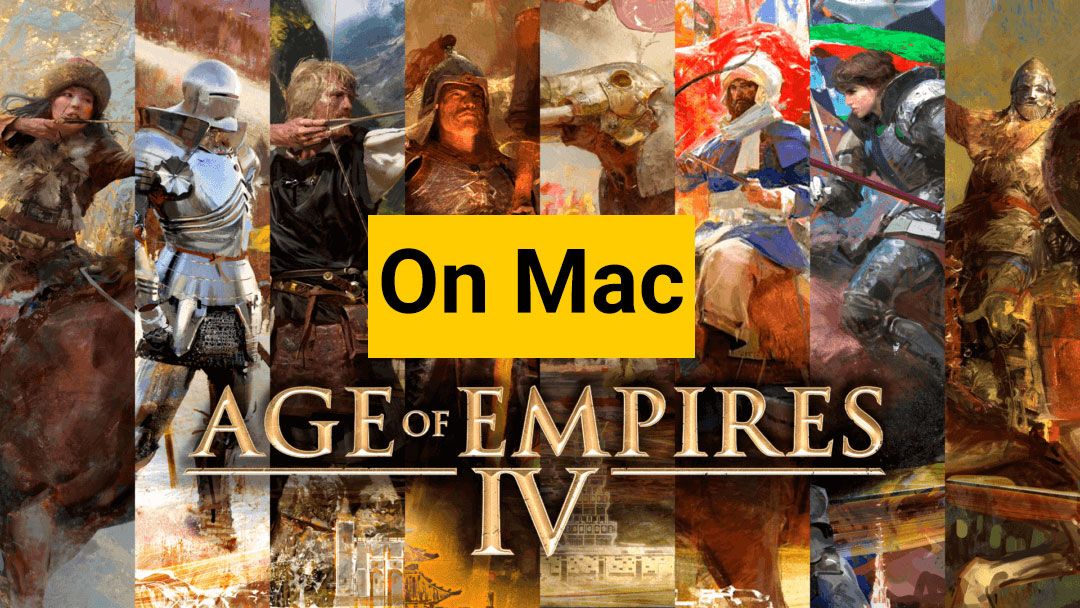 About Age of Empires 4 on Mac
Age of Empires 4 is currently only playable on Mac via workaround methods such as the use of a virtual machine or Boot Camp Assistant. There's no Age of Empires 4 version for Mac and the game is currently not available on any cloud-gaming service.
Age of Empires 4 just came out, and fans of the RTS gaming genre all over the globe are excited to see what new it brings to the table. Thus far, the game has been receiving primarily favorable reviews from both critics and gamers, getting praised for its beautiful graphics and engaging gameplay that builds on the previous installments of the Age of Empires franchise.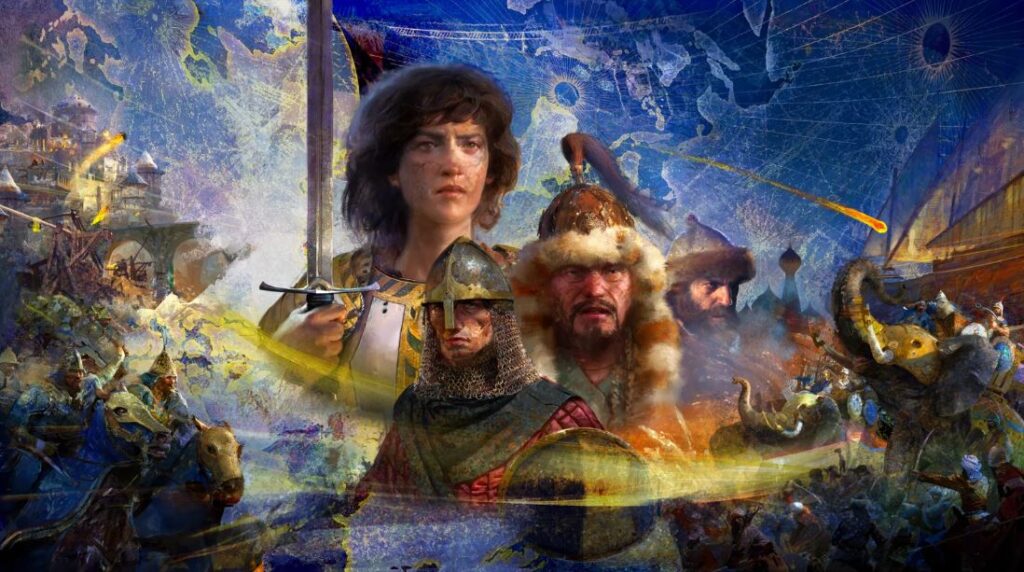 Similarly to Age of Empires 2 (and its numerous expansions and editions), AoE 4, too, primarily focuses on medieval history, giving the player the option to control one out of eight historical civilizations (the English, the French, e Mongols, the Abbassid Dynasty, the Chinese, the Delhi Sultanate, the Rus, and the Holy Roman Empire) in a battle for resources and military domination.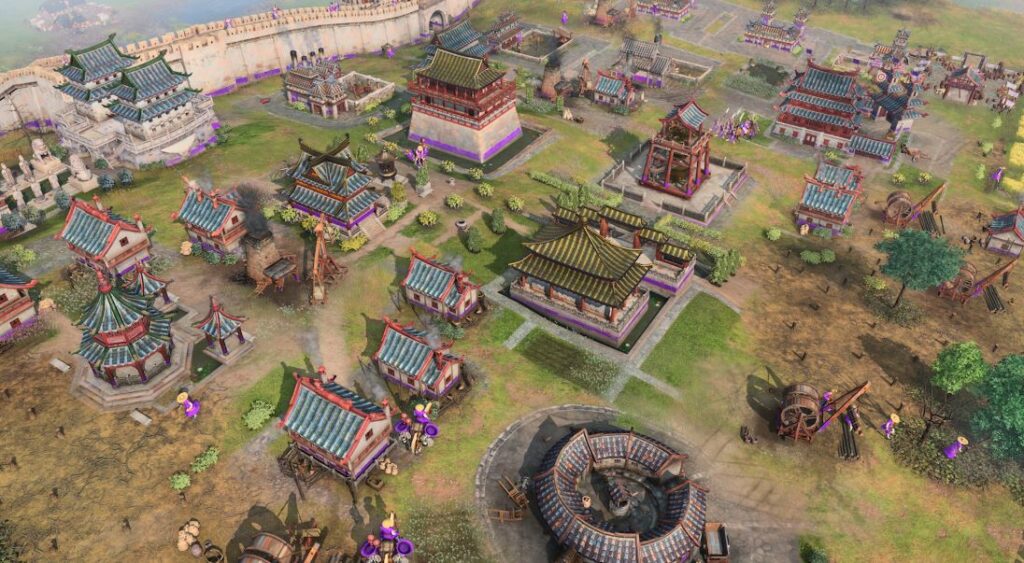 Single Players Campaigns
Like its predecessors, AoE 4 is both a multiplayer and a single-player game. Its single-player currently has four campaigns, each focusing on a specific civilization and a major part of European history. The four single-player campaigns are:
The Normans, which tells the story of the Norman conquest of the British Isles.
The Hundred Years war – the great conflict between France and England.
The Mongol Empire – the rapid Westward expansion of one of the largest empires in medieval history.
The Rise of Moscow, which focuses on the rise of the Grand Duchy of Moscow.
Of course, one can also choose to play in Skirmish mode versus an AI opponent of appropriate difficulty as a part of the single-player experience.
Obviously, there's also the multiplayer aspect of AoE 4 and there's already quite a large number of players fighting for domination over their opponents in a variety of game modes.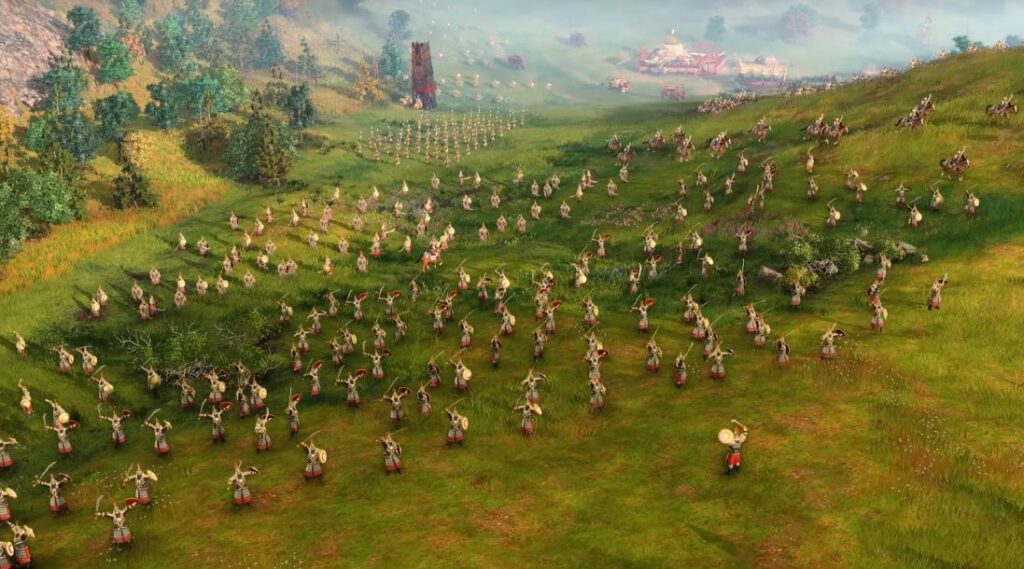 No macOS version
Unfortunately for Mac owners who want to play the latest installment in the Age of Empires franchise, there isn't a macOS version, and it is unlikely that there will be one in the foreseeable future. So, with this in mind, are there any alternative options to run the game on a Mac? Well, a popular method of playing PC games on Mac machines is through the use of cloud-gaming services such as GeForce Now and Google Stadia. However, for the time being, AoE 4 isn't available in any such cloud-gaming service, so this, too, is not an option. Luckily, for Mac users that want to try the game, there may yet be a way (two in fact) to get it going on your computer. The methods we will show you involve the installation of Windows 10 or Windows 11 on your Mac, through the use of virtualization software or with the help of the trusty Boot Camp Assistant app. You can find detailed instructions for both of those methods down below, but before you try either of them, you must first make sure that your Mac meets the requirements for Age of Empires 4.
Editors' Choice: Play Genshin Impact on Mac
MINIMUM:
Requires a 64-bit processor and operating system
OS: Windows 10 64bit or Windows 11 64bit
Processor: Intel Core i5-6300U or AMD Ryzen 5 2400G (or equivalent)| CPU with AVX support required
Memory: 8 GB RAM
Graphics: Intel HD 520 or AMD Radeon RX Vega 11 (or equivalent)
DirectX: Version 12
Storage: 50 GB available space
RECOMMENDED:
If your Mac meets those specifications, you should be able to run the game – all that is left to do is set everything up so that you can install it and start playing.
Requires a 64-bit processor and operating system
OS: Windows 10 64bit or Windows 11 64bit
Processor: 3.6 GHz 6-core (Intel i5) or AMD Ryzen 5 1600 (or equivalent)| CPU with AVX support required
Memory: 16 GB RAM
Graphics: Nvidia GeForce 970 GPU or AMD Radeon RX 570 GPU with 4 GB of VRAM (or equivalent)
DirectX: Version 12
Storage: 50 GB free space
Play Age of Empires 4 on Mac M1
Age of Empires 4 can be played on Mac M1 through the use of a virtualization program such as Parallels. Using Parallels, you can create a Windows 11 virtual machine and, within it, play Age of Empires 4 on your Mac M1.
Since there isn't a macOS version for Age of Empires 4 and M1 Macs don't have the Boot Camp Assistant app, the only viable way of playing this game on an M1 Mac at the moment is through the use of virtualization software. Parallels is the program we will be using as an example since it has proven to allow Mac M1 users to run a variety of Windows games on their Macs. Note, however, that this isn't an official method of playing the game and there may be issues involved in it, especially when talking about a game that just got released. Also, bear in mind that this is a paid program, so our advice is to use the free 14-day trial to see if Parallels would enable you to run AoE 4 on your Mac with adequate performance so that you can decide whether it's actually worth it for you to purchase the full version of the program. With those couple of notes out of the way, here is how you can create a Windows 11 virtual machine on your Mac and, with its help, run Age of Empires 4 on your M1 Mac.
First, go to the Parallels site and click Download Free Trial.

On the next page, select Download Now and download the Parallels installation file.
Open the installation file for Parallels (Install Parallels Desktop.dmg) and then double-click on Install Parallels Desktop.
Your Mac will probably warn you that the program is from the Internet and ask you if you are sure you want to install it/open it – confirm that this is what you want to do, since Parallels is a legitimate and perfectly safe program.
Parallels will start downloading data needed for the installation – wait for it to finish, then enter your Admin password, and after another brief waiting period, give the Parallels the permissions it needs from you.
If on the next screen of Parallels, you see Download and Install Windows 10, select the Skip button.
Next, select the Install Windows or another OS from a DVD or image file button and then click Continue.

After that, you need to enroll in the Windows Insider program – to do this, go here and click Register under Meet the Windows Insider Program.

Next, if you already have a Microsoft account, sign in with it, and if not, create one and use it to sign in.
Click the Register button on the next page and then click Flight Now/Start Flighting.
Next, you must click on this link and if you aren't already logged in to your Microsoft account on the page that opens, you must log in to it by clicking the profile icon in the top-left.

Now you should see a Windows Client ARM Insider Preview button on your screen – click it to download the Windows 11 ARM VHDX file that will be used for the VM (virtual machine). This is a big file, so downloading it will take some time.

Once the Windows 11 ARM VHDX file downloads, click Find Automatically in Parallels and the program should find the downloaded file. If it doesn't find it or if there are several VHDX files on your Mac, you must manually navigate to the Windows 11 ARM VHDX file and drag-and-drop it to the center of the Parallels window.

Next, select Continue to begin the installation of the VM.
Since you want to use the virtual machine for gaming, we suggest selecting the Games Only option in the next screen of Parallels so as to optimize the VM for gaming.
We also suggest that you check the Customize option so that you get to change some of the VM settings before its installation begins in order to allocate more hardware resources to it and thus get better gaming performance.
Next, click on Create and the installation will start. If you checked Customize in the previous step, you will first get an options window with different customization settings – there, we recommend allocating more (but not all) RAM (memory) and CPU cores to the virtual machine. Note that the minimum RAM required to run this game is 8 GB. If your Mac M1 only has 8 GB, you can either allocate 6 GB to the VM and hope that's still going to be enough or allocate all 8 GB and hope that your Mac won't crash while the VM is running. Either way, it's not ideal, so it's best to only proceed if your M1 Mac is a 16 GB model. After you are done customizing the settings, close the customization window to begin the installation.
During the installation, give any necessary permissions that may be required of you.
Once the installation is over, go to the Windows 11 VM, open the Start Menu in the bottom-left, go to Windows Update, and allow Windows 11 to install any available updates that it may find.
Next, click the Start Menu again, select the Power button, and click on Restart.
After the VM restarts, wait for Parallels Tools to (re)install (this should happen automatically) and after that you should be ready to go.
Helpful tips:
You can easily switch between the Windows 11 VM, any other open apps, or your macOS interface through the Command + Tab keyboard combination or by swiping left or right with three fingers on your trackpad.
You can pause Parallels at any time by switching to macOS, clicking the Parallels menu from the top of your screen, selecting Actions, and then selecting Pause. To unpause Parallels, use that same menu or by click the Pause button in the middle of the screen when you switch to the Windows 11 VM.
You can use the Parallels menu in macOS to quit the program or go to the VM, select the Start Menu, click the Power button, and select Shut Down.
How to play Age of Empires 4 on Mac Boot Camp
To play Age of Empires 4 on Mac, you can use Boot Camp Assistant to install Windows 10 and then use the Windows 10 partition to play the game. Alternatively, you can play Age of Empires 4 on Mac through a Windows 11 virtual machine.
Above, we explained how to use Parallels to create a Windows 11 virtual machine on a Mac – this can be done in both Intel-based Macs and Macs with M1 chips, so if you have a Mac with Intel CPU, you can still try the Parallels method. However, on Intel-based Macs, you can also use the built-in Boot Camp Assistant app to install Windows 10 in a separate partition on your Mac and then download and play the game from within that partition. Below, we have shown exactly how to do this – the process is totally free, so if you don't want to purchase Parallels and you are on an Intel Mac, you can give it a try and see how well it works for you. Again, note that it wouldn't be unexpected if you encounter problems with AoE 4, since this method of playing it isn't official and would be perfectly normal if something doesn't work the way you intend it to.
First, you need to go to the Microsoft site and download the needed ISO file for Windows 10 – click this link to begin.
In the Microsoft page that opens, first select a Windows 10 edition (we recommend selecting the plain Windows 10 edition), click Confirm, then pick a language of your preference, and click Confirm again.

Now click on the 64-bit Download to start downloading the Windows 10 ISO file. The file is big, and it will take some time for it to download on your Mac.

After the ISO file is readily downloaded on your Mac, click Go, open Utilities, and start the Boot Camp Assistant app.

Click Continue, select Choose a Windows 10 ISO file, click Choose again, find the downloaded ISO file, select it, and click on Open.

Now you must allocate enough storage space to the Windows 10 partition while still leaving some free space (preferably at least 40-50 GB) to your macOS partition. Do this by dragging to the left or right the dot between the two partitions. The Windows partition would need at least 150 GB of free storage space – if you cannot allocate that much to it while leaving at least 50 GB of free space on the macOS partition, you must first free up some space on your Mac before you continue forward.

After you've made sure that both partitions have enough storage space, click on Install – the initial stage of the installation will begin and once it's over, you will need to enter your Admin password to continue, so go ahead and do that.
Your Mac will restart, and after it does, you will see the Windows logo on your screen – choose a language and location and then select Next.
On the next screen, enter your product key if you have one, or click Skip/I don't have a product key, if you do not.
If next you are asked to choose whether to install Windows 10 Home or Windows 10 Pro, we suggest opting for the Home Edition if you only need Windows 10 for gaming and not for anything more advanced. Click Next/Continue after choosing an edition.
Next, click the I Agree button, after which select Next and the installation should finally commence. Make sure that the MacBook is connected to a power source because the Windows 10 installation will likely take some time and you don't want to risk running out of battery power during this process.
Once the installation completes, the Mac will restart and boot into Windows. You will now need to choose whether to customize the Windows 10 settings or use the preset default ones – we recommend the former option.
Next, create a Windows account and a password for it and continue to the next screen.
You will now be asked whether you'd like to activate and customize the settings of Cortana, the Windows 10 virtual assistant, or do this another time. Pick your preference and continue.
Windows 10 should finally load on, and you should see the Boot Camp Assistant open on your screen – click Next in it, then click I Accept, and click Next again. This will start the installation of important Apple drivers for Windows 10 that your Mac will need to properly use the Microsoft OS. As the drivers are getting installed, you may occasionally be asked for Admin permission, so confirm that you want the installation to proceed whenever this happens. Once everything is installed, and you are asked to restart your Mac, click on Yes.
(Optional Step) After the restart, we recommend that you go to the Start Menu (bottom-left), open Apple Software Update, and install any available updates that may appear. Again, if your permission is required at any point, you should provide it.
(Optional Step) The final thing we recommend doing is to once again go to the Start Menu after your Mac restarts, open Updates & Security > Windows Update and wait as Windows installs any available updates. This is required in order to get the best performance in Windows 10. After all updates are installed, restart your Mac yet again and after that everything should be ready for the installation of AoE 4.
Useful tips:
To restart into macOS when you are in the Windows partition, select the small slanted square icon in the bottom-right and click Restart in macOS. If no such icon can be seen there, select the icon of an arrow pointing upward, and you should see the square icon in the small box that appears.
To restart in Windows 10 from macOS, open the Apple Menu, and go to System Preferences > Startup Disk. There, click the padlock, enter your password and click Unlock. Next, select Bootcamp Windows and then select Restart.
Installing Age of Empires 4
Regardless of whether you used Parallels or Boot Camp Assistant to get Windows on your Mac, the installation of the game itself is performed in the same way, namely:
Go to the Steam page of the game and click Add to Cart.

On the next page, click Purchase for myself, and Sign in to your Steam account. IF you don't have an account yet, create one now.

Next, select a payment method and click Continue.
Provide your payment details and purchase the game.
If you don't already have the Steam client app, go to the download page of Steam site and click Install Steam.
Download the installation file for the Steam client, then open it, and install the client app.
Open the Steam client from your Applications folder and sign in to your Steam account.
Search for Age of Empires 4 in the search bar, click on the game's title, and on the game's page, click Play Game.

Next, complete the installation steps and once the game is downloaded and installed, you can start playing it.
Martina Nikolova
Martina likes to get into nitty-gritty of tomorrow's tech, from product design across to security based solutions. A long time mac user and developer, she has the expertise and strives to give new insight