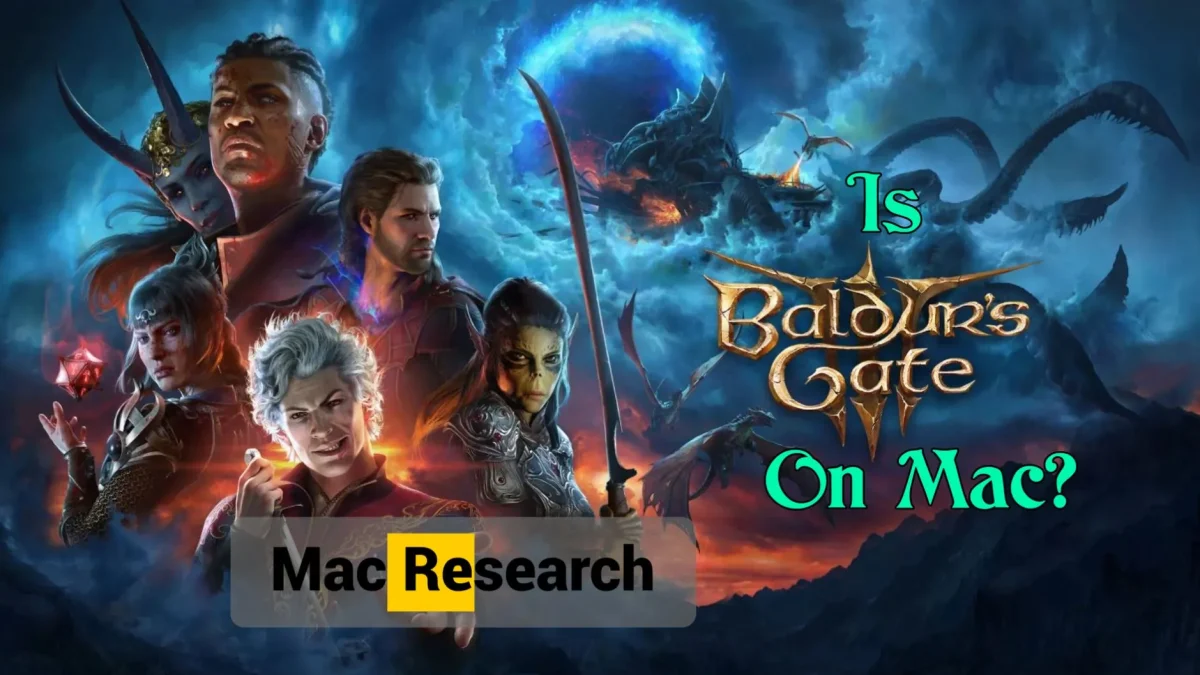 Is Baldur's Gate 3 on Mac?
Martina Nikolova, 1 month ago
0
4 min

read
It's exceedingly rare for big AAA gaming titles to be supported for macOS systems, which is why being able to natively play Baldur's Gate 3 on Mac is a welcome and appreciated exception.
The game had macOS support for most of its lengthy beta-development stage and even though its full release didn't immediately get ported to Mac, it didn't take long before Mac users were also able to enjoy BG3 without needing to resort to workaround options.
Right now, playing Baldur's Gate 3 on Mac is as easy as purchasing the game on Steam, downloading the Steam client, and installing the game through it. From then on, you can launch it through the Steam client and immerse yourself in its fantastical world… as long as your Mac's hardware is up to the task.
Can you play Baldur's Gate 3 on your Mac?
The only important factors to consider when it comes to playing Baldur's Gate 3 on Mac is the game's moderately high system requirements and its large size of 150 GB. Although the game has a native Mac version, if you are on an older and/or weaker Mac, the machine won't be able to run the game no matter what. Also, if you don't have more than 150 gigs of space on your hard drive, you won't even be able to download it.
Baldur's Gate 3 and Intel Macs
The first important thing to address here is that the game's system requirements on State that you need at least an M1 chip to run it. This suggests that Intel-based Macs won't be able to support the game. Obviously, we had to put this to the test, so we tried running Baldur's Gate 3 on the 16-inch 2019 MacBook Pro (16 GB RAM), and we are happy to report that the game runs on it without an issue.
In other words, newer Intel Macs can run Baldur's Gate 3, but if you own an older machine, such as a MacBook from 2017 or earlier, depending on its specs, the machine's hardware might not be enough for this game. We cannot accurately confirm what is the oldest and least powerful Intel Mac that can still make the cut, but it's safe to assume that any model with less than 12 gigs of RAM and released six or more years ago will probably not be able to run this game.
Baldur's Gate 3 and Apple Silicon Macs
According to the official requirements, the game should run on all Apple Silicon Macs, including ones powered by the base M1 chip with 8 gigabytes of unified memory. However, in practice, playing the game with this hardware isn't a great experience.
Our tests and the additional research we did showed that Baldur's Gate 3 runs poorly (30 FPS or less) on the base M1 chip with only 8 gigs of memory even when played at the low settings. In other words, your Apple Silicon machine will need to have at least 12 gigabytes of unified memory and preferably be powered by an M1 Pro chip or better.
Other ways to play Baldur's Gate 3 on a Mac
If you own an older Intel Mac or a base M1 Apple Silicon Mac, such as an 2020 M1 MacBook Air with 8 gigs of memory, then the fact that Baldur's Gate 3 is supported for macOS won't really mean much to you, since it won't run well on your machine. The situation is similar if you are limited by your hard drive, and you simply don't have 150 gigabytes of free space on it.
In such cases, a great alternative is to opt for playing the game through cloud gaming platforms like Boosteroid or GeForce Now. Such methods don't require you to download anything, as the game is streamed to you over the Internet from a powerful server that does all the heavy lifting. All you need for this is a stable Internet connection and an active subscription for the cloud service you prefer. If you want to learn more about it, you can check out our full guide on the different options for playing Baldur's Gate 3 on Mac.
Martina Nikolova
Martina likes to get into nitty-gritty of tomorrow's tech, from product design across to security based solutions. A long time mac user and developer, she has the expertise and strives to give new insight