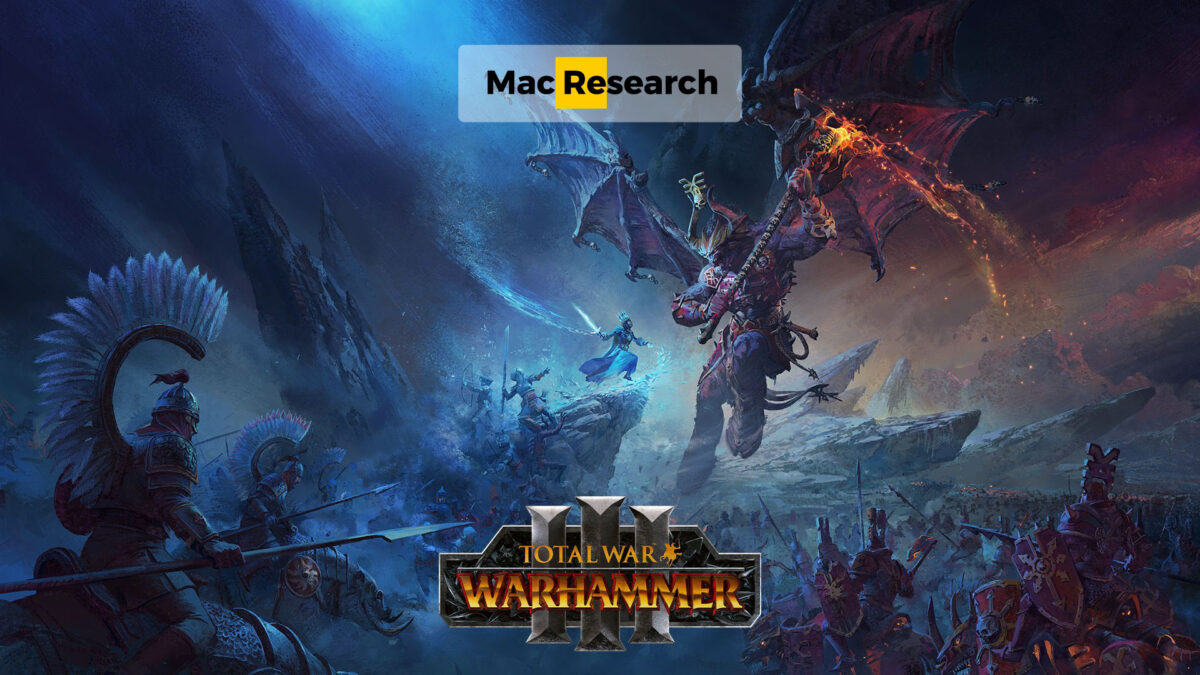 Can you play Total War: Warhammer 3 on Mac?
If you want to play the game on your Mac, you should know that Total War: WARHAMMER 3 is expected to be released on macOS in Early Spring. The good news is that you don't need to wait till then to jump in the epic Total War: WARHAMMER 3 battles because, in the next paragraphs, we will give you a few options to play the game on your Mac machine right away.
Total War: Warhammer 3 is a strategic battle game that is using a fantasy story-driven approach and enormous multiple-part battles that easily dive you into the fantasy world. Some parts of the game might feel hurried, but this is on purpose since you're racing against all the other factions on the map. Even the most mundane combat has been given an epic atmosphere because of the game's great design. The campaign map's AI upgrades, paired with the factions' distinct qualities, adds another depth to the game.
About Total War: Warhammer 3 on Mac
Total War: Warhammer 3 is a fantasy strategy battle game, developed by Creative Assembly that represents an epic end to the Total War trilogy. New multiplayer features and outstanding faction dynamics make this latest installment of Total War an excellent addition to the series.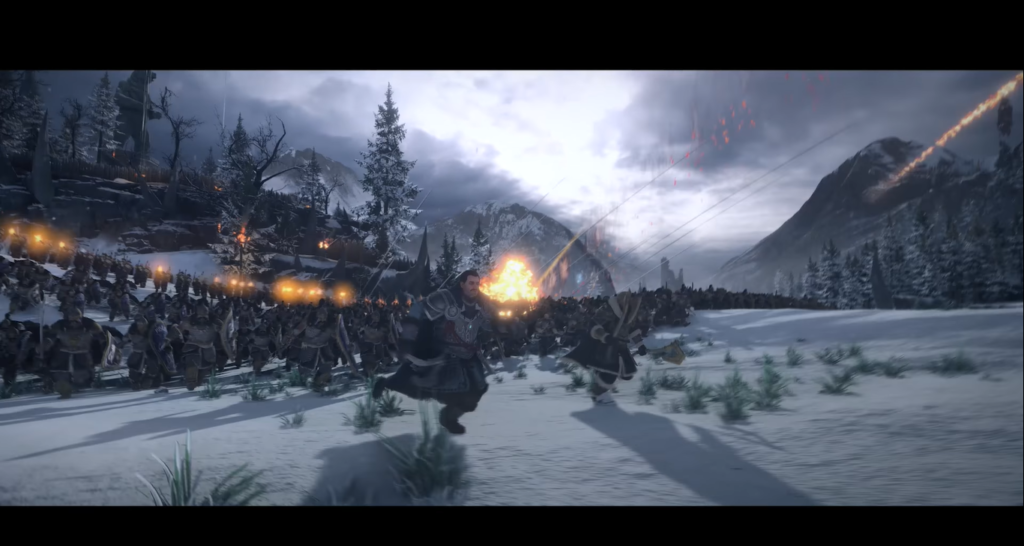 The game places you in an environment where you're in a war for supremacy over a campaign, defeating factions and gaining control of 50 provinces. Aside from the single-player mode, there are also cooperative and competitive multiplayer options, as well as the Storm of Magic and Settlement vs. Domination variants. There's even a multiplayer mode where you can team up with as many as seven other players. You may easily become lost in Warhammer 3's universe, rich in possibilities, scarred by numerous fights, and poised to claim many a courageous gamer's souls.
Seven factions are available in Warhammer 3 (eight if you preordered). In addition to the human civilizations that you can play with (Kislev and Grand Cathay), there are four Chaos Gods (Khorne, Tzeentch, Nurgle, and Slaanesh) and Daemons of Chaos (allowing you to play as the winged and horned Daemon Prince). The hideous Ogre Kingdoms, which regards all foes as food for the Great Maw, is the first downloadable DLC (included for everybody who preordered the game).
Gameplay
The mighty Bear-God Urson has been held captive by Be'lakor, and his death throes have opened portals into your reality. These portals lead to the realms of the four Chaos Gods, which your faction's commander can enter with an army. You can claim the soul of a Daemon Prince by successfully completing the trials. Take on Be'lakor with all four souls, and Urson's fate will be in your hands.
A different style may be found in each of the chaos realms. A succession of armies must be defeated in order to reach the final clash, but temptations might derail you from your goal. You'll have to make a series of difficult choices as rival forces also fight for the Daemon Prince souls.
In the Chaos Realm, magic, which is far more limited in the actual world, plays a much larger role and has a significant impact on combat. In some cases, cutting your losses and fleeing may be the best strategy. It's not just troops and corruption that come from the rifts; they may also destroy your cities and create unrest.
In Total War: Warhammer 3, conquering the map is encouraged but not quite as crucial as reaching the prison of Ursun is the goal of this campaign. There are rifts that spring up all across the map every 30 or so rounds, pouring out daemonic armies and allowing mortals to access some of the craziest places in Total War. What you get if you win is a prince's soul. You can unlock the way to Urson's prison if you collect four.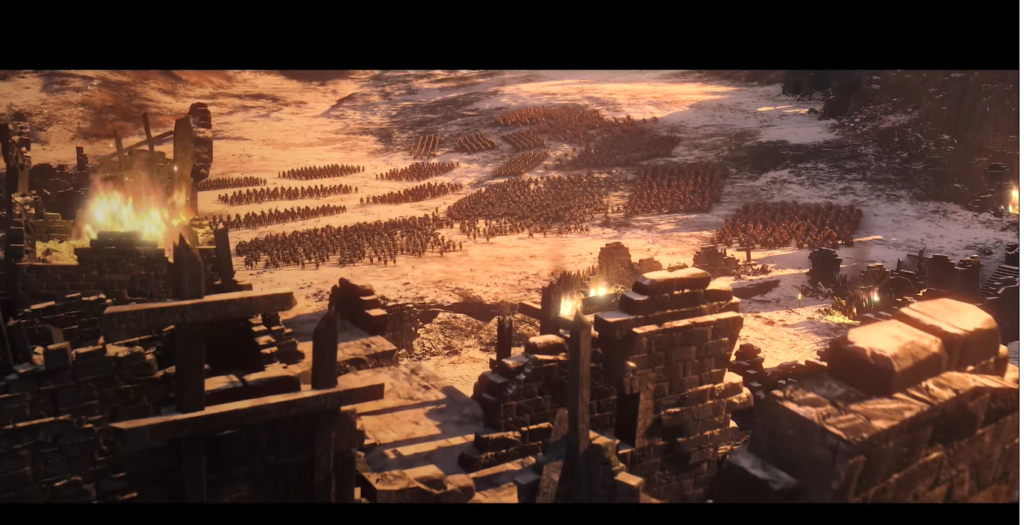 Alliances
A Balance deal button included in the game allows you to easily negotiate and reach a compromise with competitors, and threaten reluctant factions. You may also trade territories and borrow allied armies, but the greatest of all is the ability to create outposts in friendly towns to recruit foreign warriors to your army.
This ability to take an army on loan and deploy it to reinforce a siege or just as diversionary fodder is incredibly rewarding. Besides, creating your perfect army and eliminating any deficiencies in your faction's regular composition is much easier with the incorporation of alien troops.
Diplomacy allows you to be extremely adaptable, which in turn motivates you to interact with your neighbors on a more frequent basis. In order to call in reinforcements from the other side, you'll need Allegiance, which is mostly acquired by defeating forces that the faction you're attempting to win on your side has a dispute with. This is the type of diplomatic system you need for a game like Total War.
Multiplayer
It is possible to participate in one of three multiplayer campaigns – the Realm of Chaos campaign, Cathay, and Kislev historical campaigns. There are eight players in the first two campaigns, and three in the Kislev campaign.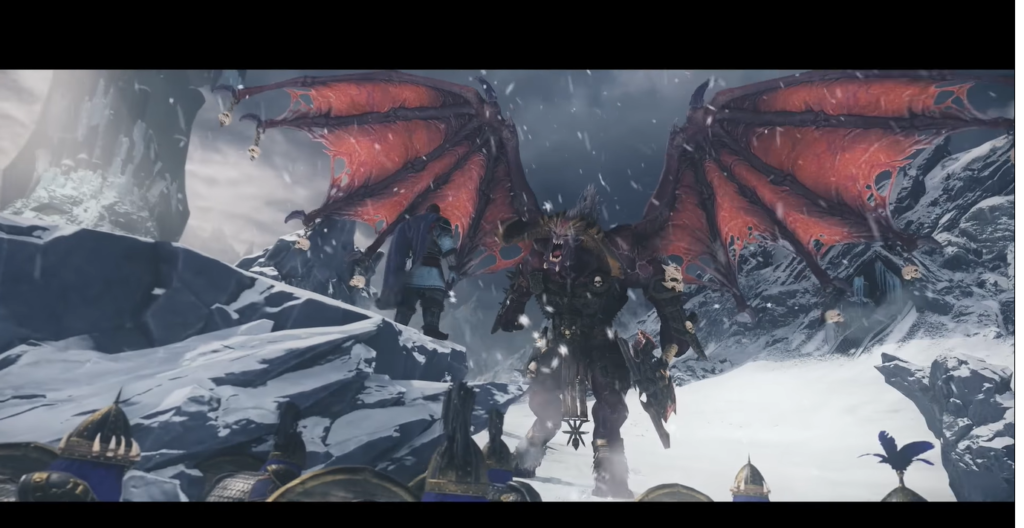 Turn-time limitations and simultaneous turns can both be activated to prevent these campaigns from becoming bogged down. You and your opponents can gain points by battling for control of objectives in a new game that draws inspiration from single-player survival conflicts. If you need more help, you can always bring in reinforcements.
How to play Warhammer 3 on Mac
To play Warhammer 3 on Mac, you can choose between using cloud gaming or installing Windows on your Mac. Since the game doesn't have a macOS version compatible with macOS10.15 Catalina or higher. Your only way of playing Warhammer 3 on Mac is through workaround methods.
The method that we would recommend using in order to play this game on a Mac is through cloud-gaming services like Boosteroid or Nvidia's GeForce Now (not available at the moment). However, if you are tech-savvy enough methods such as Parallels and boot camp are good options as well. Cloud gaming requires very little time and effort to set everything up and start playing. It also lets you save up some drive storage space on your Mac as you won't need to actually download the game in order to play it. Furthermore, if you are using an older and weaker Mac that barely meets the minimum system requirements of the game (or doesn't meet them at all), using a cloud-gaming service may still enable you to play the game on it, since, technically, Warhammer 3 wouldn't be running on your Mac.
If, however, you prefer to have the game downloaded and installed on your Mac, you may be able to achieve this even though Warhammer 3 isn't supported for Mac. The way to get the game installed on your Mac and to play this way is to first install Windows on the computer. There are two ways to main do this – using Parallels or Boot Camp – and both of them will be explained further down this page after we show you how to play Warhammer 3 on your Mac through the use of cloud gaming.
Note that, regardless of which of the methods you decide to try out, you must first own the game in order to be able to play it. Therefore, go to Steam, log in (or create an account if you aren't already registered there), and buy Warhammer 3.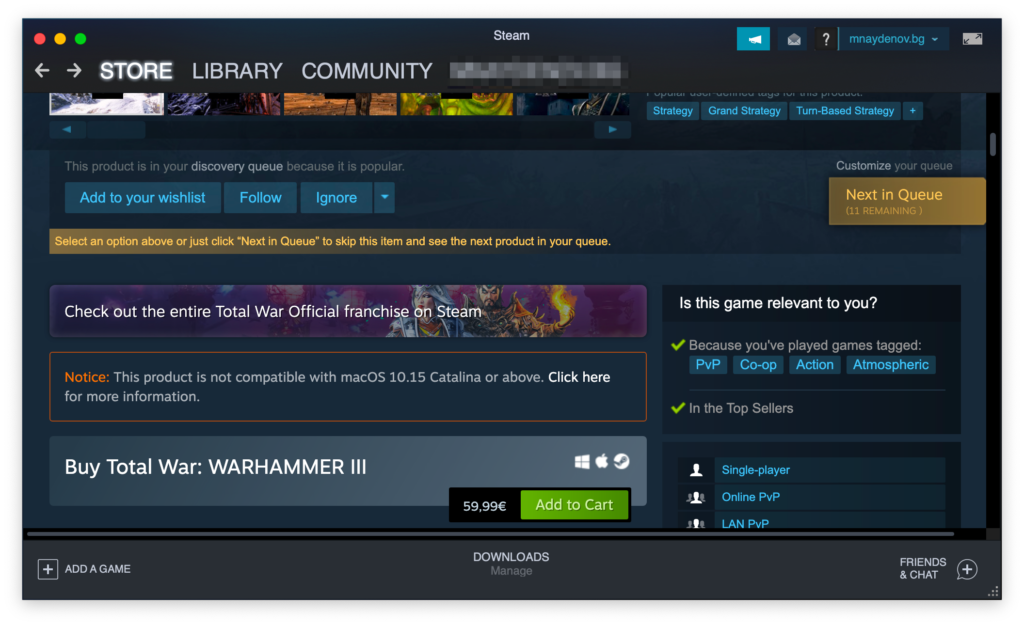 Warhammer 3 Set Up Methods
Methods
Advantage
Disadvantage
Cloud Gaming
– No set-up required – Register and Play
– Access to a Library of over 70 top-rated free Games
– Smooth performance
– Compatible with M1 and Intel Macs
– Monthly Fee
– Requires Decent Internet Connection
– No Free Trial
BootCamp
– Free to use any time
– Windows 10 Environment

– Painful Setup
– Mediocre Performance
– Only Compatible with Intel Macs

Parallels Virtual Machine
– Easy Set-up
– Adequate Performance
– Play almost any PC game
– Windows 11 environment
– Compatible with M1 and Intel Macs
– 14-day free trial
– Yearly Fee
Warhammer 3 with Cloud Gaming
The game is now available to play on cloud gaming servers. This assures NO
compatibility issues while playing on your Mac as well as top-notch performance.
Step 1. Get Warhammer 3
Before playing Warhammer 3 make sure you get the game through the official websites. For the moment only Steam is compatible with cloud gaming services such as Boosteriod.
Update: Limited time offer now available at CDkeys.com,
– 25% Warhammer 3 for just $52.39 (US and ROW Region)
– 30% Warhammer 3 for just $48.29 (EU & UK Region)
Step 2. Register and Add Warhammer 3 To Boosteroid Cloud Gaming Library
All you need to do now is register for Boosteroid. This allows you to add Warhammer 3 to their Cloud Gaming Library. Once uploaded you can seamlessly play the game from your Mac, TV, or Mobile Device.

When Registered you will have additional access to more than 70 top-rated games for free. Pricing varies depending on the subscription plan.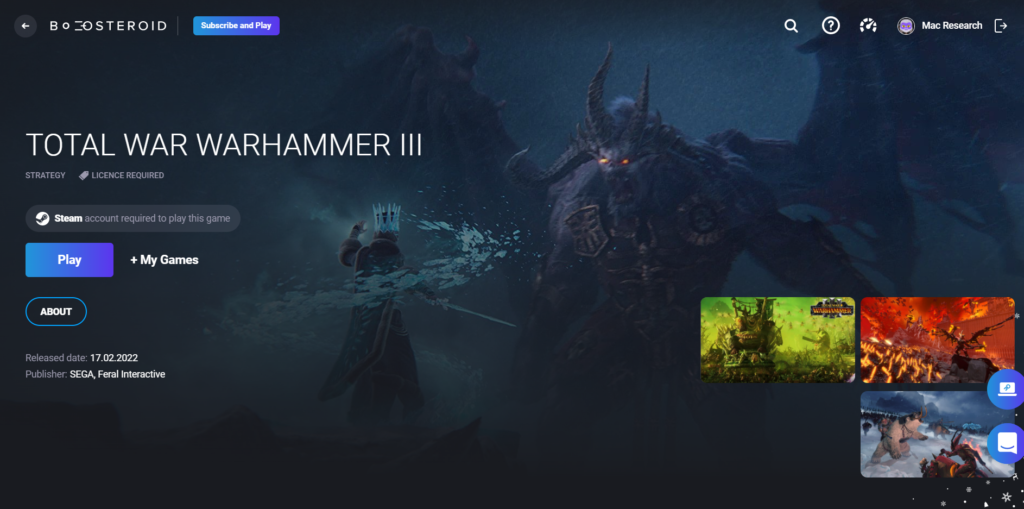 PlayWarhammer 3 with Boosteroid
Get yourself a Boosteroid registration and sign in to your Boosteroid account.

Search for Warhammer 3in the search bar at the top, and select the first (Steam) version of the game – the one that doesn't have Epic written next to it.

Select the Play button on the Boosteroid page of Warhammer 3 and click Subscribe (the Subscribe prompt will only show if you aren't already subscribed to the Boosteroid service).


Select the payment plan that you like better and provide your payment details to start your subscription.

Return to the page of the game, click Play again, then confirm that you agree to connect your Steam profile to your Boosteroid one, and the game will start loading.
Once the game starts, you must log in with your Steam username and password – after that, you can start playing Warhammer 3.
Note 1: If the game doesn't load properly, you may need to switch to a different browser – Boosteroid works best with Google Chrome and the Opera browsers.
Note 2: Once the game load in the browser, you can turn the full-screen mode on by pressing Control, Command, and F at the same time. The same keyboard combination is used to toggle off the full-screen mode.
How to download Warhammer 3 on Mac
To download Warhammer 3 on Mac, you need to already have Windows installed on the computer. Using Parallels or Boot Camp Assistant, you can get Windows and then download Warhammer 3 on your Mac.
Both of the aforementioned tools can allow you to install Windows on your Mac, but they work in vastly different ways, and, in general, the Parallels method is the recommended one as it is more optimized for gaming and is also easier quicker to set up. The only two advantages of the Boot Camp option are that it's free (Parallels is a paid program) and that you may get away with using it on a weaker Mac. Even with the Boot Camp method, however, your Mac still needs to meet the requirements for playing Warhammer 3 (see below).
system requirements
| | | |
| --- | --- | --- |
| | MINIMUM: | RECOMMENDED: |
| OS: | Windows 7 64-bit | Windows 10 64-bit |
| Processor: | Intel i3/Ryzen 3 series | Intel i5/Ryzen 5 series |
| Memory: | 6 GB RAM | 8 GB RAM |
| Graphics: | Nvidia GTX 900/AMD RX 400 series | Intel Iris Xe Graphics | Nvidia GeForce GTX 1660 Ti/AMD RX 5600-XT |
| DirectX: | Version 11 | Version 11 |
| Storage: | 120 GB available space | 120 GB available space |
| Additional Notes: | 8GB Memory if using integrated GPU. | TBA |
We will briefly take you through the processes of installing Windows through both of those methods. If you need more details on either method, check out the dedicated guides for each of them that we've linked below.
Play Warhammer with Parallels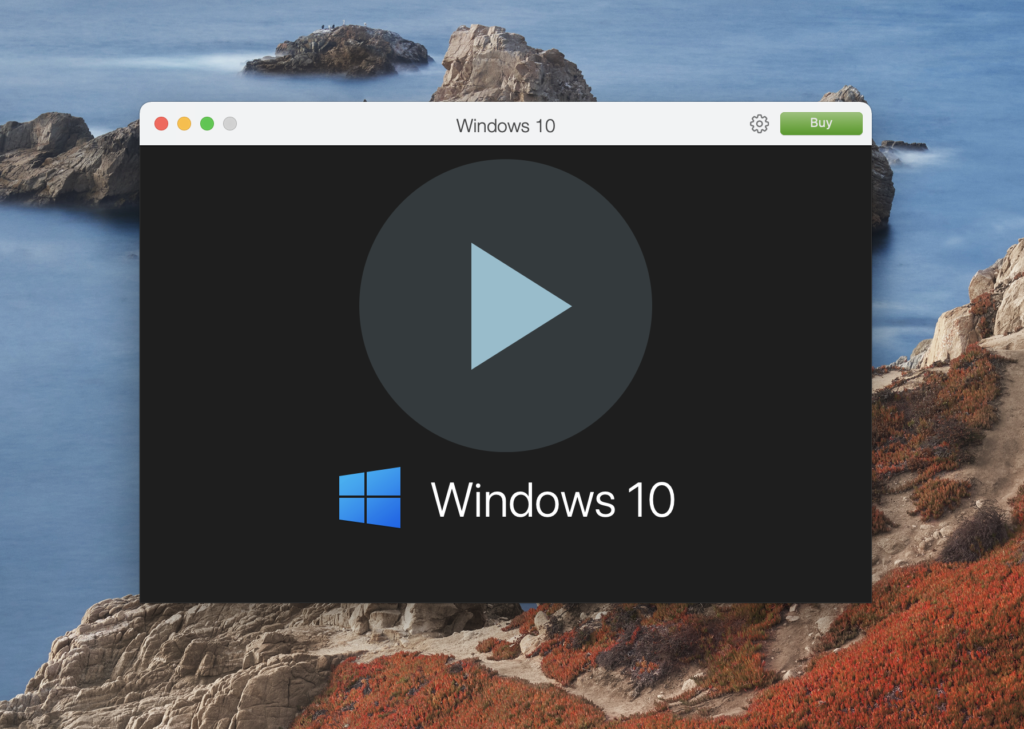 Visit Parallels.com, download the Install Parallels Desktop.dmg file, and install the Parallels app on your Mac.
Depending on your Mac model, perform either of the following two actions:
Create a Windows 10/11 virtual machine using Parallels and the file you downloaded in the last step.
Create an account for Parallels, start the virtual machine, allow any missing updates to be installed (or manually install them), and get the Steam client, and download Warhammer 3 from it.
Warhammer 3 with Boot Camp Assistant
For Macs with Intel chips, this option would be ideal as boot camp is free to use. However, you do need to have a powerful computer on your hands to create a windows environment, play the game and run your macOS system simultaneously.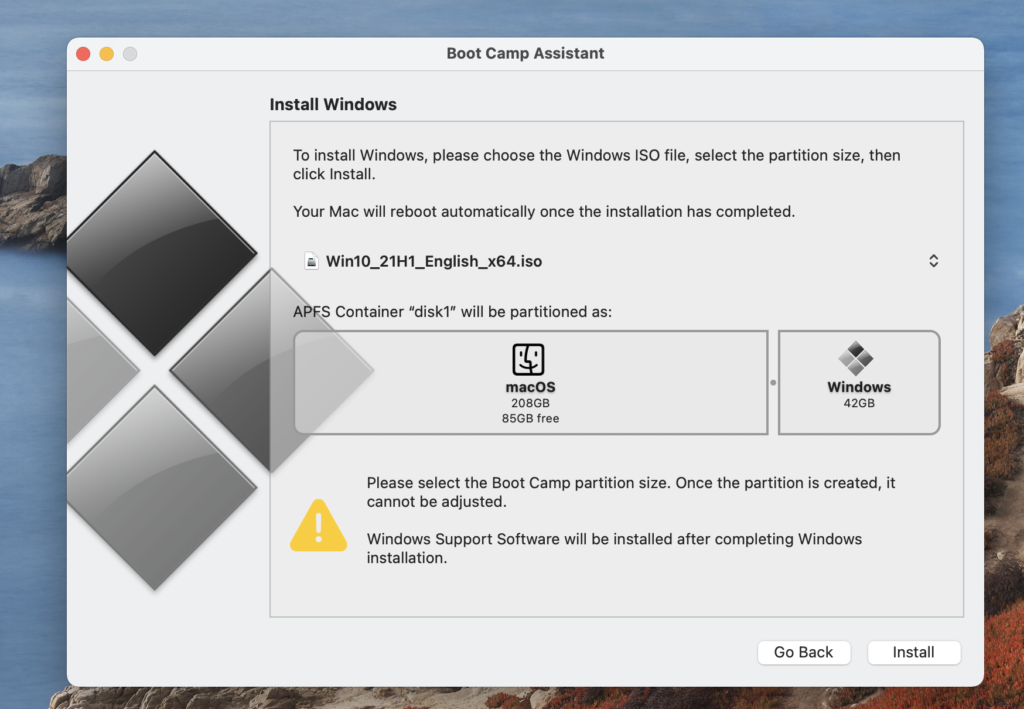 First, download an installation file for Windows 10 from this Microsoft page.
Next, start the Boot Camp Assistant app (it's in the Utilities folder), select the Windows 10 file in it, allocate 200 GB or more storage space to the Windows partition, and click Install.
Go through the pre-installation prompts, and launch the Windows 10 installation.
Customize the Windows 10 settings after the OS is installed, then install the necessary drivers and updates, and get Warhammer 3 from Steam.
Warhammer 3 on Mac M1
To play Warhammer 3 on Mac M1, you can use cloud gaming or install Windows on the computer and then get the game from Steam. We recommend using cloud-gaming options for playing Warhammer 3 on Mac M1.
Both of the cloud-gaming services that have Warhammer 3 available in their libraries work equally well on Intel Macs and on M1 Macs, so if you are an M1 Mac owner, you should have no problem running this game through Boosteroid or GeForce Now.
If, however, you want to have the game downloaded onto your M1 Mac and play it that way, you will be able to use only one of the two Windows installation methods shown here – the one that uses the Parallels virtualization program. The Boot Camp Assistant tool doesn't on M1 Macs and is thus not available for them. However, as mentioned earlier, Parallels is the recommended option, and it offers optimization for gaming on M1 Macs, so it is a viable option for playing Windows games on M1 Macs (as well as Intel Macs).
Martina Nikolova
Martina likes to get into nitty-gritty of tomorrow's tech, from product design across to security based solutions. A long time mac user and developer, she has the expertise and strives to give new insight