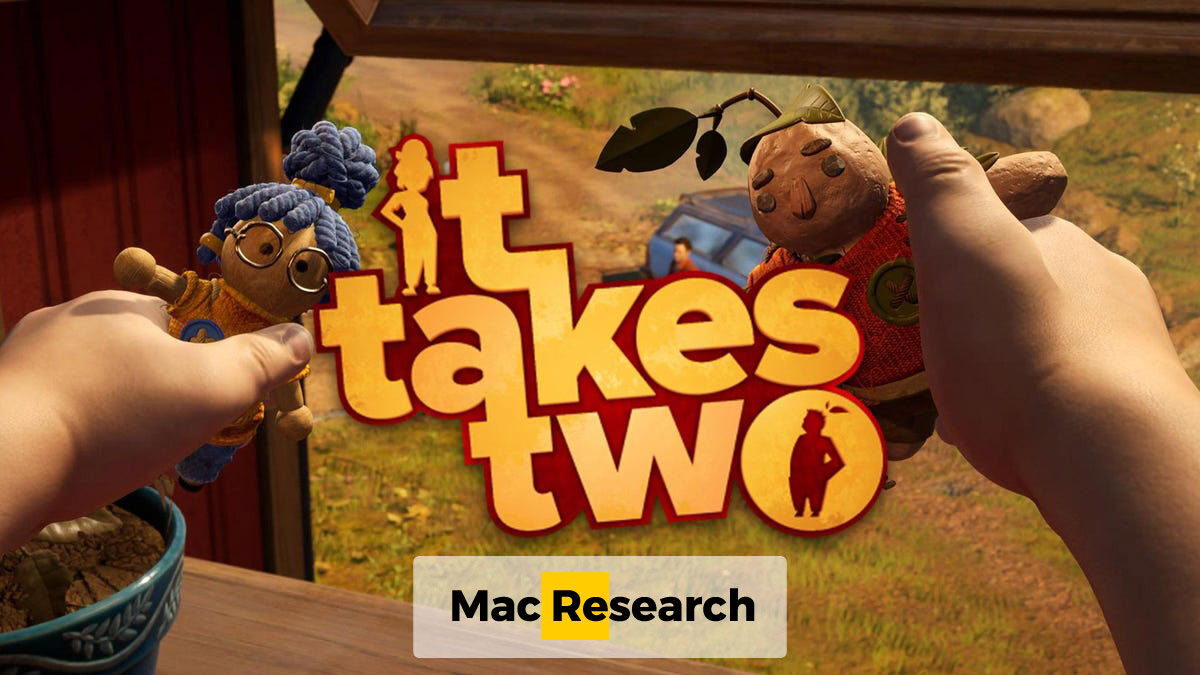 About It Takes Two on Mac
Developed by Hazelight Studios in 2021, It Takes Two is a cooperative adventure game for two players that can be played online or with a buddy on the couch. A Friend's Pass feature makes it simple to play co-op without relying on your friends' need to purchase the game too. You simply invite them, and they can join you for free.
Can you play It takes two on Mac?
It Takes Two can be played on PlayStation 4, PlayStation 5, Xbox One, Xbox Series X and S, and Microsoft Windows PC. The Mac does not support this game, however, there is a way to run it on your Mac machine with cloud gaming services or creating a Virtual Machine via Boot Camp or Parallels, we'll show you exactly how to do it.
Storyline
The game represents an engaging challenge filled with puzzles to solve and cleverly crafted missions to complete. It Takes Two combines platforming and racing elements, as well as some cheesy mental teasers, with one character doing the running, jumping, and climbing while the other is preparing the path. In order to complete a challenge, the one player might need to use a nail gun to create handholds on a wall, while the other one is using them to pass it. Throughout the entire game, the players must constantly converse and plot, and the characters are often given different equipment and tools that must be used together to be effective.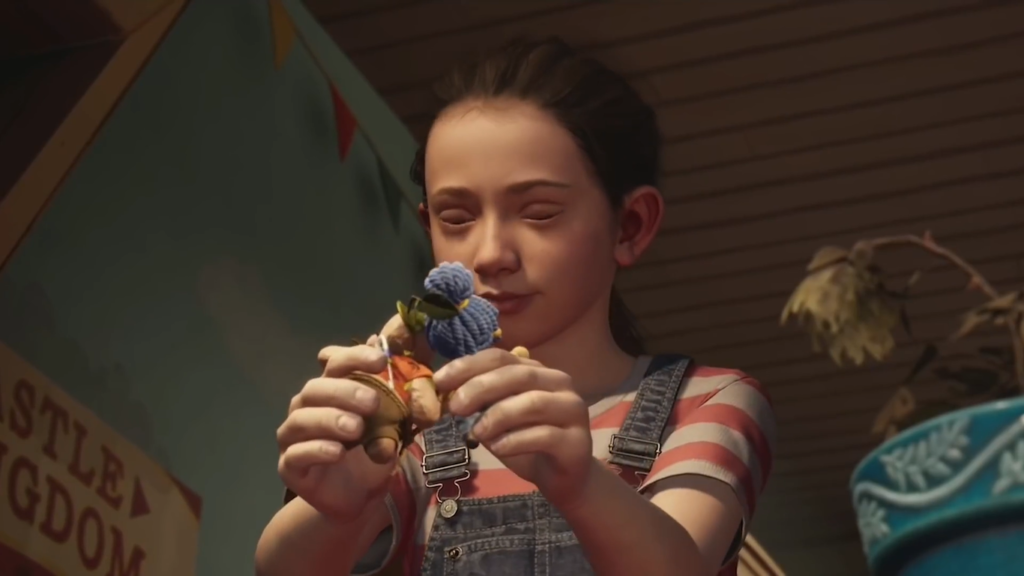 Gameplay
Players take on the roles of Cody and May, a couple who've been miraculously converted into dolls after telling their daughter Rosy they're divorcing. The catalyst for their metamorphosis is Dr. Hakim, an eccentric self-help relationship book, that comes up with the concept to help the couple reconcile their differences via cooperation. The real adventure begins with the couple having to travel across numerous Worlds and face different challenges together in order to break the enchantment and return to their daughter.
It Takes Two's co-op mode offers a lot of fun. Through the game, there are mini-games, riddles, platforming, rail grinding, and action sequences, all of which require players to work together. Top-down RPG-style battles are also available in the form of a fantasy castle, where you must fight as a warrior and a magician.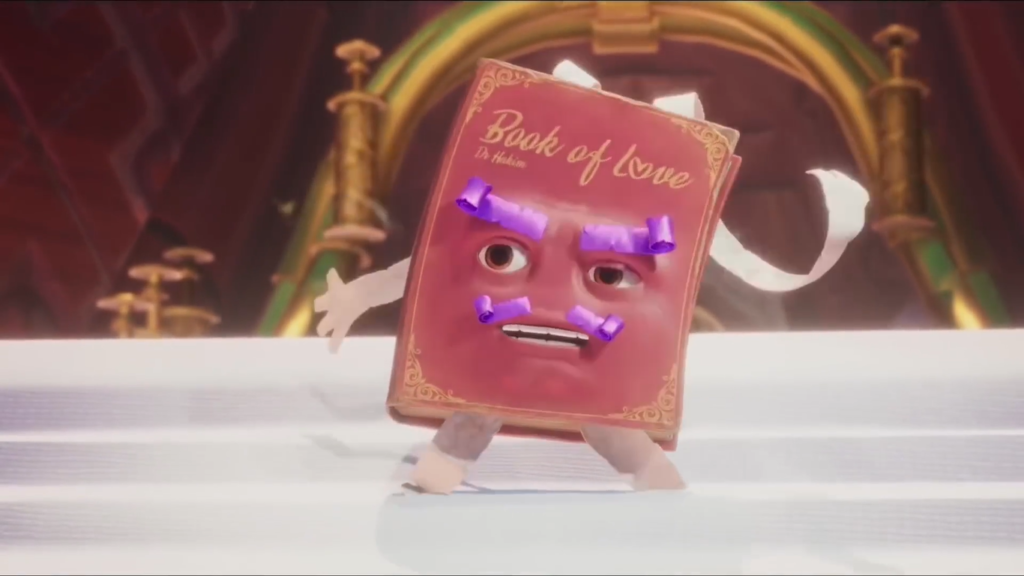 Every level has a unique mechanic based on the environment, but even then, It Takes Two is continually changing how that mechanic is used to suit the level's overall theme. There are scenes in the game where Cody and May are given different tools to assist them in solving some platforming puzzles. However, these tools may be utilized in a variety of ways, and only work when paired up.
There is also a touch of competitiveness in each level, where a variety of mini-games for you to compete with your partner in are available and can spice up the play.
Each player has a specific action
In each scenario, Cody and May have the same fundamental moves, but they're equipped with various tools. One player is always responsible for a specific type of action, while the other has to communicate in order to synchronize his actions. For instance, May's rifle is the only tool capable of detonating Cody's explosive gel.
In nearly every scene, the actions of both players are combined to create a unique flow that needs teamwork and a lot of fun. In a few scenes, both characters are required to perform the identical action, but they must do so with slightly different reasoning and motion.
Run-and-jump mechanics are always the same in every World, but the problem-solving mechanics are always being updated.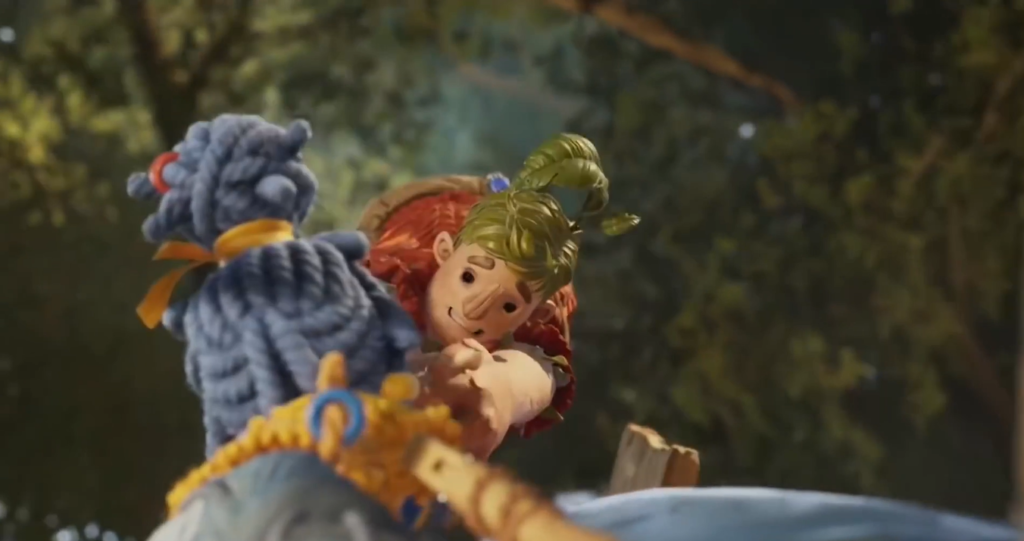 Keep the communication open
It's impossible to play this game without interacting with the other player verbally at all times. Both players could die a lot throughout the co-op missions due to the difficulty of the timing and mobility requirements. Fortunately, checkpoints are generously scattered throughout the levels. Missing a jump necessitates re-starting your run from the very same position (or just a few gameplay steps back from it). If both players die, a well-designed swift self-revive feature minimizes those moments by allowing the players to quickly resurrect themselves.
It Takes Two is one of the best co-op games out there since it encourages you and your teammate to engage both in-game and outside of it. If you choose to play, you'll enjoy an excellent multiplayer adventure with a strong storyline that encourages strong pair interaction.
How to play It Takes Two on Mac
To play It Takes Two on Mac, we recommend using Boosteroid, a cloud-gaming service, to run the game. Another potential way to play It Takes Two on Mac is by first installing Windows on the computer and then downloading the Windows version of the game.
The reason we recommend the cloud-gaming method to play this game on a Mac is that it is very easy to set up and doesn't require the installation of anything. With the Boosteroid cloud-gaming service, you can start It Takes Two directly in your browser (Chrome and Opera are the recommended browsers), and it won't matter that the game is not officially supported for Mac. Additionally, even if your Mac doesn't meet the system requirements for the game, you'd still be able to play it through Boosteroid because the game would technically be running on a powerful gaming rig that your Mac would be linked to, thus enabling you to see and control the gameplay. Cloud technology gaming is, in general, a great opportunity for Mac users to play their favorite games directly on their Macs, without needing to jump through any hoops in order to do so.
It Takes Two on Mac M1
You can play It Takes Two on Mac M1 by creating a Boosteroid account and starting the game through the cloud-gaming service. Alternatively, you can use Parallels to create a Windows virtual machine and use it to play It Takes Two on your Mac M1.
The only method that's shown on this page that cannot be used on Mac M1 to play It Takes Two is the Boot Camp one. The Boot Camp Assistant tool isn't available for M1 models, so you cannot install Windows on an M1 Mac in this way. You can, however, still use Parallels to get Windows on an M1 Mac and this is actually the recommended method for newer and more powerful Mac models, since Parallels receives frequent updates and has a dedicated Games Only setting.
That said, we still believe that your best option as a Mac user to play It Takes Two on your Mac is through a service such as Boosteroid. It works equally well on Intel and M1 Macs and it will require you to spend less than 10 minutes to get everything ready for gaming.
It Takes Two Set Up Methods
Methods
Advantage
Disadvantage
Cloud Gaming
– No set-up required – Register and Play
– Access to a Library of over 70 top-rated free Games
– Smooth performance
– Compatible with M1 and Intel Macs
– Monthly Fee
– Requires Decent Internet Connection
– No Free Trial
BootCamp
– Free to use any time
– Windows 10 Environment

– Painful Setup
– Mediocre Performance
– Only Compatible with Intel Macs

Parallels Virtual Machine
– Easy Set-up
– Adequate Performance
– Play almost any PC game
– Windows 11 environment
– Compatible with M1 and Intel Macs
– 14-day free trial
– Yearly Fee
It Takes Two with Cloud Gaming
It Takes two is now available to play on cloud gaming servers. This assures NO
compatibility issues while playing on your Mac as well as top-notch performance.
Step 1. Get It Takes Two
Before playing It Takes Two make sure you get the game through the official websites. For the moment only the Steam version is compatible with cloud gaming services such as Boosteriod and Geforce.
Step 2. Register and Ad It Takes Two To Boosteroid Cloud Gaming Library
All you need to do now is register for Boosteroid. This allows you to add It Takes Two to their Cloud Gaming Library. Once uploaded you can seamlessly play the game from your Mac, TV or Mobile Device.

When Registered you will have additional access to more than 70 top-rated games for free. Pricing varies depending on the subscription plan.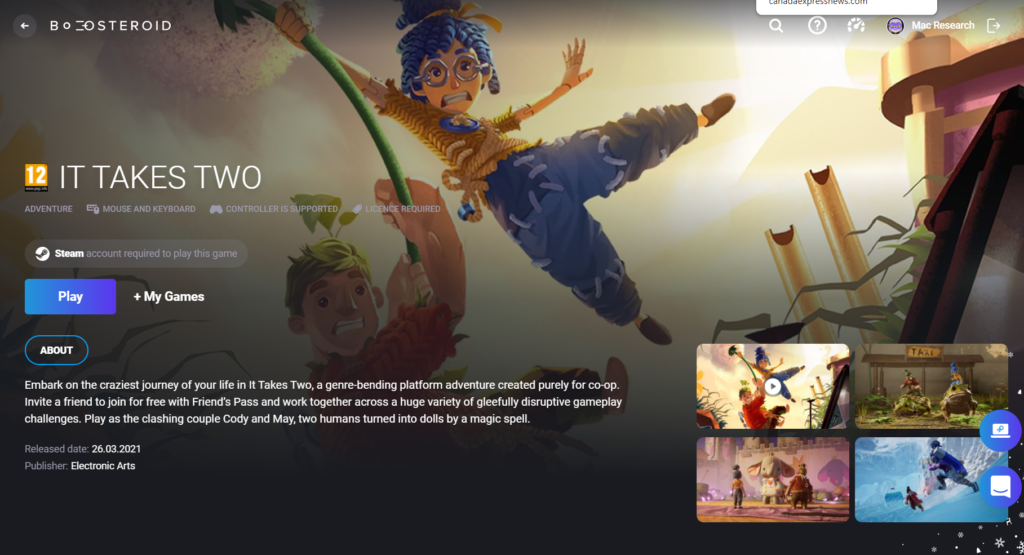 It Takes Two Cloud Gaming on Mac Tutorial
Below, you will find our instructions on how to quickly set up a Boosteroid account and use it to play It Takes Two on your Mac.
First, you must purchase the game on Steam, so go to the game's page on Steam and buy it from there if you haven't already done this.

Next, visit the Boosteroid site, register there, and log in.

Click the search icon in the Boosteroid site and type It Takes Two – note that the search bar is rather rigid, meaning that you really need to type the exact name of the game in order for it to find it or else you'd get the "no results found" message.

Click on the game to go to its page, then select Play, and click on Subscribe.


Now you must get a paid Boosteroid subscription – click the paid plan you prefer to use, then select the payment method you wish to use, and pay for the subscription.

Next, click OK, let's go on to confirm that you agree to connect your Steam account to Boosteroid, then wait for the game to start, and once it does, enter your Steam username and password to begin playing.

How to download It Takes Two on Mac
To download It Takes Two on Mac. If you are planning to play the game through a Virtual Machine either with boot camp or parallels, you should first get Windows installed on the computer and then download the Windows version of the game.
Since It Takes Two doesn't have a macOS version, the only way to download and install it on your Mac is to already have the Windows OS installed. It is possible to get Windows on your Mac, and there are two main methods to do so – using the Parallels virtualization program and with the help of the Boot Camp Assistant tool. Both methods have their pluses and minuses, but in general, the Parallels method is recommended for M1 Macs and other newer Mac models that have large amounts of RAM and powerful processors. On the other hand, the Boot Camp method is better for older Macs that don't have as much RAM and CPU power. Note, however, that even when using the Boot Camp Assistant method, your Mac would still need to meet at least the minimum system requirements for the game that you want to play (It Takes Two, in this case), or else you won't be able to run it even if you download it. Below are our instructions for both of those methods.
Playing It Takes Two On Mac with Parallels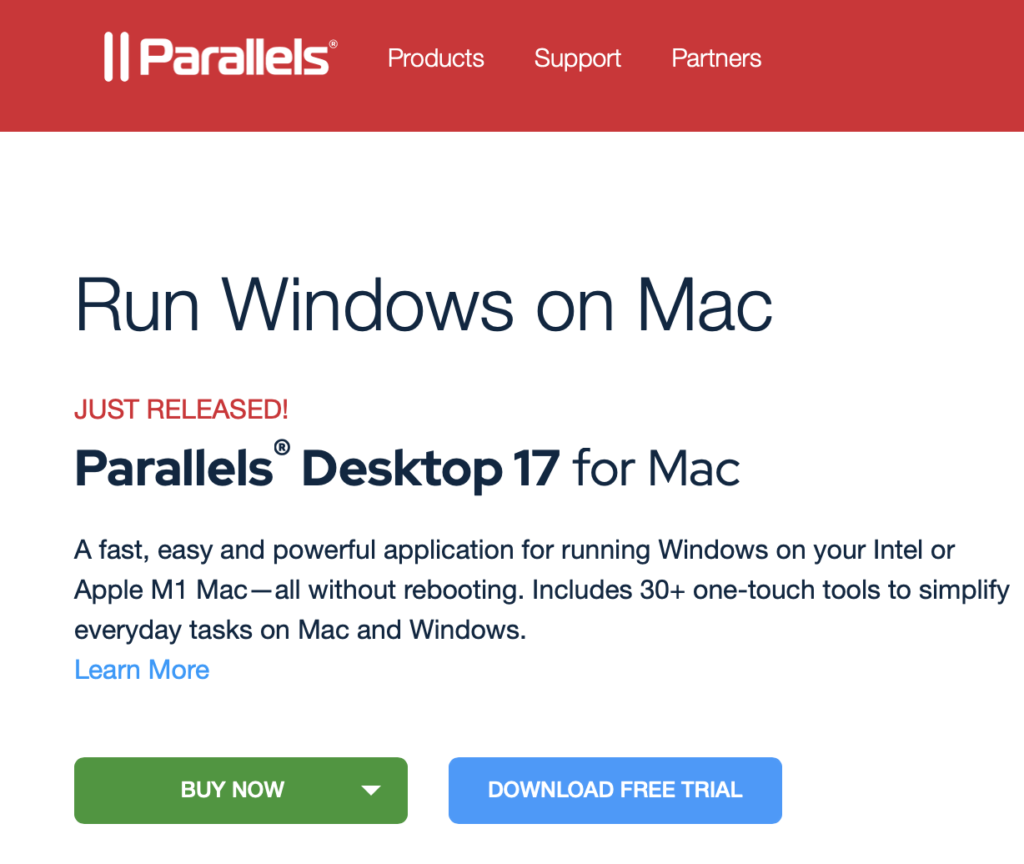 First, get the installation .dmg file for Parallels from the official site of the program, install the app on your Mac, and follow the prompts until you are asked to pick a Windows 10/11 installation file.
If you are on an M1 Mac, enroll in the Windows Insider Program and download the Windows 11 VHDX file, and if you are using an Intel Mac, get the 64-bit Windows 10 ISO file from this Microsoft page.
Use the file you've downloaded in Parallels to start the installation of the Windows 10/11 Virtual machine, and follow the prompts to complete the installation.
Install any pending Windows updates in the virtual machine, then download It Takes Two from Steam, and start playing.
If you think you may need a more detailed guide on how to use Parallels, you can find more information on this page.
Playing It Takes Two through Boot Camp Assistant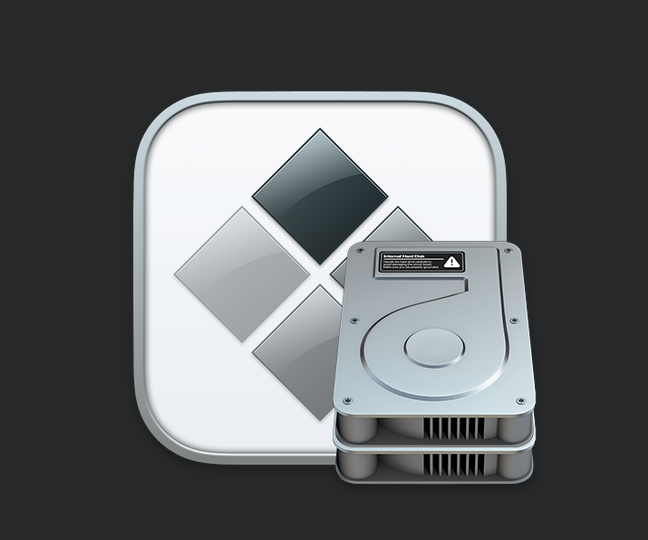 First, open this Microsoft page and download from it the Windows 10 64-bit ISO file.
Next, open Boot Camp Assistant (it's in the Utilities folder), choose the ISO file for the installation, give the Windows partition at least 150 GB and leave at least 50 GB for the Mac partition, and launch the Installation.
Follow the Windows installation prompts and use the I don't have a product key option if you don't have a product key for Windows 10 to complete the installation.
Customize Windows 10, install any missing drivers and updates, and get the game from Steam to start playing it.
Like with Parallels, we have a more detailed guide on how to use Boot Camp Assistant to install Windows on your Mac – simply click the link and follow the steps shown there.
Martina Nikolova
Martina likes to get into nitty-gritty of tomorrow's tech, from product design across to security based solutions. A long time mac user and developer, she has the expertise and strives to give new insight