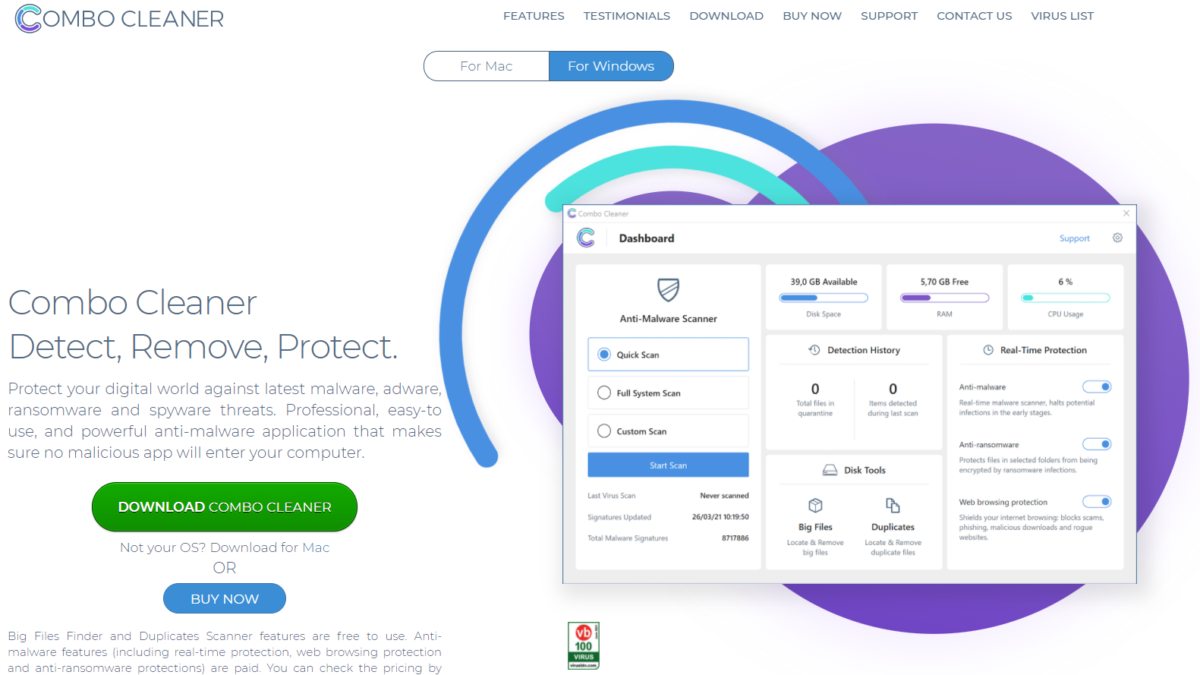 Combo Cleaner Review
Martina Nikolova, 2 years ago
2
12 min

read
Is Combo Cleaner safe?
Combo Cleaner is a safe and legitimate anti-malware and optimization tool for Mac computers. The purpose of Combo Cleaner is to keep your Mac safe from different forms of malware and also help you maintain the machine and keep it running at its full potential.
We recommend installing it from the official Combo Cleaner company website. This ensures a few things, you are installing the most secure version as well as the latest. Third party websites may contain outdated builds.
Development
Combo Cleaner, developed by the Lithuanian company RCS LT, is one of the better options for Mac maintenance and security out there, and here we will provide you with our review of this program. We will briefly go over the main features of this tool, and we will tell you what we think are the pros and the cons of Combo Cleaner.
Safety
Before we dive into the main part of the review, however, we ought to address the somewhat common question of whether or not this tool is actually safe and the reasons why many people are asking it. First a foremost, as we already stated above, this is a legitimate security and optimization program for Mac systems, which, in fact, does its job quite well. It will certainly not endanger your Mac in any way or negatively impact its performance (the tool is rather lightweight). It also won't reroute you to rogue sites, show you misleading ads, or expose you to any sort of dubious content. The goal of this software is the exact opposite – it is designed to protect you from rogue software that may compromise the safety of your Mac.
Concerns
"Then why do some people think it may be malware?" is what you may be asking yourself. We believe there are two main reasons for this:
The first one is the general mistrust that people have towards most security and/or optimization tools for Mac, which likely stems from the misconception that Macs can't get infected by malware and, therefore, need no additional protection from such programs. The truth, however, is that, while Macs are indeed safer than Windows PCs, they aren't impenetrable and could certainly, as the last several years have proven. This is why even a Mac computer can still benefit from a quality security tool. Of course, there are many such tools that are fake and are nearly indistinguishable from actual malware, but this is why it's important to read reviews such as this one before deciding whether a given program is safe and whether to install it on your Mac.
The second reason is likely the fact that some people think of Combo Cleaner as a totally free app. Only parts of this tool are offered for free, but to get its best features, you'd need to purchase its premium version. The free features that come with this app are the Disk Cleaner, the Big Files Finder, and the Duplicates Scanner. These features can help you free up some space on your Mac and make the machine run more smoothly, but won't protect you against malware. The antivirus feature of Combo Cleaner – the thing that's the main reason for people getting this program – is a paid feature. You can run a free scan with the tool without getting purchasing its premium version, but to get access to its malware/virus-removal functionality, you'd need to upgrade. There's obviously nothing wrong with such a business model – most antivirus/anti-malware programs have similarly-designed subscription plans, but the problem is that, once a user believes that a given program is free, and later they get asked to pay money in order to use its best features, the user may get the wrong impression.
Check out our in-depth article on viruses on Mac and how to deal with such situations.
Combo Cleaner Features
Combo Cleaner has a variety of features that are intended to help you with both protecting your Mac from malware and also with improving its performance by cleaning obsolete data. Combo Cleaner also has a feature that focuses on protecting your online privacy while browsing.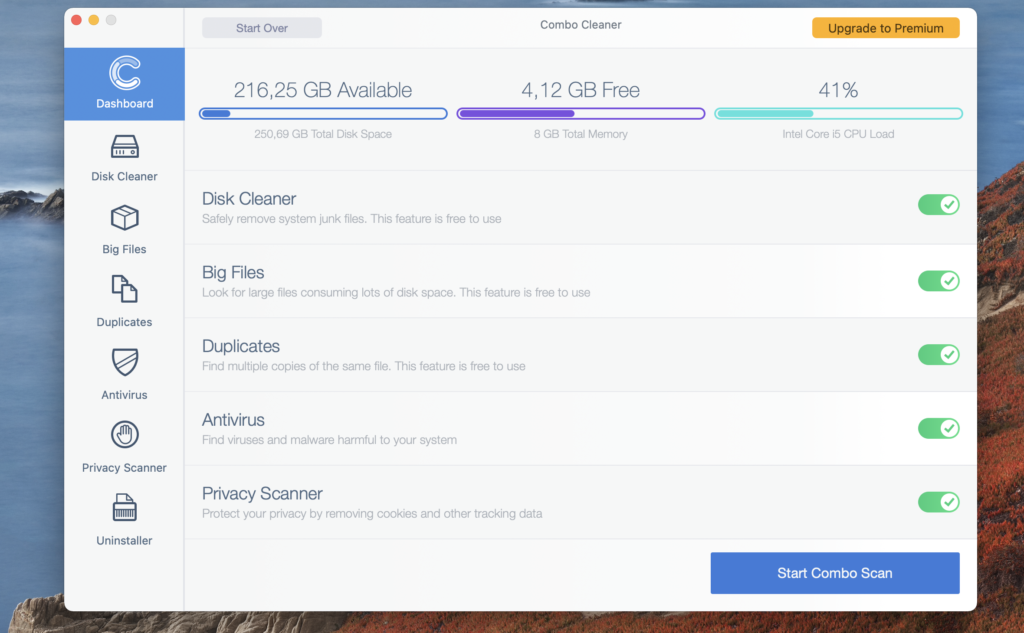 After you get through the quick and easy installation process of Combo Cleaner and open the tool, you will be greeted by a clean and minimalist interface that directly shows you all of the main features of the program, neatly organized in a sidebar to the left.
The first section of the app is its Dashboard that gives you information about the current status of your hard drive, virtual memory (RAM), and processor (CPU). It shows how much of each of those resources is being used at the moment and the moment, similarly to the Activity Monitor. What surprised us is that the available/used up storage space is being updated live, so if you delete a file, you will immediately see the change in the amount of free/used storage space that your Mac has.
Disk Cleaner
Below the Dashboard in the left sidebar are listed the various features of Combo Cleaner, starting with the Disk Cleaner. This feature, which is what likely initially gave this app its name, is pretty self-explanatory. Its main function is to find junk files that you most certainly don't need and delete them. While this may not sound like a big deal, you'd be surprised by how many such files may be in a Mac computer without the user even knowing about them. One of the reasons it's very easy for such obsolete files to accumulate quickly is that many programs create them without offering an adequate solution for the deletion of those files after they are no longer needed. Also, when uninstalling an app, you aren't actually deleting everything related to it – some data gets left behind, and it can be difficult and time-consuming to find it and erase it manually. The Disk Cleaner feature of Combo Cleaner does this for you, and it's also one of the features of this app that can be used for free.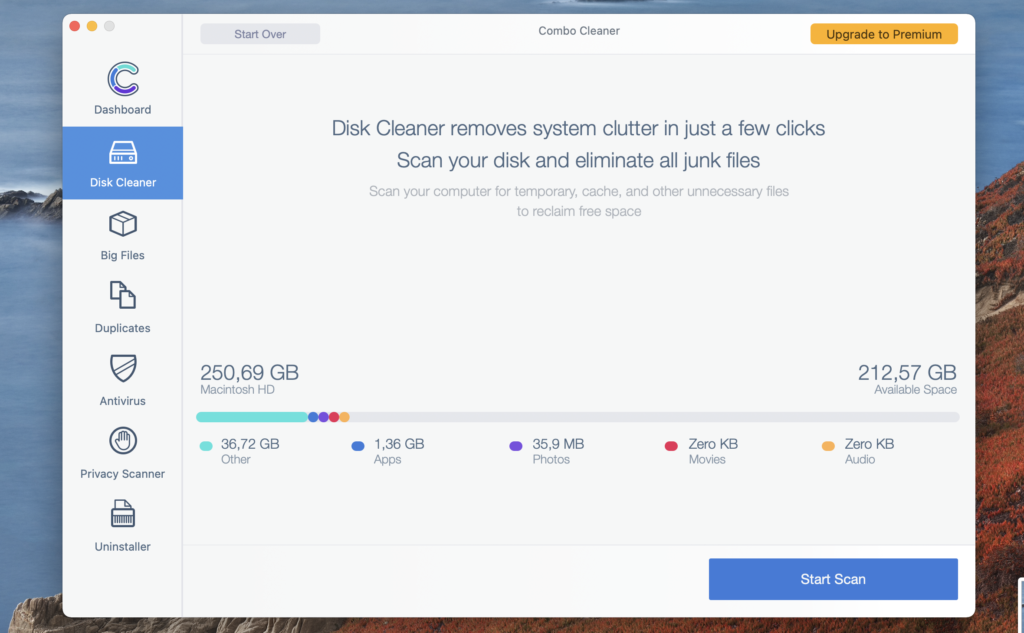 Big Files Cleaner
The next Combo Cleaner feature we will talk about is the Big Files Cleaner. It's similar to the Disk Cleaner in that it searches for files you may want to remove. Here, however, the criteria isn't that the files are necessarily obsolete, but that they may be taking too much space on your Mac. There's a slider that lets you choose what counts as a "big file" – the default setting is that this feature would look for files larger than 100MB, but you can easily change that. When the scan is finished, you will be shown the different files that have been found grouped into different categories based on their size (smaller than 1GB, between 1GB and 5GB, larger than 5GB). Of course, if all the files that have been found are important to you, there's no need to delete them, but this feature can help you find and erase data that you may no longer need and that is needlessly taking up lots of space. The Big Files Cleaner comes with the free version of Combo Cleaner.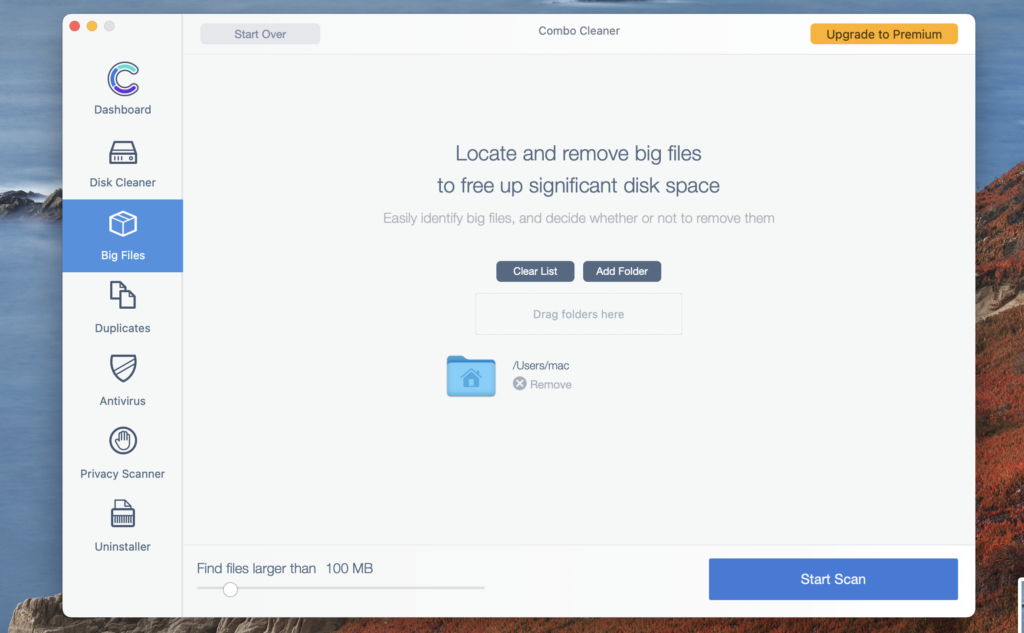 Duplicates Cleaner
The third feature is the Duplicates Cleaner – this is an even more straightforward function that searches for and helps you delete file duplicates that are taking up space on your Mac. It's an additional way of making sure that you don't have any unnecessary data on your Mac which may be causing it to slow down. This is yet another free feature of the app.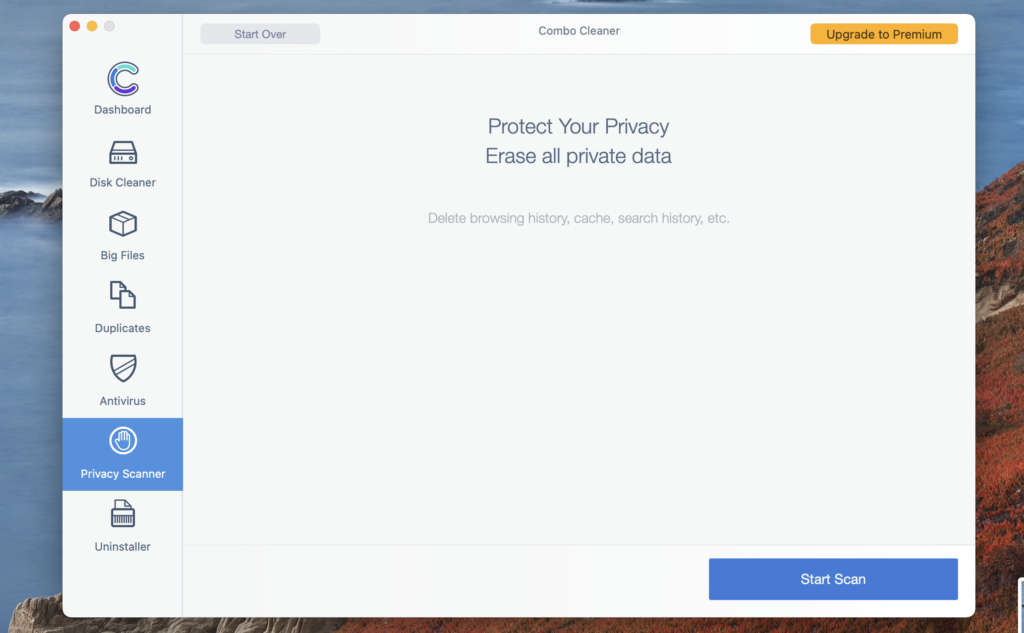 Combo Cleaner Antivirus
We finally get to the Antivirus aspect of Combo Cleaner – likely the main reason people download this program. Like with most security tools, this one too offers three main types of scans – a Quick Scan, A Full Scan, and a Custom Scan. The Quick scan searches for malware or other undesirable data within system locations that are most likely to contain such data. It saves time but isn't as thorough and if you are concerned that your Mac may have been infected, we'd recommend the Full Scan option. Speaking of the Full Scan, it will check everything in your system and inform you about all questionable or outright malicious data on the computer, but performing it could take quite a while – Combo Cleaner, in general, doesn't have the fastest scans and so you need to be patient. In fact, even the Quick Scan option, if you are running it for the first time, can take a considerable amount of time. On our Mac, it took about an hour to complete when we run that scan for the first time. Consecutive Quick Scans, of course, took significantly less time.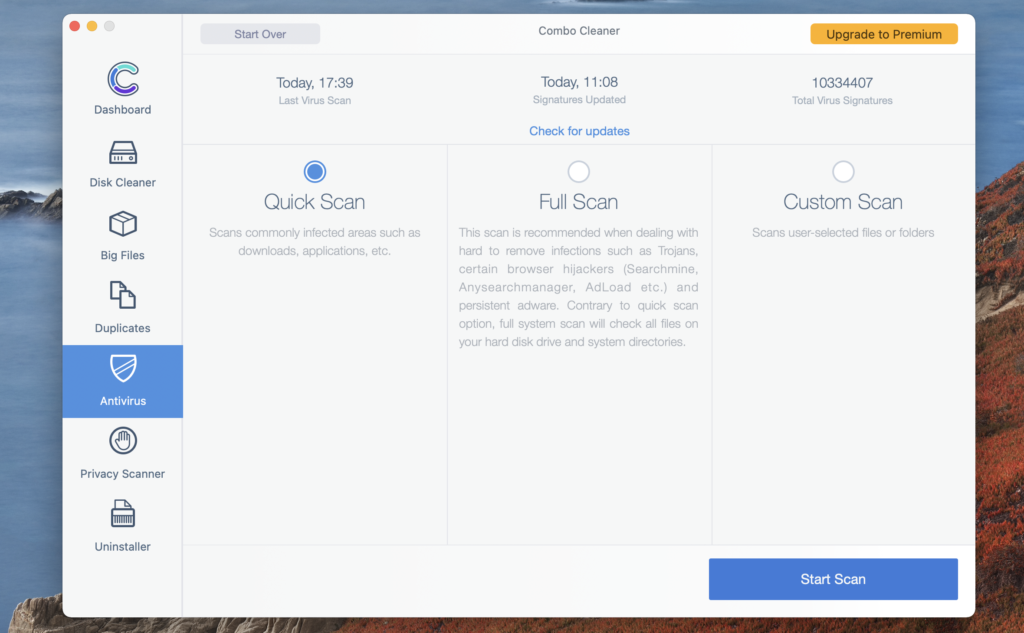 As far as its ability to find and dispose of malware is concerned, the results of Combo Cleaner's antivirus are pretty good – the program manages to detect and delete pretty much all forms of Adware, Browser Hijackers, PUPs, Trojans, Spyware, and other undesirable and/or malicious software. It has been certified by OPSWAT Labs and is also recognized by Cult of Mac, CNET, and FileHorse as a reliable protection tool for Mac computers. A nice feature of the Combo Cleaner antivirus is the fact that it gets its virus definitions automatically updated every hour (so long as there's an Internet connection). Another interesting thing that's lacking in pretty much every other Mac antivirus is the ability of Combo Cleaner to recognize Windows malware that has found its way into your Mac. While such malware can't harm your Mac, it can use it to get distributed to a Windows computer, thus infecting them. With the help of Combo Cleaner, you could prevent this from happening. One more great aspect of the antivirus part of this program is that it offers Ransomware protection by giving you the option to put a "shield" over certain folders that hold valuable files and thus prevent any program from changing anything in that folder which, in turn, would prevent a potential Ransomware infection from encrypting the files stored in that folder.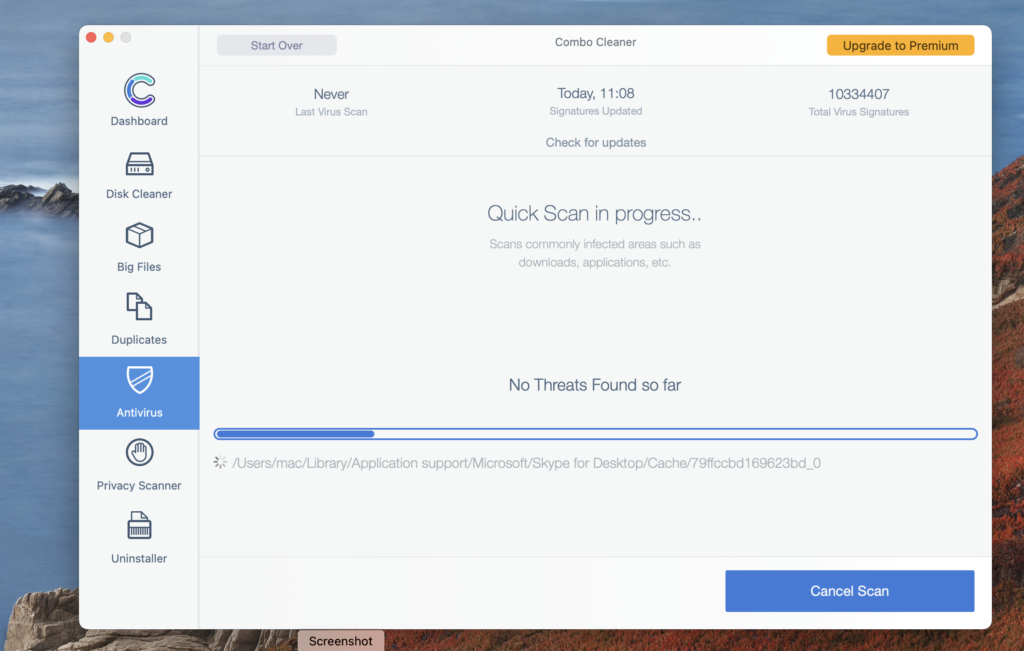 Privacy Scanner
The next feature we will focus on is the Privacy Scanner – its main goal is to keep your browsing as private as possible by cleaning your browser's cache, history, and search history. Like the antivirus, this feature, too, comes with the paid subscription plan, but we have to say that it isn't particularly impressive for what it does. While it may take a few more clicks to manually clean the cache or history or search history of a browser, it's not a particularly difficult or time-consuming task. It would have been nice if Combo Cleaner offered a dedicated browser extension that would fend off trackers, warn you about unsafe sites, or stop aggressive ads.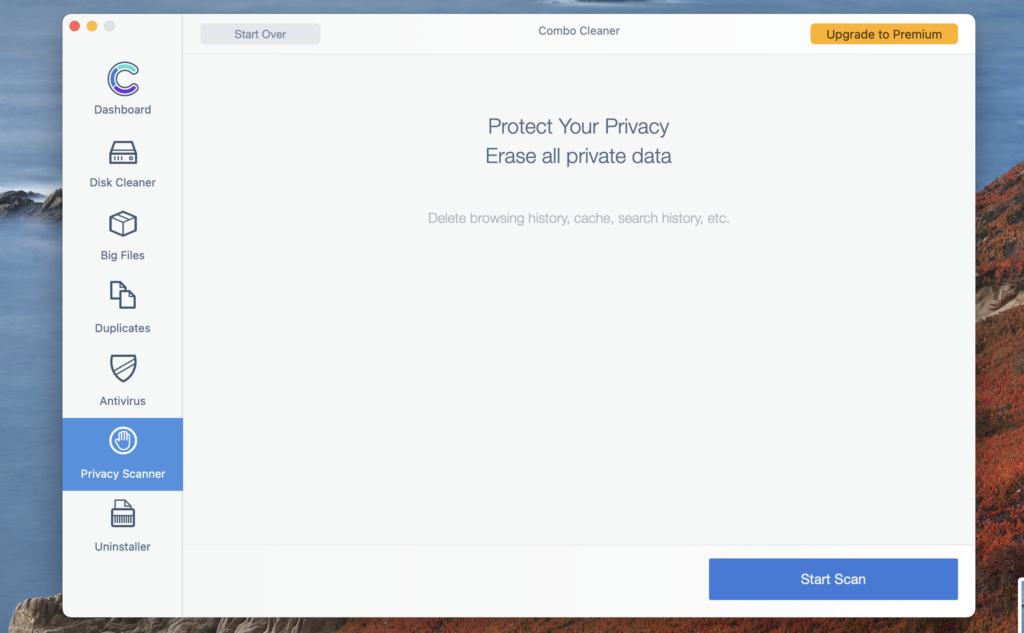 Uninstaller
The final feature of Combo Cleaner we will talk about is its Uninstaller. This feature does exactly what its name would suggest – it helps you uninstall apps you no longer want to be on your Mac. This may sound like a useless function to have since uninstalling an app from a Mac is already super easy, but now is the time to remind you about what we mentioned earlier – when you uninstall an app from your Mac, not everything related to that app gets removed, a lot of unnecessary files are left behind and over time, with the accumulation of more and more such files, the performance of the machine may start to suffer. The Disk Cleaner could obviously help with cleaning such files, but it's even better if you outright delete them alongside the program they are related to. This is the main function and draw of the Uninstaller feature – it not only deletes the program you wish to remove, but it also takes care of all of its data that would have otherwise stayed on your Mac.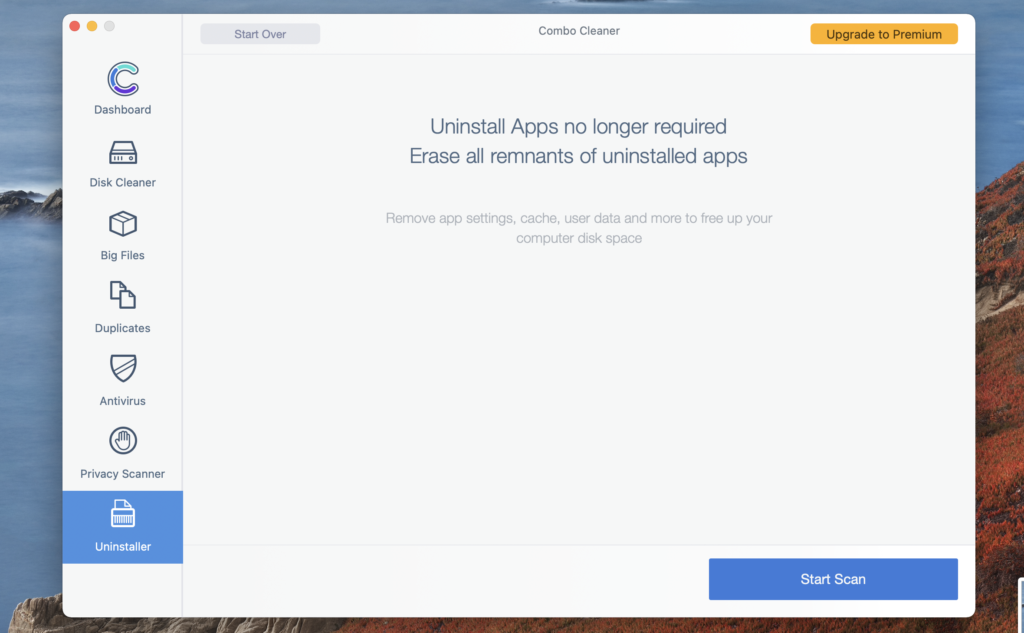 Support
The last thing we wish to mention in this part of the review is regarding the customer support of Combo Cleaner. This, in our opinion, is the weakest aspect of this program. The only support option that users of this tool have is a ticket system – you write a ticket to the support team of Combo Cleaner in which you ask whatever questions you may have, send it, and wait for a reply. There are no live chat or support over the phone options. The response times for the tickets aren't bad and this form of customer support is available 24/7, but it's still underwhelming that there are no other options. Furthermore, there aren't any FAQ sections or other helpful resources on the site of Combo Cleaner, which is another thing we didn't like.
Those were the main features and aspects of Combo Cleaner – as you can see, the program isn't simply an optimization tool or an anti-malware one, but a combination of both, which, combined with the small footprint it has on system performance, makes it a great option for maintaining your Mac. Unfortunately, the support for this program isn't great but, on the plus side, you are unlikely to ever need to contact the support team for the program since Combo Cleaner does its job well and users rarely need any help with it.
How much does Combo Cleaner for Mac cost?
Combo Cleaner for Mac costs €52.95 for one device for 6 months and €88.95 for 5 devices for 6 months. The free version of Combo Cleaner for Mac doesn't cost anything, but comes with limited functionality and won't protect you from malware.
The pricing of Combo Cleaner may be a bit steeper compared to some of its competitors, but it's also understandable considering that it combines optimization and security for your Mac into one product. Of course, you can always download the free version to get an overall idea of the program and then decide whether you'd like to upgrade to its Premium version. However, as noted several times above, you won't get to experience the true potential of Combo Cleaner with only its free version due to the limited functionality. In that regard, it would have been better if the program's developers had taken the approach of giving a 30-day free trial for the full program to let users decide whether they like it, but, for the time being, there is no such option.
Martina Nikolova
Martina likes to get into nitty-gritty of tomorrow's tech, from product design across to security based solutions. A long time mac user and developer, she has the expertise and strives to give new insight