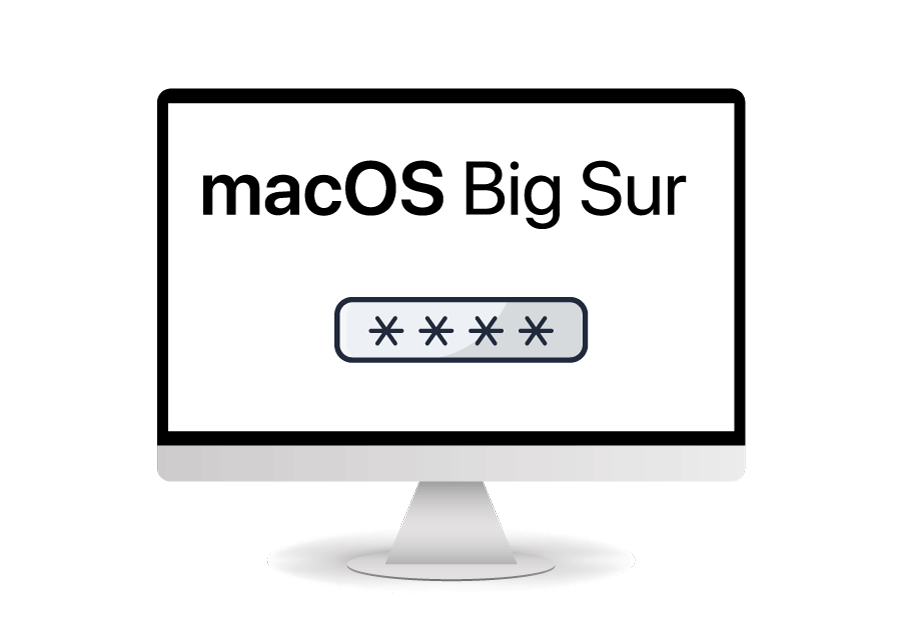 If you have just updated to macOS Big Sur, you might have noticed that, out of a sudden, your administrator password is no longer accepted by your Mac.
This isn't your fault but a common issue that is caused by a bug with macOS Big Sur. Fortunately, there is a fix to this bug and, in the next lines, we will share it with you.
Big Sur Password not Working
After an update to macOS Big Sur, some users report that their Mac refuses to accept the password for their admin account when they want to use it to change System Preferences, install apps or perform different admin-level tasks.
It seems that their Mac forgets what accounts have admin rights. This error causes the password box to shake after entering the password as if it has been wrongly entered. Don't panic, though, the password isn't wrongly typed. Here is how this bug can be solved quickly:
Big Sur Password not Working Fix
Get the latest macOS Big Sur updates
If you are sure that the admin password you typed is correct, the only explanation why macOS Big Sur won't accept it is because of a software error. Bugs like this are very common, especially with new software updates. That's why Apple usually publishes patch updates every few weeks, to fix the most pressing issues and bugs.
To get the latest available patches and updates that may solve any macOS Big Sur password problems do the following:
1. Go to the top left corner of the menu bar and open the Apple menu.
2. Navigate to System Preferences and select the Software Update option.
3. It should take a few minutes for your Mac to check for new patches and updates.
4. Downloads and installs all available updates, restart your Mac and see if the issue is resolved.
If you don't know what is the latest macOS update, check this page.
Reset your SMC
System Management Controller (SMC) resetting can oftentimes help you resolve common Mac problems related to the machine's power management, battery, and other software issues. In the link below you will find instructions on how to reset the SMC, so go ahead and follow them if you think that this may help you resolve your password problem.
Reset the administrator account via Terminal
MacOS Big Sur starts refusing passwords because it appears to forget which accounts are with administrative privileges. If you use Terminal to create a new administrator account on your Mac, however, this issue can be fixed. The new account that you create can be used to transfer the administrator rights to your original admin account and then can be deleted. Here are the exact instructions for this fix:
First, you must start your Mac in recovery mode. This is how to do it:
In Finder, write the name of your startup drive that is found in the Locations section of the sidebar. It's Macintosh HD by default.
Next, Shut Down your Mac from the Apple menu.
Press down Cmd + R key from the keyboard and the Power button to restart Mac in Recovery mode.
When you see the macOS Utility window, go to Utilities>Terminal
Type the Terminal command written below but replace Macintosh HD with the name of your startup drive: rm "/Volumes/Macintosh HD/var/db/.applesetupdone."
Press Enter to run the command.
Follow the instructions for creating a new user account.
Sign in with the new user account and go to Apple > System Preferences > Users & Groups.
Tap on the padlock to enable changes using your new user account password.
Choose your original account and enable the following option: Allow user to administer this computer
Now log in with your original account and delete the newly created account from Users & Groups.
If your Big Sur Password problems have been resolved with the steps above, a thanks in the comments below would go a long way to warm our hearts.
Martina Nikolova
Martina likes to get into nitty-gritty of tomorrow's tech, from product design across to security based solutions. A long time mac user and developer, she has the expertise and strives to give new insight