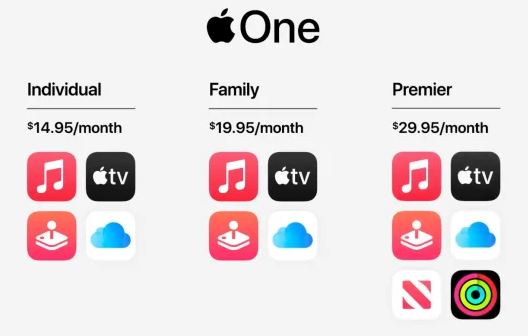 What is Apple One Premium
Martina Nikolova, 2 years ago
0
3 min

read
About Apple One Premium
Apple One Premium (Premier) arrives today, adding two more services on top of the default bundle. Priced at $29.95 a month, Apple One Premium includes Apple Music, TV+, Arcade, iCloud (with a whopping 2 TB of storage), News+, and the newly-released Fitness+ app.
Apple One Premier was announced a week ago and now that it has been made available, Apple users can enjoy its perks for the subscription price of $29.95 per month. This pricing may seem a bit steep, but considering that you'd get the bundle for up to five devices as well as the addition of the two extra services and the enormous increase in iCloud storage space, the monthly subscription cost of the bundle starts to seem significantly more reasonable.
For users who are interested in giving it a try, Apple offers a one-month, no-strings-attached free trial, so one would have plenty of time to see if the bundle is for them and if it's worth paying for its monthly subscription.
Currently, the bundle is available in the following countries:
Australia
Austria
Brazil
Canada
Colombia
France
Germany
Indonesia
Ireland
Italy
Malaysia
Mexico
New Zealand
Portugal
Russia
Saudi Arabia
Spain,
Switzerland
The UK
United Arab Emirates
The US
Apple Fitness+ is a video streaming service that provides the user with on-demand guided video workouts. Apple Fitness+ is likely the most notable addition to the Apple One Premier bundle, as it has been in high demand for the past two years.
The service is ad-free, allowing for interrupted workout sessions that are expertly demonstrated and guided by trained professionals. The service comes with a wide selection of different types of workout routines, including core training, high-intensity interval training (HIIT), strength workouts, treadmill, yoga, dancing, and more. The majority of the workout videos are performed by a trio of instructors, with the idea being that one of them performs the base variant of the workout, the second one demonstrates a modified easier/less intense variation, and the third performs a more difficult and intense version of the base workout.
As of September this year, guided meditation, pilates, and group sessions were added as features to Fitness+.
Apple One Premium Deutschland
Apple One Premium Deutschland is available as of November 3, 2021, and it includes six Apple services – Apple Music, News+, TV+, Arcade, iCloud, and Fitness+. The Fitness+ service in Apple One Premium Deutschland is still in English but is set to receive German subtitles.
At its launch on December 14, 2020, the service was available in only a handful of countries: the US, the UK, Canada, Australia, Ireland, and New Zealand. As of November 3, 2021, the service became available in 15 more countries. Currently, the countries in which Fitness + is available matches the availability of the Apple One Premium bundle.
Currently, the guided workouts of Fitness+ are only available in English, though it's said that subtitles will be added to the video workouts in Italian, French, German, Portuguese (Brazilian), Russian, Spanish, as well as English.
The price of the Fitness + service if you get it separate from the Apple One Premier bundle is $9.99 a month or $79.99 a year, and you get a one-month free trial if you already own an Apple Watch. If you purchase a subscription for the service together with an Apple Watch, your first three months of using it will be free of charge.
Apple One Premium Mexico
Apple One Premium is available in Mexico as of November 3, 2021, with a subscription price of $29.95 a month. Apple One Premium Mexico comes with the four base Apple One services (Music, Arcade, TV+, and iCloud) as well as News+ and Fitness+.
Martina Nikolova
Martina likes to get into nitty-gritty of tomorrow's tech, from product design across to security based solutions. A long time mac user and developer, she has the expertise and strives to give new insight